How Sweet I Wasn't
The author was fresh out of college. The job — writing jokes for Jackie Gleason's Miami-based show—sounded terrific. There was just one catch: "The Great One,"as Gleason called himself, wasn't so great to his writers
by JACK WINTER
MY uncle Al had a theory that everyone goes into the Army. If you don't actually put on a uniform, have your hair shaved off, and learn to shoot a gun, he said, you'll still have, at some point in your life, a comparably demeaning, exhausting, depersonalizing, logic-defying experience that might easily make you wish you had been a soldier.
In my case his theory was true. At the end of 1963 I failed my Army physical. A few months later I was given a tryout as a writer on The Jackie Gleason Show: American Scene Magazine and, through what seemed at the time like a stroke of good luck, was offered a job for the following season—the show's first in Miami Beach.
As a person who was forty-three years away from retirement age, I did not put Miami Beach high on my list of good places to live and work. Although I didn't know anyone who had ever spent any time there, an Argentine friend who once changed planes in Miami told me that he had seen bluehaired women wearing clear-plastic shoes that had heels filled with water and fake goldfish. But I had no professional credits as a writer, there was no work in New York, I didn't want to go to Hollywood without a job lined up, and, most important, I had no money.
I also had some artistic problems with the idea of writing for Gleason. I had been creating characters for an English satirical revue called The Establishment (such as the reflective old fogy who said to another reflective old fogy in his wood-paneled club, "Cedric, they told me I could see the world in a grain of sand, but they didn't say which one") and for the incredibly versatile Jonathan Winters (chipmunks, Eskimos, pinball machines, dog groomers, and catcher's mitts), so the comedy that Gleason was doing on his American Scene Magazine wasn't exactly my style. His monologues were almost always about how things were, compared with how they had been when he was a kid ("Kids today won't go anywhere that doesn't have airconditioning. When I was a kid, we had air-conditioning too. We had holes in our pants"). That was twenty years before I was born. His three running characters were also from before my time: The Poor Soul, a sad sack out of the silent-movie era; Rum Dum, an old-time drunk with a walrus moustache that covered his mouth; and Reginald Van Gleason III, a post-Second World War playboy who always dressed in tails and an exaggerated top hat.
No one on the New York writing staff was under thirtyfive, and most of the group had been with Gleason long enough to know the crucial thing for the job—his taste. Not only did I not know his taste, but in the few weeks I worked for the show in New York, I never even met him. (I got the job when, in a hurry because he was late for a golfing date, he chose some material that was completely atypical for him from three tryout writers, including me.) Also, I was so young-looking that I was still being asked to show my ID, so given Gleason's famous whims, there was a perfectly good chance that when he first actually saw me, in Miami Beach, he might say, "A kid can't write for me," and have me put on a plane back to New York.
Another problem was that I had never been a particularly big fan of his. I had liked The Honeymooners—and thought that it had the best title of any show on television, along with the best characters' names (Ralph and Alice Kramden, Ed and Trixie Norton) and characters' occupations (bus driver and sewer worker)—but I never thought it was a classic, the way most people did. And I didn't even think that Gleason was the best one on the show. I thought Ed (Art Carney) was much funnier than the six-foot, then-250-pound Ralph, whom I'd always considered to be a loud, unappealing, know-it-all jerk who was inexcusably mean to his loyal, tolerant, and reliable wife (especially when he would say to her, with a clenched fist, "One of these days, Alice, pow, right in the kisser" or "To the moon, Alice. To the moon"). In fact, his unfairness to her was so extreme that he apologized at the end of every show, saying, "Baby, you're the greatest"—and then treated her just as badly a week later.

I also didn't understand any of the famous surefire catchphrases and bits that he used on the American Scene Magazine. When the gorgeous, scantily dressed "Glea Girls" gave him a cup of "coffee" (which his audience knew was really liquor) at the beginning of the show, I didn't quite get it. Couldn't he have had a sip before making his entrance? Or were we supposed to be laughing at how daring and naughty he was? And when he said, "How sweet it is!" was this some ongoing thing about how a poor kid could rise to the top and do whatever he wanted? Regardless, was it really so funny that the audience should scream with laughter every single time he said it?
If his orchestra leader. Sammy Spear, wore such outlandishly garish jackets every week, why was The Great One (an appellation bestowed upon Gleason by himself) always surprised to the point of having a big reaction? And when he finished his monologue, was given "a little traveling music,"raised one leg into a right angle, bent one arm up and the other down, and said. "And a-way we go!" why was that supposed to be funny? And where, by the way, was he going?
So my first choice was to be hired for a series of specials that Jonathan Winters was going to do—even though Gleason was a household word and Winters more of a cult figure. But NBC wouldn't give Winters the few extra dollars he needed for a new young writer, so I had to go with Gleason.
Sun and Fun
MIAMI Beach was the perfect place for Gleason to move to. His ratings in New York were unimpressive. Even the Park Sheraton Hotel, at Seventh Avenue and 56th Street, which had been famous for being his headquarters, was now better known as the place where Albert Anastasia, allegedly the head executioner for Murder, Inc., had been gunned down while getting a haircut. (A trainee at the William Morris Agency was walking by when the murder occurred and immediately ran to the agency, where he burst into the office of George Wood, reputedly the agency's Mafia contact, and cried. "Mr. Wood! Mr. Wood! Albert Anastasia's just been killed in the barber shop at the Park Sheraton!" Wood calmly looked at his watch and said, "That's right.")
So Gleason needed something to inject new life into his show. In Miami Beach he would be the biggest thing that had ever happened to the huge landfill that advertised itself as "The Sun and Fun Capital of the World" and was so starstruck that in gratitude for Arthur Godfrey's frequently mentioning Miami Beach on his television show it named a causeway after him. Miami Beach was also home to a huge number of elderly people—Gleason's most devoted fans. In the first week after CBS announced the move, thousands and thousands of requests came in for tickets to the show's weekly taping at the newly refurbished Civic Auditorium. And Miami Beach fit in perfectly with the forty-eight-year-old Gleason's lifestyle, which consisted of drinking Scotch, playing golf, eating excessively, and, incidentally, putting on a weekly network-television show.
The format of the show was such that Gleason could spend virtually all of his time at the Doral Hotel and Country Club playing golf, and would not have to come into "town" until late Saturday afternoon, for a brief dress rehearsal and an evening performance. The show would open with the June Taylor dancers doing a long synchronized number that led to an overhead camera shot of the sixteen leggy women. Then Gleason would read a monologue from cue cards (after which he'd say, "And a-way we go!"). Then there would be short scenes from the American Scene Magazine, which would all be pantomimed "blackouts" (so called because in vaudeville they were usually ended by turning out the lights). This meant that Gleason would never have to learn a line of dialogue and a stand-in could be used for all the staging and the prop rehearsals. And when he played Joe the Bartender, all he would have to do was listen to Crazy Guggenham (played by Frank Fontaine) —basically a mentally retarded spastic who rambled illogically and told jokes that were both old and bad—until he finally exploded with words that, of course, were written on cue cards.
Occasionally guest "stars" (almost always inexpensive oldtime comics) would help to fill up the show, but Gleason wouldn't have to play scenes with them. He'd just have to claim that they were lifetime friends and introduce them.
A perfect life for The Great One.
The task of turning this format into a palatable hour fell, naturally, to the writing staff. We thought of ourselves in basically four categories:
• "The Permanents"—the head writer Marvin Marx, a thirtysix-year-old five-foot-five-inch 210-pound man with very short dark curly hair; the head writer Walter Stone, a bulbous-nosed man in his early forties with sparse gray hair (who, with Marvin, wrote about 80 percent of the show); and Jimmy Shelton, a former leading man on Broadway who went back a long time with Gleason and to whom The Great One felt a certain loyalty.
• "The Unseens"—Snag Werris and Hank Ladd, former vaudevillians who worked at the opposite end of the show's one-story office building, kept different hours from the rest of the staff, and never worked with us because they wrote only for Crazy Guggenham.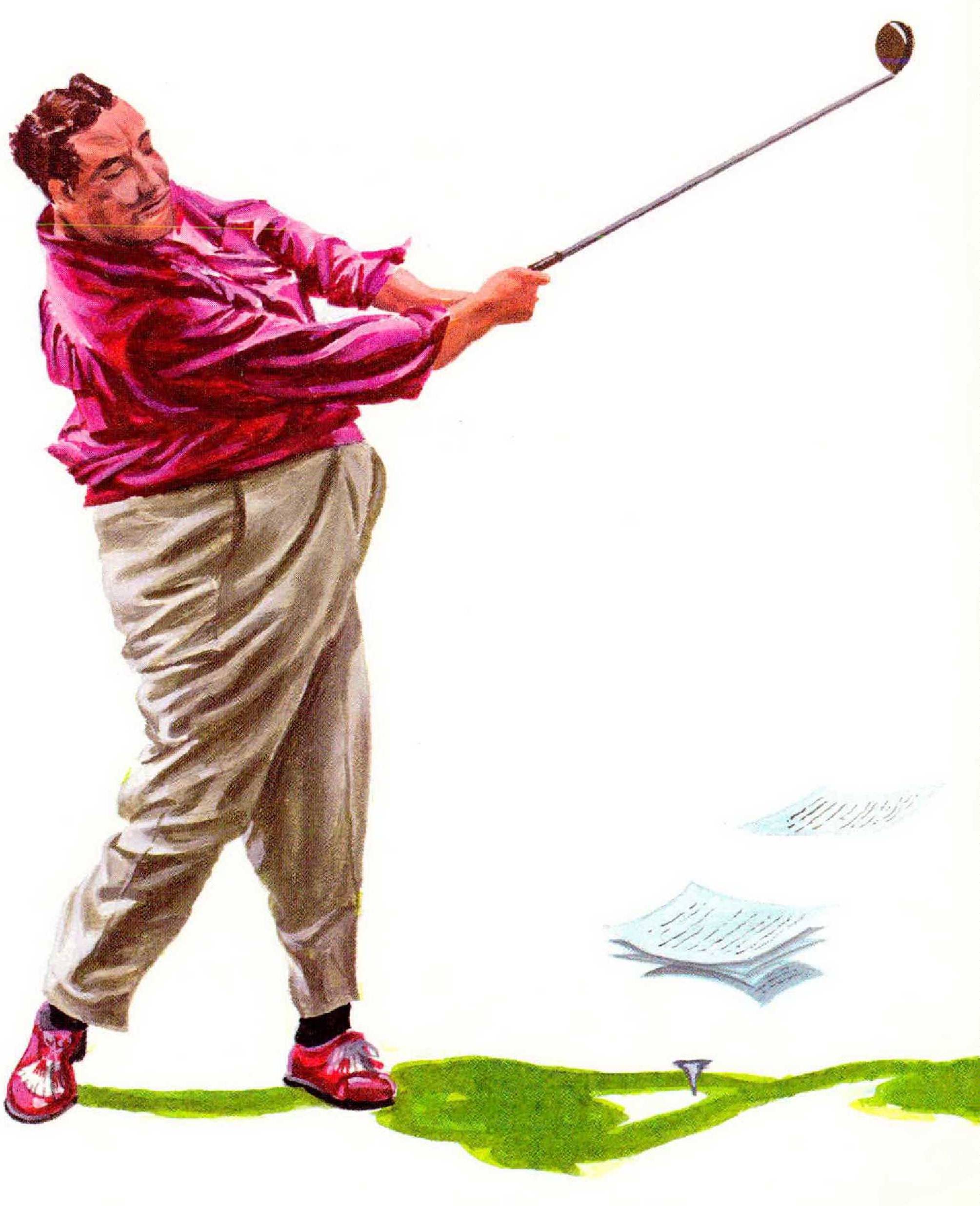 • "The Seasonals"—Sidney Resnick, a man in his mid-forties whom someone described as "an eighty-year-old trapped in a seventy-year-old's body" and who had once been brought onto the old Garry Moore Show to replace the recently fired Woody Allen; and Sid Kuller, a former Marx Brothers writer from Hollywood who wore jump suits and had been hired because Jack Philbin, the show's producer, had mistaken him for Sid Miller, Donald O'Connor's former TV sidekick.
• "The New Guys"—Lucian Kaminsky, Dennis Marks, and I. We were writers whose tryouts at the tail end of the New York season had been good enough that Marvin and Walter were able to persuade Gleason to give us ten-week contracts.
Lucian Kaminsky, a solidly built, young-looking thirtyeight, had received honors in history at Rutgers and a master's degree from New York University, and was a neighbor of Marvin's in West Orange, New Jersey. He'd had his own variety and educational children's show, Pip the Piper, which ran on network for four years. When he got the Gleason job, he had a wife, Gerry, and three kids, one of them about to enter Princeton.
Dennis Marks was a bright, dapper, bald thirtyone-year-old right-wing-Republican graduate of Duke who always wore hats. He had come to Miami right after marrying his longtime sweetheart, Ann Shapiro. (To show that you can't assume anything in show business: he was an Episcopalian and she was a Catholic.)
I was a twenty-two-year-old former Harvard Lampoon president and philosophy major who was probably more to blame than anyone else for the name Gleason gave to the three of us—"the college kids."
An Easy Commute
I ARRIVED in Miami a week early, at the beginning of August, 1964, to get set up and learn how to drive. Knowing nothing about the area, I started by looking at an apartment building that was within walking distance of the show's office and the Civic Auditorium. There were a lot of drifters in that area, so when a newly arrived kid with no car came looking for a nicely furnished apartment with a short-term lease, the manager was understandably suspicious. But once she heard why I was down there, she took me straight to the owner, who offered me a third off the rent, no lease, and my choice of furniture. So before I had a chance to discover that there were lovely places to live down there—such as houses on waterways only twenty minutes' drive from the office—I had moved my trunk into a brand-new high-rise that was literally across a parking lot from the office.
The royal treatment at the apartment building was just the beginning. On the Sunday before the first day of work I wandered over to Flamingo Park looking for a pickup softball game. I found a field where some guys in their forties were warming up, and I asked one of them if there was a chance for me to get in the game. He laughed and told me that there was a waiting list of more than twenty—and the last time someone had been taken from the list was more than three years ago—but they'd let me warm up with them until all the regulars arrived.
When the game started, I sat on the sidelines and began chatting with one of the guys. He asked me what I did, and when I said that I was a writer on the Gleason show, he immediately made all the players on the bench come over and ask me individually what I did—just to see their reactions. Then, after a brief conference, I was told that I'd be playing center field and batting third. At first I was a little hesitant, but the displaced center fielder seemed honored to be the one I had replaced. I went two-for-four at bat. but zero-for-twenty at "So what's Jackie Gleason really like?"
The Great One's name was magic. By the fifth inning a haberdasher, two restaurant owners, and a charter-boat captain, all of whom "happened to be passing by,"had given me their cards and said that of course the first time would be on the house. One of the restaurant owners had a friend in the car-rental business, and that night, over a free stone-crab dinner, I got a full-sized car at much less than compact rates.
This citywide red-carpet treatment got to the point where I wondered whether I could walk into a bank, go up to a teller, and say, "Hi, I'm a writer for The Jackie Gleason Show. Would you please fill up this bag with hundreds?"
And of course everyone had the "perfect girl" for me. If I didn't like her, she had lots of friends who were also college graduates and were "even better-looking."
It seemed that I would definitely have fun during my time off.
"Buy the House"
THE first day on the job was great. We had all recovered from the previous season and were rested and relaxed. After we compared notes on our housing and car-rental deals, Marvin, already a different color from the New York Marvin, explained the working system. Since there were three of us "New Guys," we would be split up to work with veterans in three small "writing units." Jimmy Shelton and Sid Kuller would work with Dennis, Sidney Resnick with Lucian, and Marvin and Walter with me. Toward the end of the day all of us would meet in Gleason's office (which was at least six times the size of any other office, although Gleason used it only a few times during the year) and pool our material.
As soon as Marvin, Walter, and I were alone, I asked what they wanted me to do, since they'd been working together a long time and I didn't want to get in their way. Marvin said that he and Walter would probably wind up writing most of the show themselves, but I would be doing my share if I pitched ideas that triggered a thought in one of them. The way he actually put it was "Keep us awake."
I couldn't believe my luck. I had no real responsibilities and would be in a room with wonderful guys who were not only two of television's best writers but also two of the world's funniest people. And they had hundreds of the best show-business stories ever—going all the way back to radio.
Marvin had been with Gleason for more than ten years, but Jimmy Shelton still told the story of Marvin's tryout on Cavalcade of Stars, Gleason's show on the old DuMont network. At the end of Marvin's first week Gleason's head writer took a bunch of scenes in to Gleason. The chances of a new writer's having anything chosen were very slight, but Gleason took two of Marvin's scenes. The head writer came out of Gleason's office, walked over to the young Marvin, put his arm around him, and said, "Kid, buy the house."
Marvin and Gleason appeared to have been made for each other. "The World's Greatest Entertainer" was a father figure to Marvin emotionally, and Marvin seemed almost to want to be Gleason physically.
Walter Stone was more like Art Carney. Even though he had a brilliant sense of humor, he was unambitious; he was a horseplayer and had once been a serious drinker. (He is said to have staggered up to a bar in Las Vegas one day at 8:00 A.M and ordered a double Scotch. "A double Scotch?" the bartender asked. "At eight in the morning?" "All right,"Walter said, "put a cornflake in it.") He was somewhat fragile and fidgety but there was a special dignity about him, and he was totally devoid of malice. Walter had sent jokes in to Cavalcade of Stars while he was a worker on the production line in a Mack truck factory. The show bought so many of Walter's jokes that Marvin pointed out to Gleason that he would save money by putting Walter on staff. He did, and Marvin and Walter soon became writing partners.
Marvin was terrified of Gleason, but Walter, like Ed Norton, wasn't nearly as intimidated by him. One time they pitched a scene to Gleason, and he said, "That's the worst piece of shit I've ever heard. I could go into a broom closet for thirty seconds and come out with something better than that."Walter shot back, "Hey, Jack, I got a great idea. Why don't you stay in there for an hour, and we'll have the whole season licked?"
Walter could make us laugh so hard that we had trouble breathing, and often when it was clear that everyone was so convulsed that no one would be able to hear the next thing he said, he'd run off for a quick bathroom break. When he was out of earshot, Marvin would whisper, "Nothing compared with what he used to be. Nothing."
The three of us had a great time together. I was an eager, appreciative audience—which was nice for them, because no matter how many times you've told a good story, you don't get bored telling it once more to someone as wideeyed as I was. And they gave me the sense that they were passing on a dying oral tradition of comedy to someone from the next generation.
We spent about half the time actually working. It would have been more like a third if I hadn't kept suggesting ideas that they never used but did turn into things that were usable. (On the second day I was pitching a scene about a laundromat when Marvin suddenly said to Walter, "Remember that idea we once had for Rum Dum and an ironing board . . . ?" Walter nodded, and then almost as fast as I could write it down, the two of them put together a complete threeminute silent blackout—and thanked me for "coming up with the idea.")
I was making $500 a week, Walter $5,000, and Marvin, the highest-paid writer in television, $7,500. Relatively speaking, I was the one being overpaid.
The first week went very well. Gleason was in an uncharacteristically good mood. A wild "party train" called The Great Gleason Express had brought the cast, crew, and office staff down from New York, and there had also been a huge parade and reception (which included his being given the key to the city, the key to the county, and "the key to the Keys"). So Gleason was very easy on our material, and we thought that if the first Saturday-night taping went well, this new environment might make him a more cooperative and sympathetic person.
The taping couldn't have gone better. The crowd trying to buy tickets from scalpers around the auditorium was almost as big as the entire studio audience had been in New York. And the 3,000 people inside went crazy over the show. Every entrance and introduction got a standing ovation, and anything that even seemed like it was supposed to be funny got screams—especially "How sweet it is!" and "And a-way we go!" Gleason himself looked great. He weighed only about 240 pounds and had a tan that made him a walking ad for Miami.
The second week's work went even better, because everyone was loose and in a good mood. We chartered a boat, the Pious Puffin, for an afternoon outing that Sunday. By Tuesday afternoon we had so many good blackouts that we thought we'd have half of them left over for the third show.
DFT
IF it seemed too good to be true, it was. A few days after the first taping (and a few weeks before the show would be on the air and get the national audience's reaction), a writer from an eight-page biweekly newspaper—a supermarket handout with a circulation of less than a thousand— wrote a hundred-word negative review of the first show.
The shopping paper had come out on Monday, but we knew nothing about it until Wednesday, when a call came in at 9:02, two minutes into the staff meeting we had each morning before we split up into our groups. Marvin thought it was his car-rental agency, calling to tell him that the exact color of Lincoln Continental he'd requested had arrived from another part of the country. But it wasn't. It was Gleason, calling from his golf cart.
"Who wrote that shit we did on Saturday?"
Marvin was stunned. "Jack, what are you talking about? You've never gotten bigger screams. We ran six minutes longer than the dress [rehearsal] on laughs and applause. They're talking about saving the doll-hospital blackout for another show so we can keep in all the laughter." As he spoke, the receptionist brought in the shopping paper, and we knew what was going on.
"Was it the college kids?"
Marvin paused for a second and then, trying to protect us, said, "No. It was almost all Walter and me."
"So if they ain't doin' nothin', what do we need 'em for?"
"What I mean is, Walter and I thought up most of the premises, but they came up with a lot of the bits. And they're making only five hundred a week."
"They're draggin' you down, pal. Just like I said they would. The stuff this week had better be a lot funnier."
"Okay, Jack. We'll call you later." Marvin hung up. "Can you believe this? A shopping paper! Thank God it's Wednesday."
Wednesday was the day that Gleason had to choose the blackouts, so that the scenic department could start working on them. If he didn't, the set builders would gel paid for doing nothing on Wednesday and then get paid a lot extra for working "golden time" on Thursday and Friday.
Marvin had been around Gleason long enough to know that there were no sure things, so he put in a call to Fuzzy. Fuzzy was the caddie master at the Doral Hotel golf course. For two dollars Fuzzy would call Marvin as Gleason was finishing the first of his three daily rounds of eighteen holes and tell him Gleason's score. If it was good. Marvin would call the golf cart right away and try to pitch the blackouts while Gleason was in a receptive mood. If it was a bad score, Marvin would wait until after the second round, in the hope that Gleason wouldn't have two bad rounds back to back— which he usually didn't, because despite his enormous girth, and grips so unconventional that he needed specially made clubs, the surprisingly graceful Gleason normally shot in the low eighties. If the second round was also bad, it would be a tough call, because at the end of the third round Gleason would start his heavy drinking.
We split up into our usual writing units and had come up with five new blackouts and a few new "areas" when Fuzzy's call came in. We hastily gathered in the big office to hear the news. Fuzzy said that it had been incredibly windy and Gleason had shot an 89, his worst round since he'd come to Miami. Marvin looked worried. We had started to go back to our offices when the phone rang again. It was Gleason.
"Hey, Jack, howya doin'?" Marvin said, smiling, as if he somehow believed that Gleason could see him through the phone. Walter got Marvin's attention by blowing hard. The rest of us didn't know what he was doing, but Marvin did. "Is it as windy out there as it is here? God, I'll bet Arnold Palmer couldn't break ninety on a day like this." There was a pause, and then Marvin, looking apprehensive, said, "Sure. In fact, I was just about to call you. We've got some great ones."
Marvin stood up and switched the phone to speaker. Even though he had grown up in New Jersey, he spoke with a strange, almost midwestern twang. Despite his weird voice, and a belly so big that he had to rock a little first to get out of a chair, Marvin was a great performer. The problem was the medium; he had to pitch two-to-three-minute totally visual scenes over the phone. But he would do them in complete detail, tiptoeing if the character tiptoed, straining if the character was carrying something heavy, freezing the expression on his face if the character was stunned.
He led from strength. "It's an amusement park, and guys are trying to knock down metal milk bottles with those lopsided cotton baseballs, but no one can do it. Then Rum Dum staggers in and—"
"We did that on DuMont."
"That was people who were dizzy coming off a roller coaster—and it wasn't a Rum Dum."
"It's the same thing, pal."
"Jack, that was ten years ago—and there were only fifty thousand television sets in the country."
"Ya got anything else?"
"Sure. We've got about twenty more." Walter winced. Gleason would never have the patience to listen to that many.
One by one he shot them down. Our only solace was that he turned some of them down so quickly that he might not remember them if we pitched them again later in the season. "You guys had better stop jerkin' off and start workin'," Gleason said, and hung up.
Any hopes of a "new Jackie" were gone. Marvin and Walter looked at each other and then, as if on cue, simultaneously uttered, for the first time, the term that we would hear several times a day from then on: "DFT."
We New Guys waited for an explanation of those initials. There was none, so we raised our hands and asked what they meant. Marvin pronounced the words less like an explanation than like the bad results of a blood test: "Desperate . . . fucking. . .trouble."
An Armed Petunia
WE fed Gleason seven more blackouts at the end of the day, and although it meant forcing the set builders to go into golden time, he rejected all of them. He turned down one by saying. "We can't do anything with Castro in it. Do you have any idea how many Puerto Ricans there are in New York alone?" And although he had accepted nothing, he said no to another blackout by saying, "I like it, but you got too many that take place outdoors." After Gleason hung up. Walter shook his head, winced, and said, "If we could just get Jackie to go into that broom closet."
It was a good thing we couldn't, because the blackouts that Gleason "wrote" himself rarely made sense. One time he proposed, "There's a desert island. A boat pulls up. A guy gets off the boat and opens up a coconut." (That was it.) Another had the intro "It has been proven by science that music makes flowers grow better." Gleason, as a violinist, plays a few notes for some flowers in a window box. The playing is so bad that a petunia takes out a gun (try staging that) and shoots him.
At six the married guys called their wives to say that we would be working a little late. At eight it turned into maybe the women should go ahead and have dinner without them. It wasn't until after ten that the wives got the "I'm on my way home" call.
On Thursday, Gleason reluctantly took four blackouts. They weren't nearly as good as the ones he had turned down, but at least he took them. We collapsed in relief and started talking about what we'd do next week if this happened again. Then Marvin reminded us that having lost more than a day on the blackouts, we now had only a day and a half to come up with thirty triple-spaced pages of monologue.
For monologue the working arrangement was different— everyone in the one big room. We wrote until midnight on Thursday and eleven on Friday. We thought the material was good enough to get us out of Gleason's doghouse, at least temporarily.
Early Saturday morning Marvin and Walter went out to the Doral to pitch the monologue to Gleason after his first round of golf. The rest of us had the job of proving that "they also serve who only stand and wait"—although in our case it was more like "pace and hyperventilate." Being fatalistic was not only impossible; it would have been considered a sign of disloyalty. Hours went by, and we started wondering whether it was getting too late to put on a show that night. Then Marvin and Walter arrived, looking exhausted but relieved, and gave us the news. Out of the thirty pages Gleason had taken only eight jokes and none of them were on the main topic, so they'd had to write a whole new monologue from scratch.
The show that night, despite using the worst of the blackouts we'd written and a thrown-together monologue, went through the roof. But Gleason wasn't happy, because, he said, the only reason things had gone well was that he had "bailed you guys out again." Then he added, "Do you have any idea how tough a crowd that is?"
DFT. We canceled the Pious Puffin. The three-writingunits arrangement was discarded, and we all gathered Monday morning at nine in the big office for our first sixty-hour week.
The disturbing truth about Gleason began to emerge. Whereas most comics are privately contemptuous of their writers (because they resent being dependent on them for material), Gleason displayed his contempt openly. The only people connected with the show who had not been invited to be on the party train were the writers. Marvin and Walter were the only writers he would ever meet with, and even they were treated with little respect.
At one point in his career Gleason had decided to take a year off, so Marvin arranged to tour Europe with his patient, understanding wife, Doreen, and their two sons. He hired tutors to travel with the family, and had every day, every hotel, every tourist site, every restaurant, planned in advance. Then, two days before they were supposed to leave, Gleason called.
"Hey, pal," he said to his longtime head writer, "CBS is begging me to do another season, but I said I wouldn't do it without you. So how about it?" Marvin didn't know what to say. "Jack, you know we have this whole European trip planned, day by day, with tutors and everything. I'll have to talk it over with Doreen." The voice on the other end was uncharacteristically gracious. "Of course you will. I wouldn't have it any other way. I'll hold."
Gleason had a theory that comedy writers operated best under extreme pressure, so he made sure to provide it for them whenever he could. It was no coincidence that Marvin went through three packs of Rolaids a day, or that Walter occasionally disappeared to dry out, or that Jimmy Shelton was both very fat and an immensely heavy drinker, or that Sidney Resnick's hands shook so badly that he always had trouble taking his daily supply of pills—and his wife, Sima, had to learn to drive so that she could take him to work.
As the job became tougher, the usually loyal Marvin started telling us stories about the way Gleason treated the writers on his other shows. On The Honeymooners, Gleason wouldn't let the Kramdens have a telephone. Whenever there was news that was essential to the plot, Ralph would get a telegram, or a co-worker of his might take a detour on his way home to tell him something.
The Kramdens weren't allowed to have a refrigerator either. Then one day Gleason had an idea that involved Ralph's catching the biggest fish at a company outing—but the story couldn't work unless Ralph and Alice had a refrigerator. The writers begged Gleason to let the Kramdens get one, but he wouldn't budge. It was only after the writers brought him studies that showed that almost everybody in the country at Ralph's income level had a refrigerator that Gleason relented (and probably because it was his story idea).
The show went very well—a success that Gleason attributed to the brilliance of his idea and his having "saved" the writers by letting Ralph and Alice get a refrigerator. Then, several months later, the writers came up with what they thought was the best idea they'd had all year. The only problem was that without a stream of telegrams or an army of information-bearing droppers-by, there could be no story. The only way the show could work was if the Kramdens (again like everybody else in the country in their economic bracket) had a phone. The writers waited for a time when they thought Gleason would be in a good mood and asked him to let the Kramdens have a telephone—if only for that one episode. Gleason stared at them, shook his head slowly, and said, "I don't believe you guys. I just gave you a refrigerator. Now you want a telephone?!" (He didn't give them one, so they had to have Norton lower his phone through Ralph's window.)
Neil Simon, the most successful comedy writer ever, once gave Gleason credit for getting him out of television and into the theater. The normally mild and gentle playwright said that when he was struggling with his first play, he was motivated by the burning desire never to have to write jokes for "some abusive, unappreciative shit like Jackie Gleason"— and he only worked for him for a few weeks (and, like me, never met him).
Lucian Kaminsky had the most to worry about, since he had kids in school; what was he going to do if he got fired? A man of great character and integrity, Lucian was also the picture of health at the beginning, but in about two weeks he lost his tan. He gained thirty pounds and increased his cigarette consumption from one to three and a half packs a day. (He tried switching to cigars but couldn't afford it, because it took him only two days to go through a box of fifty.)
Sid Kuller developed a tic in his eye, and Sidney Resnick came up with a permanent headache, for which he would have to lie down three or four times a day and put cold compresses on his forehead. And the pills that he formerly spilled into his lap were now falling all over the floor and rolling under heavy pieces of furniture, which we then had to move to retrieve them.
Jimmy Shelton and Walter started going off by themselves at lunchtime and sometimes returned smelling heavily of Lavoris and Listerine.
Then Gleason added a fifth category of writers—whom we called "The Shuttlers."Every week three or four guys with one-week contracts were flown down from New York for tryouts. They all knew that they would last only a week, and when they saw the working conditions, they were just as happy. One guy was so disgusted that he turned in three blackouts in which The Poor Soul, Rum Dum, and Reggie got killed in the end. Although The Shuttlers were all flown back the next week, it was enough to make us even more insecure.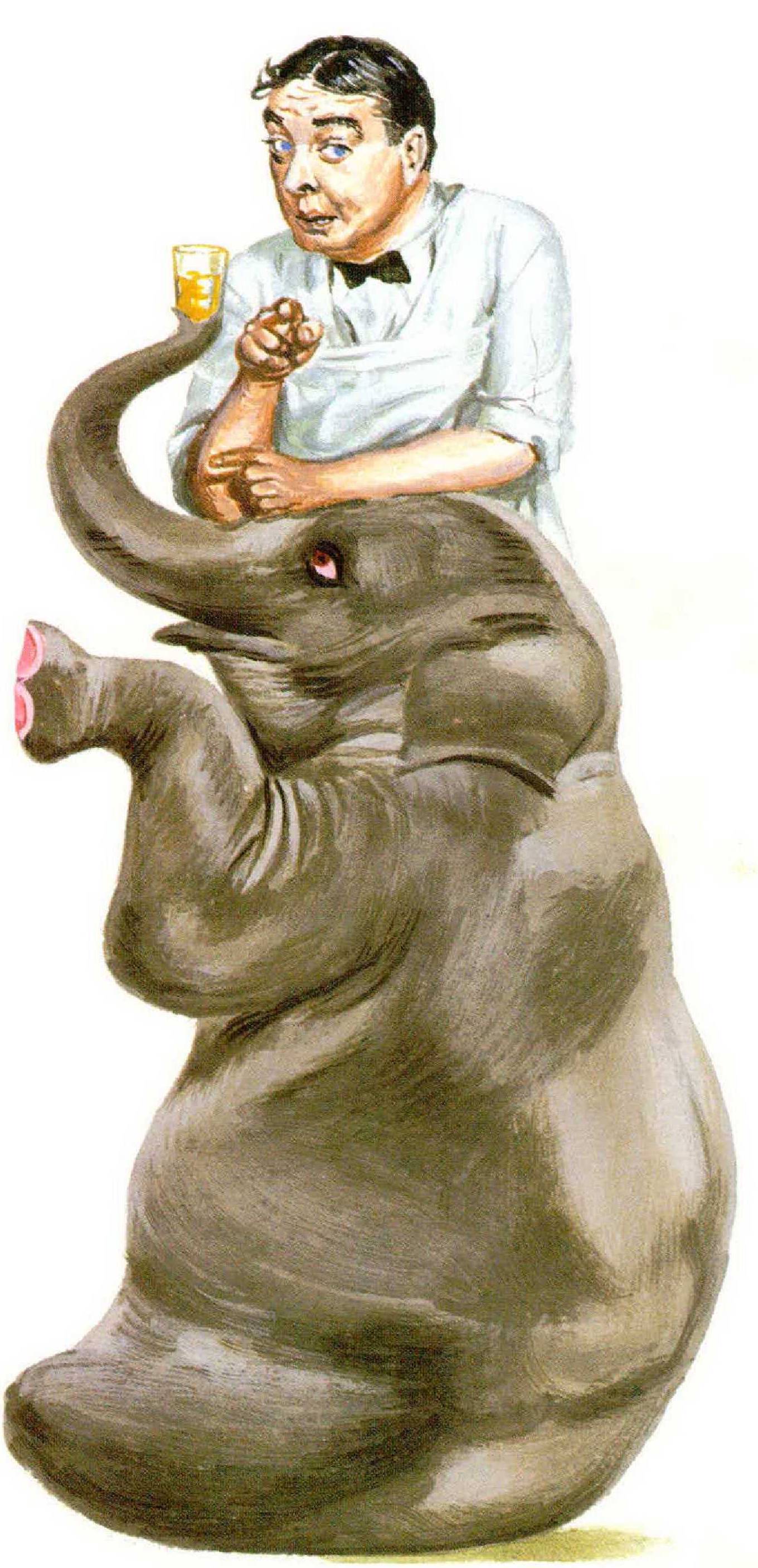 The Elephant Thing
A FEW weeks later Gleason took away our one ace in the hole: midgets. The Great One had a special fondness for midgets, and when things got really desperate, Marvin could often talk him into doing a blackout that had a midget in it. But suddenly Gleason went on a cost-cutting crusade and said, "We can't afford to keep flying in all those midgets." Sidney Resnick came up with a brilliant solution to this problem—The Shuttlers could bring the midgets down with them in their carry-on luggage—but Marvin was too scared to make this suggestion to Gleason.
By mid-November we were up to seventy-hour weeks, so we were basically doing nothing other than working and recovering from working. I had been in Miami for fifteen weeks and the total mileage on my brand-new rental car was 632. (This figure is slightly misleading, because occasionally, at the end of the day, to show that I wasn't really "getting away from the office" like the other guys, I would drive home across the parking lot in reverse.)
As to the quality of the work: We were constantly looking over our shoulders, thinking less about what Gleason might like than what he might say if he hated something. And, of course, troubled minds have a hard time free-associating. We would thumb through dictionaries, encyclopedias, and catalogues, hoping that a word or a picture might trigger a thought for a blackout. Sometimes we would cut lunch short and wander through department stores, sporting-goods stores, and supermarkets, hoping to see an object that might inspire us.
While we were groping desperately, Gleason pretended to be cooperative and accessible ("Call me anytime, day or night"), so we revised the Doral arrangement. Now, in the middle of a good round the caddie would call the pro shop on a walkie-talkie, and Fuzzy would call us. Then Marvin would quickly call Gleason's golf cart and hope that he was in a good enough mood to say yes to something. It sounded great in theory, but the only effect it had was to make him forget how many blackouts he was turning down during the week. Eventually we realized it was better to let him throw out a noticeably big bunch on Wednesday.
Which is exactly what he did. He never again took a blackout on Wednesday. It was only on Thursday, when he had to take something (otherwise the sets couldn't be built in time), that he would reluctantly say yes—to material that wasn't nearly as good as what he'd thrown out the day before.
The other thing he did—so that he could claim he was being cooperative—was to say that some blackouts were good but he had to turn them down because they "could be offensive" or "might go over some people's heads" or couldn't be done for technical reasons. The best example of this was something that Walter had written when the show was in New York. The introduction was about how some people are insanely devoted to their pets. The scene opens with Rum Dum preparing a special surprise meal for his pet, who is in the wings. He takes a little bowl, cleans it thoroughly, fills it with water, and puts it down on the floor in the middle of the stage. Then he takes another bowl and fills it with a variety of gourmet ingredients. When he's finished, he examines the meal, and it looks so good that he's about to eat it himself when he remembers that the dish isn't for him. So he puts the food bowl on the floor next to the water bowl and goes off to get his pet. After a beat he returns, pulling on a long leash, and we finally see that his pet is a full-grown elephant.
"That's brilliant, pal," Gleason said when he first heard it. "You're a true genius." Walter was shocked, for this praise was highly unusual—the kind that might even be used as ammunition when asking for a raise. "But there's one big problem: you can't get an elephant."
Marvin suggested that if Gleason liked the blackout so much, they could wait until the circus came to Madison Square Garden, and maybe they could get one then. "It wouldn't matter," Gleason said. "The theater's too small to get an elephant in." Marvin said that they had measured and there was enough room, but Gleason insisted there wasn't. Marvin and Walter offered to make the pet a moose or a camel. "Nah,"Gleason said. "The whole point is that it's an elephant—and you can't get an elephant."
So the idea was dropped. But every now and then, when Marvin and Walter were having a mediocre week, Gleason would say, "What's the matter with you guys? Can't you come up with good stuff anymore—like that elephant thing?"
When the show moved to Miami and the huge Civic Auditorium, Marvin told Gleason that the backstage space was so much bigger than the space in New York that they could finally do the elephant blackout. But Gleason just got annoyed and said, "Sure, the space is big enough now, but you still can't get an elephant."
This elephant thing became a running joke for us. Often, when one of us would suggest a weak idea for a blackout, the others would give reasons why they thought it wouldn't work and finally add, regardless of the topic, "Besides, you can't get an elephant." We even wrote a song about it. The lyrics ended with
Warthogs and camels are not hard to find.
Contracts for hippos are easily signed.
Ask for a walrus and presto! it's there,
But you can't get an elephant
can't get an elephant
can't get an elephant a . . ny. .where.
The Best Blackout of the Year
THE nightmare continued. Then, after a few weeks, I came up with an idea that I thought could save us. If Gleason was going to throw out everything on Wednesday, why not hold back the best things for Thursday and pretend that we had just come up with them? That way we could get our best work on the air. The other New Guys couldn't believe that we hadn't thought of it before, but when we presented the idea to Marvin, he just shook his head knowingly and said, "You don't understand. If the sacrificial lambs on Wednesday aren't great, you guys are gone."
The depth of Marvin's belief on this subject was demonstrated later in the season, when we'd had a particularly bad week. (We had a good excuse—none of us had slept at all on Monday night because of a hurricane, so we got almost nothing done on Tuesday—but that excuse wouldn't be good enough for Gleason.) So when Wednesday came around, we were short on material. Not only did we have very few blackouts but we didn't have even one legitimately good one.
Then, at 10:00 P.M., Marvin, responding to the pressure, came up with the best blackout of the year. The introduction talked about a neighborhood that was inhabited by a modern-day Robin Hood, who steals from the rich and gives to the poor. The scene is a dark, deserted alley. A bum in rags walks across the stage, and Gleason, as the modernday Robin Hood, jumps out from behind a garbage can and sticks up the bum for the few coins in his pocket. He chases the bum off and hides again behind the garbage can. There's a beat, and then a very prosperous-looking gentleman with a three-piece suit and a pearl-handled cane walks by. Gleason jumps out from behind the garbage can and thrusts the coins that he took from the bum into the rich man's hand. The rich man looks confused and goes off. Gleason stands there smiling, proud of himself for doing a good deed. Then he suddenly realizes his mistake and slaps his forehead, as if to say "Oh, shit!"
We all laughed hysterically, and Marvin picked up the phone to call Gleason. "No!" we all pleaded. "You can't sacrifice that one. It's the best one we've had all year."
"He's got to take it," Marvin said, and with all of us wincing, he dialed Gleason. "Jack, we've got a great one for you, a really great one," he said, and proceeded to act out the blackout brilliantly. When he finished, there was a pause, and Marvin said, "All right. Jack, we'll keep working," and hung up the phone. Then he looked up to heaven, threw his arms out, and said plaintively to God, "I gave it to him exactly the way You gave it to me."
The season continued like this, but we hung in there hopefully, because the ratings had started to improve. Gleason rewarded us by giving us another challenge: we weren't allowed to see the orchestra leader Sammy Spear's outlandish jackets, on which the comic remarks called "Sammies" were based. So we were forced to write ten generic Sammies, like "That looks like a paint factory after a tornado." Then on show night we'd see, for example, a striped jacket and hear a line about convicts that was better than any of ours because it had been written by Gleason's dresser, who had the huge advantage of having seen the jacket.
The Sid Caesar Story
IN general the writing situation had become almost impossible. If we had been writing scripts, we would have had the story to move us along, but since we were trying to think of blackouts from scratch, there was only one way we could possibly get through—by staying in a funny mood until we somehow thought of something.
This was where Marvin was at his best. For hours every day we'd get nowhere. There'd be long silences broken only by semi-desperate suggestions or questions. "How about a beekeeper?" "We did it.". . ."What about UFOs?" "No good. Jackie believes in them.". . ."How about an art auction?" "We pitched that once, and he said, 'Everybody knows it's gonna be a guy giving a signal that he doesn't know is a signal.'" Then, apropos of nothing, Marvin would go into a story.
Once, when we were struggling, Marvin picked up our spirits by telling us about the sudden, unexpected wedding of Lucille Ball (whose show once stood between Gleason and the No. 1 ranking) to Gary Morton, a man far below her professionally. Morton was a little-known comic with an obvious toupee who addressed every man he came into contact with—even people years older than he—as "lad." "As they walked down the aisle," Marvin said, "people were whispering, 'Three weeks.'"
He also told us about the time that he and Doreen were at Sid Caesar's house. Even though it was a beautiful day, Caesar didn't want to sit around the pool, so he took Marvin inside and turned on the television to watch old movies. For four hours Caesar didn't say a word. At the end of the day Doreen came inside to get Marvin, because they had to go home and pick up their kids from day camp. As Caesar walked Marvin to his car, he put his arm around him and said, "Marvin, you're one of the few people in the world I can talk to."
This put us in a funny mood and we wrote five good blackouts. As usual the best one was Marvin's. Intro: "A silent-movie comedian is down on his luck and lives off the charity of his fans." Gleason, in rags, is sitting on a park bench that he has obviously spent the night on. A man walks by and throws a few kernels of popcorn on the ground for some pigeons. Gleason's eyes widen, and as soon as the man is gone, he pushes the pigeons aside and shoves all the popcorn into his mouth. Then he looks in a big garbage can, finds a discarded apple core, and eats what's left of that. A moment later a timid young man carrying a flat cardboard box approaches Gleason. There are stars in his eyes as he comes face to face with his idol. With something close to reverence he hands his offering to the silent-movie comic. Gleason opens the box and takes out a huge, delicious-looking cream pie. He is practically salivating as he looks at it, but a second later he shakes his head sadly, and then, as if unable to overcome his silent-movie-comic's nature, takes the cream pie and shoves it into the fan's face.
The Saturday-night audience never got to see these scenes. We had to use them as cannon fodder on Wednesday. Instead the audience saw a scene in which Rum Dum tries to install a new air-conditioner. When he succeeds—and it blows snow (!) into the room—he gets a cake of ice, sits on it, and fans himself.
Marvin kept up our spirits by telling us stories that not only were funny but, in some cases, also gave us hope. One was about the great Sir Ralph Richardson's first job as an actor. It was in a very serious, not particularly good play that was being tried out in the provinces. His part consisted mostly of one speech, but it was a speech that was long enough and significant enough that a good performance couldn't fail to make the critics take notice of Richardson and launch his career. On opening night the play was in the middle of the second act. Richardson was in the wings, just about to make the entrance for his big speech, when suddenly someone in the audience stood up and cried out, "Is there a doctor in the house?" Another man quickly rose to his feet and said, "I'm a doctor." The first man looked over at him and said, "Doctor, have you ever seen a worse play than this?" Then Richardson had to come on.
We all laughed and got inspired again.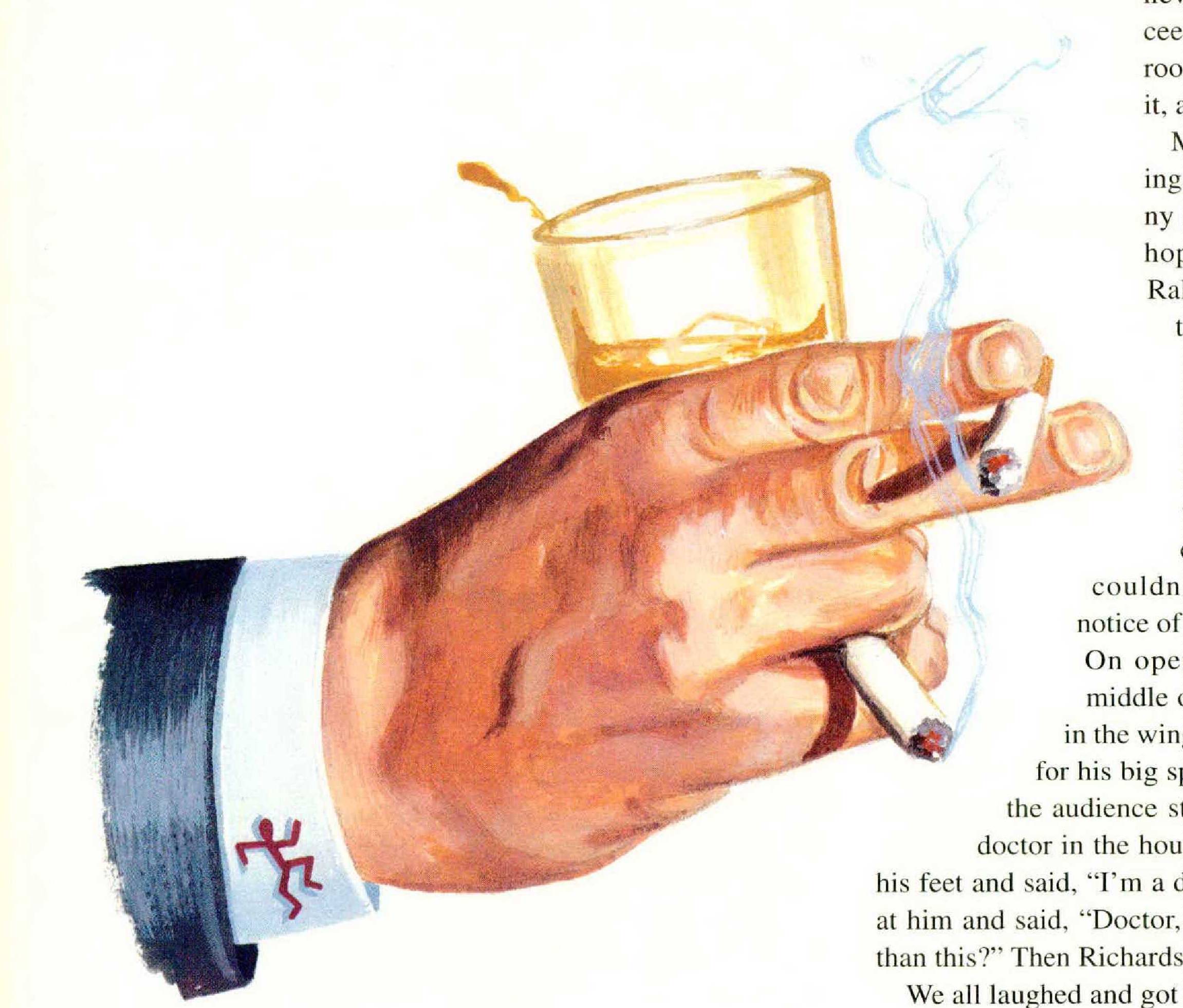 Another story he told us was about the wife of an English aristocrat and one of her servants. Strange things had been going on, and one night the woman goes to the servant's room unannounced and closes the door behind her. "Take off my dress," she says to him, and he does. "Now take off my shoes," and he does. "Now take off my corset. . . and take off my brassiere. . .and take off my panties." He does all this, and then she says, "And don't ever let me catch you wearing my clothes again."
Away We Go
THE second ten weeks of "the college kids'" contracts were up just before Christmas, and Gleason wanted to fire us, but Marvin used the holiday as a begging point and got us renewed—but only for two weeks at a time. We didn't get to celebrate the holiday, but Gleason did give us Christmas presents—cuff links with stick figures of him in his "And a-way we go!" pose.
On New Year's Eve we were even more depressed than the rest of the country, but Marvin got us going again. He told us a story about a hunter who is out in the woods looking for bear. The hunter sees a big grizzly and fires his rifle at it, but misses. The bear is so annoyed that he chases the hunter, catches him, and makes him give him oral sex. So the hunter goes home and this time comes back with a shotgun. Again he tries to shoot the bear but misses, so the bear catches him and sodomizes him. The hunter goes home and comes back with a machine gun. He tracks down the bear again, but again misses. The bear chases him, catches him, looks him in the eye, and says, "This isn't really about hunting, is it?"
On New Year's night, as Joe Namath was being stopped by Texas on the one-foot line to end Alabama's chances in one of the most exciting Orange Bowl games ever played, we were writing a desperate last-minute blackout about a lumberjack.
Then something big happened with the ratings. Flipper, a show about a dolphin, which for a while had been our strongest competition, had been having trouble coming up with new stories (how many different smiling rescues can you do?), and we finally made it into the top ten, ranking ninth.
We New Guys leaped to our feet and clapped when we heard the news. We thought for sure it meant that we would be kept on through the end of the season. Marvin and Walter, who obviously knew better, just shook their heads.
"DFT,"they said.
"How's that possible?" we asked.
"There's only one time that Jackie is tougher on the writers than when things are going badly," Marvin explained, "and that's when they're going well."
"It could be a lot worse, though," Walter added.
"How?" we asked.
"We could be fifth."
Marvin and Walter were always right, and this time was no exception. When Marvin called to congratulate Gleason, The Great One said that he didn't know how long he could continue to carry us, and there'd have to be a shake-up.
The next week a half dozen new writers (including Buck Henry, who would later co-write the screenplay for The Graduate and the pilot for Get Smart) were flown in from Hollywood. Since they were all working week to week, every one of them raised his price and was making more than the three of us combined. And now there was not enough office space, so Gleason ordered that the three "college kids" write at home—but not as a group. We had to write separately and were forbidden to talk to one another. At the end of the day Gleason's chauffeur would drive by our apartments and pick up the material we had written.
He came in Gleason's stretch Mercedes, which had four club chairs and a table in the back. It had been specially made for Gleason, who said that there was only one other like it in the world—and that one belonged to the Pope. For reasons that were never explained to us, we were not allowed to hand our material to the chauffeur. We had to slip it under the door into the hallway. (Equally bizarre, Gleason also had us write critiques of the material that the Hollywood writers had turned in the day before.)
The Hollywood guys fared even worse than we had, so they were let go and we were allowed back into the office, but with week-to-week contracts. Only the pleading of the indispensable Marvin and Walter was keeping us alive.
Then, in the middle of January, something happened that showed that their position had gotten shakier too. The circus finally came to Miami, and that, of course, meant elephants! A few days later Life magazine needed a shot of Gleason in his office, so The World's Greatest Entertainer had to come in for an hour to be photographed. When Marvin and Walter heard about this, they arranged for an elephant to be brought into the parking lot while Gleason was in his office.
Gleason came in, was quickly introduced to all the new writers (except me, because I happened to be in the men's room), and sat for the Life photographer. When the photographer finished, Marvin and Walter buzzed Gleason and said that they had something exciting to talk to him about. The Great One let them come into his office, and they brought up the subject of the elephant blackout. Once again Gleason said, "You guys know I think it's great. It's one of my alltime favorites. But how many times do I have to tell you? You can't get an elephant."
"We're thrilled to hear you say that, Jack," Marvin said, "because we have some great news for you." They pointed out the window into the parking lot. Gleason swiveled his chair, looked out the window, turned back to Marvin and Walter, and said, "That's not a funny elephant."
At that point we knew it would be all over for the New Guys. Saturday night, right after the show, the producer, Jack Philbin, took us aside and made it official.
And away we went.