The Perilous Iditarod
Critics say the Iditarod puts sled dogs at needless risk, and that the race should be either halted or significantly modified. But, says the author, the evidence of animal mistreatment is inconclusive
SPORT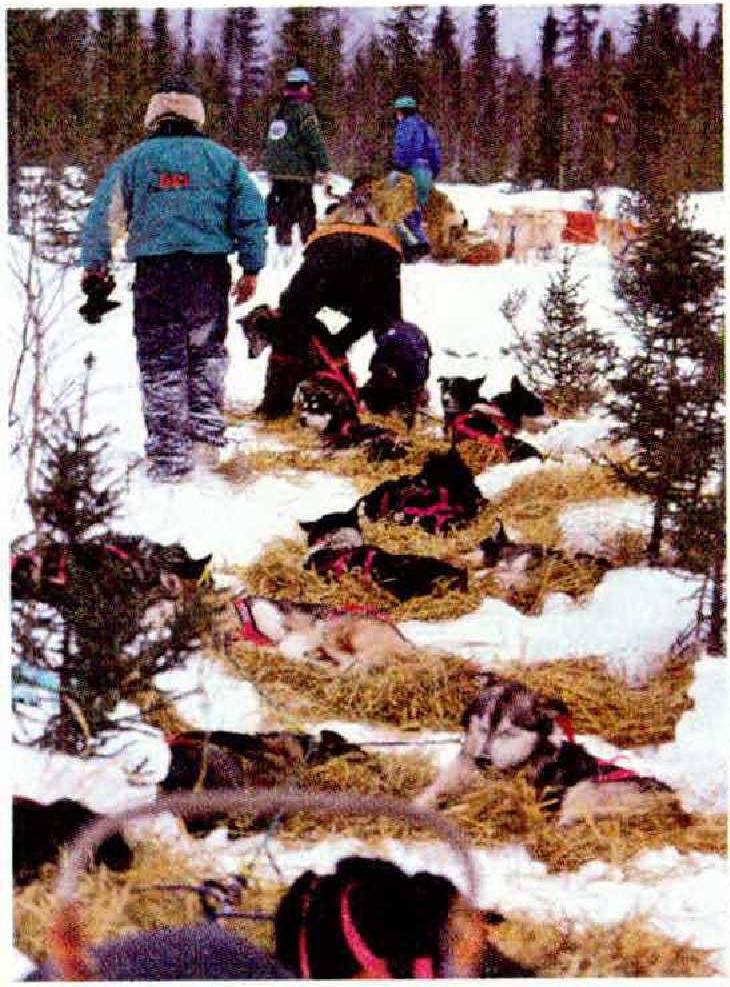 by Mark Derr
EACH winter several teams dozen mushers and their dog teams compete in the Iditarod Trail International Sled Dog Race, a grueling endurance test for human beings and dogs which covers 1,049 miles of Alaskan wilderness between Anchorage and Nome. It is one of the most egalitarian sporting events in the world—women compete head to head with men, and win. It has grown steadily in size and prestige since its first running, in 1973, and has inspired a worldwide boom in mushing. Its victors, like the live-time winner Rick Swenson and the four-time winner Susan Butcher, have become celebrities.
But with success have come charges of cruelty to animals. Animal-rights groups. recently including the powerful Humane Society of the United States, argue that the Iditarod and similar long-distance races are harmful to the dogs that run them and therefore should be radically reformed, if not abolished. Despite efforts to improve animal care the Iditarod Trail Committee, which governs the race, has failed to mollify critics, and so the sixty-eight mushers scheduled to start from Anchorage on March 4 will carry the burden of proving a negative—that the race is not inherently injurious to their dogs. In significant ways the future of the Iditarod and of competitive mushing rides on the medical results of this year's race.
The Iditarod rewards competitors who maintain a consistent pace through the abbreviated late-winter days and long nights, which they illuminate with headlights attached to their sleds. Snow, ice, and frozen tundra compose the trail. Under optimum conditions—temperatures near freezing, clear skies, and minimal snow cover—top teams complete the course in less than eleven days. Last year Martin Buser, of Big Lake, Alaska, set a new record: ten days, thirteen hours, two minutes, and thirty-nine seconds. Buser believes that he can eventually make the crossing in eight or nine days—a phenomenal feat.
But brutally cold weather (-50° Fahrenheit is not uncommon), deep fresh snow, blizzards, and howling winds that transform snowflakes into projectiles and, when the wind-chill factor is taken into consideration, drop the effective temperature to -100° can turn the race into a battle simply to move forward. Drivers often must break the trail for their animals, an arduous task that slows their progress to a mile an hour or less. Polar-fleece booties and neoprene "wrist-wraps" protect the dogs' feet from the snow and cold, which cause them to freeze, crack, and bleed. The top teams may straggle into Nome after two weeks or more, their spirits and bodies worn.
Buser, who also won in 1992, says he likes to establish a rhythm at the start of the race and to travel an average of ten to fourteen miles an hour as long as weather and trail conditions permit. At that pace the dogs, which consume as many as 10,000 to 11,000 calories a day—65 percent of them from fat—and whose top speed is above twenty miles an hour, are always within their aerobic capacity. Buser runs his dogs for four to five hours and then stops for an equal period, so that they actually race for half of the total time spent on the trail. Rest periods include stops mandated by race organizers: one of twenty-four hours, which can be taken at any point in the race; one of eight hours on the Yukon; and one of eight hours at White Mountain, seventy-seven miles from the finish.
Unlike some competitors, who occasionally run with their teams, especially on ascents, Buser lets the dogs pull him. "I rest ninety-five percent of the time on the [sled's] runners."he says. "My goal is to conserve as much energy as possible, because I use most of my energy when the dogs stop."
He needs at least three hours to water and feed his dogs, tend to their feet, and bed them down on straw, leaving him an hour or two of rest during most breaks.
Buser and other top mushers constantly monitor their dogs, dropping at designated sites animals that are injured or have lost their appetite for food or competition. When an animal comes up lame on the trail, the musher carries it on the sled (as many as four can ride for a short distance) to the nearest checkpoint.
In spite of such measures dogs regular - ly are injured or die in the Iditarod. Twenty-one have perished on the trail since 1990; though statistics for years prior to that are not available, fatalities were more common. The causes have varied: moose attack, broken necks, collisions with snowmobiles, heart failure, an exploded liver, and a condition called exertional myopathy. Dozens of other dogs have dropped out owing to sore feet, sprains, fractures, and exhaustion. A human competition with 1,200 participants —the average number of dogs starting the Iditarod—which approached that casualty rate would arouse fierce opposition. And, indeed, animal-rights groups assert that the Iditarod resembles animal abuse more than athletic competition.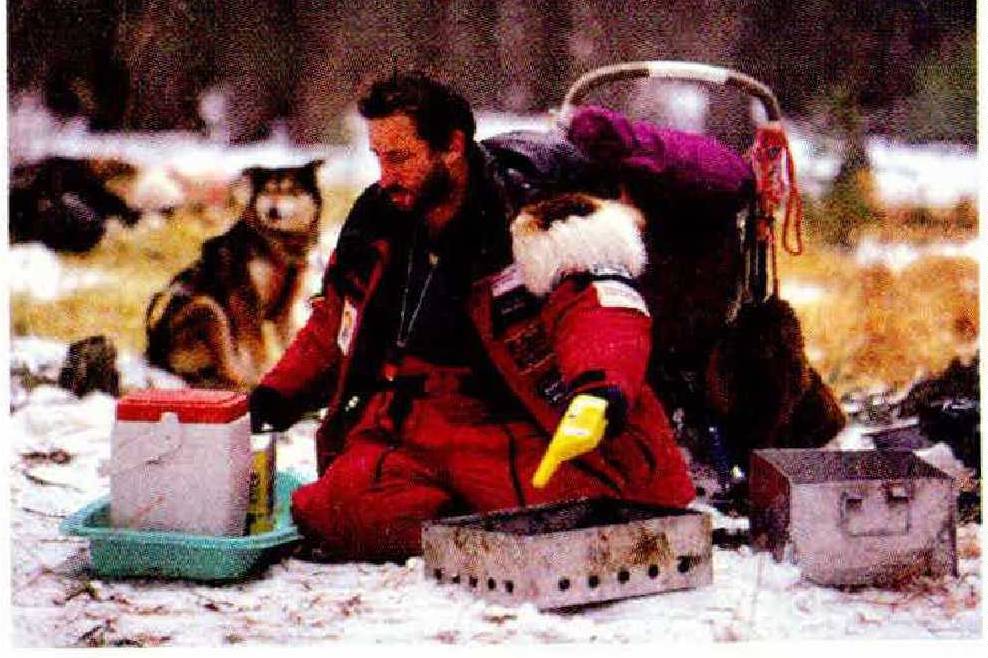 For years the Iditarod Trail Committee did little to address the issue. In the eyes of some old-time mushers living in Alaska's backcountry, the dogs were expendable beasts of burden, and critics were thought of as interfering outlanders from the Lower Forty-eight. The old-timers welcomed the growing popularity and profitability of their race, but resented the accompanying public scrutiny and demands for greater professionalism.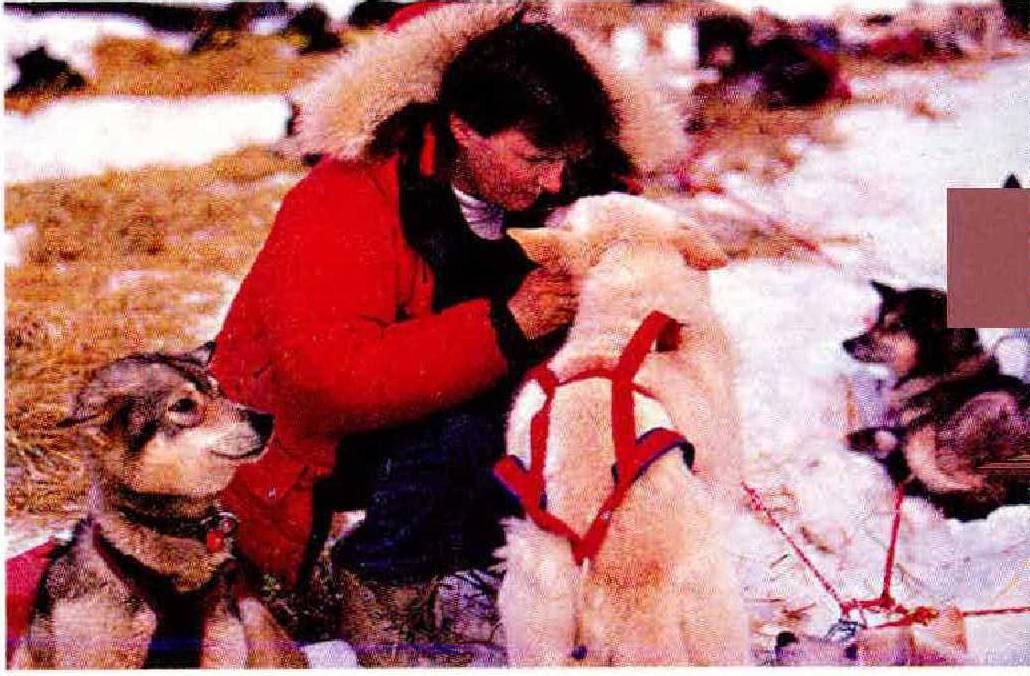 Then, in 1992, after the Humane Society began to monitor the proceedings, the organizers named a tough new chief veterinarian, Karin Schmidt, of the Bering Sea Animal Clinic, in Anchorage. By advising mushers when to drop injured and exhausted dogs from the race, Schmidt set a high standard for animal care and offended a number of veteran competitors. Although the 1992 race had the lowest fatality rate to date—one dog —for political and financial reasons her contract was not renewed.
In 1993 six dogs died; ABC television and Dodge, which had been a major sponsor, decided not to renew their contracts for the race. To retain its other corporate backers, including Timberland, a shoe and outdoor-apparel company, the Iditarod Trail Committee adopted a number of reforms to improve dog care and defuse criticism. David Wills, the Humane Society's vice-president for investigations, was given a seat on a new animal-care committee and effective veto power over the selection of the race veterinarian. Karin Schmidt was rehired. Wills made clear at the time that the goal of the society was to eliminate unnecessary dog deaths, not to provide a publicrelations shield for the Iditarod.
Following the race last year, in which one dog died, Wills went on ABC's Good Morning America to announce that the Humane Society had decided to oppose the Iditarod, because it caused injury and death to animals in the name of entertainment. Citing pathologists at the Tufts University School of Veterinary Medicine, Wills claimed that the dead dog was a victim of exertional myopathy and that all previously unexplained deaths in the Iditarod resulted from that condition. Found chiefly in hoofed animals, especially horses, and human beings (most notably military recruits), exertional myopathy is the breakdown or death of muscle tissue during exercise, a process that floods the bloodstream with myoglobin, causing the animal to "tie up"—become stiff-gaited—or even die, usually from kidney failure. The causes of the condition are little understood, but Wills seized on preliminary diagnoses to conclude that the dogs were run to death and that the Iditarod was, therefore, tainted and should be continued only if its format was altered to slow down the race. (Currently the Iditarod clock runs continuously; in a stage race, in contrast, rest periods do not count against the total elapsed time.) At this writing Wills has yet to produce the full report he promised last spring.
Enraged by what they considered a betrayal, the race organizers expelled Wills from the animal-care committee and campaigned to rally medical and popular support. But last September they suffered another major setback: Timberland announced that it was discontinuing its sponsorship, which dated back to 1985 and amounted to about 20 percent of the race's $1.8 million annual budget. Timberland did, however, donate $50,000 to PRIDE (Providing Responsible Information on a Dog's Environment), an organization founded in 1993 to promote the humane treatment of dogs, for animal care and testing during this year's Iditarod.
Lost on none of the participants in this continuing drama is the bitter irony that the sole fatality in last year's race was H.C., a six-year-old female and a twotime Iditarod veteran on Susan Butcher's team. Some 230 miles into the race the dog expired without warning. Arguably the world's best-known musher, Butcher has long lobbied for more-humane treatment of sled dogs. She even taught David Wills the intricacies of the sport so that he could better understand the Iditarod. In announcing the Humane Society's opposition Wills paid Butcher a backhanded compliment: "Susan Butcher's concern for her dogs is genuine and heartfelt. Yet even she—a person who is remarkably attentive to the well-being of her dogs— cannot safeguard the health of her animals in this race."
Wills's actions have led some observers to conclude that he was using the Iditarod to gain publicity—and donations— for the Humane Society. Whatever his motivation, Wills has raised a number of questions that the Iditarod Trail Committee and mushers must address. Are longdistance sled-dog races dangerous for dogs? If so, can they be made safe? If not, why are dogs dying?
WILLS'S charge that dogs are being run to death is at best an exaggeration. Yet because he is an executive of the largest animal-protection organization in the world—with 2.3 million members and constituents—and because he has tracked the race for four years, his pronouncements carry considerable weight with the media and potential sponsors. Answering the fundamental question— why sled dogs die suddenly while exercising—requires extensive research, which has proceeded slowly because of a lack of funding and, until recently, concern.
The objects of this attention are medium-sized, fiercely competitive dogs, averaging fifty-five pounds for males and forty-five for females. Most of the socalled northern breeds—including malamutes and Siberian huskies—serve as sled dogs, but the animals that make up successful racing teams are nearly always Alaskan huskies, bred for speed, endurance, sociability, competitive drive, sound feet, a good appetite, and a strong cardiovascular system. When breeding their dogs, top mushers regularly seek "hybrid vigor" through the incorporation of new bloodlines. Martin Buser, for example, has had success with huskies that have some hound blood, from crosses generations ago with greyhounds, salukis, and setters.
David Monson, Susan Butcher's husband and a co-owner, with Butcher, of Trailbreaker Kennels, in Eureka, Alaska, says that most mushers are looking for "deep-chested good running animals" that can operate as a team. Professional mushers know they need two years—by which time the animal is full-grown—to get an idea about whether a dog has talent for racing. Dogs that don't prove their mettle as racers are placed in homes or kept as pets. Those passing muster are trained like athletes: Susan Butcher logs an average of 10,000 miles a year with her dogs. One or two great lead dogs can turn a team of also-rans into champions.
Arleigh Reynolds, an assistant professor of clinical sciences at the Cornell University College of Veterinary Medicine, says that Alaskan huskies are physiological marvels, possessing as much as three times the oxygen-uptake capacity of top human marathoners. Reynolds and the half dozen other veterinarians I interviewed for this report—including Karin Schmidt; Ken Hinchcliff, of Ohio State University's College of Veterinary Medicine, who has done field tests on dogs running the Iditarod and the Yukon Quest; and John Blake, the veterinarian at the University of Alaska's Institute of Arctic Biology who performed the autopsy on H.C.—stated unequivocally that they saw nothing inherent in the race to support the assertion that it causes dogs to die through overexertion by forcing them to run too far too fast.
Charging that David Wills and the Humane Society "misrepresented the initial necropsy [autopsy]" on H.C., Blake told me that the society "claims that dogs can be run to death fairly easily, but that's not true." Blake said, "If it were possible to run a dog to death, then given the thousands of dogs in long-distance racing in Alaska, you would have more fatalities."
To this day no one is quite sure what killed H.C. or any of the other sled dogs that have died unexpectedly. Pathologists around the country have examined slides of H.C. 's tissues without reaching a consensus. Although the muscle cells show signs of exertional myopathy, Reynolds and Hinchcliff, among others, believe that H.C. must have had some pre-existing abnormality. Blake speculates that a predisposing condition, such as hypothyroidism, triggered the exertional myopathy, which then flooded the dog's system with potassium, causing a fatal heart attack. Sudden death is, he says, the most extreme of "a whole spectrum" of effects he calls "sled-dog myopathy." Understanding that condition is the challenge now facing members of the International Sled Dog Veterinary Association.
The veterinarians I spoke with agreed that a dog must exercise to suffer myopathy but that distance and duration are not triggers. Contrary to Wills's assertion that sled dogs do not die in shorter races or in recreational mushing, a sprinter or weekend warrior can fall prey as readily as an Iditarod veteran. In fact, poorly trained dogs probably suffer more, not fewer, sprains and breaks.
Last year Karin Schmidt supervised a corps of thirty volunteer veterinarians who examined each dog in the Iditarod at every checkpoint. They had the responsibility of ensuring that dogs that were injured or showed signs of overexertion, such as a sudden loss of weight or appetite, were dropped from the race. Aiming to avoid any fatalities this year, the vets have intensified pre-race testing and plan to redouble their scrutiny of animals during the competition.
To help achieve that goal, the Iditarod Trail Committee approved a reduction in team size for this year's race. Mushers will begin with sixteen dogs, rather than twenty; they must finish with at least five. Schmidt believes that the reduction, which she favored, will force mushers to use their most experienced dogs and will make caring for teams easier. Wills and some observers argue that the new rule, combined with a decrease in the number of food drop points (which will force mushers to carry more provisions), will slow the race down. Buser and other mushers say no.
Fast or slow, the sled dogs love to run. It is incumbent on their human guardians to ensure that they run into health rather than death. As the most prestigious sleddog race in the world, the Iditarod must lead the way.