Schwab's of Memphis
You might not actually need anything this dry-goods emporium sells, but you do need to visit it if you're passing through town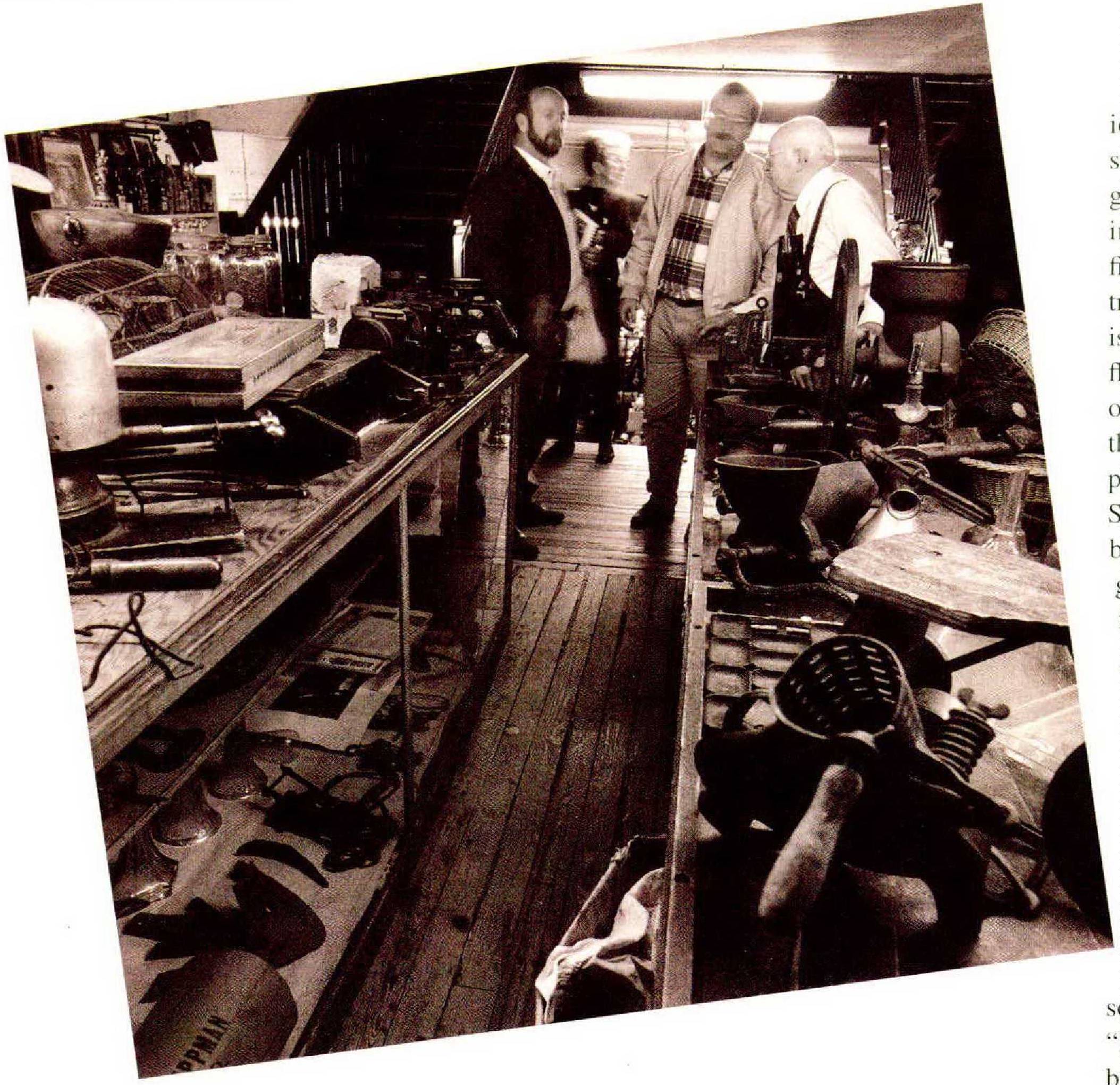 by Jane and Micheal Stern
BEALE Street isn't what it used to be. There Street are no more craps games in the shadows of the alleys, no more bluesmen along the sidewalk wailing songs of good love or bad luck for spare change. The reefer smoke that once wafted from the juke joints after dark blew away long ago, and the dozen pawnshops that lined the north side of the raucous thoroughfare are gone. Urban renewal has made Beale Street bright and wholesome, and new kinds of businesses have come to offer safely packaged Memphis soul for tourists. Gift shops and nightclubs decorated to look like the old juke joints now dominate what used to be an anything-goes district, where W. C. Handy established the blues and Elvis found his bluesuede shoes.
A store called A. Schwab occupies the only building on the street not owned by the city government, and the contrast between it and the sanitized new businesses is striking. Inside the ancient dry-goods emporium, where a strange, old-fashioned calm prevails, the walls are pale seafoam-green and the aroma is a nostalgic blend of cotton fabrics, simple soaps, inexpensive perfumes, and worn wood fixtures. Because of its age. Schwab's attracts its fair share of Beale Street tourists, who come to marvel at the creaking floor and the immense inventory of odd, outdated merchandise. Most customers, though, are not tourists: they are Memphians who know and trust old Abram Schwab and his family business. As has been the case since their fathers and grandfathers rode mules to town from farms in the Mississippi Delta, the majority of Schwab's customers are black. They come to the Beale Street relic, as they always have, to buy just about anything they need in the way of overalls or garter trolleys. Lover's Moon perfume or Big Gals knee-length panties, gents' stingy-brim porkpie hats or ladies' felt hats for church on Sunday, mojo candles to burn when they need to remove a jinx or make someone fall in love. The store motto is "If you can't find it at Schwab's, you're better off without it."
Much of what you can find at Schwab's is not sold at Kmart: celluloid collars, straight razors, Hollywood hair clips for making a perfect marcel wave. Ladies' housecoats, on a long rack upstairs, are full-cut and sturdy, in brightly colored gingham and calico prints reminiscent of a 1948 Sears catalogue—honest clothes for working-class women. Nondesigner men's jeans are available in waist sizes that range from twenty-eight to seventy inches. Odd-lot and surplus items include foam visors, at a dollar each, imprinted with miscellaneous logos: "10th Anniversary Pan Am Games, Indianapolis. 1987"; "University Food Service, U.C. Santa Cruz."Also in the headgear department are three-foot-wide Mexican straw sombreros, pith helmets, and fake-fur coonskin caps with snap-on tails. If you need a gnarled-wood shepherd's staff, a Fiesta Ware factory-second dinner plate for two dollars, a white padded living-room Bible, or a pair of extra-wide tennis shoes from the five-dollar bin, Schwab's has it.
Abram Schwab, who is seventy-one and started working in the family store when he was ten, knows every one of the several thousand items he carries. "I don't feel like I am at work when I am here,"he says, grinning. "This is home to me."On the floor every day from nine to five, outfitted for action in a denim apron, his navy serge slacks held up by elastic suspenders that he boasts are made exclusively for his store, Schwab is ubiquitous. A pinkskinned cherub of a man, with a halo of white hair and a teenager's giggle, he greets regular customers ("There are still some who are older than I am!"), carries boxes full of stock, rearranges displays, and buttonholes strangers so that he can tell them about the history of Schwab's, of Beale Street, and of the Jews in Memphis and the South. Anybody who is Jewish is immediately taken to his musty cubicle in back, where a wall is covered with a vast genealogical diagram listing in minuscule handwriting throngs of his relatives on a family tree. He is crestfallen when the several Sterns charted there are unknown to us, but when we tell him we live back east, his eyes light up. "My sister is a shrink in New York." he says. "I can get it for you wholesale if you want to go crazy."
SCHWAB'S has been a family business since Abraham Schwab founded it in 1876. It was during the reign of Abraham's three sons, sometime in the 1920s, that the store expanded its inventory beyond dry goods and cornered the local market in voodoo talismans. "We used to sell incense to the fish joints around here that stunk," Schwab (the third generation) told us as he waived a Protection From My Enemies candle in the air. "They said, 'Don't you have oil to go with the incense?' So my uncle sent to Chicago for scented oils. He didn't have any idea what they were used for—he just thought to make a place smell nice, to take the fish odor away. Ever since then we have sold incense, oils, and candles for casting and removing spells."
Schwab beams when he explains the function of each magic candle he sells. His manifest enjoyment of the candles seems neither sarcastic nor naive. It is hard to know just what he thinks when he points out that a DUME candle, which is black wax inside a tallboy glass, has blank lines on the outside so that you can write the names of people you hate. "This is the candle of last resort,"he says with a chuckle. "You don't like some folks down in city hall, you inscribe them here, light the wick, and carry the candle downtown. By the time you get there, city hall will crumble to the ground, DUMB means 'Death Unto My Enemies."It's my best seller."He shows us a Double Action Reversible candle, made of purple and black wax, and criticizes a local judge who sentenced two men to prison for practicing malicious voodoo. What a waste of time and taxpayers' money! Had the judge simply lit a candle like this one, all the men's evil spells would have spun around and come back at them, twice as bad. Some other practical candles and room sprays sold at Schwab's include Law Stay Away, Pay Me!!! Now!, I CAN You Can't, and the ever-popular Come to Me. Scented oils work more directly, endowing their user with personal power. "You are going to play cards tonight," Schwab says, hypothesizing, and rummages in a cardboard box for a vial of Money Drawing Oil. "Rub some on your hands and win! And if you don't win, I have four other brands of Money Drawing Oil for you to try."
Oils and candles are displayed to the left as you enter Schwab's front door; shoes to the right; ashtrays far left, in back: ladies' underwear upstairs, center aisle. The geography is constant. Schwab wouldn't think of changing the configuration, the way modern stores do to rekindle shoppers' interest. "So many of our customers are elderly people,"he explains. "As you get older, you can't see too well, your memory doesn't work so well. A lot of things don't work so well. You come in for cotton stockings, you go to where the cotton stockings are. which is where they have always been."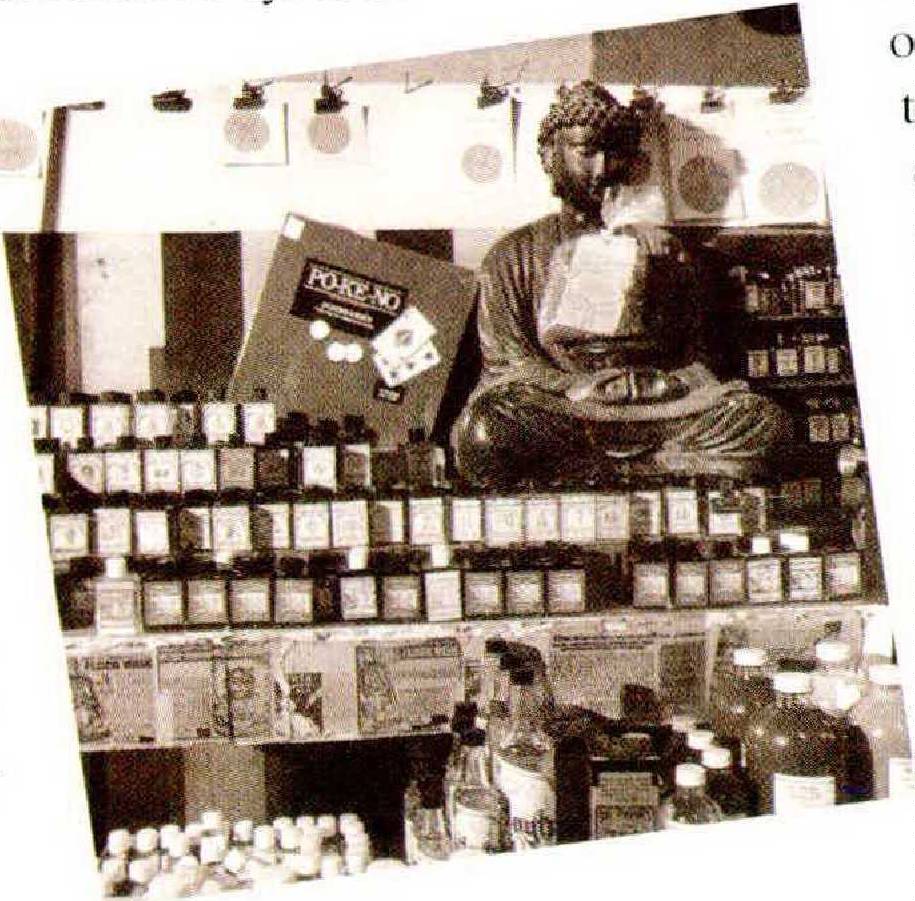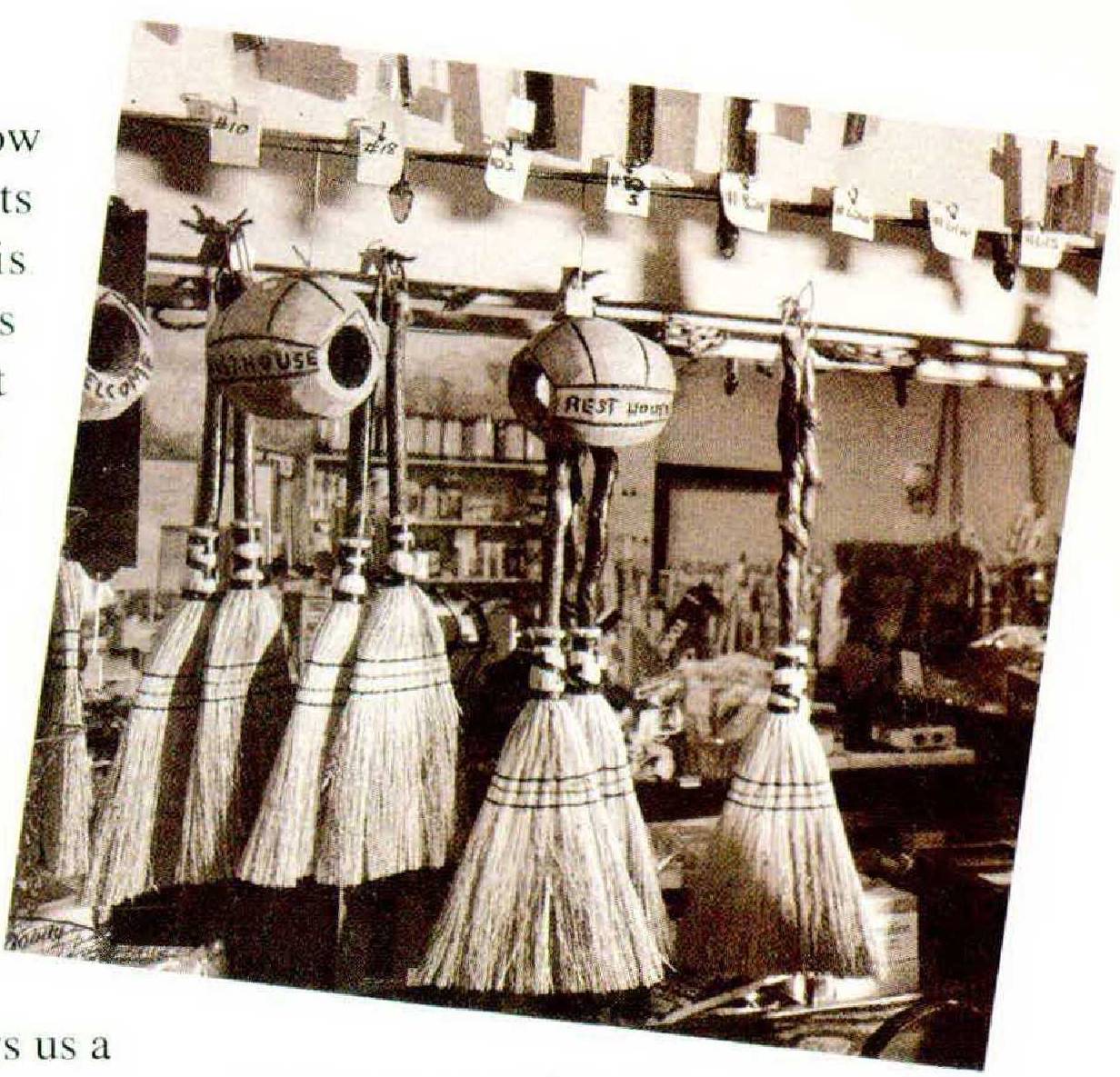 By "cotton stockings" he means hosiery in the old-time shade of faded fleshy beige, made to clip onto a garter belt—sturdy, comfortable, extremely unfashionable, and a best seller here for about fifty years. "We get a wholesaler to order them special from the manufacturer, and they make me swear I will buy them all," Schwab says with glee. "No one else wants them!" Some good old products, he laments, have become unavailable despite his promise to stock them forever. Radio Girl and Atomic Bomb perfumes, which at ten cents a bottle sold well for decades, are now gone: the company that used to make them changed hands, and the new owners decided to modernize their line, leaving Schwab and his steady customers in the lurch. More recently he had good luck selling a novelty item called the Turd Bird—a varnished piece of horse manure decorated with feathers. But he sold out and couldn't get more, because the manufacturer stopped making them.
Another thing that has changed at Schwab's is the music department. As recently as a dozen years ago you could ask the clerk to play a platter before you decided whether to buy it. The selection was fabulous, including rhythm and blues on such legendary labels as Okeh, Vocalion, and Sun. No more. In place of the 78-rpm and 45-rpm discs in which Schwab's once specialized are cassettes and compact discs. However, in the grand clutter of merchandise between the music counter and the Figurfit queen-size underwear we did find a bin loaded with Decca 78s, still in their brown-paper sleeves, selling for a dollar each: "Oh! My Achin' Heart" by the Mills Brothers; "Don't Hesitate Too Long" by Lucky Millinder and His Orchestra; "I Got It Bad (and That Ain't Good)" by Ella Fitzgerald.
SCHWAB savors his role as curator of local history. He has established a "museum" on the mezzanine of the store—tables heaped with old newspapers, photographs, and junk from yesteryear. The basement has become a repository of memorabilia he picked up while Memphis modernized. "Look here." he says, flipping back the lid of a chest-high cabinet with a three-part sink on top. "I am the only Jew in Memphis to have a baptismal font!" He explains that good Catholics go to mass every day, and that there used to be lots of neighborhood churches for their convenience. He got his font when one was razed. He reaches into a burlap sack, pulling out a boll of short-staple cotton while expounding on the importance in Memphis history of cotton's growers, pickers, and traders. Schwab extracts the seed, saying, "This is what a cotton gin does." and tells us to grab hold of one end of the white puff. He spins the other end between his thumb and forefinger as he walks backward. Between us a yard of soft cotton thread is created.
As Schwab strolls through the basement, his eyes glisten with the joy of the antiquity it holds. He points out an old cream-separating machine and the handwritten lactation summary of a cow named Jane. He admires a formal portrait of a local casket maker, which he rescued when a nearby photo studio went out of business. He shows us a pile of some of the original bricks used to pave Beale Street, now scattered on his basement floor. ("Good footing for people and horses in any weather.") He delights in the cobwebs clinging to the three-by-twelve beams that have sustained the store for more than a century. "I started to remove them one day, and then thought, no. these are legitimate cobwebs: they deserve to stay." His brow knits when he comes upon a stack of weathered boards that he rescued when a venerable shop on the other side of Beale was condemned and destroyed. "Any piece I didn't steal, they took to the dump," he says with disgust. "They should have saved every brick and every board from this old street. Beale is history. and history should not be thrown away."