A Voice for the Underdog
Studs Terkel's vanishing kind of decency is on display in a taped sampling of his radio show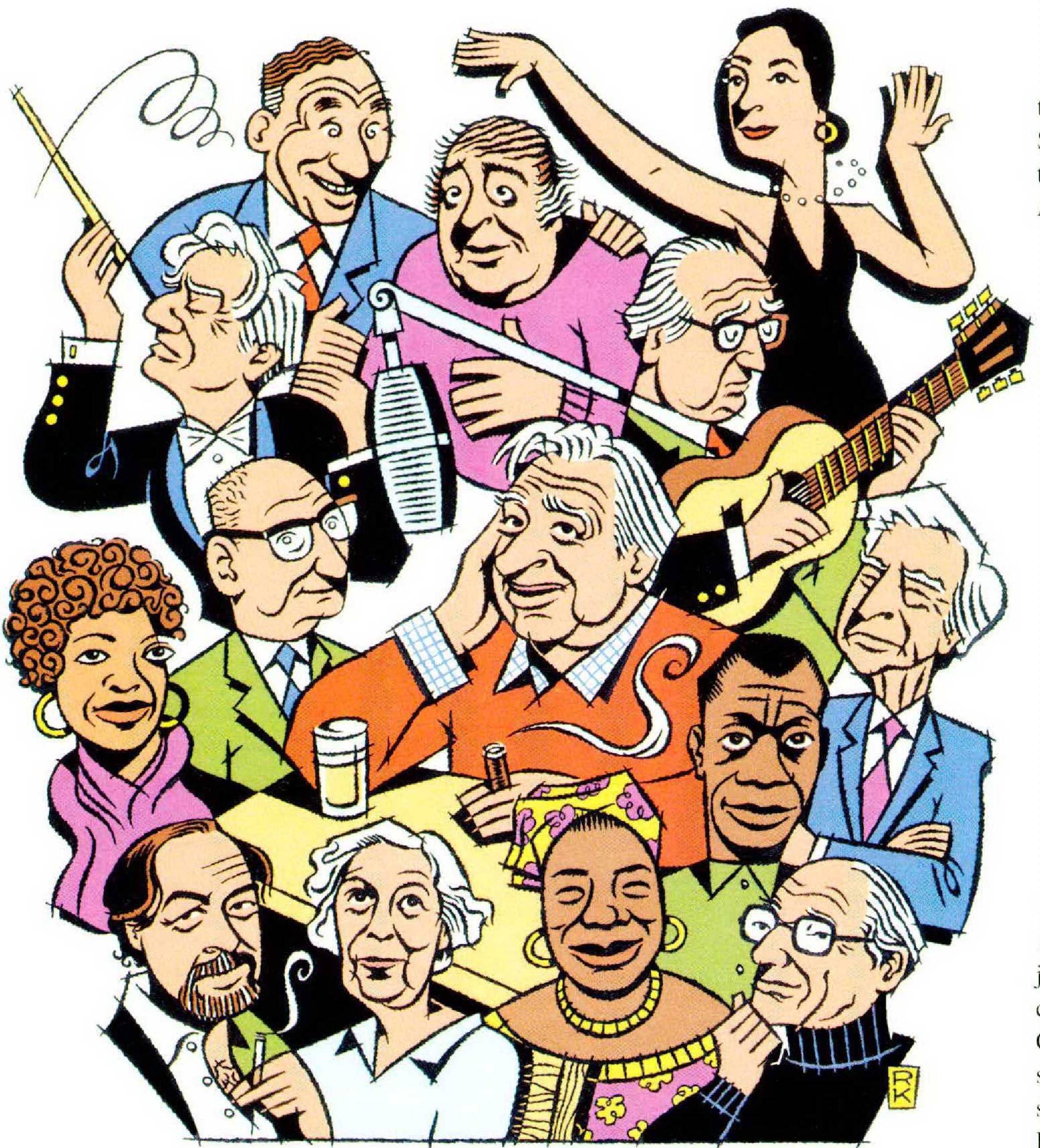 by Jack Beatty
FOR forty-two years, five hours every week. Studs Terkei has been the host of a music and interview show on WFMT, a Chicago radio station. In the six hours of Four Decades With Studs Terkel (four cassettes, HighBridge, $25.00) there are conversations with forty literary, musical, and intellectual figures, ranging from Dorothy Parker to Mahalia Jackson to Bertrand Russell but no politicians. Why? "They're so dull," Terkei told me when I talked to told me to him recently. "Now, if I could have interviewed Bob La Follette, Senator Norris, or Eugene V. Debs. . ." His cigarcured voice trailed off, his point made.
Terkel's parents operated a residential hotel for men near Chicago's club and theater district, and young Louis (that's Studs's real name) grew up in the vivid thick of opera, jazz, blues, and drama. After graduating from the University of Chicago Law School, Terkei became an actor. While he was a member of a Works Projects Administration writers' project, he also appeared in the first production anywhere of Waiting for Lefty, Clifford Odets's play about America in hard times. He played Joe, a tough cabdriver—a role for which his city-guy voice suited him. Terkel talks "city" the way Ross Perot talks "country."
Indeed, for Terkel, talking city was the way up. It got him on 1940s radio serials—he was Butch Malone, gangster, on Ma Perkins, and again a gangster on The Romance of Helen Trent—and then it made him the DJ of his own music show, The Wax Museum, on which he played jazz, folk, opera (hamming up the libretti), and the blues. "I was the first white guy to play Mahalia Jackson," he told me proudly. An acting job followed in an early television series called Studs's Place, a live Cheers set in a Chicago restaurant. "We did TV Chicagostyle," he said. "Improvising." Though the show was a hit, his sponsors—Manor House coffee—were nervous about Terkel's politics. "I had signed my name to all kinds of petitions in the thirties and forties," he explained. "I was against Jim Crow, for rent control, for 'Friendship With Our Wartime Ally'"—the Soviet Union. Some of the originators and circulators of those petitions were Communists or fellow travelers: the enemy within, in the early fifties. A deputation from his sponsors called on him. Things could he made right if he would issue a statement saying he had been "duped" into signing. "But I wasn't duped. I was against Jim Crow!" It wasn't principle that kept him from recanting, he said. It was vanity: "I was too smart to be a dupe!" He was blacklisted from both commercial radio and TV. And of course it was principle.
Jobless, Terkei heard Woody Guthrie's voice purling from his radio one night. That was the station for him. He called, asking if he could work there. It was WFMT.
FOR an author, being a guest on Terkel's show is uniquely gratifying: not only has Terkel read your book but he has dog-eared pages and scored passages throughout. In a content-driven business he appreciates style. He loves good writing. This comes through in his interviews on these tapes with Eudora Welty, Arthur Miller, Isaac Bashevis Singer, Toni Morrison, and Tennessee Williams, who tells Terkel that he is drawn to incomplete people—"people that have problems, people that have to light for their reason."People like Blanche DuBois. Illustrating Nietzsche's idea of the eternal return, Singer tells Terkel that he feels they met in a past life. "You think we've been here before?" Terkel asks, his ham-and-egg materialism edging his voice with incredulity. "I think so,"Singer replies, adding, with Bennyesque comic timing. "I'm not so sure if we had an interview on the radio before."Terkel has Norman Maclean read the last, haunting passages of A River Runs Through It. Garry Wills reads from George Washington's farewell address, and Margot Fonteyn from her book on the history of dance, delightedly quoting to Terkel an early nineteenth-century writer in the London Times on the waltz: "this lascivious intertwining of the limbs."
Bertrand Russell, interviewed in the midst of the Cuban missile crisis, sounds so much like one of Dickens's squirrelyvoiced old men—Scrooge, say, or the Aged P. from Great Expectations—that you cannot take his apocalyptic musings any more seriously than his pithy solution to the planet's ills: "The first requisite is world government, with a monopoly of all the major weapons of war; . . . great diminution of fanaticism; and ... a raising of the level of the underdeveloped countries. Ultimately everybody should be at least as well off as people are in the United States."That answer conveys volumes about the Victorian world in which Lord Russell was reared—its firm grasp of first principles, its unshakable confidence. There is a similar historical suggestiveness in this 1972 exchange with Daniel Ellsberg:
Q: "When was Pentagon Papers first published?"
A: "June 13, 1971, a million tons of bombs ago."
Terkel asks Andres Segovia why he decided to play the guitar and not "established instruments" like the violin and the piano. Segovia replies in musically accented English that the pianists and violinists in his village were "very meedeeocre." So bad. in fact, that a friend came to describe the piano as "a rectangular monster—he yells when we touch his teeth." Mortimer Adler is pompous. Barry Lopez is too lofty for Terkel: Lopez, insists that hunting is a spiritual activity; Terkel asks, What about hunger? Busy Leonard Bernstein has to catch a plane. James Baldwin inhales, eloquently. Kenneth Tynan is wonderfully quotable. Zero Mostel and Mel Brooks are hilarious. Music leavens the talk and serves as a border between one talker and another. And there is the voice and persona of Studs Terkel.
WHAT is special about that voice? This: it is a voice for the underdog, a voice that often registers laughter but never derision. It has been a long time since I heard another radio voice so liberal and humane and yet so rooted. When the African-American poet and author Maya Angelou, in a moving interview, tells of how her grandmother was called by her first name by "the poor white trash" who farmed her land, I wondered, Will Terkel let that pass? Not a chance: "Victims themselves, victims themselves," he interjects, and Angelou, to her credit, quickly agrees. You can count on Terkel for that kind of decency. At a time when mockery and hatred of difference rule the radio dial, poisoning the hearts of America against pity and compassion in this era of majoritarian right-wing populism, Terkel's humanism and tolerance, his generosity of feeling, are worth a full-throated cheer. His social perceptions flow from his literary and musical culture, not from political correctness. Style, language, story, rhythm, voice, tone, laughter: these aesthetic qualities, these properties of language and music, have made him feel more. Feeling more, he sees more. Seeing more, he cares more. The arts and humanities, his example suggests, are the proper stuff of character education. Certainly they have wrought a beautiful character in him. (Terkel's eighth oral history. Coming of Age, will be published by The New Press in the fall.)
Interviewees depicted an page 99, clockwise from top left: