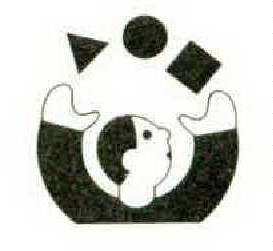 Changing Times
Answers to ten unidentified clues will be 20 Across upon entry in the diagram. Clue answers include eight proper nouns and a possibly unfamiliar word at 33A.
See page III for Puzzler contest details. The solution to last month's Puzzler appears on page 130.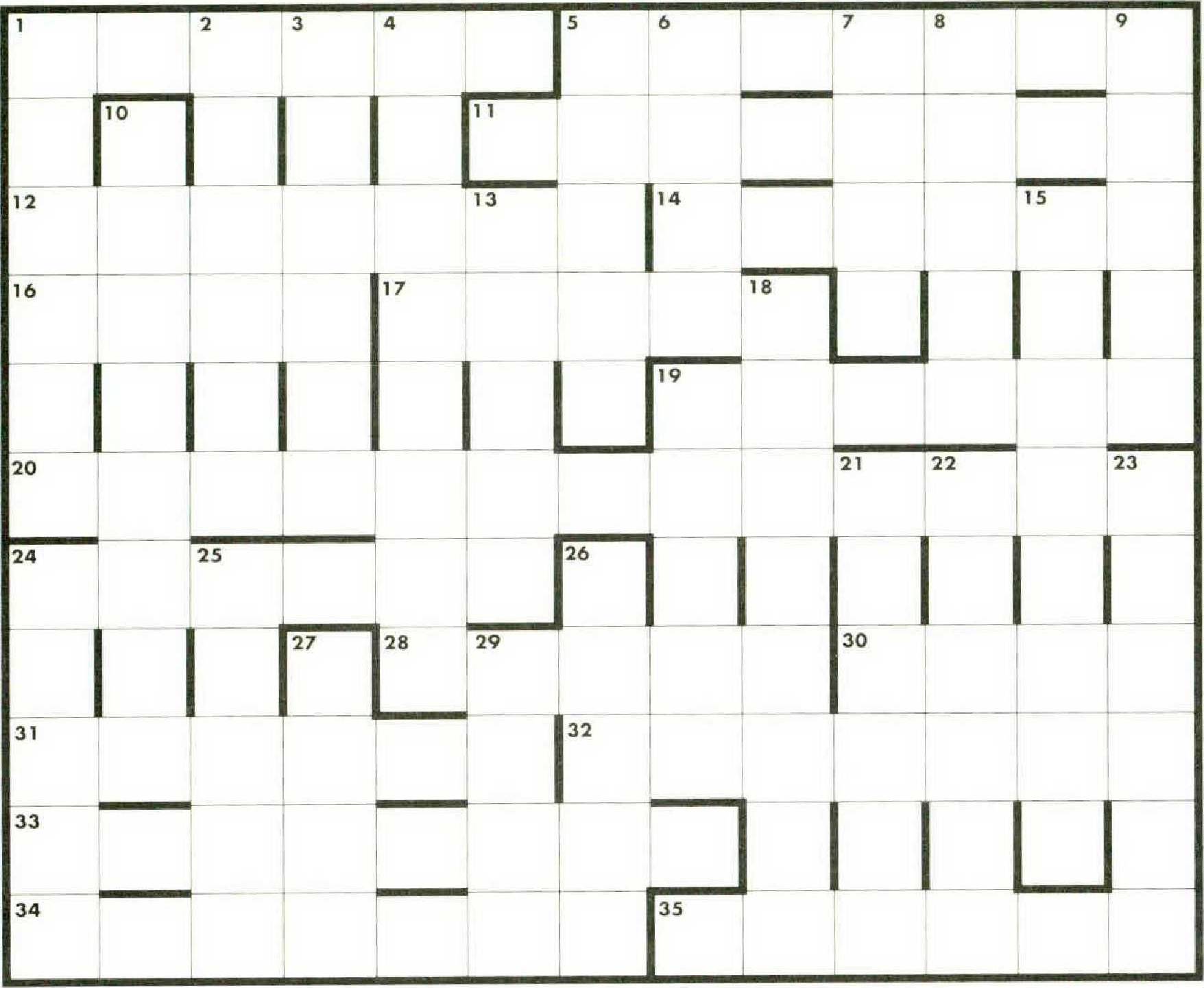 Across
1. Bumped into a French lady briefly stuck in road (6)
5. Violation by one from a Black Sea region (7)
11. Someone forgiving mate accepts ring (8)
12. Trusts wagon trains (7)
14. Having broken leg, Don ached (6)
16. Run behind South American palm tree (4)
17. Spreads cheer with bagels (5)
19. Andy's kid taking a last taste of illicit drug (6)
24. Keeping close to the ground, G-man ran (6)
28. Paper showing woman with alien (5)
30. Think Kitty's cries can be heard (4)
31. In running first of races, get gray pony's kin (6)
32. Michigan prisoners given medial terms with very short lengths (7)
33. Man just scattered about 100 jungle deer(8)
34. Guard has ID taken back (7)
35. Ford most of the way into river, a large body of water (6) (two words)
Down
1. Most certain of the first third of summer vacation (6)
2. Hungry after a little bit of mush that's inadequate (6)
3. Cheese stuffing from a noodle (6)
4. Record that is in use adapted for tributes (8)
5. Supply food and cold beverage after work (5)
6. Mythic vessel guarded bygargoyles (4)
7. Form furry growth (4)
8. Doctor cuts into a Hindu god (5)
9. Irene: strange name for a boy (5)
10. Raul's wound is around top of the shoulder (8)
13. Dash ahead of 500 antelope (5)
15. Argument resolved about a story (8)
18. Doctor overtips, for fun (8)
19. Area of a nuclear reactor involving Homer's primary task (5)
21. Ushered outside, a pair of males escaped (6)
22. Blames on exercises (6)
23. Anne is terribly mad (6)
24. Noted psychoanalyst starting with mother at the outset (5)
25. Operator called "Ape" (5)
26. Popular place to travel about between Maine and California (5)
27. Desired unlimited pay for playing (4)
29. Cap worn by English police (4)
Note: The instructions above are for this month's puzzle only. It is assumed that you know how to decipher clues. For a complete introduction to clue solving, send an addressed, stamped long envelope to The Atlantic Puzzler, 745 Boylston Street. Boston, Mass. 02116.
ANSWERS TO THE SEPTEMBER PUZZLER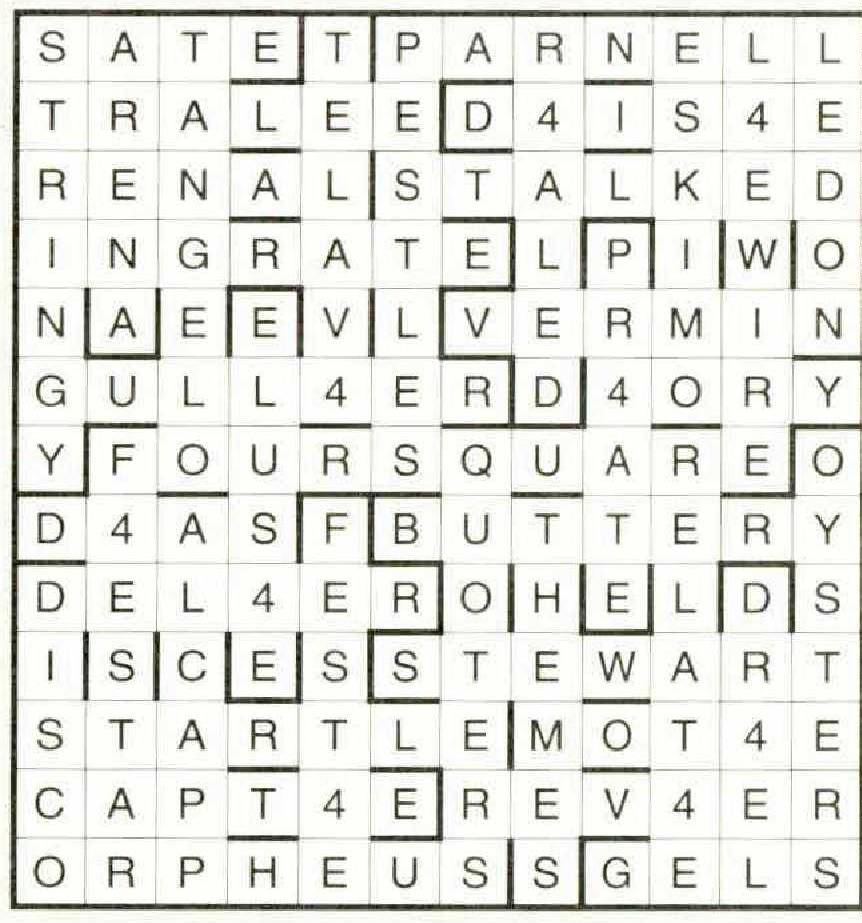 "The Best Policy"
Across. 1. SATE (double def.) 5. P ARNE-L-L 10, TRA-LEE (pun, rev.) 11. D(I-VIS)IVE 12. R ENAL (rev.) 13. STALKED (double def.) 14. IN-GRATE 17. VE(RM)IN 18. GULLIVER (lug rev.) 19. IV(OR)Y 20. FOURSQUARE (pun) 24. DIVA-S (avid rev.) 27. B(UTTER)Y 29. D(EL)IVER 31. STE(WAR)T 32. STARTLE (anag.) 33. MOI'-EVE 34. CA(PT-I)VE 35. REV(I)VER 36. ORPHEUS (anag.) 37. G(EL)S Down. 1. ST(RING)Y 2. ARENA (anag.) 3. T(ANGEL)O 4. TEL AVIV (tell of Eve homophone) 5. PEST(LE)S 6. RI(VALE)D 7. ESKIMO (anag.) 8. LL-VEWIRE (Review anag.) 9. LE(D)ON 15. PR(IV)ATE 16. (d)ELUSIVE 20. FI(VESTA)R 21. QUOTERS (anag.) 22. REL-ATIVE (Evita rev.) 23. O(Y)STERS (anag. + y) 25. AL(CAP)P 26. FEST(I-V)E 28. THE-ME'S 29. D(IS)C-O 30. DRIVE-L