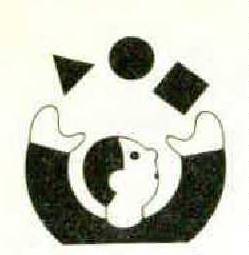 The Best Policy
Honesty compels us to confess that 17 answer lengths (the numbers in parentheses) are incorrect. These numbers do tell how many squares are available in the diagram, but the 17 answers must be manipulated to fit into their squares. Answers, we can candidly assert, include eight proper nouns.
See page 111 for Puzzler contest details. The solution to last month's Puzzler appears on page 110.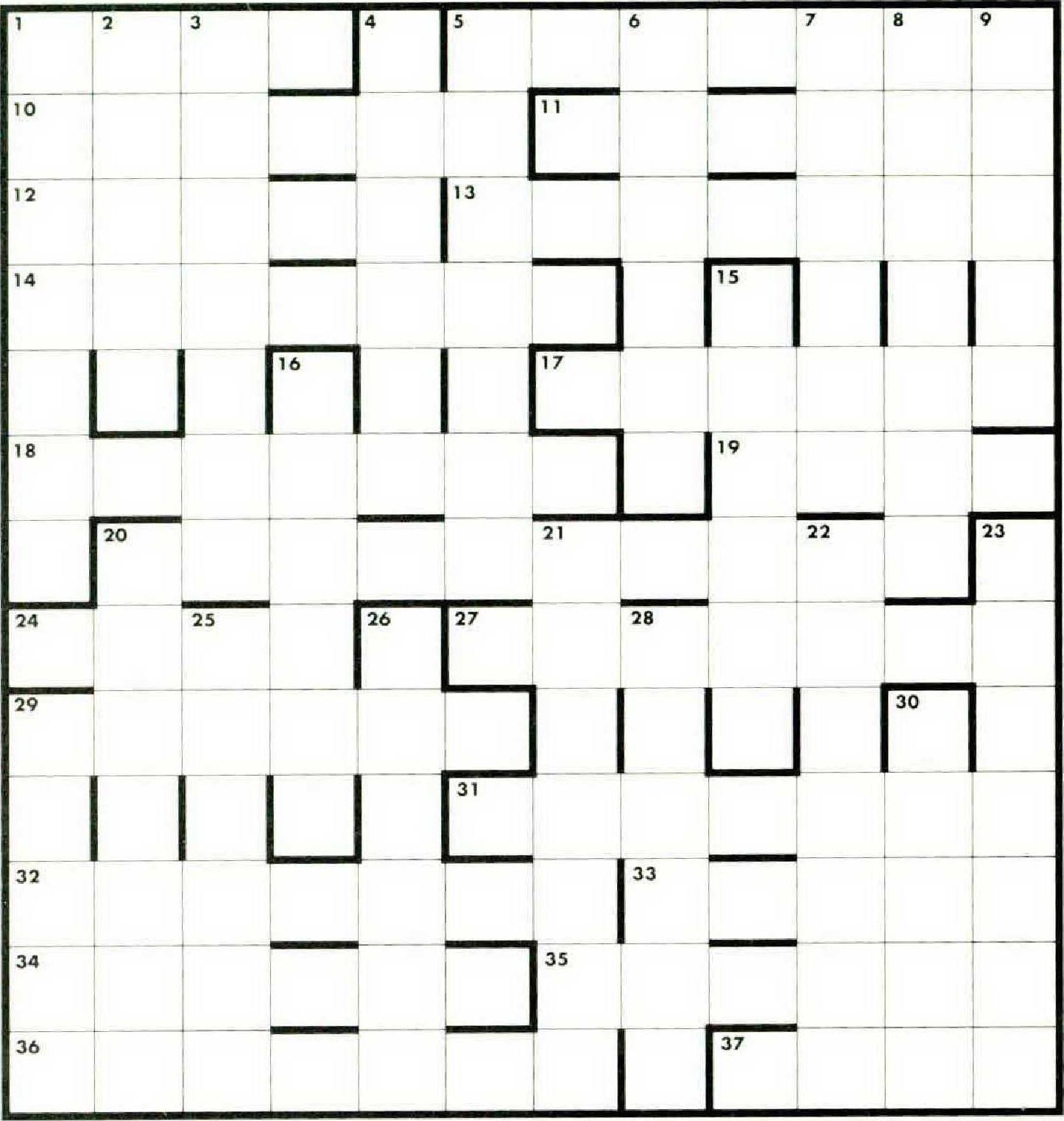 Across
1. Indonesian food stuff (4)
5. Piano composer of Britain pounds an Irish hero (7)
10.Town in Kerry rejected pictures of fish? (6)
11. One Latin force in seedy tavern causing dissension (6)
12.Passage right back of a kidney (5)
13. Grimly advanced, like the eyes of a lobster? (7)
14. Thankless person occupying bars? (7)
17. Room aboard vessel for rats (6)
18. Drag back organ for a storied traveler (7)
19. Some garden greenery keeping gold and white (4)
20.What each of nine spaces in this diagram might be called—honest (10)
24. Enthusiastic about soprano singers (4)
27. Voice is breaking by pantry (7)
29. Aquatic Olympian pens article in Acapulco, free (6)
31. Movie actor let canceled material remain, suppressing hostilities (7) 32. Shaking rattles, cause shock (7)
33. Pithy remark: "I have incentive" (5)
34. Pint I put in the possession of wine cellar's prisoner (6)
35. Refresher, one taken by gunner? (6) 36. Underworld visitor shot up horse
(7)
37. Thousands collecting train sets (4)
Down
1. Long and thin pen describes loop (7)
2. Convertible near a sports center (5) 3. Sweetheart comes in for fruit (7)
4. Vocally explain about the First
Lady's city (6) (two words)
5. Annoying people eating the French grinders (7)
6. Tried to pass clear around valley (6)
7. Northerner and I smoke hash? (6)
8. Long Island Review blasted a conductor (7) (two words)
9. Lured leader of dragoons into Spanish city (5) (two words)
15. Out of public view, blab about Indian's first victory (6)
16. Start off misleading and baffling (6)
20. Match covered with wood of the linest quality (7) (hyphenated)
21. Those who cite wild torques (7)
22. Middle section of Corelli musical uplifted family member (7)
24. Seafood fork carried by newfangled
stores (7)
25. Mountain is home to top cartoonist (6) (two words)
26. Happy clown in Twelfth Night wraps up one verse (6)
28. Article: "Ego's topics" (6)
29. Club is located in Washington and Oregon's capital (5)
30. Road by side of lake in moonshine (5)
Note: The instructions above are for this month's puzzle only. It is assumed that you know how to decipher clues. For a complete introduction to clue-solving, send an addressed, stamped long envelope to The Atlantic Puzzler, 745 Bovlsion Street, Boston, Mass. 021 16.
ANSWERS TO THE AUGUST PUZZLER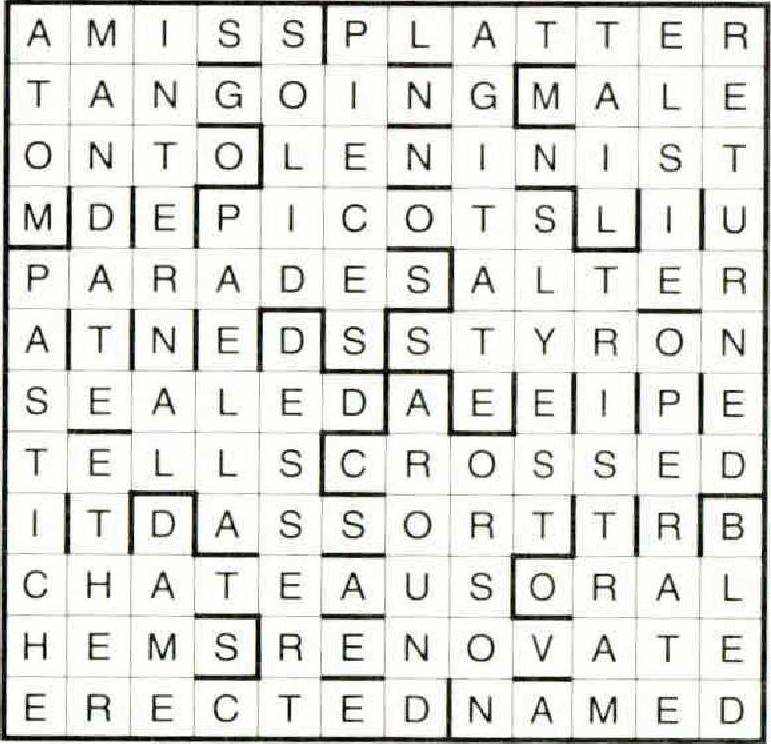 " Wrong Number"
Each answer's correct location is given after its solution note. Across. 1. ETHER (anag.); 25D 5. c&;ROSSE)D (Rose's anag.); 26A 10. TRISTRAM (anag.); I8D II. HEMS; 33A 12. 13-LE-D; 30D 13. RE(TURNE)D (tuner anag.); 9D 14. S(LYE)ST; I5D 16. A-OI-TATE; 6D 17. NAMED (anag.); 36A 20. P(A)-ELLA; 14D 22. A-RO(UN)D; 23D 24. ELSIE (hidden); 8D 26. ERECTED (anag.); 35A 29. STYRO-N (story anag.); 20A 31. PASTO)-CHE; 16D 32. TAIL (homophone); 7D 33. AT-OtvtuM: ID 34. INTERNAL (anag.); 3D 35. DESSERT (rev.); 19D 36. OR-SON; 27D Down. 1. OR A L; 32A 2. OPERATE (anag.); 21 D 3. C(HATE-AU)S; 31 A 4. ALTER (anag.); I7A 5. SEALED (first letters); 22A 6. MANDATE (anag.); 2D 7. O NTO (not anag.); I2A 8. A MISS; 1A 9. L(ENIN)IST (nine rev.); 13A 14. PIE CES; 5D 15. AS-S-OR-T; 29A 16. TANGOING (anag.); I0A 18. REN(0)VATE (anag. + o)\ 34A 19. P(L)ATTER: 5A 21. PA(R-AD)-E S; 16A 23. PIC(0)TS; I4A 25. S-OLID; 4D 27. T-ELLS (Welles minus we anag.); 24A 28. MALE (anag.); 11A 30. DAME (anag.); 28D