The Great American Studies Novel: The Tragic Story of Ross Lockridge and His One-of-a-Kind Epic Raintree County
by Charles Trueheart
RAINTREE COUNTY
by
Penguin
, 1,066 pages, $17.95.
SHADE OF THE RAINTREE
by
Viking
, 458 pages, $27.95.
FEWER and fewer of us can imagine what it was like to be sentient in 1948, and so it behooves us to approach the thousand-piece puzzle of Raintree County, by Ross Lockridge Jr., with a certain humility. Such a novel would probably not be published today, let alone be so lavishly received. It is even hard to imagine that it could be written in a time like ours. Yet for a brief moment Lockridge was able to cast himself as an American Homer, whose portrait of an Indiana county sought to remake the American myth. Some critics, and American readers in large numbers, bought his audacious act.
Something was amiss, however, and probably always had been. Eight weeks after the publication of Raintree County, on March 6, 1948, the thirty-three-year-old Lockridge furnished a dramatic epilogue to the book. While his long-suffering wife sat inside their house in Bloomington, Indiana, awaiting his return front an evening of errands, and while their lour children slept, Lockridge was a few feet away in their garage, asphyxiating himself in the back seat of his Kaiser. The "young hero and endlessly courageous dreamer" of Raintree County's last words had turned out to be the vision of a bleaker sort of fellow.
It is impossible to read Raintree County today (some would leave the statement at that) in ignorance of this tragic piece of biographical intelligence. Now that Raintree County is being brought back from the dead in a new edition, we have a much richer context to consider, what with all the existential mysteries and traditional verities that surround genius, "success," and suicide. In this relentlessly optimistic novel we can seek clues to the darkness Lockridge seemed unable to face. Dead men do tell tales, but not necessarily the ones they intended.
Briefly in late 1947 and early 1948 Lockridge would have had good reason to believe that his endless dreaming had been providentially fulfilled. Raintree County was borne on a river of hype. A thousand-page first novel by a crinklyeyed Indiana naif who (the legend already went) had brought his bulky manuscript to Houghton Mifflin in a battered suitcase, Raintree County was a corn-fed, swaggering, patriotic, highfalutin, and occasionally naughty yarn. "It attempts no less,"declared its astonishingly heedless publisher, "than a complete embodiment of the American Myth."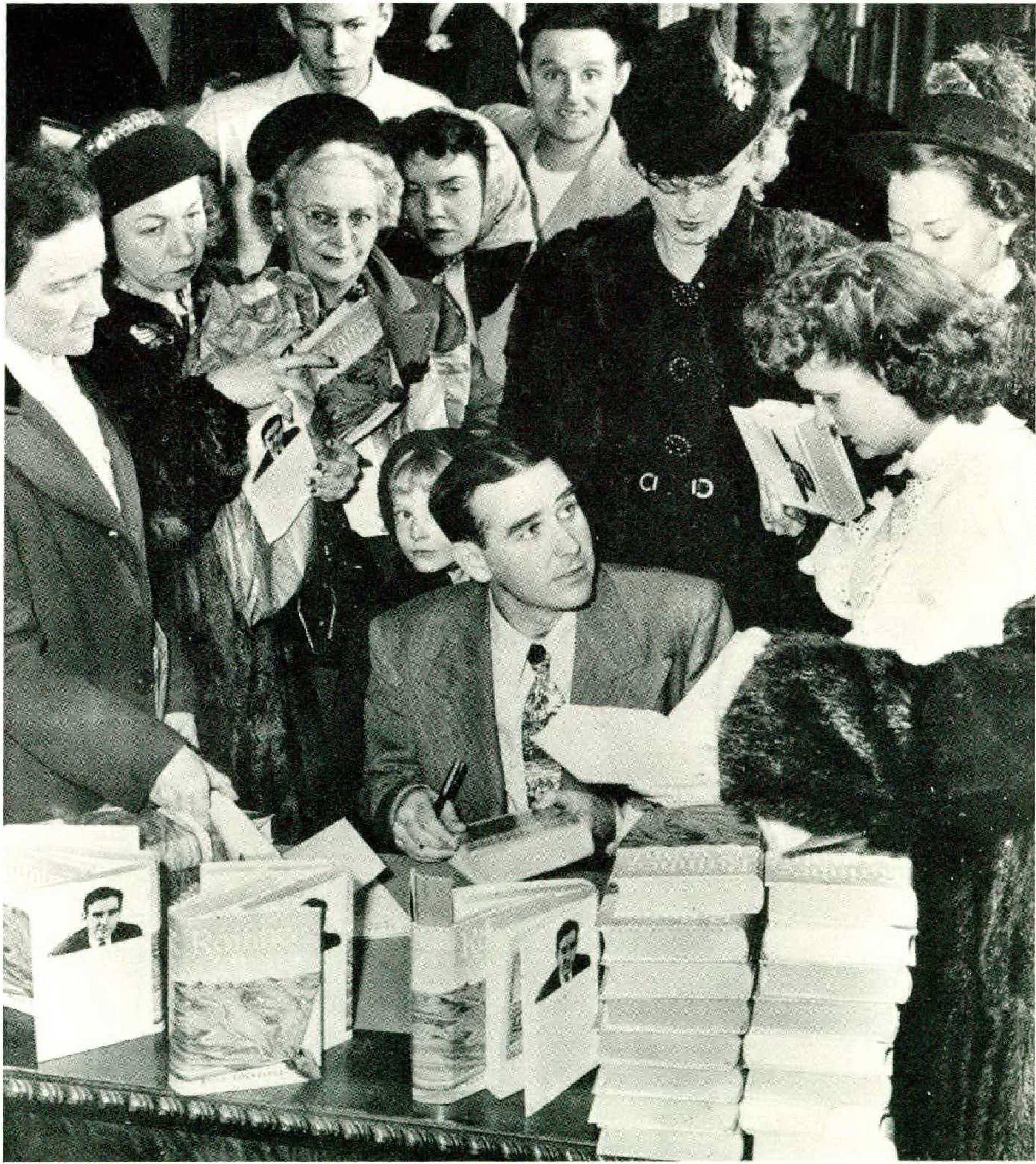 Though Lockridge had settled for — leaped at—a $3,500 advance in mid-1946, Raintree County went on sale in the early winter of 1948 a much more valuable property than that. The book was aswarm with industry buzz, such as it was in those innocent days, and bore the Midas touches of the Book-of-the-Month Club and Metro-Goldwyn-Mayer. The studio, in a novel-to-movie promo competition, paid the unknown writer a well-publicized $150,000 for motion-picture rights to this manifestly unfilmable story. He was widely quoted as saying, "Now I guess I can buy that washing machine for my wife."
Lockridge's seven years' work, more important to him than lucre, was rewarded with book-reviewerly encomiums, too. Frank Brookhouser called Raintree County's publication "an event in American letters." Charles Lee, in The New York Times Book Review, called an achievement of art and purpose, cosmically brooding book full of significance and beauty."Howard Mum ford Jones, in The Saturday Review of Literature, said, "it may be that Raintree County marks at last the end of a long slump in American fiction." Readers, or at least would-be readers, were responding. On the morning after Lockridge died, as his ebullient publisher had wired him, Raintree County became the No. I bestseller on the New York Herald Tribune fiction list.
"He seems to have gained the whole world and then to have wondered what it profited a man," surmised the Washington Evening Star a few days later. This seems right, as far as it goes. Lockridge's ego was both more swollen and more fragile than most. The testimony of Lockridge on Lockridge, which is voluminous, suggests that he experienced the rather familiar deflation and sense of loss that follows any climax—and experienced the unhappy revelation with an intensity to match his elaborate fantasies. Overnight celebrity, the decisive answer to his prayers, had come at a high price —his bitter surrender of hundreds of pages of Raintree County's original immensity.
One so beaten and susceptible found the exposure of publication difficult to bear. A clean-living, seldom-drinking, nonsmoking family man, Lockridge was jolted by attacks from the clergy, directed chiefly at his soft-focus descriptions of carnal relations, most of them only imagined. A Jesuit professor at Fordham University called the novel "1066 pages of bombast, rank obscenity, materialistic philosophy, and blasphemous impudicity," and said, "The devil had a lot to do . . . with the writing of this book." Lockridge seemed to feel the cold stares of reproach on the street in Bloomington.
He also felt wounded, as authors will, by attacks on his masterwork—especially that in The New Yorker, which not only called Raintree County "the climax of all th swollen, pretentious human chronicles that also include a panorama of the Civil War, life in the corn-and-wheat belt, or whatnot" but also referred to its author throughout, fabled fact-checkers notwithstanding, as "Lockwood." The very detail is poignant to the point of heartbreak.
LOCKRIDGE had told his publisher, in language suitable for repetition by publicists, that he had aspired to write "the American Republic, in which the relation between the life of the Individual and the life of the State would be studied and interpreted in terms of ideas and by a process of dialectic resembling in some ways that of Plato's Republic."
Lockridge's son Larry, who can be frank as well as filial, says in his new biography that Lockridge was close to a "delusional state of mind" when he wrote his autobiographical notes for Houghton Mifflin. "Grandiosity is a flip side of depression,"Larry Lockridge writes. In the months before he died, according to Shade of the Raintree, Lockridge suffered from what today we would more quickly treat as a form of clinical depression. In his last months Lockridge clung to his mother's Christian Science before finally seeking treatment and submitting to electroshock therapy—all of this in deepest secret, while the Raintree County publicity machine marched forward.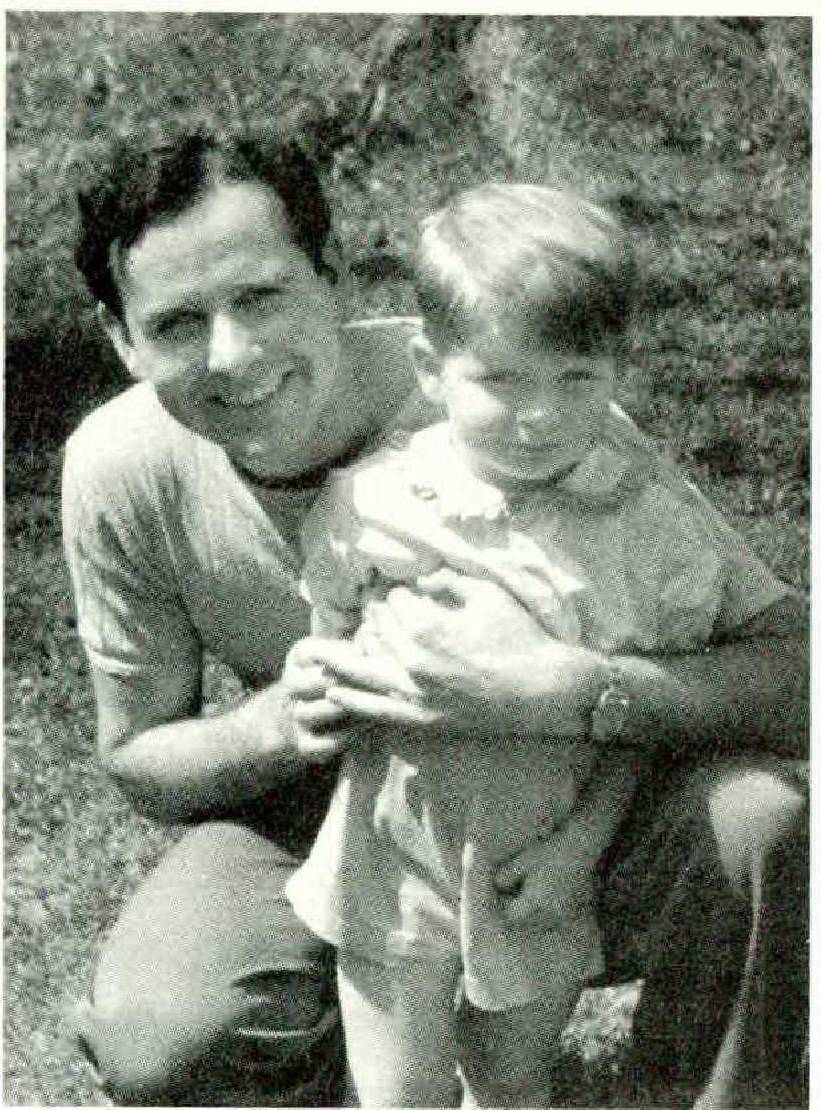 But even the former, supposedly stabler Lockridge had staggered Houghton Mifflin, which had some experience with the stubborn vanity of authors, with his nearly deranged self-regard. During their long struggle over a concluding 356-page "dream section" that the author considered essential to Raintree County, Lockridge wrote to his publisher that the decision was "of great importance to me, the book, and possibly the future of American letters." To another editor he wrote, "It is a book that Americans need to read. It will do them good—goddam them." When his publisher, in one of their many contract skirmishes, made a proposal Lockridge considered treacherous, he wrote an enraged letter that must have been widely appreciated in the corridors of Houghton Mifflin:
This promise—coming from a man who is not aware that he has ever broken a promise so solemnly given to himself or another-is that Houghton Mifflin Company shall never have another big book by the author of Raintree County. Do not misread your man —do not misread your man.
Lockridge had disclosed his outlandish aspirations in the pages of Raintree County. "Perhaps he too was fated to rewrite the great book of God in a new land and in a new tongue," he wrote of his hero and secret sharer, John Wickliff Shawnessy, "budding bard of Raintree County,/ Life's eternal young American."There is always peril in conflating fiction and biographical fact, but it is hard to do otherwise when confronted with a passage like this one:
It seemed to him that he must be a greater poet even than Shakespeare because there was some essence of what he was that Elizabethan England couldn't possibly compose. He, John Wickliff Shawnessy, was perhaps the bearer of the sacred fire of poetic genius that is given from mind to mind like a regenerating torch. It was he, child of the sunlight, the corndense earth, the simple beliefs of Raintree County, who would become the great American poet. Son of his greathearted mother, of his energetic, sanguine father, he was perhaps a chosen seed, brought from far places.
Read to the last page or merely viewed from afar, Raintree County is a lot to get one's mind around. Like Ulysses, it is the tale of a single day—July 4, 1892, in a fictitious Indiana county. As the day creeps forward in brief installments, the narrative segues repeatedly to key episodes from as far back in time as 1844, both inside and outside the county.
In 1892 Shawnessy is in the early twilight of his life—with his epic masterwork, incidentally, unfinished. Surrounding this yearning, brooding carrier of the mythic hod arE a pageantful of outsized characters. "The Perfessor,"Jerusalem Webster Stiles (another J.W.S.), is Shawnessy's cynical tutor and the novel's redeeming if long-winded voice of asperity. Shawnessy's old friend and rival, Senator Garwood B. Jones, silkily captures the tarnish of the Gilded Age. Poor Shawnessy's days are marked by a succession of remarkable women, from Venus to vixen, who provide Shawnessy with a lifetime of fantasy, succor, estrangement, and despair. He has a merry metaphysical twin, lower-case "mr. shawnessy,""a faunlike hero poised on the verge of festive adventures," according to Raintree County', in counterpoint to the upper-case "straw man" Shawnessy, "dutiful citizen of the Republic calling for his mail."
Among its other claims to attention, Raintree County marked the emergence, Lockridge wrote of his work-in-progress, of "a new form, an art form mingling the characteristics of many previous genres."The narrative appropriates all manner of "text(ure)s," as the academics might type it: doggerel, oratory, song, tribute, journalism, dramatic dialogue, prophecy, pseudoscience, poster, and "epic fragment," a kind of found narrative. Lockridge, youthful in his predilections, is fond of marrying words, German-style: "forestfringe," "dawnsounds," "rivermarge,""streambegotten." The last (periodless) sentences of chapters hook up with the first sentences of ensuing chapters to make new (if awkward) straddling sentences. The book is equipped with two maps and three chronologies, the better to make sense of its sprawl. ("Sprawling" was the descriptive Lockridge most resented.)
Lockridge hated to be mentioned in conjunction with Thomas Wolfe, as he often was, and protested the comparison with such passion as to remind anyone listening of his painfully engorged self-esteem. He could also describe, with less indignation, how his writing differed from Joyce's: Lockridge wanted to be understood. Such was the goulash (his fans would say the literary firepower) of Raintree County that readers took the name Lockridge in the same vein as Wilder, Dreiser, Whitman, Joyce, Maupassant, Faulkner, Hawthorne, Benet, and Sinclair Lewis. The young first novelist did not seem abashed by the august company. In a letter to one of his editors he wrote, "The BOMC, which missed taking Grapes of Wrath, cannot in the long view afford to miss taking books like Raintree County."
THE novel was pitched, and is sometimes remembered, as a novel about the Civil War. It is, in part. In his peregrinations outside the county Shawnessy is wounded in Sherman's March to the Sea and happens to be in Washington when John Wilkes Booth does his foul deed at Ford's Theater. He also encounters the brutalities of racism and the mysteries of miscegenation when he follows a nightmarish wife to her ancestral Louisiana. The movie version may have strengthened the impression of what the book was about. When M-G-M finally wrestled Raintree County onto celluloid, in 1957, only a fraction—that fraction—of Lockridge's plot could be squeezed into its interminable three hours and five minutes.
But, as Lockridge would have been— and typically was—the first to say, Raintree County has broader shoulders than mere national cataclysm and bloodied social fabric. It sends its innocent, wandering hero on long journeys of batt le, temptation, and self-discovery. It plants the mystical raintree of life in the edenic Great Swamp at the center of Raintree County. From its Independence Day vantage, Raintree County limns a whole nation throughout much of a century. ("The Union forever! O, beautiful, unanatyzable concept !" goes one piece of verbal bunting I'll always cherish.)
"He deliberately uses many American archetypes," explains the younger Lockridge, a professor of literature at New York University, who has given Raintree County an exceedingly close reading: "the New Eden, the Frontier, the Republic, the Fall from Innocence, the Fear of Miscegenation, and character types such as the Innocent American Hero, the Dark Lady and the Light, the Capitalist, the Frontiersman, the Evangelical, the Feminist, the Statesman, the Perfessor." Lockridge quotes approvingly a critic's remark that Raintree County was, if not the Great American Novel, then the Great American Studies Novel.
Lockridge was far better when he eschewed unanalyzable concepts and concentrated on Raintree County. The land, the "box" of the county, was a potent piece of imagery for him—more nuanced, more felt, than many of his human portraits. "The formal map of Raintree County had been laid down like a mask on something formless, warm, recumbent, convolved with rivers, undulous with flowering hills, blurred with motion, green with life," Lockridge wrote, as his hero "mused upon this mingling of man's linear dream with the curved earth, couched in mystery like a sphinx." The original cover of Raintree County—designed, needless to say, by the author—echoes this conceit. In the green hills of a topographical rendering of the county the accustomed eye can discern the form of a recumbent naked woman: this was the crowning blasphemy to the indignant of 1948.
Lockridge's celebration of Indiana as America's Eden was not merely a creative device. It sprang from his deep attachment to the place where he had first dreamed his dreams, and to which he cleaved in times of doubt and distress— including at the end of his life, a time when he took some of the M-G-M money and exchanged it not for a mortgage on a place in Malibu and a new set of friends but for a house for his wife and children on a pleasant Bloomington street not far from where his parents lived.
More than bedrock family values were at work: Bloomington was a refuge, and a pond small enough for a deeply insecure frog. Though he had studied at Harvard and the Sorbonne after attending Indiana University in his home town, and though he taught English at Simmons College, in Boston, during the composition of Raintree County, Lockridge was the resolutely midwestern character he played. He wanted to belong, and probably did belong, to some rectangular swatch of American soil just like the one on which he wanted to map the American soul.
Larry Lockridge disputes the characterization of his father as a naif. But his portrait only sharpens the impression of fatal innocence left by John Leggett in Ross and Tom (1974), a fine dual biography of Lockridge and Tom Heggen, another celebrated young writer (Mister Roberts) of the era, and a probable suicide himself. To see the overwrought Lockridge so willingly expose himself to ridicule and disappointment finally elicits in the reader something akin to protectiveness.
Did Lockridge, in his final act upstage the book he had poured his heart into? Perhaps he did. This may dismay Lockridge sympathizers—and it is impossible not to be one of them in the face of someone so openly tortured. Larry Lockridge believes that Raintree County stands on its own as a neglected minor classic, but he acknowledges the rich possibilities for allegory in his father's life and struggle, his dreams and death. They, and not Raintree County, give us the story that survives with something still to say. The story isn't pretty, but it has other virtues conspicuously missing from Raintree County— among them a haunting conclusion.
Lockridge couldn't bring himself to give his life's work its final punctuation. Raintree County's very last sentence, like the last sentences of the preceding 113 chapters, leaves off without a period— as if it, and Lockridge too, might go on forever.