The Virtuous Oil: A Two-Tier Strategy for Employing Nature's Finest Fat
by Corby Kummer
OLIVE oil is the only fat I cook with, and not because recent nutritional studies point to it as being the fat least damaging to the cardiovascular system. Rather, I use it because I much prefer its flavor, which often bears notes of citrus, hazelnuts, almonds, freshcut grass, artichokes, and herbs like rosemary and sage. Dominating them all is the miraculously sweetened, intensified taste of the olive itself. I find no other fat so easy to digest or, paradoxically, so ungreasy.
When I happen upon oils of earthy power combined with a sweet, fruity sharpness, I understand perfectly why Italian and Greek friends drink several spoonfuls every morning, convinced that olive oil is better than any medicine or vitamin pill. I'm especially free with olive oil during salad season, when the eternal search for the perfect dressing is at its most intense. (I'll write next month about balsamic vinegar, nowadays olive oil's seemingly constant companion.)
In the past two years my travels in a number of olive-oil-producing countries have shown me why good olive oil costs so much. Expensive as it is, producers of the best olive oil can seldom charge a price that will actually pay lor the labor. Oil making at the highest level is usually a glorified hobby or a sideline, often for gentleman farmers and winemakers looking to reward their best customers with a "small homage." In his new book, Treasures of the Italian Table, Burton Anderson, the author of essential wine guides, good-naturedly describes the endless hoeing and manure-spreading he and his family performed for the benefit of the olive trees they cultivated on their Tuscan plot, and, finally, the rushed handpicking of the fruit lest it overripen. Anderson came to know firsthand why in Italy olive oil used to cost by weight up to live times as much as the choicest meat.
In my travels I learned, too, that a high price, a lovely label, and a beautifully designed bottle by no means guarantee an exceptional oil. And no oil improves with age.
TO help sort out the differences between oils, I turned to Maurizio Castelli, an agricultural consultant now in demand all over Italy (and in northern California) by people who want to rival the finest Tuscan oil producers, many of whom are Castelli clients. Burton Anderson, who had needed advice on olive varieties, fertilization, and when to pick and press, had also turned to Castelli, a burly man with a bushy gray moustache who is always in motion. In his laboratory on the ground floor of an old stone farm building in the middle of Chianti Classico country, Castelli recently arrayed for me samples of oils from all of Italy's producing regions. I didn't see as many bottles as I expected to. Oil tasting is different from wine tasting, Castelli explained, because bitter tastes accumulate and there's no really good way to clear the palate between tastes. (He employs a strong, unsweetened mixture of fresh lemon juice and water; others say that lemon is too harsh, and that only rinsing the mouth and chewing apple slices will serve.)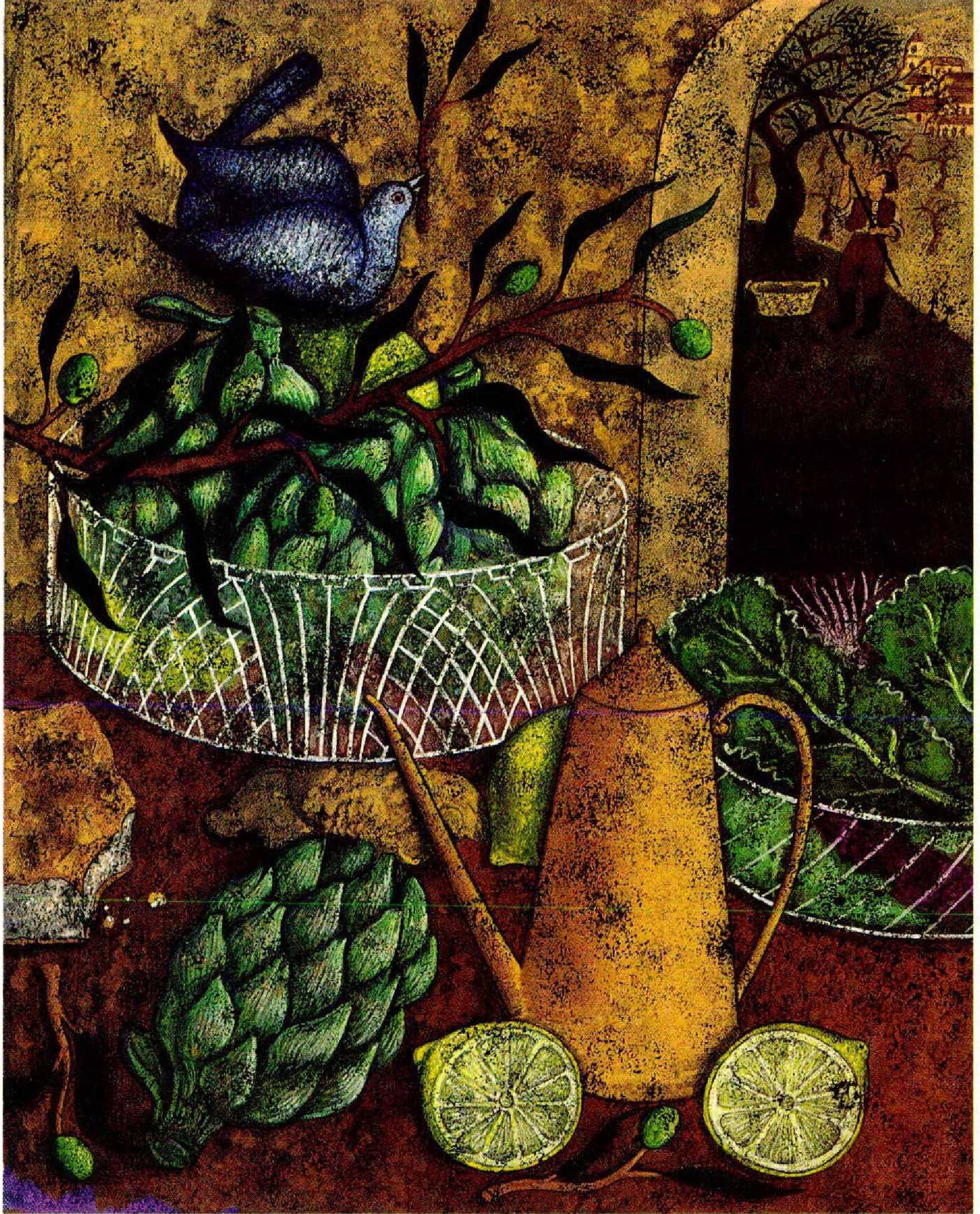 The oils ranged in color from lemon yellow to a buttery gold to the new-leaf green I had always thought was a sign of the strongest taste and tirst freshness. Not so, Casteili said. Green does frequently signify that the olives were picked early, and thus will give their strongest flavor; and a lighter color does often indicate oxidation resulting from sunlight, which reduces the oil's vitamin E content and destroys delicate aromatic overtones. The general rule holds that the yellower the color, the later the olives were picked, the sweeter the oil, and the faster it will go rancid. But olives picked early—a hallmark of oil from the Tuscan Chianti zone, which scrapes the back of your throat—don't always produce a noticeably green oil. Moreover, the green could be chlorophyll not just from the olives but from leaves, which in excess will also impart a bitter aftertaste.
A better sign of full flavor is a cloudy oil. Unfiltered wine and oil are both in fashion these days among the foodaware, even if consumers instinctively trust a clear liquid. Tiny suspended olive particles in a freshly pressed oil mean that it is at its very richest. In the famous Seven Countries study, conducted in the 1960s by the pathbreaking diet researcher Ancel Keys, which found the incidence of heart disease to be much lower in people whose principal dietary fat was olive oil, the long-lived Cretans probably consumed such rustic oil. (Eventually the particles will form a sediment; if you notice one, simply decant the oil into another bottle or a cruet, preferably opaque.)
Greeks are still insatiable consumers. Every single nonbread, nonsweet recipe in the gorgeous, authoritative The Foods of Greece, by Aglaia Kremezi, a journalist and scholar who lives in Athens, calls for olive oil. Most are simple, as is the single best way to eat olive oil: poured over warm bread, grilled if possible. With or without fresh tomato puree and a rubbing of a split garlic clove, this is the elemental food of the Mediterranean. (The second best way is mashed with the insides of a hot baked potato.)
In Castelli's laboratory I was getting to do something too few consumers are able to do. Most shops don't offer comparative samples of the oils they carry—the bottles are expensive for them, too. Still, it's easy to be disappointed, and I wish that every gourmet market followed the example of Zingerman's, in Ann Arbor, which urges customers to ask for a taste of any product before buying it.
The roundest oils at the Casteili tasting were from Tuscany and from the warmer Umbria, where oils are slightly sweeter. Casteili calls the two regions, respectively, the Bordeaux and the Burgundy of Italy. Like grapes, olives are sensitive to climate and, especially, soil, which is why before recommending varieties to a new grower Casteili will tirst study the pH of the area's soil. Although 1 admired an unfiltered oil. L'Albereto, which is the new top-of-the-line product of the wellestablished Badia a Coltibuono (and the only oil pressed entirely from its own olives), I found the Castello di Volpaia oil, which is made using a new pressing technique involving thousands of stainless-steel blades that repeatedly cut into olive paste, to have the deepest flavor.
A number of my favorites from the two regions didn't appear at the tasting. Two of the best Tuscan oils I've triedfruity and suave—come from the winemakers Castello di Ama (a former "small homage" oil just coming on to the market here) and San Felice, both in the heart of the Chianti Classico zone. Other first-rate Tuscan oils are Tenuta del Numerouno and Cacchiano. All these oils are powerful and unfiltered, with an elegance that takes the edge off any initial harshness. (Zingerman's, at 313-663-3400, sells these when they are available, and also a discerning selection of oils from Italy. Spain, France, and Greece. Olive oil, cheese, and bread are the primary obsessions of Ari Weinzweig, who writes the store's invaluable newsletter and evaluates each oil vintage by vintage.)
Alfredo Mancianti, an Umbrian oil producer, plays a large role, with Piero Antolini, one of Italy's most respected journalists, in a newish group called the National Association of Master Oil Producers. Mancianti produced the first "cru" oils, guaranteed to come from certain hillsides, and cleverly retained rights to the name Affiorato ("flowered"), which refers to the oil that is the very first to come from olives—the kind the workers at the press tised to keep for themselves. All his excellent oils are distributed here. Available for less money and reliably highquality is Olio Trevi. from a co-operative in Umbria; the Tuscan Azienda Impruneta in Chianti, also less expensive, is line too. The adjacent Marches region produces the subtle, beautifully pure San Vito (these last three are sold by Dean & Deluca, in New York, at 800-221-7714).
A number of chefs at Mediterranean restaurants in the United States favor the lighter culinary style of Liguria and the south of France, and would much rather use the gentle golden oils of Provence and the area around Nice than anything Italian. (Predictably, they describe these oils as "buttery.") It's a matter of preference. Several premium Spanish oils, particularly Nunez de Prado (another "flowered" oil) and Lerida and L'Estornell, show well against almost any Italian oil, are as handsomely bottled, and usually cost less. Similar Spanish oils were bottled as Tuscan by some of the top names after the disastrous freeze of 1985.
Californians are now aiming to match the oils of the Mediterranean. So far they're better at packaging than they are at pressing oils that have any complexity or distinctive flavor—except for the popular flavored oils, which I place in the same circle of hell that flavored coffees occupy. Both products are attempts to juice up a base that is at best neutral and sometimes substandard. Also, herbs and hot pepper and garlic steeped in oil can shorten the oil's life.
An exception to the rule, though, is the fragrant Granverde, a premium oil from the Molise region: the oil maker, Marina Colonna, has revived an old tradition by pressing olives with lemons. It isn't like other flavored oils, because no steeping is involved. Only the oil from the lemon skin remains; the juice is discarded with the liquid from the olives. Zingerman's sells Agrumato, another delicious oil made the same way, from the Ahruzzo region of Italy; the company also presses oil with oranges, with similarly spectacular results.
I have been disappointed by all the fancy California oils I've tried save for Olio D'Oro, from Harrison Vineyards, in an odd bottle with a yellow tree painted on it. This compares in sweetness and power to any top French or Italian oil—and costs just as much.
IMENTION so many brands of olive oil for a reason: most olive-oil labels don't tell you what you need to know. I do think it best to buy only olive oils called "extra virgin," but even that designation can be slippery. One of those comical terms, like "super colossal," that seem to congregate around olives, "extra virgin" suggests but does not guarantee an oil pressed at room temperature without chemicals or purifiers. For years all that was necessary to qualify for the name was a low level of free oleic acid, the principal fatty acid in oil. A high level of free oleic acid indicates careless handling of the olives and thus perishability and taste defects. All olive oil is naturally high in oleic acid itself, one of the vaunted mono-unsaturated fats; it does not taste sour, as "acid" implies.
New European Union guidelines call for "extra virgin" to imply quality in the mouth, not just in the test tube. Panels of at least eight tasters are now required to pass judgment on any oil that is to be called extra virgin. The reason for human evaluation is that second-rate olive oil can be chemically cleaned, or "rectified," and thus manipulated to fall into the extra-virgin category by chemical analysis alone. The cutting of true extra-virgin oil with rectified oil is distressingly common, and cases of it lead all other kinds of food and wine fraud investigations by a special section of the Italian Ministry of Agriculture.
Once an oil is rectified, usually by means of alkaline bleaches, and is deodorized, by steaming, it is utterly flavorless, and much of its vitamin content has been depleted—but it can still be called "pure olive oil," a once-common term on labels which was recently simplified to plain "olive oil." Olive oils called "light," marketed for people who dislike the taste of olive oil but want to reap its nutritional benefits, are simply lesser-grade oils that have been rectified. (And they contain just as many calories as any other oil: all pure fats, natural or synthesized, contain 120 calories per tablespoon.) For their standard nonlight olive oils big companies cut rectified oil with a small amount of the better stuff.
Labels won't tell you where oils really come from, either. Tuscans can charge an arm and a leg for an oil from the southern region of Puglia which has been labeled "Bottled in Siena." It's entirely likely that charmingly designed cans of oil bearing nineteenth-century seals of approval and. prominently, the names of cities like Lucca and Genoa in fact contain oil from Tunisia: Italy is not only a great consumer hut also Europe's largest importer of olive oil, much of which it repackages. Italians are now starting a program, similar to that for wines, which will guarantee place of origin for oils. (Look for the letters "DOC" on the label.) Castelli has persuaded his clients to put the date and place of pressing on their bottles and cans, along with obscure facts about the peroxide level and the acidity content. With luck his influence will spread.
Pull dates on labels are for three to eighteen months after the oil was bottled—which tells nothing about the date of pressing. There's no way to tell when or how the oil was produced. Oils are at their best within a year of pressing; many will keep fine for two years. After that they're still usable, but are best for cooking. You can't make oil last any longer. Refrigerating it will cause it to solidify— harmless but annoying. A cool, dark cupboard or cellar is the best place to keep oil, and the best kind of bottle is dark, even if most producers would rather vaunt the color in a clear bottle. The worst place to keep oil—and the most tempting—is next to the stove. If your house is usually hot, store a bottle of delicate oil in the refrigerator, leaving some out for daily use. I usually keep a few weeks' worth on the counter in a stainless-steel oil pitcher, and leave the rest of the bottle on the floor of my hall closet. This follows Italian family practice, which is to leave a small pitcher of oil on the table and the rest in the cellar.
ITALIAN family practice is naturally thrifty, too. That oil on the table is part of a two-tier strategy: paying lop dollar for an oil to pour over salads and soups, and a much lower price for a reliable oil that will be tine for frying and sauteing. (Olive oil is well suited to frying, because of its fairly high smoke point.) One possibility for the second tier comes from Zingerman's: live-liter cans of L'Estornell, from a proudly organic Spanish producer of fine extra-virgin oils, priced at just $32.99. This is a great bargain. Colavita, a producer of widely distributed oils from the Abruzzi, in the south of Italy, also markets a decent and well-priced extra-virgin oil, in threeand five-liter cans. Greek Gourmet, a fine extra-virgin oil brought in by an importer near Boston, is also available in three-liter cans. Look too for Peloponnese, an imported line of especially fine and well-priced Greek extra-virgin oils.
Beware of other bargains, though, which are frequently old. lifeless oils. I've chosen the brands just mentioned deliberately, and when buying or ordering them you should closely question the store manager to try to learn something about the oil's date of production.
The perfect companions for a two-tier strategy are the best of the many new books about the Mediterranean diet: Nancy Harmon Jenkins's The Mediterranean Diet Cookbook and Paula Wolfert's Cooking of the Eastern Mediterranean. Wolfert features several recipes that will show the virtues of cooking with a lower-priced but fresh oil: vegetables simmered for a long time in an oven set to a low temperature, closely covered with wet, crumpled parchment paper beneath a tight-fitting lid, in a mixture of olive oil, water, and a pinch of sugar ("to enrich the syrup, bring out the flavor, and help preserve the shape of the vegetable"). As she promises, the vegetables and oil "work beautifully together," particularly in one of my favorite vegetable dishes, green beans with onion and tomatoes. And the dishes are not greasy— olive oil's great virtue.
Jenkins, who only half-jokingly calls olive oil "nature's perfect food," the way the French talk about eggs, told me that much as she likes her hearty bean soups —particularly one with Tuscan white beans and farro, a new ly popular ancient form of wheatherries (Dean & Deluca carries it), and a Provencal chick-pea soup with orange zest and fennel seeds—she thinks of them primarily as vehicles for a final "thread" of the best, fruitiest olive oil the cook can afford.
The marriage of one of these soups with an expensive and wonderful oil will demonstrate why the oil merits the cost. I must say, though, that the indignation many people show toward olive-oil prices puzzles me. Remember the good deals on big cans of reliable extra-virgin oil, and Jenkins's use of "thread." Two or three bottles of mediocre wine can easily vanish during a party. A bottle of condiment-quality oil, bought for the same price, will keep you happy for months.