Shakedown
The word TRANSPOSE, if shaken down—that is, anagrammed repeatedly with one letter deleted at each step—may form the following sequence: TRANSPOSE, PROTEANS, SEAPORT, ORATES, ASTER, SEAT, TEA, AT, A. This puzzle's unclued entries form a similar sequence of words shaken down from 11 letters to one. The 11-letter word may be thought to identify the steps. Entries in all include five proper nouns.
See page 134 for Puzzler contest details. The solution to last month's Puzzler appears on page 120.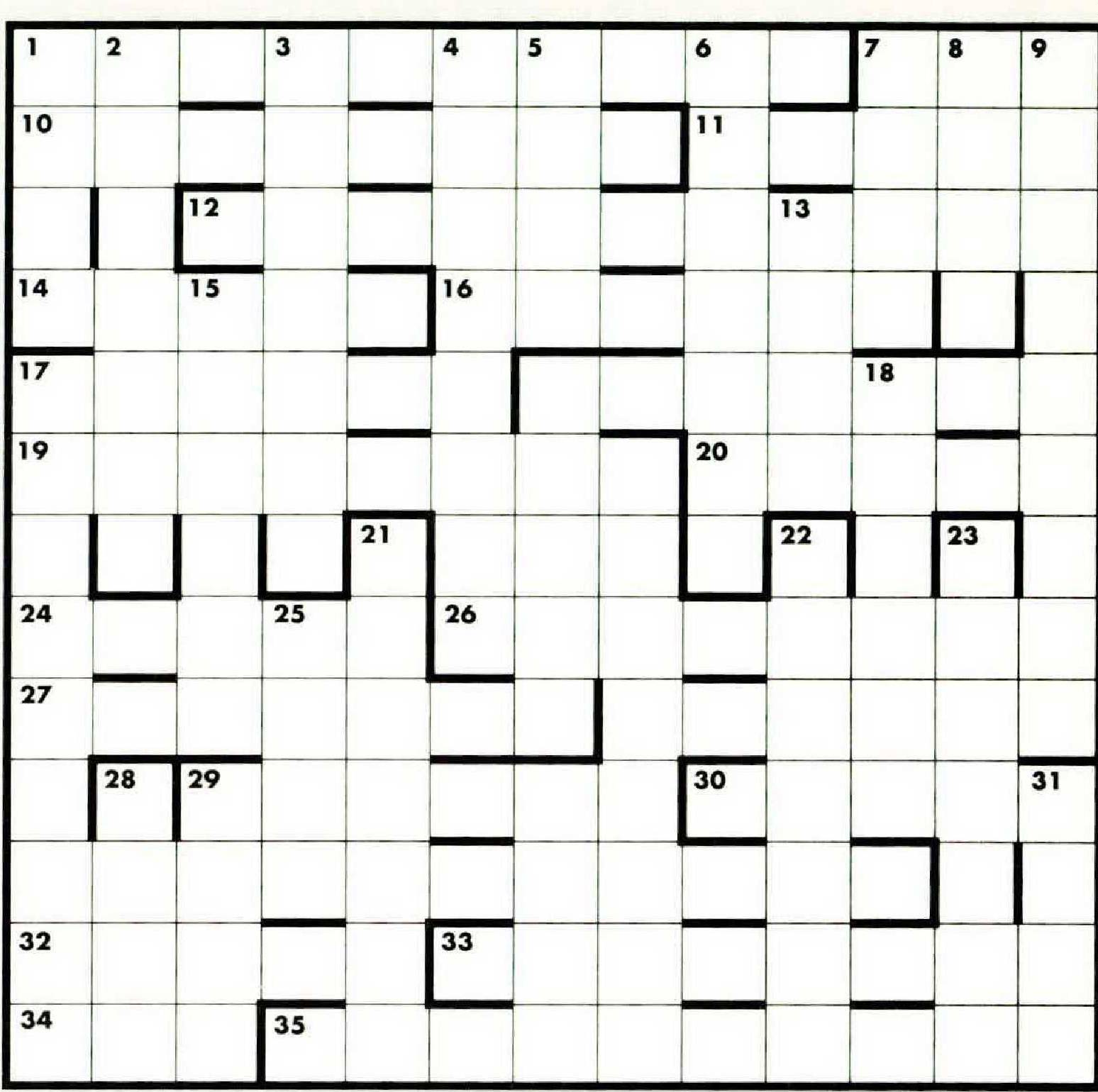 Across
7. Fuss with a coif (3)
10. Structural change in Tacoma (8)
11. Walker Percy's first race novel(5)
12. Puzzling nature captivates American playwright (11)
14. Ill humor about British book (5)
16. A lot of water was first made leakproof (6)
17. Vireo's tail breaks eggs (6)
19. Upon reflection, prophet possesses the same cures (8)
20. Leader of Congress interrupts real peace(5)
24. A swelling among the demagogues (5)
26. A pound gained after diet: that won't kill you (8)
27. "Lumpy" ran loud dances (7)
29. Somebody running off with part of steel operation (6)
30. Insect ingests nitrogen tor a time (5)
32. Left a stud unfinished in porch (5)
33. Sweet drinks containing insubstan tial eggs? (8)
34. Almost fix soda fountain (3)
35. Car engine's running rules? (10)
Down
1. European car's choking sound heard (4)
2. Composer going after ultimate greens(7)
3. Study Spanish article in a binder(7)
4. Operator calling in neglect of duty (7)
5. Heartless firearm makes you upset(4)
6. A fur's covering Eastern monkeys (7)
7. Provider of a trip for a Spanish hero (4)
8. Study end of Great Depression (4)
9. "It's a part of the body that's small or large," Leno cracked (9)
13. Spike, after film rating's back (4)
15. Crime group upset, and plot miserably failed (6)
18. Brown University involved in second New Testament article (6)
21. Clinton's beginning a story about alternative energy source (7)
22. Soon, one among hundreds will be orthodox (7)
23. Name involved in most of water power (7)
25. What's similar to a horse shoe (4)
28. Blow accomplices up (4)
29. Colony member at first exhausted when climbing mountain (4)
31. Unfavorably review the guy's debut of Showboat (4)
Note: The instructions above are for this month's puzzle only. It is assumed that you know how to decipher clues. For a complete introduction to clue-solving, send an addressed, stamped long envelope to The Atlantic Puzzler. 745 Boylston Street. Boston, Mass. 02 116.
ANSWERS TO THE MAY PUZZLER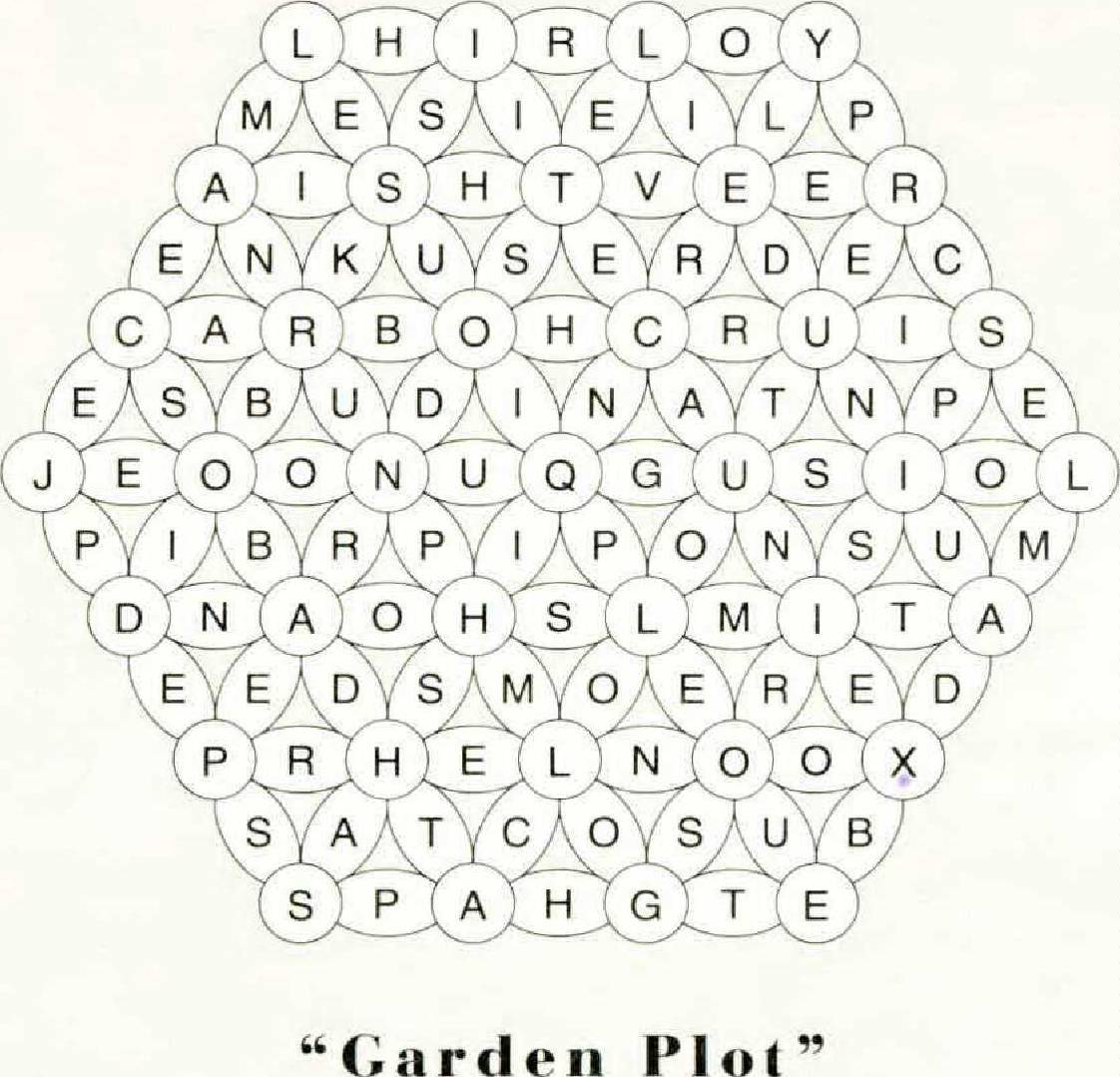 1. HE(L)M 2. IRISH 3. OILER (hidden) 4. PLO(W)-Y 5. M(A)INE 6. HU(SKI)ES 7. THI(EVE)S 8. R(EVIL)ED 9. CREE-P 10. C(E)ASE 11. B(URBAN)K 12. BUSH-I-DO 13. RAN-CHER 14. INTRUDE (anag.) 15. E-PIC(k)S 16. J(E-E)P 17. BOO-BIES (bees homophone) 18. ROUNDUP (anag.) 19. PI(QU-IN)G 20. NOUG(A)TS (anag. + a) 21. POUSSIN (sun is anag.) 22. MOLE (double def.) 23. PINED (double def.) 24. BRO-A-DEN (a orb rev.) 25. SOP HIS-M 26.POM ELOS ( rev.) 27. MI(N)STER 28. D(A-T)UM (mud rev.) 29. PEE(R)S (rev. + r) 30. HAR(D-S)ET (earth anag.) 31. M(ON)OCLE (cleom[e] anag.) 32. ON-ERO(U)S (rose anag.) 33. B(OX)ED 34. SAPS (odd letters) 35. PAT(C)H 36. GHOST (hidden) 37. TUB-E