by Emily Cox and Henry Rathyon
Secret Message
Answers to this puzzle's clues always begin in their correspondingly numbered squares in the diagram and proceed in the normal directions. Across and Down. Every square will contain a letter from an Across or a Down or both. When entering Across answers, solvers will need to skip squares containing non-intersecting Down letters, and vice versa. The diagram contains 56 "unches" (puzzlemakers' slang for squares containing letters that are "unchecked"—that is, found in only one word). These unehes bear a secret message that will come to light, reading left to right and top to bottom, if you follow the entirely cross-checked three-word instruction at 24 Across. Answers include nine proper nouns.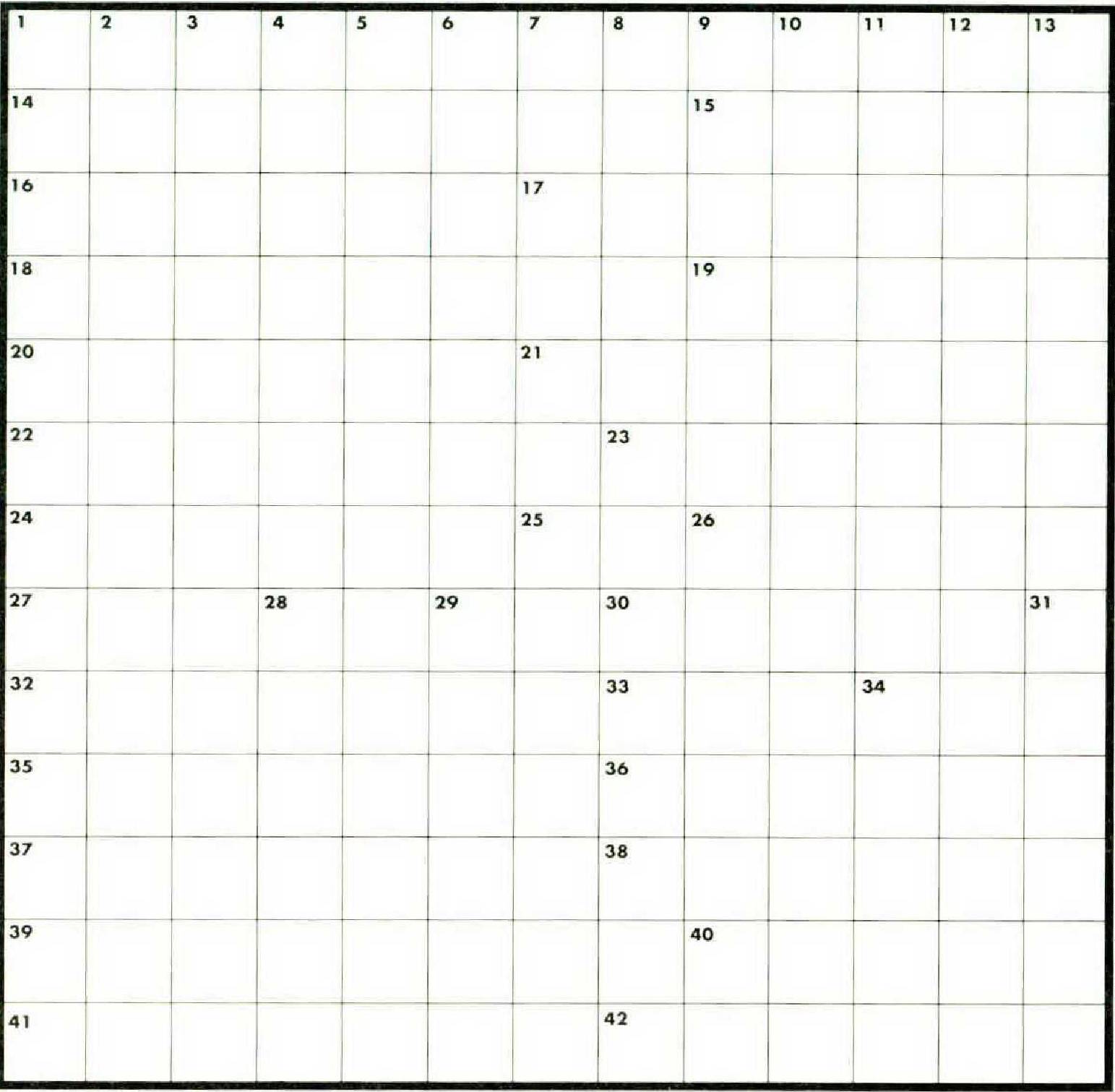 See page 129 for Puzzler contest details. The solution to last month's Puzzler appears on page 134.
A cross
1. Bands tour surrounded by Secret Service (6)
7. Collects American dumbbells (7)
14. In Harlem, moppet turned knob (6)
15. Actor in The A-Team covering a store (4)
16. Wave pistol at first police in anger (6)
17. Throw out above-average amount of marijuana (6)
18. Battered auto carrying detective in Fantasy Island? (6)
19. Troubles going back to drink (4)
20. Source of cinnamon is switched in Mexican home (6)
21. A morbid playwright (6)
22. Scans energy agreement (4)
23. Top thirst off (6) (hyphenated)
27. Close of cipher in pink pen (6)
30. King passed around old religious book (5)
32. Roads with low-lying areas not opened (6)
33. Modest philosopher eating most of BLT (6)
35. 60s style in caps is ridiculously jerky (9)
37. Nimble soldier getting into booze (5)
38. For the most part, less alien dance music (6)
39. Returned beastly coat (6)
40. Indefinite number aboard a famous ship (4)
41. Capable of feeling tense as knots (7)
42. Laugh two times in a row (6)
Down
1. Neatens up cress after tossing (7)
2. Swallowing last bit of cookie, you snicker (5) (hyphenated)
3. Troublemaker talks with operator during sort of talk show (11)
4. Pul upon someone's crackers some dip (7)
5. Lay in seed money for Spaniards (6)
6. Watch leaf oozing (7)
7. A tawny cat catching bee in old England (6)
8. Hankering after married sing-along leader(5)
9. Entertains Seamus with juggling (6)
10. Painter worked as a model around Eu rope(6)
11. Half of Cats taken in by cast on the way up?(7)
12. Wipe out Equal Rights Amendment and quit, adopting new act (9)
13. Bungled the last covert action (7)
25. Manuela trained graduates (7)
26. Magician turning in card after 45 min utes?? (7)
27. Cellist failing a class (6)
28. Left among quantities of paper spheres(6)
29. Advancement representing small change(6)
31. Connect a reaction with sweet drink (6)
34. Greatest part of book on pipsqueak(5)
36. Drop note into portion of the Bible (4)
Note: The instructions above are for this month s puzzle only. It is assumed that you know how to decipher clues. For a complete introduction to clue-solving, send an addressed, stamped long envelope to The Atlantic Puzzler, 745 Boylston Street, Boston. Mass. 02 116.
ANSWERS THE MARCH PUZZLER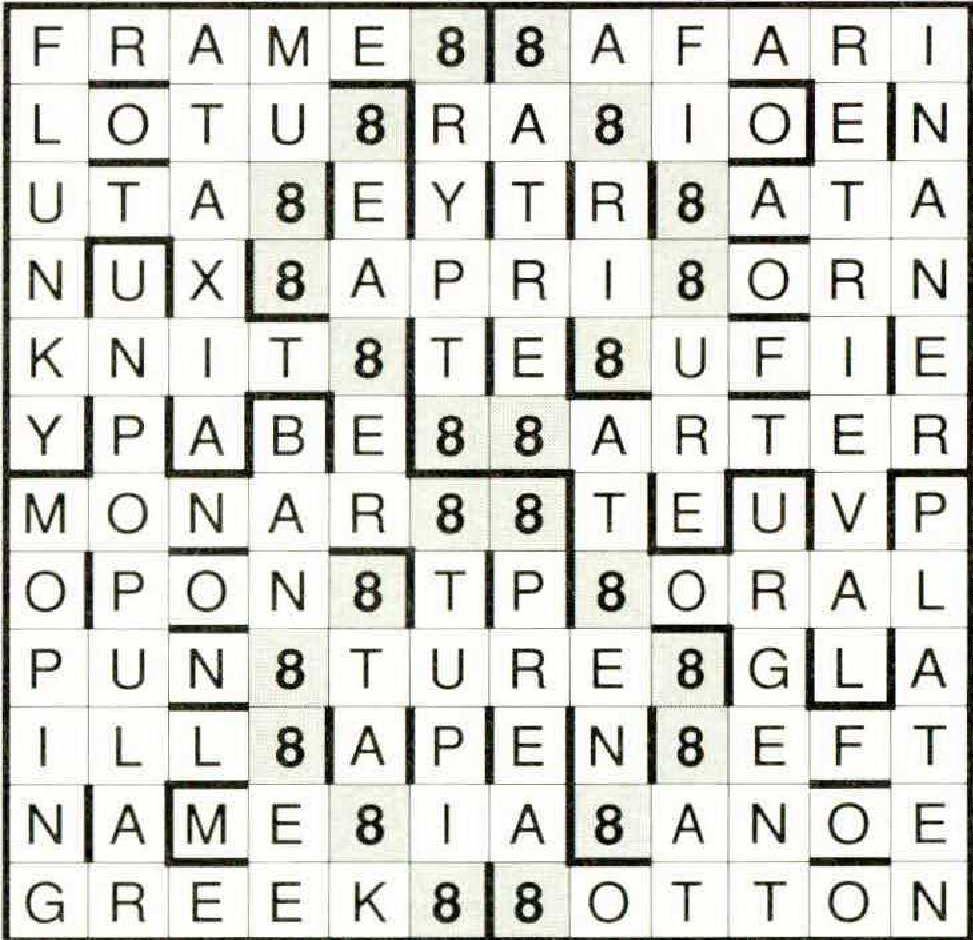 "Crazy Eights"
Across. 1. F(R)AME'S 5. SA(FA)RI 10. LOT-US 12. R(AD)IO 13. U(TA)H (at rev.) 14. DA-TA 16. CAPRI-CORN 17. K-NITS 18. SU-FI (rev.) 20. CHARTER (double def.)
22. M(ON)ARCH 27. PO(N)D 29. C-ORAL 30. PUN-C(T)URES 32. I(LL)'S 33. DEF-T 34. M-EDIA (aide rev.) 35. CAN(O)E 36. G-REEKS 37. COT-TON (not rev.) Down. 1. FLUNK-Y 2. A-TAX-IA 3. MUSH (double def.) 4. CRY-PTS 5. HAT-RED 6.(b)AC(k)RID 7. FISSURE (homophone) 8. RETR(I)EVAL (anag. + i) 9. IN(A)NER 11. D(E)ADER (anag. + e) 15. UN-PO(PU)LAR (up rev.) 19. BAN(SHE)E 21. A(THE)NS 22. MOP-IN-G
23. STUP-ID (rev.) 24. SP(y)-READ 25. UR-GENT 26. PLA(T[ir]E)N 28. S(T)ACK 31. C(H)AT