The Keys to the Castle: How to Find the Ideal Short-Term Rental in France
by Batbara Wall raff
AS the world's most popular tourist destination—outdistancing the second-place United States by millions— France has so many hotels, inns, and bedand-breakfasts that it seems a pity not to try some of them And yet many visitors have another kind of experience in mind: renting a house in the country or an apartment in town and living as the French do. It would e redundant to describe here the spec charms of this sort of vacation, Peter Davison having detailed them so effectively above. My purpose, rather, is to plain how to find the rental of your dreams, so as to experience those charms for yourself.
If there are any prerequisites, they do not include fluency in French, as my husband and I have enjoyed proving. It does help, though, if you like planning trips as well as taking them. Regardless, the procedures for renting a house or an apartment are fairly straightforward once you have made a few basic decisions about your trip.
The first decision to be made is not to go to France during July or August. Rental-property supply and demand are cruelly out of balance then. Renters of property outside Paris tend to require minimum stays of at least two weeks and to charge the highest prices of the year— and even so, the most desirable properties get booked up six to ten months in advance. There's an ample supply of apartments to rent in Paris during July and August, of course—but who wants them, when all the Parisians, chefs and shopkeepers included, have fled? For rentals outside Paris during the rest of the year or in it nearly anytime, you shouldn't have to plan more than a month ahead, or commit to a minimum stay of more than a few days to a week.
The next decision to be made is where you want to visit and how flexible you're willing to be, geographically, in order to save money or secure just the right temporary home or both. (Chevaux sauvages couldn't drag me into a discussion of whether Normandy or Brittany, the Dordogne or Provence, the eighth arrondissement or the fourth, is best. Seemingly every hectare of France has its champions. and choosing a few map coordinates of your own is part of the planning that it helps if you enjoy.) If you consider yourself very flexible, within France or within Paris, your best bet will be to follow Peter Davison's example and try to find a place through whatever connections you happen to have: Do you know people who own a house in France, or who once rented a place they liked so much they couldn't stop talking about it? Do you receive a college alumni magazine or a professional journal that carries classified ads for rentals abroad? By minimizing both the role of middlemen and the impersonality of the transaction, you will almost certainly save money, and at the same time you will maximize your chances of having local people look out for you. Some local people will anyway—the French are notably hospitable when they're in the mood—but the more people taking an interest the better.
ANYONE has only so many connections, though, whereas the choices available to the public are virtually limitless. A particularly eco nomical and peculiarly French range of choices is the gite network, which exists throughout the nation, even unto the overseas departements, or provinces, of Guadeloupe,
Martinique, Reunion, and Guiana.
There are, though, no gites in Paris. The network has remained true to the purpose for which it was founded, in 1955: to strengthen the rural economy through tourism and preserve old houses in the countryside.
Today it consists of a central non profit organization, a rental and administrative bureau in each French departement, and some 50,000 houses and apartments, owned and cared for by some 32,000 proprietors; each year 1.000 to 2,000 new gites are fixed up, with the help of grants from the departmental bureaus, and added to the network.
These houses and apartments rent for considerably less than those available through commercial agencies—though what's available commercially is usually more centrally located and more deluxe. For example purposes I compared what was lor rent in and near Menerbes, beloved of Peter Mayle and the fans of his A Year in Provence and other books. A gite that is half of a two-family dwelling in Plan-d'Orgon, within ten miles of Menerbes, accommodating four people, rents for about $180 a week in low season and $200 a week in high. The least expensive commercial rental I found, in contrast, was a converted windmill at Gordes, which houses three and rents for $400 to $450. More typical was a sixperson house with pool in Menerbes itself, available for $810 to $2,160 a week. I need to say that my own experience with gites has been ambiguous. My husband and I rented a little chalet west of Paris for a weekend and found it charming, with a working fireplace, an inviting terrace, and a stuffed pheasant mounted on the dining-room wall. It was charmingly sited, too, overlooking a sleepy beige twelfth-century village.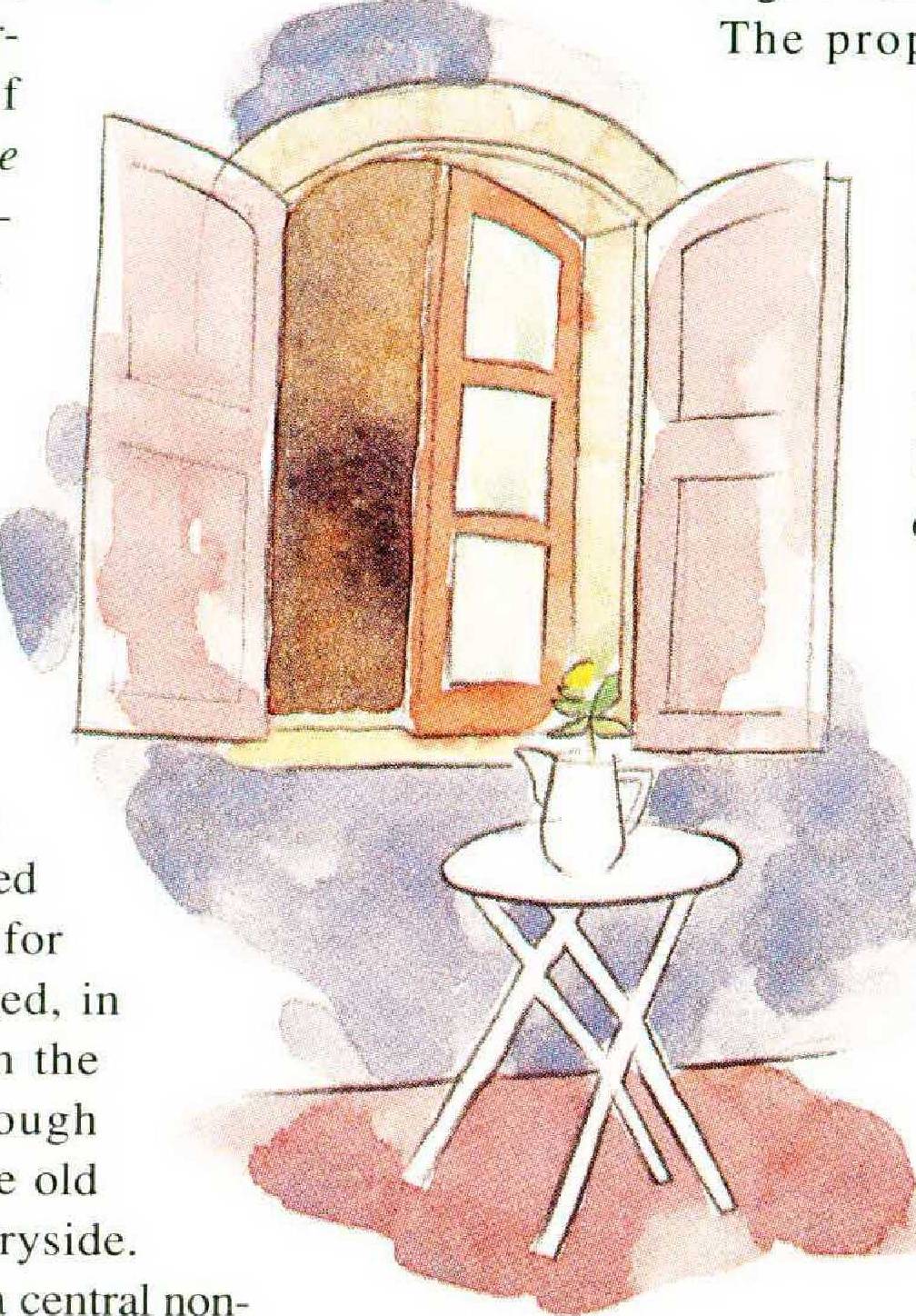 The proprietors couldn't have been nicer or more helpful, dropping by to bring us homemade apple tart and to warn us that we'd better leave a few hours earlier than we'd planned, because a train strike had suddenly been announced for the day of our departure. But on that rainy weekend out of season, the chalet smelled mildewy and peculiar, spiders lurked in the shower, there was nothing but tub-and-tile cleaner with which to wash the dishes, and the coffee maker was broken. Which way the scale tips in a case like that is a matter of personal choice.
Friends report having enjoyed their week's stay in a gite but feeling outraged to have been charged about $90 for the use of sheets for two beds and towels for three persons (sheet and towel rental does incur an extra charge, assuming the proprietor provides this service at all; count on paying at least $10 a week per person). Other friends, a couple, recently spent a week in each of two gites and returned with nothing but praise for the accommodations and the lavish hospitality. "They're good to Americans over there." the wife told me with conviction.
The easiest way to put yourself in touch with the gite network is to walk into a bookstore with a strong travel section and ask for a paperback whose official title is, apparently, French Farm & Village Holiday Guide (Hunter Publishing, $17.95), although the words "The Gites Guide" appear in larger type on the spine and cover. This book contains brief descriptions and tiny snapshots of more than 1,200 gites throughout France (and Corsica), selected for inclusion by the departmental bureaus at no charge to the owners. It guides an English-speaking reader through the process of renting a gite, explaining niceties like the sheet and towel conventions, supplying addresses and phone numbers, and providing sample letters in French.
Alternatively, if you are reasonably comfortable with French and know where in France you want to spend your vacation, you may wish to dip into the series of gite books that the French use. These books each list all the gites in a given departement. There are, as well, specialty books of handicapped-accessible gites; "super-gîtes," or unusually deluxe houses; new listings, which one friend who has lived in France advises are preferable, because everything is likely to be in good order; and the bed-and-breakfasts, campgrounds, and children's camps that make up other branches of the Gites de France network. The prices of the books are typically in the vicinity of $8 or $10 (including postage), though a couple of them cost less than $2 and a couple cost more than $15. They can be ordered by mail from Gites de France at 35 rue Godot de Mauroy, 75009 Paris, or by fax at 011-331-49-70-75-76; include a Mastercard or Visa number with your order.
If for some reason you insist on taking your vacation in July or August, you may wish to try a different, if similar, method of finding a country house, recommended by a French acquaintance who has had success with it herself.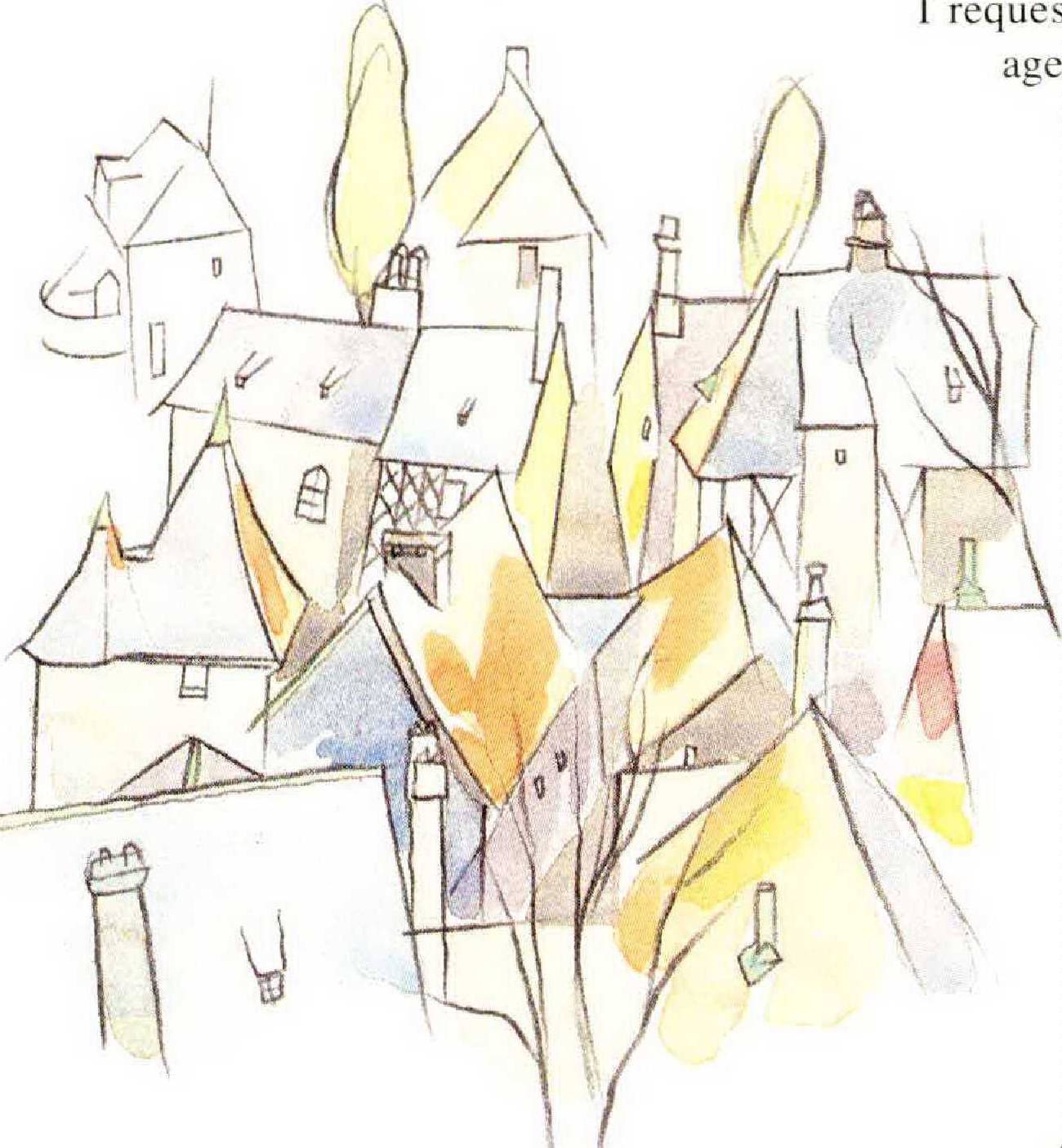 She suggests that you write to the tourism offices of particular departements or towns —not the gite bureaus— asking for their lists of houses available for rent and enclosing postal reply coupons. "The houses are less rural and farmlike than gites,'' she reports.
"And they are better furnished, because the owners live there except in summer."
Alas, the private castles furnished with period antiques and the luxurious hilltop villas with views and pools—not to mention the widest selection of vacation houses—don't tend to show up on even the tourism offices' rosters. Thus the well-to-do and the particular may prefer to rent through a commercial agency. Birnbaum's France contains a good list of these agencies (and is an unusually helpful guidebook in other respects as well); a listing of agencies that rent houses and gites is also available from the French Government Tourist Office (900990-0040), at no charge beyond the price of the call.
I requested information from all the agencies I could learn of, and received responses from perhaps a dozen. Then I spread out the folders and booklets and brochures and Xeroxes on my floor, compared what was comparable, and noted what was not. I discovered three key points from this exercise. First, not every agency covers every region of France equally well, or even at all, but for virtually any region of France some cover it in fair depth. Second, there's no need to pay a registration fee up front. The listings available from agencies that do not demand one are at least as extensive as the listings from ones that do, and cost no more—so you have nothing to gain by tying yourself down to one agency. Third, you can pay wildly varying amounts for the same property, depending on whom you rent it from. When I was in Paris this past fall, I picked up a booklet from a rental agency called Colle (phone 01133-1-45-62-37-19, fax 011-33-1-45-6103-13). Although a French acquaintance had described Colle to me as a high-end kind of place, it was offering a particular large castle, whose owners seem to have shopped it out rather promiscuously, for some $4,000 less per week than the $12,000 one U. S. agency asks for it. Granted, the U.S. agency's price includes the services of a housekeeper for six days of the week—but for $4,000 you could bring two or three housekeepers with you, paying their airfare and their usual wage, and still have something left over tor truffles and champagne. This is another reason to be in touch with more than one agency.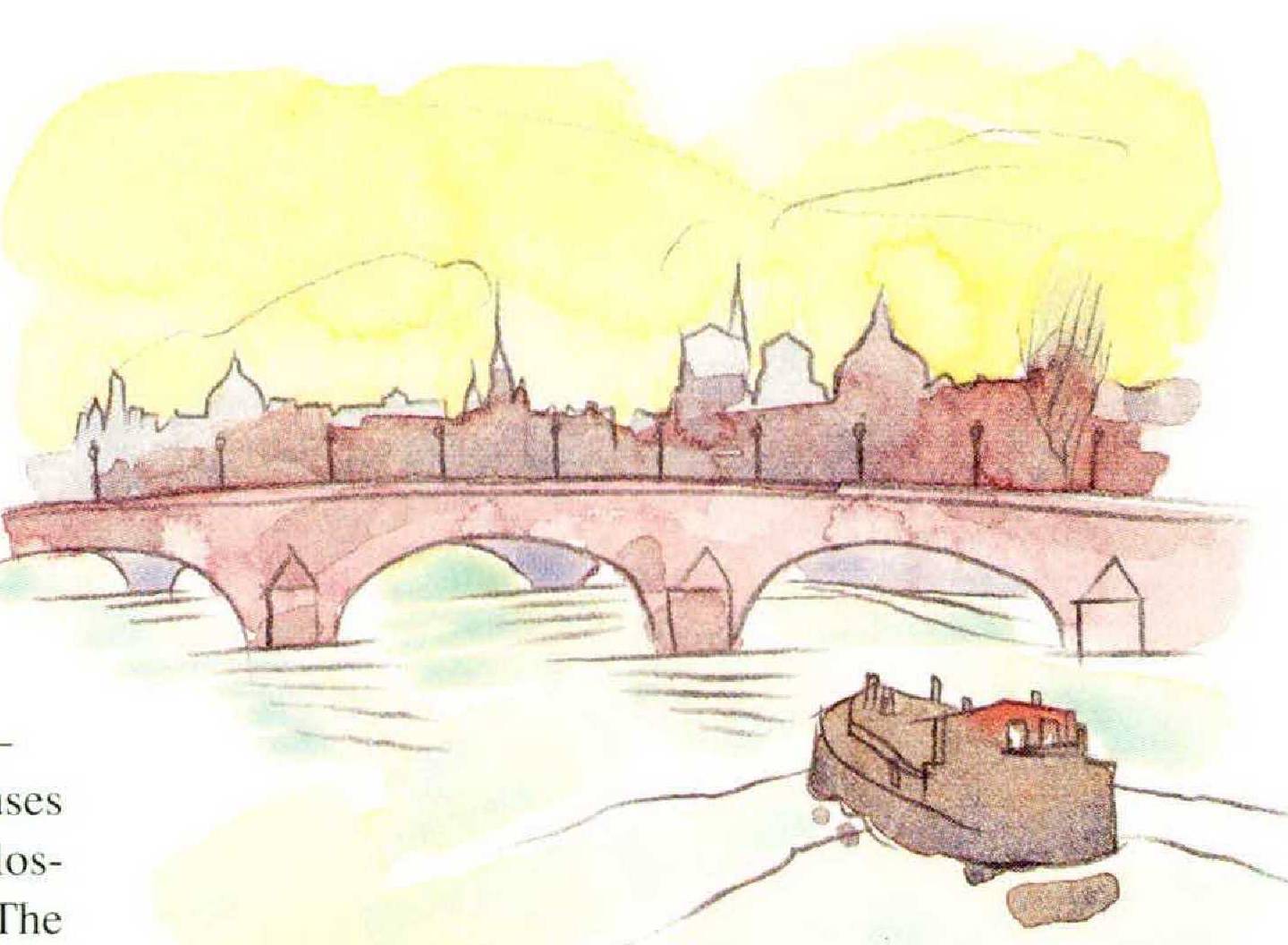 MANY of the same agencies that rent houses also rent apartments in Paris; and, again, gites don't exist in the city, so the agencies are your only option other than such connections as you have. The range of rental prices in Paris is much the same as the range of prices for rooms in all except budget hotels. You will, though, almost invariably get more space for your money in an apartment than in a comparably priced hotel room. The minimum stay can sometimes be as short as one night—though if you're in transit and won't have time even to go to the market, it's hard to see what the advantage of an apartment would be.
I used the Barclay International Group (800-845-6636, or 212-832-3777 from within New York state), which boasts that it can offer lower rates on several of the properties it represents than would be quoted by the property owners themselves. My husband and I spent four nights in a top-of-the-line apartment at Les Suites Saint-Honore, down the block from the American embassy, around the comer from the French White House, and half a mile from the Hotel Le Bristol, which we toured for comparison's sake. If money were absolutely no object, frankly I'd take a suite at the Bristol—but still I'd miss our apartment's well-appointed kitchen to stock with breakfasts and cocktail-hour snacks. (The idea of being a tourist and yet being able to invite friends over for dinner filled me with inexplicable glee.) If money weren't much of an object and we were traveling with children, though, I'd take a two-bedroom apartment at Les Suites Saint-Honore.
We spent the next three nights in a much more modest place, part of the JRH Prestige group, in the Trocadero neighborhood, just across the river from the Eiffel Tower. "The Trocadero is just like the Upper East Side—and just as boring," a perhaps jaded New Yorker had warned me. To me, it simply felt more like real life than the diplomatic district—and had better supermarkets. In this second apartment I was fascinated by a three-ring notebook that the proprietor had assembled, containing not only lists of museums and her favorite restaurants but also the operating instructions, tucked into plastic sleeves, for all the apartment's appliances (how handy to have all this information in one place!) and an inventory, with prices, of the apartment's contents, right down to the eggeups, the lamps from Ikea, and the headboard on the bed. Would it occur to a national of any other country in the world to compile such a book?
The French have a passion and a genius for domesticity, and the opportunity to meld your own style of domestic life with French ingredients and accoutrements is bound to produce memorable results. As it happens, my own house now has a notebook full of appliances' operating instructions in plastic sleeves. I worry that a stuffed pheasant for the diningroom wall will be next.