In the Depths of France: The Pleasures of Renting a Farmhouse and Staying Put
Peter Davison
FOR ten years my wife and I have been yearning for the ideal vacation, whether in Europe, Central America, Asia, or the Caribbean—but each adventure lacked something. The exotic Peter island turned lone and lorn; the bustle of the international metropolis did little for the inner life; the trail of temples hardly satisfied the wish for worldly pleasures; the exploration of a new region was rewarded by physical exhaustion. How to combine all the pleasures without suffering their attendant discomforts? How to arrive at solitude without isolation; to get Davison off the beaten track without driving a car all day, day after day; to experience a change of scene and culture without alienation? And how to snatch a bit of rest and recreation at the same time?
To our great good fortune, a friend was willing last June to rent us his stone farmhouse in France, surrounded by climbing roses and beds of iris and wild herbs, in the Haut-Quercy region, departement of the Lot, south of the Dordogne River and overlooking it, perched on the hills of a limestone upland left behind ages ago by the upheaval of an ocean floor. We decided to center ourselves in this house and stay very close to it, within a square of twenty-five kilometers. We knew the area to be the territory of Neanderthal and CroMagnon hunters, Gauls, Goths, and Albigensians—a rich, mild, desirable land that was fought over for centuries by everyone from the Saracens to the English until it was depopulated and still. At one time the market town of Gramat, central to the region today, was reduced by war and pestilence to a population of six. This is also the country of Montaigne, Fenelon, Andre Malraux, Andre Maurois, Madame de Pompadour, and Jean Luçat; the country of the Resistance in the Second World War; the country of The Lost Upland, by W. S. Merwin.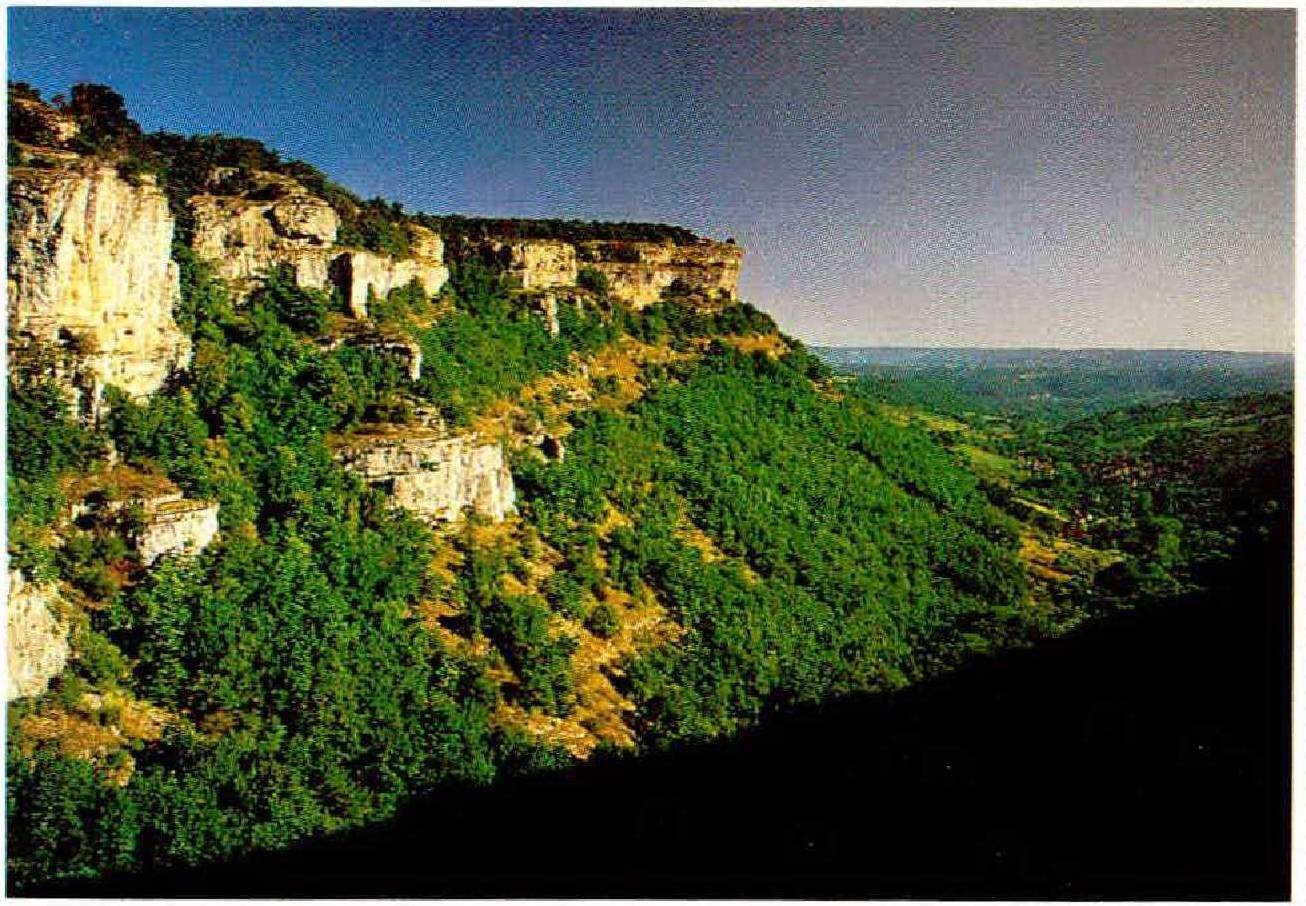 From the terrace of our borrowed farmhouse we could look out across the broad alluvial bottomlands of the Dordogne Valley, with its walnut orchards, its sheep and cattle, its strawberries and melons, into the distance at Castelnaud—"the second most important military castle in France,"as the travel literature has it. Built shortly before the Hundred Years' War, Castelnaud saw its military importance recede after the twelfth century; it fell into desuetude and was damaged by fire. In the past century a retired operatic tenor refurbished the castle, with remarkable taste and resourcefulness, in order to make a comfortable home for his "ward" and adoptive daughter. Now, long after his death, it serves each year as the site for the St.
Cere summer music festival.
Our house, a mile from the photogenic hilltop village of Loubressac, where we did our basic food shopping, lay in a hamlet of perhaps twenty limestone houses, barns, sheds, and byres, inhabited by a few farmers with antique Massey-Ferguson tractors and, in the brokendown stone barns, donkey carts, ancient and unusable automobiles, harness, farm tools, old machinery, and stale hay, as well as livestock. The village also housed an expert on legal ethics from the faculty of the University of Pennsylvania, a volatile but highly gifted painter from Antwerp, quite a number of chickens and domesticated pigeons, and perhaps a thousand bespectacled sheep (their black eye-rings and ears are indigenous)—in fact, many more sheep than people. After a fortnight, when we left the region to take a train from Brive-la-Gaillarde to Paris, the farmhouse, with its huge rooms beneath rough fifteenthcentury beams, its stately grandfather clock, its forbidding family portraits of girls who looked as though they had died young, its massive bureaux and cupboards. stout tables, comfortable chairs, and positively voluptuous beds, its tiled kitchen, and the daylong sounds of birdsong near at hand and sheep bells clanging in the distance, had come to feel like our second home, and the farm and trades people of held and town our countrymen. WE were lucky in our season, relishing the long daylight hours of the summer solstice, when all the children in France are still in school and their parents have not yet been liberated to travel. In our hundred kilometers of walking, averaging seven or eight kilometers a day, we encountered only ten other walkers, eight of them British. In our visits to half a dozen restaurants, some rather distinguished. we never found more than two other tables occupied, but the menus were ready, the food fresh, the service alert, and the wines on hand to pour or to chill. Quercy is the region, after all, of the truffle, the walnut, and the plum, of pate de foie gras, of canjit d'oie (goose preserved in its own fat), of magret de canard, of the robust black wines of Cahors, the heady while wines of Bergerac, and the delicious eau-de-vie de prune, a liqueur made from local plums which bears no more resemblance to slivovitz, its Eastern European cousin, than Earl Grey tea does to Ovaltine.
Numerous market towns lie within the territory we marked out for ourselves, and that territory is crisscrossed by an intricate pattern of roads, lanes, and trails, all three mostly bordered on both sides by walls of white limestone whose fragments have been fitted together with such picture-puzzle care as to make the walls of New England look positively blowsy; these are festooned with gleaming wigs of bright green moss, which have embellished them for hundreds of years. The many ways of getting people (or sheep) from one place to another tempt the traveler to walk, and that is what we did a great part of every fine day: set our feet to countryside around our hamlet. We also drove to farmers' markets in nearby towns, where we undertook more walks; cooked meals on our return with the marvelous local ingredients, according to recipes from the house's copious cookbook library; read other books that bore no trace of professional relevance; slept a great deal; ate at this restaurant or that —but all within our square of twenty-five kilometers. Less, as they say, is more.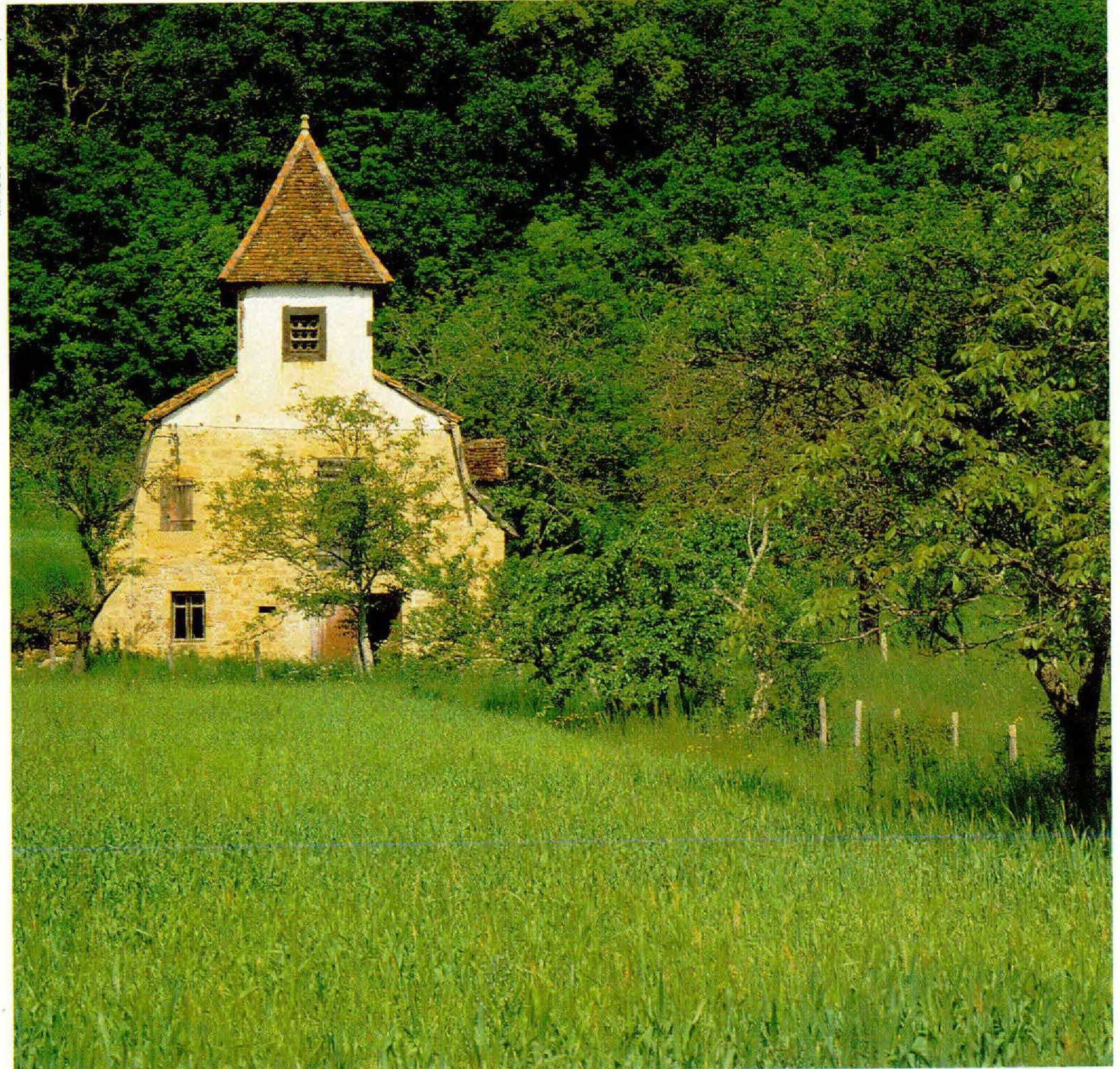 Sounds arbitrary, doesn't it? But within that area of a single fold of the Michelin Tourist Map #75 we found open heath, deep limestone valleys, thick woods, cultivated walnut groves, luxurious chateaux, tumbledown farms, fields of cows and sheep and goats, wheat fields, hayfields, meadows, pastures, limestone cliffs, vast underground caves, deep underground rivers and dry streambeds, exquisite and ancient villages, agreeable river towns and ancient churches, castles both operative and long since dismantled, waterfalls, ruined mills, and one famous destination for pilgrims (Rocamadour, set into the side of a cliff, with its notable black virgin in the Chapelle de Notre-Dame, one of seven churches in a single town square).
We could have spent an entire lifetime in that one fold of map—as many others have done—with sufficient variety to entertain us: variety of landscape and variety of diet. Quercy offers a cuisine that, depending on your taste, can be as burly as cassoulet, as savory as a rack of lamb in its own juice, or as delicate as a salade des gourmands containing a slice of foie gras, another of terrine de canard, a few slices of country ham, and warm goose giblets (a local delicacy) on a bed of bright green lettuce lightly dressed with walnut oil and strewn with a few of the crunchy walnuts of the region. A characteristic cheese course offers one cheese from the goat, locally celebrated as cabecou, another from the sheep (Roquefort), and a third, usually the least impressive, from the cow.
But not everything served in Quercy is bad for the arteries: fish from the nearby Mediterranean is cooked with a dab hand. One particularly delicious dish we sampled in Sousceyrac, at a lovely hostelry called L'Hotel des Dejeuners, was a filet de Rascasse aux ecrevisses avec fleur de courgette, which consisted of a delicious white Mediterranean fish poached in a fist around its own forcemeat and garnished with a zucchini flower stuffed with tiny crayfish. In Quercy they like to flavor their desserts with walnuts, and if you can pass up the assiette de fruits rouges (strawberries and raspberries), you may have a creme brûlée aux noix, which is as delicious as things are allowed to get.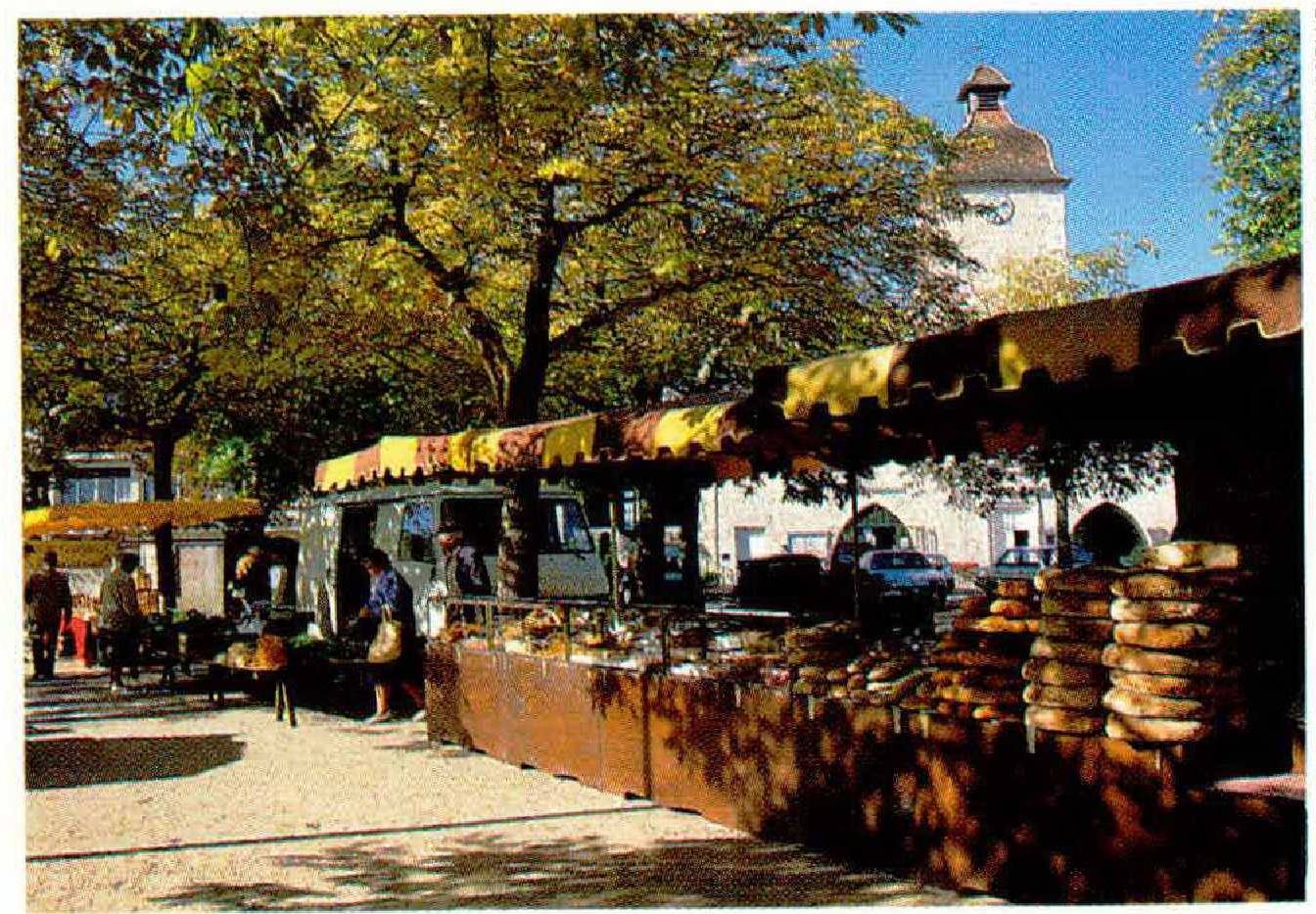 But first whet your appetite with a good long walk—say, a walk from Loubressac to Brard and back again, eight kilometers round trip. You'll follow an easy trail lined with purple alyssum, marguerites, clovers, pink convolvulus, and scarlet poppies, and marked by a fluttering variety of yellow and blue butterflies, golden orioles, hawks, and blackbirds, along the verge of a limestone cliff that falls to an exquisite medieval village, Autoire, 800 feet below. A village like Autoire is best viewed from above if you want to make out its pattern, and with a pair of binoculars you can see the tables set in the gardens, and the bouquets in the vases as well as the flowers in their beds. We were standing on a height of millefleurs country tapestry, spying on a medieval urban plan.
THE day we walked from Loubressac to Brard we were accompanied by a slightly agitated kestrel whose nest we must have been threatening. It swooped past us now and then, just to keep an eye on us in case we were English—for we were passing a part of the cliff top where the map notes "Chateau des Anglais" and then adds, with satisfaction, "(en mine)." Even now, after 500 years, everything is politics: the English dominated this part of France for centuries. Nonetheless, the natives formed the core of the Resistance, under the leadership of Malraux, against the Nazis during the Vichy regime and after. Only a few miles from our base, at the top of the cliff, was a modest monument celebrating the drop of 600 weapons-laden parachutes to support the Resistance on Bastille Day, 1944; and the walled walks from this point of vantage were among the loveliest and most peaceful we encountered.
On another day we walked from our house westward along the highlands overlooking the Bave River, to find the gloomy ruins of the Castle of Taillefer, which are only vaguely marked on the walkers' maps that can be bought in most local bookstores. On another we penetrated the valley of the Alzou River to seek the shade where the ancient Moulin du Saut still stands, only a few miles from Roumegouse, to which we continued in order to enjoy a particularly luxurious light lunch (green beans with truffles, a glass of Monbazillac, and excellent ice cream) on the terrace of Chateau de Roumegouse, a grand hotel. Only two other tables were occupied even here.
On yet another day we visited a market where we found pairs of old ladies who seemed to date back to the Third Republic, with their knitted caps and knitted shopping bag; wine merchants who offered degustations of their wares, and sipped two glasses to their customers' one all day; and farm women who traveled from market to market with fresh onions, geese, cheeses, truffles, mushrooms, walnuts, and good humor. It was in these markets, or on the rough limestone paths that chewed away at the soles of our shoes, between the sheep pastures with their sound of lambs baaing and their fragrance of manure, or in the bars of the villa s sipping a Ricard in the shank of the afternoon, that we knew ourselves to be somewhere we had never been before; n the depths of the country, the regien the French call la France profonde.