Ella's Lauds... And Lamentations
It's time for my hopelessly inaccurate Academy Award predictions. Any resemblance to actual Oscar nominations, living or dead, is contentedly wishful.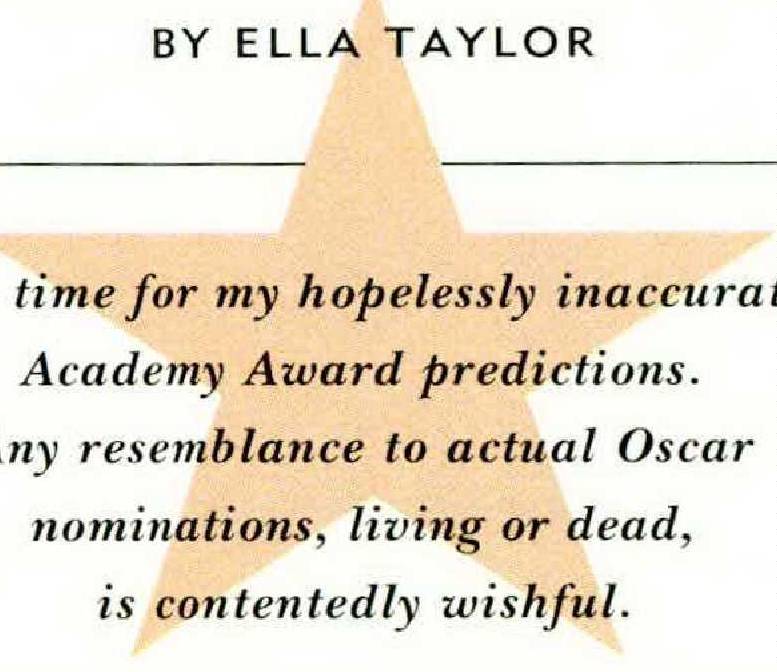 BY ELLA TAYLOR
Best Picture: The Piano. Jane (lampion comes of age with a gorgeous film that makes all your nerve endings get up and dance. Campion brings a delirious perversity to the story of a mute Scotswoman who travels to New Zealand to marry a dried-up bachelor, and ends up playing musical beds with Harvey Keitel.
Runners-Up: Mike Leigh's Naked, a brilliantly loquacious British bummer about fear and loathing in the scabbiest London you ever saw; Victor Nunez's quietly lyrical Ruby in Paradise, about a young southern woman getting by in deepest Florida; Schindler's List, Steven Spielberg's haunting adaptation of Thomas Keneally's Holocaust novel.
Best Actress: Newcomer Ashley Judd, for her openhearted performance, absolutely without intent to seduce us, in Ruby in Paradise. Runners-Up: Four actresses who steered around their beauty to play women to be reckoned with— Holly Hunter, in The Piano; Gong Li, as the activist pregnant villager in The Story of Qiu Ju and the jealous former prostitute in Farewell,
My Concubine; Debra Winger, as the lethally truthful Tupperware collector in A Dangerous Woman and the divorcee who awakens Anthony Hopkins in Shadowlands; Angela Bassett, for her intense Tina Turner in What's Love Got to Do With It ?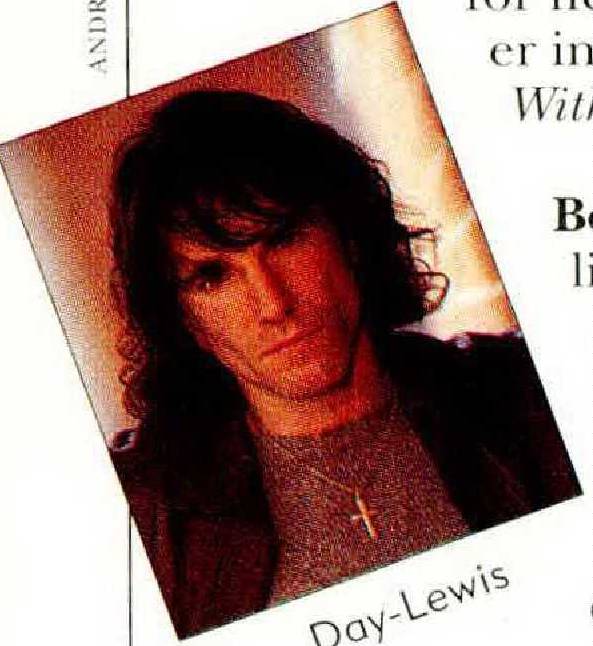 Best Actor: David Thewlis, for his gabby pyrotechnics as the misanthrope in Naked. Runners-Up: Daniel Day-Lewis, for dissolving into the callow Irishman ac-
cused of terrorism in In the Name of the Father; Tom Hanks, for mustering the guts and the range to play the yuppie gay lawyer with AIDS in Philadelphia; Colm Meaney (of The Commitments), for his beleaguered Dublin father in The Snapper; Richard Gere, for his unsung performance as the jittery manic-depressive in the otherwise silly Mr. Jones.
Best Supporting Actress: Joanne Woodward, who hardly says a word but speaks volumes of pain with her face as Tom Hanks's mother in Philadelphia. Runners-Up: Miriam Margolyes, for jollying up the snoreful The Age of Innocence as the canny old aunt overrun by yapping pups; Madeleine Stowe, for showing Tim Robbins what's what in Short Cuts; Judith Malina, for the long-faced mother-in-law whom Tracey Ullman learns to respect in Household Saints.
Best Supporting Actor: Ralph Fiennes, for his harrowing performance as the sadistic, tortured commandant of the Plaszow labor camp in Schindler's List. Runners-Up: Denzel Washington, for the attorney torn between homophobia and justice in Philadelphia; Tommy Lee Jones, for his reluctant decency as the cop chasing Harrison Ford in The Fugitive; Pete Postlethwaite, for the good-hearted but ineffectual father in In the Name of the Father, Ben Kingsley, for his straight-man gravity as Oskar Schindler's Jewish accountant in Schindler's List.
And The Posthumous Praise Award goes to the fabulous Mvrna Loy, who spoke some of the best dialogue in film history in The Thin Man, and proved that banter is sexier than sweet nothings.
Ella Taylor is a film columnist for Mirabelta.
The Trembling Lip Award goes to Alan J. Pakula, director of The Pelican Brief, who turned Julia Roberts's brilliant young law student into a pre-shrunk violet with a specialty in mournful gazing into the middle distance.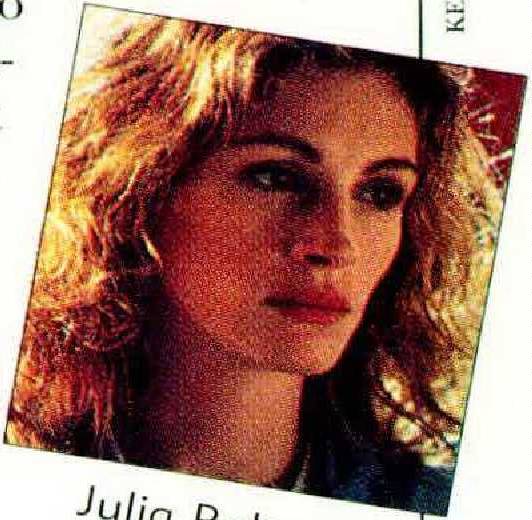 The History Made Simple Award goes to Oliver Stone, for his reading of Vietnamese history ("And then one day the French came") in Heaven and Earth.
The Magnificently Missed Point Award goes to National Public Radio's Morning Edition, for greeting the release of The Remains of the Day with a report on the training of English butlers.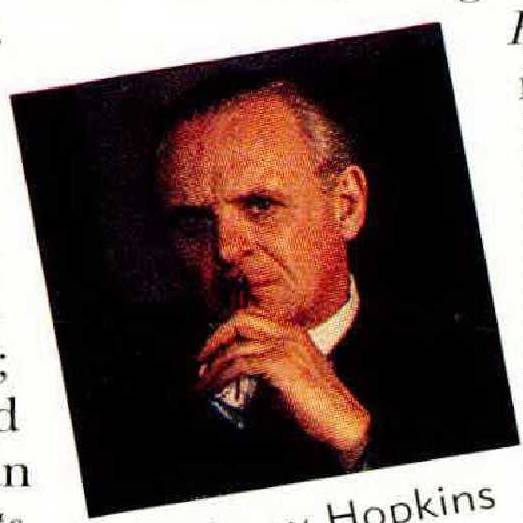 The From Ham to Clam Award goes to Anthony Hopkins. His smart-ass showstopper as Hannibal Lecter got the job done. But the painfully repressed men he played in The Remains of the Day and Shadowlands—now that was acting.
The Go to Your Womb Award for best authoritarian personality goes to Snow White in Disney's re-release of Snow White and the Seven Dwarfs. That Snow, bossing the little fellows around—talk about a dominatrix.
The Women Who Run With the Sharks Award goes to top studio producer Sherry Lansing. Fatal Attraction wasn't enough; she saddled us with Indecent Proposal in which Robert Redford purchases Demi Moore for $1 million, while Woody Harrelson puts in his own bid by buying her a hippo.