Happy Trails
A visit to the Roy Rogers —Dale Evans Museum, which is more like a rec room than a museum, and where some mornings Roy himself says "Howdy"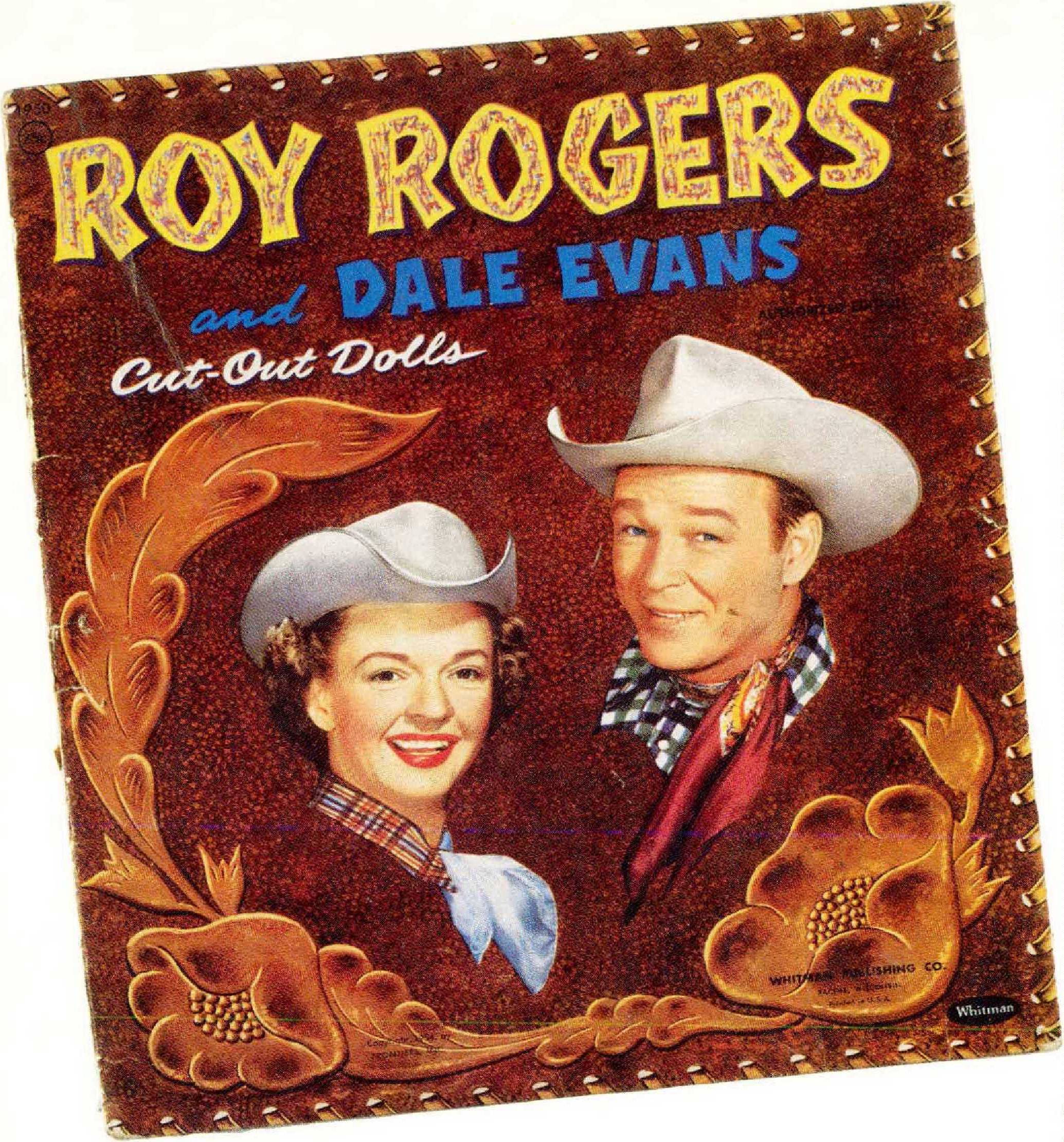 by Jane and Michael Stern
"BUT you don't understand!" says a man in his mid-forties—a firmjawed sort, about six feet tall, wearing the expensive casual weekend clothes of an upper-middle-management honcho. He is pleading his case to a woman in a ticket booth under a carved wooden sign that says HOWDY, PARDNER at the Roy Rogers-Dale Evans Museum, alongside Interstate 15 in Victorville, California. "You simply do not understand,"he repeats. "I drove two thousand miles from Chicago with this picture, and it isn't fair for you to tell me I can't meet Roy Rogers and have him sign it." He waves a faded eight-by-ten photograph from 1950 that shows the cowboy movie star atop a beautiful golden palomino galloping at breakneck speed. He slides the picture under the grate and the ticket seller slides it right back to him, explaining that Mr. Rogers is not at the museum this morning. After a few more thrusts and parries the man begins to have what is seldom described in adult psychology as a temper tantrum but is precisely that. "I want to see Roy Rogers, I want to see Roy Rogers," he whimpers, pouting and stomping his foot.
Grown men and women acting like children is a daily event at the Roy Rogers-Dale Evans Museum. At the edge of the Mojave Desert, a third of the way from Los Angeles to Las Vegas, this roadside attraction is an emotional lodestone for the progeny of midcentury America, in whom Roy and Dale and their wonder horses, Trigger and Buttermilk, provoke a tumble of memory and sentiment. For adults seeking a reminder of what life was like half a century ago, Roy and Dale's museum makes it easy to recall an era when popular culture was sweet and decent and the good guys always wore white hats.
Now in their eighties and waging battles with serious heart problems, Roy Rogers and Dale Evans remain heroes to yesterday's children. They live at their ranch in Apple Valley, about seven miles from Victorville, and on mornings when he feels well enough. Roy Rogers drives to the museum to greet people and shake their hands. During his off hours, when he is browsing at his favorite local swap meet, or on his way home to catch the TV soap opera The Guiding Light, which he has followed for years, he wears a baseball cap and a windbreaker. But Roy Rogers never appears at his museum outfitted other than as the man he refers to as "Ol' Roy"—the most beloved singing cowboy in the history of movies, and arguably the best dressed.
To greet his fans Ol' Roy wears a white Stetson hat, double creased around the rim of the crown and with a rakish sloping brim. He fancies beautiful gabardine cowboy shirts festooned with embroidered horseshoes or flowers on the yoke. To hold up the western-cut trousers that still fit him perfectly some forty years after they were made by the celebrated cowboy couturier Nudie of Hollywood, he chooses a gleaming silver-and-leather belt made by Edward Bohlin, who was known in his day as the Michelangelo of saddlecraft. Ol' Roy is never seen without a bright kerchief knotted smartly at the side of his neck and a pair of glossy cowboy boots with pointed toes and high heels on his feet.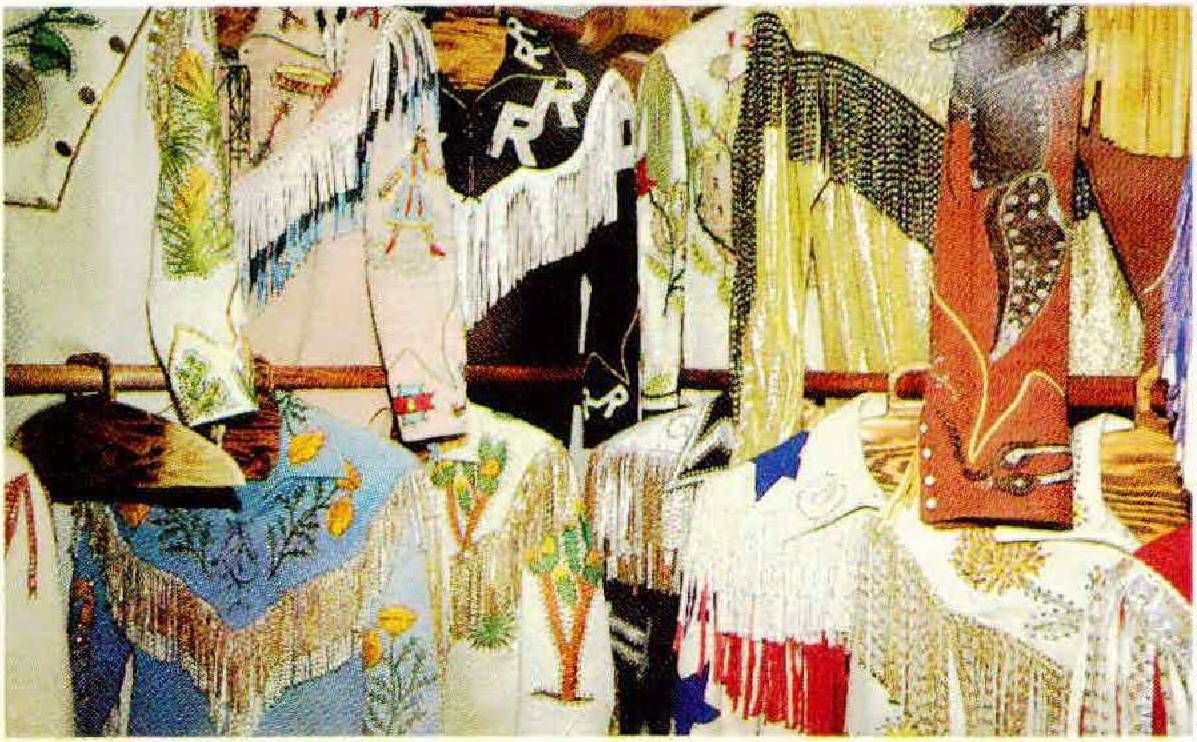 "He is very serious about Ol' Roy," explains Roy Rogers Jr.—or "Dusty," as he likes to be called. Dusty runs the museum and has also handled his dad's career since Art Rush, his father's manager for forty-six years, died, a few years ago. "He says people come here and they expect to see Ol' Roy. Dad's legs were bothering him recently, so I tried to get him to wear Reeboks or walkers, but he wouldn't do it. He said people expect to sec Roy in boots, not sneakers. He is very protective of that image. It's important to him because, he says, all you have in life is your word, your handshake, and the image you portray. There's no difference between Ol' Roy and my dad. It's just that Ol' Roy wears a cowboy hat."
When Roy makes an appearance at the museum, strange things happen. A burly six-footer spots him and rushes him, forgetting that he himself is no longer eight years old and that Roy is eightyone. He hugs the old man, lifting him off the ground with the power of his embrace, laughing with glee. Suddenly he realizes what he has done; he puts Roy down, turns sheepishly to his wife and teenage children, and introduces his boyhood hero. A policeman shows up one morning and explains that when he was growing up, his father was an abusive drunk. Roy Rogers was his model when he couldn't find one at home. "Even today," he says, "when I am faced with a predicament on the job, I ask myself, What would Roy Rogers do?" Women in their fifties complain to Roy because he married Dale Evans, on New Year's Eve in 1947. "You were supposed to wait for me to grow up!" they tell him. And countless fans stand transfixed in the lobby when they meet him, able only to recite a now-familiar litany: "When I was a kid, I had a Roy Rogers lunch box, a Roy Rogers bedspread, a Roy Rogers wristwatch . . ."
Many people who come to the museum have heard that there is a good chance they will meet Roy if they arrive in the morning. The pilgrims' goal is something more than a brush with celebrity; for most of them, Roy and Dale were part of growing up, maybe the best part. When the couple were box-office stars, they represented everything good about the western myth—adventure, romance, and fair play. It is a heroic image they maintain to this day, and although they have not appeared together in a movie or a Wild West show or on a regular television program since the early 1960s, they still exert a powerful pull on people's heartstrings.
They were billed as King of the Cowboys and Queen of the West, and yet their meaning has always gone beyond those roles and is bigger than the movie genre that made them stars. The life they have shared, on display in their museum for the price of an admission ticket, isn't only about the West; it is about America, and when you enter the quiet halls in which their mementos are displayed, the idealized nation they once exemplified comes whirling back to mind in a rush of sentiment. Today one doesn't hear much about Roy and Dale's America—a country of small towns, family farms, fraternal halls, church picnics, and Fourth of July parades, a country in which members in good standing of the Roy Rogers Riders Club promised to obey these rules: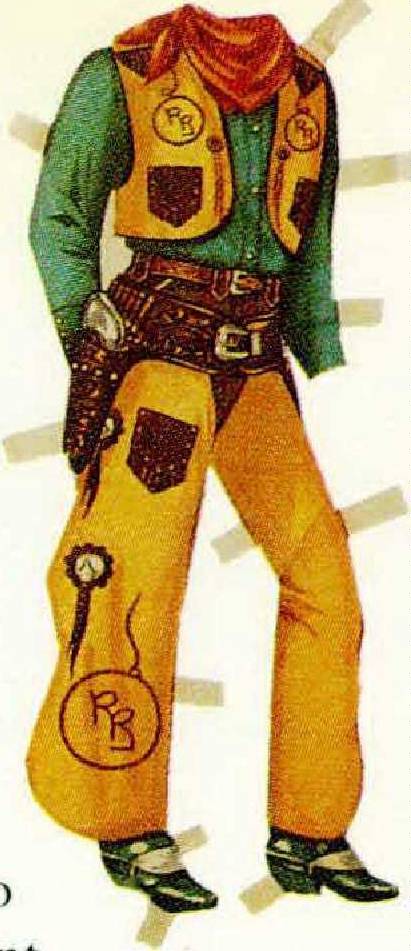 1. Be neat and clean.
2. Be courteous and polite.
3. Always obey your parents.
4. Protect the weak and help them.
5. Be brave but never take chances.
6. Study hard and learn all you can.
7. Be kind to animals and care for them.
8. Eat all your food and never waste any.
9. Love God and go to Sunday School regularly.
10. Always respect our flag and our country.
From the outside the museum does not look like it will set off emotional tremors. It resembles the frontier fort in the TV sitcom F Troop, or perhaps a steak house—a square wooden stockade with two low guard lowers at opposite corners, surrounded by an immense parking lot. The front door is guarded by a thirty-foot painted plaster replica of Trigger rearing up on his hind legs, facing north. The whitemaned palomino has been reproduced in anatomically correct detail; in the barren parking lot, where the eye has nowhere else to go, you cannot but acknowledge that Trigger was, as Roy still likes to brag, "A stallion to the day he died."
(Continued on page 56)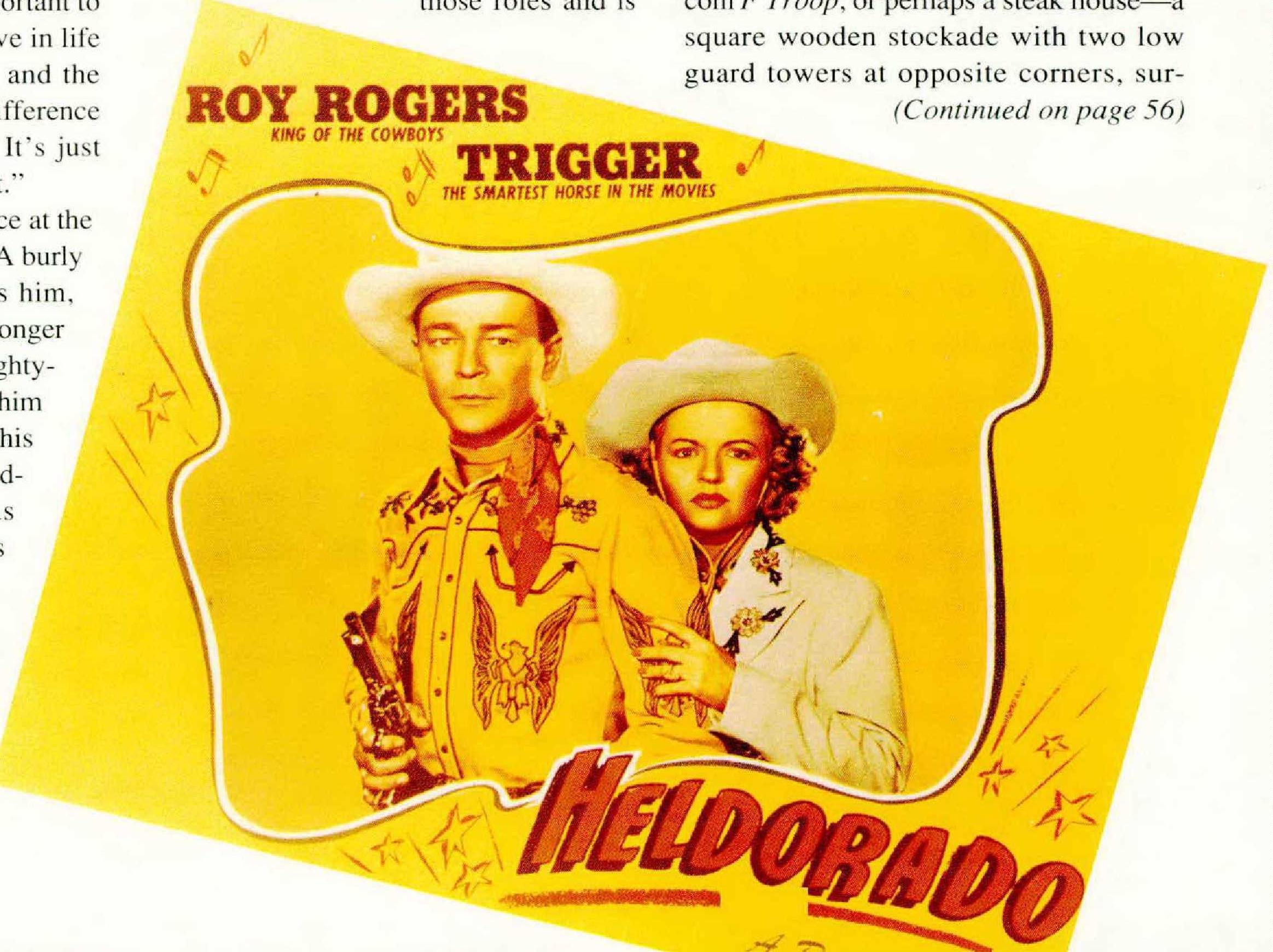 (Continued from page 48)
If the Rogers family had given the job of assembling their artifacts to a professional curator, their museum would likely have been very different, perhaps more like Gene Autry's. Autry, the other most renowned singing cowboy, opened a fine Western Heritage Museum in Los Angeles five years ago. Its magnificently arranged exhibits show important artifacts of western history, all handsomely displayed in a splendid building with names of benefactors and patrons along one gleaming wall. Roy and Dale's place is, to say the least, very different. "This isn't really a regular museum," Roy says of the treasure house he dreamed of creating almost from the time he started in movies, in the 1930s. "It's a personal museum. It's things that Dale and I have done, and the kids and the family and Trigger. I was born and raised in an area where people didn't have anything. I got a pocket knife for Christmas and made all my own toys with it: slingshots, whistles, things like that. So when I grew up and started getting things, I couldn't get rid of them. The drawers would fill up with stuff, and Dale would say, 'Honey, when are you going to empty them?' What I did was put everything in a box and send it off to Bekins Van & Storage. When I opened the first museum, about twenty-five years ago, I had two big truckloads of stuff." The museum's original location was Apple Valley; it was moved to Victorville in 1976. In all that time the collection has never stopped growing. Today the exhibit space is packed with mementos, and Dusty Rogers says that there are many more things in storage than there are on display.
Dusty is the "curator"—a term that even he chuckles at. Along with Roy and Dale, he decides what objects will go into the dioramas and glass cases, rearranging the exhibits when he gets tired of the way they look or when his dad acquires something else, which frequently happens on weekends when Roy goes to the Victorville swap meet. Dusty says, "I come into my office on Monday and there will be some little table made out of burl wood that somebody handcrafted, or a model ship with the rigging all torn up. Dad will say, 'Somebody built that with his own two hands. I got it for two bucks, and I think it was worth it.'"
Everything in this museum is presented not with apology or pretense (or in any apparent logical order) but with absolute sincerity. A lifetime of stuff sings of the heights of Hollywood renown and also, among the benign ephemera, reveals excruciating family tragedies, THIS IS OUR LIFE, announces a varnished wooden sign with carved gold letters at the museum's entryway. The welcome is flanked by a picture of Roy tipping his hat and one of Dale smiling. This museum is their life— an epic autobiography in which nothing is withheld. There are grand things, including a $50,000 silver-and-gold parade saddle, and little ones, including a halfused bottle of 6-12 bug repellent saved from a long-ago family camping trip. A picture of Roy's grizzled sidekick Gabby Hayes at age nineteen, playing the role of King Lear, is preserved a few cases away from a stunned-looking taxidermized golden eagle that Roy's band, The Sons of the Pioneers, found electrocuted under a high-voltage line. The band had the bird mounted as a gift for Roy. "I've lived through so much," he says. "When I walk through the museum, I get about a quarter of the way and get so tired just seeing where I've been."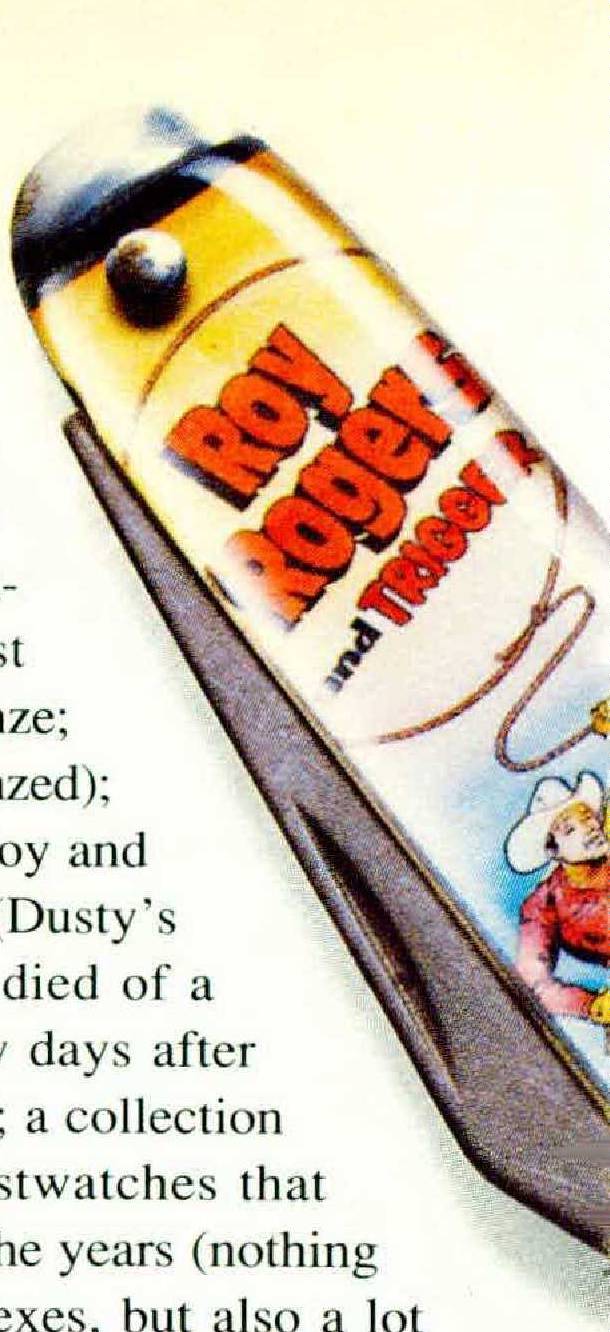 A few of the things you see just past the entryway are Roy's first cowboy boots, in bronze; his first guitar (not bronzed); a wedding photo of Roy and his first wife, Arlene (Dusty's natural mother, who died of a brain embolism a few days after he was born, in 1946); a collection of several dozen wristwatches that Roy has owned over the years (nothing too fancy—some Rolexes, but also a lot of 1970s Seiko digitals, all piled up together); a hunk of the Berlin Wall; some dollar bills folded into funny origami shapes; a little statue of a pig; and a selection of pretty glass vases. Just beyond these memorabilia are cases containing Roy and Dale's tributes to their three children who died. When you turn a corner in this place, you never know what you will find—which makes it a lot like real life, and the most personal and intimate museumgoing experience imaginable.
ROY and Dale have had nine children altogether. When they fell in love, a few years after co-starring in The Cowboy and the Sehorita in 1944, he was a widower with three youngsters, and she had a son from her first marriage, which she had entered into at age fourteen in Arkansas. A couple of years after they were married, Dale, who was then thirty-seven, gave birth to their daughter Robin Elizabeth, who suffered from severe Downs syndrome. Flouting the conventional wisdom of the time, which was to place Robin in an institution (or at least not to let their fans know about the imperfect child), they kept Robin with them as part of the family until she died, a few days before her second birthday. Her case in the museum—identified "Robin Elizabeth Rogers: 1950—1952"—contains pictures of her as a frail blonde baby; it holds her monogrammed silver baby cup, a little memory book, and a well-worn stuffed animal from her crib.
Next to Robin's case are the personal effects of Deborah Lee Rogers, an adopted Korean orphan who died at age twelve in a bus crash on a church trip. Pictures of Debbie show her with her friends wearing silly hats and grinning. Her dolls lean alongside a letter from President Dwight Eisenhower expressing his sadness on learning of her death. Then there is a tribute to John David "Sandy" Rogers, an abused boy whom they adopted after one of Roy's many goodwill trips to orphanages. A picture of Sandy shows him shortly after he came to live with them, wearing a plaid shirt with a souvenir Roy Rogers and Trigger necktie, his nose still twisted to the side from the beatings he had received before Roy and Dale rescued him. Next to his picture is a letter he wrote to them in 1965, not long after he left home and joined the Army, explaining that someday he would like to raise a big family just as they had. Next to his letter is the triangularly folded American flag from his Army coffin.
Near the children's memorials are large artificial-flower arrangements. A plastic yucca plant honors the couple's home in Apple Valley, and an arrangement of golden poppies set into a wicker floor stand is labeled as an homage to the state of California and to the golden palomino Trigger.
The ripples of Roy and Dale's life spread wider and wider as you continue through the museum. Many things are what you would expect in a movie stars' reliquary: the fabulous clothes they wore in their traveling rodeo; hundreds of Roy and Dale magazine covers and comic books; licensed toys and souvenirs, including a humming lariat and a ten-centa-ride mechanical Trigger; publicity pictures from their movies and their singing career; awards ranging from California Mother of the Year (Dale, 1967) to Honorary American Indian of the Year (Roy, who has Choctaw blood, 1986) to membership in the Cowboy Hall of Fame (Roy and Dale, 1976). There is a picture of Dale at age seventeen, in her first evening dress, and a picture of her a few years later reclining glamorously on a couch for test shots at Twentieth-Century Fox.
Some of Roy's favorite vehicles are parked among the artifacts, including a chartreuse 1964 Lincoln convertible with a sign on its trunk saying I DROVE THIS CAR ALMOST 100,000 MILES-ROY ROGERS; the 1923 Dodge that Roy's father owned; and Nellybelle, the cantankerous Jeep once driven by Roy's sidekick Pat Brady. Here, too, are some other celebrities' things, which Roy somehow acquired over the years: Hoot Gibson's piano, Tom Mix's shirt, chairs once sat in by Clark Gable and William S. Hart, a souvenir Hopalong Cassidy milk glass. There are letters of affection to Roy and Dale from every American President since Truman and from political and religious leaders all over the world.
Among such glittering star memorabilia are frequent unexpected displays showing the many ways in which the life Roy and Dale have lived is typically American. One set of shelves holds Roy's Shriner fez collection, assembled from The No-Ruz Grotto, El Zagal, and other fraternal temples around the country. There are Roy's 4-H Club blue ribbons for Swine Showmanship in 1927, 1928, and 1929, and a picture of him with Martha Washington, his prizewinning sow. A large case is devoted to Roy's favorite pastime, bowling: it contains his shirts, his scorecard from the time he rolled a 667 series, pictures of his team, and favorite bowling balls, including one sparkling clear-plastic beauty with a replica of Trigger's head embedded in its core. HOW ABOUT A LOOK INSIDE ROY'S PERSONAL TACKLE BOX? asks a sign above one display, which shows a nice array of "baby hellbenders" and "pal o' mine" lures. The Rogers family's dining table (a round one with a lazy Susan in the center) is set with china bearing western brands and a large Bible. Above the table in this diorama is a big picture of Jesus.
The single most popular attraction in the museum is Trigger, once billed as "The Smartest Horse in the Movies." At closing time it is not unusual for late-arriving tourists to beg the cashier to be allowed just five minutes to run in and see him. He is in a glass case along with Dale's buckskin horse, Buttermilk, and the couple's German shepherd, Bullet. Trigger is big and serious-looking, preserved for all time rearing up on his hind legs, wearing a gleaming silver saddle. His upkeep is Dusty Rogers's responsibility, and it involves brushing the dust off his glass eyes, shining his saddle, and having him sprayed occasionally for bugs. To groom his golden hide Dusty uses Dale's old natural-bristle crumb brush.
"I could talk about Trigger forever," Roy says with true emotion. "He was one of the greatest horses that ever came along. He was just terrific. I made all those pictures and all those TV shows with him; we ran through everything and he never once fell with me. He was just so sharp. He liked to perform in front of people, and there wasn't anything I asked of him he wouldn't do. He walked up stairs in hospitals to visit the sick children. He was so gentle I used to put all my kids on him at one time, from his neck clear back to his tail. I insisted that Trigger get star billing in all my pictures. After all, what's a cowboy without a horse?" The museum abounds with as many pictures of Trigger as of the rest of the family: Trigger and Roy in Hawaii (Trigger wears a gigantic lei), Trigger coming down a special gangplank from a KLM jetliner, Trigger making funny lips and kissing Roy, and, of course, Trigger rearing up heroically on his hind legs as Roy waves his hand in the air—the iconic pose of cowboy jubilation which is imprinted on the minds of a generation.
Trigger was thirty-three when he died, in 1965. "I got a call on July the third, at five o'clock in the morning," Roy recalls. "I recognized the voice—my stable manager. I said, 'Danny, old Trigger died, didn't he?' I had had a premonition, because Trigger was getting old. He ate that morning, and he was turned out in the pasture, and just a few minutes later he was lying down in the field. There wasn't any dirt kicked up or anything. I just couldn't put him in the ground, so I sent him to old man Bischoff, in Los Angeles, to be mounted. They did a good job. I still can't hardly walk past him in the museum without getting tears in my eyes." The Smithsonian Institution had wanted Trigger when he died, but Roy couldn't let him go. "I once joked that I'd told Dale that when I die, she should just skin me and put me up on Trigger, and I could smile down at the people from now on."
WHEN he was a young boy, Roy Rogers never dreamed of becoming a movie cowboy. Born Leonard Slye, in Cincinnati, he grew up living with his parents and three sisters in "the last house in the holler" in Duck Run, Ohio, where his boyhood ambition was to become a dentist. It seemed a glamorous and necessary profession, especially to a person who to this day remembers the country custom of getting a molar yanked out while someone's knee was in his chest. "When I made enough money in pictures, one of the first things I did was to get myself some jaw teeth. It was a long time before I got a chance to buy these." Roy proudly hoists the detachable bridgework out of his mouth to show us his manmade choppers.
Who were his heroes when he was growing up? "My horse, Babe, and my mule, Barney. Babe was an ex—sulky racer, and boy, I thought I had it made. I rode her to school and I rode her to church. First, though, I learned to ride with my mule: old Barney, he was my buddy. I just loved him. I was living so far back in the sticks I didn't know anybody else but them. I knew we had a President, because I learned that in school, but we didn't even have a radio, and I sure never got to see the cowboy stars back then."
After raising pigs and chickens on the family farm, Roy took a job working alongside his father in the insole department at the U.S. Shoe Company, in Cincinnati. His oldest sister had moved to California, and in 1930, flush with ninety dollars he had saved, Roy convinced his father that they should quit their jobs and drive west. "We stayed four months and then went back to Ohio. Winter was coming, and I never could stand cold weather, so I said 'Happy Trails' to my dad and hitchhiked back to California. I've been here ever since."
One thing Roy Rogers remembers vividly about the start of his career is how hungry he was. During his early years as a singer of cowboy ballads, he recalls, "Me and the band were barnstorming in New Mexico, Arizona, and Texas, and we got to Roswell, New Mexico. We didn't have a dime. So we got on a little radio station, and I came up with the idea to talk about our favorite things to eat, thinking maybe some listener would send us something. I said I liked lemon pie, and we got a phone call at the station from a fella who said that if I would sing 'The Swiss Yodel,' his sister would bring a lemon pie to our motor court that night. By golly, I sang 'The Swiss Yodel' better than I ever did, and sure enough, that night a car pulled up and there were not one but two pies! Man, we couldn't wait for them folks to leave so we could eat those pies!" When Roy tells this story, his eyes still sparkle with delight, and when he describes the pies he got. he shows the height of their meringue by holding one hand high in the air. So vivid is the memory that he struggles to stand up from the couch where he's been sitting. He wobbles a little when he gets to his feet, the way eighty-oneyear-olds sometimes do. But the person talking about the lemon pie doesn't seem at all like an old man. Inside him is the heart of an all-American boy. When he describes the scheme he concocted to get the pies, and when you see the impish way his face creases when he remembers how good it felt to scratch the elemental itch of hunger, you realize that in some significant way Roy Rogers has never aged. He still radiates all the rapture and expectation of boyhood. It is that eternal boyishness that made him such a good King of the Cowboys fifty years ago and that makes him, even at age eighty-one, such a fitting symbol of a young America in which all things were possible.
His career as a singer started slowly. When he came to California in 1930, he made ends meet by picking peaches. A song recital on a radio amateur show called Midnight Frolic earned him an invitation to join The Rocky Mountaineers, a group that performed regularly on the air for glory rather than money. In 1935 he formed The Pioneer Trio, soon known as The Sons of the Pioneers, which specialized in such sentimental cowboy ballads as "There's a Round-up in the Sky" and "Moonlight on the Prairie."That year The Sons of the Pioneers appeared in Gene Autry's first big picture, Tumbling Tumbleweeds. Singing cowboys were suddenly hot, so when Gene Autry made it clear to Republic Pictures that he expected significantly more money the next time he signed a contract, Republic started looking for another headliner. Leonard Slye heard about the audition in a hat shop while getting his ten-gallon Stetson cleaned. He beat out seventeen other singing cowboys and got the job, at $75 a week. Republic gave him a new name, Dick Weston; but when his first starring role, in Under Western Stars, was being planned, in 1938, that name was discarded in favor of Roy Rogers. The New York Times film critic Bosley Crowther described him as having "a drawl like Gary Cooper [and] a smile like Shirley Temple"; but Republic was so concerned that he appeared to be squinting that they suggested he put drops in his eyes to widen them. A flood of letters made it clear that fans adored the crinkly cowboy expression in Roy Rogers's eyes. The moviegoing public cast their votes, and he went on to make eighty-seven cowboy movies by 1951, when he moved to television. In 1943 Republic Pictures dubbed him King of the Cowboys.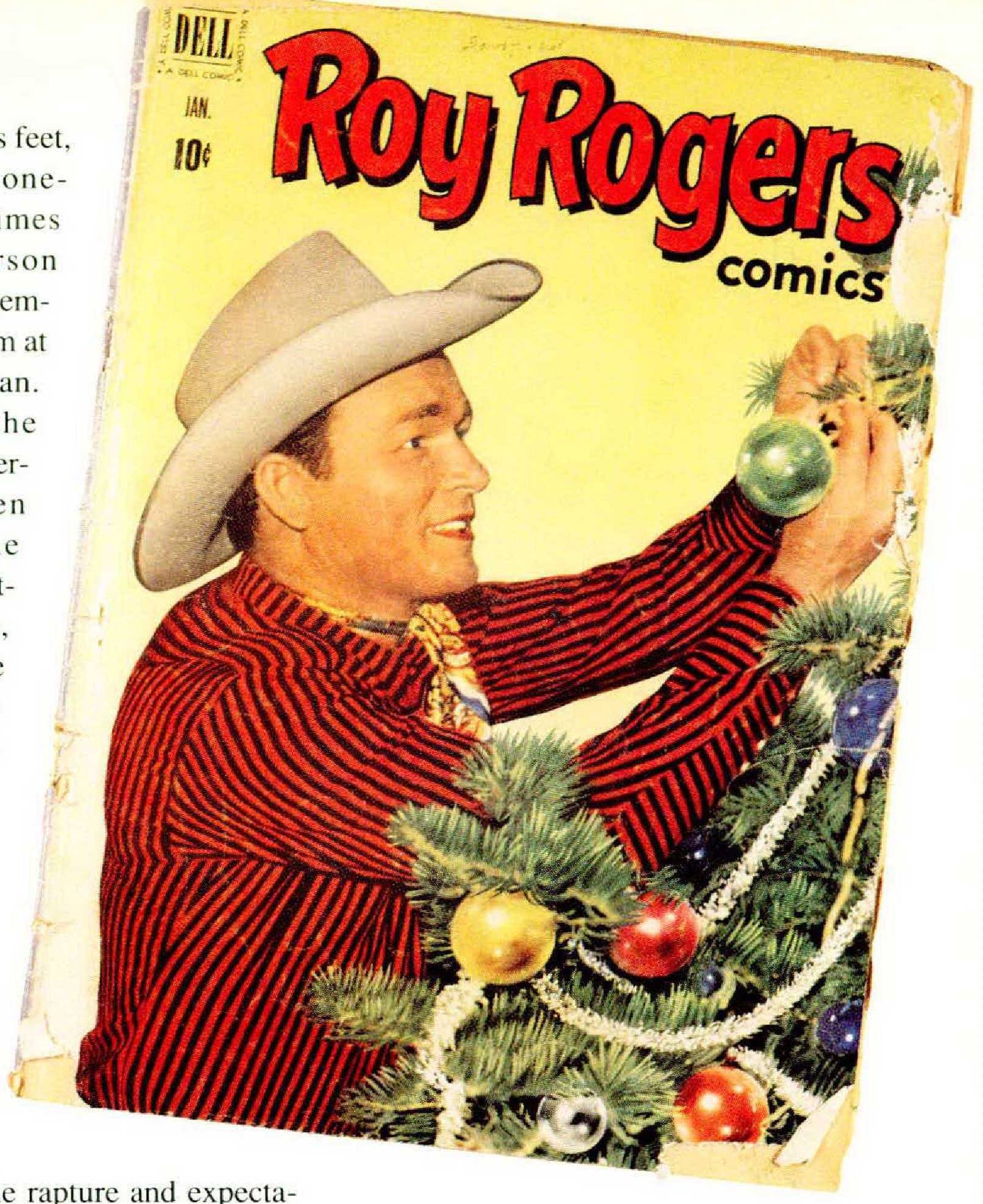 Roy fell in love with the person who had made the lemon pies—Arlene Wilkins —and married her in 1936, one year before signing his contract at Republic. He was a family man from the start, and when it appeared that he and Arlene couldn't have a child, they adopted one, Cheryl Darlene. Then, as sometimes happens, Arlene became pregnant, giving birth to Linda Lou Rogers in 1943; Dusty was born in 1946. After Roy and Dale were married, they adopted Sandy, Dodie, and Debbie, and took a Scottish foster child named Marion. "I always wanted a big family," Roy explains. "Every time I'd go on the road, I'd play orphanages and children's hospitals and places like that. No wonder I wound up with so many." Roy and Dale now have sixteen grandchildren and twenty-six great-grandchildren. "And I'm close to having a great-great-grandchild," Roy says, beaming. "Except for Dusty, none of my kids went into show business, and none of them have any horses." In a moment of reflection he says, "I think it goes back to when they were little. They would never say it, but I was on Trigger all the time, making pictures. Horses took me away from them."
Even during his twelve-year reign as the nation's top-box-office cowboy, when he appeared on a Life magazine cover and was a favorite of the gossip columnist Louella Parsons, who declared him to have "the best behind in show business," Roy was not completely comfortable as a movie star. "I didn't like those Hollywood parties," he recalls. "The studio insisted I go to them for publicity, but I couldn't figure out for the world how to enjoy it. I can't sit down and talk to someone I don't know. So the next time I was invited, I asked if I could take a friend, and they said sure, thinking I would be bringing someone glamorous with me. But instead I took my two or three good hunting buddies. We sat in the corner and talked about hunting, and then I had a good time."
ROY Rogers and Dale Evans have been married for almost forty-six years and are about to celebrate their fiftieth year together in show business. When she enters the room, his eyes light up as brightly as they do when he remembers lemon pie. "Come on in, Mother," he says to Dale, who arrives fresh from the beauty parlor. Her tresses are the color of angel hair on a festive Christmas tree, and her pink-white skin remains unlined. The Queen of the West herself does almost all the shopping and cooking and laundry at the Rogers home. "When we were younger, with me working and all the kids, we had to have help. But I spent so much time when I was off my horse arbitrating between the help that I vowed I would never do it again."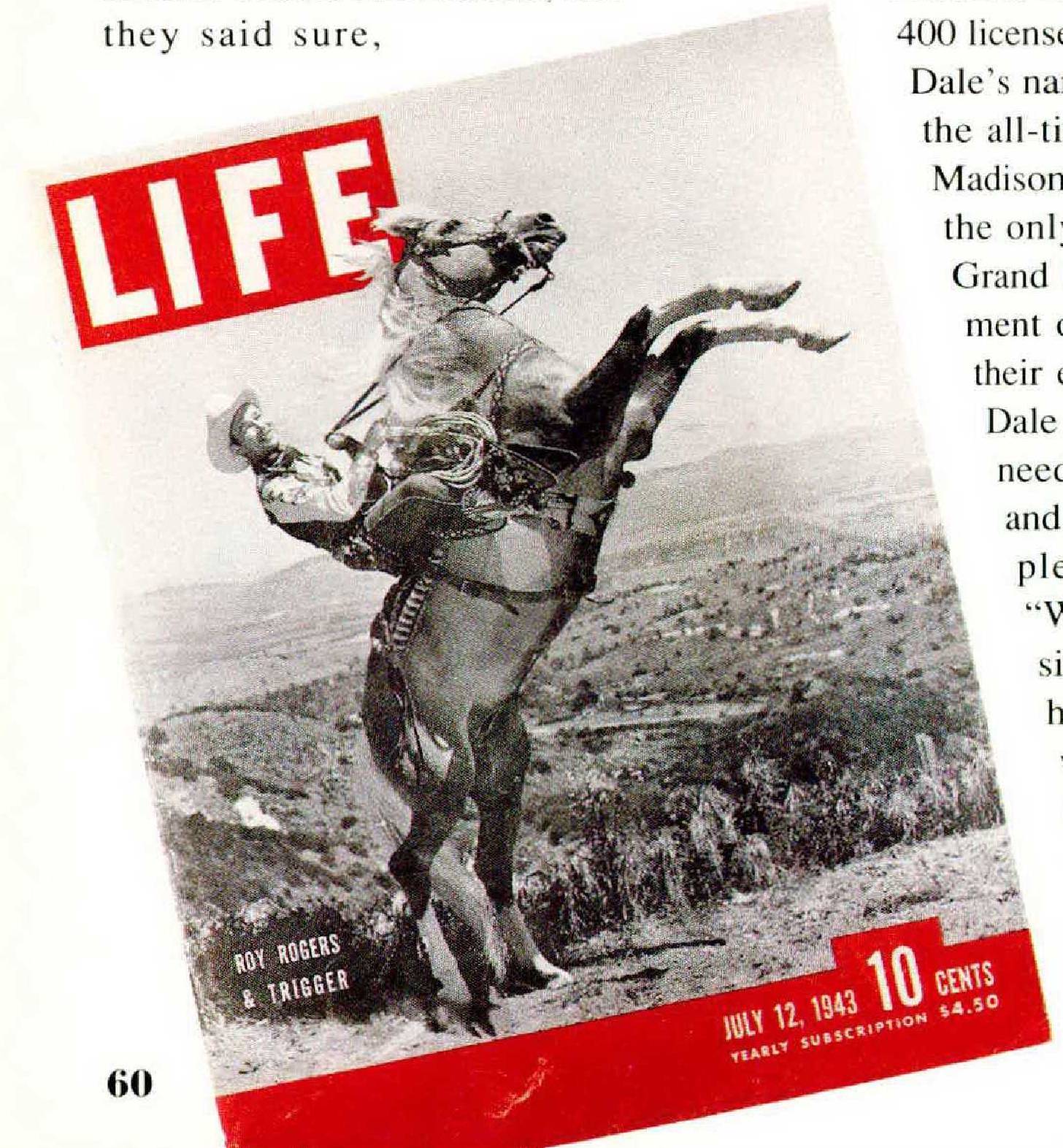 When you talk to Roy Rogers and Dale Evans, even when Roy is outfitted in King of the Cowboys regalia, it is easy to think of them the way they think of themselves—as normal folks who just happened to have some good luck in their careers. At the peak of their movies' popularity, in the late 1940s and early 1950s, Roy had more than 2,000 fan clubs in America and around the world, and 400 licensed products bore Roy and Dale's names and images; they set the all-time box-office record at Madison Square Garden and were the only couple ever chosen as Grand Marshals of the Tournament of Roses parade. Despite their enormous fame, Roy and Dale never changed or felt the need to be reclusive. "Mom and Dad are very public people," Dusty Rogers says. "We've always been accessible, never walled up our house. I remember times when folks would just find us in Apple Valley and come knocking on the door. There would be Mom in her bathrobe and slippers. One guy asked if she was the housekeeper. One time Dad came down in the morning and found strangers sitting in the living room. They said, 'Hi, Roy, we're from West Virginia, and figured you wouldn't mind.' Dad made them coffee and they yakked awhile."
Dusty Rogers long ago grew accustomed to having parents who belonged to the public, having grown up, as he puts it, "sharing my mom and dad with twentyfive million other kids." Today some of Roy's honorary heirs include the country-music headliners Randy Travis, Clint Black, K. T. Oslin, and Emmylou Harris, who teamed up with Roy and Dale and Dusty and a constellation of other top country stars in 1991 for an album of cowboy songs called Tribute, on which the highlight was them all joining in on Dale's composition "Happy Trails," Roy and Dale's theme song since their TV show began, in 1951.
Victorville has grown since the Roy Rogers-Dale Evans Museum opened there. Restaurant franchises and strip malls stretch out toward the desert. Just as in Los Angeles, graffiti mars walls and homeless drifters panhandle in supermarket parking lots. Amid the rudeness of the modern world, Roy and Dale, as always, draw their comfort from life at home. They prefer watching old movies on their large-screen TV to going out to see current pictures— which, Roy says, "are so bloody and filled with cussing, I wouldn't let Trigger see them." They spend a fair amount of time worrying about the daily doings of their cat, a tabby named Charlie. "When he's in, we worry that he should go out; when he's out, we worry about him coming back," Roy says, amused by the small concerns that are so absorbing in old age. Sometimes Roy and Dale come to their museum in the early morning, before the visitors arrive, and wander through it, looking at the collection of mementos that symbolize their long life together, and remembering the America of high hopes and happy trails over which they once so graciously reigned.