What Went Right
The widely accepted view that airline deregulation has been a disaster both for consumers and for the airline industry is, the author argues, a distortion of the truth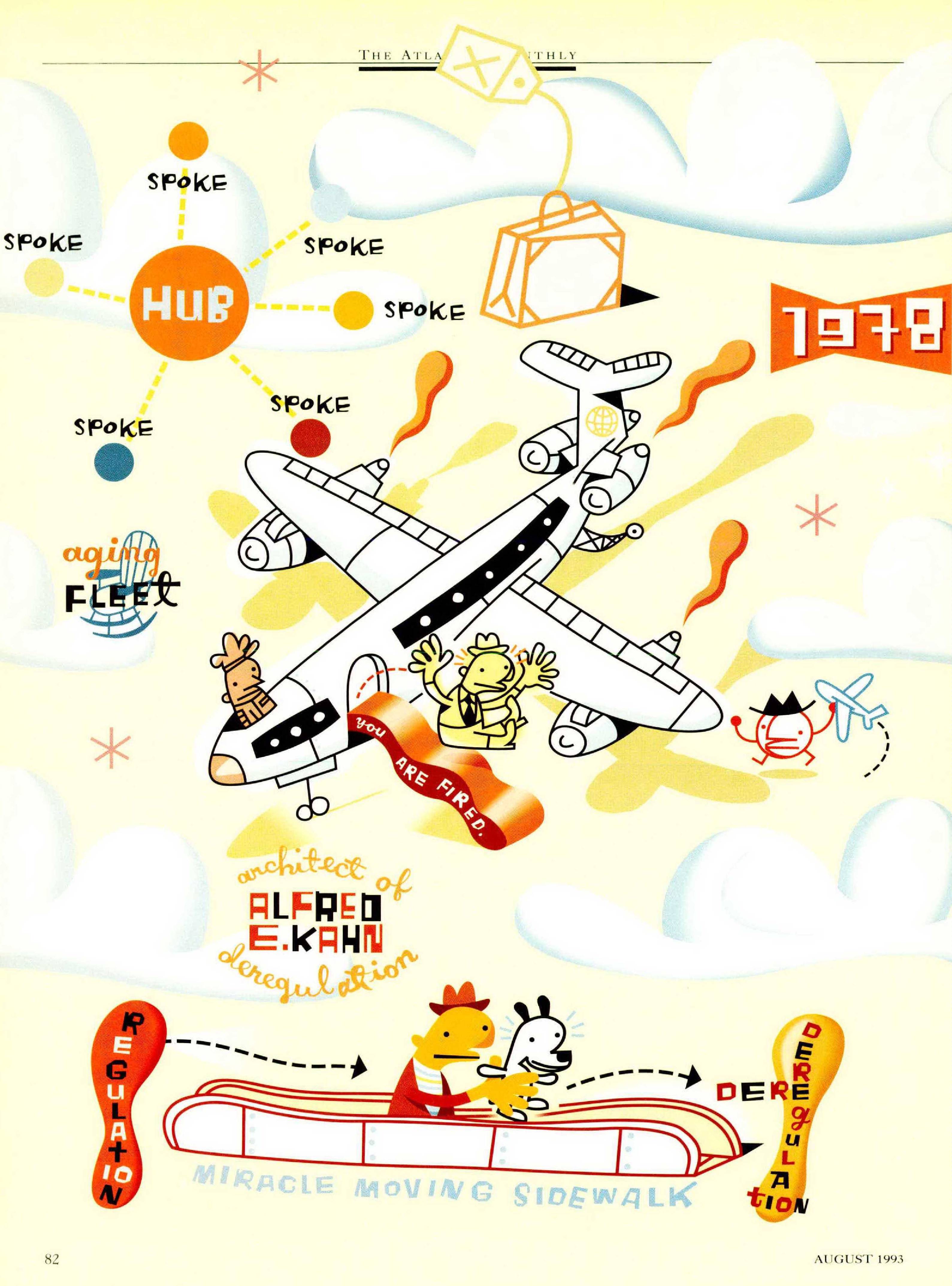 BY PAUL SHEEHAN
THERE IS SOMETHING STRANGE ABOUT THE AIRLINE BUSINESS. IT HAS BEcome a hard industrial enterprise, yet retains enough romance to inspire delusion and fever on a grand scale. The delusion and fever have been especially apparent since the industry was deregulated, fifteen years ago. "Everyone in the airline industry went hog-wild in 1978, and there's still wildness out there," says Clifford Winston, a transportation scholar at the Brookings Institution, in Washington, D.C. The stampede—this century's closest equivalent to the Oklahoma land runs of the 1890s—shocked the architect of deregulation, Alfred E. Kahn, who was then one of President Jimmy Carter's key economic advisers and the chairman of the Civil Aviation Board. Looking back at what happened, Kahn wrote, During the period of rapid deregulation, I scoffed at what seemed to be a general belief among defenders of the [existing] regulatory regime that there is something about the airlines that drives businessmen crazy—that once the CAB removes its body from the threshold, they will rush into markets pell-mell, en masse. . ..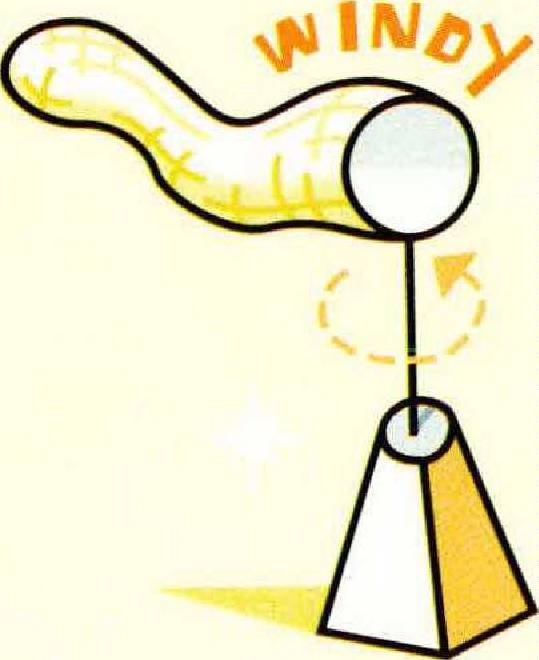 I was wrong. . . .
Kahn's words appeared in The American Economic Review in 1988, and little has happened since to change his belief that the airlines are spiritually different from other enterprises. "People went into the business without any regard to the size and strength of their competition," he told me recently, "or how many sellers the market could sustain, or how much capital they would need. There was a fever."
The fever has extended to the news media, which have fixated on the ills of the airline industry—a part of a larger process that has reduced the vast complexities of the 1980s to a rubble of clichés. In fact, the ascendancy of intellectual packaging has condensed the 1980s into a single all-powerful epithet—the Decade of Greed— and any deviation from this orthodoxy, such as charting the overall success of airline deregulation, is either ignored or contradicted.
The U.S. airline industry has endured a period of historic upheaval. Like much history, it has not been pretty. In 1978 the United States had twenty large airlines. Today the names of many of those companies read like a roll call of the dead: Pan American, Eastern, Western, Braniff, National, Frontier, Allegheny, Hughes Airwest, North Central, Ozark, Piedmont, Southern, and Texas International. As these airlines died or were taken over, another dozen companies were born, but they, too, have nearly all gone. Of the nine large survivors, TWA and America West are operating under bankruptcy protection. Continental has just emerged from bankruptcy for the second time since deregulation, and Northwest is in extreme structural distress. This hemorrhaging of red ink and job security, the liquidation of tradition and regional flavor, and the concentration of power in three behemoths— American, Delta, and United—has resulted in increasingly querulous criticism, encapsulated by one of the most successful books of recent years, America: What Went Wrong?(1992), written by two Pulitzer Prize-winning journalists from the Philadelphia Inquirer, Donald Barlett and James Steele. The book has sold more than 500,000 copies. It remained on the New York Times paperback bestseller list for more than seven months. America: What Went Wrong? is clearly a book that speaks to its time—a time of fundamental business restructuring, when millions of Americans are genuinely worried about losing their jobs, and millions are fearful of an erosion of the social fabric.
Barlett and Steele's thesis was that corporate dealmakers were able to enrich themselves at the expense of the American people during twelve years of Republican Administrations in Washington. In detailing what the authors saw as a pillaging of the economy, which they described as "the dismantling of the middle class," they cited many examples of government-tolerated greed, and portrayed the deregulation of the airline business as an egregious example of misguided policy.
Today, there is less competition in the airline industry than before deregulation. In 1978 the ten largest airlines accounted for 88 percent of the revenue passenger miles flown by United States carriers. By 1990 the ten had increased their share of the miles flown to 94 percent. In many markets, there is virtually no competition, and prices reflect it. In 1977 it cost $86 to fly from Philadelphia to Pittsburgh, round trip; in 1983 the cost had gone up to $124. By 1992 it cost $460. . . .
In summary, under airline deregulation, fares have gone up, not down. Competition became destructive, not productive. Service was cut back. The increase in air travelers was lower in the decade after deregulation than in the decade before it. Cities once served by multiple carriers are now served by one or none. And the airline industry is in shambles. . . .
Indeed, most United States carriers have been left so weakened by the airline industry's increasingly grave financial condition that they have been unable to invest in new aircraft to replenish their aging jet fleets. As a result, United States airlines are flying jets that are considerably older than the planes of major European competitors, which are clamoring for permission to enter the United States domestic market and compete with American carriers.
There is ample evidence that the arguments found in America: What Went Wrong? have so hardened into conventional wisdom that President Bill Clinton felt it necessary to set up a National Commission to Ensure a Strong Competitive Airline Industry. The creation of this bipartisan commission illustrates how widespread are doubts about the wisdom of deregulating the airline industry. These doubts have been fanned by a media culture that cleaves almost pathologically to discord. The endless bad news about the airlines reflected the trauma that would inevitably occur when a highly regulated industry was suddenly dragged into an open marketplace. But the media have also largely ignored the underlying achievements that were the whole point of deregulation. As a result, the coverage of airline deregulation has grossly distorted the results of one of the boldest economic experiments of the century.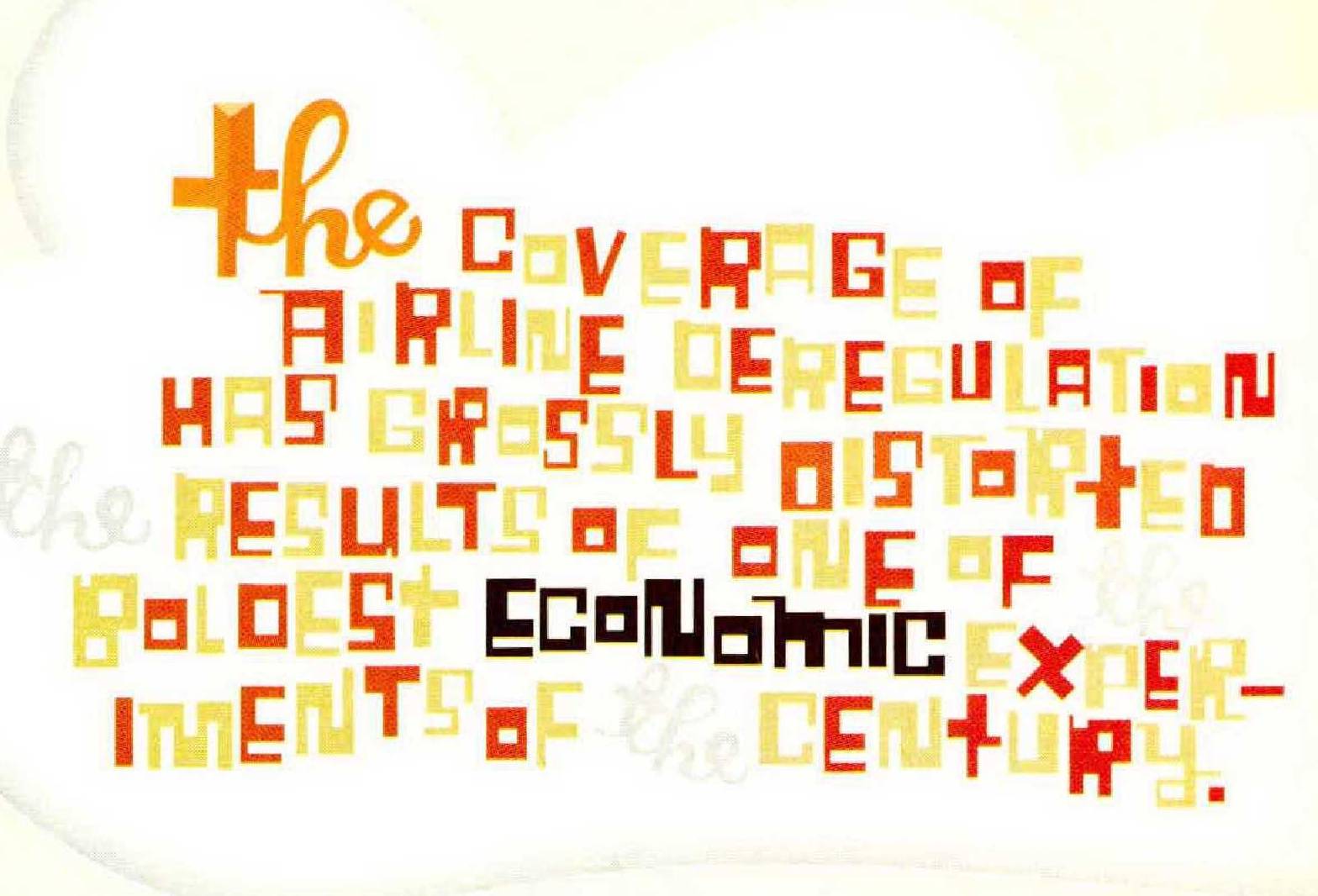 FORTUNATELY FOR THE CAUSE OF ACCURACY, THE airline industry is an unusually transparent one. "The transportation sector is endowed with a unique and largely public data base," wrote Professor Robert Gordon, a leading transportation scholar and the chairman of the department of economics at Northwestern University, in a major 1992 study. Economists, he wrote, have in fact put in a disproportionate amount of effort studying the transportation sector, "because of its long history of government regulation and, more recently, the laboratory experiment provided by the virtually complete deregulation of domestic air transport. . .
When the analysis contained in America: What Went Wrong? is held against the light of this abundant scholarly research and government data, journalism suffers as a result. Barlett and Steele wrote,
"In summary, under airline deregulation, fares have gone up, not down. "
The truth is that fares have gone down, significantly. Today the average airfare is a third less than it was at the time of deregulation. According to figures compiled by the Air Transport Association and the Department of Transportation, from 1977 to 1992 the average yield, or price charged per passenger mile by airlines, declined 35 percent after adjusting for inflation. In constant-dollar terms, airfares have declined in ten of the past eleven years.
One of the ugly and self-evident truths of airline deregulation is that travelers who have to fly on short notice, mostly business flyers, have generally been treated rapaciously by the airlines. But more than 70 percent of the market has paid much lower fares since deregulation. Even full-fare travelers have been compensated, with frequent-flyer programs and a greater frequency of flights— both direct by-products of deregulation.
"Competition became destructive, not productive."
According to a new book-length study, The Evolution of the Airline Industry, to be published by the Brookings Institution this year, the U.S. airline industry has since 1978 become by far the most efficient and competitive in the world, with a huge pricing advantage over foreign airlines. The study, by Steven Morrison, a professor of economics at Northeastern University, and Clifford Winston, found that in 1969 the average yield of U.S. carriers was slightly lower—4.8 percent—than that of non-US. carriers. By 1990, the authors calculated, the lower-fare advantage of U.S. carriers over foreign carriers had grown to 23 percent, a decisive edge in a competitive marketplace.
Robert Gordon has measured significant gains in airline productivity since deregulation, and a 1992 study by the McKinsey Global Institute concluded, "The 28 percentage point labor productivity difference (US. = 100 percent) between the U.S. airline industry and the European industry
is largely a function of the less regulated, more competitive U.S. market environment."
"Service was cut back."
Service has increased, substantially. The domestic airline industry is now more than twice as large as it was in 1977, while the population has grown by only 15 percent. Despite the demise of Pan Am and the decline of TWA, international service by U.S. carriers has almost trebled. And the most enduring popular idea about deregulation—that nonstop flights have largely given way to indirect routings through hubs—is a myth, but one that, according to Gordon, "appears to be universally held by journalists." His 1992 study, "Productivity in the Transportation Sector," conducted for the National Bureau of Economic Research, found that "the establishment of new hubs has greatly increased the number of nonstop routings available, and remarkably few nonstop routes have been discontinued."
The study examined the 500 biggest markets in the United States and found that only seventeen (or 3.4 percent) had lost nonstop service. "Many of the abandoned flights to small cities were along linear routes dictated by regulation," Gordon wrote. "Because most of these routes were shorter than 200 miles in length, they were valued by relatively few passengers, most of whom used surface transport. . . . Critics overlook the fact that millions of people actually live in metropolitan areas where new hubs were established." There are currently forty-one hub-and-spoke operations in thirty-two cities, which means that at least thirty large population centers now have significantly greater nonstop service than they did ten years ago. Gordon suggested that even though travelers complained about hubs, much hub traffic was voluntary, influenced in large part by loyalty to frequent-flyer programs.
What's more, the study found that many markets have seen a dramatic increase in service. Boston, for example, had a single daily nonstop flight to Dallas in 1978; it now has ten. The study also found that outer urban areas, which are the fastest-growing segment of America, have been particularly well served by the evolution of hub-andspoke systems, because they have allowed satellite airports to become a part of the national route system. Today thousands of travelers prefer the convenience of Newburgh-Stewart, White Plains, Islip, Ontario, and Orange County airports to the expense and inconvenience of driving into New York City or Los Angeles.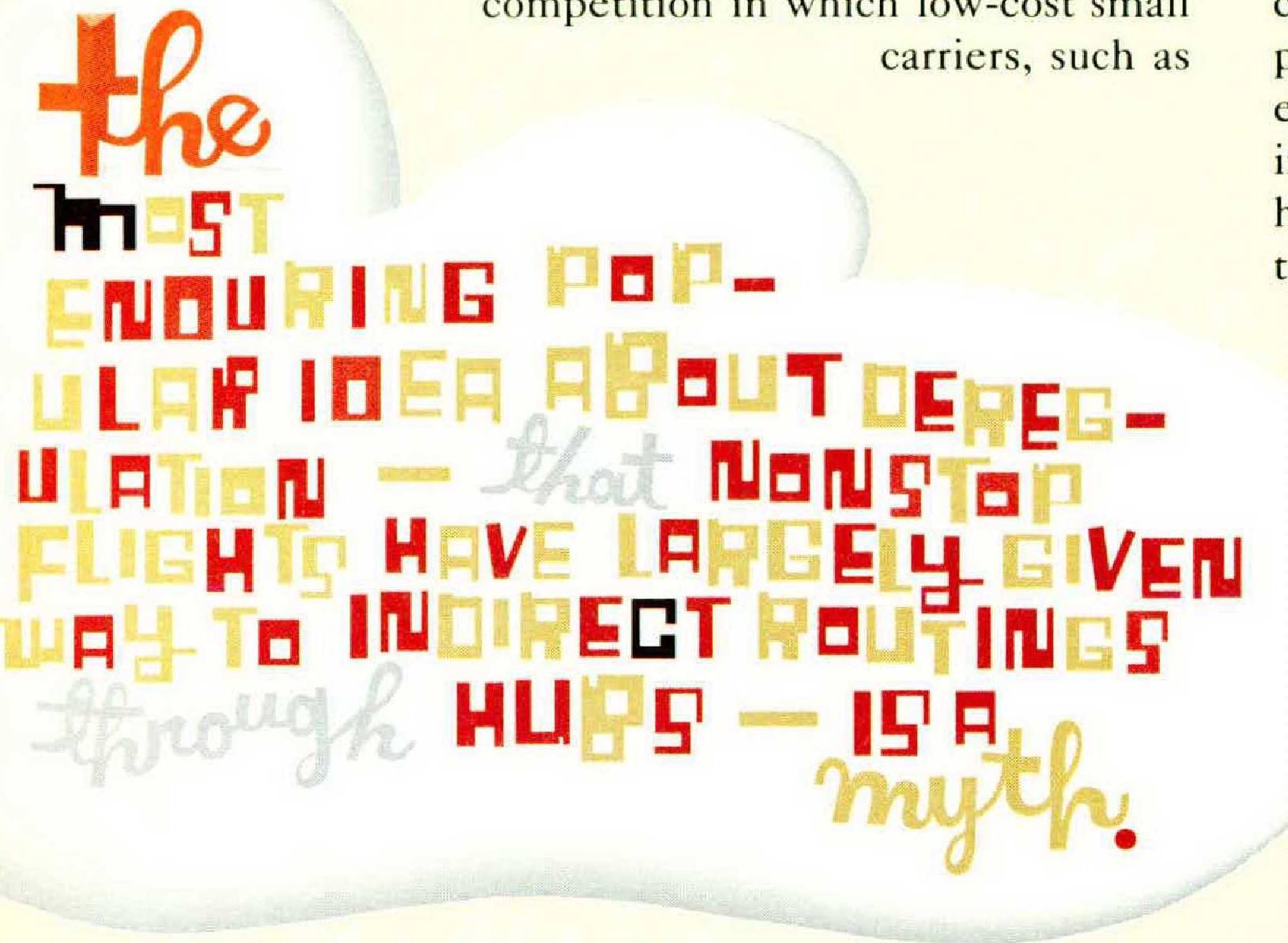 The industry is also entering a phase of competition in which low-cost small carriers, such as Reno Air. Kiwi International, Skybus, and Morris Air, are creating niches in the marketplace, while Southwest is rapidly building a national system that serves as a cheap alternative to the hub system.
"The increase in air travelers was lower in the decade after deregulation than in the decade before it. "
Wrong. In the ten years before airline deregulation, 1968-1977, revenue passenger miles by U.S. carriers rose by 96 percent. In the ten years after airfare deregulation, 1978-1987, traffic rose by 109 percent, according to figures compiled by the Air Transport Association.
This post-deregulation growth surge took place even though air travel was a rapidly maturing industry whose rate of grow th had been decreasing for decades. In the 1960s, for instance, passenger miles increased by more than 220 percent as the industry was transformed by the introduction of big jets.
"Cities once served by multiple carriers are now served by one or none. "
Multiple service has increased significantly since deregulation. Steven Morrison and Clifford Winston counted the number of equal-sized competitors on every domestic airline route and found that since 1978 the average had increased from 1.5 per route to 1.85. "Today," they wrote, "only 3 percent of passengers fly on routes served by only one airline, down from 9 percent in 1978." This did not prevent Barlett and Steele from using Philadelphia—Pittsburgh—one of only a handful of monopoly routes between major cities in the entire country—as their "example" of what has happened to competition since deregulation.
America: What Went Wrong? also portrayed the shrinking number of carriers as an intrinsically evil development, when in fact market competitiveness has actually increased, because the number of national carriers has expanded, from five to seven. To give a random and typical example of the effect of this growth in national franchising, in 1977 travelers between Sacramento and Oklahoma City had a handful of poorly connected choices. Today these two secondary cities are linked by seventeen direct flights a day, via the western hubs of five different carriers. Barlett and Steele found no place in their analysis for the most subversive and dynamic force in the industry, Southwest Airlines, which has trounced the megacarriers every time it has competed head to head with them and is transforming itself into a national carrier. Southwest has become the Wal-Mart of the airlines, growing by more than 2,000 percent since 1978 and dominating each new market with bare-bones service at bare-bones prices. Its average ticket price is $59.
Barlett and Steele also inexplicably ignored the extraordinary gains made in international service. In 1978 two U.S. carriers dominated intercontinental travel, most of which was funneled through either New York or San Francisco. Today nonstop service to Europe is provided from twenty-two cities by the seven national U.S. carriers, and nonstop service to Asia is provided from thirteen cities.
"And the airline industry is in shambles. "
Morrison and Winston, after an exhaustive review of industry data, reached exactly the opposite conclusion, showing net improvements in service quality, safety, and fares: "On balance, the industry is performing much better today than it would if it were still regulated." Robert Gordon's research reached a similar conclusion. And the McKinsey comparative study found that while U.S. airlines had only 26 percent more staff than Western Europe's airlines in 1989, they flew 61 percent more passenger miles and carried almost twice as many passengers. Not surprisingly, given this disparity, European carriers charged their customers some 50 percent more than U.S. carriers charged for comparable flights.
A 1992 study by the Center for the Study of American Business, at Washington University, found not only that airline travel has become cheaper and safer and the industry much more productive in the United States than in the rest of the world, but also that objective measures of service, such as passengers' complaints and involuntary "bumping" from flights, are all much improved since the regulated era.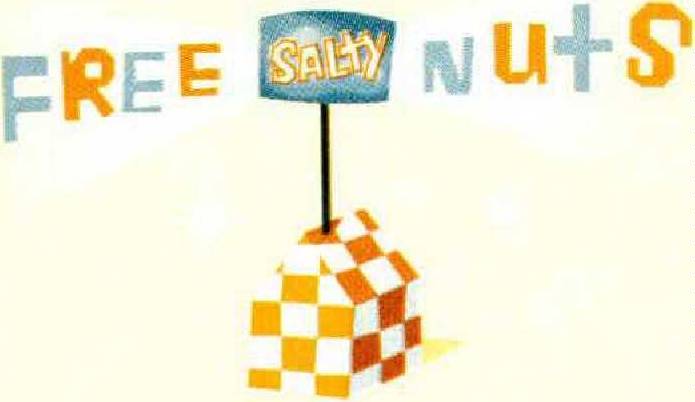 The industry has also enjoyed an employment boom. Total employment in the airline industry is 75 percent higher since deregulation, and the average salary last year was $52,000.
Wall Street, too, has found the industry to be far from a shambles. In the six months from November of 1992 to April of 1995, after the airlines instituted serious curbs on costs and growth, the market value of the five major carriers listed on the New York Exchange rose by close to $3 billion—the financial equivalent of creating a megacarrier as large as United—while the index of major airline stocks set new records.
"Indeed, most United States carrier s have been left so weakened by the airline industry's increasingly grave financial condition that they have been unable to invest in new aircraft to replenish their aging jet fleets. "
Pure fiction. From 1985 to 1990 U.S. airlines bought 1,300 jets, the largest order for new equipment in history, according to Morrison and Winston. The buying spree almost doubled the industry's capacity in just five years, creating an enormous structural surplus. It was actually overinvestment in equipment, not underinvestment or deregulation, that was the underlying structural cause of the industry's problems.
Barlett and Steele used TWA to, as they put it, "illustrate what has happened" to U.S. airline fleets. In doing so, they selected a bankrupt carrier with by far the oldest fleet among the major airlines, a dilapidated fleet that was singled out by American Airlines' president, Robert Crandall, in Senate testimony: " TWA chose to pursue an old-aircraft strategy, believing that financial commitments for new aircraft were foolish."
Barlett and Steele completely ignored the modern fleets of the three megacarriers, American, Delta, and United, which have invested billions in new planes. The 670 jets in American Airlines' fleet, for example, average just eight years of age. Southwest has the youngest domestic airline fleet in the world, averaging just six years old. None of this was of interest to Barlett and Steele.
"As a result, United States airlines are flying jets that are considerably older than the planes of major European competitors...."
Apart from being untrue, this insinuates that deregulation has made commercial flying more dangerous. Figures compiled by the National Transportation Safety Board, comparing the period 1955—1977 with the period since deregulation, show that the average annual number of people killed in accidents involving major domestic airlines has declined by 27.5 percent. Even larger declines were recorded in the average number of accidents per year, down by 53.5 percent, and of accidents involving fatalities, down by 39.7 percent.
As for the comparison with Europe, a new book on airline safety, Why Airplanes Crash, by the aviation scholars Clinton Oster, John Strong, and C. Kurt Zorn, found that travel in Western Europe on Western European airlines is 30 percent more dangerous than domestic travel on North American airlines. All the predictions that deregulation's Cassandras have made about cost-cutting, shoddy maintenance, and decreased safety have been discredited—so much so that some scholars are urging further deregulation of the system. "Scholarly research [indicates] that the safety record for air travel by major carriers has improved substantially since airline deregulation," wrote Professor Richard McKenzie, of the University of California at Irvine, in the libertarian journal Regulation in 1991. "A case can be made for the deregulation of the rest of the air transport system, specifically airports and the air traffic control system."
" . . .major European competitors. . .are clamoring for permission to enter the United States domestic market and compete with American carriers."
Fantasy. No European carrier is clamoring for permission to compete in the U.S. domestic market. Several European carriers, notably British Airways and KLM, have entered the U.S. domestic market by buying large stakes in American carriers.
The Europeans are not interested in unfettered competition. Far from demanding an open-skies agreement with the United States, a reform supported by the U.S. government and the major U.S. airlines, the governments of France, Britain, Spain, Germany, Italy, and Ireland have all sought during the past three years to curb the access of U.S. carriers to their markets. France, troubled by a precipitous decline in trans-Atlantic market share for Air France, suspended its bilateral agreement with the United States last year.
During the past seven years, as strong American carriers replaced weak ones on international routes, the United States has enjoyed a historic surge in its share of the international market at the expense of foreign rivals, with market share jumping from 47.4 percent to 53 percent.
The European carriers vaunted by Barlett and Steele are mostly government-backed monopolies with operating costs twice as high as those of U.S. carriers, and they charge their captive markets airfares commensurate with those higher costs. A 1992 study by Paul Karos and Gretha Honsvald, airline analysts for First Boston, found that even the most advanced European airlines have fallen far behind major U.S. carriers in operating costs. Lufthansa and Swissair, those paragons of German and Swiss efficiency, had costs in 1991 that were almost two and a half times as high per available seat-mile as those of American, Delta, and United.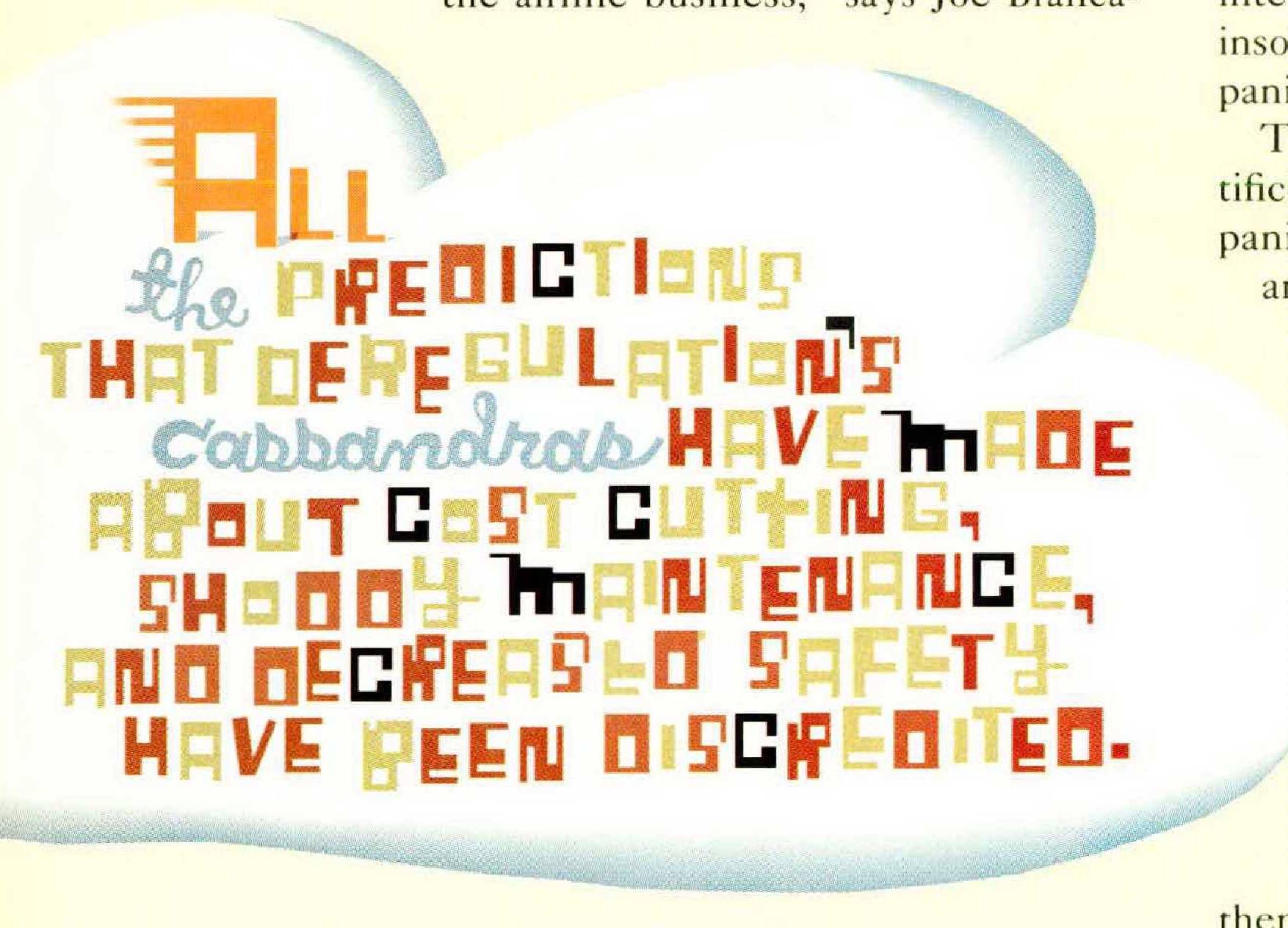 DURING THE DECADE 1975-1985 AMERICA'S INTERNAtional flag-carriers frittered away their world leadership in international markets. The deregulated era has seen the death of Pan Am and Eastern, and the eclipse of TWA, and meanwhile the emergence of hypercompetitive U.S. global players with unmatched market power, which they have achieved through a combination of high productivity, giant hub-and-spoke domestic systems, and consumer loyalty to frequent-flyer programs.
These programs, begun by American Airlines in 1981, have been a spectacularly successful marketing innovation copied throughout the world. According to Frequent Flyer magazine, more than six million free tickets were awarded to frequent-flyer-program members in 1991. "This is one of the best things that has ever happened to the airline business," says Joe Brancatelli, the magazine's executive editor. "The airlines are giving away millions of seats they couldn't have sold."
Like all other positive developments in the airline industry, the thriving frequent-flyer economy found no place in America: What Went Wrong? The only scholar quoted by Barlett and Steele is Paul Dempsey, a law professor at the University of Denver and the author of Flying Blind (1990) and Airline Deregulation and Laissez Faire Mythology (1992), sustained polemics against deregulation. Dempsey's work, which appears to have been the major source of material for Barlett and Steele, is not highly esteemed in the scholarly community. "We've been trying to engage Mr. Dempsey in a public debate for some time but haven't yet succeeded," says Clinton Oster, who is a professor of public and environmental affairs at the University of Indiana. Many of Dempsey's claims were specifically examined in Robert Gordon's 1991 survey, and Gordon found some of them to be "fanciful" and "trivial."
" There has been some ineffably dishonest scholarship about deregulation," Alfred Kahn says. "I think of myself as a liberal Democrat, and I can't bear to be in the company of these people.
They want to go back to the world of cartelization. But I don't think they can prevail. There are now powerful vested interests in deregulation that, having achieved freedom from regulation, will not readily surrender it."
These powerful interests must still, however, contend with one of the unhappiest coincidences in U.S. political history: the liberalizing of the bankruptcy laws in 1978, the same year the airlines were opened to unfettered competition. The reforms of the bankruptcy code, which were intended to help sound companies withstand temporary insolvency, have meant instead that many unsound companies have been kept alive by a legal respirator.
The airline industry thus continues to operate in an artificially surfeited market, in which well-managed companies are weakened in favor of the poorly managed. It is an unnatural order, bearing the fingerprints of politicians, and when combined with the airlines' undisciplined growth and their self-destructive bidding war to attract travel-agency business (agency commissions ballooned from 4.2 percent of airline cash operating expenses in 1978 to 11.5 in 1992), it has made the airlinederegulation revolution far more arduous than it needed to be.
Most people appear to have forgotten that deregulation was a revolution the airlines did not want. The airline companies, long protected by Congress, knew that freedom would be hard. All of them except United, which was then the domestic giant, vigorously lobbied Congress against deregulation, and lost.
Fifteen years ago, when politicians, economists, airline executives, consumer advocates, and journalists projected into a deregulated future, almost all of them foresaw a forest of proliferating carriers and market niches. They got it wrong—just as two authentic visionaries, Arthur C. Clarke and Stanley Kubrick, did when, in their seminal 1968 movie 2001: A Spare Odyssey, they depicted a gleaming white spaceliner shuttling from Earth to the moon, and gave it the colors of Pan Am.