A. Mr. B.: The Reality of George Balanchine's Absence Is at Last Sinking In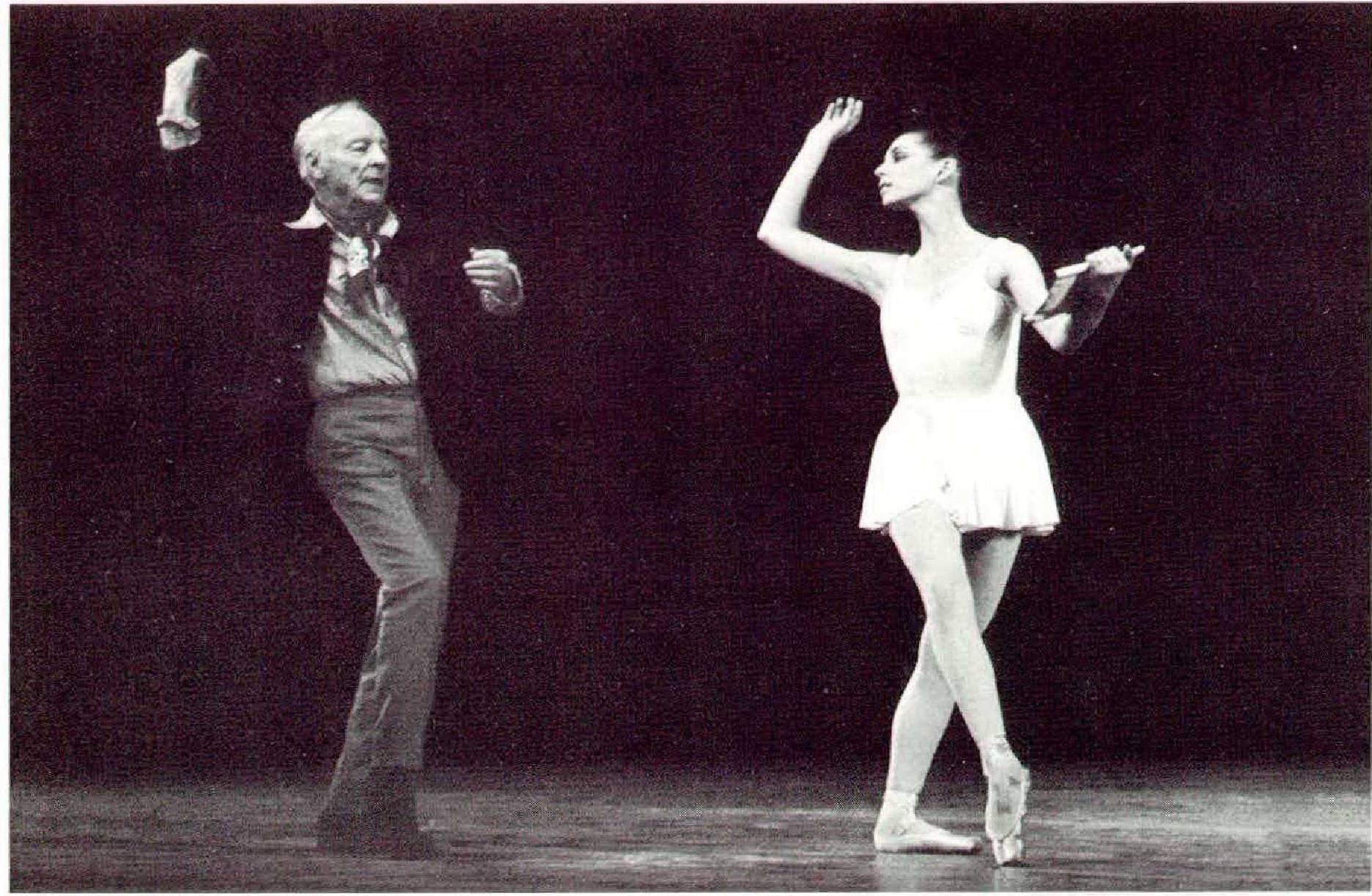 by Laura Jacobs
"I DON'T B. is with HAVE Mozart to tell and you Tchaikovthat Mr. sky and Stravinsky," Lincoln Kirstein said at a New York City Ballet matinee on Saturday, April 30, 1983. No direct mention of death. "I do want to tell you how much he valued this audience ... [a] marvelous, supportive, cohesive family who understands the family that's about to perform now."
For George Balanchine—choreographer, ballet master, and co-founder of City Ballet—meaning, like dancing, was never set, never static. Kirstein's euphemisms were a nod to Balanchine's own kind of communication—his penchant for answering questions with fables, pleas with parables, boos with beatitudes. Everything flowed into something else. An example: Balanchine would often choose a perfume for a ballerina by which to define her essence and denote her presence within the theater, thus casting his dancers as fragrance, as air, as life.
What happened the day Balanchine stopped breathing? As Kirstein implied in his curtain speech, Mr. B. was merely elevated. The small, elegant man with the high-curved brow had always looked down his Georgian nose, and now he would be doing the same thing in heaven. And in the ten years since his death, heaven is where he has stayed. Regardless of their religious beliefs, City Ballet fans and dancers continually refer to Balanchine as being "up there."
In an era quick to deconstruct genius, Balanchine's reputation has remained unsullied. Tell-alls have been written by dancers who would know, yet they have had nothing very rebellious to tell. The petty slights are just that—petty—when viewed next to portrayals of the master's wit and calm as a director, the fire-and-ice poetry of his art. The real story is apparent in the
larger metaphor these books share. Gelsey Kirkland's Dancing on My Grave (1986) took the psychosexual route: Balanchine was the cold father to her needy daughter. Suzanne Farrell's Holding On to the Air(1990) was blithe-spirited, she the Broadway ingenue to his deep-pocketed Daddy-O. Edward Villella's book was biblical: he called it Prodigal Son (1992), and guess who the patriarch was. Meanwhile, Balanchine's four wives, all of them still living, have been as discreet as painted saints.
Balanchine as deity always made sense within the company. City Ballet was founded by and for him; its ballets were of his making, its dancers were cultivated to his taste, his whim was law. But even outside the company Balanchine is quoted like Scripture. For dance critics and scholars, most of whom are in agreement that he is the greatest choreographer who ever lived, time might be measured B.Mr.B. and A.Mr.B. A chart could be drawn up plotting where dance critics fall in the famous five stages of grieving. The New York Times, for instance, with its annual insistence that the dancing at City Ballet is better than ever, when everyone knows that it is less than it was, is clearly in Denial.
Elsewhere, Bargaining has filled the years. The black hole left by Balanchine's death was so unthinkable that critics scanned the skyline for a star, and choreographers like Peter Martins (Balanchine's successor at City Ballet), Mark Morris, and even Twyla Tharp have been lionized—though when their work has been less Balanchinian and more their own, disappointed fans have phased back into Anger. In some quarters there is Acceptance. Hard-line "manes" (short for "balletomanes") have gone to City Ballet with lowered expectations, or stopped going altogether. The great critic Arlene Croce, tenured at The New Yorker, publishes so infrequently that her reviews have begun to read like dismayed bulletins from the beyond. Other dance critics are boning up on theater and music, or writing about recipes. Having arrived a half generation late to the scene but soon enough to see the company under Balanchine's spell, I swing between impatience with the solemnity and solemnity itself.
Beginning May 4, City Ballet marks the tenth anniversary of Balanchine's departure to join "Mozart and Tchaikovsky and Stravinsky" with a Balanchine Celebration—eight weeks of programming including seventy-three of the master's 425 works, in roughly chronological order. The industry of the preparations, however, does not unmix the emotions in the hearts of City Balletomanes—fervor, despair, loyalty, and malaise. In the language of arts marketing, the tenth anniversary is the first you can reasonably retail. In the language of Hallmark, the tenth is tin. But in the amorphous language of City Ballet, isn't "celebration" just another euphemism? Might not "retrospective" be a better word? Is Balanchine "with" us, watching us? Or what?
THE DECADE has witnessed a passionate reaction to a loss unique in the history of the performing arts. It isn't just that Balanchine was one of those rare and blessed artists who create freely over a long life and are recognized before bitterness sets in; it could be argued that he was the only artist ever to create an audience capable of understanding that his art depended upon his being alive. This audience understood the catch—that dance is ultimately atmosphere, a discipline with a distinctly problematic relationship to posterity. Balanchine himself said, quoting Mayakovsky, "I am not a man but a cloud in trousers." The music of Mozart or the cutouts of Matisse or the films of Bergman: all retain the master's touch. A ballet, once its choreographer is no longer there to superintend the details, is vulnerable to dancers who drop steps, coaches who change tone, directors who sideline the dance.
So fans went nightly to Balanchine's theater and joined their lives with the life of the company. Like opera buffs, yes, but unlike them in that Balanchine's view of the world—his choreographic vistas and convictions—was just as important as his ballerinas. It wasn't Massenet on Monday, Tippett on Tuesday, Wagner on Wednesday; it was Balanchine, Balanchine, Balanchine. And it was more than that.
Balanchine's repertory was an Arden, an Eden (complete with lithe Liliths), in which he stood knee-deep in dancers, the worker bee buzzing among daisy chains of corps girls. His grave and gossamer garden ballet, A Midsummer Night's Dream, is the great full-length ballet of the second half of this century, in competition only with his Nutcracker. Or the repertory was a kingdom, haunted and heightened by echoes of imperial Russian grandeur. Or it was a laboratory, in which dances like The Four Temperaments, Agon, and Episodes took the measure of human clay. Balanchine was caretaker, czar, Rasputin, Newton, and Einstein, all in one.
Unless Balanchine lost interest in a work, ballets could be counted on to reappear, bound as they were in a Brigadoon-like continuum. (Note the two plaid ballets, Scotch Symphony and Union Jack.) Isolated from war, peace, and progress, the repertory offered audiences a reassuring imitation of eternity. But despite the number of works that have a heavenly purr (Chaconne, Square Dance, Divertimento No. 15, Mozartiana), or end with ascension (Apollo, Serenade, The Nutcracker), Balanchine himself had no illusions about the immortality of his art. When asked how he planned to preserve his ballets for dancers and audiences later on, he answered, "I don't have any later on."
He also said, "Après moi, le Board." Like so many artistic organizations that continue after the founder dies, City Ballet has undergone corporatization. The title that was simply Ballet Master is now, for Peter Martins, Ballet Master in Chief. The company has become deliberately high-profile, the corps dancers pictured in the Times Styles section doing gala dips at gala dinners (if only they could all do one, correct, sous-sus). Yet, oddly enough, while City Ballet has become more Society, it has become less social,
Balanchine was a stickler for steps— the nouns of his vocabulary, the syllables of his own loquacious and sociable soul. He wanted to see them all—every last flicflac and gargouillade—and, soon enough, so did the audience. The bond between his two families, awkward at first, grew into a wordless, endless dialogue on the subject of shared delights and shared values. The ethics of classical dance were clear: beauty was rigor, clarity was truth, personal liberty was not the goal of a fantastic physical decorum but a startling fringe benefit. Electric articulation served the dance, the dancer, the fan, the fantasy. Like a physicist, Balanchine spent his hours in class and rehearsal battling entropy —the smugness of "professionalism," the slippage of age. This was tantamount to battling time. "What's the matter with now?" was his rhetorical commandment and the moral to every story.
THE CITY BALLET repertory is still the world's largest and most coherent collection of Balanchine ballets. But it is no longer a loop of certainty, two and a half hours at a time, eight curtains a week, in which oneman's vision of how to live in the hours allotted us is written in sweat, satin, and sound. In these past ten years the repertory has had to make room for new ballets by living choreographers, lowering the Balanchine quotient. Mr. B.. of course, would sanction this. He never underestimated the audience's need for new entertainments or the dancers' need to have new roles in which to find themselves. But not one of these ballets has been of the first rank. And strong, sustained, meticulous, growing performances from dancers have been so few that you can tick them off on your fingers: Kyra Nichols, deep in snowbound solitude in Diamonds; Maria Calegari, phosphorescent in a late-eighties Midsummer, and Suzanne Farrell, majestic and mercurial in every step. After these performances one hoped that the spirit might be catching, that young dancers would follow the frisson. But except for lightning-bug flashes they have not. It was Balanchine in the wings who showed the way.
It isn't in the nature of Balanchine's following to sit quietly while the dialogue diminishes. Martins, who has borne the burden of stepping into the father's shoes without the father's gifts, has learned that City Ballet wags can be wicked—they still want to talk. In recent seasons, if you eavesdropped at intermission, you'd have heard Martins's work Delight of the Muses referred to as "Twilight of the Muses," and Ecstatic Orange called "Agent Orange." Looking over the Balanchine Celebration schedule, I couldn't help having reservations after the initial bliss. In a company of ninety-eight, of whom only thirty ever worked with Balanchine and many have never seen, let alone danced, a third of these ballets, can the celebration be more than a corporate project, an overnight cram? And yet my brochure is already checked and circled, a mess of must-sees.
Remember the woman in the "L'Air du Temps" ad, her arms and skirt pinwheeling? That was Suzanne Farrell, Balanchine's best muse, the west wind to his lyre. Farrell retired from City Ballet in 1989, choosing her farewell from among the twenty-three ballets that Balanchine made or revived for her; she danced the fevered reverie "Der Rosenkavalier," the last movement of Balanchine's Vienna Waltzes. It is a ballet that carries its own intonations of ending, of an era consuming itself in grand whorls and pensive eddies. But Farrell also chose it because she had had hip surgery, and her working vocabulary was narrowed. The solitary waltzing of "Rosenkavalier"—this she could still perform exactly, impulsively, and, therefore, on the Mont Blanc scale she and we were used to. Perhaps, on the mountaintop, she saw Balanchine. Many think they haven't seen him since.
Postscript: The perfume he bought for Farrell was called Réplique. The last traces are in the last bottle he gave her. What does the name mean? Balanchine's eternal imperative: "Reply."