Italy's Coziest Corner: Friuli Is Ancient, Beautiful, Big-Hearted, and Untouristed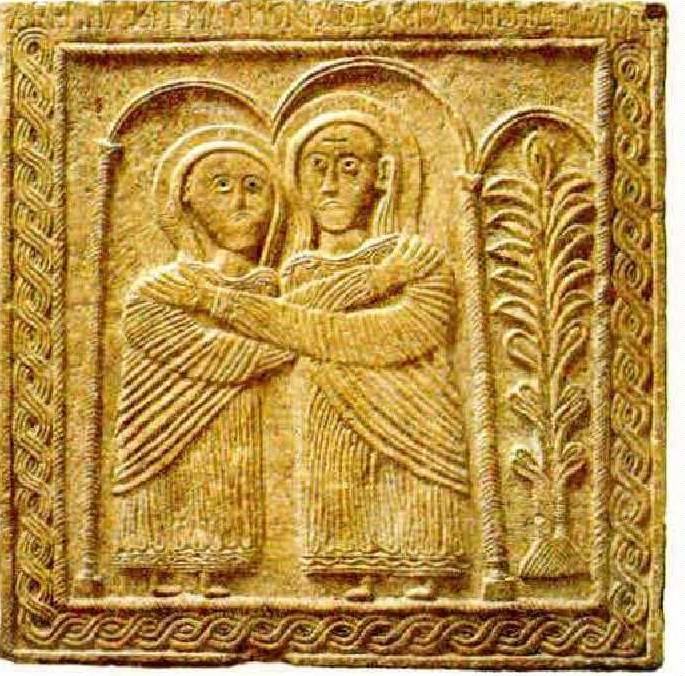 by Corby Rummer
A FEW YEARS ago, after just four days of exploring Friuli, an overlooked region in the far northeastern corner of Italy, I knew I had to return— and return I have, often. What brings me back? Friuli is a place to experience the whole history of Italy, from the ancient classical and barbaric past to Middle European nationalism, while stopping frequently to sample wonderful wine and food. The region's soft vinecovered hills and plains produce the best white wine in Italy and some of the best red. The restaurants, of a nearly unrivaled quality and professionalism, are restaurants to dream of.
Friuli has, as well, the largest gathering of artifacts of the Lombards, the enigmatic people that for two centuries ruled northern Italy; the most pleasurable museum of Roman antiquities I know; the longest extant early-Christian mosaic floor in Western Europe, which besides its stupendous size is full of details both moving and lovely; and crucial First World War battlefields. In the fastidious city of Udine is a square that looks like a stage set from nearby Venice, and shops famous for their elegance. North of Udine the landscape changes to the imperious white Alps of the Carnia.
I admit that I enjoy knowing I will likely be the only American on what have become my Friuli rounds. All this undiscovered territory little more than an hour from Venice, and occupied by people who are delighted to see you and wouldn't think of overcharging you —I wonder that so few people decide to escape the hordes at San Marco.
Most of all, what brings me back are the friends I have made. In a country where it is easy to make friends, especially if you speak the language, Friuli is uniquely warm, the people unexpectedly tender in a hardworking northern region. Friuli catches the heart.
EVEN IF present-day Friuli is relatively free of tourists, in the past uninvited visitors trampled it frequently. The region, with several easy passes across the Alps, was a natural gateway to the Italian peninsula from the east. At various times Celts, Greeks, Romans, Germanic tribes, Slovenes, and Austrians occupied parts of Friuli; the Friulian dialect, incomprehensible to an Italian-speaker, is made up of a base of medieval Latin with Celtic, Slavic, late Greek, German, and modern Italian elements.
Each group left traces. Among the most visible today are those of the Austro-Hungarian Empire, which in the nineteenth century dominated much of Friuli in order to gain access to the Adriatic port of Trieste. The Austrian influence shows in snug hillside chalets, Baroque plaster ornament that dresses many small hill towns, and, on every dessert cart, flaky, raisin-studded pastries, strudels, and tortes.
After the Second World War, Yugoslavia absorbed much of Friuli. Trieste was ceded to Italy. The border cities of Gorizia, a section of which is actually in Yugoslavia, and Trieste are in the region called Venezia Giulia, now administratively joined to Friuli. The talk along the Yugoslavian border has naturally been political in the past few years. The action, though, remains economic; a strong work ethic has long made Friuli a notably industrious region.
Of the many invaders, the group that arouses the most local pride is the Lombards, called Longobardi in Italian, and remembered now because they gave their name to the present-day Lombardy, the region around Milan. A Germanic tribe, the Lombards entered Italy in 568 from Pannonia, the Roman colony along the Danube, and by the eighth century occupied two thirds of the Italian peninsula. The duchy of Friuli was a crucial stronghold for the Lombards, and its center under them was Cividale, one of three cities that have been the capital of Friuli. (The other two are Aquilcia, whose greatest glory was under Rome, and Udine, a capital of the Venetian Republic.) After two centuries of rule, sometimes harmonious and frequently not, the Lombards were defeated by the father of Charlemagne, Pepin the Short, who had come to the aid of a threatened Pope. Charlemagne, after another struggle, assumed the Lombard crown in 774, and Italy was not again so nearly unified for another thousand years.
The Archaeological Museum in Cividale, with its gold buckles and rings and elaborately worked Lombard crosses of beaten gold leaf, has just been transferred to a Palladian palace next to the Cividale Cathedral. Its clear installation is unusual for not being overloaded with ornamental and ceremonial objects that seem to merge into one big iron belt buckle. The tiny Tempietto Longobardo nearby shows the pinnacle of Lombard art; its majestic sculptured figures date from a time shortly after the tribe had converted to Christianity.
Any visit to Cividale must include a stop at the Pasticceria Gelateria Ducale, where you can taste fine examples of the local specialty gubana, a cake filled with cocoa, nuts, and candied fruit, and a surpassing fig ice cream.
Not far away, near Corno di Rosazzo, is a reminder of another invading Germanic tribe; a plaque commemorating the first rifle shot fired in the terrible Isonzo battles of the First World War. Along the Isonzo, which flows through the area on its way to the Adriatic, Italians fought constant and futile battles as a holding action to prevent the Austrians from sending reinforcements to Verdun. Hemingway set much of A Farewell to Arms in Friuli, and anyone interested in the war should go to the small museum at Redipuglia, near the airport that serves Trieste and Udine.
The monument to the more than 100,000 soldiers buried there, a giant staircase to nothing, is a forbidding example of Fascist architecture from 1938; the battlefields nearby cannot but be moving.
CIVIDALE IS in the heart of the most pleasant part of Friuli—the two adjacent wine-growing areas between Udine and Gorizia, the Collio and Colli Orientali. In the nineteenth century the territory around Cividale became a summer resort, favored for its cool breezes. Many palatial turn-of-thecentury villas survive, appearing suddenly on vine-covered hills as you round a curve.
In the Collio and Colli Orientali you can ramble all day visiting restaurants and wineries. The most opulent of the many superb restaurants is Aquila d'Oro ("Golden Eagle"), in the imposing thirteenth-century Castello di Trussio, near Cividale, whose two crenelated towers loom for miles. Giorgio Tuti, its engaging young proprietor, has assembled a wine cellar that is among the best in the country. The food, prepared by his sister, Anna, is sometimes too refined for my taste but is very good. Despite the elegance of the zucchini blossoms with scampi or tournedos with fresh porcini, what I won't forget is the bean-and-barley soup. Wines are also for sale in a museum-like shop; don't trip over the stacked jeroboams of Château d'Yquem and Château Lafite on your way to the Friulian bottles.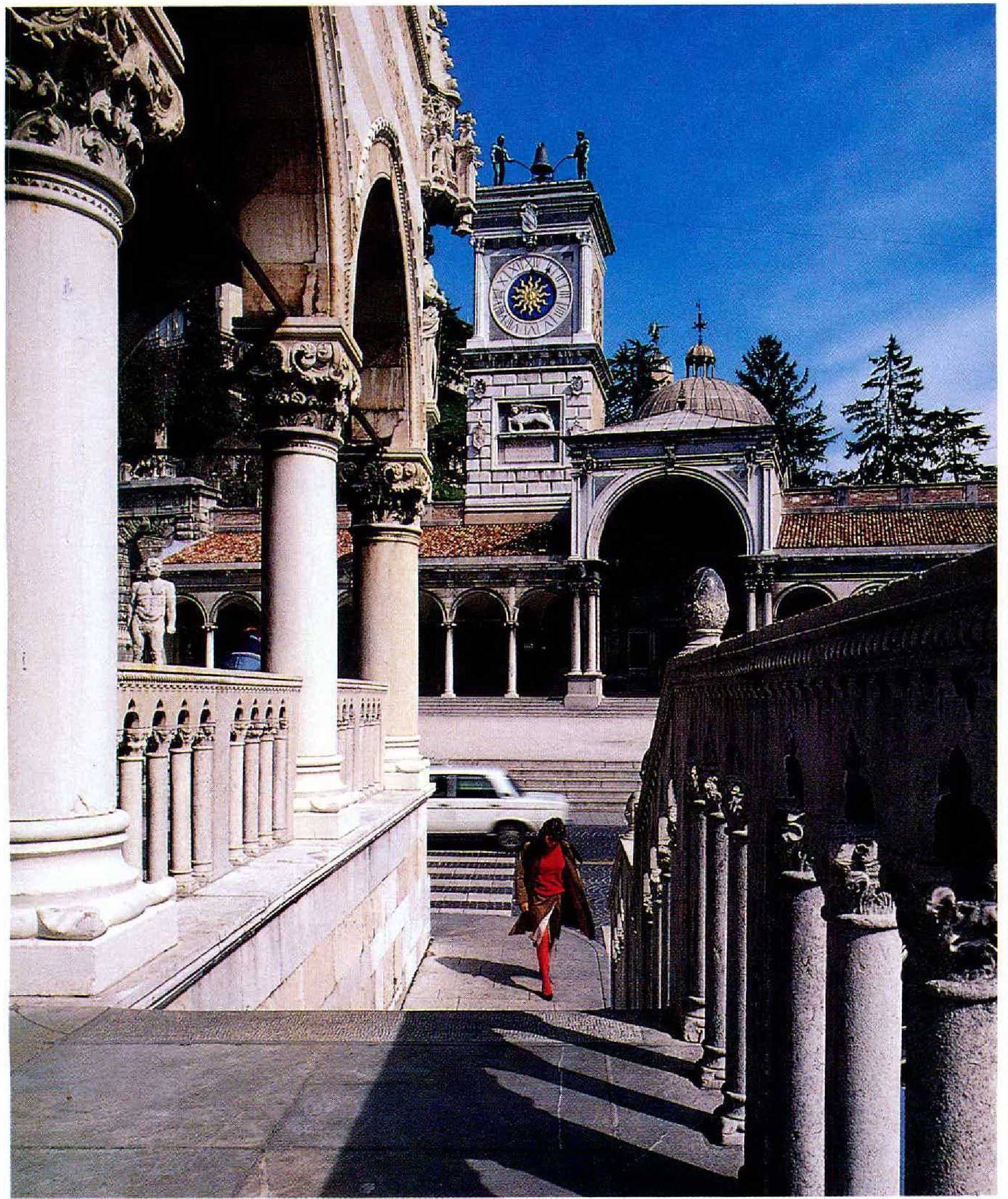 You might have to carry home a sampler of Friulian wines to taste all the memorable ones you won't have a chance to drink with a meal. The winemaker's winemaker is Josko Gravner, a laconic, tall, blond Slovenian who is the head of Gravner; his wines, particularly his Sauvignons and Chardonnays, and those of Mario Schiopetto (his Tocai is especially popular) are always in great demand and scarce supply. Other local godfathers are Livio Fclluga (known for Terre Alte, a blend of several white grapes), Silvio Jermann (Vintage Tunina, another white blend), and Vittorio Puiatti (Sauvignon, Chardonnay), all of whom bottle wines under their own names, and the consultant Walter Filiputti, who with his wife, Patrizia, has built up Abbazia di Rosazzo (Ronco delle Acacie, a white) and has recently elevated Castello di Spessa (Sauvignon). Also not to be neglected are the delicious wines of Girolamo Dorigo (Montsclapade, a blend of reds, and Pignolo, a red grape the Dorigos have helped to revive), Volpe Pasini (Cabernet, Chardonnay), and Marina Danieli (Faralta, a red blend). For more on Friuli's wines, see the invaluable Eating in Italy, by Faith Heller Willinger, and Burton Anderson's Wine Atlas of Italy.
Many winemakers will be happy to show you around the cantina, or cellar, and let you take a ride around the vineyards; you'll almost certainly end up tasting a very good wine. Wineries, in fact, draw many visitors to Friuli. Call in advance to see if someone who speaks English is available to give you driving directions. Good bets for English-speakers and warm welcomes are the wineries of Livio Felluga, whose land is memorably beautiful, Girolamo Dorigo, Volpe Pasini, Silvio Jermann, and Vittorio Puiatti.
The proper way to end any occasion in Friuli is with grappa, made by distilling the remnants of the winemaking process. Quality grappa is synonymous with Nonino, a family distillery that has singlehandedly turned a harsh, bracing drink, frankly hard to get down, into a soothing, warming liqueur. In 1973 the Noninos launched a trend toward making single-grape grappas, many with traditional Friulian grapes such as Verduzzo, usually made into a dessert wine, and Refosco, with hints of wild berries; in 1984 they began making Ùe (dialect for "grapes"), distilled from whole grapes rather than crushed seeds and skin or aged wine. The Ùe from Picolit, a frail grape legendarily hard to grow (bottles of Picolit dessert wine are rare and expensive) is of an unforgettable refinement and intensity.
The woman behind the innovation is Giannola Nonino, who has been aptly described as a hurricane. She and her three daughters busy themselves with new ideas and image-building while the father, Benito, oversees production at the distillery, in Percoto, near Udine. A strikingly handsome family, they are fiercely devoted to Friuli, and they welcome visitors.
For all the splendid dining the Collio offers to go with its wines, my heart is with the homely Da Romea, in Manzano, an ugly modern town in Colli Orientali which lives on chairmaking. Until it was decorated (for the first time) a few months ago, Da Romea looked like an indifferent roadside restaurant, despite a cozy private dining room with pine paneling and a fireplace. Now its appearance is fancier, in powder blue, if not terribly warm or personal.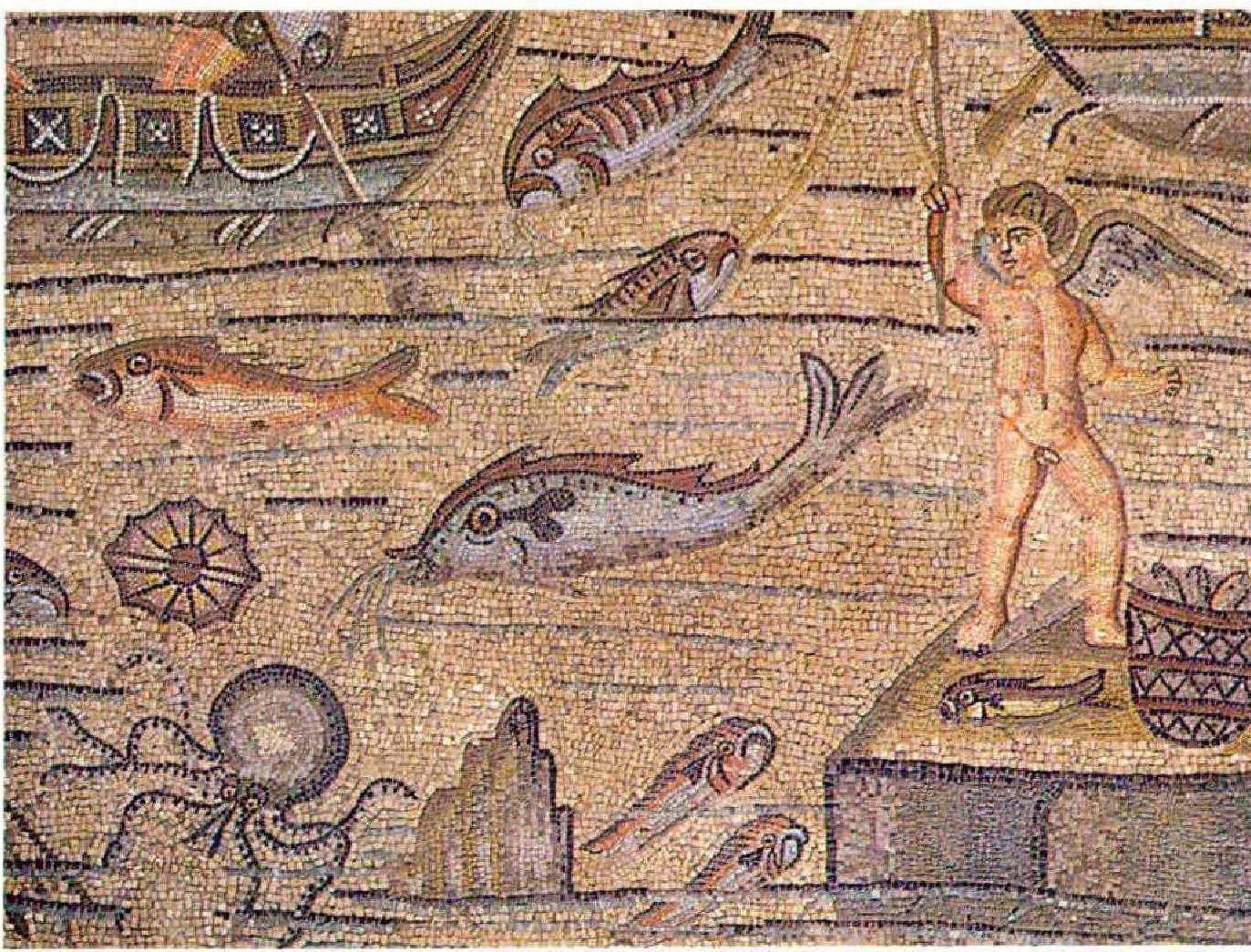 The cook is about as warm as anyone could be, though: a shy woman named Leda della Rovere, with a funny, wide, loving face, who runs the restaurant with her mother and brother. The first time I dined at Da Romea, I was so entranced by the homemade potato and squash gnocchi and hand-rolled pastas and soufflé-like vegetable timbales, each lighter and better than the last, that I forgot to take notes. On other visits I have simply left myself in Della Rovere's hands (which all regular diners do; she is especially popular with winemakers) and waited to he transported.
Recently I went into the kitchen and watched Della Rovere put together a simple flat pear cake to add to the dessert cart. I asked about the berries of a branch of calyeanthus, which I had seen on a table. Her mother led me by the hand out the hack door to the tree where she had just cut the branches, and held one to my nose so that I could smell its perfume. Standing in the corner of a parking lot, I felt the pleasure a child would with a devoted grandmother. Because I had to drive some distance and couldn't stay for lunch, Leda insisted on sending me off with a loaf of walnut bread, chunks of a grainy mountain Montasio that her cheese seller and no other procures, and half an apple strudel. Is it any wonder I keep going hack to Friuli?
IF THE NAIVE, flat-patterned art of the Lombards is an acquired taste, the Roman and earlyChristian art at Aquileia is simple beautiful. The Romans founded Aquileia, in 181 B.C., to protect their empire at the came an active port. Attila the Hun razed the city in 452, but the ruins of the port are still visible along a cypress-lined walk beside a now almost dry riverbed.
The Archaeological Museum is a neoclassical villa remodeled in the mid-1950s. The villa, with its abundance of natural light, is a congenial place to view a superb collection of Roman sculpture, glass, cameos, and other objects. As at Cividale, there isn't too much of anything, so museum fatigue never sets in. A series of covered walkways in the gardens are lined with architectural fragments so rich in Greek and Roman detail that renderings of them could make up a style book. They are a perfect place for a picnic.
Visitors come to Aquileia less for the museum than for the mosaic floor of the basilica, the longest Paleo-Chriscian mosaic floor known in Western Europe. It was laid in the fourth century, the epoch when Aquileia was at the height of its ecclesiastical powers— only Milan, which at the time housed the ruling court, rivaled it in power. The floor was covered over during reconstructions of the basilica, and was rediscovered only in 1909, The first sight of the mosaic makes you almost giddy—it covers more than 900 square vards. Then you slow down and look at the Old and New Testament scenes, with their wondrously observed aquatic and avian life.
The third capital of Friuli, Udine, has remained the financial and political center since Venice took over the region, in 1420. Venice ruled until 1797, and its artistic influence is everywhere apparent: the main square, which the city claims is the "most beautiful Venetian square on terra firma," has a Venetian Gothic colonnade and a clock tower faced with a rampant lion; a winged lion sits atop a towering column.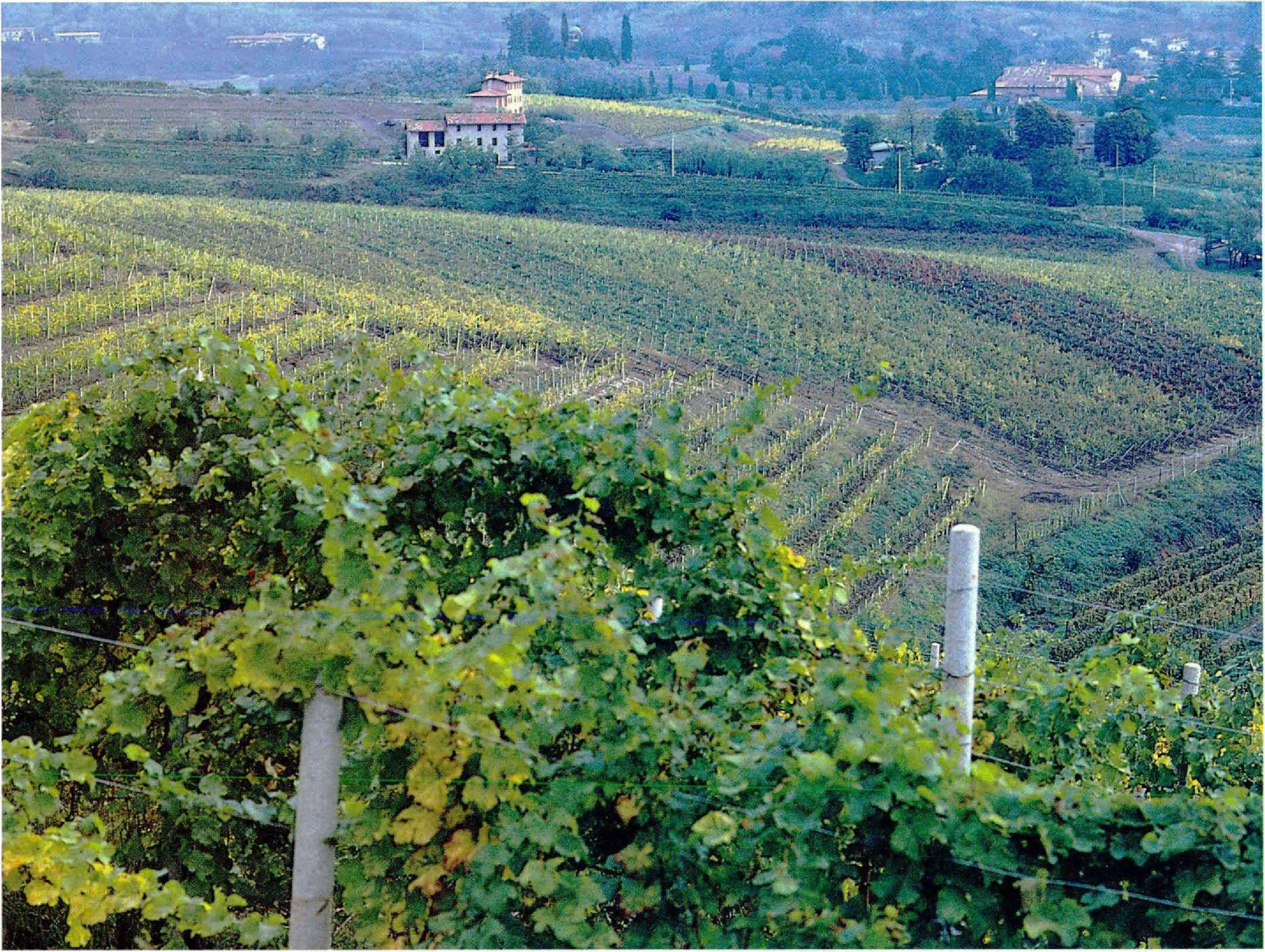 Udine is the most worldly place in Friuli. Austrians come for regular Saturday-afternoon shopping sprees that locals call "the second invasion," and find very well-made clothing, at a price. People don't go to Udine to eat, but there are two excellent cafés: that of Volpe Pasini, which also includes a wine bar and a gourmet shop, and the Caffè Contarena, which recently was restored to its high-ceilinged Vienna Secession glory, with mosaics of bunches of grapes and platter-bearing putti.
People do go to the environs of Udine, however, for some of the most memorable food in Friuli. A short drive away is Trattoria Blasut, in Lavariano, a restaurant that straddles the line between rustic and elegant with perfect ease. It serves excellent local products such as the sweet prosciutto di San Daniele, the most famous Italian prosciutto besides Parma. Everything with goose is excellent, particularly tagliolini in goose sauce and goose broth with giblets. Faith Heller Willinger told me recently that Blasut gets better each time she visits.
Ristorante Boschetti, in Tricesimo, a half hour from Udine, is known for the warmth and high standards of its proprietors, the Trentin family (Rinaldo, who usually greets guests, speaks very good English and is especially kind), and for its Friulian dishes. Ask for such local specialties as pasta filled with bietina, a wild herb akin to mild nettles, and smoked ricotta.
Farther north are the Carnic mountains, the most foreign place in Friuli. The reason to go, aside from the green valleys, barns with quaint wooden roofs, and white mountains that rival Switzerland's, is to eat in Tolmezzo, a bit more than an hour by car from Udine. In that small city, where old men gather to play cards in smoky storefront clubs on the main street, the leading cook in Carnia and, I think, Friuli, Gianni Cosetti, improvises on traditional Carnic cooking at the Albergo Ristorante Roma with seemingly inexhaustible skill.
Cosetti makes liberal use of a special ricotta, this one smoked with rosemary and other mountain herbs, both in pasta fillings and in what I consider the supreme polenta dish—a soft, creamy polenta with shavings of smoked ricotta and white truffle, gilded with browned specks of cornmeal in a brown butter. Polenta is the universal dish in Friuli: corn came into wide use there earlier than anywhere else in Italy, according to the historian Vincenzo Buonassisi. Cosetti also makes a silken, light "crazy" pasta using just flour, water, and melted butter. Cornmeal shows up again in delicious, friable buttery cookies studded with pine nuts and raisins.
Cosetti is a one-man emissary of Carnic culture, and he can arrange for you to see the rich Museum of Folk Art a few blocks away, even if the custodian happens to be playing cards down the street. There you will discover the likely inspiration for the modern, colorful geometric and floral patterns of the Missonis, the family of designers, who have many friends in Friuli (the father grew up in Trieste); Missoni tablecloths cover Cosetti's seven tables. The chief industry of Carnia in the 1700s was linen, which was grown and spun in the mountains; the museum's samples of 200year-old textiles are so fresh that they look like they could be put on sale tomorrow. There is still a source for these bold, finely worked linens—the Carnica Arte Tessile factory, a few minutes away by car, where huge jacquard looms now weave by computer. Be warned that the store docs not take credit cards, and that the sumptuous linens are as expensive as they are desirable.
THE MOST comfortable inn in Friuli is the Golf Hotel, in San Floriano, in the wine-country hills near Gorizia. The golf course is nine holes that wind up and down the vine-covered hillside and orchards, where players are invited to pick a piece of fruit during a game; there are tennis courts and a large pool, too. The rooms, in two renovated villas, are decorated with handsome antiques and crammed with creature comforts. Many overlook the hills of Yugoslavia, and from others you can see the Adriatic on a clear day. The hotel is run by Isabella Formentini, the daughter of a noble family that has long made wine in San Floriano, a town it essentially owns. Her father has devoted his life to promoting "agritourism"; down the street from the inn is an exhibition of winemaking equipment. Each room in the hotel is named for a wine, and Formentini leaves a bottle of it for each newly arrived guest.
In Udine there is the Astoria, a sort of mini-grand hotel, where mostly businessmen stay. For greater centrality and an acceptable level of comfort—qualities too rarely joined in the region—go to the three-star Locanda alle Officine, a two-year-old motel across from the Danieli steel factory in Buttrio, on the state road that runs between Udine and Gorizia, a road on which seemingly every trip begins. Unlike its three-star competitors (the Italian licensing board works on a five-star system; the Golf Hotel and the Astoria have four stars) along the same highway, the Campiello and the Wiener Hotel, the Locanda offers big rooms and a view of a green lawn rather than the road.
Also in the wine country is La Subida, a welcoming country inn and restaurant (the formal name of the restaurant is Al Cacciatore). As you enter, you see the centerpiece of many of the restaurants in the region, and of nearly every old Friulian house—a fogolar, or raised open fireplace below an onion-shaped chimney dome and sometimes curtained on three sides. The wine cellar is full of good local wines.
La Subida has six pleasant apartments with beamed ceilings, fogolars with benches around them, and stacks of firewood outside the door. There are horses, a tennis court, a pool, and a nearby nature preserve with wellmarked hiking trails. The rooms are so popular that during the summer only bookings for stays of a week or more are accepted; shorter stays are allowed for the rest of the year. It seems worth waiting for a room there, if only to have your own fogolar, the perfect symbol of Friuli's warmth.