A Scottish Pilgrimage: Touring the Renowned Golf Courses in the Homeland of the Sport
by David Owen
FOR THE American traveler, lugging a golf bag through a Scottish airport is—or ought to be—embarrassing, like carrying an elephant gun down the streets of Nairobi. So many Americans make pilgrimages to the ancestral home of golf that it is possible for a visitor to wonder at the height of the Scottish golfing season whether anyone is left on the courses at home. It is unsettling to walk into the clubhouse at a British Open golf course and find that every seat is being sat in by an American, and that the display of beverages behind the bar includes bottles of Jack Daniel's and Miller Lite.
On the other hand, it may turn out (as it did for me, during a recent golfing adventure in Scotland) that all those Americans in the clubhouse are actually only Canadians, and that nearly all of them are drinking domestic ale, and that the golf course itself is virtually empty. It may even turn out, as it also did for me, that Scotland is a great place to visit even when you're not playing golf, and that an overpopulation of loudmouthed, know-it-all nonScots cannot diminish the pleasure that yet another loudmouthed, know-it-all non-Scot will take in driving through the countryside, staying in nice hotels, and looking at interesting stid'f.
My week-long trip began in Glasgow, to which I flew nonstop from New York. In a rented car I drove first to the west coast, then to the hills of central Scotland, then to the east coast, then to the far north, and finally back to Glasgow. Although I put less than 700 miles on my car, my route covered a large portion of the country and took me to eight wonderful golf courses. There is nothing intimidating about a Scottish mileage chart. In less time than it takes some Americans to commute to work, you can drive practically from one end of the country to the other. This fact is underappreciated by the locals, who, like most island dwellers, have a compressed sense of geographic scale. When I casually mentioned to a waitress in a pub near Perth that I was going to drive that afternoon to Dornoch—a distance of less than 200 miles—she looked at me as incredulously as if I had told her that 1 was planning to paddle a canoe to the moon.
My FIRST destination was Turnberry, a little more than an hour southwest of Glasgow. Once I had broken free of that grimy city's gravitational pull, the drive was beautiful. I saw rolling hills, sheepdotted pastures, medieval ruins, windtwisted trees, a sign pointing to the birthplace of Robert Burns, and stone walls so long they must have taken centuries to build. Arriving in Turnberry itself, I saw clumps of red-roofed cottages and, on the hill to the left, a hotel grand enough to be the palace of the king of the world. Turnberry's two excellent golf courses—the Ailsa, where the British Open will be played in 1994, and the slightly less distinguished Arran—are to the right, between the road and the Firth of Clyde. If the weather is reasonably clear, you can look out over the water to a stark granite thumb called Ailsa Craig, which at one time provided the world's supply of curling stones.
Turnberry is Britain's original golf resort. The hotel and the courses were built in the early years of this century by the Glasgow & South Western Railway, which presumably hoped to lure train passengers to Ayrshire. The courses were turned into airfields during both world wars and then brilliantly restored in the early fifties. Today the entire complex is owned by a Japanese mega-corporation, and the infusion of yen has been a boon. My room was beautifully furnished. From its ample window I could look down a broad lawn to the treeless, undulating land on which the golf courses are laid out. I could see a spare white lighthouse and the remains of the fourteenth-century castle of Robert the Bruce. At cocktail time a bagpiper strolled back and forth on the terrace below my window—a hokey touch to which I found I was susceptible. If I had wanted to, I could have visited the hotel's reputedly stupendous sports center, just over the hill. After a good dinner I returned to my room to find a starched white cloth slightly larger than a handkerchief laid on the floor beside my turned-down bed, to protect my freshly de-slippered feet from any unsavory contact with the carpet.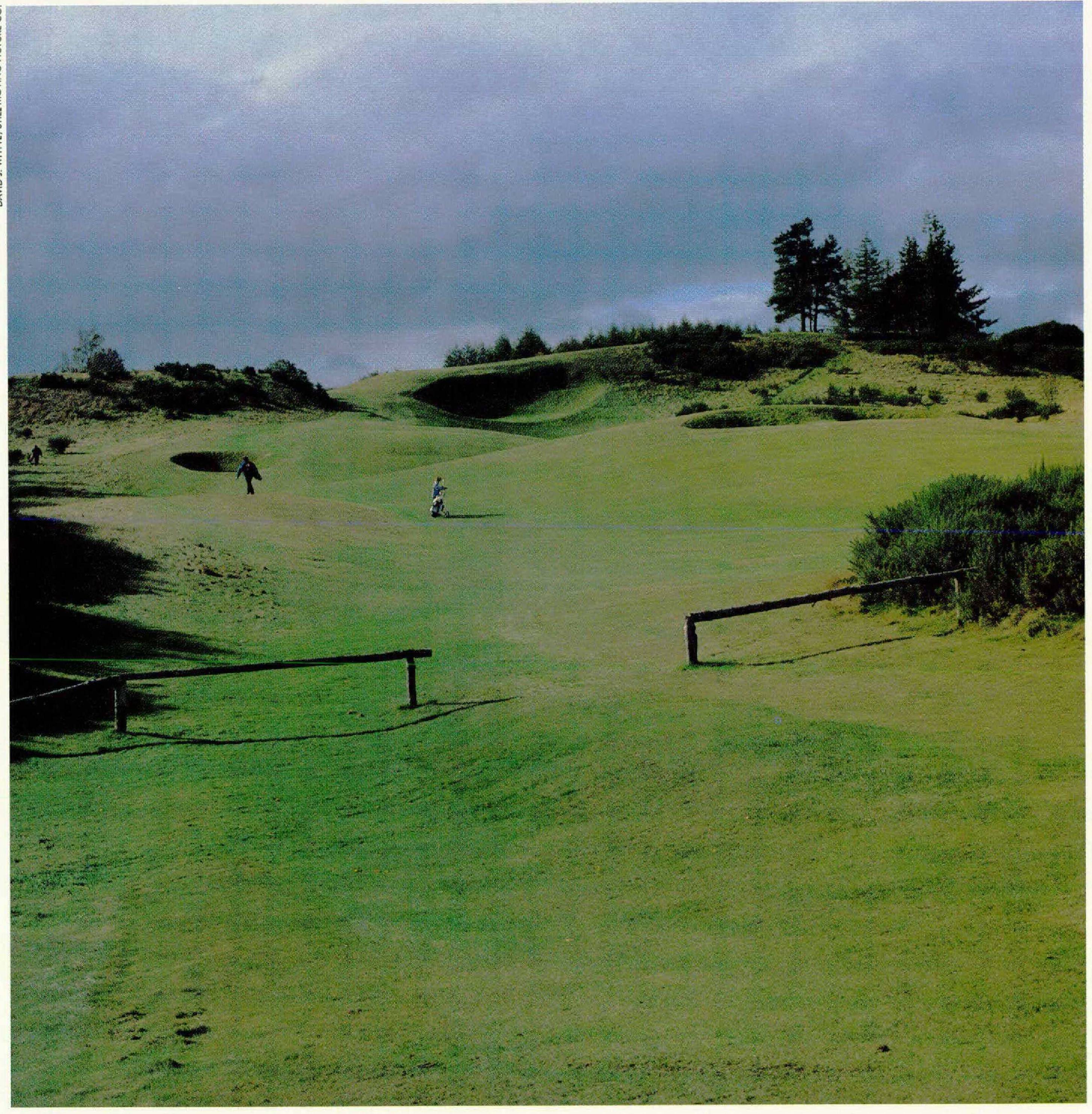 I had come to Scotland expecting its golf courses to be as clogged as their American cousins, but was delighted to discover many of them otherwise. Almost no one was playing the Ailsa course when I arrived, at around eleven o'clock on a Monday morning in early June. During the half hour it took me to eat lunch in the clubhouse, no one set out from the first tee. I hired a caddy, played eighteen holes, had a bowl of soup in the bar, played eighteen more holes, took a shower, and still had an hour to kill before dinner. If I had wanted to, I could have played a third round before bed, because in June the sun doesn't set on Scotland until ten or so.
From Turnberry, I headed northeast to Gleneagles, a drive of just over two hours. Completed in the twenties, Gleneagles is Scotland's other famous golf resort. The hotel, its grounds, and the three golf courses (including a new one, designed by Jack Nicklaus, that is scheduled to open this spring) are breathtaking. The championship course —called the King's Course—falls short of Turnberry in the estimation of professionals, but it is still wonderful, and it is enough of a test to be the home of the Scottish Open. It is also a favorite among Americans, because, like many of the courses back home, it has trees, big hills, and a couple of ponds. As at Turnberry, I had the place virtually to myself, and I played fifty-four holes before checking into my room. I used the same gratifyingly colorful caddy for all three rounds, and I found that I enjoyed placing my fate entirely in his hands. Midway through my second round we joined two local members, both retired, who told me that they had moved to the area for the sole purpose of playing golf at Gleneagles every day of the year for the rest of their lives. On one hole I hit an uncharacteristically terrific drive and followed it with a towering approach shot that miraculously stuck right next to the pin. One of my playing partners asked whether I had just hit a seveniron or an eight-iron, and my caddy, with solemn pride, said, "We hit a wedge."
I found the accommodations at Gleneagles to be somewhat less wonderful than those at Turnberry. My room was a little ragged, and the bed was on the dinky side. Still, Gleneagles compatibly occupies one of the loveliest spots on earth, and the views both from and of the golf course are stunning. There are farms, rolling pastures, and woods in all directions, and mountains to the east. During my visit the enormous rhododendrons and ubiquitous gorse were in explosive bloom. As 1 played my second round, the course was intermittently bathed in an eerie yellow light. and I watched a procession of rain clouds sweep down a valley in the mountains. My caddy pointed out an enormous heron, a curlew guarding a clutch of speckled eggs, a duck sitting on a nest, a dozen or so stoats, and a tiny roe deer foraging with two Chihuahua-sized fawns.
The next morning I drove to the cast coast and St. Andrews. My route took me through the same valley down which I had watched storm clouds glide the day before. The narrow road wound past ancient farms and a couple of cozylooking inns. There was no other traffic, and for fifteen minutes I drove unthinkingly on the American side of the road.
St. Andrews is generally considered to be golf's birthplace, where the game more or less as we know it was invented roughly 600 years ago. The life of the city still orbits around golf. The principal local shrine is the Old Course, which is far and away the holiest piece of golfing turf in the world. Still, the Old Course is famously disappointing to first-time visitors. Arriving in St. Andrews for the 1946 British Open, Sam Snead glimpsed it from the window of his train and thought it was a farm. "It looks like that might have been an old golf course that's gone to seed," he remarked to a traveling companion. But the subtleties of the course quickly convert those who play it thoughtfully (including Snead, who won the 1946 Open), and its genetic imprint is evident in every golf course on earth.
Like virtually all the great British golf courses, the Old Course is open to the public. To secure a reserved tee time, an American traveler must usually write many months in advance, but it is also possible simply to show up at the first tee and wait to be tacked onto an existing twosome or threesome. I arrived at the starter's booth at eight-thirty and was sent out an hour and a half later with three other waiting singles. The course was crowded, but play was significantly faster than it would have been on a comparably busy American course. Paradoxically, one reason the playmoved swiftly was that all the golfers were walking. On the Old Course, as on almost all Scottish courses, there are no motorized golf carts. (On the Ailsa course not even pullcarts are allowed.) Four golfers on foot can play faster than four golfers driving two carts in aimless, infuriating circles. Furthermore, because they walk, Scottish golfers look less like candidates for coronary bypasses, and their golf courses look less like interstate highways. The difference is so striking that I could scarcely help feeling ashamed.
THE LAST major stop on my tour was Dornoch, which is well on the way to the Arctic Circle— about an hour north of Inverness. The Royal Dornoch Golf Club is on nearly every list of the world's greatest courses, although it is far enough out of the way to be omitted from most tourists' itineraries. The course is reminiscent of Turnberry, with quirky, meandering fairways and a number of holes that sweep dramatically along the sea. I stayed at the Royal Golf Hotel, which is situated on a hill above the course, little more than a chip shot from the first tee. In a final haze of golfing euphoria, I played a round before lunch, a round before dinner, and a round before bed. I was joined for my final round by a young electrician from Inverness who had one of the prettiest golf swings I have ever seen. He told me that he loved Royal Dornoch and that he didn't really mind paying its membership fee, which, he said, had recently been raised to the equivalent of about $300 a year.
One of the best things about my trip was that it was only a few times as expensive as staying at home. The total tab—including airfare, rental car, nice hotels, fifteen rounds' worth of greens fees, souvenirs for my wife, my children, and myself, and lots of dreadful British food—came to slightly less than $2,800. (I could have knocked a few hundred dollars off the total by staying in bed-and-breakfasts and playing a more reasonable amount of golf.) Best of all, I didn't have to make any of my own reservations. My entire trip was arranged by Jerry Quinlan, of Celtic Golf Tours (1062 Pennsylvania Ave., Cape May, New Jersey 08204; 800-5356148). Quinlan puts together group golfing expeditions to Scotland and Ireland, and he also arranges custom trips for individuals. I told him where I wanted to go and when I wanted to leave, and a couple of weeks later he sent me a booklet of vouchers with my tee times (except at courses that don't give times to single players) and the names of my hotels neatly filled in. I'm tempted to ask Quinlan to organize the rest of my life. At the very least, I intend to ask him to send me to Scotland again.