CRYPTIC VALENTINE
The verse below was discovered in a dusty old attic trunk by one of The Atlantic's readers and was sent to us for analysis. When we found that the lines actually comprised 18 cryptic clues strung together, we designed the present diagram to accommodate the 18 answers as Across entries. The Downs are normal and may help solvers locate the Across words, which are clued in haphazard order in the cryptic poem. In all, answers include three proper nouns.
See page 114 for Puzzler contest details. The solution to last month's Puzzler appears on page 108.
ACROSS
Here's something from the heart,
my love:
A gift on Valentine's.
I'm entertaining you at last?
O heed these lettered lines!
Fair nymph, returning tender lov e
Brings feelings of delight;
Neglecting to get started tells
A sentiment of spite.
Poor tiny me, more lost at sea,
Producing noises quavery;
A crazed, rejected, fallen man
Who's bonded into slavery.
O locked in prison, basely used,
Coerced to come to court!
I rue the day that I was born
In Alabama, short!
In sooth, I need your bones and back
(A flat or artsy place);
A virile man, I love as well
Your appetizing face.
Set back in sin, thou indicate
I must be looped by birds.
For lovers, art at heart is had
As part of poet's raving mad
And metaphoric words!
DOWN
1. Arab land's supporting trail guides(9)
2. Error in understanding dirge (4)
3. Hearing some corn cooked (7)
4. Badly organized in keeping one overtime (7)
5. I'm breaking record for pace of the game? (4)
6. Sap or nuts men ruined (9)
7. Bulb I put in lit repeatedly (5)
8. Black Elk's face: very thin (5)
9. Otis sloshed a Roman's port (5)
10. Sentimental American reflected on industrial town (6)
11. Notice rock star's first loves(6)
12. Brad chases school slowpoke (5)
13. People who make knives cluster in an odd way (7)
14. Hairstyle we initiated is fastened with pins (7)
15. Small tailless dog's dirt (4)
16. Appreciates living accommodations(4)
17. Illicit love affair that we have after a month (5)
18. Was a drunk in North Station? (5)
NOTE: The instructions above are for this month's puzzle only. It is assumed that you know how to decipher clues. For a complete introduction to clue-solving, send an addressed, stamped envelope to The Atlantic Puzzler, 745 Boylston Street. Boston, Mass. 02116.
Answers to the January Puzzler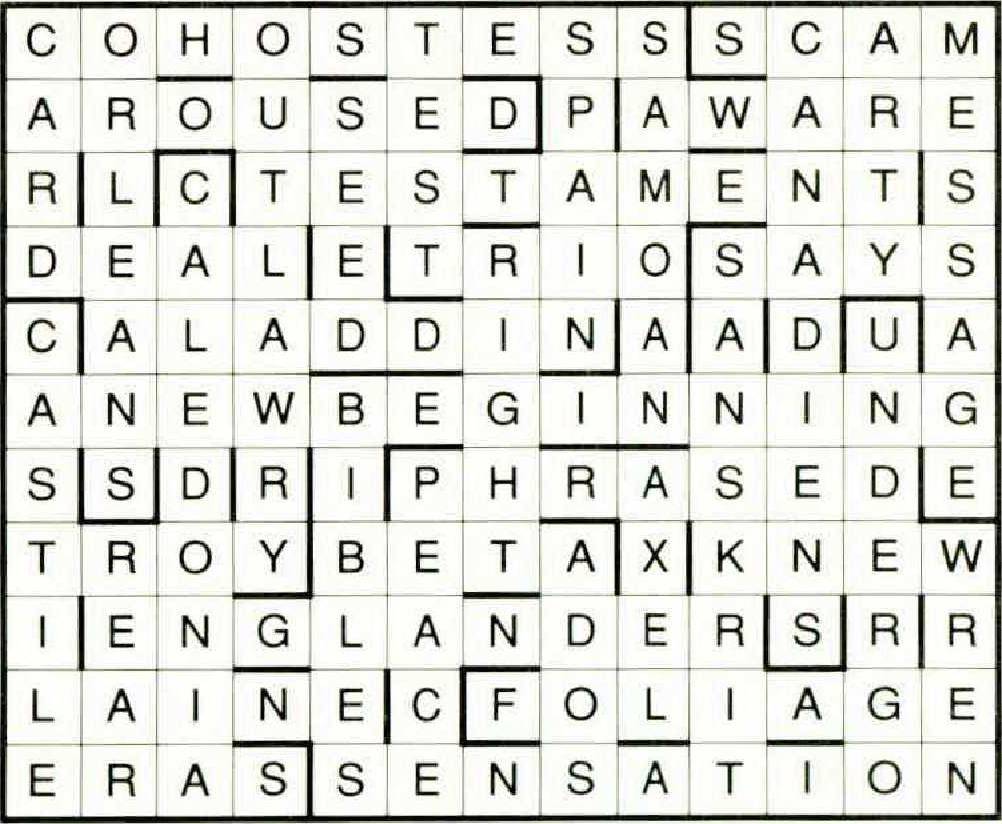 "SOMETHING DIFFERENT"
Ten diagram entries could have a "new" beginning, signaling an anagram of the original answer (e.g., NEW DEAL = LEAD) Across. 1. COHOSTKSS (anag.) 7. SCAM (rev.) 11. ARO(USE)D 13. A-WAR-E 15. ST-ATK MEN-T 16. LEAD (double def.) 17. T-RIO 19. S(t)AYS 21. A-LAD-D1N 25. PHRASED (anag.) 27. TR(0)Y 29. BET-A 31. K(N)EW 33. GR(EEN-L)AND (L + nee rev.) 34. L(A)INE 35. FO(l.lAG)E (Gila anag.) 36. s-KAR 37. EISITONIANS Down. 1. CAR-D 2. LOANERS (homophone) 3. OUTL-AWRY (lout anag.) 4. TES-(v)T (rev.) 5. P(IS)AN 6. S-A-MOAN 8. CAN-A(DIE)NS 9. (p)ARTY 10. MESS-AGE 12. SEED (pun) 14. LA-O(DI)CKAN 18. GIRT-H (trig rev.) 19. SANSKRIT (anag.) 20. ELASTIC (hidden) 22. UND-ERGO 24. RIBLES (hidden) 25. PE ACE 26. AXE-L 28. REAR (double def.) 30. ADOS (rev.) 32. w(R)-E-N