Innocent Adventure: With Its Gee-Whiz Wonders, New Zealand Is a Kind of Fantasy Land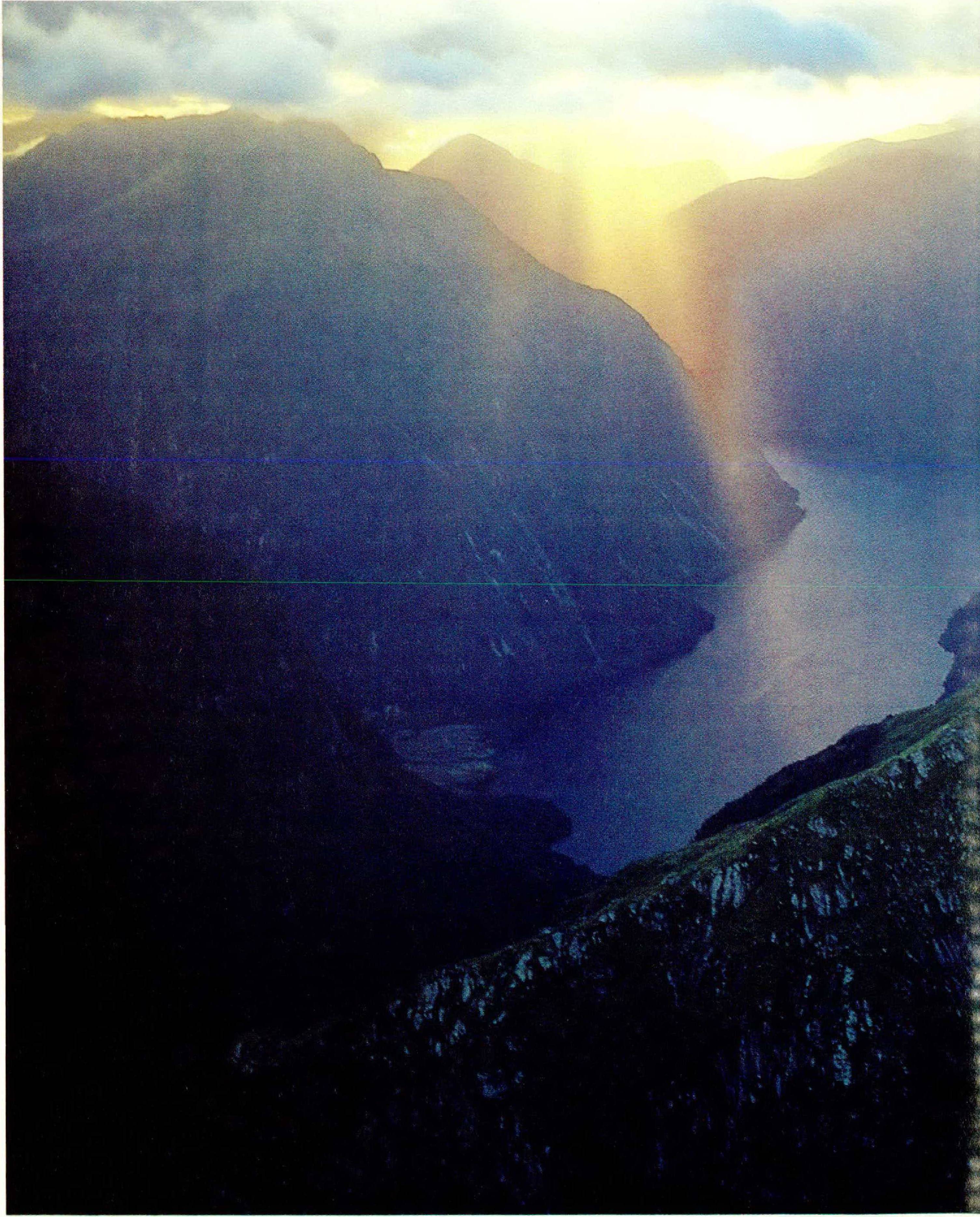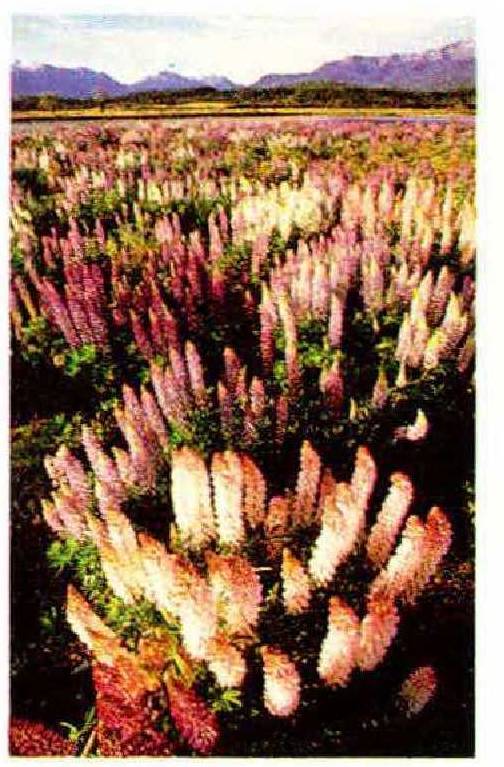 by Barbara Wallraff
NEW ZEALAND had been reminding me of something, but I couldn't think what until late one afternoon about a week into a trip there early this year, when my husband and I were walking a trail beneath the tallest and most famous mountain in the country, Mount Cook. The trail first meanders through a wildflowerfilled meadow toward the jagged, glacial sweep of Mount Sefton and then veers off to the right, over a fast stream and into a rocky gray wasteland beyond which, as dramatically symmetrical as Fujiyama, Mount Cook looms. The wasteland is impressive but forbidding, and we began talking about turning back. The trail is an outand-back one, not a loop, and so the farther we walked, the closer we came to missing our dinner reservations. Suddenly around a bend appeared an elderly couple, he in an Australian bush hat, a pullover, and shorts, she in running shoes and a floral sundress sparkly with a gold-metallic overprint. They began to chat with us, the woman reporting drolly that they, New Zealanders, had shot all their flim before learning from a party of Japanese that what they had been focusing on was Mount Sefton, not Mount Cook. The couple also extolled the beauties of the lake at the end of the trail. It was full of icebergs, they said—absolutely remarkable, and only forty-five easy minutes farther.
We continued on to the lake, which was as described. We did have to hurry back so as not to be late for dinner, and we were glad we weren't. The meal, in the Panorama Room of The Hermitage, our hotel, was as rare a treat, in its way, as our few minutes of lolling on the shore of the iceberg-strewn lake. The tables were arranged as if the room were a dinner theater starring, beyond the picture windows, Mount Sefton. While daylight faded on its slopes, we dined on salmon timbale stuffed with native mussels and scallops, alpine antelope (locally a pest species, according to our waiter) in juniper sauce with spaetzle, and, finally, boysenberries the size of wine corks, capped with whipped cream. New Zealanders brag about their domestic white wines and disparage their reds, and because we had yet to find a reason to hold any contrary opinion, we ordered and happily drank a bottle of fumé blanc. Before the meal was out, though, the people at the next table struck up a conversation and offered us a glass of their "pinotage," a blend of cabernet sauvignon and pinot noir, and at last we had a reason. From then on, whenever we had game—ranched venison more often than antelope (the countryside is dotted with deer pastures)—we ordered pinotage.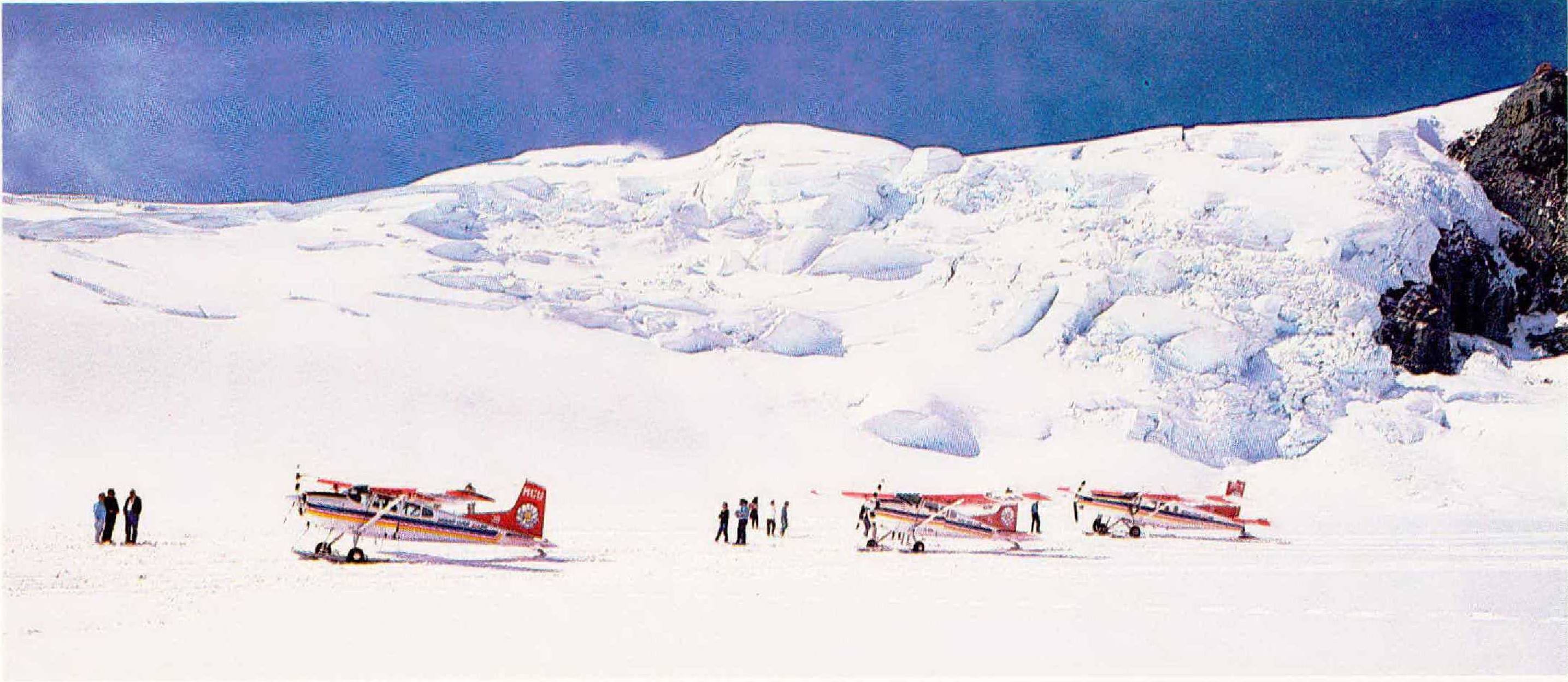 But what had New Zealand been reminding me of? The jolly couple on the trail brought it into focus: J.R.R. Tolkien's Middle Earth, and C. S. Lewis's Narnia, and fantasy-adventure lands like that. Not that I've read any books set in such places since adolescence. I'm worse than vague on their plots. But I remember keenly the sense of expansive, innocent adventure, the wonderment at the scenery, the wholesome if sometimes eccentric bonhomie, and the toothsome feasts laid in wayfarers' lodges and beside campfires. This spirit New Zealand captures perfectly.
Traveling in New Zealand is an adventure not because evil Gollums are lurking around the bend—there aren't even any snakes—but because of the sheer variety of pleasures one has to choose from. There are lovely vistas of all types, everywhere: chlorophyllchoked rain forests, and saw-toothed mountain ranges reflected in pristine lakes, and waterfalls you can't see the top of, and majestic sweeping plains, and cozy bays stippled with islands. There are gee-whiz natural attractions, like ocean blowholes, geysers, and glaciers. There are wildlife attractions, like glowworm caves and seal and penguin colonies. And there are gee-whiz manmade attractions: say, a fiber-glass salmon forty or so feet high, erected to promote a small town's annual fishing festival, or lurid gardens in front of middle-class homes—row after row of eye-popping red, orange, pink, and gold flowers, arranged by height like a high school chorus. (In this gardenmad country I saw people jumping out of their cars to videotape other people's flowers.) Most of the beautiful and interesting sites can be reached by car, so the sedentary aren't at any particular disadvantage. But there are also activities ranging from fishing to bicycling, scuba diving to skiing, bungee-jumping to pony-trekking.
All this makes up the everyday texture of touring New Zealand. The country has, as well, at least two stupendous natural wonders to give focus to an adventure: Milford Sound (a tenmile-long fjord beneath mile-high Mitre Peak) and Mount Cook. These are in a league with the Grand Canyon and Yosemite, and an island nation the size of Colorado containing both of them, each in a national park, plus ten other substantial national parks is, well, some kind of fantasy land.
THAT, OF COURSE, is what visitors expect from New Zealand: a great outdoors, with a sparse but hospitable civilization superimposed on it. I had been told that the people are an attraction to rival the scenery, but because we were planning a hellfor-leather touring schedule, it seemed unlikely that we'd be able to be in touch with local people at all. Nonetheless, they made themselves known to us wherever we had time for them.
The host of the Cambria House bedand-breakfast, in Nelson, a seaside town on the South Island, strolled out to our car as we were about to go looking for a place to have dinner, to invite us back into the kitchen for a glass of wine with him and his wife. The Dutch proprietor of Grasshopper's Roadhouse, on the road between Auckland and the historic Northland region—which, to my surprise, reminded me of New England—came around the counter of his little lunchroom and gourmet shop to give us samples of his homemade Indonesian Sambal Oelek Wokfried (a hot sauce) and to sit down with us over coffee. A Maori shop attendant had been so eager to be able to explain the symbolism of a greenstone carving in his store that he had taken it to his elders for them to interpret. A pair of Air New Zealand flight attendants noticed me reading The Bone People, the winner of the 1985 Booker Prize, by the Maori writer Keri Hulme, and wanted to talk about it (both of them had given up in disgust at the grim theme that is revealed bit by bit, whereas I found the book riveting). These weren't the attention-starved, long-winded parkbench bores one learns to dodge in urban America. They were interesting, self-respecting, friendly people who for the most part worked in the tourist industry, and they patently enjoyed tourists.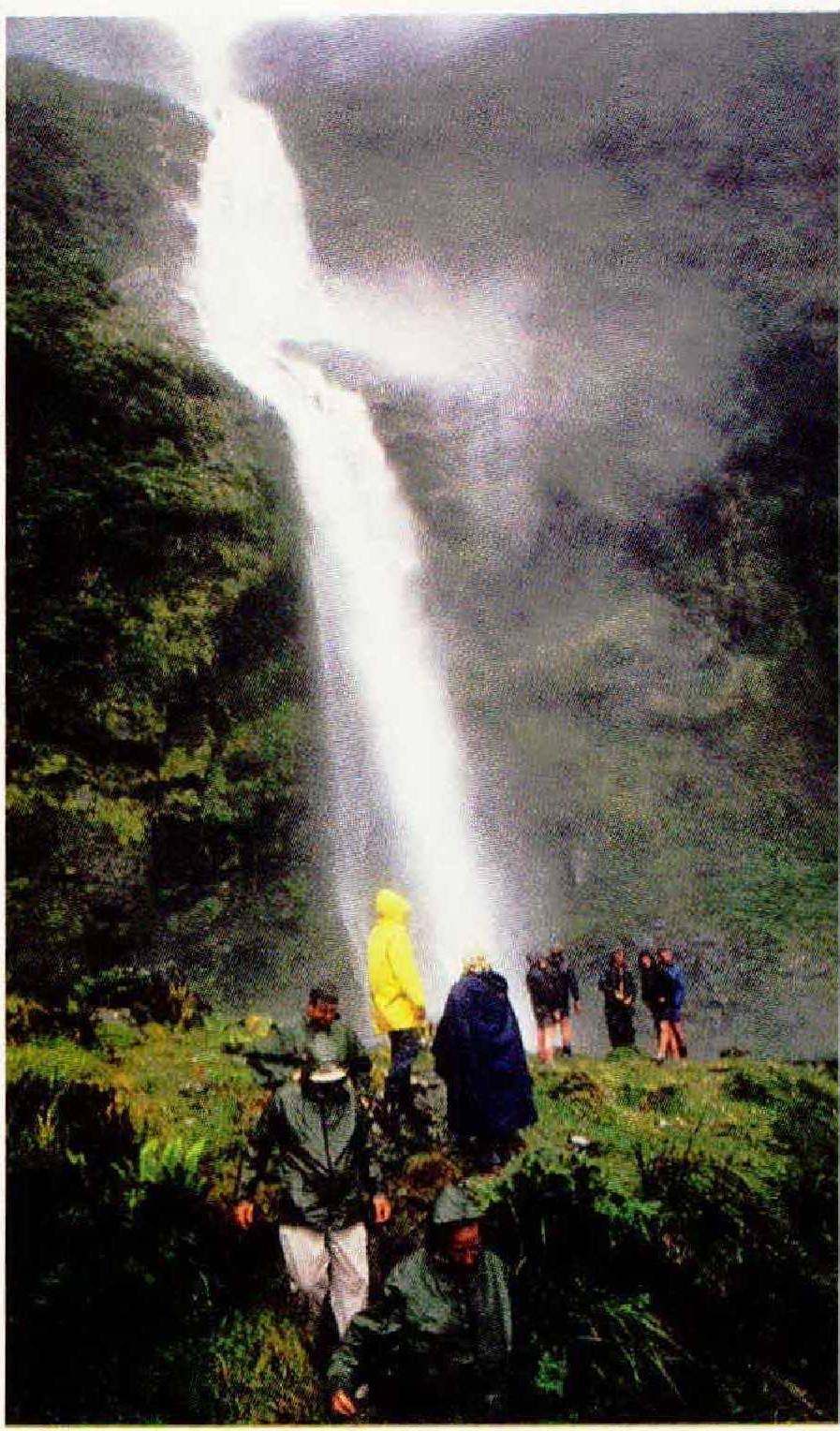 Something no one had told me about was the fine food. In fact, Lonely Planet's New Zealand, a guidebook that is generally reliable and helpful, warns, "If you're expecting any sort of gastronomic highlights in New Zealand you may be in for a bit of a disappointment. Nowhere does New Zealand's solid English ancestry show through clearer than on the dining table." And yet right from the start, on our first night, when the host and hostess of the Cambria House, over that glass of wine in the kitchen, pointed us toward Appelman's restaurant (oysters in raspberry sauce, John Dory poached in wine with herbs), the food was sophisticated and terrific. We found sophisticated and terrific things to eat in other little towns, too—and even in places where there were no towns (I'm thinking of the Lake Moeraki Wilderness Lodge, on the west coast of the South Island, where I was served home-smoked salmon, venison stewed in red wine, and berry pie).
"It's like the fifties in New Zealand" was a partly affectionate, partly apologetic refrain I heard frequently before the trip—and on it, from New Zealanders, too. In some ways—even unto the occasional trampoline in a front yard— it is like the fifties there. But New Zealand is not at all out of touch. The B&B in Nelson played music by the Irish singer Enya at breakfast. In the little lakeside town of Wanaka, I bought a spray-painted sweater that is the envy of the most fashionable of my friends. I might best make my point by describing the last evening of the trip. We spent it in Parnell, a district of Auckland known for its upscale shops and restaurants. For dinner we chose an eccentric, postmodern-looking restaurant, Ajo, which featured a roving trio with a Stephane Grappelli-style violinist. We ordered a bottle of Australian champagne and an assortment of little Asian and nouvelle European dishes to go with it. After the meal, somehow we started a conversation with a group of three women and two men at a corner table. They soon invited us to join them for a brandy, explaining that they'd spent the whole weekend in one another's company and wanted new people to talk to. They were worldly and opinionated, funny and kind, and the evening became almost a farewell party.
We were exhilarated when at last we walked out the door—and into another impromptu party. A restaurant nearby had hired a lively South American-sounding band for its "Tapas Night," and the place was jammed with people dancing. The bandstand was next to the front windows, the windows were wide open, and people were spilling over onto the street, dancing in the warm February moonlight.
BEFORE THE trip I talked with helpful people at the New Zealand Tourism Board (800-388-5494). And I studied the guidebooks fanatically. Of the five I looked at, Lonely Planet's New Zealand and Moon Publications' New Zealand Handbook impressed me as far and away the best, even if they are both strongly budget-oriented. This is an unfortunate point of view on a country where everything is rather cheap and where middle-class Americans can easily afford, at least some of the time, to eat in the best restaurants in town. I packed both books and was glad I did, because they cover some different attractions and locales. A few useful things, though, I didn't learn until after arriving in New Zealand:
• Reservations to walk the Milford Track are perhaps the hottest ones going among tourists in New Zealand. People sign up many months in advance—and send in fat deposit checks —to take this four-day hike and stay in the shelters along the way (camping is forbidden). Nonetheless, we felt very sorry for a couple we met who had signed up and were now committed to trudging through an extremely buggy place for four days of what was turning out to be an almost continuously rainy week. In contrast, we had reservations for two nights in the THC Milford Hotel, on the sound. We took a Red Boat cruise, admired the waterfalls and the dolphins, and then, since the forecast called for more rain, left a day early. It rains a lot (more than 280 inches a year, or about twelve times as much as in London) around Milford Sound. In fact, it rains a lot in many of New Zealand's most beautiful places. Staying flexible is probably the best idea.
• If you're going to Mount Cook and you're pressed for time, skip the Franz Josef and Fox glaciers. Although a not very detailed map might imply that the drive from Mount Cook to the glaciers is short, it isn't. And the Mount Cook park overall is prettier and has a perfectly good glacier of its own, the Tasman. A highlight of our trip, in fact, was a "scenic overflight with snow landing" at the Tasman glacier.
• I have scarcely mentioned the cities because you would be ill-advised to travel so far to see them. They're pleasant but nowhere near as exceptional as New Zealand's countryside, and a visitor will see enough of them on the way to and from taking planes.
• Probably the worst time to visit during New Zealand's summer season is the week of December 25 through January 1, when a huge proportion of New Zealanders are on vacation and all the popular spots are crowded. A month later we didn't really need most of the hotel reservations we had (Mount Cook's Hermitage and the THC Milford being the exceptions). In two weeks the nearest thing to a crowd that we saw was two couples in front of us waiting to check in to The Hermitage.
Every night for two weeks we stayed in a different hotel. Every day we were sorry to leave the place we were in, whether it was a spectacular national park or a cozy town. Tolkien knew the feeling. "All that is gold does not glitter," he wrote, and "not all those that wander are lost."