Suavely Lyrical: Nat King Cole's Ingratiating Singing Obscured His Cool Piano Technique
by Michael Ullman
NAT KING COLE, who was in the late 1940s and the 1950s one of America's best-loved entertainers, hardly thought of himself as a singer. In 1954, talking to the Down Beat writer John Tynan after having made a string of hits, including "Straighten Up and Fly Right," "Route 66," "Mona Lisa," "Too Young," and "Unforgettable," he said that he had started singing to relieve the "monotony" of playing piano with his trio, and he wondered that the public was so undemanding: "If you think about it, 90 percent of the popular stars today, including myself, have no voice, but they have soul, that appeal that will touch the average guy."
Cole needn't have been so diffident about his singing. His butter-smooth voice, hiply confiding tone, perfect pitch, and clear enunciation still set a standard for pop singing. In his unpretentious way he seemed able to sell any song. There was a glow in his voice; he always sounded cheerful, and many of his best performances came in songs of praise: "Too Marvelous for Words," "You Stepped Out of a Dream," "The Very Thought of You." He had a jazz musician's timing wedded to his own brand of insouciance. Cole dawdled behind the beat like a three-year-old on a walk: he always got where he wanted to go, and seemed to have fun on the way.
Now the subject of three books—by his second wife, Maria Cole, by James Haskins with Kathleen Benson, and by Leslie Course, whose Unforgettable, the most recent of them, was published last year—Cole remains a force in American music. Segments of his short-lived television show, first broadcast in 1956, have been rerun on public television; his daughter, Natalie Cole, has won a Grammy for an album of songs that her father made famous; and Mosaic Records has recently issued The Complete Capitol Recordings of The Nat King Cole Trio, a set of eighteen compact discs, or twenty-seven LPs. (It is available only through the mail, at $282 including shipping, from Mosaic Records, 35 Melrose Place, Stamford, Connecticut 06902.) The collection contains more than sixty previously unissued tracks, a group of rare radio transcriptions—78s made for broadcast only—and a hundred or so tracks that have never been on LP. It contains the definitive version of many of Cole's hits, including "Nature Boy" and "Mona Lisa"; his most celebrated jazz performances, "Body and Soul" and "Blues in My Shower"; and the 1956 small-band date previously issued as After Midnight. The 1940 and 1941 Decca recordings are on a CD issued separately by Decca/MCA, Hit That Jive, Jack. And the trio's first recordings (made in 1938—1941) have been collected by VJC on four discs, The Complete Early Transcriptions.
BORN IN Montgomery, Alabama, probably in 1917 (sources vary by two or three years), Cole was reared in Chicago, and grew up close to the Grand Terrace, a South Side nightclub where the pianist Earl Hines performed with a big band for a decade starting in 1928. Cole played piano from the age of four—his first tune was "Yes, We Have No Bananas"—and he regularly played piano at church as a child (his father was a Baptist pastor). Hines's rattling, devil-may-care style was Cole's first jazz influence. Hines's freedom with his left hand impressed Cole, as did his single-note runs, climactic tremolos, and technique of doubling the melody line of his solos in octaves. "It was his driving force that appealed to me,"Cole told John Tynan, adding, "He broke that barrier, the barrier of what we called "stride piano,'where the left hand kept up a steady striding pattern." Cole would render Hines's devices with his characteristic pearly touch—he made the piano sound like bells—and in his own restrained style.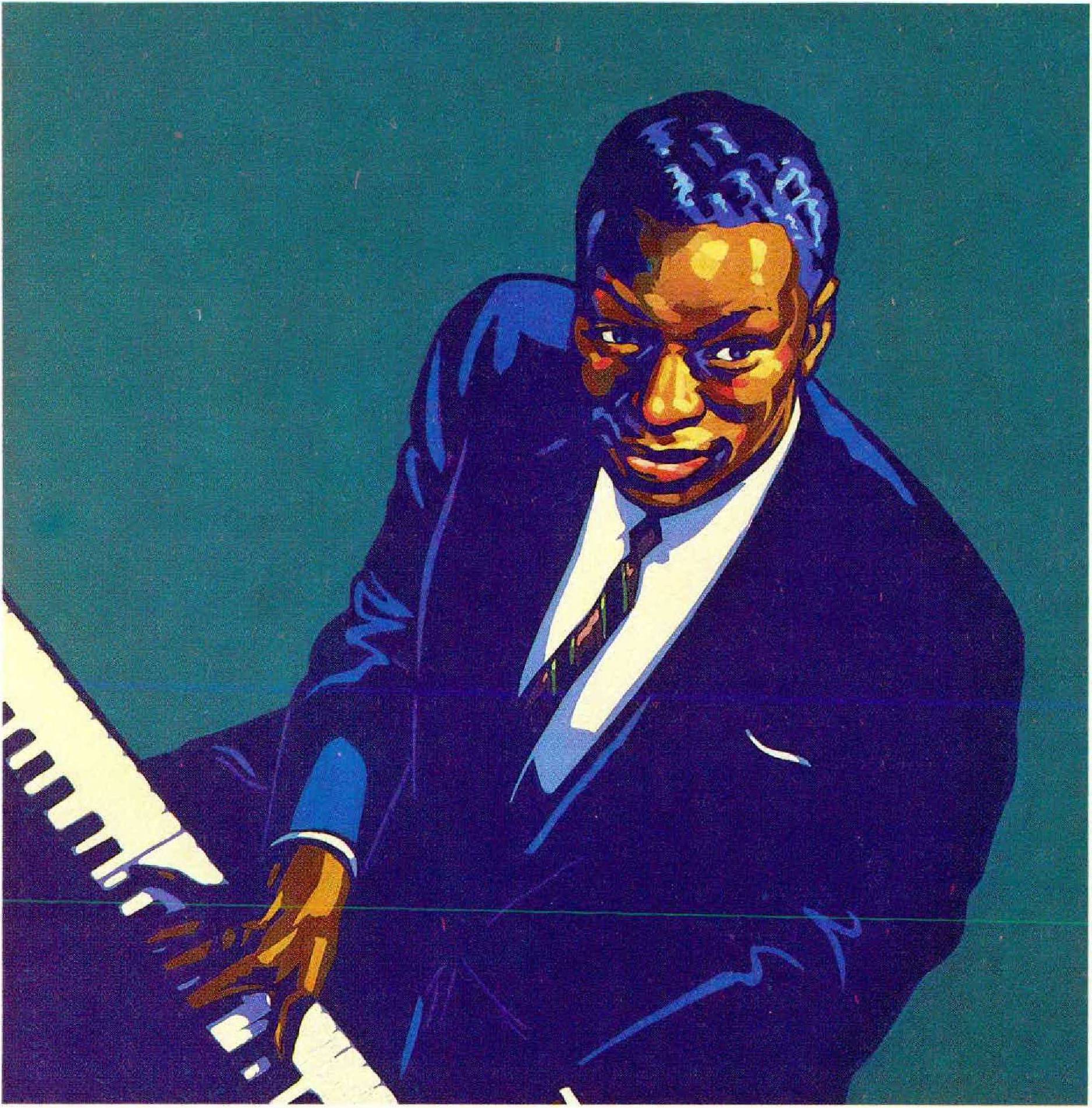 In 1936 Cole left for Los Angeles with his first wife, the dancer Nadine Robinson, playing piano with the band in a revival of Eubie Blake's and Noble Sissies show, Shuffle Along. When the show failed, Cole stuck it out in Hollywood, performing in obscure nightclubs. The King Cole trio started almost by chance. Cole was hired to play at a Hollywood club called the Swanee Inn. He had met Oscar Moore, a guitarist, and Wesley Prince, a bassist, around town, and he hired them to join a group that he called Nat Cole and His Swingsters. Surprisingly, it had no drummer—Cole may have expected a drummer who didn't show up. As a publicity device, the club owner bought his pianist a paper crown and started calling him King Cole. The crown soon disappeared but the stage name stuck.
Prince was shortly replaced by Johnny Miller, another bassist, and the group, cool in conception and practiced in technique, became one of the most supple small bands in jazz. They could play hot, as they did on the pell-mell tune "Jumpin' at Capitol,"but more typically Cole and Moore played a lithekind of chamber music, trading solos, doubling each other's lines, and finishing each other's half-stated thoughts, as they did on Edward MacDowell's "To a Wild Rose." The techniques of the pianist and guitarist meshed perfectly, and yet each provided a delectable contrast to the other. Oscar Moore favored an occasional bent note, or would introduce a woozy, Hawaiian-sounding slide into his single-note lines. Cole's sculpted solos featured the smoothly articulated lines he adapted from Teddy Wilson, and passages of block chords. Cole liked to introduce harmonies that sounded jarring by the standards of the late thirties and early forties. He put his most startling harmonic ventures in his highly patterned solos, as in his famous 1944 "Body and Soul."
The trio shared with other small bands in the Los Angeles area its repertoire of jivey songs and carefully arranged three-minute jazz tunes and ballads. But its musical sophistication, the suave manner of its leader, and the startling harmonies under the unruffled surface of its music suggested something new. The Cole trio was one of the first cool jazz bands, and if Cole himself hadn't tired of the format of its music, he might have written increasingly complex arrangements in the same manner as the later Modern Jazz Quartet recorded.
Cole strongly influenced the next generation of pianists; Tommy Flanagan and Hank Jones, for example, have spoken to me of his impact on them. Cole wanted something more, though, than the obscure and financially hazardous life of a jazz musician. He always sat catercorner to the piano, smiling ingratiatingly at his audiences and looking as if he were about to spring away from the keyboard. When—urged by his wife and agent, and prompted by his own ambition to become a national figure—he left the piano bench for a stand-up microphone, no one should have been surprised.
The trio's early recorded repertoire was full of hip ditties, and typically the three men sang the vocals together. Though the group was locally famous and broadcast regularly, not until 1944 did it register its first national hit, "Straighten Up and Fly Right," which was based on a sermon by Cole's father about a monkey who hitches a ride on a buzzard's back. Cole tells the story in near-speaking tones, his trio members chant the title, and there is a thirtytwo-bar chorus of beautiful solos by Cole and Moore.
That the trio's first hit was a pop vocal was not lost on Cole, who had been working at his singing. Comfortable from the beginning with the clipped vocals of jive, he began trying romance. The first disc of the Mosaic set includes two takes of the 1943 "Embraceable You"; in each case, after a graceful introduction Cole sings the first chorus, holding the last note of each phrase in what seems like a willed effort to sing legato. Soon he mastered that lesson.
Cole did not seem eager to abandon the trio to be a singer or a pianist, although he did play with other musicians. By 1943 he was at the height of his powers as a jazz player, and the jazz world recognized him: Lionel Hampton hired the trio for a recording session as early as 1940, and in 1942 Cole played a masterly session with Lester Young. But mostly Cole stuck to his trio, expanding its repertoire and refining its techniques. On January 17, 1944, the trio recorded an almost perfect session for Capitol. It produced four lovely instrumentals, including two classic slow ballads, "The Man I Love" and "Body and Soul." Cole's theme statement of the first sections of "The Man I Love" could not be clearer in conception or more lyrical. Moore backs him superbly and takes the bridge; when Cole returns to finish the chorus, he plays block chords in a rhythmically enlivened style. The rest of the piece, with solos by Moore and Cole, maintains the same level of intelligent discourse and depth. "Body and Soul" is even better. Moore opens with a full chorus, ending the bridge in a series of sighing notes that bend gracefully like willows.
Cole, Moore, and Miller produced other masterpieces, including a series of blues that included "Cole Slaw," "Easy Listening Blues," and the celebrated "Blues in My Shower." Augmented by a drummer and a string section, the group in 1946 recorded their enduring version of Mel Tormé's "The Christmas Song," which may have been the crucial record of Cole's career. By 1946 he realized that he was the star of the Cole trio. His new wife, the ambitious Maria Cole, pushed him to assert himself. In 1947 he abruptly halved the salaries of Moore and Miller. Moore left and was replaced by another fine guitarist, Irving Ashby. The trio survived, but its dynamics shifted as Cole became more absorbed in his singing and less likely to jam with what were no longer his partners but now his employees.
COLE'S PRIVATE life was not untroubled. When, in 1948, he moved into an exclusive segre. gated neighborhood of Los Angeles called Hancock Park, neighbors protested. According to Leslie Gourse, the lawyer representing the property owners told Cole that they didn't want "any undesirable people coming into the neighborhood." Cole is said to have replied, "Neither do I. If I see anybody undesirable coming in, I'll be the first to complain." Cole broke many racial barriers, by staying at first-class hotels, some of which he had to sue first, and by performing at previously segregated venues, including Las Vegas clubs. In 1956 he made the newspapers by signing a three-year contract with the Sands. For three weeks of work a year he would be paid $500,000.
Cole was a star, but it was clear in the fifties that he had hit what we would now call a glass ceiling, because of his race. In 1956 he started his television show, which ran first at fifteen and then at thirty minutes. Despite good ratings he could not find a permanent sponsor. He had small parts in a series of movies but never a featured role, except in the 1955 The Nat King Cole Story. (Many people remember him as one of two strolling minstrels in Cat Ballou; the other was the comedian Stubby Kaye.) In 1960 Cole put together a stage show called I'm With You, but it closed after devastating reviews. After the smash success of his song "Ramblin' Rose," in 1962, Cole tried another revue, Sights and Sounds; The Merry World of Nat King Cole. Both shows featured interracial casts and at least implied the idea of interracial romance.
Cole's last million-seller record. Those Crazy Lazy Hazy Days of Summer, was issued in 1963. The next year, soon after a performance at Lyndon Johnson's White House, Cole, a lifetime chain smoker, discovered that he had lung cancer. He died at dawn on February 15, 1965. Variety noted in an obituary that Cole had sold close to nine million albums, which had grossed over $50 million for Capitol Records.
An ambitious, perhaps even driven man, he was at the same time gracious. He had stopped playing jazz exclusively, he said in 1951, in order to broaden his audience. He wasn't apologetic. He knew what he was doing, and believed that he was flying right: "I may be doing jazz a lot more good than some of these real hip, cool people who put everybody down," he told Down Beat. "I play and sing for a lot of folks you could label square. But they trust me— you know what I mean. They have confidence in what we're doing so we can sneak in some jazz and they like it because it isn't being forced down their throats." Three years later, again in Down Beat, he added, "Of course, some people say I've gone so-called commercial, but I challenge them to say I'm corny." Perhaps he stepped over that boundary with "Ramblin' Rose," but most of Cole's recordings were as sweetly elegant, as unpretentiously challenging, as the man himself. His best jazz playing was thrilling. □