Nicaragua: After the Sandinistas
Free enterprise has replaced a planned economy, with the usual mixed results —reduced inflation, but growing unemployment and shortages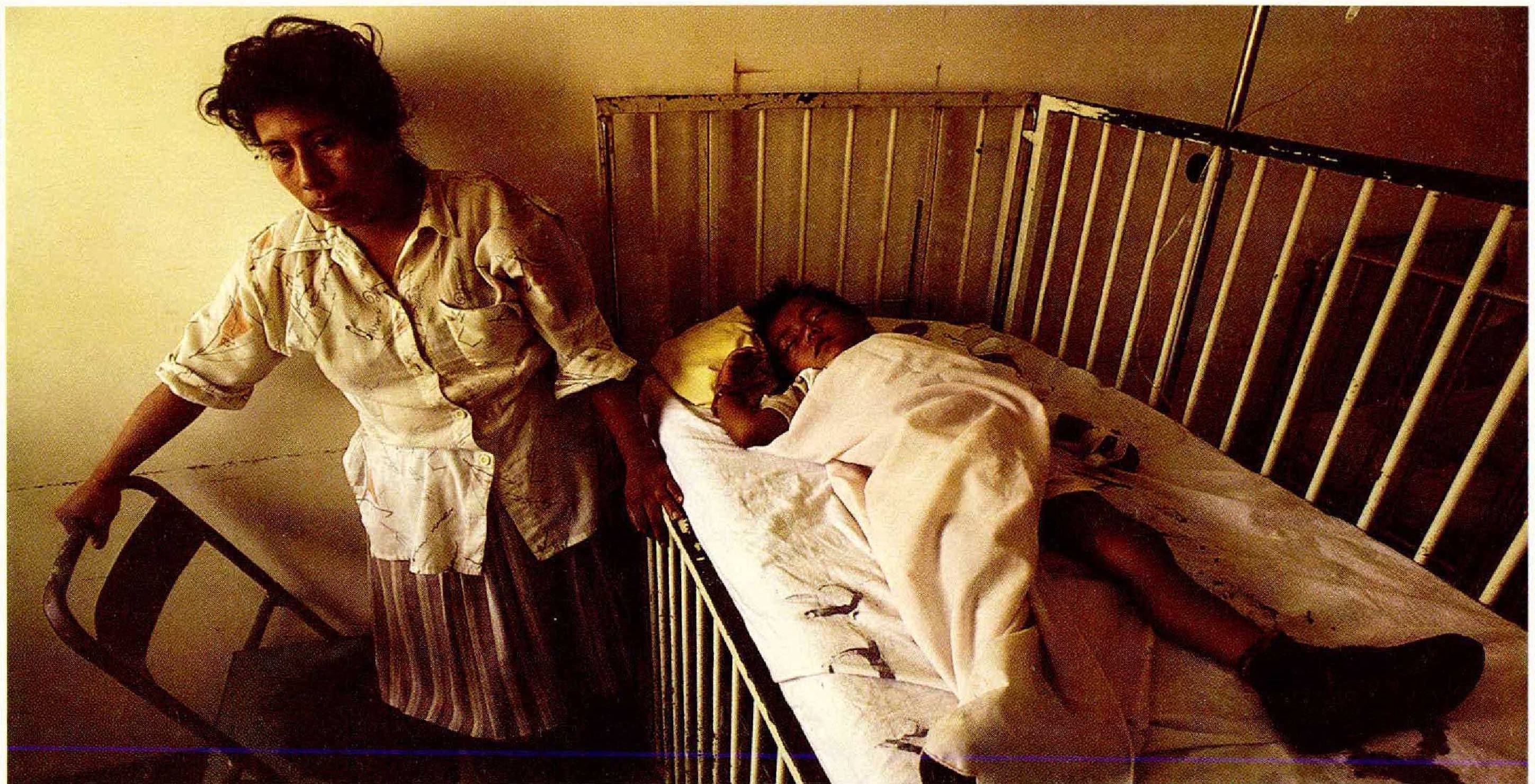 ON MY LAST trip to Nicaragua, I picked up a prostitute, one of a dozen or so young women on parade each night on the street that runs alongside Managua's Intercontinental Hotel. Her name was Angela. Although she seemed suspicious when I said I wanted only to talk, she demurely buttoned her jacket, climbed into the car, and agreed to a price for her time.
On an earlier visit to Nicaragua, in 1990, I hadn't seen prostitutes on the street. Like revolutionaries in Cuba, which was a bordello for gringo tourists before Castro's time, the Sandinistas tried to eliminate prostitution, which had flourished during the Somoza years. They failed, especially after they revised their collapsing economic plan in the late 1980s and began to slide away from socialist-style welfare spending.
But prostitution remained an underground occupation, little more than an embarrassment to the government. No longer. Since Violeta Barrios de Chamorro ascended to the presidency, in April of 1990, Angela's workplace has become crowded and open. At Managua's few decent hotels or at a popular fairgrounds called La Piñata, she said, I could find anything I might want.
These women are not working so that they can afford a few luxuries. They are on the streets in order to feed young children or care for aging relatives. Despite the competition, Angela, twentythree, said she can make a hundred dollars or more in a good night—a sixth the annual income of her average compatriot. "There are thousands of us now," she told me. "It wasn't like this before."
The lives of these women are a measure of the desperation driving an increasingly impoverished population down new roads in search of survival, even as a small wealthy class, backed by the government, paves its own highway, carting much of the pre-revolutionary world along with it.
The free market has returned to Nicaragua. It has replaced the draining nine-year war against the U.S.-backed contra forces and the five-year U.S. trade embargo that choked the life out of the economy. In the process, it is reversing the changes wrought by the country's Sandinista revolution, which these days seems almost as dead and discredited as Soviet communism.
The Sandinista National Liberation Front has been battered by assaults from inside and outside the party since its stunning rejection by 59 percent of the voters two years ago. The culture and economy that the Sandinistas tried and failed to transform have weathered the attempt. Transformation of a different kind is under way, and its signposts are everywhere.
Just a few years ago the country struggled with inflation near 15,000 percent and shortages of everything from toilet paper to cooking oil; now the inflation rate is below 20 percent, and downtown Managua boasts RayBan billboards and a gleaming new Benetton outlet.
In the past only a few Nicaraguans owned cars, and crater-sized potholes endangered their existence; now the highways are starting to fill with luxury Mazdas and four-wheel-drive Toyota jeeps. In two years the number of cars in Nicaragua—most of them in Managua—has doubled. Potholes in the capital are usually filled quickly, and office workers contend with rush hour in their workday commute.
Several thousand new businesses have opened their doors since 1990, according to an unofficial estimate. Previously abandoned storefront windows display Jordache jeans and Nintendo games. Chinese and French restaurants compete with expensive pizzerias. Computer consulting firms, private banks, video stores, and corner groceries have blossomed. Supermarkets are stocked with imported foods from other Central American countries and the United States.
The Chamorro government is rightly proud of the successes that brought these changes to the war-ravaged country. Aside from taming a hyperinflation that was the fourth highest in the twentieth-century world, it has devalued and stabilized a drifting currency; renegotiated and cut by a fifth its $10.8 billion foreign debt, which was the highest per capita in the world; trimmed a bloated public payroll that the government couldn't support; and worked miraculous deals with contentious Sandinista labor unions.
"This has been a process of curing the economy," says Ernesto Robleto Falla, the government's chief spokesman. "What the government has done is break the spiral of economic disaster."
MARTHA SAI.INAS couldn't agree more. Faith in the new government and its economic reforms persuaded her to return to Nicaragua last year after ten years in voluntary exile in Miami and San Salvador. After a year of groundwork she and her sister opened Nicaragua's first Benetton store last December. The elegant outlet, situated in the revived Metro Center shopping area, might have been airlifted from an upscale mall in the United States. Its $60 shirts and $33 T-shirts share space with the chain's trademark sweaters and jeans. So far Salinas is pleased with her decision to invest in the new Nicaragua.
"1 believed Benetton would do well in Nicaragua, and 1 believe that Nicaraguans should have opened a store like this here,"she told me. "All Nicaraguans now must tiring something so that our country will move forward."
In Nicaragua irony is never in short supply. A few hundred feet from Salinas's store is a parking lot full of vendors selling brooms, lottery tickets, pillows, and numerous useless gadgets. Jose Chavarria, one of the broom salesmen, told me he makes six dollars a day.
The vendors are part of a downward spiral that Robleto, the government spokesman, was clearly uncomfortable discussing. Like a Hollywood movie set with nothing behind the building fronts, the country's apparent newfound affluence masks a very different reality: most Nicaraguans are not living at all well. They are falling victim to what could be called the "Latinoamericanization" of Nicaragua—a classic pattern of a w idening gap between rich and poor.
In her inaugural address, on April 25, 1990, Chamorro promised to protect the country's poor and vulnerable— people already in pain from a Sandinista economic-adjustment package that was putting the squeeze on them. But in "curing" the economy, as Robleto put it, the government has had to ration precious resources and screw the vise tighter on much of the population. Government budget figures show that public spending for health care, basicfood subsidies, education, public transportation, and social programs has been drastically reduced. The situation has led to widespread talk about the risk of "social explosion."
People who were once able to feed their families with the help of government food donations now simply haven't the money to buy what they need. A survey last fall found that the lowest Nicaraguan salary, down sharply from several years earlier, does not nearly cover the cost of a subsistence diet for a family of six. Indeed, a new phenomenon visible at Managua's major intersections is waves of vendors and beggars, many of them children, who mob cars at the stoplights.
Jobs have become scarce. Official underemployment and unemployment together stand at 54 percent, far above the peak levels of the Sandinista years. T hrough April of 1992 the government trimmed its payroll by offering severance pay of $2,000, which w as accepted by 23,000 workers. Another 20,000 soldiers and policemen were cashiered. But new workers keep appearing like an unstoppable force: 120,000 able bodies are ready to join the work force each year.
Minimal health care was once guaranteed; now patients are finding themselves shut out of hospitals and clinics. Private facilities are opening their doors while public clinics are closing theirs. Hospitals report worsening shortages of everything from suture thread to bedding, due to budget cuts.
"I've seen very sick, very poor patients who had to pay for their own xrays," Daisy Rios, a nurse in the city of Matagalpa, told me. "They'd ask the patient if he had any money. If he did, they'd send him to a private hospital. If not, they'd send him home. If you go to a clinic, you don't see people in the waiting room. Why go if you can 't pay?"
One staffer at a Managua shelter for abandoned, abused, and handicapped children told me that nearly half the center's ninety-seven workers had accepted the government's offer of severance. Unable to afford to fix a broken pump, the shelter has had no running water since June of last year. T he staffer had tired of it and said she planned to join the exodus.
Robleto says that the government still cares about the disadvantaged but that its focus has to be elsewhere in order to save the economy. He insists that people are no worse off now than they were under the Sandinistas.
"People have been poor for many years," he told me. "How do you measure poverty? By the people in the street? By the number of houses of cardboard? Or by the number of people who don't get an education? We found those people when we came in. It's impossible to do anything until we stabilize the economy."
If those are his measuring rods, they had better be long. Managua is home to 1.3 million people, about a third of the country's population, and still growing. Nicaragua's economy has traditionally been agricultural, but low prices for major farm products and insufficient bank credit have driven thousands from the country to the city, where they have settled in vast shantytowns.
Crime against people and property, formerly almost unheard of in Managua, has become one of the capital's most discussed problems. People with cars are afraid to park them on the street at night. Single women are w arned by friends never to walk alone, even in seemingly safe neighborhoods in daylight.
Everyone, including government supporters, recognizes that the numbers of cardboard houses and people living in the streets have risen dramatically. At a press conference last February, Antonio Lacayo Oyanguren, Chamorro's chief of staff and economic wizard, conceded that the government is worried by the social disruption.
Some argue that the price of stabilization has been too high. And government officials admit they haven't come close to attracting the kind of foreign and domestic investment they need to stoke the neo-liberal, trickle-down fire they are counting on to ignite the economy.
Though the Benetton store and the pizzerias may be good for the country's image, they are not the kind of businesses that create many jobs. Investors in industry of that kind look for a functioning infrastructure, a healthy, educated work force, and an efficient distribution system.
Gilberto Cuadra is one of Nicaragua's leading businessmen, an engineer and a banker who headed the country's most important business group and battled the Sandinista government for much of the 1980s. He believes that years of adjustment will be needed before Nicaragua can recover from the damage done to business, industry, and agriculture. Meanwhile, he says, his country cannot hope to compete with other Third World countries—Mexico, Honduras, and Eastern European nations among them—in attracting investment.
I had spoken with him last on the day before Chamorro's inauguration. At that time he was headed for a Cabinet post in the new government (he later refused it) and he was pleased that business-oriented free-marketeers were taking over. But even so, his comments carried a note of caution. He seemed keenly aware that Chamorro's vow to turn the economy around within a hundred days was unrealistic. Since then he has tangled with her government, challenging its optimism on the basis of his experience with Nicaraguan business and labor.
"The few factories that are still here have machinery that is twenty or twenty-five years old and badly maintained," Cuadra told me in an interview in his cramped, noisily air-conditioned office. "Worst of all, their technology is obsolete. So the products from these factories are inferior to and less numerous than products from elsewhere in Central America. The prospects for new investment here are bad. This is what we've said. The government says we are subversive, but we can't sell this country for investment."
NICARAGUA has its own style of disorganization. For example, few named streets still exist in Managua, largely because of the haphazard reconstruction after the 1972 earthquake that destroyed much of the city's downtown area. People give directions with maddening imprecision. What should be a ten-minute drive to an appointment easily turns into thirty, as a visitor wanders with guidance like "Go a half a block toward the lake and two blocks to the north"—starting from nowhere in particular.
One morning, as I struggled with such directions while trying to reach a government office, Javier Talavera offered to help me.
He was standing on a corner, wearing a pale yellow Lacoste shirt and khaki slacks. He looked like he belonged in an office. In fact, he did. An educated, articulate man, trained in business administration, Talavera, thirty-two, had been out of work for five months. His family was living on his wife's income as a teacher—about $32 a week. He had been musing over his prospects when we met.
He laughed with amazing good nature when I asked if he, his wife, and their two children could live on his wife's modest salary. "We have nothing in the house," he said. "Some days we have breakfast. Some days we don't. Many professionals like me can't find work. They are in the streets. Businessmen, sociologists, statisticians. In my church there are people who have been without work for two years."
Talavera is frustrated and puzzled by the changes in his country. He sees the market boom, and yet there is no room in it for him.
"It's like living in a mirage," he said. "There is everything, including food. But people can't buy it."
The Talavera family are among the Nicaraguans who are sinking fast. I spoke with dozens, from various classes and educational backgrounds. They see friends and family drowning with them, and no lifeboats in sight. A survey last fall by a private think tank found that 54 percent of those questioned had less money to spend than they had had a year before.
The Sandinistas—who have become the sometimes loyal, sometimes feisty opposition—are uncertain how to respond. Party leaders are locked in their deepest identity crisis since the downfall of Anastasio Somoza, in 1979. With the unexpected loss of power, much of the party structure collapsed. Paid staffers were laid off, party offices in the countryside were shut down, and the strong Sandinista presence in city neighborhoods steadily dissipated.
In the midst of the chaos, Sandinista leaders are at war with one another, sending out contradictory signals to the party faithful. New coalitions align and old ones divide, while analysts fill newspapers and radio with speculation about who is doing what to whom, who is rising and who is falling. Meanwhile, the government is excelling at the art of compromise, crafting deals with various Sandinista legislative and labor blocs as economic and political crises arise.
No one at the center of the party has been more chameleonlike than General Humberto Ortega Saavedra, the former Defense Minister and the brother of ex-President Daniel Ortega Saavedra. Chamorro angered many of her supporters (Gilberto Cuadra among them), and the U.S. government, when, as a conciliatory measure, she chose to keep the general on as head of the army, a post he still holds.
In the early days of the revolution Humberto Ortega was one of those who outlined the party's alienation from the country's middle and upper classes. "We are against the bourgeoisie," he told army and militia officers in 1981. "We are guided by the scientific doctrine of the revolution, by Marxism-Leninism."
But now, even as his brother continues to spout populist and often angry rhetoric, the general seems to have evolved. After eleven years, a war, and a political and economic collapse, his views appear to have progressed in a way that offers compelling insight into the flux at the Sandinista core. Wooing a visiting conservative German Cabinet Minister last February, Humberto Ortega revealed to a small audience a sea change in his thinking. "Socialism always wanted to distribute too much," he said. "Capitalism and liberal, freemarket economies can much better develop the productive forces of a country. . . . The demand for the dictatorship of the proletariat has outlived itself. Lenin and Marx are dead."
Lenin and Marx, then, have been replaced by strong new voices within the party. They are calling for the comandantes of the past to be replaced by democratic leaders who can offer an attractive alternative to the current government, one that combines economic growth with protection for the poor.
To compete, the Sandinistas must win back the hundreds of thousands of voters who punished them in 1990 for piloting the economy into a crash. They are farmers in starving rural pueblos and dwellers in starving urban shantytowns and people like Angela, the prostitute.
Moments after dropping Angela off in front of the hotel I thought of another question. But business was brisk that night, and by the time I returned, she was already back at work. The free market was going her way.
Another Nicaraguan irony. She could find no other work, but at least this government, whose policies kept her in the streets, made sure that she could conduct business there in peace.
—David Schrieberg