Smiles of the Summer Light: A Midsummer's Sojourn in Scandinavia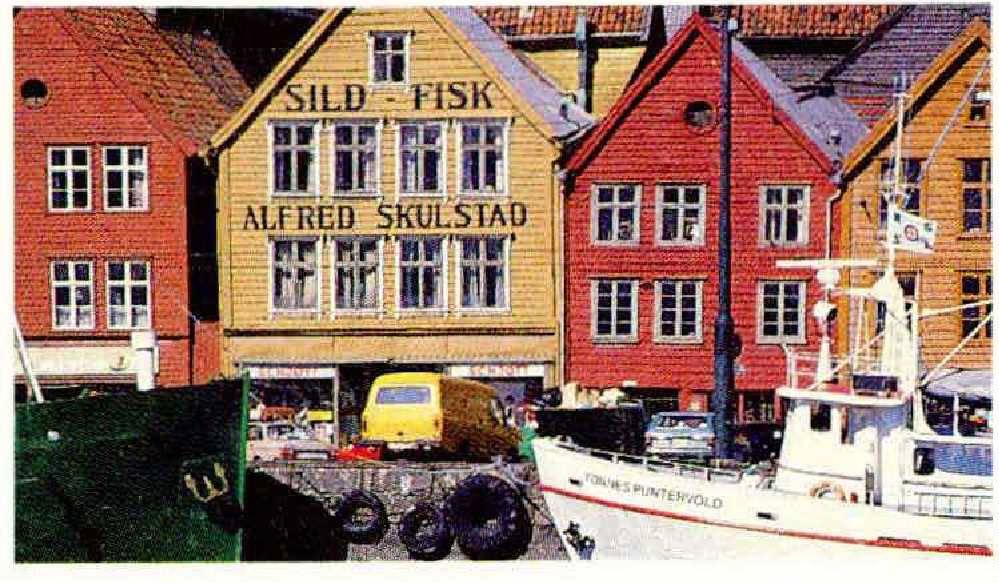 by Peter Davison
THE PERFCT TIME to travel in Scandinavia turns out to be July, I discovered last summer, especially if you want to enjoy the beauties of long summer light and the spectacular scenery of northern latitudes. Danes, Norwegians, and Swedes alike take very lengthy vacations and simply skip town in July for the spacious reaches and beaches of their own countries, or for a destination farther south, like Spain. Wherever my wife and I traveled, especially in the cities, we found hotel reservations easy to get or not required, and rates tor rooms, including luxurious ones, often reduced (rooms in the Grand Hotel in Oslo went for $70 a night per person, including a gigantic Scandinavian breakfast). Our quiet hotel near the harbor in Copenhagen was delightfully uncrowded; so was our small hotel in Bergen, on the docks overlooking the spectacular harbor; and in Göteborg, had we but known it, the sumptuous Novotel, overlooking the whole city and the harbor, would have offered us special weekend and summer prices. As it was, we had a magnificent lunch there one Sunday, the only guests in the dining room. In celebration of such vacancies, perhaps, the Kristine Kyrka, a church prominently at the center of the city, bore the sign CLOSED ON SUNDAYS.
Perhaps 1991 was as exceptional in its unencumbered travel as it was in its good weather, but we used public transport everywhere we went and never resorted to a rental car, relying instead on a three-week Scanrail Pass, available in advance for $309 per person for first-class accommodations, usable on all trains, many boats, and some buses. The trains, especially in Norway, are comfortable indeed; the buses are state-of-the-art vehicles that bring you into close touch with the country and the campers, housewives, farmers, mailmen, and casual travelers who climb on and off, with packs and packages, mailbags and groceries, at crossroads and waysides, between which episodes the driver converses coolly with headquarters on a cellular telephone or negotiates a two-lane mountain highway—or both.
Scandinavia in July is as overwhelmed with flowers, wild and domesticated—roses, buttercups, wild delphinium, yellow and blue asters, Canterbury bells, wild geraniums in various shades, tall fireweed, foxglove, forget-me-not, giant Queen Anne's lace, daisies—as New England is in late May. The long, gleaming hours of daylight (on July 15 in Oslo the sun rises at about 4:00 A.M. and sets at 10:00 P.M.) enable you to walk the city streets till all hours or to take country strolls before breakfast and after dinner. To wake in the wee hours and get an eyeful of pearly twilight instills an otherworldly feeling. And by day the notorious Scandinavian thirst for sunlight tempts people into continual basking, not always fully or even partly clothed. At one unscheduled stop along the Swedish North Sea coast a trainload of passengers was entertained by the sight of a zaftig backyard sunbather leaping to her feet and scurrying indoors to cover up. In the Norwegian mountains, at out-of-the-way stations, the trains exhale armies of gigantic and comely hikers, male and female, with backpacks the size of Yule logs, who vanish into the surround as quickly as their replacements are inhaled into the trains, to debark at the next wild spot where they can gallop off through the sunlight. The lakes, forests, and alpine tablelands can easily absorb millions of vacationers, but on our miles of mountain walks we only once encountered other human beings—a German family trio.
COPENHAGEN and Oslo are the most ingratiating of the cities we visited: Copenhagen for its cordiality, its varied and cosmopolitan street life, its music and dance, and its museums; Oslo for a sense of renewed vitality in a city that has long been regarded, and not by foreigners alone, as among Europe's gloomiest. The museums that dazzled us in Copenhagen include the unmatched Carlsberg Glyptotek, a handsome turn-of-the-century building containing one of the greatest classical collections in the world. Its Greek, Roman, Egyptian, and Etruscan portrait statuary outstrips any collection I have encountered in Greece or Rome. In one room alone the cast of I, Claudius stands around the walls shoulder to shoulder: Augustus, Livia, Germanicus, Agrippa, Tiberius, Caligula, Messalina. The museum's upper floors are laden with unusual paintings by Gauguin and three dozen Degas bronzes. About twenty miles north of the city contemporary art teems in the brilliantly designed and ever-expanding seaside Louisiana Museum of Modern Art (the founder, Alexander Brun, had been married to three Louises), one of the most beautifully constructed art palaces I have ever seen—its sculptures by Henry Moore, Alexander Calder, Richard Serra, and Barbara Hepworth perfectly positioned outdoors, and its paintings hung inside both above and below the varying levels of the ground. The Carlsberg Glyptotek and the Louisiana, like more and more museums in Denmark, are privately financed. For Isak Dinesen worshippers, who do not include this writer, Karen Blixen's ancestral home stands at Rungsted, only a few miles from the Louisiana and easily reachable by train or bus (and always crowded). But the more frivolous pleasures of Copenhagen reside in its good nature, as exemplified by Tivoli, the world-famous amusement park in the heart of the city, with its restaurants, rides, gardens, gambling, and public entertainments; and in the street life in Nyhavn and Ostergade, where on one corner a guitarist plays "Jesu, Joy of Man's Desiring" and "Greensleeves," while on another a small jazz group rips into "Bill Bailey, Won't You Please Come Home?"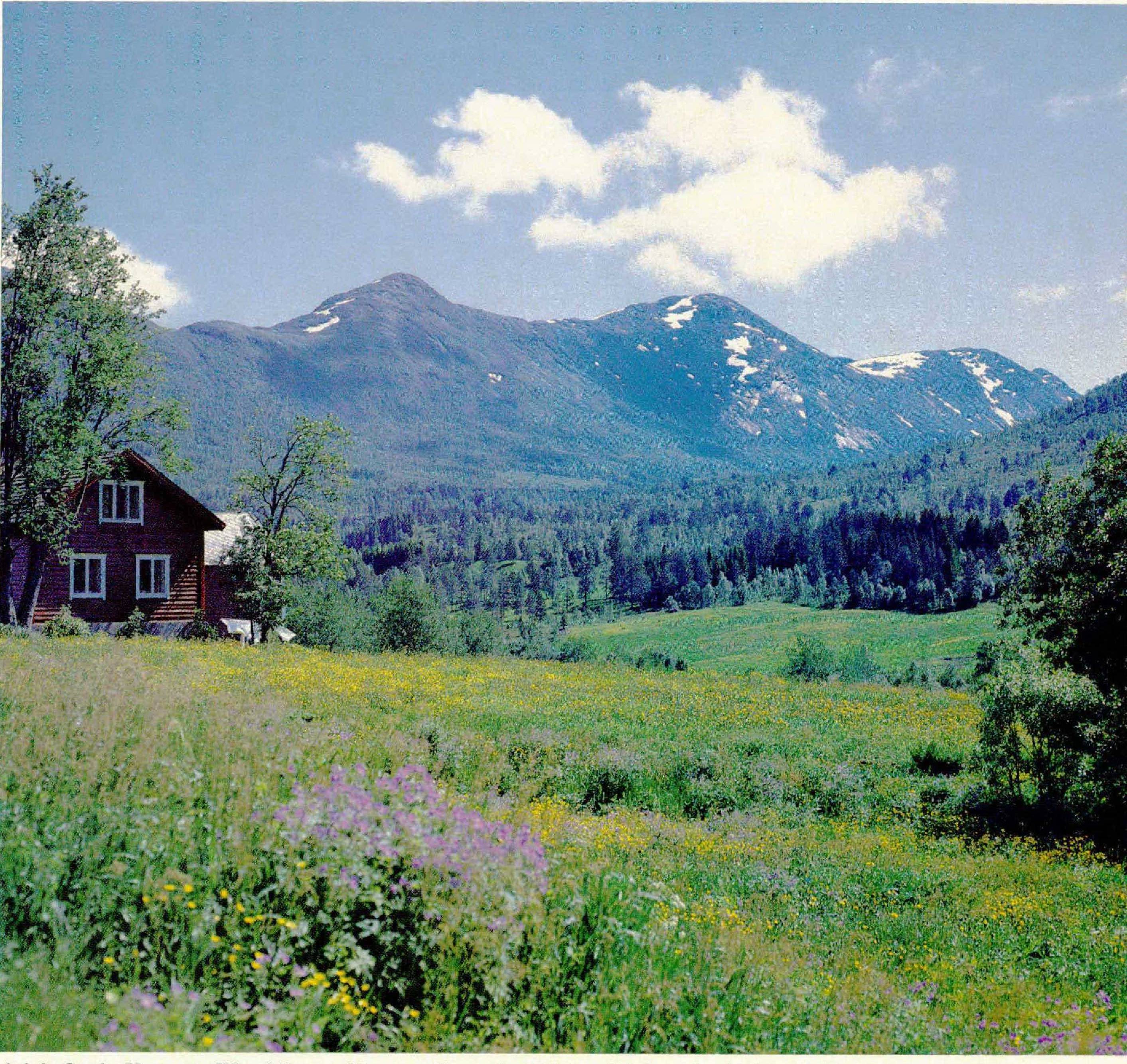 Breakfast in Copenhagen starts with three or four varieties of herring—or smoked salmon, cheese, eggs, smoked meat, cereals, fruit, or all of the above. Scandinavian bread is excellent, widely varied, and plentiful at all meals. One wonderful dinner (salmon soufflé, roast veal with delicate vegetables, and a dish of sherbets with fresh fruit), eaten at the Kanalen restaurant, outdoors by the side of a canal in the late-evening twilight, was as satisfying as dining ever gets, not only for the quality of the meal but for the geniality of the service, all suffused with the gradual and unfinished fading of the light.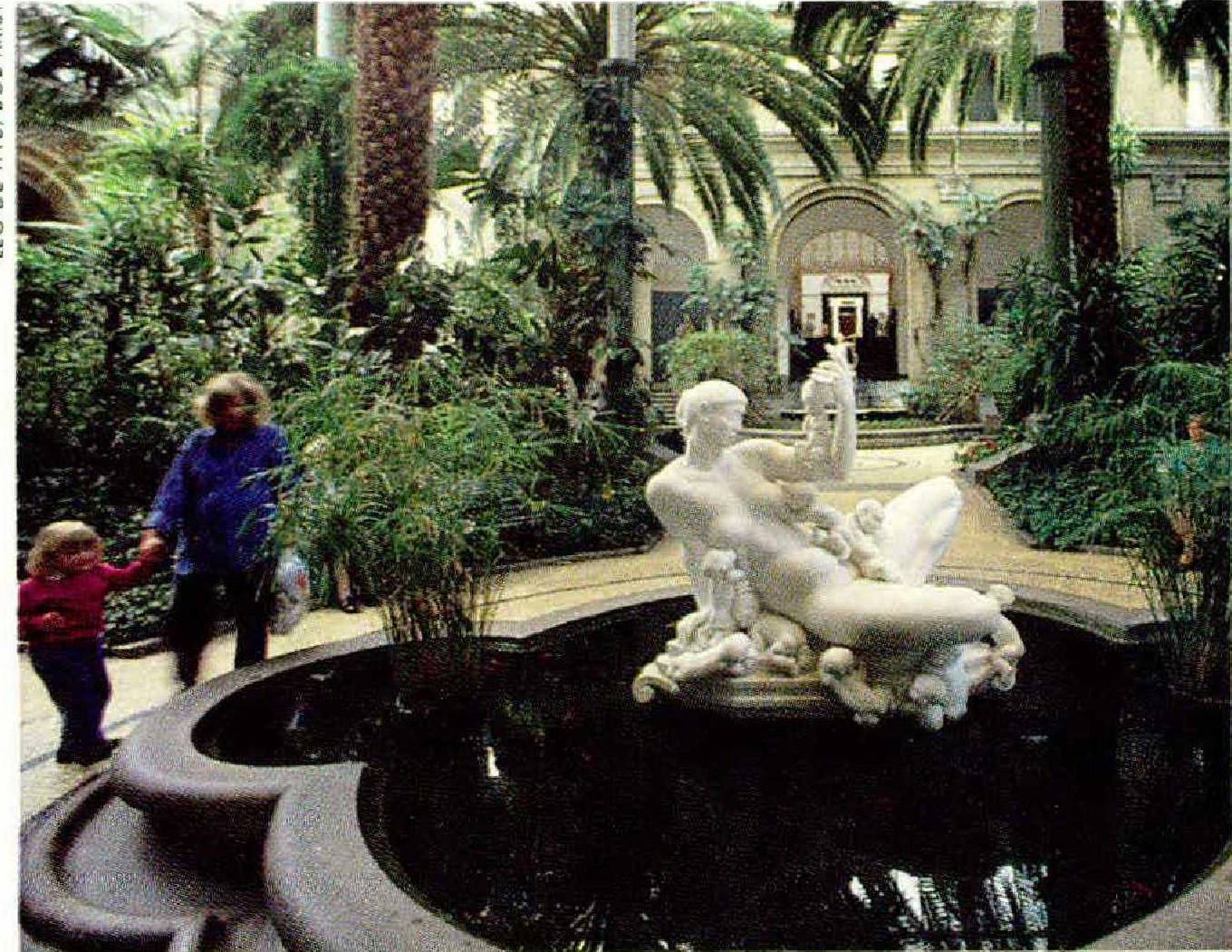 Oslo turned out to be more like what Copenhagen used to be famous as: a swinging all-night city, thronged with beautiful people. On our first evening we found ourselves in Aker Brygge, a teeming, sun-struck complex of brandnew or newly restored waterfront buildings, café after café thronged with people of all ages, watching the sun glitter on the harbor full of yachts and ferries and listening to jazz, while along the waterside walkways, crowded with strolling people, horsedrawn wagons, rickshaws, mopeds, and children in double baby carriages, a preferred form of transporting infants in Scandinavia, platoons of blonde women wandered, wearing enticing if minimal clothes and emanating a sense of gaiety and celebration. No wonder the principal recreation is people-watching. Oslo was once a city ruled by teetotalers, but now the bars stay open till four in the morning. Oslo has taken its share of the North Sea oil money and thrown a party.
At opposite ends of the city are two incomparable artistic poles: the Frogner park, which is full of hundreds of massive nude sculptures by Gustav Vigeland (18691943), and draws tens of thousands of people; and the Edvard Munch (1863—1944) museum, which attracts smaller crowds but whose collection is alone worth traveling to Oslo to see. Its more than 300 paintings convey the humane passion of the great expressionist and prove by the indescribable vigor and dazzle of their color that his work, drenched in light, has never shown at its best in reproduction. Vigeland's clumsy, beefy, socially optimistic work, which was supported by the state during the artist's lifetime, presents a heavy argument against arte pubblica; Munch's art, conceived in agony, loneliness, exile, and poverty, came to the state as a posthumous and unsolicited gift from the artist.
WE HAD COME to Scandinavia, however, in search of natural light, and we found it by both land and sea—along the astonishing rocky, gull-haunted, boat-besieged islands of the Skagerrak coast of Sweden, which look out over the steely North Sea, and from the decks of the small steamer Nordfjord, on which we embarked for a three-day journey along the seacoast northward from Bergen and eastward into the great Nord Fjord. We departed on a Friday afternoon at 3:30 for a weekend journey inside a chain of islands, with occasional glimpses of the open sea and with clouds of birds overhead or along the shore—gulls, terns, oystercatchers. The rocks became increasingly stern, severe and clifflike as the Nordfjord steamed northward into the long reaches of the illuminated night and eventually eastward into the entrance of the fjord. The steamer made unscheduled halts at various outports, in one of which the ship's passengers were subjected to a cheerful twilight mooning by two beer-drinking adolescent boys on the dock, who were doubtless sick of having pictures of their faces taken by shipboard tourists. In another we dropped off a shiny BMW and took on a load of steel rods late in the white night. By the time we woke up for breakfast, we had reached the unprepossessing town of Stryn, our destination. From there, after feeding, we climbed by bus through orchards above the fjord and up the Oldendalen valley till we approached timberline at the foot of the Briksdal glacier. We continued our ascent through the spray of a waterfall, some of the passengers having hired horse-drawn carts pulled by charming but powerful caramel-colored Norwegian ponies called fjordings, and others, including several of the Japanese travelers, carrying parasols. All along the banks of the fjord and on the islands lay a variety of farms, hayfields, houses, cottages, and weekend huts, many with small piers and sturdy, well-designed runabout boats. The fjord, it seems unnecessary to say, is an ancient way of life: it is from these home ports that the Norse invaders conquered much of Europe in the Dark Ages.
We had a second three-day adventure in the mountains, at the foot of Galdhøpiggen, where we stayed in the Elveseter, a large hotel with numerous outbuildings, by the side of a thundering glacial stream that tumbles down from the Jotunheimen plateau. We had reached our destination from Bergen, at first by a fast boat up the Sogne Fjord, longest and most delightful of the fjords, and then by bus. We rode for several hours on a narrow winding road through a series of interesting villages, rising to a pass that crosses the lunar surfaces of the 4,000-foot-high plateau of lakes, peaks, and glaciers: a vast sweep of scenery in whose foreground sheep and reindeer grazed, sunbathers sunbathed, and tourists in bathing suits swooped in snowmobiles across summer snowfields. The Elveseter, managed by five successive generations of the same family, provides simple rooms and ample food for about $50 per person per day, including picnic lunches for mountain walks. By night the hotel is crowded with guests who disembark from tourist buses in time for dinner and depart the next morning after breakfast, but after the buses snort off, it's a peaceful place. The mountain roads and trails that twist away and upward in all directions urged us past moss-bordered waterfalls and twisted conifers, through birch and alder groves alive with elusive mountain birds, and past the timberline to alpine fields and high meadows where cows grazed among the highest groves and ravens circled fiercely overhead, decrying our presence. Sitting in the crook of a conifer at the side of a gorge, we looked down at banks of moss, up toward a snowfield overhead, across the meadows to huts built high on Galdhøpiggen's shoulder to give serious mountaineers shelter in bad weather. We found other mountain districts to explore, some with herds of half-wild sheep wandering empty village streets or with goats scampering on the turf rooftops, but nothing equaled this —for here we realized the greatest pleasure of our travels after the light: the silence.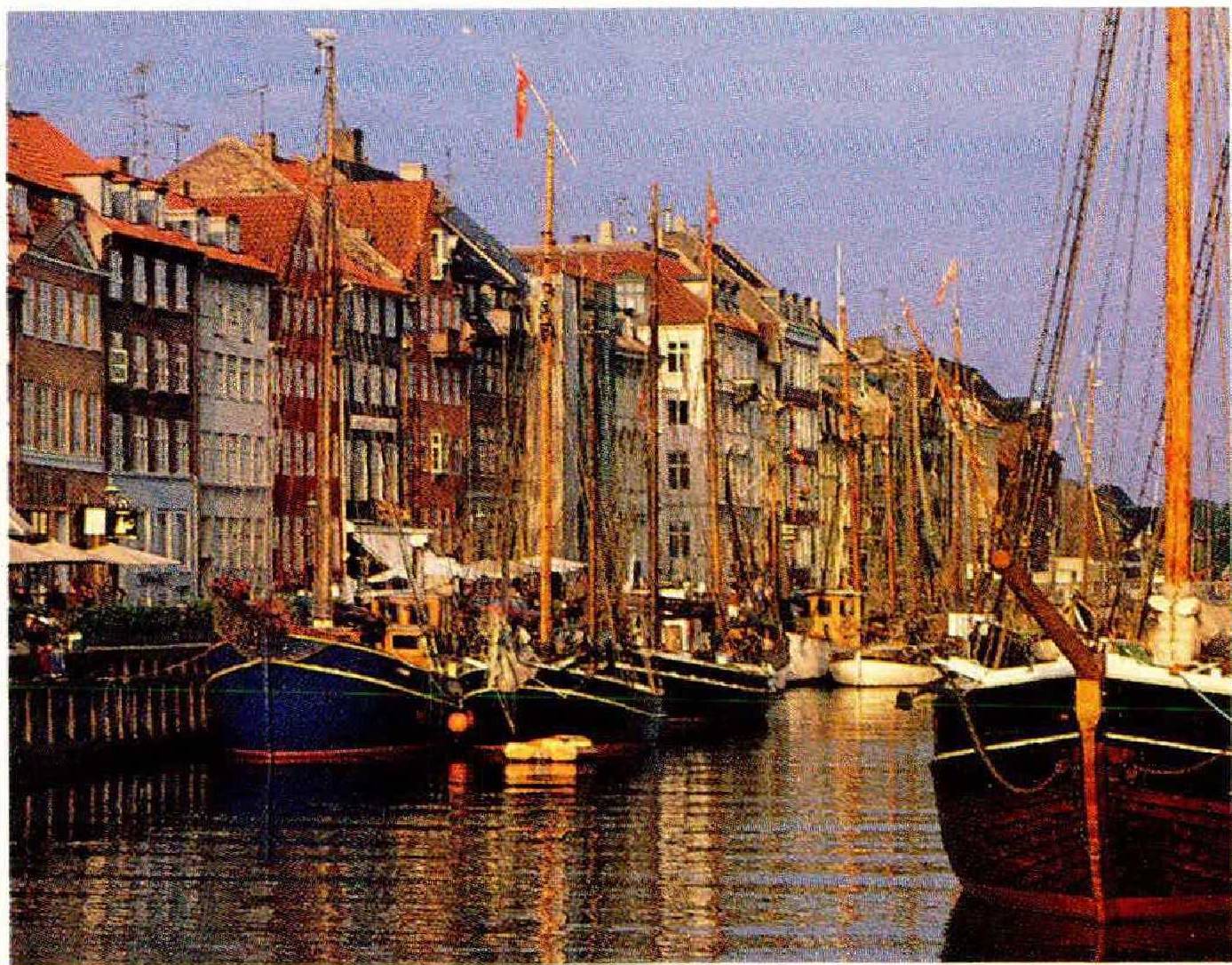 How different Scandinavia was from home: wherever we went, people conducted their lives quietly, even in cities full of trolley cars or harbors crowded with marine traffic. Only once, in Oslo's central café, Henrikke, did we feel as though we were in the noise-addicted United States. Something there is among the Nordics that doesn't like a noise, and we liked that—and them— very much.