BOXED SET
Among the answers in columns m through x are seven related unclued entries, each having one or more of its letters (not necessarily at the front) enclosed in a box. The boxed letters, when read box by box from left to right, will spell an apt message.; Since normal bars are not given, solvers will need to determine where each answer fits within its designated row or column. Clues are listed in their proper order within each row and column. Answers include six proper words.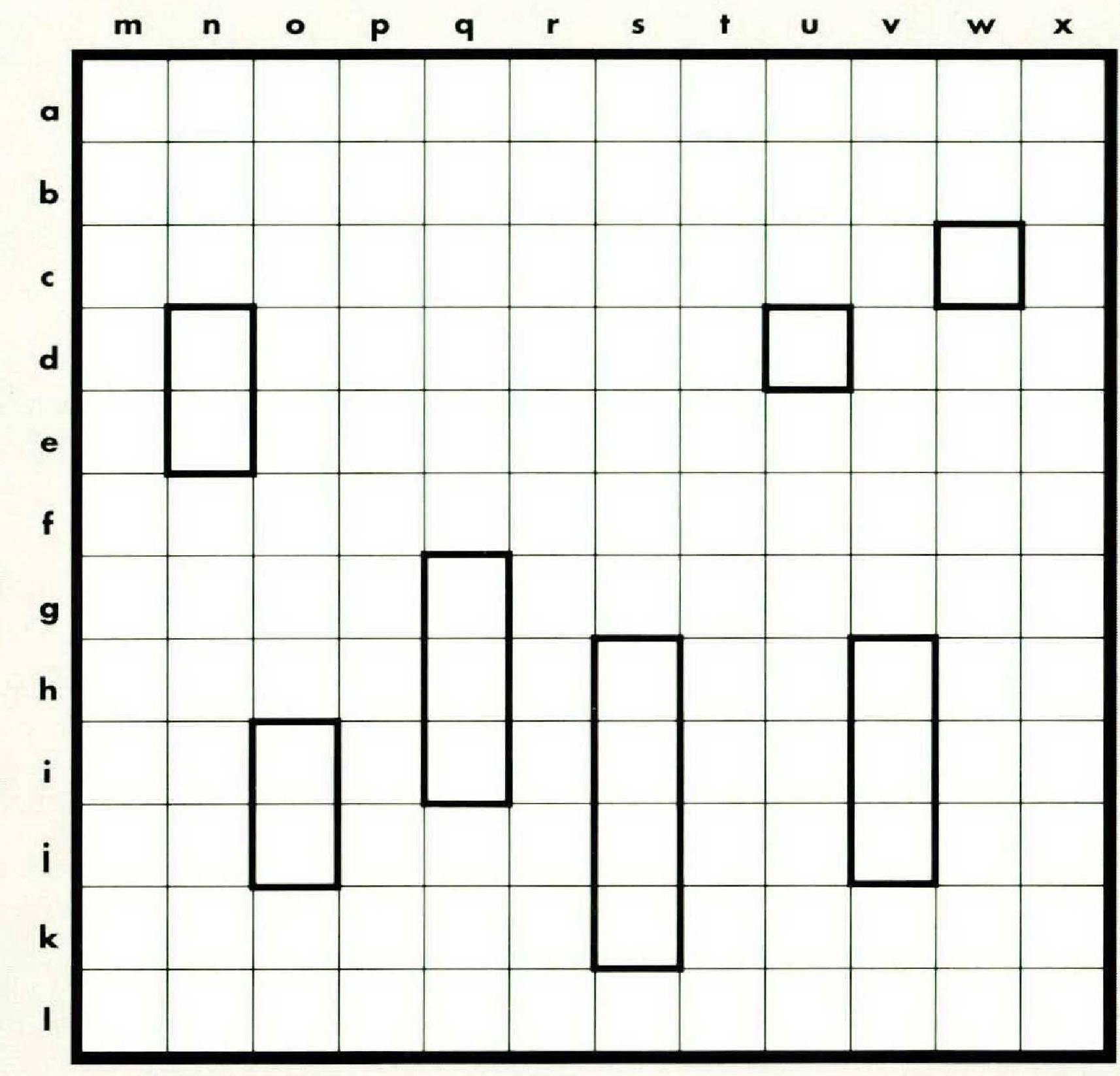 The solution to last month's Puzzler appears on page 118.
CLUES
a. Fixtra message boxes show bargains
(5)
Bird tagger gets behind baby eating end of worm (6)
b. Instrument thoroughly inspected at the outset in deal (8)
c. Sad condition of depression is keeping Texas town without one school (12)
d. Playing blues, having a fit (6)
Note reverse of sensitivity in rich person (6) (two words)
e. Fine spring (4)
Promise plum after passing exam
(6)
f. Fleming tails a blackguard from part of Canada (7)
One not working out around gym cheated (5)
g. Some light fish (4)
Large, eccentric English composer (5)
h. Article hoarded by some young West Indians (6)
Small fruit gravity causes to fall (6)
i. Examines container aboard ship (5)
Sheep goes after dog's first nip (4)
j. Sense approval among four couples
(8)
k. Assist one in offense from the East
(5)
Prophet adopting new, mean look (5)
L. Gang associate leading our gang to kindergarten is a spineless creature (7)
Italian commune with branch in Pennsylvania (5)
m. Common horseshoe found in tree (7)
With upset stomachs, felt dizzy (4)
n. New Jersev town ignoring southeast faction (6)
o. Copper and marble, with a yellowcoat (7)
p. Family tree almost covers one quarter of book (5)
S & L swallowing one's sole protection? (6)
r. Drink tavern brought up is for French author (8)
Colors doesn't make it with audience (4)
t. Bush is nothing new in commander-in-chief (8)
u. Scale brute's back (6)
v. To walk, lifted part of a boot (6)
(two words)
w. Song of colonist at border (6)
x. Tried to put up with Mr. Williams
(6)
Buddhist narrative skill American flips over (5)
NOTE: The instructions above are for this month's puzzle only. It is assumed that you know how to decipher clues. For a complete introduction to due-solving, send an addressed, stamped envelope to I'he Atlantic Puzzler, 745 Boylston Street, Boston, Mass. 02116.
Join the Crossword Puzzles of the Month Club and put your crossword skills to the test!
Become a member and receive five challenging new puzzles (and their solutions) every month! Edited by the noted crossword puzzle expert Henry Hook, these are not reprints, but original full-size puzzles with the same degree of difficulty as those in the Sunday New York Times!
Perfect for holiday gift giving - it's the gift that lasts all year!
Send us the names and addresses on your gift list and we'll send you elegant gift cards to present during the holidays. Then we'll start their
gift membership with the new January 1992 puzzles! An entire year's worth is just $29.95. (We pay all the postage.) Mail us your gift list - or sign up for yourself - today! Send check or money order to:
Crossword Puzzles of the Month Club
5311 Fleming Court Dept. 456 Austin. Texas 78744
Or call toll-free: 1-800-433-4386
and charge it to your MasterCard or Visa — 24 hours a day, 7 days a week.
Your satisfaction is guaranteed.