Beached: Brian Wilson as the Ultimate Bananafish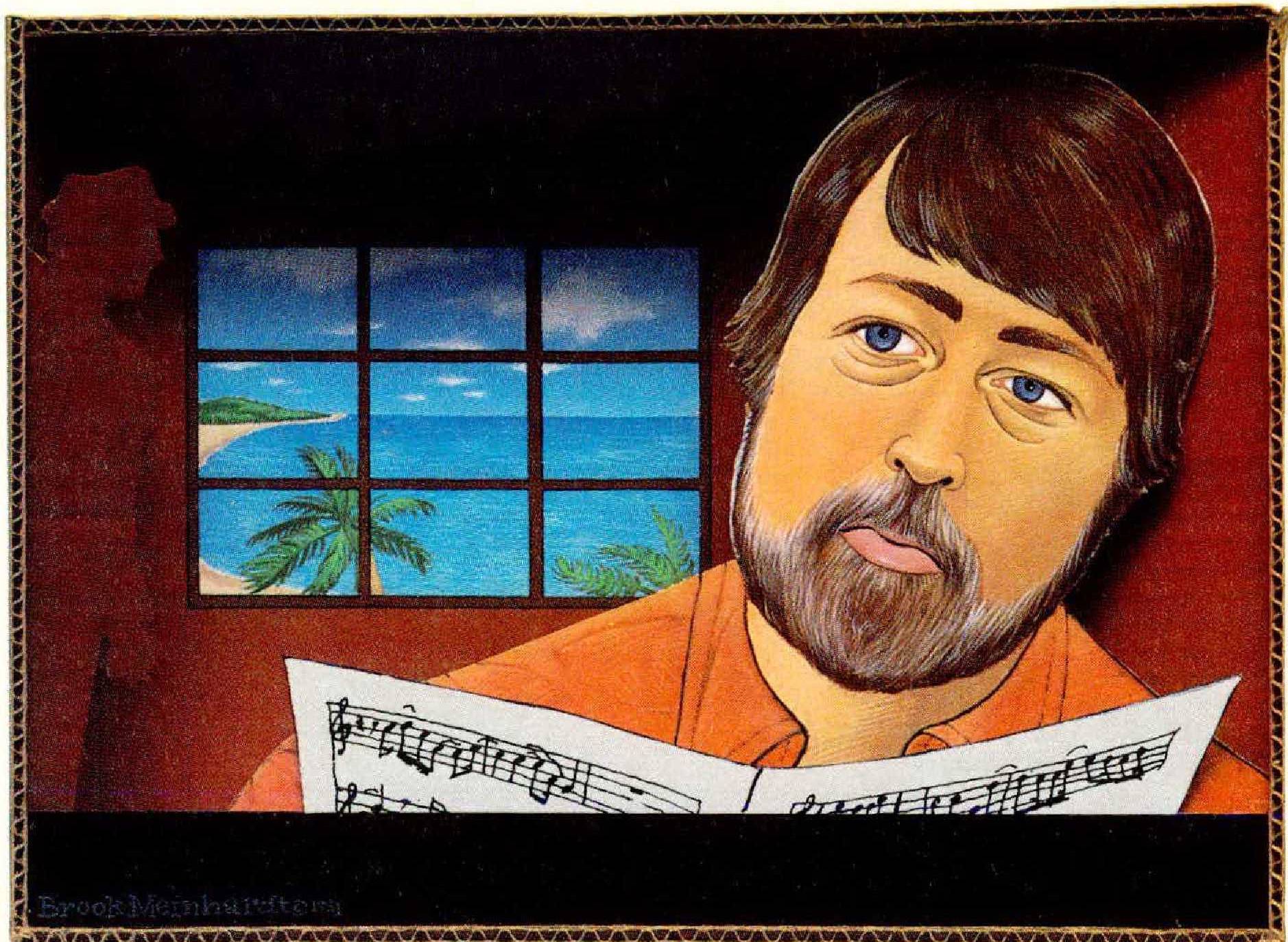 "Miss Carpenter. Please. I know my business," the young man said. "You just keep your eyes open for any bananafish. This is a perfect day for bananafish."
"I don't see any," Sybil said.
"That's understandable. Their habits are very peculiar."He kept pushing the float. The water was not quite up to his chest. "They lead a very tragic life."he said. "You know what they do, Sybil?"
She shook her head.
"Well, they swim into a hole where there's a lot of bananas. They're very ordinary-looking fish when they swim in. But once they get in, they behave like pigs. Why, I've known some bananafish to swim into a banana hole and eat as many as seventy-eight bananas."He edged the float and its passenger a foot closer to the horizon. "Naturally, after that they' re so fat they can't get out of the hole again. Can't fit through the door. "
—J.D. Salinger. "A Perfect Day for Bananafish"
LIKE MOST solitary activities, reading encourages daydreaming, and this might explain why a book can call up memories of another to which it bears absolutely no resemblance. I hadn't thought of J. D. Salinger's short stories for years, until starting Wouldn't It Be Nice?, the autobiography of Brian Wilson, the former Beach Boy whose songs for his group— about little deuce coupes, California girls, and the warmth of the sun—are themselves part of my generation's collective memory. (Wilson wrote the book with Todd Gold, a reporter for People magazine. ) "A Perfect Day for Bananafish" sentimentalizes childhood, ends with a suicide, and takes place, for the most part, on the beach. I first read it, in Salinger's Nine Stories, in the summer of 1963, when its author was still fashionable and the Beach Boys were on the radio with Wilson's "Surfer Girl."
When not lost in a book, I spent that summer fine-tuning my transistor with the skill of a safecracker, listening to all my local Philadelphia stations but pulling in signals from cities as far away as Chicago and Indianapolis on clear nights. It was on a station from Buffalo, of all places, that I first heard "Surfer Girl," a ballad so tender in its evocation of beaches and blondes that it sounded sunburned. Its intricate and shapely vocal harmonies, which I later found out were inspired by those of the Four Freshmen, a 1950s jazz vocal group, gave me goosebumps, even through the static.
But my reason for dragging Salinger into this is that Wilson is pop music's biggest bananafish—bigger than even Elvis Presley, who, in his own way, rewrote the book on the artist as social invalid, substituting gluttonous overindulgence in fats and pharmaceuticals for the asceticism of a Dickinson or a Proust (or the asceticism of Salinger and his tiresome Seymour Glass, bananafish of a leaner, more sensitive school). In an amusing anecdote in Wouldn't It Be Nice?, Wilson reveals that his only meeting with Presley, in a Los Angeles recording studio in 1969, ended with The King's shaking his head in disbelief and saying to his entourage, "Let's go, boys. This guy's crazy."
CELEBRITY-comeback sagas, the genre into which Wilson's book falls, usually begin with the narrator's having hit rock bottom and then backtrack in an effort to explain what precipitated the fall. Wouldn't It Be Nice? starts off in 1982, as Wilson—"a zonked-out zombie, a star-crossed sixties head who took a drug trip and never returned," "a grown man [then forty] who functioned with the emotional capacity of a deeply disturbed six-yearold"—is told of his expulsion from the Beach Boys. Wilson had formed the group in 1961. The other original members were his younger brothers Dennis and Carl, their cousin Mike Love, and Al Jardine, a football teammate of Brian's in high school in Hawthorne, California, a working-class suburb of Los Angeles. In the beginning record buyers probably had trouble figuring out which striped-shirted Beach Boy was which, but the group began as an extension of Wilson's vision as a songwriter and record producer. Although he generally didn't write the Beach Boys' lyrics, he did practically everything else.
"The songs might've sounded simple," Wilson observes later in the book, presumably meaning the Beach Boys' string of hits beginning with "Surfin' Safari" in 1962,
but the complex weave and backgrounds and textures were all thoroughly thought out before I ever got into the studio. Only after I heard the finished song in my head did I begin building the tracks in the studio. I knew exactly what instruments I wanted, the arrangements, and the vocals. Everyone learned his part individually, a process that made perfect sense to me because I knew how the final version would sound. But it left the other guys in the dark till the end, infuriated.
By 1982 what infuriated the rest of the Beach Boys was that Wilson's songs were never leaving his head, and perhaps not going on even there. "Back in those days, I was content to live inside myself, a mass of misery and confusion," writes Wilson, who, in addition to smoking five or six packs of Marlboros a day, was "consuming unthinkable quantities of junk food, booze, and cocaine," not to mention untold cups of "megacoffee," each made with as many as six spoonfuls of instant-coffee crystals and "sugar—lots of it." By then carrying 340 pounds on his once athletic six-foot-two-inch frame, Wilson also neglected personal hygiene, out of fear that the faucets in his bathroom would run blood, snakes, or fire. "In the past two years, I'd been sponged in the hospital and taken the rare dip in the pool, but I hadn't showered or bathed once."
Divorced from his wife, Marilyn, and discouraged by her from seeing their daughters, Carnie and Wendie (now members of the pop group Wilson Phillips), he was then living with Carolyn Williams, ostensibly his nurse but "more like a wife or girlfriend," and her three children. Williams kept Wilson supplied with "food and booze" but "otherwise left me alone."Indeed, he writes, she left him alone to the point of not bothering to phone for help when he passed out on the floor after inhaling four full grams of cocaine. When he came to, the next morning, she blithely asked Wilson to call his accountant to ask for money.
The call was to no avail. Wilson was "broke and in arrears to the IRS"—or so he was led to believe by the Beach Boys and their management, who were attempting to force him back into the care of Dr. Eugene Landy, an unorthodox California psychotherapist whom they had fired as Wilson's keeper five years earlier.
Wilson had ceased touring full-time with the Beach Boys in 1965, needing solitude to write the group's songs and produce its records. But along with drugs and the emotional wounds indicted on him by a physically abusivefather and an indifferent alcoholic mother, Wilson blames his nearly fatal tailspin on the strain of being both his group's auteur and its cash cow. In the early sixties, he writes, Capitol Records pressured him into delivering enough material for as many as four albums a year, and a contract the Beach Boys signed with Columbia Records in 1977 stipulated that Wilson—by then deep in his funk—had to supply at least 70 percent of the group's songs. Considering that Wilson's output had been decreasing since 1967 or so, when he had withdrawn into himself to work on Smile, his unrealized "teenage symphony to God," some might argue that his dementia resulted from his having taken to absurd extremes the hedonistic consumerism extolled in some of the Beach Boys' most famous songs.
This, however, strikes me as an uncharitable way of looking at Wilson's plight, even though it's true that the Beach Boys have become synonymous with summer and mindless fun on the beach, much as Guy Lombardo once was with New Year's Eve and hypocritical Auld Lang Synes. Along with "Fun, Fun, Fun" and the other joyrides most people think of when they hear the Beach Boys mentioned, Wilson has written songs that illuminate— as Mark Moses, who wrote about pop music for The New Yorker until his death, in 1989, eloquently put it— "the melancholy longing that hides just behind those songs' easy good times."
Moses cited Wilson's "In My Room,"a song whose anthemlike melody and lyrics (by Gary Usher, one of Wilson's numerous songwriting partners) delineate the fine line an emotionally isolated teenager is likely to draw between privacy and loneliness, as quite possibly "the saddest song in all of rock." Wilson himself refers to "In My Room" frequently in Wouldn't It Be Nice?, recalling either pianos in empty recording studios or the piano in the music room of his parents' house, the room he moved his bed into as a teenager. But even among Wilson's own songs "In My Room" faces stiff competition from the two that open and close the 1966 album Ret Sounds, his masterpiece.
"Caroline, No," the final number on Pet Sounds, is the ultimate breakup song, but it's also about "growing up and the loss of innocence," as Wilson describes it. Graced by one of his most touching and harmonically sinuous melodies, it ends with the sound of his dog barking at a speeding train. ("Can't you see me on the back of that train," Wilson asks his wife, without waiting for an answer. "I can. Just going away.")
What is so affecting about "Wouldn't It Be Nice?," the surging, up-tempo song that opens Pet Sounds, is its virginal ebullience: it's a teenager's idyllic vision of what married life will be like, which urges you to forget that things seldom work out that way. Songs such as these (and such as "The Warmth of the Sun," "Don't Worry, Baby," and "I Just Wasn't Made for These Times") enable us to overlook the adolescent specificity of their lyrics. Divorced men and women who hear "Wouldn't It Be Nice?" probably find themselves thinking of their ex-spouses and wondering what went wrong.
The sad songs can also affect the way we hear Wilson's odes to joy. Written by a young man who spent far more time on the piano bench than on the beach (and whose ocean phobia prevented him from ever mounting a surfboard), Wilson's songs turn out to be less about fun than about the unfulfilled desire for it. I think that's why they struck a chord with me as a teenager who had no access to a car, much less to surf, and I know that's why they strike a chord with me as an adult.
ASIDE FROM Wilson himself, the central figures in his autobiography are his late father, Murry Wilson, and his shrink. Wilson says that his father terrorized him as a child, savagely heating him and once even throwing a newspaper on the kitchen floor and ordering him to defecate on it. A second-rate songwriter himself (a group called the Bachelors recorded his "Two Step Side Step" in 1952, and Lawrence Welk once played it on TV), the elder Wilson appointed himself the Beach Boys' manager. After badgering Brian into signing over the publishing rights to his songs, Murry sold the catalogue, in 1969, for $700,000—petty cash, given the millions of dollars that Wilson's songs have earned for their publishers in the years since. (Brian Wilson, the only member of the group or its various songwriting teams who stands to benefit from a reassignment of the publishing rights, is now challenging the 1969 deal in court.)
Eugene Landy is the man Wilson credits with springing him from his bananahole. A strict behaviorist, Landy put Wilson under round-theclock team surveillance, believing that (in Wilson's words) "if the patient's behavior was changed, his feelings and emotions would change accordingly." Regaining control of Wilson in 1982 and immediately weaning him from drugs and empty calories, Landy brought his weight down to a fit 186 pounds within three years, Wilson says. To teach Wilson self-reliance, he enrolled him in a wilderness-survival program. He retaught him such everyday skills as shopping for groceries and making small talk at the dinner table. (At one moment in Wouldn't It Be Nice?, Wilson, following Landy's instructions to look people in the eye and introduce himself, says before a concert, "Hello, I'm Brian Wilson," to his daughter Carnie, whom he has failed to recognize.)
"The only person I'd ever really listened to before was my dad,"Wilson writes.
I listened to him solely because he made me. He beat me. He threatened me with pain. He tortured me psychologically. . . .
Lo and behold, Landy comes into my life and he has the same power. He beat me too—but not physically, like my dad. He beat me at my own Scrabble game in my head. It was dumbfounding how he got inside my head, knew my thoughts. . . .
But Landy had more in common with Murry Wilson than Brian indicates: the good doctor fancied himself a songwriter too. With Landy's encouragement Wilson started writing songs again and resumed his recording career with an uncertain-sounding solo album called Brian Wilson, released in 1989. Landy's name appears alongside Wilson's as co-composer (presumably lyricist) of two of that album's eleven songs, and on three others Wilson shares credit with Landy and Alexandra Morgan, Landy's longtime fiancée.
In 1988, shortly before California's Board of Medical Quality Assurance challenged Landy's credentials on the basis of a complaint filed in 1984 by Carolyn Williams, Landy released Wilson from his care, referring him to a colleague and becoming his (as Wilson explains it) "friend, partner, and manager." Citing the stress that court proceedings would put on Wilson's fragile psyche, Landy agreed to a two-year suspension of his practice in California, although he remained licensed to practice in New Mexico and Hawaii.
Last April 1 Landy agreed to dissolve his business partnership with Wilson and to have no contact with him for a period of ninety days, in exchange for which Carl Wilson, of the Beach Boys, agreed to postpone what amounts to a custody suit for his brother.
Wouldn't It Be Nice? thus ends like a cliffhanger, with Brian Wilson's fate still uncertain even at press time. Aside from these recent developments, the book reveals little that anyone who has followed Wilson's and the Beach Boys' fortunes over the years doesn't already know. The old news includes Wilson's sexual relationship with his wife's older sister, Diane, and his unconsummated desire for her younger sister, Barbara; the drowning death, in 1983, of Wilson's brother and fellow drug abuser Dennis; and the musical disagreements between Wilson and his cousin Mike Love, who from the beginning opposed Wilson's moodier and more experimental songs, and under whose de facto leadership the Beach Boys have become middleaged teenagers, an enjoyable to hear but painful to watch oldies act. All of this and more has been detailed in other books, most notably Steven Gaines's exemplary Heroes and Villains: The True Story of the Beach Boys, which was published in 1986.
Still, like the dog barking at the train at the end of "Caroline, No," or like the idealistic optimism of the song from which Wouldn't It Be Nice? borrows its name, Wilson's unironic telling of his sad and often sordid story can break your heart.