"PLEASE TELL everyone it rains here all the time,"anyone A who has lived in Seattle more than a few months begs a visitor. Each of the stream of new arrivals wants to be the last to discover the advantages of living in a city as beautiful, cosmopolitan, and untroubled as any in the country. During my recent visits so many people entreated me not to join the chorus extolling the city's "livability" that I will comply: Seattle is a nice place to visit but you wouldn't want to live there.
In fact you don't have to move to Seattle to experience its many pleasures, and if you visit in the late summer, you'll have the best chance at sunny weather and your pick of Washington's extraordinary produce. I went to Seattle last summer and this spring to try out restaurants and hotels and explore the city, and on both visits I spent a lot of time looking at signs. The city seems to define itself by them. Every new restaurant, bar, or gallery seems to have a striking neon sign. My favorite, for the Elephant Car Wash, near the Space Needle, dates from around the time of the 1962 World's Fair; the car wash is still popular. Faded wall paintings show the sixties logos of products like Sprite and Pepsi. They seem an appropriate reminder of the openness and optimism, and also the innocence, of the early sixties. This is the feeling that any visitor to Seattle takes away, and one reason that being there is so enjoyable. Even the punk adolescents, with their bleached hair and black clothes, look clean. (Although Seattle recalls the America of a slightly younger time, Seattleites now speak only half jokingly of moving to Portland, because it's like what Seattle used to be.)
Seattle is adapting trends in food, lodging, and design in its measured, unfrenetic manner. The city is starting trends, too, as San Francisco and Berkeley did in the seventies and eighties, when the Bay Area was a magnet for young people looking for a good place to live and ways to show that they knew the good life. In Seattle those ways aren't conspicuously concerned with definition of self, as they have been in California, or with the display of money, as in New York.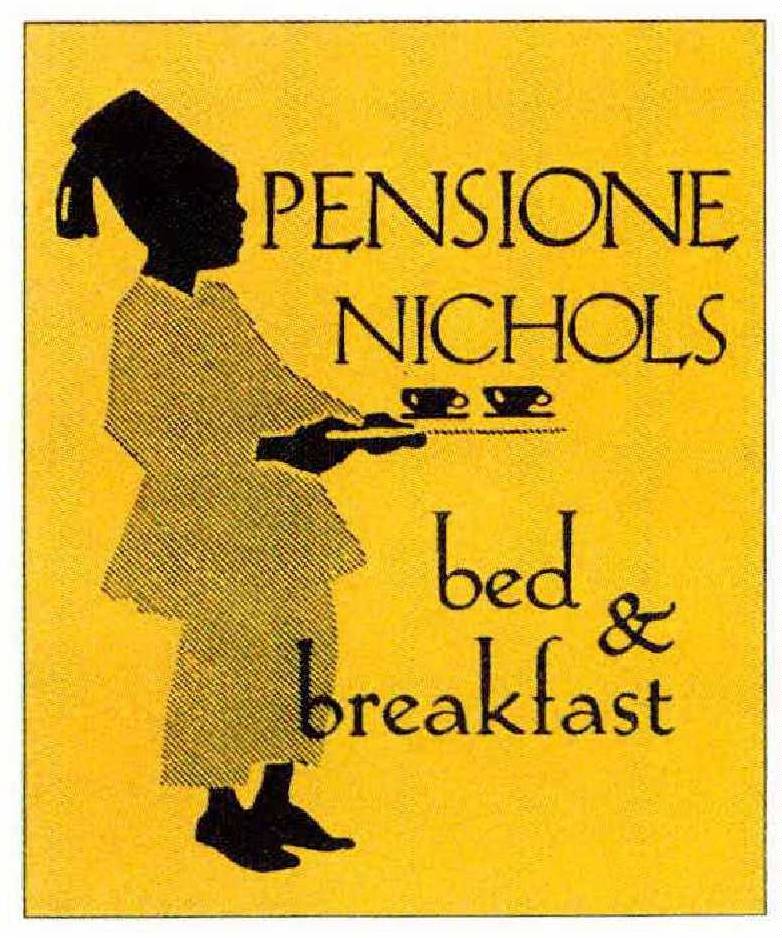 In the past two years food critics, smelling something new, have journeyed to Seattle to look into Northwest cuisine. They come back stimulated but baffled, because there are so many good cooks and so much good fresh food but as yet no clear definition of the local style. Chefs don't copy each other, vying to produce the best version of a famous local dish. Each takes inspiration from various cuisines and follows his own line. Schuyler Ingle, who wrote the excellent Northwest Bounty, with recipes by Sharon Kramis, points out that the region is too young, and its interest in food too recent, to have established a style. Many recipes in the book are listed under the rubric "Defining a Pacific Northwest Style." Today any visitor who likes eating finds himself squarely in the middle of this experimentation, watching chefs spark off each other and their favorite cuisines, all using the plentiful local seafood, including the ubiquitous salmon in its several varieties and many kinds of oysters; vegetables, among them many kinds of wild mushrooms and exotic salad greens; and fruits, especially berries— more kinds than most people have heard of.
This creative activity is reminiscent of the moment, ten years ago, when young American chefs discovered "American" food at the same time they discovered the foods of other cultures, especially Mediterranean and Asian ones. Even now Seattle is carrying on a love affair with Italy, notably in the astonishing proliferation of espresso carts all over the city; and cooks pay careful attention to Asian dishes and flavors, aware that they are on the Pacific Rim. But in Seattle the activity is calm and the scale small. The American food revolution occurred when restaurants were flourishing. Today the slow economy has closed restaurants across the country and caused a retreat into safe food. Perhaps the relatively few restaurant closings in Seattle can be explained by the lower prices people expect to pay for meals. More than $25 a head is considered suitable only for special occasions, and meals at the very fanciest restaurants rarely come to more than $50 a head.
THE BEST EXAMPLE of talent and eclecticism in Seattle restaurants is probably Tom Douglas, the chef-owner of the Dahlia Lounge, in a dramatic Art Deco building with Aztec touches just across from another Art Deco building, the Bon Marché department store. The Dahlia's decor, with its high walls and columns painted in Chinese red, touches of gold paint here and there, Japanese papiermâché fish lampshades, and floral brocade upholstery, is a clue to the menu—all over the map. Douglas, a burly, freewheeling man of only thirtytwo who has led the way for imaginative chefs in Seattle, is a master of Asian seasonings and textures. His Chinese noodles with red and green peppers, served as a side dish, are better than the lo mein that most Chinese restaurants serve. Douglas can't be typed, though: just as good is his jackcheese tortilla, melting cheese in a papery tortilla reminiscent of Arab bread and served on an ancho-chile sauce with a hot kick of chipotle pepper. His crab cakes, made from the prized sweet local Dungeness crab, are considered the best in town. The main courses are often less exciting than the appetizers, so you might want to make a meal of appetizers and the lush and very good desserts. Whatever comes with caramel sauce is worth having for the sauce, and a coconut cream pie, with lots of whipped cream and flakes of fresh coconut, can resell anyone on a dessert that is usually gooey and cloying.
Just a few blocks away is my favorite restaurant in Seattle. Campagne identifies itself with the south of France, but its location is as emphatically Seattle as any to be found: the Pike Place Market. Because so many people do their marketing at Pike Place, the public's knowledge of exactly what is fresh on a given day "holds the cook's feet to the fire," in the words of Alf Collins, a former restaurant critic and the publisher of Professional AGENDA, a newsletter on events in Seattle. Campagne is in a new building a few steps above the market, next door to Sur La Table, the best kitchen-equipment store in the country. From its windows you can see the islands of Puget Sound and the ferries steaming between them and the nearby terminal, which is adjacent to Seattle's superb aquarium. Visitors go to the aquarium in the fall to watch salmon jump up the glass-bottomed ladder. The salmon is the unofficial emblem of the city and the official one of Campagne, which features at least one salmon dish each night. I'm partial to Campagne because it's right at the market, because the restaurant and the bar, which stays open late serving light food, always feel relaxed, and because in warm weather you can eat in a brick courtyard that seems secluded in a bustling place. Tamara Murphy, the new cook, has a great respect for raw materials and for sauces, and she prepares them very well.
If you're looking for straight Pacific Rim dishes, you can go to Nikko, on the edge of the International District, south of downtown, for what some say is the city's best sushi. Near the market the logical choice is Wild Ginger, whose owners, Rick and Ann Yoder, met while studying fishery at the University of Washington and decided to open a restaurant after spending almost two years traveling around Southeast Asia. The cooks, from China and Southeast Asia, prepare dishes from Indonesia, Malaysia, Burma, Thailand, Vietnam, and various regions of China. To the credit of the cooks, the dishes don't all taste the same or even run together in memory. Most diners start with a variety of satays from the satay bar, and include at least one curry among their main dishes, since the menu offers several distinct ones: a bracing Thai curry with green chili and Siamese ginger, for instance, and a Panang curry both sweet and pungent, with cardamom, mace, shrimp paste, lemon grass, lime peel, garlic, and coconut milk. Wild Ginger has caught on, and its mahogany booths are almost always full; it's best to go at lunch, or early or late for dinner.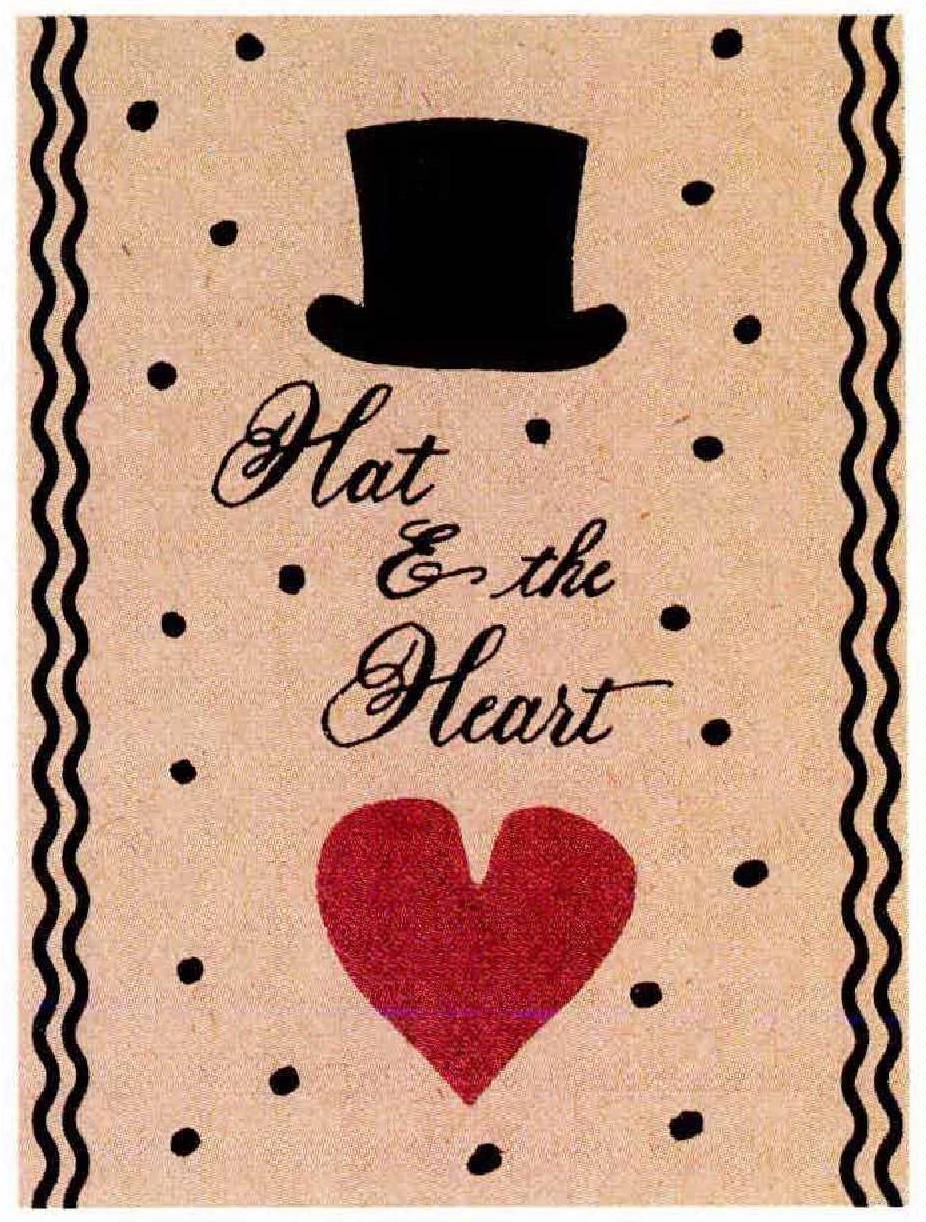 Italy has established a near-colony in Pioneer Square, a restored district about a fifteen-minute walk from the Pike Place Market where Romanesque Revival buildings now house cafés and art galleries. The Grand Central Bakery, in an impressive former hotel, sells rustic Italian bread that has become a Seattle cult. The olive and walnut breads are irresistible, the soft potato loaf and sweet bread are excellent too, and the wide, flat white Como loaf is a fixture in the city's choosiest restaurants. You can order a sandwich at the bakery's lunch counter and eat it in the building's inner court or the plaza behind. For coffee afterward go across the way to Torrefazione Italia, a startlingly authentic espresso bar whose coffee, available by mail (800-8272333), I like very much. (Most of the Italians I met there had come as designers or engineers for Boeing.)
WILD GINQLFU
ASIAN RESTAURANT & SATAY BAR
French cooks, too, have been among the many foreigners Seattle has drawn. Thierry Rautureau, a highly regarded chef, serves fish at his white, cottagey restaurant, Rover's. Discriminating locals assure me that Rautureau is a skilled cook who knows when to stop; to my dismay I didn't have a chance to eat at his restaurant. Rover's is on the edge of a delightful neighborhood, Madison Park, which is near the popular Japanese Garden, at the 200-acre Arboretum. Beside the restaurant is an odd and original shop, Hat & the Heart, where you can find modern folk-art birds and Victoriana so striking that it escapes the quaint.
Best of all, across the street is Fran's Chocolates, whose handmade chocolates I find the best in America for their simplicity, depth of flavor, and restrained sweetness. The Gold Bar, an adult candy bar with chewy caramel and almonds in Belgian chocolate, has already acquired a national following; the bottled dark-chocolate and caramel sauces should too. You can order Fran's truffles and creams by mail (the telephone number is 206-322-6511), but you can taste the rich tortes and cakes only by going to the shop. I don't usually like chocolate desserts, especially not ones with butter cream. Fran's is worth an exception, and worth a trip.
VISITORS TO A fishing port usually seek dockside fish houses. The most famous is Ray's Boathouse, an extremely successful restaurant and café on several levels and terraces looking onto the water. About a twenty-minute drive from downtown, it is near Fisherman's Terminal, which was rebuilt in 1988. At Ray's I had very good alder-smoked salmon, boiled Dungeness crab, and kasu cod, which is marinated in the dark lees of saki; the fish couldn't have been fresher or of higher quality.
But my heart went to Chinook's, a restaurant right at Fisherman's Terminal. One wall of the big, open room is of glass and is just a few yards away from the docks where hundreds of small fishing boats moor; through another set of windows you can see a macadamized lot where fishermen mend nets stretched on stanchions. The architecture of the terminal is handsome, simple, and appropriate. So is the restaurant, with its wood-slat walls, nautical lights strung from the ceiling, high counters with stools, and band of lithographs of old fish-can labels running around the walls.
Chinook's transcends its fish-house formula by catering also to the fishermen themselves: a requirement of the restaurant's lease is that they feel comfortable there and be able to afford the food. Tourists and natives come (residents of the nearby Ballard neighborhood congregate for breakfast on weekends), but so do fishermen, who nurse mugs of coffee and survey the crowd. As a result, the place looks like a cross between a yuppie wateringhole and the set of a Eugene O'Neill play. There are all kinds of local fish and beers to choose from; of the many microbrewery beers produced in and around Seattle, Ballard Bitter is the current favorite.
At Chinook's I ate a dessert that was one of the best I've ever been served in a restaurant, because it tasted like a dream of home cooking: a wild-blackberry cobbler, packed with tiny, sharply flavored berries in a tart syrup under a thick, flaky, buttery crust. The cobbler costs twice as much as the other desserts, because of the very high price of wild blackberries, and it is on the menu year-round, because small berries can be successfully frozen. It comes to the table right from the oven.
IF YOU WANT to sleep as close to the water as Chinook's is, you can try a bed-and-breakfast on a tugboat, the MV Challenger, on Lake Union—something I didn't do. I did stay at a number of downtown hotels, and made sure to eat at many. Hotel restaurants here compete as innovators, as they used to in other cities until economic realities made them dull again. Among hotels the Four Seasons Olympic, in the middle of the shopping and business district, is in a class by itself—the only really grand hotel in the city, and still the focus of the local carriage trade for special-occasion meals and charity balls. The lobby is worth a visit if you're not staying there, for its swags of leaves, fruits, and flowers, carved in the early 1920s of light-colored oak in a style reminiscent of the eighteenthcentury English master Grinling Gibbons. The Four Seasons chain, which is my favorite anywhere for its combination of luxurious comfort and unpretentious but letter-perfect service, spent a fortune ($60 million) in the early 1980s to renovate the carvings and rebuild the rooms, enlarging them considerably. Many were furnished at the time in an anonymous style in cheerless colors; the colors are slowly being made warmer as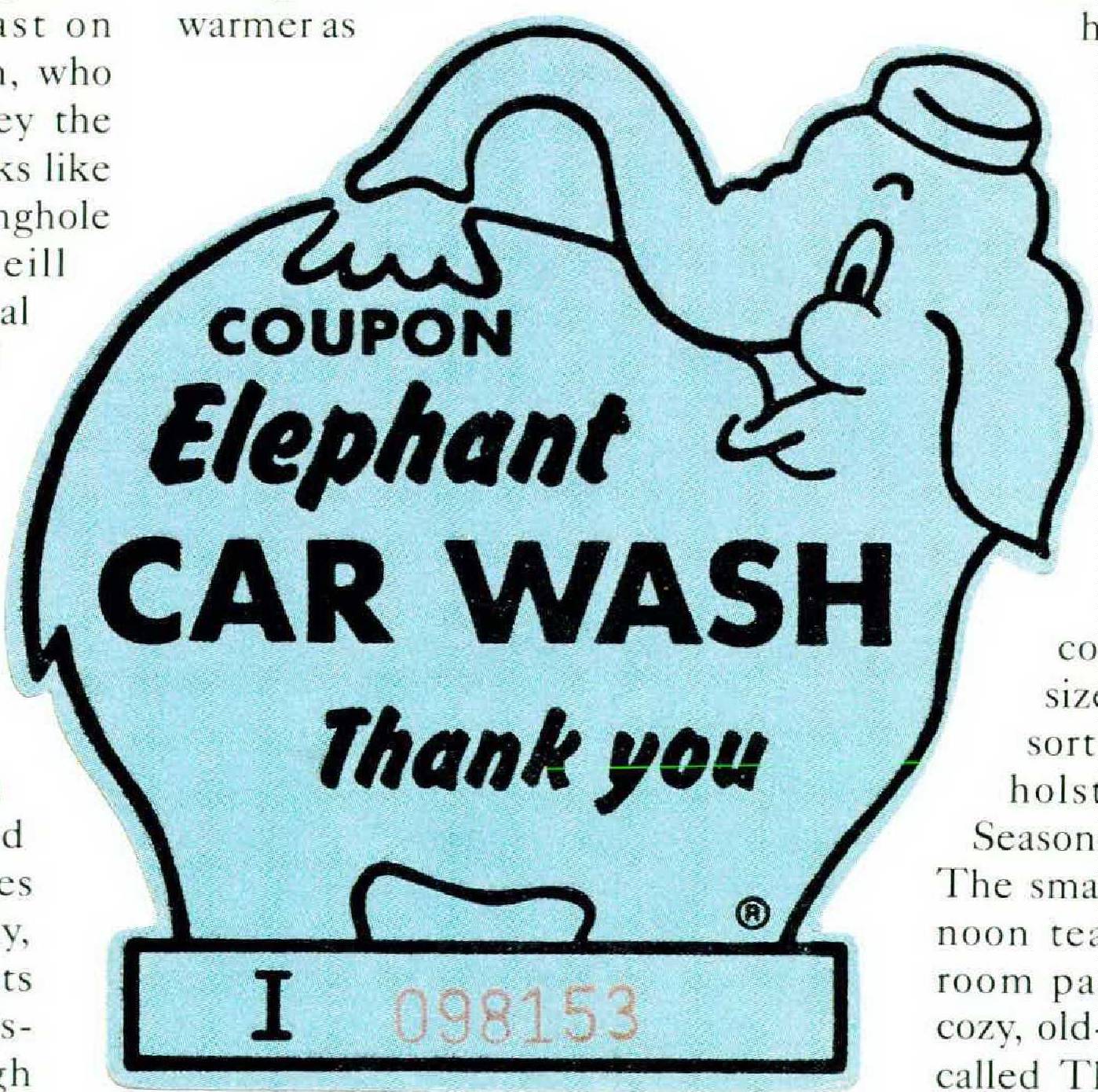 COUPON
Elephant
CAR WASH
Thank you
the hotel redoes the rooms. When I stayed, the service was all I expected from the chain, and it merited the prices, which start at $170 for a single room and $200 for a double.
Recently a new chef arrived in the Olympic's high-ceilinged Georgian Room, a dowager of a dining room distinguished by enormous glass chandeliers, potted palms, and the same carvings around tall, arched windows. Kerry Sear, the chef, is said to draw all his dishes on paper before he cooks them, in the manner of Alain Senderens, one of the founders of nouvelle cuisine. As you can imagine, the results are nice to look at but not always interesting to eat. For example, as a garnish Sear stacks tomato slices with layers of the region's famous dried cherries, or he artistically bends thin slices of banana or blue potato, fixes their shape in a deep fryer, and piles them on one side of a plate (Sheryl Julian, a Boston food writer, calls this trend toward stacking "vertical cuisine"). The main dish under it all is often good—for example, a perfect salmon steak with a cilantro and olive-oil sauce. And the desserts, for which whimsical and studied presentations are more appropriate, are very good. I especially liked a stack of buttery oatmeal lace cookies (more vertical cuisine) filled with lemon curd and garnished with candied lemon peel.
The Sorrento is another renovated hotel, in a 1909 brick building with ltalianate touches that make it look like a typical urban hotel of the era. It sits on the slope leading to Capitol Hill, a fashionable residential area, and the back looks out over downtown and Elliott Bay. Because it was built around a circular courtyard, many of the rooms have odd angles; the architectural interest compensates for their smallish size. The rooms have the same sort of comfortable, deeply upholstered furniture as the Four Seasons, but in darker, richer tones. The small, formal lobby, where afternoon tea is served, is an octagonal room paneled in mahogany, with a cozy, old-world feel. The dining room, called The Hunt Club, also has dark wood, which with its low ceilings unfortunately makes it claustrophobic. The room is so confining that it's hard to enjoy the food of Barbara Figueroa, one of the city's star chefs.
Another star chef at a hotel restaurant is Caprial Pence, who cooks at Fullers, at the downtown Sheraton. Fullers comes out first in many city restaurant polls. Pence, a charming woman from Portland, Oregon, who trained on the East Coast, has an assured hand with seafood and meat, and almost everything that comes out of her kitchen is awfully good (well, the desserts need work). But the low-ceilinged, windowless, aggressively beige restaurant is uncomfortably formal, with big tables it's hard to talk across and heavy plush chairs that drag against the beige shag carpeting.
The Inn at the Market wins the charm prize, both for its intimate, country-house lobby and courtyard and for its location, just across from Campagne at the Pike Place Market, which affords views of Elliott Bay from some of the rooms (you pay more for the view). The rooms, in bleached wood and light-colored chintzes, all have small coffee brewers. These come in handy, since the room service is limited and uncertain. I'd stay there to be so close to the market. A sister hotel, the Alexis, is down the street, on the way to Pioneer Square but in a not especially interesting neighborhood. I found the rooms self-consciously up-to-date, odd in a carefully restored turn-of-the-century hotel; but they're big, and there are a number of suites with fireplaces. Rooms in both hotels start at $145 for a single and $165 for a double. If you stay at either hotel, you can for a fee work out at The Seattle Club, a superbly furnished health club at the Pike Place Market where everyone wears a T-shirt that means something.
On a budget, I'd stay at the Pensione Nichols. Its signboard alone, on a sidewalk at the market and showing a Moorish boy in silhouette carrying a tray with two cups of coffee, would lure me in. Lindsey Nichols, an energetic young woman whose mother owns an antiques shop on the ground floor, serves as the ever-present hostess at a true pension upstairs, where the rooms are small, clean, and simple—no closets, just pegs; no sinks or toilets in most rooms but shared bathrooms; sometimes no windows but always skylights. The feeling in the large sitting room, where breakfast is served and which has a view of Elliott Bay, is cordial and relaxed but also faintly formal, as in Europe. The prices—$50 for a single room, $70 for a double (breakfast included)—ensure that the pension, which Nichols plans to expand onto other floors, is fully booked in the summer.
I FORMED AN attachment to Seattle as soon as I saw the espresso carts at nearly every downtown corner and in front of most department stores. What people really drink is milk with espresso or brewed coffee with milk, in many forms—Seattle has developed an entire vocabulary for coffee drinks, based on but not equivalent to those in Italy. A "breve," for instance, isn't "short" at all but is made with steamed half-and-half in place of milk. "Latte" has become virtually synonymous with "cup of coffee," as in, "I haven't had my second latte yet."There are many mocha and sweet drinks, most of them pretty bad. To my surprise, I did like a drink made with liquefied Frangos, the chocolate mints associated with Marshall Field, in Chicago, but originated by Frederick & Nelson, a Seattle department store. The booth outside the store serves the drink with espresso from one of the city's leading roasters, Caffè Mauro. The two Espresso Vivace carts, one downtown and one on Capitol Hill, also use Caffè Mauro, and their very skilled baristas can keep straight a bewildering variety of special orders.
The style setter for the city and even the nation is Starbucks, a locally based chain of specialty coffee stores, each as carefully designed as anything in Italy. They sell all kinds of brewed coffee and espresso, and many varieties and roasts of coffee beans (these are available by mail; the number is 800-4453428). The quality of coffee is in fact a great deal better than what you get in Italy. Anyone in need of a coffee education should go from branch to branch of Starbucks.
And anyone in need of a jolt but wary of caffeine should order a shot of wheatgrass juice at the Gravity Bar, on the ground floor of the Inn at the Market (there's a larger one on Capitol Hill). One coffee retailer who has given up caffeine calls it "organic speed," and the young people behind the counter dispense it as if it were epinephrine. "Have you had any caffeine?" they demanded when I ordered a shot. "Meat? Sugar?" The wheatgrass juice, they explained, is a detoxifier, and will make you dizzy if it has to "fight with" toxins recklessly consumed earlier in the day. If you swear that you're clean, they will clip grass, grown for seven to twelve days, from a wooden flat and put it through a juicer. The juice comes in a shot glass, and by the time you get it, you wonder just what kind of drug you're paying $1.25 a dose for. The taste is sweet, concentrated, and very fresh. I took the precaution of chatting with the attendant for a few minutes, to be sure I remained steady on my feet. When I left, I did feel energized. But it might have been knowing that I was only a few steps from the market.