The Chicago Jazz Festival, held annually since 1979 in Grant Park on Labor Day weekend and broadcast coast to coast by National Public Radio, could serve as a model for all other summer jazz festivals, both musically and ideologically.
The concerts are free. Although produced by the Mayor's Office of Special Events, the festival doesn't cost Chicago taxpayers a penny, thanks to cosponsorship by a variety of local businesses and national corporations and hotel/motel tax moneys earmarked for just such cultural events. Unlike JVC New York, Chicago has a real festival atmosphere: the concert stages are outdoors, within sight of Lake Michigan, and the presentation of many styles of jazz on each of the afternoon and evening bills encourages fans to be tolerant of one another's tastes. But the festival's most utopian aspect might be that it appeals to the multitudes (attendance this year is expected to reach 400,000), though it is programmed by experts from the Jazz Institute of Chicago.
This festival is virtually the only one in the United States to acknowledge that jazz has become international. In past years there have been standout performances by the French-Algerian pianist Martial Solal and the German trombonist Albert Mangelsdorff, among other infrequent visitors to these shores. This year (August 29 to September 1), there will be a lavish orchestral tribute to Chicago jazz, blues, and gospel by the Swiss pianist and composer George Gruntz. The lineup also includes Wynton Marsalis, Jay McShann, Gan Burton, Elvin Jones, Ray Anderson, Ralph Moore, and the two-piano team of Ramsey Lewis and Billy Taylor, among others. For information call 312-744-3370.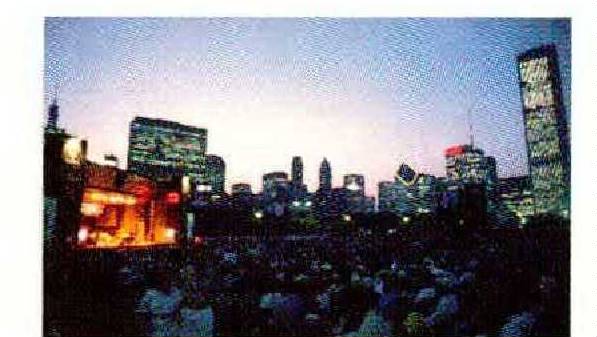 —F.D.
■ Milo Miles comments on world music National Public Radio's Fresh Air.
■ Francis Davis writes about jazz for The Philadelphia Inquirer and The Village Voice.