Europe's California: Portugal Is a Land of Opportunity-for Travelers, Among Others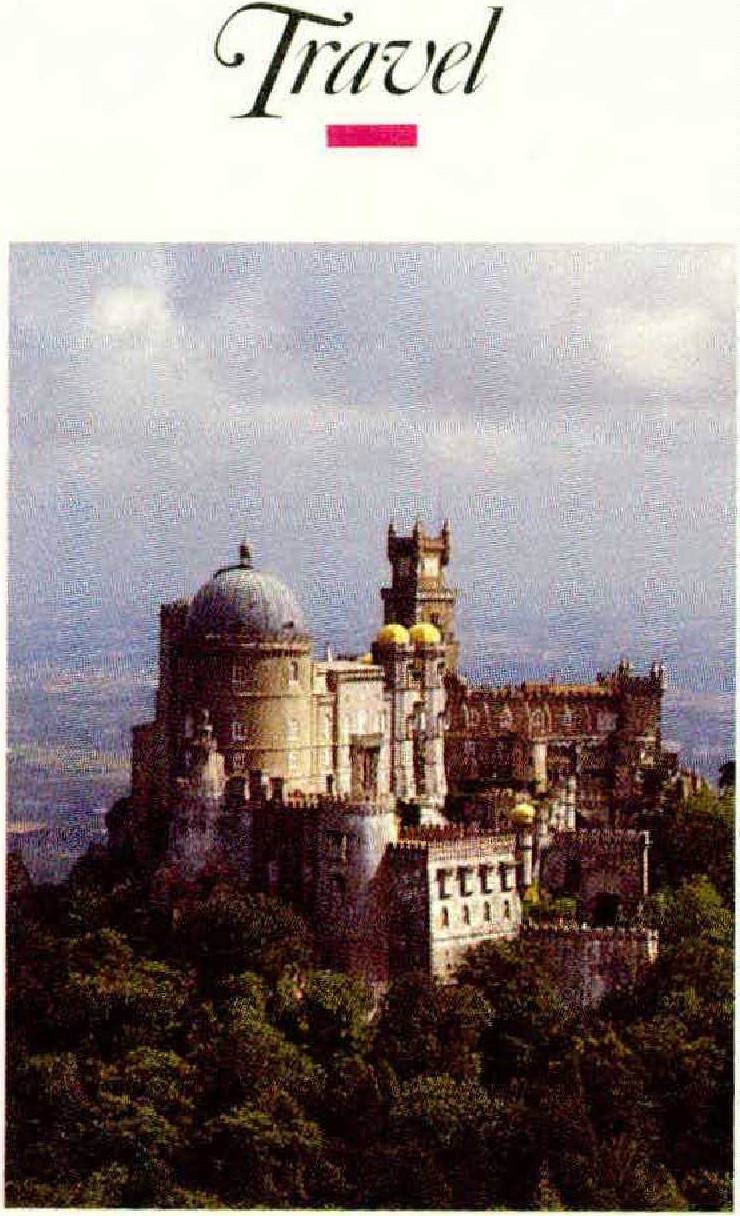 THINK OF contemporary Portugal as you would the California of the 1920s: a sleepy paradise of rugged mountains, magnificent beaches, and Iberian-style villas crawling with bougainvillea which ambitious immigrants from the east are transforming beyond recognition. In Portugal's case, the easterners are Germans, Dutch, Britons, and others from the heart of Europe who are heading west to visit, to set up small businesses, to start new lives. Instead of Manifest Destiny there is the 1992 process of European economic integration, which is resulting in a flow of hundreds of millions of dollars in development aid from Brussels, the European Community capital, to Portugal. A large percentage of Portuguese households still lack running water, as was true of California households seventy years ago, and so bringing water to the countryside is a centerpiece of the development strategy. Because change is taking place so fast, not all of it is well planned. The Portuguese landscape is being plundered by factories, ugly apartment blocks, and — in another intimation of 1920s California—garish mansions built by newly rich business moguls. The old Portugal has to be seen now, before it is gone.
Though small on the map, Portugal has a mountainous topography and a lack of good roads which make it, in terms of the time required to get from place to place, as large as California. Portugal is a universe, alone unto itself on the Atlantic. (Significantly, Portuguese from the Azores and Madeira refer to mainland Portugal as o continente, "the continent.") The Atlantic determines Portugal as much as the Pacific does California, making Portugal a brooding and contemplative counterpoint to the loud and show-offy lands of the Mediterranean. Conifers and chestnuts overshadow the palm trees and cypresses in Portugal's forests. Suggestive of intimacy in the face of a cold and heartless ocean, thick, warming soups laden with garlic, cabbage, and the occasional slice of spicy sausage typify Portuguese cuisine.
I have strong feelings about Portugal, because for two years my family and I lived there. What drew us to Portugal, and what marked our sojourn, are two things that rarely go together: adventure and tranquillity. We lived in a whitewashed house decorated with blue-and-white-painted tiles, with a red-clay roof, that looked out over a mountainside of mammoth vine-swathed trees and mottled stone walls painted every shade of gray by centuries of salt winds from the Atlantic. Not too far away was an isolated beach carved out of the darkest of green bluffs, with fantastic rock formations rising sheer out of an ocean untamed by breakwaters. In summer we went as long as six days straight without running water, and I had to haul buckets from a mountain spring. For heating in winter we huddled around a fire. But unlike Greece, where I had lived for seven years, or Spain and Italy, which I visited, Portugal didn't assail us with the whine of trucks and motorcycles, or eruptions of loud, animated talk: the Portuguese are a quiet race, and their peculiar Latin language, with its drawn-out consonants and swallowed vowels, sounds like the swishing of ocean waves. Never have I been so relaxed and yet, in terms of my work as a writer, so productive.
From this description you might think that we lived in a remote area. Actually, we lived forty-five minutes from downtown Lisbon, in the suburb of Sintra. In a few years, inevitably, improved water and electric systems, and a modern highway linking Sintra to the capital, will boost its population and thus undermine its ambience.
Unfortunately, enjoying Portugal means working around the country's worst aspect: its awful driving conditions. Portugal's cratered mountain roads are rarely straight or level. Cars with automatic transmissions are almost unheard of. Portuguese drivers love to speed, to tailgate, and to fly around curves in the wrong lane with only their beeping horns as protection. You are five times as likely to be killed driving in Portugal as in Great Britain. Therefore a canny traveler will keep driving to a minimum, while seeking to get the most out of what's left of the old Portugal. My advice is to combine a visit to Lisbon and Sintra with an excursion by train and boat to the wine country of the far north.
LISBON IS CLEANER and quieter than any other major city in southern Europe, having managed to retain the neighborly charm of an earlier era. Trolley cars creak up and down hills as steep as San Francisco's. The streets are cobbled. The architecture is made up of red-clay roofs, weathered stone, and azulejos, the blue-and-white tiles, which resemble Chinese porcelain vases. Little restaurants and cafés abound, prices are reasonable, and the crime rate is low.
Sintra is only a commute away. With cool summers and wet, foggy winters—the climate is much like northern California's—
Sintra is a dreamy realm of royal castles, dense forests, and wild and secluded beaches that elsewhere in the world one would have to drive for hours, or days, to find. Adraga was the beach nearest us. However, nearly all the beaches from Guincho north number among mainland Portugal's most beautiful. The most spectacular point on the coast here is Cabo da Roca ("Cape of the Rocks"), a windswept, end-of-the-earth-looking headland with churning ocean several hundred feet below. This is the westernmost point on the European continent. A road through the forest connects Cabo da Roca with Pena Castle, an eccentric mountaintop blend of Gothic, Byzantine, Moorish, and Renaissance styles. In fact, the Sintra region is so special that rather than stay in Lisbon and make excursions to Sintra, I would do it the other way around, and use the inexpensive commuter trains. A luxurious hotel in a fairy-tale setting is the late-eighteenth-century mansion that is now the Hotel Pálacio de Seteais (Avenida Barbosa do Bocage, 8-Seteais, 2710 Sintra). It has eighteen rooms; doubles with breakfast go for $150 a night. They're worth it. And less expensive inns and manor houses abound in the Sintra area. The local tourist office, or the Portuguese government tourist office in the United States (212-354-4403), will have a list.
IN FACT I prefer the northern city of Oporto ("The Port") to Lisbon: it is even more intimate, rainier and colder, more Atlantic in character, and thus more purely Portuguese. Don't even think of driving to Oporto from Lisbon: at three hours and twenty minutes, the trip by rapido train takes half as long, and the route is more scenic. Oporto's Sāo Bento station is an architectural masterpiece, its massive entrance hall lined with azulejos depicting the Portuguese entry into North Africa, and other historical scenes.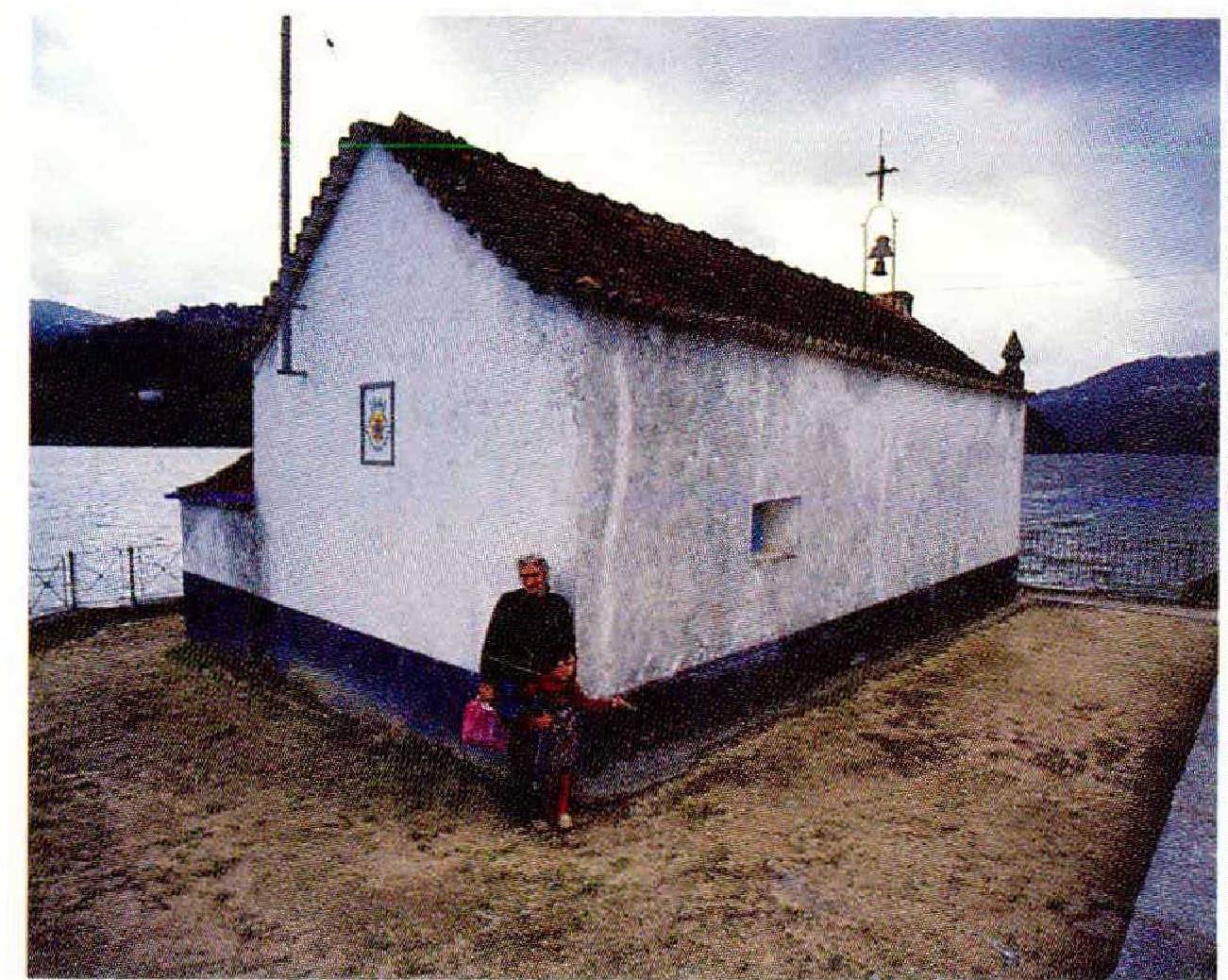 Oporto is, besides, the place to begin a trip through the lovely Douro River valley, which is the heart of portwine country. Port is made from grapes grown on terraced mountainsides in northern Portugal and then fortified with brandy and aged in wooden casks. The result is a dessert drink both rich in color—generally "ruby" or "tawny"—and subtle in taste. On the bank of the Douro opposite Oporto are the storage lodges of the main port-wine companies. Here you can sample all the different kinds of port, including a new white port, which is marketed as a dry aperitif. The Grande Hotel do Porto (Rua de Santa Catarina, 197, 4000 Porto) is centrally located on a pedestrian road, and it has a wrought-iron Art Nouveau façade, a lobby with fleshy-pink columns, and a Belle Epoque dining hall whose white ceiling and pilasters are trimmed with gold leaf. (A room for my wife and me, with an extra bed for our son, cost $79.)
We arranged a tour of the Douro River valley through a company called Endouro (Rua da Reboleira, 49, 4000 Porto). The first leg was a train ride to Peso da Régua, eighty miles up the Douro — eastward, that is—from Oporto. The view was arresting throughout the two-and-a-half-hour trip. The steep hillsides were green with vines, at first all hung from high trellises. This is vinho verde country, where almost every estate makes Portugal's light and sparkling "green wine," best drunk in summer. Closer to Peso da Régua, where the train crept along the steep bank of the Douro, the vines hung nearer to the ground: we had entered port country.
At nine the next morning we embarked on a cruise back down the Douro to Oporto. Though the word douro means "golden,"the river was a silvery, almost tropical blue, exhaling a bluish haze that rose over the black soil and green vines on the hillsides and gave the entire landscape the aura of a dusty old tapestry. Besides the vines there were cork and olive trees, an occasional palm, and a line of scintillating poplars reflected in the water. The Douro, like all significant rivers, is nor just a river but a world of its own. The world of the Douro includes the steep mountains on both banks and the nottled stone churches and port plantations that come into view around each curve. This is a landscape more meditative than any other I have seen in southern Europe.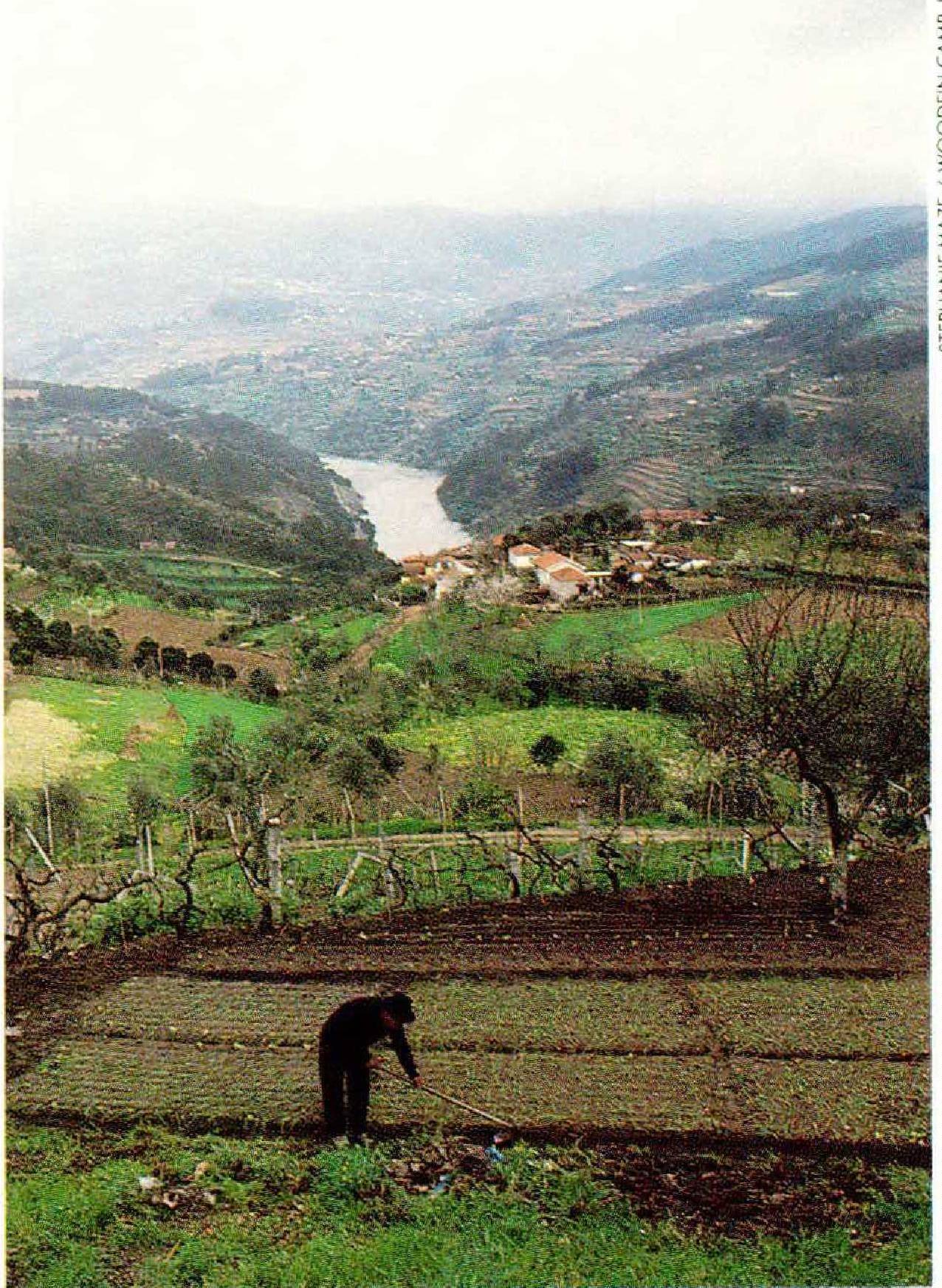 After a few hours the boat reached Carrapatelo dam. As the water drained out of the lock, I stared at the towering gate that protected us from a press of water the height of a five-story building. For lunch we disembarked at the medieval Gothic cloister of Alpendorada. Under pine ceilings and amid azulejos and antique furniture, we feasted on potato-and-carrot soup, veal, young goat, rice, red and white Douro table wines, and custard. Back in the ship's dining room came the coffee. Red port was also available.
The traveler who wishes to see more of Portugal might choose, after riding the train to Oporto, to rent a car and explore the north, where—except for the main access roads to Spain—traffic is light. Another relaxing possibility is to tour the Alentejo, a region of white cubistic villages, clean and silent, that punctuate a rolling green plain in the eastcentral part of the country. The lack of mountains there makes for the easiest driving in Portugal.
Fearless drivers may be glad to know that virtually anywhere in the country travelers who speak only English have a much easier time than they would in neighboring France or Spain. Whenever possible in the countryside, stay at a pousada, one of the thirty-two country inns belonging to a government-run network. Here a traveler is lodged in the kind of cozy and artistic setting, and receives the kind of gracious service, that is less and less available in Europe. Many of the pousadas are situated in what were once farms and monasteries, but even the modern ones have a special atmosphere. I once stayed at the Pousada da Ria, north of the town of Aveiro. Its location, at the edge of an eerie lagoon, had inspired the decor: wicker and mint-colored furniture set against white walls, with watercolors and disc-shaped lamps, and no televisions in the rooms. (A double with breakfast cost $76.) With port wine after dinner, and piped-in fado—a sad and exquisite fusion of African, Brazilian, and Moorish melodies, brought back to the continente by Portuguese sailors—the evening retained the kind of Old World elegance that is tragically growing scarce.