Raw Truth and Joy: Ray Charles Cuts Through His Smoothness With Jolts of Musical Pleasure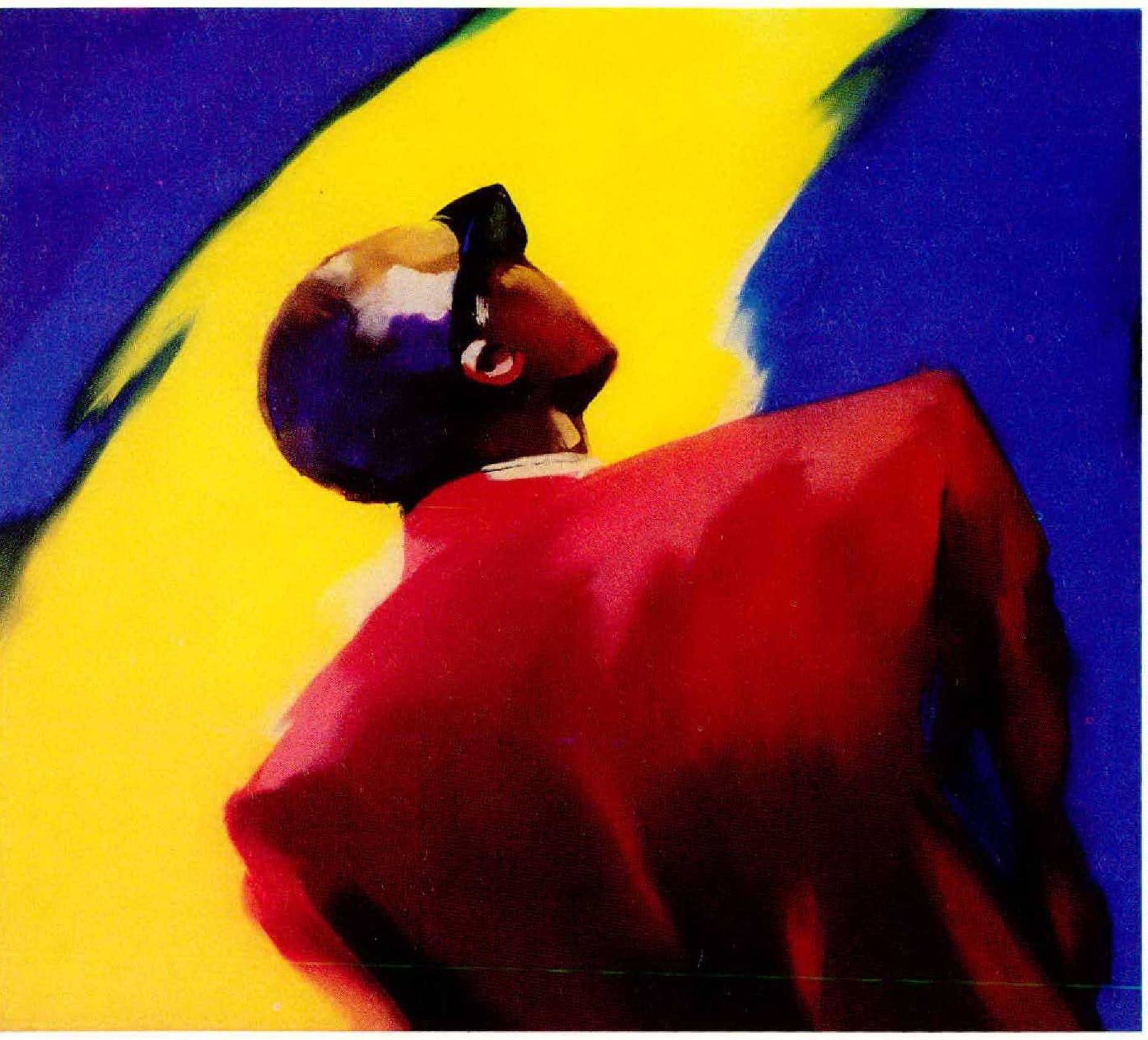 RAY CHARLES is sixty. The gray hair that once touched his temples with distinction now crowns his whole head, and he has earned the title he was introduced with each night of a recent engagement at the Blue Note jazz club, in New York—"The Legendary Genius of Soul" — many times over. In the thirty-five years since he merged rhythm-and-blues and gospel in "I Got a Woman," the crossover hit that opened the pop market to his sound, Ray Charles has grown unstoppably as a musician. Listening blind to the sounds of life around him, he has absorbed whole idioms as if by osmosis—blues, jazz, country, and ballad—reinvigorated them with his empathy, intelligence, and sexy sense of humor, and then sung them back to the world. Listeners love the contrast of his rough-sweet voice with the sound of his big band, strings, and chorus. With each year Charles's music becomes more playful and profound, and displays richer understanding. "Seniority by sonority" determines precedence in music, Dizzy Gillespie says. By this standard, I think, Ray Charles ranks among the masters of modern music.
Ray Charles has succeeded so well in making music for millions that today he swims in our common consciousness. Who, for example, is Ray Charles to you? You may own a dozen of his albums, or just a battered copy of The Ray Charles Story, Vol. One. Or you may own none, but when you were in high school, your parents took you to a concert, or you danced to "What'd I Say" at a great party one summer night. Perhaps you've seen Charles in the movie The Blues Brothers, with Johnny Carson on The Tonight Show, or kidding around with Joe Montana in Diet Pepsi ads.
My earliest vivid memory of Ray Charles's music dates from 1961: "Hit the Road, Jack" blasting out of dormitory windows freshman year at Yale. For a few years, caught up with the Beatles, the Stones, and Dylan, I didn't listen to Charles much. Then I heard him with Aretha Franklin at the Fillmore West in 1971, and devoured his two masterpiece albums from that era, A Message From the People and Volcanic Action of My Soul. This time my bond with Charles has lasted, becoming stronger every time I hear his music.
Like any fan, I love my idol most for the jolts of musical pleasure he's given me: dazzling piano solos during a week of shows at the Circle Star, near San Francisco, which are still etched in my mind eighteen years later; the first time I heard him sing "Oh What a Beautiful Morning," on Saturday Night Live in the fall of 1977. Until Charles's version I had never really heard Hammerstein's line "All the sounds of the earth are like music." I love the conspiratorial "heh-heh" Charles throws into a lyric whenever lie's moved by silliness. Every time I hear Ray Charles in person, at some point he breaks through the smooth surface of the entertainment with surges of communication so intense as to be almost painful. At the Blue Note the moment came at the end of "How Long Has This Been Going On?" when a scream cut across the trumpets' high harmony like a chainsaw through polished parquetry. For a long five seconds I and the entire audience sat stuck in our seats before we could scream back in welcome release.
In calmer moments I can put my admiration for Ray Charles in context, seeing him, for instance, as a direct descendant of Louis Armstrong's in the extended family of African-American music, an older brother of Aretha Franklin's, and an uncle of Stevie Wonder's. Charles broke through to a wide audience as a member of Chuck Berry's and Bo Diddley's rock-and-roll generation; his big band connects him to Duke Ellington and Count Basie; his comedy links him to the singer and saxophonist Louis Jordan, who also wrote "Let the Good Times Roll,"one of Charles's greatest hits.
In Brother Ray (1978), his autobiography, Charles says that the pianist Art Tatum is the only musician of whom he stands in awe. When he first met Tatum, in the early 1950s in a Los Angeles nightclub, he remembers, "I couldn't utter a word. ... I just stood there like an idiot with my mouth open and my heart beating so fast that I was sure everyone around me could hear it thumping." Influenced by Nat King Cole, Charles became both a singer and a pianist, yet his keyboard style, in its florid variety, is as distinctive as Thelonious Monk's spare singularity. In Charles's piano I hear black gospel and white country-and-western, funky Horace Silver and cool Ahmad Jamal, even flashes of B. B. King's blues guitar.
Ray Charles stands among the most influential pop vocalists of the century— Bing Crosby, Billie Holiday, Frank Sinatra, and Elvis Presley. What an expressive instrument his voice is! Like his peers, Charles knows how to use the microphone to sing intimately to the listener, but none of the others attempts his range of vocal tone and color. He can talk a lyric with the plainspoken eloquence of Ella Fitzgerald or howl it as inarticulately as James Brown. Fans in the fifties heard raw truth in Charles's voice and dubbed him the "High Priest"; every song is still a sermon of unimpeachable authority.
Sustained success in the frankly commercial realm of popular art can depend as much on business acumen as on craft. Ray Charles has shown himself to be an uncommonly astute entrepreneur. Only in his early years with Atlantic Records did he sign the standard recording contract that gives an artist royalties but few rights over the shape and marketing of the finished product. After he jumped to ABC-Paramount, in 1960, Charles and his right-hand man, Joe Adams, built headquarters in West Los Angeles for Ray Charles Enterprises. Called the RPM building, it houses the company's three divisions—touring, music publishing, and recording. Its heart is its studio, where Charles has been making his albums for twenty-five years, often engineering them himself. His Tangerine Record Corporation leases the masters he creates at RPM to major labels for distribution—Atlantic and Columbia in the eighties, and now Warner Bros. Though the sums involved are smaller, Ray Charles has staked out a commercial position with the same rugged independence as Clint Eastwood, who produces (and often stars in, writes, and directs) films through his own company.
WOULD YOU BELIEVE?, released last fall, is Charles's latest album and his first with Warner Bros. From the opening cushioned chords of "I'll Take Care of You," with a snare drum playing on the offbeat and Charles entering with a long and softly burred "Awww girl," I believe. Charles takes "Your Love Keeps Me Satisfied" as a blues cruise, skimming through a keyboard solo like a sea gull over dancing waves. "Ellie My Love" sounds like a modern Nashville ballad to me, but in fact Keisuke Kuwata wrote the music and original Japanese lyrics, and Charles's English version, first heard in Japan in a TV commercial, has already been a smash hit there. The rollicking groove of "I Can't Get Enough" ("of your sexy stuff") reminds me of Charles's jumping R&B sides for Atlantic. "Let's Get Back to Where We Left Off," a duet with Peggy' Scott, is Charles in his lushest popPuccini mode.
So far my favorite song is side two's comedy opener, "Child Support, Alimony." The beat is nineties rap, but Charles's put-upon-male routine has been cracking up audiences in Harlem's Apollo Theater for fifty years. "She's eating steak, I'm eating baloney," he complains; "The witch!" his sympathetic buddy murmurs. From "Fresh Out of Pears" leaps a classic Ray Charles line, "A million dollars' worth of tears ain't worth a quarter." Charles sings "Living Without You," a poignant tune by the film composer Johnny Mandel, at the classic slow four-four tempo he often uses to bring out all the ache in "Georgia on My Mind." After dipping back into comedy with "Where're the Stairs?" (he's in a woman's bedroom and her boyfriend is at the door), Charles closes dramatically with "Leave Him!" underpinning with raspy electric guitar and harsh slapping chords from the brass the story of a woman afraid to leave a violent man.
Would You Believe? connects strongly to Charles's past. It is also his first experiment with a recording technique that has become commonplace in the past decade: using synthesizers, sound samplers, and drum machines to create the instrumental tracks and sometimes (though not on this album) even the ahhs and oohs of vocal background. Until now Charles has recorded instruments at RPM, hiring top Los Angeles session men to play arrangements by Quincy Jones, Sid Feller, and Mike Post, and then mixing the tracks to highlight the exquisite timbrel effects, gleaming steel guitars, and piano notes splashing like pebbles in a pond. This time the songwriter-producer Jimmy Lewis brought Charles prerecorded instrumentals for five of the album's tunes. (Lewis worked with Charles first in 1969, on Doing His Thing, an entire album of Lewis tunes.) Lewis sketched the sounds of each song in his home synthesizer studio and then had the sketches realized by the synthesist Charles Richard Cason.
This means, for instance, that the guitar and brass sounds on "Leave Him!" were made not by six strings and by taut lips on a mouthpiece but by Cason on a keyboard he had set to the proper parameters. Recording with synthesizers instead of a live band is simpler for the producer, Lewis told me recently. "No more hiring twenty guys to hang around the studio because the bass player is stuck on the freeway."The precise yet diaphanous quality of Cason's sound, not convenience for the producer, was what attracted Charles, however. "With Ray, it's always got to sound good," Lewis said. "When I played him the tracks, he liked them. If he hadn't, he wouldn't have sung to them."
Though Charles made adjustments in spots—for example, adding conga drums to "Where're the Stairs?"—the sound Lewis designed for him fits Charles like a second skin, "He loves horns," Lewis said, "so I gave him plenty." The five songs Charles produced have a looser, more "live" feel than Lewis's, but they, too, are more synthesizer than band. Unless I'm listening for it, I don't hear the difference. I simply enjoy Charles's voice set in the album's coolly contemporary ambience. Would You Believe? glows with all of Ray Charles's most saturated colors, this time synthesized into airbrushed neon.