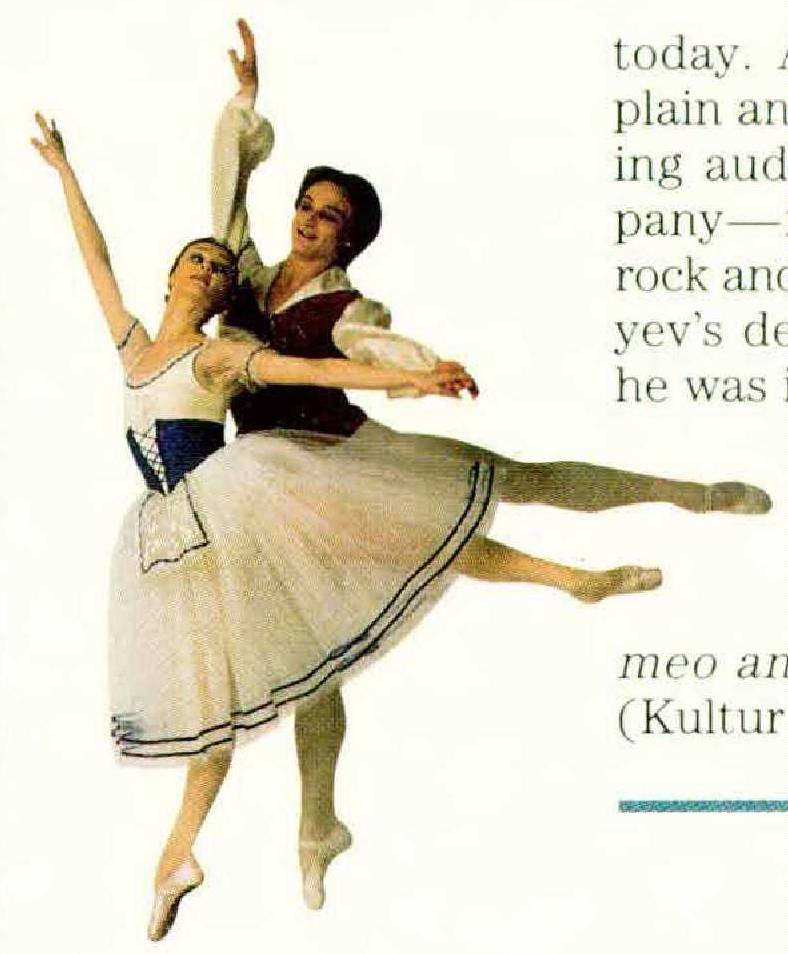 Currently touring America's heartland, the Kirov Ballet will make stops in Iowa City, Lincoln, Indianapolis, Minneapolis, Chicago, Houston, Cleveland, and Detroit. This company may be the only Soviet troupe left that has something to teach us about classical dance: it has made a metaphor of its Iron Curtain isolation. If the Bolshoi, which toured the U.S. this summer, looked quaint and compromised by its lack of exposure to Western trends, Kirov dancing speaks of hard-won wisdom and stone-smooth rote, frightening solitude and pride of place, conscious glamour and duty fulfilled. And the Kirov continues to produce great women. Witness the Athena-like size and sweep of Yulia Makhalina, the comet's-tail speed of Yelena Pankova, the girlishly engaged dancing of rosy Zhanna Ayupova.
An important dimension of Russian ballet has been alive and well and living in America—in the dancing of Kirov defectors Nureyev, Makarova, Baryshnikov; in the New York City Ballet repertory of Kirov-trained George Balanchine, who transplanted the spirit, if not the letter, of Maryinsky classicism. That's why the first thing the Kirov did before its tour last year was request permission to perform some Balanchine ballets. The implications were eloquent. The Kirov presented both its own full-length Sleeping Beauty and Balanchine's distilled, neoclassical Theme and Variations, his Beauty seen through a crystal ball. It was the first step toward a future the company had been denied—an instance of reverse humility and self-knowledge.
To those who won't be able to see the Soviets or the defectors first-hand this season, two remedies recommend themselves. The 1986 Kirov Ballet production of Don Quixote on video (Kultur) is a great way to see the company as it looks today. As Kitri, Tatyana Terekhova is plain and strong, with accents of streaking audacity. She speaks for the company—for the fire it lights between a rock and a hard place. Upon Rudolf Nureyev's defection from the Kirov, in 1961, he was instantly hailed as the new Nijinsky—hard to believe if you've seen him dance lately. An array of Nureyev videos is available; begin with the classic 1966 Romeo and Juliet, with Margot Fonteyn (Kultur), the lady to his bright tyger.