New York City: Subway Orpheus
The unpredictable pleasures of a busker's life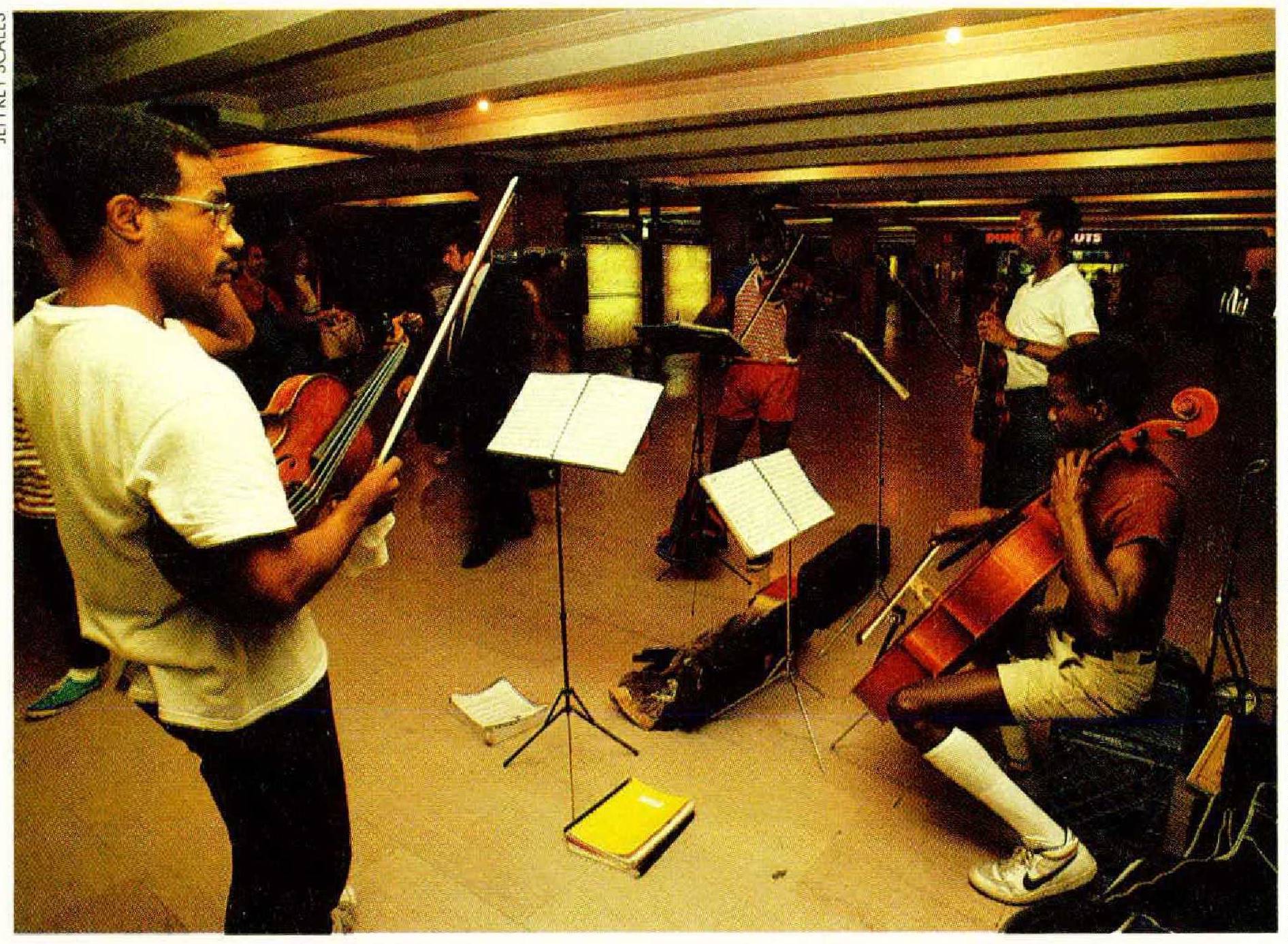 FOUR P.M. ON A muggy Tuesday. We—the 9th Street Stompers— set up outside the turnstile at the 23rd Street station on the Lexington Avenue line. I plug in my guitar. Damn! A high-pitched whine leaks from my amp; it must be something in the subway's electrical system. Oh, well. I turn down the treble and ignore the problem. Dave Lewis blows a solemn E-flat on his tuba, I strum the major chord. We're in tune. Ed Fennell finishes oiling his trumpet valves and slips the plastic bottle of oil back into his case.
"What's the first call?" Ed asks Martha Sanders, who is fitting her bass drum onto its three-legged stand.
"'Blue Skies," she says. "One, two, one, two, three, four,"' and we're off.
Blue skies? Our sky is the grimy ceiling of a Manhattan subway station, and were busking for whatever the sweaty commuters rushing past toss into our cardboard box. In this hole in the ground what right have we to Irving Berlin's sunshiny optimism? Are we nuts? No, we're musicians.
YOU COULD CALL music in the subway an oxymoron. Many riders sensibly wear earplugs to block out the shattering clash of steel on steel, which, echoed and amplified by porcelain walls, can drown out conversation and even obliterate thought. Yet the subway's rocketing rhythms drive Billy Strayhorn's immortal jazz tune "Take the A Train," and even two-day tourists long remember the underground din, along with honking cabs and chattering pneumatic drills, as brass fortissimi in the city's grand unfinished symphony.
Live music in the subway has a sporadic past. As long ago as 1871 musicians played a grand piano that stood in the waiting room of New York's first subway, the short-lived Beach Pneumatic Underground Railway. More recently, says Glenn Smith, of the Electric Railroaders Association, a group of subway enthusiasts, "since the folkmusic days of the sixties, there's always been somebody down there, even if it was one old guy with a violin. Nothing like today, though."
Subway music is at a historic high, at least in New York. The most important reason for its rise is that in the past five years the Metropolitan Transportation Authority, led by Robert R. Kiley, has switched from fighting the musicians to supporting them. "I could tell that subway music really pleased people, and gave musicians new opportunities," says Kiley, who became the MTA chairman in 1983, "Of all the things I've done here, starting the music has been the most personally enjoyable." With Kiley's encouragement a pilot program began in 1985, and in 1987 it became, with the help of a $75,000 grant from General Electric, the current Music Under New York program, which auditions musicians and assigns them spots and times to play without fear of being hassled by the transit police.
Another reason that subway music has grown is the Mouse amplifier, introduced in 1978 by Lectrosonics, a company in Albuquerque, New Mexico. Mouse amps make electric music truly portable: they're light and tough, and their rechargeable batteries last a year or more. The Mouse sound is a bit dry and can distort at high volume, though these problems can be overcome with special-effects pedals or by linking two amps. New York City is Lectrosonics' biggest Mouse market: more than 16,000 have been sold here since it was introduced.
Before the MUNY program we Stompers had long been ducking into the subway when nasty weather drove us from our usual sidewalk stages. I remember one spring of rainy but lucrative Saturdays on the platform at 34th Street when the circus was at Madison Square Garden. The only problem was that the spots we wanted were often taken: the harmonica wizard William Galison or one of the proliferating Peruvian groups would be there before us. Becoming a MUNY group changed our status. We received T-shirts, a banner, and a blue-and-white permit that gave us official precedence. Soon we were staying underground even in good weather.
There have been some noise/volume complaints from station masters and transit officials. For everyone's sake, try and tone down amps and brass instruments. . . . Thanks!
—from a MUNY newsletter
THREE CAPABLE people run MUNY: the program manager, Gabriche Shubert, of the MTA's Arts for Transit office, and Michael Leavitt and Gina Higginbotham, of MPL Productions, consultants who take care of daily details. All are former musicians. Before earning a master's degree in government at New York University, Shubert busked with the Linden Woodwind Quintet, now a MUNY group. All three respond sympathetically to our comments on which stations work and which are duds.
MUNY's only rules are commonsense ones to avoid danger and obstruction. Its system is simple for us and other groups to follow: we call in every other Friday, giving our availability and the spots we prefer. Higginbotham then makes assignments, pleasing as many groups as she can, and mails out permits. If a group gets a better gig and cancels, that's okay—if the group phones in. "It's your only failing," Higginbotham says. "Even when we've arranged TV coverage, you forget to phone in!"
MUNY holds open auditions every December, and accepts nearly all comers. It now rotates more than seventy-five groups and solo artists around twenty-five locations. "We're always scouting out new spots," Leavitt says. "A hot new one is the Citicorp Station, at Fifty-third and Lexington." Shubert says, "We also keep reaching out to get a wider variety of musicians, because such a wide variety of people ride the trains." The current roster includes folk, rock, blues, jazz, classical, tango, Afro-Cuban, and Latin groups, and also the Cajun cellist Sean Grissom, the spoons player Joseph "Mr. Spoons" Jones, and Bob Grawi, who plays the Gravichord, an electric stringed instrument of his own invention.
"We must be doing something right," Shubert says. "MTA marketing research reports a seventy percent positive response to the music."
THE DOWNTOWN platform on the Broadway line at Columbus Circle. For a few blessed moments no train has gone by, and in the quiet a small crowd has gathered. It's my call, so I decide to try one of my original songs.
"La vie, it's a comedy," I sing, the Stompers backing me up. "You have to laugh, ha ha, at all the funny things that happen every day." As if on cue, uptown and downtown express trains roar by, and I mouth the second stanza into an impenetrable wall of noise. Listeners who had caught my first lines chuckle at my predicament. Very funny!
REINALDO (he prefers that his real name not be used), a singer-guitarist from the Dominican Republic, is one of many subway musicians not in MUNY because they prefer to play when and where they please. The MTA tolerates these troubadours uneasily. Last fall it issued new regulations that banned amplified music on the station platforms beside and between the tracks—the spots officially approved by MUNY are in the corridors and on the mezzanines. Arguing that the platforms are so noisy that a ban on amps is a virtual ban on music, Reinaldo and other independent subway musicians took the MTA to court and within two months had the law preliminarily blocked (at this writing the appeal is pending).
Reinaldo came to New York thirteen years ago, at age thirteen, attended SUNY-Oneonta, and has been playing the subways for six years. His voice, a light, expressive tenor, goes through a microphone clamped to his green electric guitar. He also plays a harmonica in a holder and stops and starts a drum machine with a foot pedal. "I do originals, but mostly Spanish pop," he says. "I add any new songs that top the charts. For my audience, I have to." Beside him stands a large yellow sign that announces that Reinaldo will gladly sing at "Celebraciσnes, Como Solista ocon Acompañante, Todo a Precios Considerables." A small white sign urges passersby to "Tome una Tarjeta"—take a card.
One recent afternoon at the 34th Street BMT station people listened and gave money but no one took cards, and Reinaldo was discouraged. "Too many people confuse music and noise,"he said with a tired grin. "I'm doing okay, but it could be better, could be better."
SUBWAY MUSICIANS are a hardy breed, made comrades by the obstacles we face together. We may look bohemian, but inside each of us is an ambitious artist-entrepreneur. The business cards we proffer are tokens of our long-range strategies for success.
We play the subway for three reasons: music, money, and audience.
Music: Musicians love to play. Before Ed and Martha show up, Dave Lewis and I often play as a duo. For the first ten minutes we chat over the day's disasters—checks "in the mail," misplaced house keys, broken escalators. Then we start to play "Ain't Misbehavin'," and soon all that matters is the touch on this particular string, finding just the right crescendo as we enter the bridge. As we end, Dave leans to me and says, with an ineffable smile, "Music cures everything!"
Also, the low attention level of commuters makes the subway a perfect halfway house between practice room and stage. We often rehearse in public, and the few riders who notice encourage our efforts at self-improvement. I studied jazz guitar on my own before joining the Stompers, but my real apprenticeship has been three years of four-hour subway jam sessions—learning to fly by being free to stumble.
Money: A diligent busker can average $20 plus a day, subsistence for a single person paying low rent. Set up and play, and within a few minutes something will fall into the pot. The diligent busker is also selling cassettes— the Brazilian guitarist Caleb Arruda, for instance, has sold 4,000—and getting, as we Stompers do, a flow of wedding and party gigs. Sometimes people tell us, "You're too good to be playing in the subway." They don't know that by nightfall we may be in tuxedoes, playing high above Park Avenue.
Plus, as I put it, "Little money protects big." Unprotected, $150 from an aboveground gig gets eaten up by groceries and guitar strings. A steady cash flow of subway singles and loose change, however, frees chunk earnings to cover chunk expenses like the dentist and the phone bill.
Audience: On this subject all subway musicians become lyrical. "These are real people," says Roy Campbell, a trumpeter. "No veils, no cover-up. If they say they like you, you know you're doing something right." "The listeners are so sociable," says Debbie Spitz, a flutist. "They stop, they talk—I love it." "And those smiles when they hear a song they know," says Ron Wolfe, a pianist. "People tell me, 'You made my day.' I tell them, 'You make my day every day!'"
Playing for polyglot New York—humanity met at random one by one—is a continuing artistic challenge. Faces pop out of the stream—an old black woman, a Chinese businessman, three giggling Spanish girls. What can I do to reach them? How to connect in the moment before they are gone? Ed Fennell, our trumpeter, offers a formula: "Play the best you can on every note; people respond to beauty."
We have occasional problems with drunks, rowdies, and prowling thieves, but the blues singer Ted Williams speaks for us all: "Subway audiences are wonderful. Things may be hell for them at home, and the job they're going to may be worse. I try to put them at ease, let them breathe a minute. See, I play to make everybody feel the way I do when I play. When you listen to me, you're listening to somebody you already know."
FRIDAY AFTERNOON, just as the city begins to slow down for the weekend. In a busy Grand Central hallway, between a newsstand and a Dunkin' Donuts, the West Village Quartet sets up to play. The violist Kenneth Edwards stubs out his cigarette; the violinists Carlos Baptiste and David Burnett exchange glances and nod. Kenneth Pearson opens Pachelbel's Canon in D with a grave quarternote melody on his cello. Each in turn, the others join in.
Until this moment the restless swoosh of countless footsteps has been the only music in the marble corridor. Now sounds of string and wood, artfully interlocked three hundred years ago, assert themselves. What Emerson called "the witchcraft of harmonic sound" casts its spell over the passersby, and many stop, suspended.
Up front a little boy stands wideeyed, a finger in his mouth. Behind him a dapper gent puts down his briefcase, and a teenage girl slips off her backpack and sits on the floor. Near them a black man in a red shirt stands with a blonde woman in a blue dress with a white lace collar. Two sports beside me try to pick up a girl. "I'm married," she says, and giggles. Three men in shirt sleeves gobble dripping pizza slices. A ragged man leans against a pillar, sucking hungrily on a straw in an orange soda. The musicians play on, their bodies weaving with the canon's plangent rhythms.
Their eyes are on their music; they hardly seem to see those they have snared. For a moment tears well up in my eyes. Harmony holds us all together! The last note sounds; the applause is instantaneous. A few members of the crowd leave to rejoin the homeward flow, but as the quartet strides into the brisk opening bars of Bach's third Brandenburg Concerto, others stop to take their place and listen to the music.
—. Michael Lydon