HEART-TO-HEART
This puzzle's diagram takes the shape of two hearts united by six shaded squares. Answers are clued in pairs, one belonging in the upper left heart (and starting at the given number), and the other belonging in the symmetrically matching location in the lower right heart (and ending at the given number). Either answer may be clued first. Each of the shaded squares will contain two letters—one from the upper heart and one from the lower heart. When read in the proper order, these twelve letters will serve to join the two hearts. Answers include five proper nouns.
The solution to last month's Puzzler appears on page 97.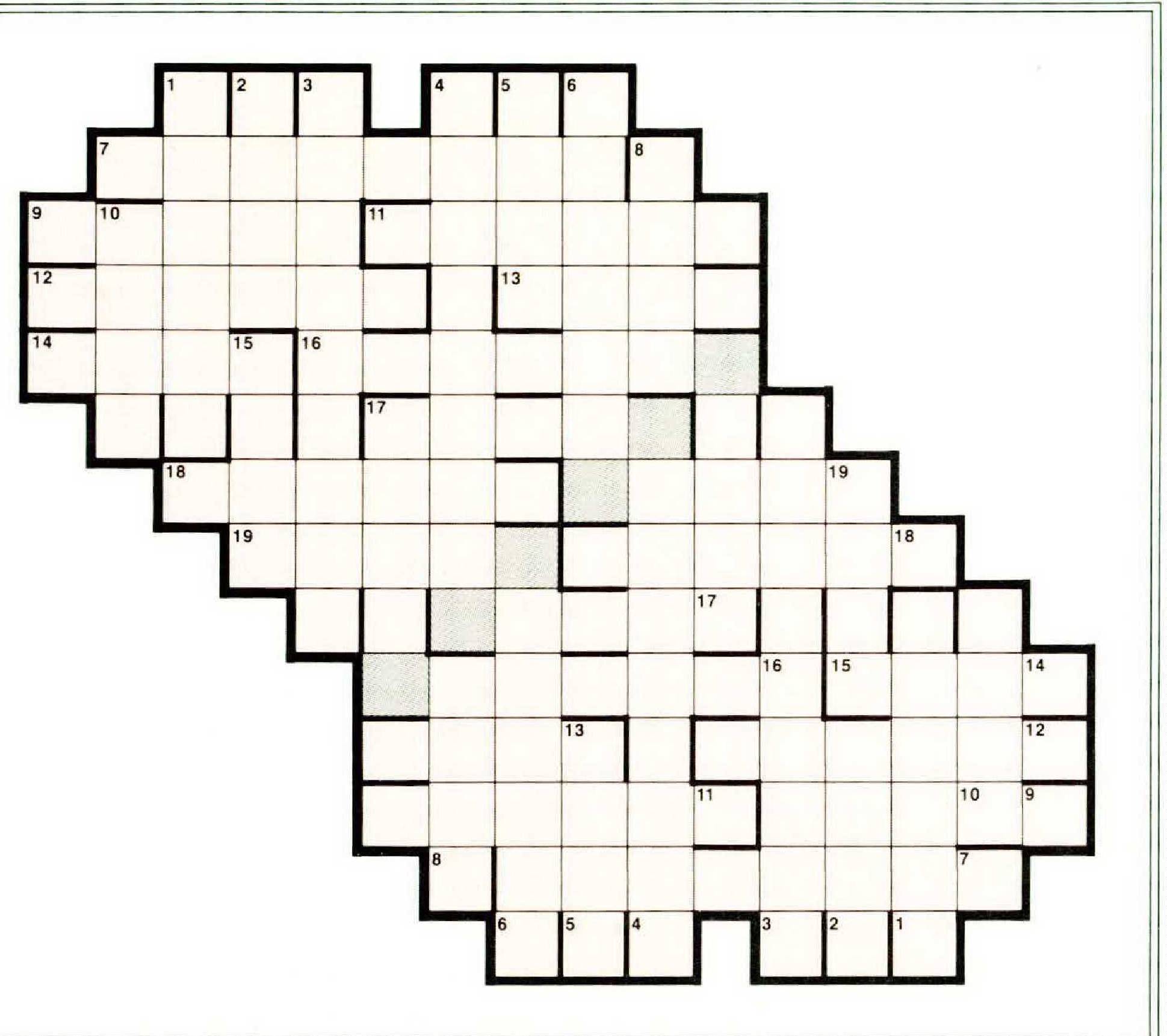 ACROSS
7. Romance begins during meal with certain cherished one (8) Understand inmate's faithful (8)
9. Biting a piece of cake, bride with sides splitting (5) Sweetheart getting red—that's funny (5)
11. Mac is excited about ring design (6) Awful boy's back chasing giddy girls (6)
12. Say words of Love Story to Eastern porter (6) Peg, embraced by Sylvester, is firm (6)
13. In retreat, darlings dance (4) Carol's fresh, having heart stolen (4)
14. Asian is pronounced wed (4) 1000 involved in common ceremony (4)
16. Inn was prepared, holding end of wedding in cloth shelters (7) On the way back, cruise featured flowers (7)
17. Run after boyfriend with fruit (5) Paramour finally crossing one who strays (5)
18. Resourceful couple's first bar (6) Traveling to spa, honeymoon chiefly yields soap stuff (6)
19. Rapper presented lady (5) In time, dear enchantress (5)
DOWN
1. The woman's hugged by baseball player, an Angel (6) Coaches wedding participants (6)
2. Gush intimately (4) During the cruise, ran (4)
3. Face-to-face, Edward and Virginia declare crush (9) Confirms engagement, packing most of suitcase (9)
4. In murmur, try to attract someone with money to spend (9) Climber reserves a time in spring for sweetheart (9)
5. One's going after girl's heart with flower (4) Also smitten in Asian land (4)
6. Big name in theater company pursues singles after one (7) Mark loves tigers, essentially (7)
8. Court female with gruff utterance (4) Request wedding couple announced (4)
10. Heart cheer (4) Artist uplifted one boy (4)
15.Felt moved in the area of the heart (4) Formal occasion for mother's first (4)
17. Crazy male takes a wife (5) Hesitate to speak up after start of wedding (5)
NOTE: The instructions above are for this month's puzzle only. It is assumed that you know how to decipher clues. For a complete introduction to clue-solving, send an addressed, stamped envelope to The Atlantic Puzzler, 745 Boylston Street. Boston, Mass. 02116.
Answers to the January Puzzler
"IN THE SPIRIT"
Across. l.G-REASY (g+anag.) 6. S-TARTS 12. A-P(PARE)L 13.U(MIA)K (aim rev.) 14. (m)VRAl. 15. AMMO-MA (in a anag.) 16. DIS-MISSES 20. PAN(DlE-RED 2I.TEA(L)S 23. DICERS (anag.) 26. NILGAI (anag.) 27. PLE(X)A 28. ELECT-R-ON 31. ERUPTIONS (anag.) 33.STAB-BED (bats rev.) 34. FRAl'(d) 35.SAH-I-B (rev.) 36.PAHLcWii (phial anag.) 37.TON(G-U)E 38.S(EST)ET Down. I. AUDI-TIN-G 2. PRIOR (double dcf.) 3. PAS-SAB1.E (sap rev.) 4. REIN STATES 5. E-A-S-Y 7. AMKN(D-MEN)-T 8. MOLE-CU(LA)R 9. I-NE(R)T 10. AIL-ERONS (snore rev.) H.KiANIPY 17. A(MORO[n])-US 18. D1(SPA)TCHES 19. LOG CABINS (anag.) 20.STIRR(ED) UP 22. M(I-LIT)ATE 24. PER-O-RA I E 25. LAW(SU)ITS (us rev.) 28. IS-SUE(t) 29.T(A)HOE (anag.-Ed) 30. NAVF.-L 32. GASP