AT LAST COUNT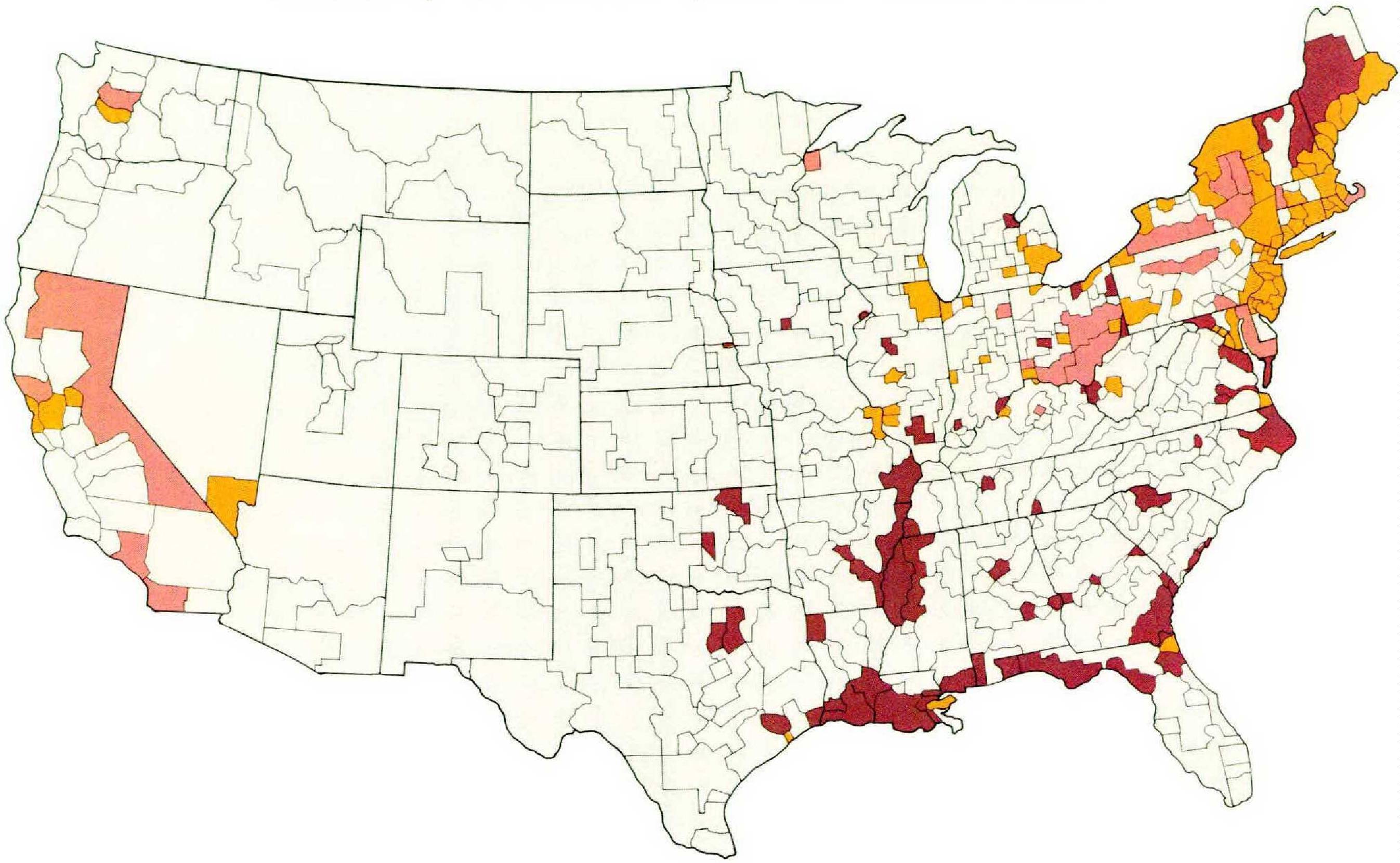 LEGEND

Male cancer rates above average

Female cancer rates above average

Male and female rates both above average
Source: National Cancer Institute
WHY ARE THE cancer death rates so high in the Northeast? Why do men have higher rates than women on the South Atlantic coast and in Louisiana? No one has a simple explanation, but a tentative picture is beginning to emerge from information gathered by epidemiologists. The map here is based on data for white adults in the 1970—1980 period, which are drawn from the latest official U.S. cancer atlas. Data for blacks in this period have not yet been released, but are expected to follow roughly the same pattern as that for whites; comparable data for Alaska and Hawaii were not available. The geographic divisions shown are state economic areas defined by the Bureau of the Census.
The North. Cigarette smoking is the single biggest contributor to cancer mortality in all areas of the country, and cigarette consumption was for many years especially high in the Northeast. Another important factor is on-the-job exposure to radiation and toxic chemicals in a variety of industries. The eastern half of the United States, and particularly the northeast quadrant, is tar more industrialized than the rest of the country, and includes most of the chemical industry, which is particularly important in New Jersey. Women in the Northeast, as compared with those in other regions, tend to give birth at a later age, a practice that increases the risk of breast cancer.
South Atlantic Coast. High rates among men in the Atlantic-coast areas of Virginia, Georgia, and Florida may be due in part to lung cancer following exposure to chemicals in shipbuilding yards, mostly during the Second World War. High rates of oral cancer among men in the coastal areas of Virginia and Georgia apparently can be attributed to consumption of cigarettes and alcohol.
Louisiana. Southern Louisiana is an area of high cancer mortality for men, owing in part to the smoking habits of the Cajuns, who are heavy consumers of hand-rolled cigarettes and other high-tar products. Southern Louisiana also has an important chemical industry.
California. For many years this region had a fairly low cancer rate, but this is changing, at least tor white women, who have been suffering from lung cancer in growing numbers, presumably owing in large measure to a history of smoking. The states where the rate of smoking among women is today the highest are Kentucky, Michigan, Rhode Island, and Nevada. —Rodger P. Doyle