DECORATIONS
This puzzle's clue answers are to be entered consecutively in their numbered rows (Across, Down, or Up); Down and Up answers angle from left to right. When all answers have been filled in, the nine letters in the shaded corner bands (starting from the top and reading clockwise) will provide a clue to the word formed by the remaining six shaded triangles. Answers include two words not found in Webster's Ninth New Collegiate Dictionary, the one clued first at 5 Across and the one clued second at 12 Up.
One of those answers and three others are proper nouns.
The answers to last month's Puzzler appear on page 128.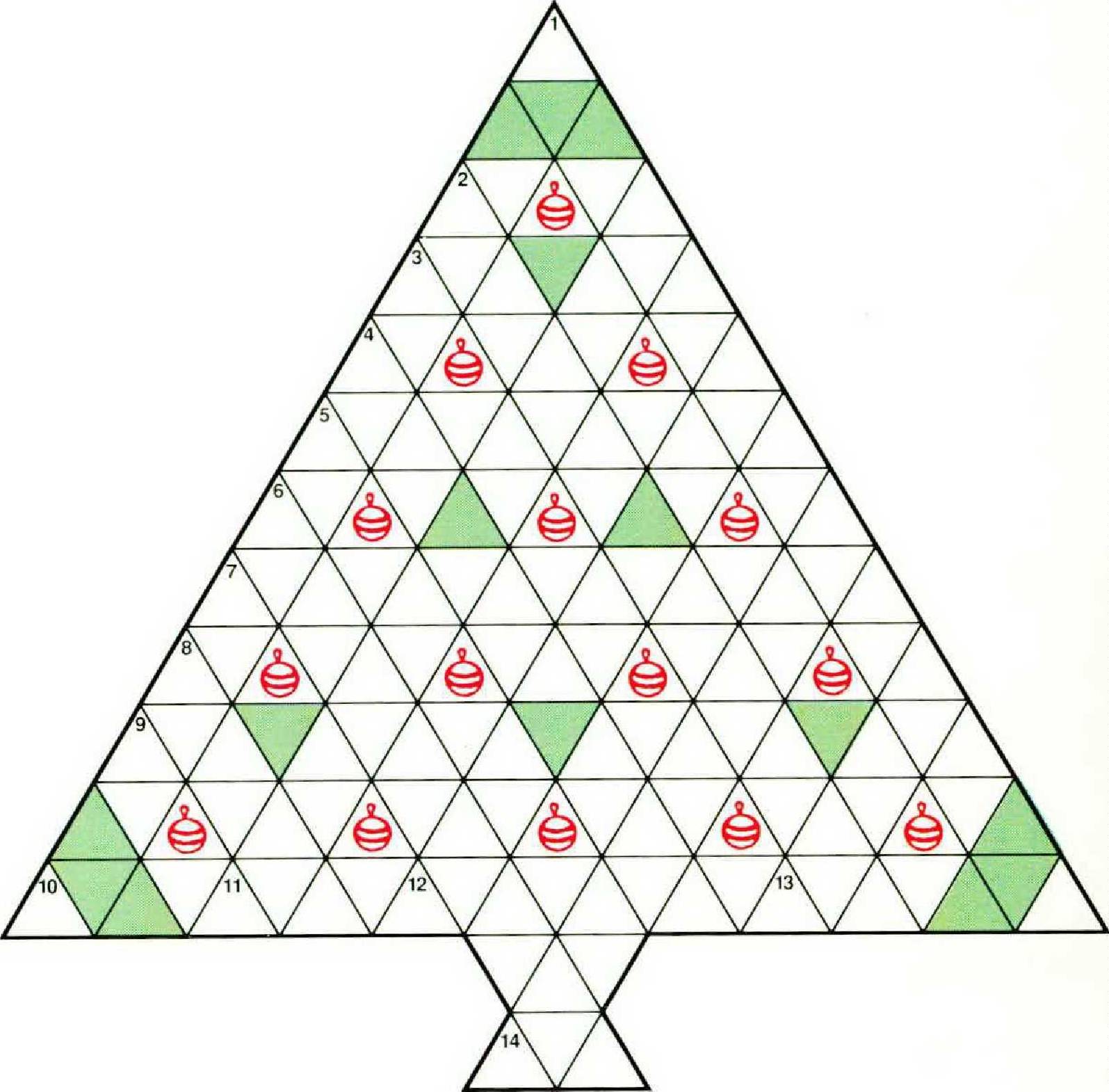 ACROSS
3. Astronomical dark area covers North America from east to west (7)
5. Assassin in Japan, essentially! (5) Pop around raised rooftop structure (6)
7. Mail back deeds in fall (8)
Survey material on back of reports (7)
9.Arboreal mammal problem urgently needs investigation (5)
Mice do experiments with doctor (6)
Criminal, embracing Capone, went ahead and visited (8) (two words)
10.Study circuit incorporating certain flip-flops (7)
French nobleman paid Hun off (7) Bad guy outside hurt one good guy (9)
DOWN
1. Philosopher's kid left in spring (9) Strips of wood brought back in Danish tale (5)
Dictator grants no changes, keeping chief of military (9)
2. Eat a lot, including last piece of corn (5)
Fruit makes mongrel rave (7) Celebrity lady's entering place of worship (7) (hyphenated)
4. Long wood (4)
Take apart writing desks, finally, with peripheral cut (5)
Said kin cheats (6)
6. Attendee describes service, in retrospect, as something tenuous (8)
Have fun, getting high in back (7) 8. In ways. I'm turning creative (7)
UP
10.Sleepers funny beyond compare (8) Winter fogs giving Kelly's possum chills (8)
Hindu writing about mother in part of Indonesia (7)
11. Not as goofy as a nerd, obviously (5)
Imprudent plan involving a U.S. capital (6)
In bed, yearn quietly for flower holder (8)
12. Gold adds zip to patronage (8) Christmas song about one excellent horse-drawn sleigh (7)
13. Dull finish diminished honor for Spanish performer (7)
14. Seawater engulfs some boundless, foul-smelling liquid (7)
Gourd from a research center running into money (8)
NOTE: The instructions above are for this month's puzzle only. It is assumed that you know how to decipher clues. For a complete introduction to clue-solving, send an addressed, stamped envelope to The Atlantic Puzzler, 745 Boylston Street, Boston, Mass. 02116.
Answers to the November Puzzles
"CRYPTIC MENU"
Across answers are listed in the order of their appearance on the menu.
Across. WH(lTE M)EAT; RO(A)STER; C(LAMB)AKE; OVER (double def.); A-B ALONE; SUPERN-A-L (prunes anag.); NECTARINE (anag.); ACES (hidden); CO(WAR)D (raw rev.); A-CID; SP-EARS; RELATE (anag.); TOR-TES (rev.); SUNTAN (nuts anag.); S(HERB)ET; A(PP)LES; RUSTLED (anag.); I(O)T-A Down. 1. CAS-TRAT-I (rev.) 2.0(n)CUL( t)-US(e) 3.W-I-P-E-S 4. RA-RELY
5. DANCERS (anag.) 6. P(A)LATE 7. PLURALS 8. LO(OI)CAL 9. SERE (hidden periph.) 10. NONE(t) 11. SFLTZER-S (pretzels anag. — p+s) 12. A-R-TISAN (stain anag.) 13. STATIS-T (anag.+ T) 14, RE(HE)ARS 15. EJECTA (anag.) 16. T(h)E-AM UP (puma rev.) 17. BE(A-K)ER 18.0-(HI)0 19. BRA-V-A 20. WA(R)S