Plunge Right In: Exhilarating Caribbean Vacations by the Sea, and in It
by Barbara Wallraff
EVERY EFFORT OF a person's muscles under water uses up air, and so diving guides—good ones— learn to make all their movements expressive. Chris Huxley did an aboutface, twenty or so feet into the cave, and planted his flippers on the rocky bottom. Somehow it was clear not only that I was meant to turn around too but also that I was going to be impressed when I did.
Waves smacked the mouth of the cave a few feet above my head, sending whorls of spume flying against a background of blue sky. Below, the reef angled down sharply, fading into the distance and the depth. And in the center of the picture, framed within the half-oval of the cave's mouth and Moor, were great galaxies of fish: a vast angular school of small angular silversides, glinting, the school pulsing; and a rounder school of small rounded copper sweepers. Blue-gray, blue, white, silver, copper. . . it was a living abstract painting on the theme of the Creation.
It was, too, an example of what I like about scuba diving in the Caribbean. Diving is such a beautiful paradox: buckle yourself into forty or fifty pounds of equipment, weight yourself down further with a ballast-belt of lead, walk off a boat or wade out into the ocean like a suicide—and become weightless, free to move in every direction, through a spellbinding world.
It doesn't matter if you've never gotten around to taking scuba lessons. (What would matter is health problems of various kinds. Talk over anything chronic with your doctor, and don't go diving when you don't feel well.) Most Caribbean dive shops offer half-day "resort courses,"which will teach you what you need to know to take part safely in dives led by a trained instructor. For that matter, many shops offer fouror five-day-long diving-certification courses, which give you the skills to go diving on your own. Regardless, supervised dives are any Caribbean visitor's best bet, because the instructors know the local waters.
In a typical resort course you'll listen to a short lecture on the physiology of diving, get some pointers on technique, and be fitted out with all the rental gear you need. (As niceties, take along a pair of snug-fitting socks, to keep tins from chafing, and a T-shirt and maybe runner's tights, to wear under water if you find you want a little extra warmth.) You'll practice using the gear in a swimming pool or in shallow water near the beach, and learn the skills to see you through mishaps—for example, how to find your "regulator," or air source, immediately if it's knocked out of your mouth. Once you've mastered the basics, the instructor will take you out on a real, if unambitious, dive. Then, for the remainder of your vacation, you'll be allowed to go on supervised dives down to thirty-five or forty feet.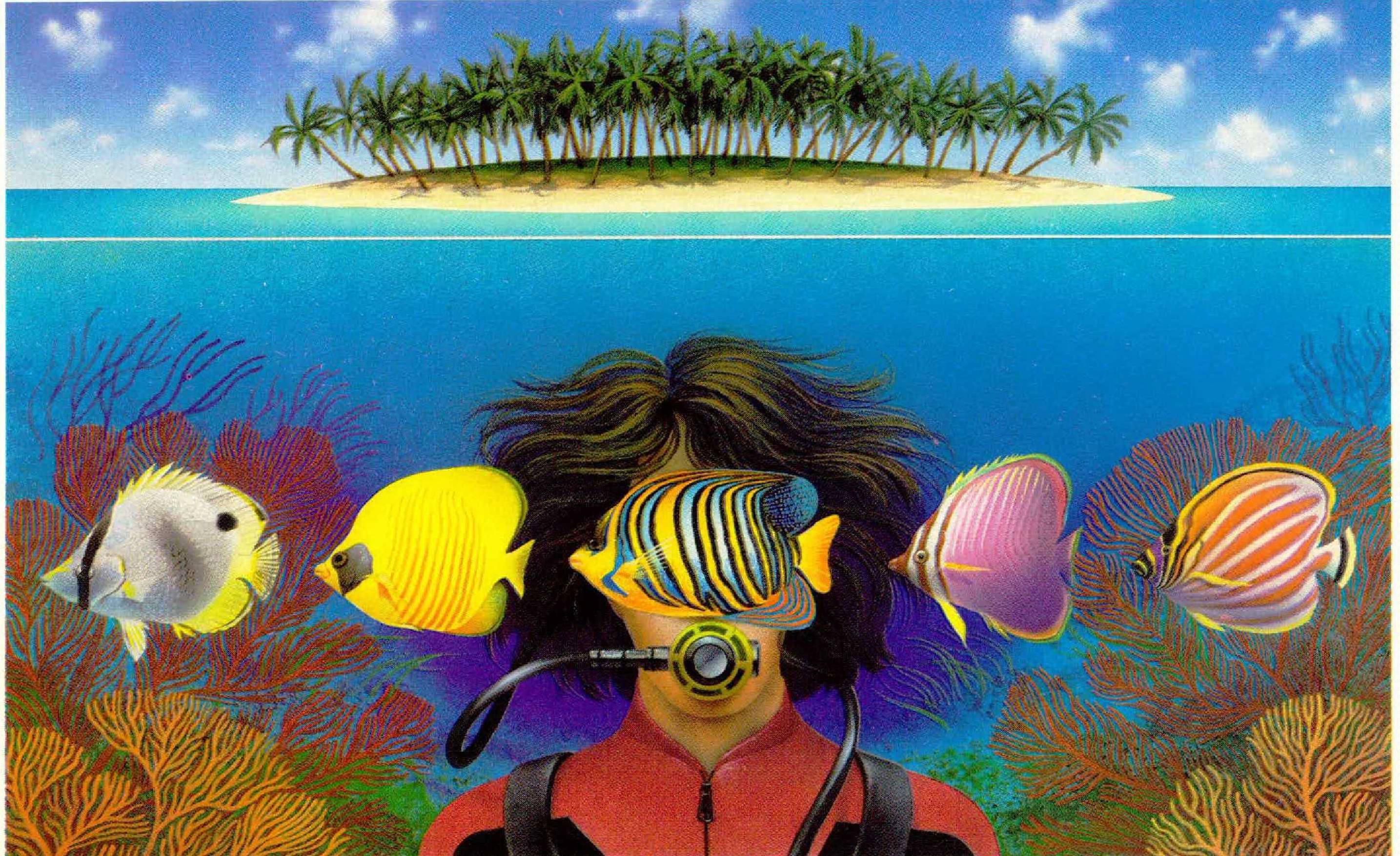 Expect to be scared throughout the resort course and your first dive or two. Diving is even more strongly counterintuitive than flying. Eventually, though, you'll get caught up in what you're seeing—the Caribbean puts aquarium exhibits to shame. And the giddy freedom of weightlessness will begin to register. Soon you'll be bounding over coral heads and hanging upside down to look in crannies near the ocean floor.
The only hard part of a Caribbean dive vacation is figuring out exactly where to go. Any diver is going to spend the great majority of his vacation on land, since it's not considered safe to stay under for more than a few hours a day. And so it makes sense to seek out a resort with a competent, accommodating dive shop and attractive underwater scenery nearby, but with more to offer than just good diving. For myself, I don't insist on a casino, wild nightlife, or dutyfree shopping, but I do like a comfortable, wellrun resort, a handsome island with some points of interest at or above sea level, and welcoming or at least accepting locals. By these standards, I've found, islands that have built their reputations around diving aren't the only ones worth considering. And some islands whose underwater attractions are little known turn out to be very good choices. Here are two, and some suggestions about how to find more.
THE FIRST THING that impressed me about Anse Chastanet, a resort on the southwest coast of St. Lucia, I saw while diving: sand dollars lying unmolested just off the beach, under three or four feet of clear water. Why hadn't someone nabbed them? Other people must have noticed them. It was late in the day. People go diving off that beach all day long, and I could see snorkelers plowing along the surface. A few minutes after I ascended, I was introduced to Chris and Joyce Huxley, who manage Scuba Sr. Lucia, Anse Chastanet's dive shop.
When I told them, in amazement, about the sand dollars, Chris said cheerfully, "We slap people's wrists if they take anything other than plastic bags and junk like that" —as if this explained how it was possible for an entire resortful of people to be so deferential to nature, and one another.
But I had arrived at Anse Chastanet by boat and, eccentrically, taken a dive in the bay before checking in. If I had come overland, through the rain forest, probably the view from my room would have been the first thing to impress me. "The most magnificent pair of mountains in the Caribbean" and "breathtakingly spectacular," guidebooks say about the Pitons, St. Lucia's fraternal-twin scenic peaks. The guidebooks are right. Anse Chastanet is the only oceanfront hostelry from which the Pitons are visible. However, a glitzy new resort, complete with heliport, is being built between the Pitons by a group of Iranian investors— a reason, perhaps, to visit Anse Chastanet soon.
The resort's food is good, the staff friendly and efficient, and the location ideal, from my point of view: everything that makes noise, except for chirping insects and screaming birds, is far away, and the island's greatest scenic attractions are close by. St. Lucia boasts an active volcano, some mineral baths that were used by the soldiers of Louis XVI, and a pretty botanical garden with a waterfall, all of which can be taken in on a half-day excursion. The resort itself has tennis courts, sailboards, and Sunfish for guests to use when they wish. And the dive sites just offshore are the island's best, as the other local dive shops regularly acknowledge by bringing their clients to dive in the area. In fact, my favorite spot, the cave that Chris Huxley guided me to, is only fifty or so finkicks out from the beach.
Most of Anse Chastanet's thirty-seven rooms and suites are a long stairclimb up a hill from the beach (and the remainder, on the beach, lack the view). All rooms are simply appointed with islandmade furnishings—no airconditioning, no TV, no telephone, no mini-bar— but they are large, airy, clean, and well laid out. The price of being able to sit on your private terrace and watch the sun set opposite the Pitons is $220 a night for two people in a standard room, with breakfast and dinner, or up to $270 for a suite. And Anse Chastanet offers bargain scuba packages that bring the cost of the sport down to $17.50 or less per dive.
If you'd like to be less isolated and more pampered, Le Sport, at the northern tip of the island and within striking distance of the capital, (Castries, is worth looking into. The current season is the resort's first full one in its new incarnation as an all-inclusive spa. Le Sport was previously the Steigenberger Cariblue, which catered to a mainly European clientele. Now under local ownership, it has been thoroughly redecorated and renovated; all rooms have air-conditioning and phones. A thalassotherapy (water-massage) center, looking like a Moorish palace high up on a hill, has been built, and a wide range of beauty treatments and sports programs are offered. Everything, from scuba and beauty treatments to drinks at the bar and cuisine légére meals (or regular ones, for those who would rather think of Le Sport as a resort than as a spa), is included in the basic price, of $520 to $600 a night for two.
Le Sport's scuba program provides a resort course, two or three supervised dives a week to guests who have taken the course or who are certified, and the use of equipment at other times to certified divers. If you want to dive more than that—or just for a change of pace—you can make arrangements with almost any dive shop on the island to come pick you up. I dived a few times with Phil Worrall, the hearty English proprietor of an outfit called Buddies Scuba (Worrall was until recently doubling as the head of Le Sport's scuba program), and also with Vitus Joyeux, the antic St. Lucian manager of the dive shop at the Marigot Bay resort, which is owned by the yacht-charter company The Moorings and is the St. Lucian resort of choice for those whose first love is sailing. I wouldn't hesitate to dive again with either of these guides. Worrall is friendly, conscientious, and knowledgeable. Joyeux is a trip. He just couldn't stop scooping up things for me to play with or at least admire: a tiny purple-spotted shrimp, a brittle starfish, a shaggy gold sea lily, a lobster . . . The rabbitout-of-a-hat effect finally made me giggly.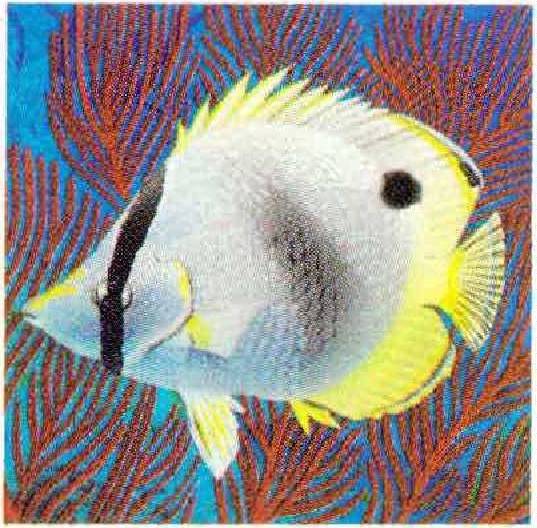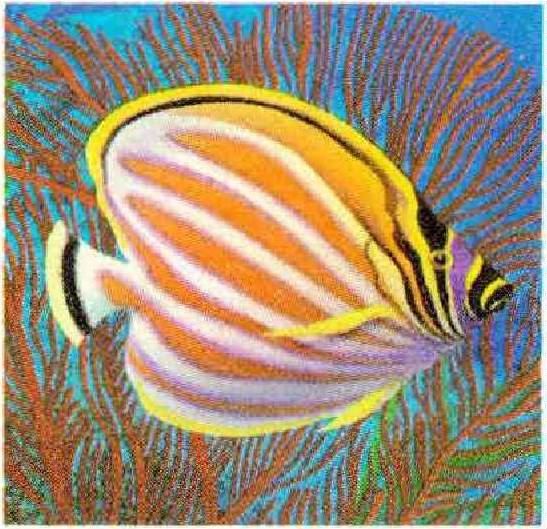 BERT KILBRIDE, ON the North Sound of Virgin Gorda, British Virgin Islands, is a living, diving advertisement for scuba. Now seventy-five years old, he looks a weathered fifty-five. He has been diving in the BVI since 1958, and he has dived a lot. He boasts that he has circumnavigated each of the British Virgins with a tank on his back. In the early 1960s Kilbride invented the resort course, when it occurred to him that people coming down to the islands on vacation might like to see the wreck of the Rhone. The Rhone, a British mail packet that broke up in a storm in 1867, has since become a world-famous dive site, one that practically every diving visitor to the Virgin Islands is eager to see. The how section lies in eighty feet of water, the stern in forty. Coral has colorfully overgrown the parts, and fish school in them like gaudy teenagers in a shopping mall.
In 1977, fifteen years after Kilbride inaugurated his three-hour course, an official from one of the scuba certifying organizations got around to paying a visit to see what it was like. Within a month the resort course was officially sanctioned, and soon dive shops everywhere began to offer versions of it. In 1987 Kilbride was awarded a NOGI, the scuba industry's Oscar or Nobel, for his contributions to diving education. Ironically, also in 1987 dive shops' insurance companies started insisting, for reasons of their own, that uncertified divers be restricted to depths of forty feet or less, so now resort-course graduates can no longer visit the bow section of the Rhone. (Kilbride and other diving instructors I've talked to think this regulation is idiotic.)
Kilbride's Underwater Tours has its headquarters—and Bert Kilbride and his wife, Gayla, make their home—on something called Saba Rock, in the North Sound of Virgin Gorda. Three quarters of an acre in size at high tide, an acre at low, the Saba Rock fiefdom is conveniently just offshore from the Bitter End Yacht Club resort. The Kilbrides often stop by one of the Bitter End's bars in the evening. The shop's diving instructors, who include one of Bert's sons, take their morning coffee at the resort, before heading out for the day's first dive. The Bitter End prides itself—rightly—on all that it has to offer sailors, but it's an excellent choice for divers and others, too.
Proximity to Kilbride's is only part of the reason. The area is lovely, in a semi-arid sort of way, and it's mostly undeveloped and all peaceful. And then, the Bitter End has many fine qualities of its own. Everywhere I looked, I got the sense that someone had thought about what made sense, what would please the guests, and had made small innovations accordingly. I stayed in one of the hillside "chalets" that the resort acquired in 1987, when it took over the former Tradewinds resort, next door. Each chalet has a huge shower that's actually outdoors; showering feels especially sensuous and natural, and you don't steam up the room. A dresser in each room contains slide-out white-wire baskets, instead of potentially dusty and damp-retaining drawers. Guests have two nice restaurants to choose between at dinner: the Clubhouse, which specializes in fish and steaks, cooked to order, and the English Carvery, which specializes in joints of meat, sliced to order. While you're sitting at dinner, someone from the sports staff comes by to find out what you'd like to do the next day— join an excursion to town? take out a sailboat or a sailboard? play tennis? go diving?—and signs you up. You never have to stand in line at an activities desk or run around to the various concessions.
The Bitter End has rooms on the beach as well as on the hillside. Rates range from $320 to $470 a night for two, and include meals and all sports except, alas, diving (a package of three two-tank dives, with some equipment included, costs $150). The hillside location means that you have to make a longish trek or else phone for a golf cart to come and get you every time you want to go to one of the restaurants or the beach. But the chalets have airconditioning, and the panorama of the North Sound is laid out before you. All rooms have phones; a few have TVs, VCRs, and bars. If you're indifferent to such amenities, then maybe one of the Bitter End's live-aboard yachts is for you.
I'M SORRY TO report that I have yet to find a guidebook whose judgments about diving-related matters seem trustworthy. Nonetheless, some guidebooks (Frommer's Caribbean especially) are good on resorts and on what particular islands have to offer generally. And most guidebooks contain the phone numbers of dive shops (Birnbaum's Caribbean, Bermuda, and the Bahamas is the best on this score). That is really all you need to begin planning other dive vacations.
The technique is simple: Get together the phone numbers of some dive shops on islands that interest you, and call them up. Try to talk to the owner or manager or at least a diving guide. What is there to see under water? How often do the shop's boats or guides go to the spots that you might like to see? How long have the guides been working in local waters? How many divers do they take out at once? (More is definitely not merrier — groups of five or fewer are ideal, and groups of fifteen or more are to be disdained.) What are the nearby resorts like? Would the dive shop be willing to pick you up from more-distant resorts? Do guests at those places seem happier? Beginners or uncertified novices will also want to know if the shop offers a resort course and what dives they'll be permitted to go on after they've taken it.
But the most important question is one to ask yourself: Are you talking with someone who loves diving in that place and is eager to share it with you? If the answer is yes, book the trip. Whether or not you find the perfect resort, you're going to be sorry when you have to come up for air.