CRYPTIC MENU
The listing below, which seems to present a dinner menu (with a number of cryptic recipes) actually comprises the 18 Across clues to this puzzle. The clues are strung together in no special order; solvers may locate the answers in the diagram with the help of the Downs, which are normal. Answers include one proper noun; the first Across answer clued in the menu is a two-word phrase.
The solution to last month's Puzzler appears on page 134.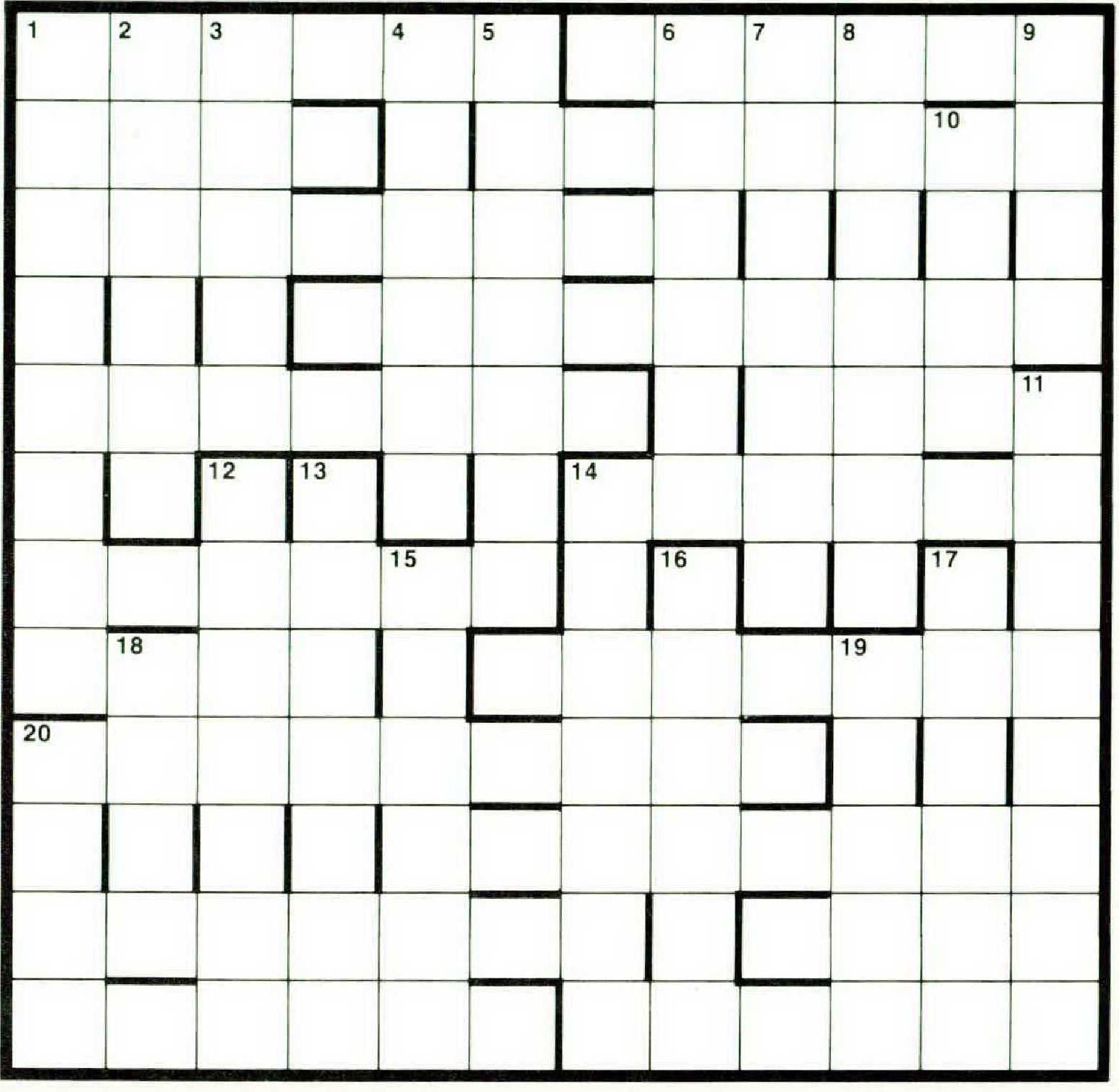 ACROSS
Turkey Dinner
Choice piece wrapped in nutritious grain roll with a stuffing
Chicken-Seafood Supper
Meat-filled loaf done on a barbecue's
top, with sole and shellfish
Heavenly Stewed PRunes A large (nine-crate) mixture with fruit tops smothered in mace seasoning
Fish Sandwiches
uncooked, flipped with chicken article
Spanish Hero
Tart Spanish corn pieces and asparagus pieces go together with cooked eel rat
Desserts
Gelled tripe from the East, brown outside, with mixed nuts, hand-shelled, placed around parsley or sage
Iced Treat
Fruit drinks containing cored pulp, stirred
Strudel
Flaky little piece with egg in it (topgrade)
DOWN
1. Singers brought up one drab bag (8)
2. What spies on cult use endlessly (6)
3. With one penny, English soprano gets towels (5)
4. Have faith headed by ancient god, once in a while (6)
5. Send car off with jumpers? (7)
6. food serving overwhelms a sense of taste (6)
7. Grammatical forms in place atop Russian range (7)
8. Soldier invades nearby—that's reasonable (7)
9.Dry borders of seashore (4)
10. Music for nine lacking ultimate zip (4)
11. Twisted pretzels with salt (but no pepper) and drinks (8)
12. Crafty person gets a red stain out (7)
13. Central government supporter failed SAT—it's true (7)
14. Wearing tails, he tries again (7)
15. Flying jet, ace has stuff thrown out (6)
16. Join the heartless cat coming back (6) (two words)
17. Container for suds (about a thousand)(6)
18. State greeting between two oceans (4)
19. Support victory with a shout of praise for a woman (5)
20. Republican coming in used to be fighting (4)
NOTE: The instructions above are for this month's puzzle only. It is assumed that you know how to decipher clues. For a complete introduction to clue-solving, send an addressed, stamped envelope to The Atlantic Puzzler. 745 Boylston Street, Boston, Mass. 02116.
Answers to the October Puzzles
"WASTE RECYCLING"
Across. 1. CHART-REUSE 10. A-ROSE 11. OPTI-MUM 12. S(PO)ILAGE 13. ETU-IS (Ute rev.) 14. HI(THERMOS)T 16. ACE(R)-B 17.S-TILLER 21. PIE-TIES 23. S(P)IRE 26. TOILE-TRIES (Eliot rev.) 28. ANGIE (anag.) 29. C(AR)AMELS 31. TEASE-L-S 32. HEM-AN 33. BELABORING Down. 1. SHASTA (hidden) 2. FAR(OUCH)E 3. R-OSIER 4. REAR (hidden periph.) 5. W-EIGHT 6. A-SPAR-TAME 7. P-ISTOLE 8. EMIT-S (rev.) 9. Q-UESTED (Q+anag.) 15. INFER-TILE 18. LOIS LANE (anag.) 19. DICTATE (anag.) 20. STY-LIST 22. CI(CAD)A 24. P(EEL)ER 25.EA-SING 27. (d)INNER 30. GARB (rev.)
Extra clue: Computer program is for waste recycling. Answer: SOFTWARE (anag.)