An American in Paris: The Soprano Saxophonist Steve Lacy Has Always Gone His Own Way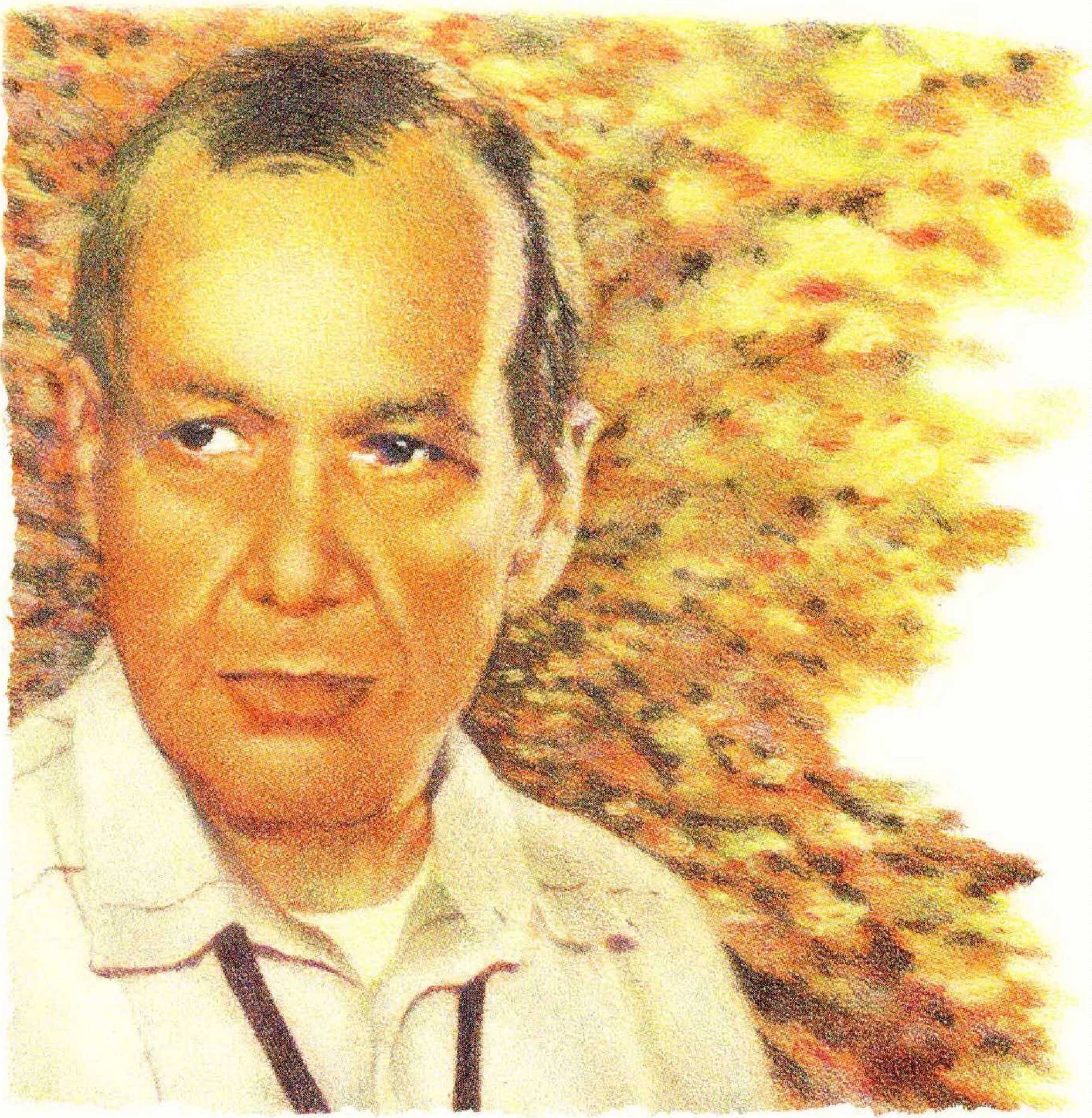 I ONCE HEARD A radio interviewer introduce the soprano saxophonist Steve Lacy, who was born in New York in 1934 and has lived in Paris since 1970, as a musician who has played every jazz style from the most archaic to the most advanced. Yes, but not exactly. It's true that Lacy started off as a Dixieland revivalist in the mid-fifties, only to wind up in the forefront of the jazz avant-garde before the decade was out. But his evolution hardly parallels that of jazz, because he skipped a crucial step in between—and this is part of what makes him such an original. He was briefly a sideman with Thelonious Monk in 1960, and he has since distinguished himself as Monk's most steadfast interpreter. But Lacy has never really played bop, the dominant style now as in the 1950s, when he began his career.
Lacy has always gone his own way. Even his choice of instrument contributes to his individuality. Sidney Bechet, the first great jazz soloist (he preceded Louis Armstrong), favored soprano saxophone over clarinet, and the alto saxophonist Johnny Hodges frequently played soprano with the Duke Ellington Orchestra in the thirties and forties. But until Lacy recorded with the pianist Cecil Taylor in 1955, the long straight horn, which looks more like a clarinet than a saxophone, had no credibility in modern jazz. Even now that many alto and tenor saxophonists double on soprano, Lacy is one of very few musicians playing it exclusively. Its newfound popularity has little to do with him, except indirectly: he piqued the interest of the late John Coltrane, whose 1960 recording of "My Favorite Things" made him the dominant influence on the horn—though Coltrane never achieved the fluency on it that he had on tenor saxophone, his main instrument.
Soprano is the most antagonistic member of the saxophone family, the most difficult to tame and keep in tune. "It took a certain combination of ignorance and courage," Lacy told me last spring about his decision to play soprano, when he was back in the States for an engagement at Sweet Basil, in New York. "I didn't know it was hard to play. I didn't know it wasn't being used, and I didn't know I wouldn't get gigs with it." The trombonist and critic Michael Zwerin, Lacy's friend and fellow expatriate in France, has said that Lacy now gives the impression of playing soprano despite its popularity.
In contrast to the snake-charmer drone of Coltrane's many imitators, Lacy's tonal flexibility makes him sound as distinctive now as he must have in the late fifties, when the soprano's virgin status disguised the influence of the tenor saxophonist Sonny Rollins on Lacy's phrasing and sense of improvisational design. Bechet was his first inspiration. Lacy told me that what he responded to, on first hearing Bechet's 1941 recording of Ellington's "The Mooche," was Bechet's "throb— the vitality, the intensity, the passion, the sheer sound." In that sense Lacy, too, has a throb, although his quicker vibrato and his penchant for sustained notes that are implicitly microtonal make it more of a flutter. His sound is centered in his fingers rather than his throat, but is no less seductive or vocal in pitch for it. He says that Monk once admonished him to "stop playing the piano part"—Monk's typically cryptic way of telling him that his solos were becoming harmonically overcrowded. Lacy obviously took this advice to heart: like Monk, he makes structural use of silence, often seeming to measure rhythm as the distance between notes. Once you've heard Lacy, there's no mistaking him for anyone else. His timbre and his attack, the way he lands on notes, are brisk, tart, and comically threatening—like a duck calling your name, as the British jazz critic Richard Cook described it.
LACY'S CAREER, like that of any musician, can be broken into tidy biographical chapters, but it's the continuity between chapters that gives his work its integrity. Recently reissued, The Complete Jaguar Sessions (Fresco Jazz FJ-1)—a two-record set of Lacy's first recordings, made when he was a member of the trumpeter Dick Sutton's sextet—reveals that there was something suspiciously progressive about Lacy's brand of revivalism in 1954. In contrast to most traditional bands of the period, whose players took stubborn pride in how few pop songs they knew, Sutton and Lacy's repertoire included "A Foggy Day," "As Long as I Live," and "How About You," to cite three songs that no New Orleans brass band would think of blowing on its way back from a funeral.
Sutton's group had more in common with the original Gerry Mulligan Quartet than with the Preservation Hall Jazz Band: it was piano-less, its pivot was a baritone saxophone, and it experimented with shadings and dynamics. Lacy wasn't exactly taking a blind leap when he joined Cecil Taylor two years later to play a nascent form of free jazz, or when he formed a band in 1962 with the trombonist Roswell Rudd (another former revivalist), which eventually played only Monk runes.
In his two decades in Europe, Lacy has participated in chance improvisations and performed unaccompanied concerts. In the past decade he has also emerged as an ambitious and prolific composer, which is surprising, given that until he reached forty he was known strictly as a free improviser and an interpreter of Monk, Taylor, Gil Evans, Duke Ellington, and Billy Strayhorn. "I had to find out what music was before I could write my own music," Lacy told me, revealing an analytical bent also present in his improvisations, which tend to examine pitch and intcrvalic relationships. "I studied Stravinsky, Webern, Prokofiev, Ellington, Charlie Parker, and especially Monk."
As a composer, Lacy has revived the concept of combining jazz and poetry, although the designation "jazz and poetry," with its bad memories of bongos and berets, hardly does justice to Lacy's experiments with music and texts by Lao Tzu, Herman Melville, Samuel Beckett, Blaise Cendrars, William Burroughs, Brion Gysin, Robert Greeley, and Anne Waldman, among others. His partner in this endeavor is Irene Aebi, a Swiss-born singer who also plays violin and cello in his sextet and who has been his companion since 1966. The task of accommodating a singer has brought about subtle changes in Lacy's music, the most beneficial of which has been a return to something resembling song form.
But Lacy hasn't put free improvisation—or his studies of other composers—behind him. Although the pieces he writes for his sextet are no longer open-ended, there is plenty of room for leeway within them. When Lacy plays on his own, he still plays Monk. And although it has been almost three decades since he last worked with Cecil Taylor, the pianist's music still influences Lacy's own. "His scraps were really my vittles," Lacy once told an interviewer, meaning that he employs many strategies that Taylor has abandoned-improvisations on an unstated theme, for example, or what Lacy calls "cellular" improvisation on harmonic intervals or rhythmic motifs.
Lack of work drove Lacy from the United States in the late sixties. He and Aebi first went to Rome, where for two years they performed with groups mostly made up of amateurs. "I was writing music like I'm writing now, but I couldn't rind anyone to play it,"he said. "We went to Paris because I knew there would be good musicians there."
Lacy has a keen interest in developments in the other arts, and his experience as an American in Paris has thus been more like that traditionally associated with novelists and painters than like that of his fellow jazz expatriates. "It was that other stuff that attracted me too—all the arts, with a capital A," he told me. "I like to rub up against it."The audience for Lacy's music isn't much larger in Paris than it was in New York, but, as he pointed out, drawing an analogy to the visual arts, "You're considered a failure if you have an empty gallery in New York. In Paris you're not."Lacy's larger works— which involve dance and visuals, as well as texts—might not have been realized in the United States, where jazz remains somewhat isolated from the "fine" arts because of its low pedigree and its ancestral ties to show business. Lacy could even be called a French composer. Earlier this year he was commissioned by Jack Lang, the French Minister of Culture, to compose a piece for the French bicentennial, Anthem Hymn on a Revolution. Because Lacy is white, he has not experienced Europe as a haven from racism, as many black American musicians have. Still, race indirectly plays a part in his decision to remain in France. When I asked Lacy what it would take to bring him back to the United States permanently, he said, referring to two of the three black expatriates in his sextet, "You'd have to uproot my band, and my drummer and piano player might not want to come." EUROPE IS ALSO where the recording opportunities are, as Lacy's bulging discography confirms: he averages a half dozen or so albums a year for foreign labels. In the past two years these have included (not counting Lacy's dates as a sideman) two albums by his sextet, another with just the sextet's bassist and drummer, another with those musicians plus the alto and baritone saxophonist Charles Tyler, three solo albums (including one of Monk tunes), an album of five improvisations with his fellow soprano saxophonist Evan Parker, and three albums of duets with the pianists Gil Evans, Ulrich Gumpert, and Mal Waldron,
Keeping up with new developments back home and finding competent European sidemen—these are the challenges facing the typical jazz exile. But the first is of little concern to Lacy, who has never been in the mainstream anyway, and the second has long since ceased to be a worry, because he has kept a band together since the early seventies, with no changes in personnel since the expatriate American pianist Bobby Few joined in 1981. The group's other members, in addition to Lacy and Aebi, are the alto and soprano saxophonist Steve Potts, the drummer Oliver Johnson, and the French bassist Jean-Jacques Avenel. Paris is Lacy's gateway to the rest of the Continent. He performs with his sextet throughout Europe, and returns to the United States for a threeor four-week string of engagements once or twice a year. He wouldn't necessarily be in greater demand in the United States if he lived here year-round, and he would probably have to spend a good deal of time in Europe anyway, because that's where most of the work is for jazz musicians now.
Fortunately, Lacy's strongest recent releases are those that are easiest to find in U.S. record shops. Momentum (RCA Novus 3021-1-N) and The Door (RCA Novus 3049-1-N) are his first U.S. releases since 1977, and his first ever for a major U.S. label. Both feature his sextet, and demonstrate his success in forming a band in his own likeness. Although Steve Potts's scattershot soprano solos are the antithesis of Lacy's, his alto solos sound like fatter and juicier versions of Lacy's soprano ones. Bobby Few is a splashy pianist given to heavy chording and semi-classical allusions; he should be all wrong for Lacy's band, but the density and extravagance of his playing effectively counterbalance Lacy's austerity. Avenel and Johnson are an impeccable, close-knit rhythm team.
Lacy excepted, the member of the group who best defines its sound is Aebi, whose singing—a not always blissful marriage of Spreehstimme and scat—takes some getting used to. In the past Aebi has often sounded uncomfortable singing in English. On Futurities (hat Art 2022), the only one of Lacy's large-scale collaborative works available on record, Aebi's absurdly trochaic declamation undermined the offbeat colloquialism of Robert Greeley's poetry—though, to be fair about it, Lacy was also to blame for the rigidity of his settings. Aebi's singing forces her to put down her strings, thus depriving the group of the illusion of a third horn that she creates with her deliciously sour violin.
Momentum's vocal tracks—Brion Gysin's translation of an Islamic poem, Herman Melville's "Art," and Giulia Nicolai's "Utah"—are surprisingly gratifying, perhaps because the texts are unfamiliar and one has no preconceived notion of how they should be declaimed, or perhaps because Lacy is becoming steadily more confident in exploiting Aebi's theatricality. The most finely wrought of the instrumental tracks is "The Bath," a blues in which Lacy and Potts converge in slightly sharp unison on the main theme before pulling apart on the canonlike bridge. "The Bath" exemplifies another valuable lesson that Lacy absorbed from Monk: "He used to tell me the inside of a tune was what made the outside sound good. I've never heard a better explanation of the function served by a bridge."
The Door, which is all instrumental, includes themes by Monk, Ellington and Strayhorn, Bud Powell, and George Handy, in addition to three compositions of his own that Lacy has recorded before in different settings. The full sextet performs only on Ellington and Strayhorn's "Virgin Beauty," on which the late Sam Woodyard, once Ellington's drummer, makes a cameo appearance, combining with Johnson for an irresistible exotic groove. Avenel provides an effortless, hammocklike swing on Monk's "Ugly Beauty." Potts deftly expands a simple rhythmic motif into austere complexity on Lacy's "Blinks," and Few sparkles throughout the album.
But Lacy himself is the reason this is a memorable album. On "Cliches," with Avenel creating an appropriately hypnotic backdrop on African thumb piano, Lacy quietly plays overblown and split notes of the sort that most saxophonists would scream. The performance is a veritable inventory of the freak effects the saxophone is capable of in the wake of John Coltrane, but it's also an exercise in subtlety. Lacy and Few's duet on "Forgetful," a George Handy ballad originally recorded by the Boyd Raeburn Orchestra in 1945, is even better. Experimental for its era but rather dated-sounding now, the Raeburn recording surrounded David Allen's Sinatra-like vocal with a discordant cackle that Lacy wisely ignores in penetrating to the song's melodic heart. Avoiding sentimentality by calling attention to the melody's steep inclines and by exploiting the soprano saxophone's natural tendency to buzz, Lacy offers little more than straightforward embellishments. But in the vitality and character it projects, this is a modern ballad interpretation to place beside those of such old masters as Johnny Hodges and Ben Webster. It's one of Lacy's finest recorded performances, in what has been an exemplary career.