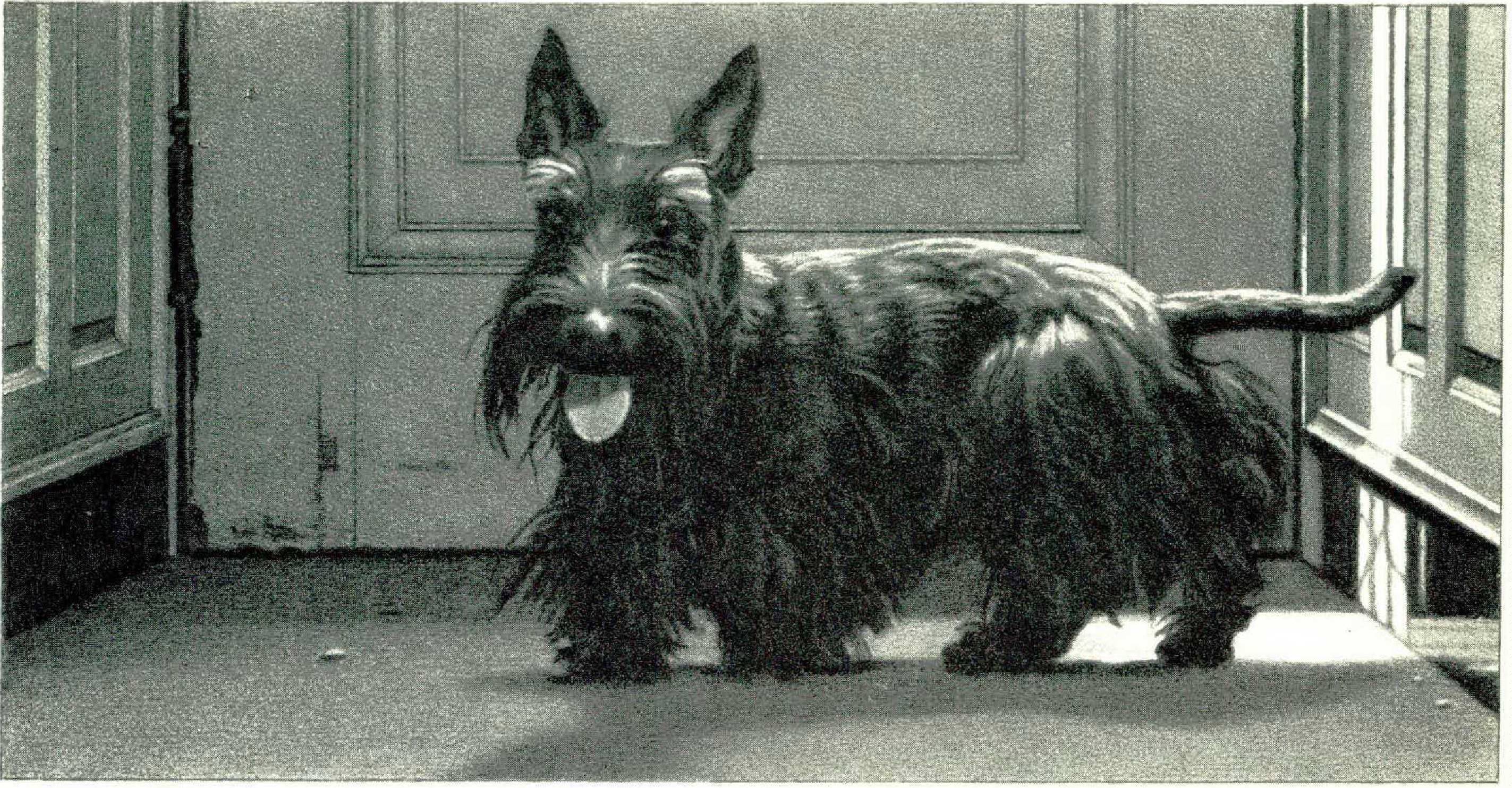 This is our first summer without a dog.
Fifteen years of disgraces in the night
(tattered screen doors, overturned garbage pails,
unexpected puddles on the guest-room bed,
and other such misdeeds) have ended at last.
She had a way of posing in the landscape,
arranging herself against a screen of trees,
upon a lawn or on an outdoor deck,
so as to bring out the hero in photographers
who could focus on the challenge of her darkness.
When on the move she carried less distinction:
a Scottie, long in the barrel, short of leg,
she trotted country roads as though she owned them,
so long as a glance behind her could confirm
the support of the authority that gave her hers.
Absent such authority, she panicked:
could be found, after a search, hysterically
galloping somewhere in the wrong direction
if we returned from shopping or the movies
through a region she had not known long enough to own.
On her home turf she brooked no trespassing,
at least by motorcycles, dogs, or horses,
though she'd roll over basely for human intruders.
The children who had grown up while she watched
were patient with her as old age declined
from sleepiness to blindness, deafness, and
incontinence. Before her last collapse
she lived her life entirely through the nose
and sense of touch. As the children watched her fade
they saw their childhoods disappearing with her
and by so much ceased a little to be children.
I who had shared, in my two-legged way,
in what I could grasp of her doggy memories,
knew we had lived through all the same affections,
felt the same losses, searched through an empty house
for someone who would never be returning,
brooded on sights and voices that had vanished.
Perhaps she had a way of understanding
our loss that she could never share with me,
but now our past belongs to me alone,
now that she's gone and no one else remembers
the weekends that we spent in the house together
letting each other in and out of doors.