In Galway's Fair City
This old seaport can be the ideal centerpiece of a trip to Ireland
BY CULLEN MURPHY
ALMOST 400,000 Americans visit the Republic of Ireland for pleasure every year, and practically none of them decide or manage to bypass Dublin. Yet there are good reasons to think about leaving Dublin off the itinerary of at least a first trip to Ireland—among them the existence of Galway, a lively but little-heralded city on the other side of the island, which I would recommend in Dublin's stead.
I lived in Dublin for several years, and I love the place. It is, however, a difficult city to get to know or like, or even to respect. It has grown too fast and in an unimaginative way, and urban development at the core continues to destroy Georgian buildings and historic neighborhoods. On brief acquaintance Dublin can seem a middling sort of place, and many tourists arrive with expectations and go away disappointed.
Galway, in contrast, is a nearly perfect capsule of the kind of urban Ireland that most visitors hope to find. It is an old city with some of its medieval character, and almost all of its small-town character, still intact. More and more of Ireland's best writers, artists, dramatists, scholars, craftsmen, and cooks are deciding to make their homes there. While Galway is not a large city—just over 50,000 people live there—it boasts a cosmopolitanism and a sense of selfworth that many larger cities lack. And, as I was reminded earlier this year, on my wife's and my third visit to Galway, it can serve as a base camp for up to several weeks of one-day forays into some of the most spectacular and out-of-the-way regions of western Ireland, where the cold Atlantic throws itself upon the rocks, and green mountains reach toward a purple sky.
Even the ride to Galway from the airport is memorable. All flights to Ireland from the United States arrive at Shannon Airport at around dawn, and on the hour-and-a-half ride north, Ireland wakes up before you. The route winds through lush farmland and market towns like Ennis and Gort. Schoolchildren in uniforms wait for buses by the roadside. Milkmen make their rounds in small vans. The few large trucks that go by all seem to be loaded with kegs of beer. As dawn lightens into morning, the clouds take on color; even in the rain it is rare for sunshine not to be visible somewhere nearby, playing on a distant field or mossy ruin. Soon the road passes over placid licks of sea that herald the approach of Galway Bay. In the city itself knots of men with caps and ruddy cheeks stand talking and smoking on street corners, waiting for the day to start.
Alf and Fionnuala MacLochlainn, who are friends of my wife's and mine, lived in Dublin for most of their lives and moved to Galway seven years ago in order to live in a place that, as Alf put it recently over dinner with us, was reminiscent of a Dublin that he loved but that has disappeared. Alf MacLochlainn was for many years the director of Ireland's National Library, and in Galway he was, until his retirement last year, the director of the library at University College. It is very hard, he said, to get people to leave Galway once they have experienced a taste of life there. "You'll find the branch manager turning down a promotion to the head office," Alf said. "Galway is where ambition ends."
By Irish standards Galway is something of an upstart. Most places in Ireland seem to have pedigrees, as places of human occupancy, of two thousand years or more. Some of the bigger cities on the coast or up navigable rivers are considerably younger, having had to await the coming of the Vikings. (Dublin, for example, is a Viking town, and celebrated its millennium only last year.) Galway is younger still. There may have been a fishing village at the mouth of the River Corrib, on Galway Bay, since time immemorial, but Galway as such was not founded until the thirteenth century.
This is no place to review the long, sad story of the Anglo-Norman conquest of Ireland, which commenced in A.D. 1169. Suffice it to say that scores of Anglo-Norman families were granted large tracts of land in the west of Ireland, possessed them, and then, after a century or so, found themselves either going native, through intermarriage or laziness, or sorely beleaguered by local Gaelic warlords. The Anglo-Norman families that prospered in the west did so primarily by holing up behind the walls of the port they had established at Galway. Galway became a city-state run by merchant oligarchs—the so-called "tribes" of Galway, with names like Lynch, Deane, Joyce, Darcy, and Skerrett—and achieved prosperity through trade with the outside world. Christopher Columbus is believed to have visited the city, and to have attended mass at the Church of Saint Nicholas, which was already more than a century old. (A tablet near the church commemorates the deed of a mayor of Galway named Lynch, who hanged his own son for a capital crime when no one else would do so, and thereby midwifed a new word into the English language.) Only one of the merchants' homesteads still stands in its entirety, but medieval walls, doorways, and windows abound, incorporated into later structures in an unthinking, postmodern kind of way. A Gothic arch can lead you into a shoe store. The pattern of streets that was laid down five hundred years ago remains little changed; ancient maps of the city can get you around even today.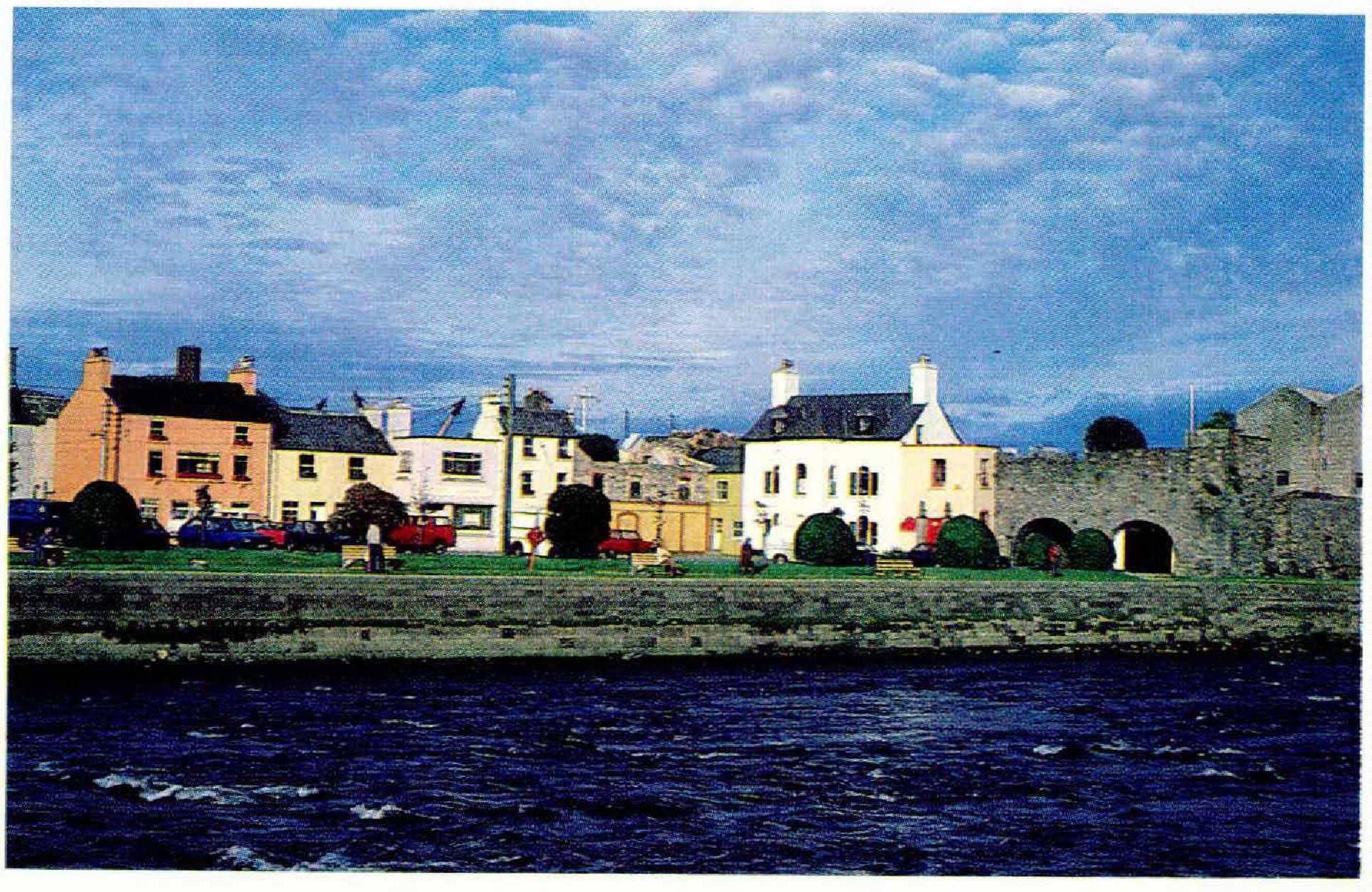 But Galway is a working city, not a museum piece. There is grime under its fingernails and salt in its hair. High-tech industries are an important presence in town—Digital Equipment Corporation alone employs 1,500 people—but every second shop still seems to belong to a victualler, baker, bookseller, or publican. The turf fires burning in thousands of hearths and the apples and pears in the racks at every newsagent's stand combine to cast a hazy fragrance over the city which comes home with you in your clothes. Most of the building stock in Galway seems to be at least a hundred years old and is made of cut gray stone; the grayness is relieved by the brightly colored wooden shop fronts and the gold Celtic script that identifies them. Buskers, or street musicians, occupy the intersections, and one's ear is rarely far from the sound of fiddles or pipes.
PERHAPS IRONICALLY for a town founded by foreigners, Galway is the one city in Ireland that still seems fully Irish. Galway lies on the southeastern edge of the most populous Gaeltacht, or Irish-speaking, area, and you may hear Irish spoken casually in shops and on the street. You wall certainly hear it spoken if you spend any amount of time in Kenny's Bookshop, on High Street, whose large stock of old and new books includes a wide selection of Irish-language works. Galway also supports an Irishlanguage theater. An Taibhdhearc na Gaillimhe, which mounts productions year-round. On our most recent trip to Galway my wife and I noticed that An Taibhdhearc was about to stage an Irishlanguage version of Verdi's Aida—an undertaking that somehow epitomized for us what is so winning about the city. Galway's other theater, the Druid Lane, has won international acclaim for Englishlanguage productions of all kinds, primarily plays by Irish and English writers. The Druid Lane is the provincial rival of Dublin's Abbey Theatre and performs throughout the summer.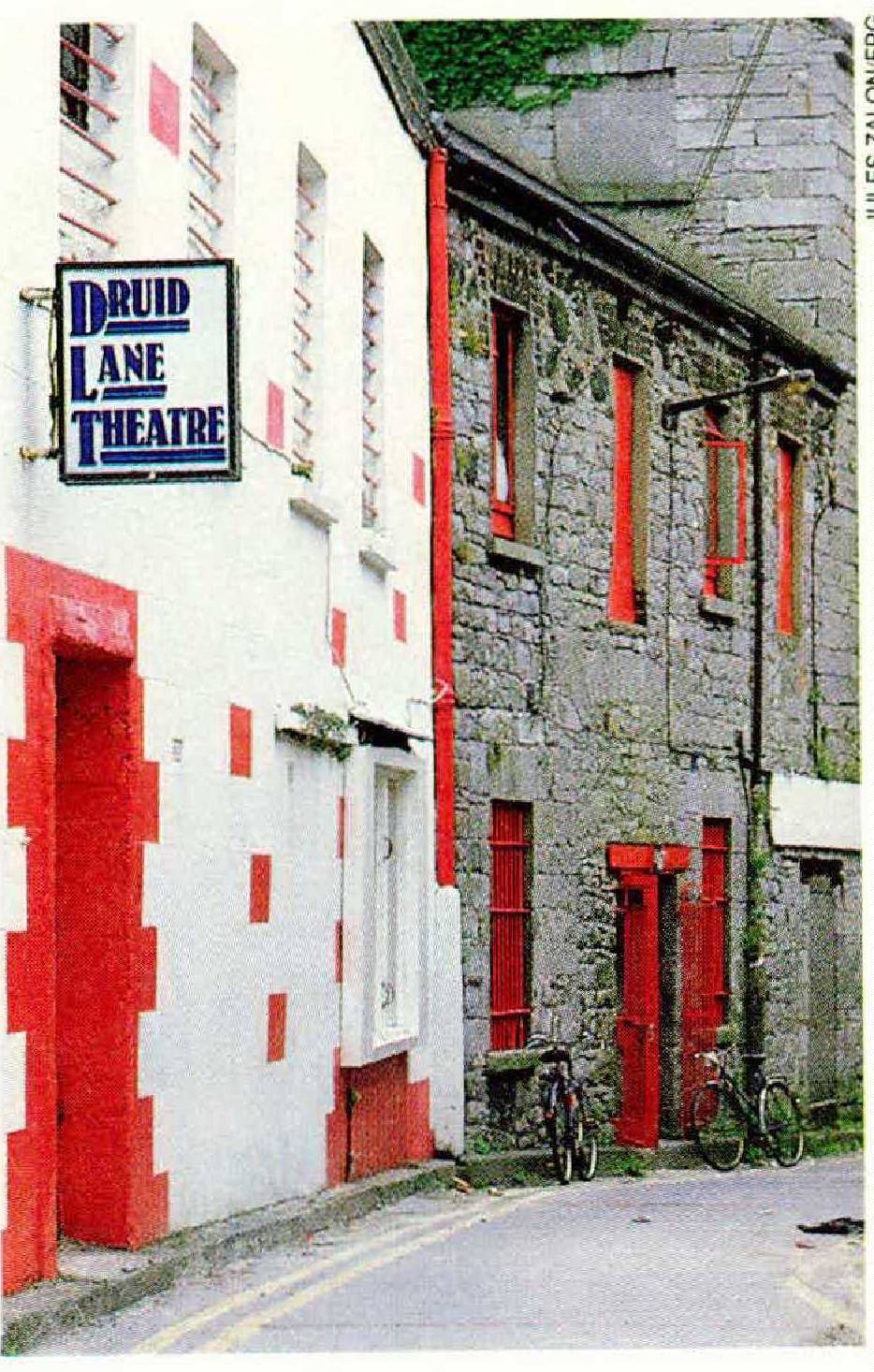 The charm of Galway is not wholly an accident. The Galway Chamber of Commerce and Industry has worked aggressively with the city government to ensure, through arm-twisting and tax incentives, that homes and businesses adhere to a high aesthetic standard. Mary Bennett, the president of the chamber and the owner of Galway's largest gift shop. The Treasure Chest, walked around the city with us one afternoon to show off some recent achievements. She pointed to one city block that looked like any other—gray stone, with handsome ground-floor storefronts—and that seemed to have been standing for generations. "That's brand new," she said. "The last time you were here it was a parking lot." In another place residential units had been built around the perimeter of a courtyard in the center of a block of outward-facing shops. "Our aim," Bennett said, "is to get housing into about thirty percent of the city center." We passed a shop front that looked slightly shabby, and Bennett sighed. "That person just won't cooperate," she said. "It's been a problem for years." Then her bright spirits returned. "You know, last year alone we removed a hundred and eighty neon signs." A new museum and a third theater for the city are soon going to be built on the waterfront near the Spanish Arch, which was once a gate in Galway's walls, from the Spanish Arch a bridge crosses the River Corrib to the Claddagh peninsula, and underneath it passes one Galway attraction that the chamber of commerce takes no credit for: all the salmon that spawn in a 1,200-mile string of Irish lakes.
GALWAY IS SMALL enough that you don't need to prepare for a visit by doing a lot of reading and planning. You can walk the entire city in a day, and orient yourself, and in the process you will be alerted to all the local events of interest by signs and posters in shop windows. Stop in at Kenny's Bookshop. The people who work there seem to know everything that is happening in and around Galway, and they can arm you with copious amounts of information about the city and its environs. On our recent visit Mrs. Kenny sat me down in a rocking chair and piled books and pamphlets in my lap, glossing them with a stream of commentary that was too rich to absorb fully. We came away with some wonderful historical tomes, including Peter Harbison's Guide to the National Monuments in the Republic of Ireland—an essential companion no matter where you go in Ireland—and M. D. O'Sullivan's dense but rewarding Old Galway. I also bought detailed maps of the mountains of Connemara and of a starkly beautiful upland region of County Clare called The Burren.
Again, one of the advantages of establishing yourself in Galway is that no corner of counties Clare, Galway, and Mayo, which are among the Republic's most rugged and handsome, lies more than an hour or two away. You can spend each day deep in a different part of the countryside, tramping the wild moors and warming to the desolation, and return by nightfall to the embrace of civilization: a shower and change of clothes; a satisfying repast; some music or perhaps a play. The maps that we used, which were drawn by local cartographers, showed every jink and twist of roadway, every escarpment, every ringfort and dolmen, and proved to be a source of enormous pleasure. Perhaps the only drawback to them, and it is merely a seeming one, involved their scale. This is so expansive—one inch equals about an eighth of a mile—that some roads that on the maps looked like main thoroughfares turned out to be the most modest of boreens. We spent not a little time driving on cow paths, but as a result we saw lovely places that we otherwise would never have seen, and we could stop anywhere and walk far into the hills knowing exactly what lay behind, say, yonder ridge—a neolithic grave site, a ruined abbey, a holy well whose waters are just the thing for toothaches—and how to get there without breaking a leg.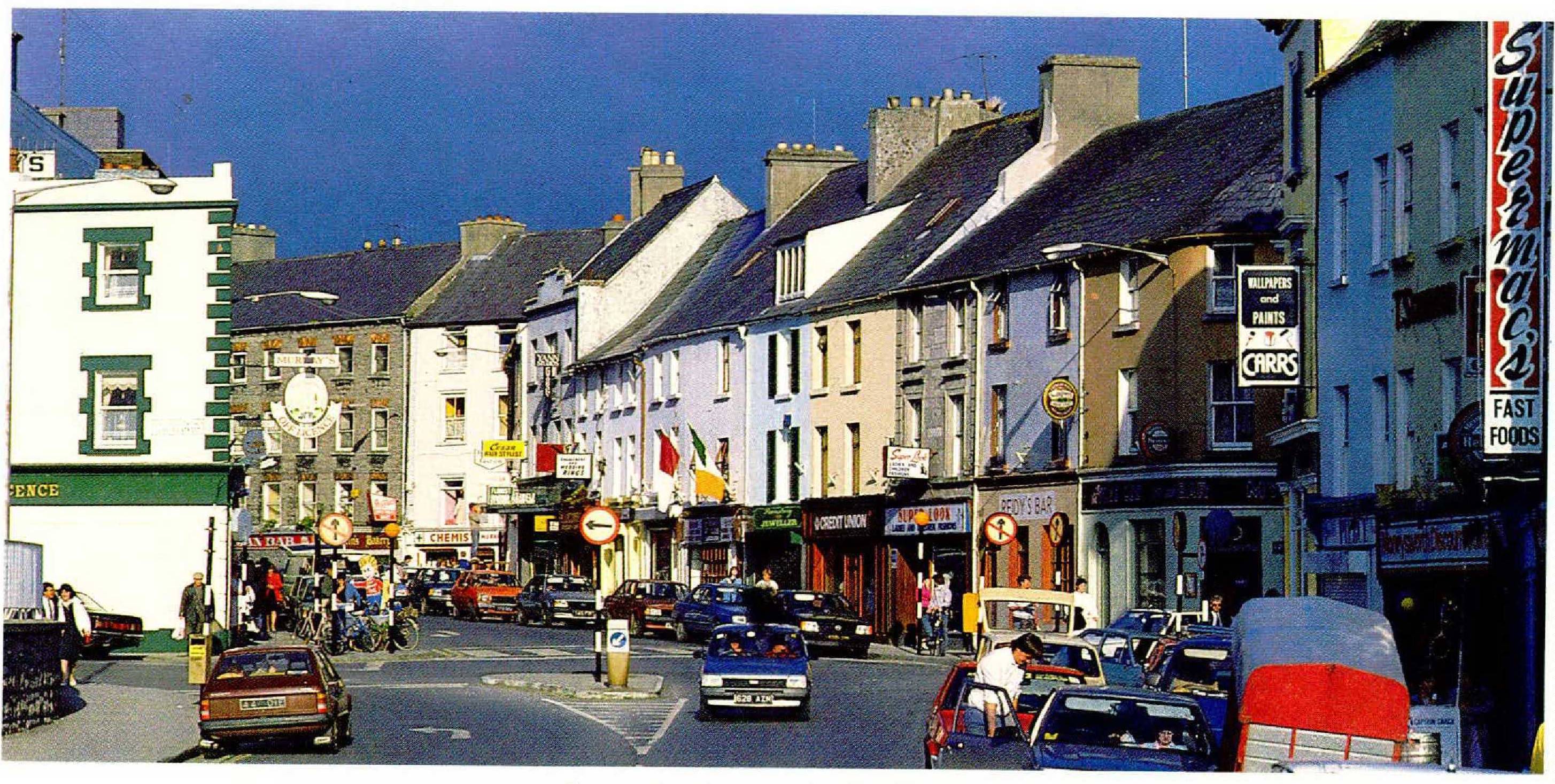 The one thing that may be worth learning about Galway in advance is when its various festivals are to be held. There is an arts festival, a music festival, a theater festival, a buskers festival, a sea-angling festival, an oyster festival, and others; personal taste might incline you to schedule a trip that takes one of these in. Nearly all occur in the spring or summer, when Ireland gets most of its sunshine (and most of its tourists). I happen to prefer the greater variety and sharper bite of the weather in fall and winter, and Ireland in these seasons seems to me more true to itself. In any event, you can find out anything you need to know about Galway's festivals, and about theater, horse racing, and everything else, by writing or calling the Irish Tourist Board (757 Third Avenue, New York, New York 10017; 212-4180800) or the Galway Chamber of Commerce and Industry (Hynes Building, Galway, Ireland; 353-091-63536).
The best hotel in Galway is the Great Southern, on Eyre Square, in the very center of town (353-091-64041). The Great Southern is an old railroad hotel, built in the 1880s. It is small, with about 120 rooms (from $80 to $120 a night), and the service is excellent. Far grander is Ashford Castle (353-092-46003), located about forty-five minutes north of Galway on the shores of Lough Corrib in the village of Cong (room rates start at about $225 a night). The core of Ashford Castle dates back to the thirteenth century. Most of the rest was built in the nineteenth century, when the Guinness family made their home there. The extensive grounds include a golf course and riding trails; even a blood sport or two can be indulged, and the fishing in Lough Corrib, for trout and salmon, is famously good. The appointments inside the castle are elegant but understated, in a masculine, British sort of way (like those in any restaurant named The Jockey Club), and the rooms we have stayed in there on our three trips have been big and handsome, and have offered magnificent views of the lake or the surrounding demesne.
The hotel restaurants at the Great Southern and at Ashford are both good, although Ashford's is by far the better of the two. Among its other consequences, Britain's relinquishment of civil authority in most of Ireland some seventy years ago made possible, for the first time in about eight centuries, the proper cooking of food, The best native cooks have dispensed with imported recipes and now offer simple dishes made from ingredients that are produced locally. Fish, lamb, and wild fowl and game predominate in and around Galway. Alf and Fionnuala Maclochlainn directed us, with themselves securely in row, to a pair of restaurants that are perhaps the best in the city: the Malt House, which is located in a mews off High Street, and Olde Galway, a tiny place above a shop on the same street. Like Galway itself, these places are homey and unpretentious. They both had fires lit against the evening mist, and there was always fresh soda bread on the table and salmon on the menu.
Finally, do rent a car in Galway and don't be tempted into a planned tour. In a country where the weather is notoriously fickle, freedom and mobility are the best defenses. Besides, there is in Galway and the countryside around it no one mountain, no one museum, no one historical site that simply must be seen, and there is thus no reason whatsoever to commit yourself to any course of action weeks or months — or even hours—in advance. This fact, indeed, accounts in no small measure for Galway's appeal. An extra half hour with The Irish Times of a morning, an afternoon in a pub, a day spent wandering aimlessly—these are occasions neither of guilt nor of loss. They're part of why you came.