SPECIAL ADVERTISING SECTION
x 0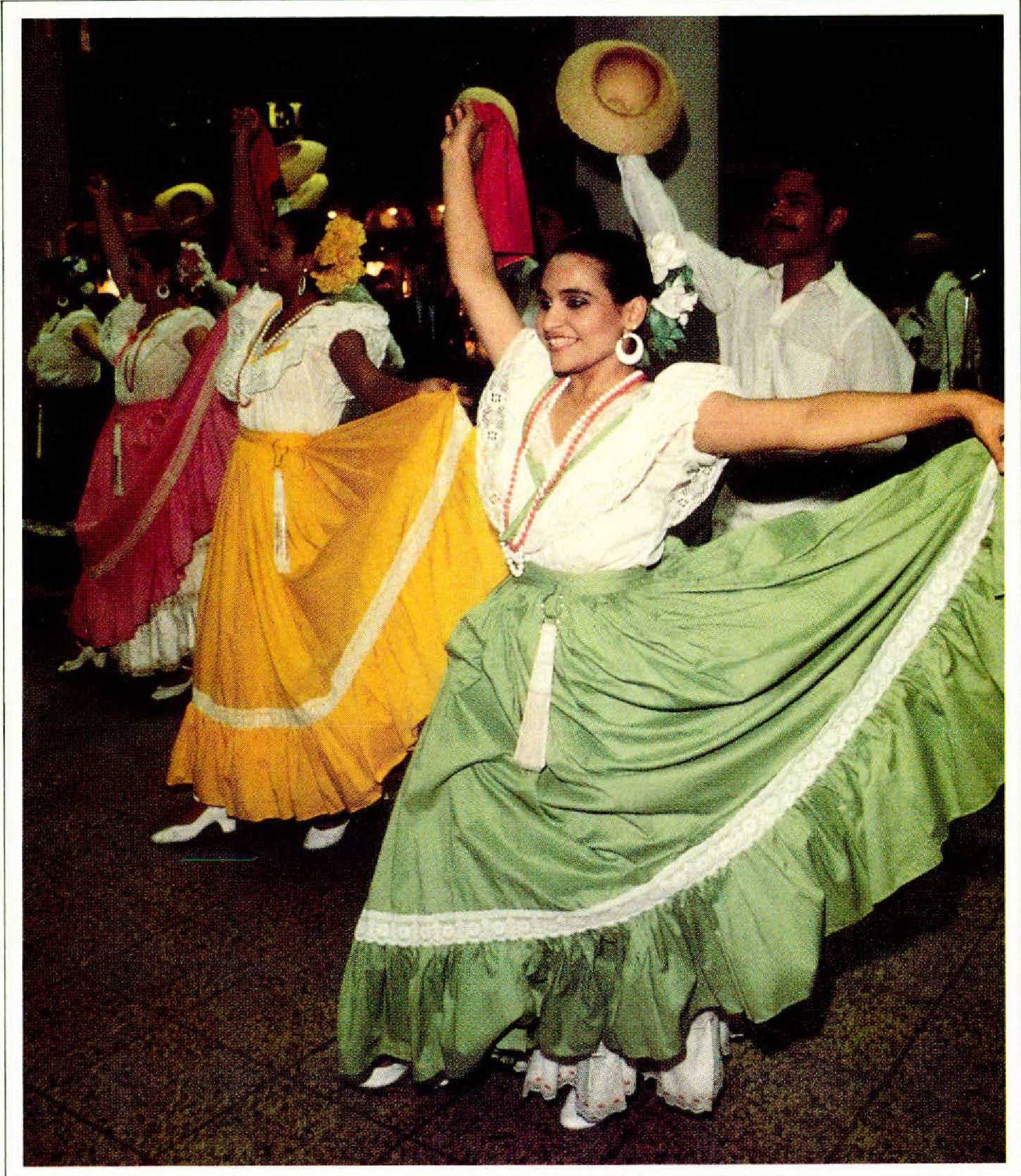 f ANTIGUA & BARBUDA
APRIL 30-MAY 6, ANTIGUA SAILING WEEK. The grand finale of the Caribbean sailing season.
For information: Government of Antigua & Barbuda Dept. of Tourism, 610 Fifth Ave., New York, NY 10020. (212)541-4117.
# ARUBA
JANUARY 29-FEBRUARY 5, CARNIVAL. The Carnival is capped by big parades in Sint Nicolaas and Oranjestad, this year on the 4th and 5th, respectively.
For information: Aruba Tourist Bureau,
1270 Sixth Ave.. New York, NY 10020. (212) 246-3030.
BARBADOS
NOVEMBER 1-30, NATIONAL INDEPENDENCE FESTIVAL OF THE CREATIVE ARTS. Dance and theater performances, art exhibitions, and jazz, gospel, and calypso music. The festival events, which are competitions, take place all over Barbados. The festival is organized by the National Cultural Foundation and concludes on Independence Day, November 30.
MARCH 25 AND 27, OISTINS FISH FESTIVAL. On the days fore and aft of Easter,
Oistins hosts a small-town street fair plus fishing-boat races, fish-boning competitions, and a Coast Guard exhibition, in festive tribute to the local fishermen.
For information: Barbados Board of Tourism, 800 Second Ave., New York, NY 10017. (212) 986-6516.
BRITISH VIRGIN ISLANDS
MARCH 25-27, VIRGIN GORDA FESTIVAL. Calypso singers and reggae bands, island foods, and a parade on the 27th.
APRIL 14-16, BRITISH VIRGIN ISLANDS SPRING REGATTA, Tortola. The third leg of yachting's Caribbean Ocean Racing Triangle.
For information: British Virgin Islands Tourist Board, 370 Lexington Ave., New York, NY 10017. (212) 696-0400.
M CAYMAN ISLANDS
APRIL 22-23, BATABANO CARNIVAL, George Town, Grand Cayman. The Caymans hold this Carnival after Easter, but Batabano is otherwise in the mainstream, with a colorful parade, calypso and steel-band music, and dancing in the streets.
For information: Cayman Islands Dept. of Tourism, 250 Catalonia Ave., Coral Gables, FL 33134. (305)444-6551.
DOMINICA
FEBRUARY 6-7, CARNIVAL. Certain Caribbean cognoscenti like nothing better than Dominica's down-home Carnival celebration. You drive around until you come across some locals roasting a pig or the like; you join them, share your rum with them, sample the pig; and then you get back in the car and start again.
For information: Dominica National Development Corp., P.O. Box 73, Rosa, Dominica. (809)448-2351.
* FRENCH WEST INDIES
DECEMBER 1-10, INTERNATIONAL GUITAR FESTIVAL, Fort-de-France, Martinique. The theme this year will be "Guitar and Dance." The classical performers will include Manuel Barrueco, Victoria de Los Angeles, Ichiro Suzuki, and Leo Brouwer;
Caribbean
the jazz performers, Stanley Jordan, Larry Coryell, Sharon Isbin, Laurindo Almeida, Chet Atkins, and Marcel Dadi.
JANUARY 31-FEBRUARY 6, MUSIC FESTIVAL, St. Barthelemy. Instead of throwing a Carnival blow-out, St. Barts presents a series of concerts in the Church of Lorient; even these are suspended on the weekend. Gustavia and some of the hotels do make gestures in the direction of Mardi Gras, but most of these Won't extend beyond February 7, Mardi Gras itself.
FEBRUARY 4-8, CARNIVAL, Fort-deFrance, Martinique, and Pointe-a-Pitre, Guadeloupe. In both cities Carnival keeps right on going through Ash Wednesday, February 8, in order to give King Carnival a memorable funeral.
For information: French West Indies Tourist Board, 610 Fifth Ave., New York, NY 10020. (212) 757-1125.
JAMAICA
DECEMBER 17-31, JUNKANOO. Everyone dons a mask and a costume and heads for the streets, to parade and dance.
FEBRUARY 3-8, MIAMI TO MONTEGO BAY RACE. At 811 miles, the longest sailing race off the East Coast. (305) 524-5508.
FEBRUARY 9-16, JAMAICA SAILING WEEK, Montego Bay. The finish of the highly competitive Miami to Montego Bay regatta marks the start of this series of social events and informal races.
For information: Jamaica Tourist Board,
866 Second Ave., New York, NY 10017. (212) 688-7650.
NETHERLANDS ANTILLES
NOVEMBER 11, ST. MAARTENS DAY,
St. Maarten. This day, said to be the anniversary of the island's discovery by Columbus, on his second voyage to the New World, is always a party. The anniversary in question is the 495th.
JANUARY 28-FEBRUARY 7, CARNIVAL, Bonaire and Curacao. Bonaire will hold Carnival parades, with floats, musicians, and costume-contest hopefuls, on the 4th and 5th. Curacao in late January will have a four-day competition among the island's "tumba" bands to decide whose song all the bands will play on the road march during Carnival itself. Curacao's big day is "Dimanche Gras," February 5.

Caribbean
For information : St. MaartenlSt. Eustatiusl Saba|Bonaire Tourist Office, 275 Seventh Ave., New York, NY 10001-6708, (212) 989-0000; or Curacao Tourism, 400 Madison Ave., New York, NY 10017, (212) 751-8266.
PUERTO RICO
THROUGH DECEMBER 30, BIENAL OF LATIN AMERICAN GRAPHIC ARTISTS, San Juan. Including a group show of works by distinguished Latin American artists at the Arsenal de la Puntilla.
DECEMBER 28, INNOCENTS' DAY, Hatillo. The celebrations start on the previous day, with real innocents—the local children—engaging in Halloween-like pursuits in honor of Jesus' flight from Herod's soldiers. On the 28th adults assume the role of Herod's soldiers searching for the baby Jesus, donning elaborate masks and costumes for the afternoon's Parade of the Masks. In the evening small groups of masqueraders go visiting on horseback.
JANUARY 6-15, FOLKLORIC FESTIVAL OF PUERTO RICO, Santurce. This celebration, in the Centro de Bellas Artes, is being produced by Areyto, one of the island's leading folkloric dance companies. It will feature music and dance groups from Europe, Israel, Australia, South America, and the mainland U.S.
MARCH 10-12, COPA VELASCO, San Juan. The first leg of yachting's Caribbean Ocean Racing Triangle.
For information: Puerto Rico Tourism Co.,
575 Fifth Ave., New York, NY 10017. (212) 599-6262.
ST. LUCIA
DECEMBER 13, ST. LUCIA DAY. Street celebrations and sports contests highlight one of the biggest events of the year—the island's official discovery day and, not coincidentally, its traditional patron saint's day.
FEBRUARY 6-7, CARNIVAL, Castries. Parades, and calypso and steel-band competitions.
For information: St. Lucia Tourist Board,
41 E. 42ndSt., New York, NY 10017. (212) 867-2950.
f TRINIDAD & TOBAGO
NOVEMBER 5, WORLD STEELBAND FESTIVAL FINALS, Port of Spain, Trini-
Caribbean
dad. The competing bands—some with as many as 60 members—each play a set "test piece" and a calypso and a classical piece of choice.
FEBRUARY 6-7, CARNIVAL. At 156 years old, the Trinidadian Carnival is among the New World's most venerable. The centers of activity are Port of Spain and San Fernando, Trinidad, and Scarborough, Tobago.
For information: Trinidad & Tobago Tourist Board, 118-35 Queens Blvd., Forest Hills, NY 11375. (718)575-3909.
U.S. VIRGIN ISLANDS
DFCEMBER 25-JANUARY 6, CRUCIAN CHRISTMAS FIESTA, St. Croix. An allout Christmas party, with Carnival-style festivities as well as more specifically Christ-
masy traditions, such as carol-singing (from four to seven each morning, yet). On the 6th, Three Kings Day, a fanciful costume parade calypsos through Christiansted.
MARCH 24-26, ROLEX CUP REGATTA,
St. Thomas. The second leg of yachting's Caribbean Ocean Racing Triangle.
APRIL 22-29, CARNIVAL, St. Thomas. When the Africans arrived on these islands, their festive dances, called bamboulas, were a form of ritual worship of the gods of Dahomey. In time Christianity took hold of the ritual, redirecting it into an Easter celebration. Now it's shaken free of that, too, and finally the celebrations—music and dance competitions and, on the final day, a parade featuring costumed bands of as many as 200 revelers—exist for their own sake.
For information: U.S. Virgin Islands Dept, of Commerce, 1270 Sixth Ave., New York, NY 10020. (212) 582-4520.