COLOMBIA: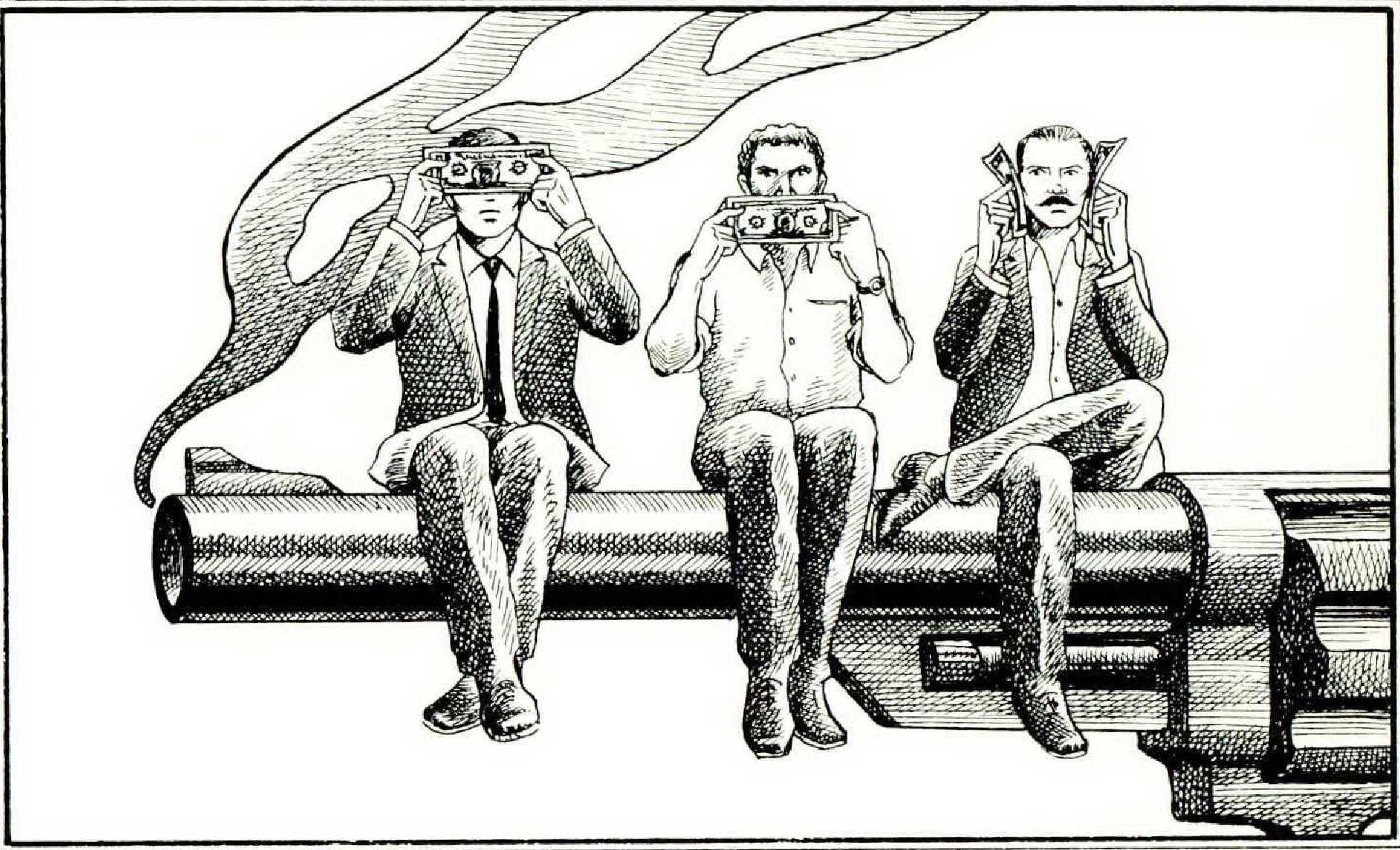 You can kill someone for $10 in Medellin, Colombia
JUST BEFORE DAWN on the morning of March 22 Brigadier General Jaime Ruíz Barrera declared war on the cocaine traffickers of Medellín, Colombia. During the night 800 soldiers of the Colombian Army's Fourth Brigade had surrounded El Bizcocho farm, the principal residence of Pablo Escobar, who is the godfather of Medellín's mafia. At 5:45 A.M. they moved in, Ruíz directing the raid from a military helicopter circling above. They captured Escobar's wife and sister-in-law, twenty-five bodyguards and hired killers, sophisticated weapons and radio equipment, lists of hit victims, tapes of Escobar's phone calls, and tapes of the presidential phone conversations of Belisario Betancur (Escobar had apparently tapped the ex-President's phone). When troops broke into Escobar's room, his bed was still warm. Wearing only his underwear, he had escaped through a tunnel.
Over the next week Ruíz's men raided sixty-one farms, houses, and laboratories of the Medellín mafia. By July they had raided 400 and were still going. The raids were the first signs of life in years in Colombia's Fight against the mafia. The traffickers went into hiding, and Ruíz became a celebrity in Colombia. The more courageous Colombian newspapers applauded him. One called him "Man of the Year."
But so far the raids have failed. They have not yet captured Escobar or any other important trafficker. If they did, it's likely that the Colombian justice system would prove too weak to support the arrest. Two judges in Medellín's criminal court freed sixteen of the prisoners detained in the raids. Some of the tapes found in the raid on El Bizcocho linked a member of the President's State Council with Escobar, and two days later the State Council voided the standing order for Escobar's arrest and extradition to the United States: Escobar was no longer a wanted man. Ruíz's soldiers arrested Fabio Ochoa, the godfather of another clan of traffickers, on May 28, and a judge freed him two days later. Ochoa's son, Jorge Luis, had already been arrested and freed twice. Medellín's efforts to hold a dinner honoring the work of the Fourth Brigade was delayed for three months; a Bogotá paper reported that no one could be found to organize the event.
MEDELLÍN DOES NOT look like a center of anarchy. It is a beautiful garden city of 1.5 million people with the climate, year-round, of Maine in the summer. It is the industrial capital of Colombia, and its region produces most of Colombia's coffee and cattle. Its hospitals are renowned for their organ transplants. Its downtown boasts mirrored skyscrapers, and an elevated train is under construction. Its people—Paisas, as they are called—are known as hardworking and punctual, and as first-rate entrepreneurs.
But the mafiosi, whose business skills make them true Paisas, have offered their city a choice: plata o plomo—silver or lead, a bribe or a bullet. And under its modern surface Medellín has become, in many ways, a medieval city.
The wealthy live in guarded fortresses and hire private armies for protection. The universities are cloisters; the slums are ruled by bands of assassins. Citizens pay tribute to the lords who control the city.
Ehe tribute takes different forms. Many of the poor, who have suffered the most from the violence, treat the traffickers like heroes. The traditional upper-class distaste for the mafia's bad manners does not extend to its money, which has transformed Medellín. And little by little the traffickers have gained acceptance in the city's institutions. Escobar was elected to Colombia's House of Representatives. The former Supreme Court justice Humberto Barrera announced to a Medellín newspaper, "I hate the drug traffic. I believe it must be eradicated and punished by any drastic measure necessary to eliminate it." Barrera is one of Jorge Ochoa's lawyers, a member of a team that includes five former Supreme Court justices and several former university presidents.
Father Elias Lopera Cardenas, a lawyer and a theologian, told me in an interview in the archdiocesan offices, "Medellín is learning the laws of the mafia: Pay me or I'll kill you." But later in the conversation Father Lopera said that Escobar, from what he knew, was a good person. "I knew him when he was a congressman," he said, "and he talked about ending poverty. If he's bad, it's up to the state to prove it. It's not up to me." Medellín's priests, bankers, judges, and politicians speak about the cocaine problem with concern. But faced with the choice of plata o plomo, they resort to the passive voice, as if the problem were as anonymous and unpredictable as a sudden storm, for which no one is responsible and about which nothing can be done.
Ruíz stepped into this moral fog with a bullhorn and a searchlight. After interviewing dozens of people in Medellín, I, too, began to see the question of whether to fight the drug traffickers as a complex one. Then I went to see Ruíz again. It is really very simple, he said. They are tearing Colombia apart. We have to find them and jail them, and if our judicial system cannot hold them, we should extradite them to the United States. He was the only person I talked to in three weeks in Medellín who said, point blank, that he favored extradition. His insistence that the war hadn't been lost bordered on the absurd. What do you do when the judge frees the next batch of detainees, I asked him. He smiled. "We have to catch them again," he said.
Ruíz, FORTY-SEVEN, attracted little attention when he took the Medellín command two weeks after becoming a general, in December of 1987. He joined the army on his fifteenth birthday, the earliest age possible, and rose through army intelligence. He is a soldier's soldier: an engaging, forceful man with hard-line political views, a twopack-a-day smoker. He gave me a copy of a paper he had written about the guerrilla threat. The unions, the peasant organizations, the left-wing political party Unión Patriótica, are all part of the guerrillas, he wrote. Even the humanrights group Amnesty International is a "communist front." Outside the military he was unknown, but when he took over the Fourth Brigade, the job was not pivotal, for the President had yet to decide to use the army to fight the mafia. That task was being handled—or, rather, not being handled—by the police. Both the police and the Fourth Brigade had earned reputations for corruption. Escobar gave one of Ruíz's predecessors a Mercedes as a going-away present when he was transferred.
When Ruíz received the order to go after the mafia, he attacked with a crusader's zeal; even his fellow generals were taken by surprise, they told me. The day after the first raid the death threats began arriving; Ruíz taped them and played them for reporters. When some of the tapes found in the raid turned out to be Escobar's conversations with Ruíz's colonel in charge of intelligence, the colonel was arrested and two weeks later was thrown out of the army. When Ruiz travels, always by different routes, it is with a three-car escort and a dozen soldiers, machine guns ready. His wife and teenaged son and daughter shift from house to house and travel with bodyguards. I asked him once whom he admired. Former Minister of justice Rodrigo Lara Bonilla, he said. Former Attorney General Carlos Mauro Hoyos. Guillermo Cano, the former publisher of the Bogotá paper El Espectador. Colonel Jaime Ramirez, the former head of the narcotics police. The four men he named were considered incorruptible and brave. They were the leaders in Colombia's fight to arrest and extradite the traffickers. They were also all dead— shot by the hit men of the Medellín mafia.
Although the mafia has claimed credit for some of these murders, no important trafficker has ever been arrested in connection with these or any other assassinations. This is a product of both plomo o plata and the traditional weakness of the judicial system. A government study leaked to a Bogotá newspaper said that sentences are given in one percent of the cases brought to authorities. Colombians have long been accustomed to taking justice into their own hands and killing with impunity, in such a climate a spark can set off an explosion, as in 1948, when a dispute between the two traditional political parties touched off several years known as La Violeneia, in which 100,000 people were killed.
Today's violence is more diverse. The mafia's highly publicized assassinations—fifty judges, twenty-five journalists, hundreds of policemen—are only the beginning of it. Six left-wing guerrilla armies kidnap the wealthy and assassinate political leaders. Right-wing death squads, with the apparent collaboration of the armed forces, committed twentyfive massacres of peasants and labor leaders in the first six months of 1988. More than 147 death squads, with names like Love for Medellín, target "undesirable" elements, such as drug addicts and homosexuals. Violence has become part of Medellín's culture. An ad for a security service in a glossy magazine shows a picture of a family split in two. "Have you thought about kidnapping?" the headline reads. There are only two pornographic movie houses in Medellín, but dozens of theaters show violent films. The Bogotá Permanent Human Rights Commission's monthly report is simply a thick compilation of the nation's murders and massacres. Medellín's Human Rights Commission, all but one of whose officers are now dead, operates clandestinely, a concept perhaps indigenous to the city.
THE SPARK FOR today's violence is the cocaine trade. The mafia has entered into marriages of convenience with several violent groups, financing leftwing guerrillas, who protect their laboratories, and right-wing death squads, who protect the capos' haciendas from labor troubles and discourage kidnappings in their families.
Just as important, the mafia has invented the sicario, the motorcycle killer for hire, an invention that has done for murder in Medellín what the transistor did for the radio. Killing is easy, cheap, and popular. The murder rate has exactly paralleled the growth of the cocaine trade: stable since the truce following La Violeneia, the murder rate began to rise in the late 1970s and to skyrocket in 1986. It has more than tripled since 1983 and increased more than 50 percent in the past year. Colombia has the highest murder rate in the world for a country not at war, and Medellín has the highest murder rate (ten people a day, five times Detroit's rate) in Colombia. Medellin, Colombia's city of progress, has advanced to the point where the leading cause of death is no longer disease but multiple gunshot wounds.
The emergency room at Medellin's Metropolitan Clinic on the weekend night when I visited it was like a Bosch tryptych of hell. The families of victims stood outside, protected from a pouring rain by an overhang. The hair and head of one man, who stood smoking and talking with friends, were matted and caked with blood that was apparently not his. Every few minutes a car would drive up, usually a taxi, and orderlies would rush out with a stretcher to fetch the wounded. Inside, a few dozen young men, many holding their own plasma bottles, lay on metal tables. "We've become specialists in knife and gun traumas," said Jorge Gómez, a doctor who spoke to me hurriedly between patients.
I stayed four hours and saw two prostitutes who had overdosed, a middle-class woman with a troubled pregnancy, and about thirty victims of knife or gunshot wounds, four of them women. A woman waiting outside told me that her twentythree-year-old nephew had been knifed in a dispute over a gold chain. The nephew died. Another woman said she was waiting for her brother-in-law, who had yelled at a taxi driver for refusing to pick him up and been shot through the chest by the driver. A few days earlier I had talked to a man who said that he had seen sicarios approach the families of victims waiting outside the hospital, offering their services to avenge the shooting of a loved one. After each patient came in, a heavy middle-aged woman would mop the blood from the hallway. It was very hard work, and just before midnight she gave up, put her mop down, and sat in a chair, unable to keep up, while the tracks of blood gradually spread to cover the whole floor.
The newspaper the next day reported that there had been an average of one murder an hour over the weekend. News stories are headlined "OTHER MASSACRE" and "MORE DEATHS." "You're not finished reporting the first massacre and there's another one,"a television reporter told me.
The reporter had recently gone with the police to raid a school for sicarios— literally a school, with classrooms and lectures on how to follow victims and how to shoot a .38 from the back of a motorcycle. The schools, created in 1979 by the mafia, sometimes also provide the weapon and the motorcycle. Because the sicarios are independent contractors, it tends to be difficult to track a crime's author. They are young—the sicario who killed justice Minister Lara Bonilla was sixteen. There are now hundreds of sicarios in Medellin. They charge as little as $10 for a killing. They are usually brought in to settle accounts between small-time traffickers, but I was told of high school girls who looked for sicarios to kill romantic rivals.
MY GUIDE TO this world was a man known as Gitano, "Gypsy," a twenty-six-year-old ex-cop now working as a private guard. One evening Gitano rushed into my hotel and pulled me out on the street, where a man had just been shot. The victim was gone, but there was blood on the sidewalk. It was not yet fully night and all the shops were still open, but it was hard to find anyone who had seen the crime. Gitano spotted a friend, who said that two young men on a motorcycle had shot four times at a man walking in the street, who then shot hack at the motorcycle. The man was hit in the head.
"I have to talk to two sicarios tomorrow," Gitano said later. He said a friend of his was looking for some people to kill his father. "His father is not a good person," he said. "He treats the family badly." He asked me if I wanted to come. I said I didn't want to go to where they worked, but maybe we could meet somewhere else.
The next afternoon Gitano came to my hotel with the friend, César, and two sicarios, Rodrigo and Gilberto. We went to the restaurant on the roof, with a breathtaking view of the city and the mountains, and ordered coffee. The sicarios seemed nervous. They said they were both twenty-two. They looked younger, both with acne. Rodrigo in jeans and a T-shirt, Gilberto in a fancy sweatshirt and tan pants and with elaborately styled long hair. Rodrigo was married, he said. They both had first killed people when they were sixteen; el asunto, "the business," was the term they used for a murder. Their clientele was made up mostly of small-time drug dealers, who sometimes paid them in cocaine or jewelry. They would charge a client they didn't know a million pesos (about $3,300), Gilberto said. They said the police often helped, in return for a cut. When I asked about the victims, Gilberto said, "It's true, their family suffers. But we mostly think about the money we make—it's our work. Besides, in most cases they are bad people. We're doing everyone a favor." I left them talking to César about their deal.
The next day Gitano called me. "They're a little nervous about you," he said. I said I didn't know their last names or where they lived or worked. "They aren't sure,"he said. "Maybe you know more. They're just a little nervous, that's all." I moved to a different hotel.
That day it hit me that I had witnessed a murder being planned and had done nothing about it. A week earlier I would not have thought this possible; now the idea of doing something had not even occurred to me. What could I do? Asking for details struck me as imprudent, and the police would pay little attention to a story about a murder not yet committed. More than that, the Sicarios' hit hadn't seemed to me like murder.
I had severed the connection between the four men in my hotel restaurant and the imminent death of Cesar's father. After only ten days in Medellín I was thinking about violence in the passive voice, as something that just happens to people.
MEDELIíN'S IMAGE of the United States is similar to our image of Colombia: a den of violence and vice whose lack of moral foundation is causing the drug problem. The popular view is that if there were no demand, there would be no supply, and most Colombians don't see the U.S. anti-drug effort as serious. Even in slum neighborhoods people know about the American tolerance for marijuana-growing and can cite the drop in the Coast Guard's interdiction budget.
Drug-enforcement officials, of course, agree that reducing consumption is crucial; Colombia by its efforts alone cannot end cocaine use. But Medellín seems more than happy not to try. The city's attitude toward the traffickers begins at avoidance and runs to outright admiration, and there is a direct correlation between attitude and class: the poorer you are, the more of a hero Pablo Escobar seems. Indeed, only listening to young Sandinistas in Nicaragua talk about Che Guevara have I heard anything comparable to the adoration that poor people in Medellín express for Don Pablo.
In April of 1983 the Medellin River flooded, destroying the garbage dumps on its banks and the shacks of several hundred families who made their living picking through the garbage. A week later a stocky man of thirty-four, wearing black pants, a white short-sleeved shirt, and a cheap watch, stepped carefully through the garbage to talk to the families who were reconstructing their houses. It was Pablo Escobar. He promised the families that he would build them new housing. He created a corporation, Medellín Without Slums, and a month later 360 families moved into a new barrio.
The houses in Barrio Pablo Escobar, on a hill above the city, are brick, small and sturdy, with plumbing and electricity and gardens filled with Medellín's famous flowers. The residents who live there pay only for electricity and water. They, of course, cannot say enough good about Don Pablo. More important, everyone I talked to in Medellín knew about the houses, about the lights that Don Pablo had installed at some of the soccer fields in poor neighborhoods, and about the traffickers' 1984 offer, rejected by the government, to pay Colombia's external debt in return for amnesty. In 1982 Escobar was elected an alternate congressman, billing himself as a sports promoter, industrialist, contractor, and defender of natural resources. Orión Alvarez, a lawyer who had worked with Escobar, said that Escobar was mainly interested in the legal immunity congressmen enjoy. But people want to believe that he is Robin Hood. "He's built more houses than the government,"I heard over and over.
Nowhere is the violence and drug addiction (some 300,000 Colombians are addicted, mainly to bazuco, a crack-like substance that is made into cigarettes, which sell for thirty cents) the traffickers have brought to Medellín felt more acutely than in barrios like Santo Domingo, a poor neighborhood ar the very top of one of the hills that surround the city. And nowhere is admiration for the traffickers greater. A group of boys I met in the street told me thar many of their friends had died from smoking bazuco. Jairo, fourteen, said that his twenty-twoyear-old cousin had been shot by sicarios in the doorway of his house six weeks before because he couldn't pay for his bazuco. A boy in a torn gray shirt said that his father had been killed in a knife fight over a drug sale. "My dad sold drugs too," Jairo said. "But he's still alive."
I asked them what they thought of Escobar. "He's done a lot for the people,"said Bairo, twelve. The others nodded. "He's lowered the price of food," one said. When Escobar inaugurated the lights at the neighborhood soccer field, four years ago, Bairo went to see him. "He's a very important man," he said. "I'd like to work for him—run a factory, maybe." Another boy said he'd like to fly planes for Escobar. Another said he could already drive and could maybe drive a bus. One boy said he'd like to run a factory or a farm—a farm would be better. This was clearly a favorite topic of conversation. Other boys came over. I think they thought I was recruiting. They talked for a while about what they would do if they were rich. "I would go to the movies every day," one boy said.
"You all say smoking bazuco is bad," I said. "You all know people who have been killed. Why do you want a job that hurts young people?" "I'd use my money to help the poor," Bairo said. "Like Pablo."
Escobar is their hero because in fifteen years he went from being a petty car thief to being one of the ten richest men in the world, defying the Colombian government and the gringos in the process. A mafia career offers poor kids the chance to be feared and respected by their peers, to carry a gun and die in the street, and, if they survive, to possess fabulous wealth. There are few other ways for the poor to get rich in Colombia, which was never a country of great social mobility. But cocaine has created 20,000 new millionaires in Medellín, most of them from origins similar to Bairo's.
WHILE THE CONSTRUCTION rate is dropping in the rest of the country, luxury high-rises are sprouting in Medellín's El Poblado neighborhood. Two towers offer a private swimming pool, hanging in the air like a balcony, with each million-dollar apartment. The main avenue is filled with new shops selling Mercedes and BMWs, imported clothes, expensive art, saddles, jewelry, and Persian rugs.
The traditional bourgeoisie of Medellín has little use for the new-money people, as the traffickers are delicately called. "The traditional people don't come here—it would reduce their status," Marta, a daughter of an old-money family, told me as we sat in Elite, a newmoney disco filled with exquisitely painted young women in leather miniskirts, heavy men sniffing cocaine at their tables, and policemen who had wandered in for free drinks and tips. "The new money still can't get into the Country Club or the Union Club," Marta said. But the reason is the one that makes old money contemptuous of arrivistes everywhere: their bad taste. The traditional rich complain that the new-money people wear too much gold and buy bad art, and that they spend too much too fast. The source of the money doesn't seem to be an issue. And the segregation doesn't extend to the second generation. The children mix freely.
The traditional rich may not like the mafia's extravagance, but they are quite willing to sell the traffickers farms, houses, and luxury goods at high prices. Although traffickers can't join the Country Club, the wives of club members amused themselves for a few years by putting a million pesos into a pool, losing it occasionally but usually doubling their money the next month. The pool was actually a protection scheme for cocaine shipments; the women lost their money if the shipment was seized but got paid off if it arrived safely in Miami. Old money and new money, in the end, are just money.
The mafia has not yet penetrated the traditional manufacturing sectors of Medellin, but this seems to be by its own choice. Factories are hard to manage, offer low rates of return, and, most important, are subject to strict reporting of financial transactions. Cocaine money has gone instead into real estate, luxury goods, and more-glamorous, harder-tomonitor businesses that can better launder cocaine dollars: contraband cigarettes, hotels, restaurants, horses, and fighting bulls. Many of the soccer teams in Colombia have been owned by mafiosi.
The government welcomes the mafia's money, providing a safe and legal way to wash dollars, changing them to pesos, no questions asked, at the Banco de la Republica. On the day I went to change money, four men in their twenties, wearing tennis shoes and jeans, were removing envelopes stuffed with $100 bills from their shirts and passing them through the window. The transaction took an hour. Mine was quicker. I walked up to the window and said, "I'd like to change fifty thousand dollars, please." The woman didn't look up. "Name?" she said. "Mary Tyler Moore,"
I said. I signed my new name and said, "Better make that fifty dollars."I changed fifty dollars and left. The rate was better than the street rate; the government here is the black market. The Medellín branch alone of the Banco de la República brings the government $600 million a year in hard currency.
MEDELLÍN'S MAYOR, the former newspaper publisher Juan GÓmez Martínez, told me that he used to be in favor of extradition but has changed his mind. He recently recommended dialogue with the traffickers. The change came after a dozen men tried to force their way into his house at gunpoint last November. A note sent to the press said that the kidnapping attempt was in retaliation for the jailing of Jorge Luis Ochoa the day before. He hadn't wanted to be mayor, GÓmez told me. To most of my questions about how to deal with the city's crime and corruption he answered, "I don't know." Gomez is not corrupt or cowardly. He has just given up.
The mafia's greatest weight has fallen on the institution least able to support it—the judicial system. Judges are not just overworked and underpaid; they are seldom paid at all. They go on strike every year to collect their salaries, and their offices frequently run out of typing paper and pens. The Latin legal system demands that judges themselves investigate whether there is enough evidence to hold a detainee, and judges go alone or with a secretary to investigate, paying for the trip out of their own pocket and traveling by bus or, in remote areas, canoe. The government is now starting to increase the judicial budget and create a judicial police force to investigate crimes, but the budget increases lag far behind the crime increase, and the new police force has been slow to get started.
These factors all add up to impunity, even without the mafia's ability to terrorize judges, which is considerable. One Medellín judge I met kept in her desk a brown paper envelope filled with death threats—condolence cards and mass cards with her name inserted, a copy of Gabriel García Márquez's Chronicle of a Death Foretold. She said she had more at home. Enrique Low Murtra, the outgoing Minister of Justice—the only one of the seven men who have occupied that post in the past two years to resign because of natural causes—told me that traffickers had bankrolled the M-19 guerrillas' takeover of the Palace of Justice in 1985, in which eleven Supreme Court justices were killed and all files on the mafia were burned. I spoke to one judge in Medellín who had turned down a nomination to the Supreme Court when he'd received too many death threats. The government had guaranteed him protection, but he knew how that worked. He had once been given protection during a dangerous case. "Two badly dressed old men showed up in my office to take me home," he said. "They each had a revolver, and they wanted to put me on the back of a motorcycle. I said, 'No, thanks. I'll take the bus, and don't bother coming back tomorrow.' "
RESTORING THE JUDICIAL system and reviving popular faith in it is the only way Colombia can save itself—not just from the mafia but from all the forms of violence that are destroying the country. Yet General Ruíz's career and way of thinking are evidence of Colombia's resistance to this message. Several of Colombia's Attorneys General have said that members of the army participate in the death squads, killing peasants, union activists, and members of Unión Patriótica, which has lost 600 members since its formation in 1985. Amnesty International and other groups have also reached this conclusion, and a Bogotá judge recently indicted a soldier, along with a mafia capo, for organizing a peasant massacre.
Officials of the armed forces deny that soldiers are active in the death squads. But they refuse to allow soldiers to be tried for these crimes outside military courts, where, because the military's ideology paints all leftists as the enemy, the chance of conviction is small. When speaking to an army official in the countryside, I mentioned that I had talked to the mayor of the town, who was a member of Unión Patriótica. "So you talked to the guerrillas" was his response. Every army official I spoke with considers members of the left-wing party Unión Patriótica to be guerrillas, and killing guerrillas is their job. Colonel Eduardo Arévalo, the press spokesman for the armed forces, told me openly of his admiration for how the Argentine generals dealt with their country's leftists.
Ruíz said that he condemns the killing of leftists but "understands" why people do it. "People identify UP members as having kidnapped their relatives, so they contract people to kill them," he said. When the UP blamed the army for a June massacre of leftist miners, Ruíz, instead of investigating, suggested that the UP had killed the miners themselves. His faith in justice, apparently, goes only so far, in stark contrast with his fight against the mafia. In fighting the mafia, Ruíz is a lone voice telling Medellín that the city can escape from the Middle Ages, that justice can triumph over force. That he does not believe it himself shows how far Colombia remains from the rule of law.
—Tina Rosenberg