LEFT, RIGHT, & CENTER
Words are clued in pairs, with one word in each pair belonging in the left side of the diagram and the other in the equivalent place on the right. Either word may be clued first. Each Across pair comprises a 6-letter word and a 7letter word. The 7-letter word, too long for its diagram row, will extend its first or last letter into the central column. In the finished diagram, the 11 letters in the center will spell out a phrase appropriate to their location. Answers include five proper words; two answers (clued at 11 Across and 14 Across) are not in Webster's Ninth New Collegiate Dictionary.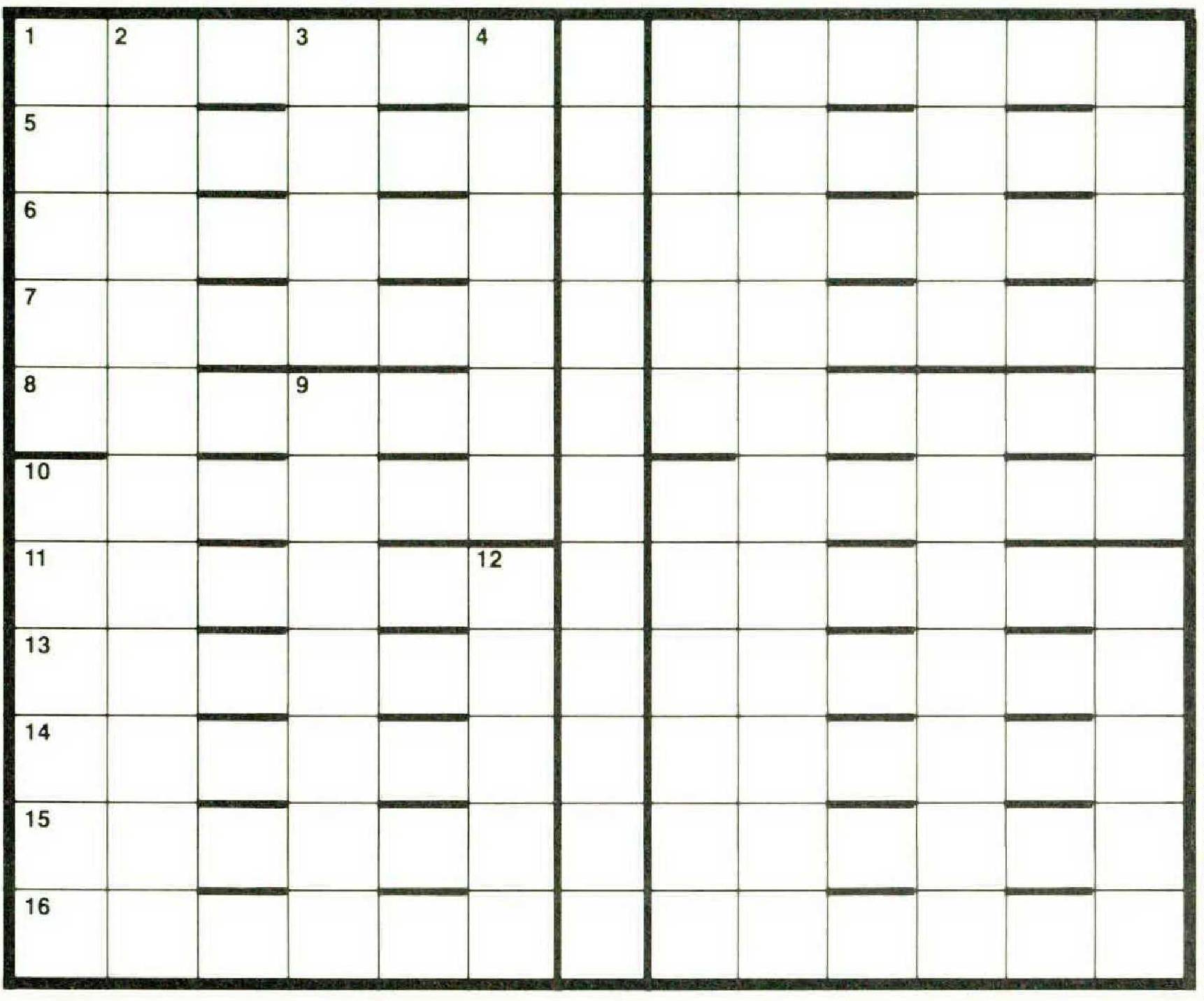 The answers to last month's Puzzler appear on page 97.
ACROSS
1."Left, Right, Center" can make you go real crazy about isolated spot in puzzle
5. Cracking clue in central parts without help requires college degree for sea dweller
6. Diggers in the earth, getting cross with harrow, put down seed pod randomly
7. Before catching plane from Russia (one leaving the country), I touch down again someplace in Europe
8. Good grade in test of a group singer in a star cast
10."Worthless pair of presents," growls Southern liberal, called back
11.Almost crippled after sack uproar, Swaggart moved out west with motley crews
13. Deviant that maintains struggle against government's extreme viewpoint in dispute
14. Being difficult, Uncle Philip left wild viper to Turner
15. Track racer has a grating round in schedule I first set apart
16. Stripper, frontally nude, sinuously moved feather and wiggled cane in rite
DOWN
1. Slow profit is about right—under one grand on Iowa city's
entertainment (5,5)
2. Our newspaper endlessly distorted nuke horror, with atomic device almost landing on one country (11,11)
3. A woman's name associated with novels and a man's name associated with Eskimo legends (4,4)
4. Play diamond in 500 rummy—I led hearts after club comes in (6,6)
9.Painting of royal couple aboard boat tossing in gale, crowned by bishop from Ghent (7,7)
10.Not very smart of us to be playing G sharp when transposing charts (6,6)
12. I, famous Rebel, fight insatiable desire in green grass (5,5)
Note: The instructions above are for this month's puzzle only. It is assumed that you know how to decipher clues. For a complete introduction to clue-solving, send an addressed, stamped envelope to The Atlantic Puzzler, 8 Arlington Street, Boston, Mass. 02116.
Answers to the August Puzzles
"FORTY-NINERS"
The corner letters spell SAN FRANCISCO.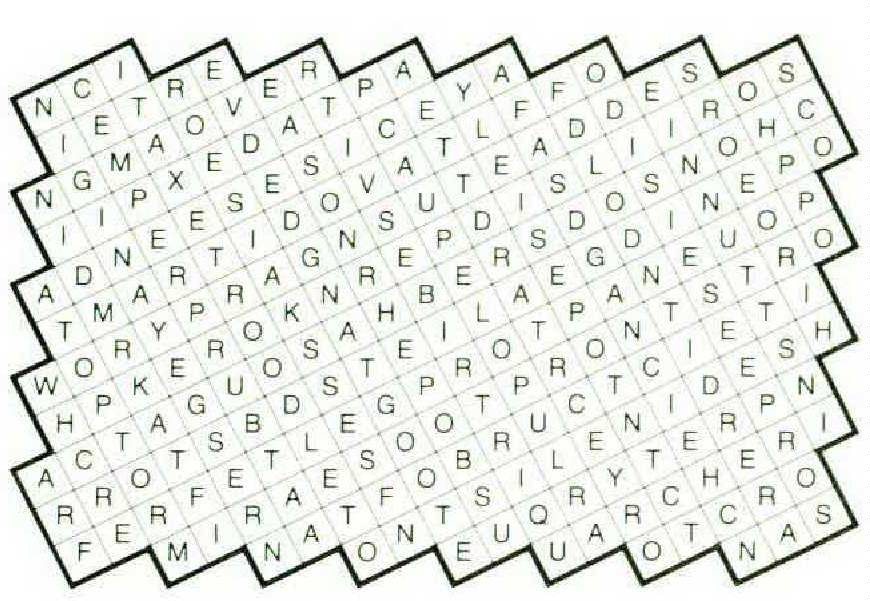 Clues. 1. ENI(G)MATIC (g + anag.) 2. OVERTAXED 3. AD(V)ERTISE (anag. + v) 4. CAP-TI(VAT)E 5. L(AF)AYETTE 6. DA-FFO-DILS (slid + off rev.) 7. IR(ON)S-IDES 8. HOROSCOPE (anag.) 9. IMP-ENDING 10. EX(P)ERT-IS-E 11. DI(A)G-NOSE'S 12. SUPERNOVA (anag.) 13. DIS(RE)PUTE 14. D(ISL)ODGES 15. INNU(END)OS (unions anag.) 16. OPPOR-TUNE (pop or anag.) 17. MAN DA(TO-R)Y 18. P(ORT)RAYER 19. KANGAROOS (anag. minus h) 20. H(I-BERN)ATE 21. LI-BERATOR (Roberta anag.) 22. PAT-R(ON)AGE 23. TENANCIES (anag.) 24. TEE (SH-I)RTS (rev.) 25. P(ATCHW)ORK (watch anag.) 26. GRUBS-TAKE 27. DOUB(T)LE-SS 28. GO-OSESTEP (poetess anag.) 29. T(URBOPR)OP (or burp anag.) 30. COR-PU-LENT (up + roc rev.) 31. IN(T[h]E-R)DICT 32. PRERINSED (anag.) 33. RE(FRA)CTOR 34. FI(REST-O)RM 35. A-L(TERN)ATE 36. FO(OTNOT)ES (Tonto rev.) 37. SO-BRIQUET 38. R(ELI)QUARY (quarry anag.) 39. CR(OTCHET)Y (the cot anag. ) 40. RAN-CH-EROS
ACROSTIC NO. 37
"[Victorian] suction devices [were] powered by various types of bellows. . . . The most bizarre vacuum cleaner consisted of two bellows which the hapless maid was to wear as shoes, and which caused the nozzle to suck air as she walked around the room."
—Witold Rybczynski, Home