Bons Voyages: Sailing Through Paradise, or French Polynesia
"IT ISN'T ORIGINAL, is it?" Michael, a wry young Swede with whom I fell into conversation on the island of Huahine, remarked about French Polynesia as a destination. Of course it's not original. How could it be? French Polynesia is everyone's dream of paradise come true.
Administratively it is an overseas territory of France. Geographically it is a collection of many hundreds of islands in the South Pacific. Most of these are tiny coral atolls, or motu, like the settings for desert-island cartoons. But French Polynesia also includes a number of majestic volcanic outpourings. Huahine is one example; better-known ones arc Tahiti, Moorea, and Bora Bora. These four islands and two more, Raiatea and Tahaa, are noteworthy because two very different cruise ships now visit them all every week.
Tahiti, the site of Papeete, French Polynesia's only city, has been relentlessly denigrated by visitors seeking paradise even as more and more French Polynesians have moved there seeking economic opportunity. Some two thirds of the territory's 175,000 inhabitants now live on the island. Still, its north and east coasts remain all but undeveloped. One segment is strung with black-sand beaches, like native black pearls on a necklace, and much of the coast road presents impressive vistas of French Polynesia's highest peaks, Orohena and Aorai, in the center of the island.
People who like to rank things rank Moorea and Bora Bora among the most beautiful islands in the world. Moorea, its mountains often capped by clouds, is visible from Papeete—and to well-off Papeete residents, it's the Hamptons. But the island is best appreciated from the middle of Cook's Bay, off the side of Moorea farthest from Tahiti. From here Moorea's skyline appears so jagged and primitive that it might have been drawn by a feverishly imaginative child.
Huahine, nearer to Bora Bora, is among the least developed of the major islands, with a population of 4,000 and only a handful of tourist hotels. It fascinates both archaeologists, who have made a number of finds significant to Polynesian prehistory here, and surfers, whose significant find is the Huahine Pipeline — one perfect wave after another rolling rhythmically along the reef.
Raiatea and Tahaa, nearer still to Bora Bora, are sister islands across a channel narrow enough to swim. Tahaa is the smaller and quieter of the two. Raiatea is the site of both Uturoa, which with a population of 5,000 is French Polynesia's second largest community, and the Faaroa River, the only navigable river in French Polynesia. The Faaroa is a Disney Jungle World river, mysterious but unthreatening. French Polynesia has no crocodiles, no snakes—in fact, surprisingly little animal life of any kind. Eerily, it was children that I saw peeping out of the underbrush along the dark riverbanks; these are their back yards. When I came back down the river, in the rain, the children were in the water, splashing about.
On Bora Bora the overwhelming presence is Otemanu, a godlike volcanic peak with an almost rectangular silhouette. Within the island's lagoon is a coral garden that is one of the most delightful snorkeling spots I've seen anywhere. Near the garden is a place where local entrepreneurs bring tourists to partake of the ritual of shark-feeding. The locals stand in the water and dole out fish skins and carcasses to the all but harmless reef sharks that show up. The tourists grip a rope strung in the water eight or ten feet away and watch in baseless terror through snorkeling masks. I can't help feeling that these same people would be incensed if, say, American entrepreneurs got Yellowstone's bears (which really are dangerous) hooked on handouts.
It would be hard to choose among these six islands if you could visit only one or two. Happily, you needn't choose. Because they are at most a night's sail apart, French Polynesia is ideal for a one-week cruise itinerary. In October of 1986 Exploration Cruise Lines' eighty-six-passenger Majestic Explorer began visiting the six islands yearround. These days, among Exploration's eight ships it is the one booked closest to capacity. In August of last year the 148passenger Wind Song, a stunning sailing vessel built for Windstar Sail Cruises, began to make one-week cruises to the six islands, also year-round. And this winter the new 360-passenger Sea Venture, the first ship built for Sea Venture Cruises, will begin cruising French Polynesia, also visiting the six islands on a one-week itinerary, until April, when it will steam off to Alaska for the summer. Alas, French Polynesia's best, driest weather is from May to October.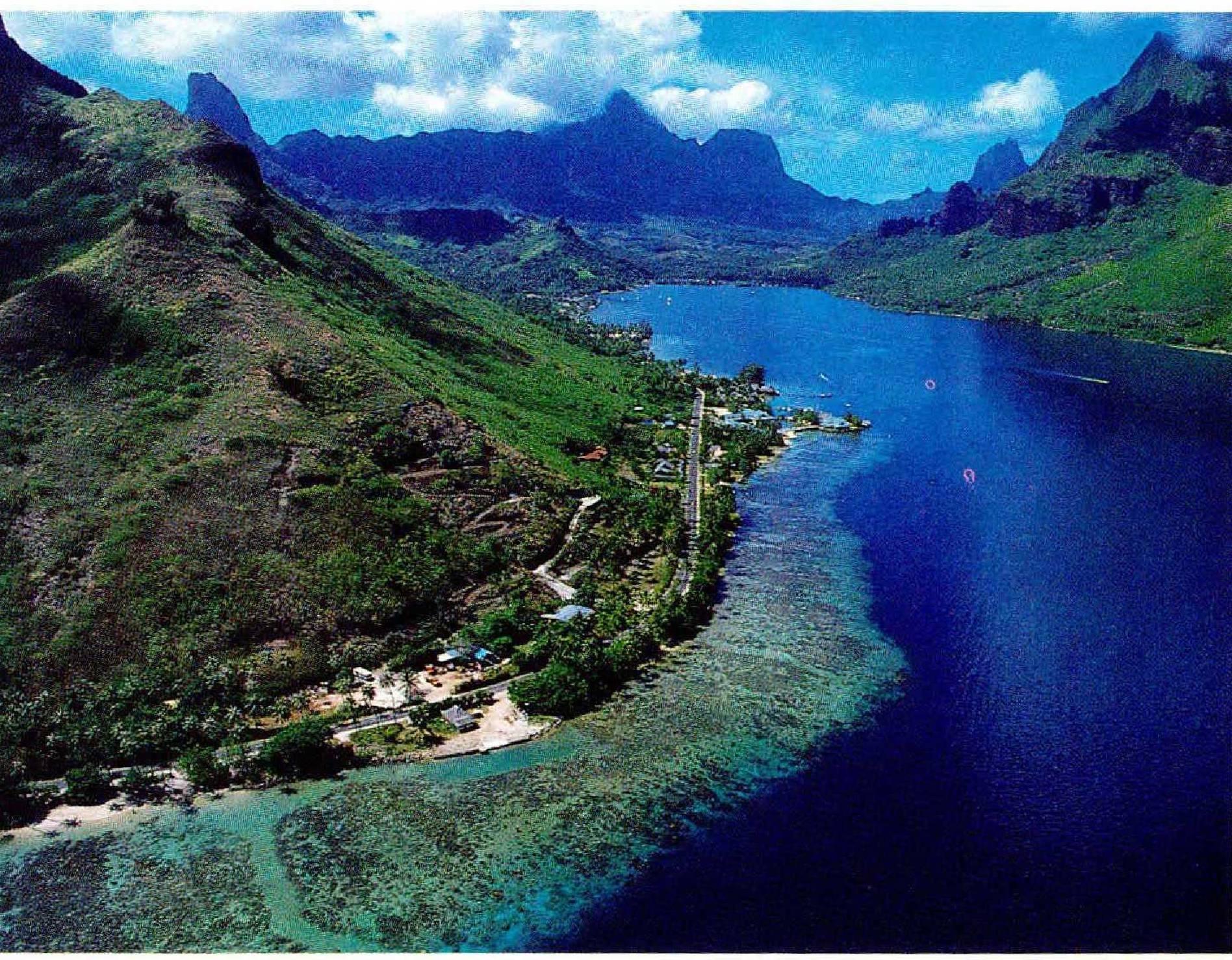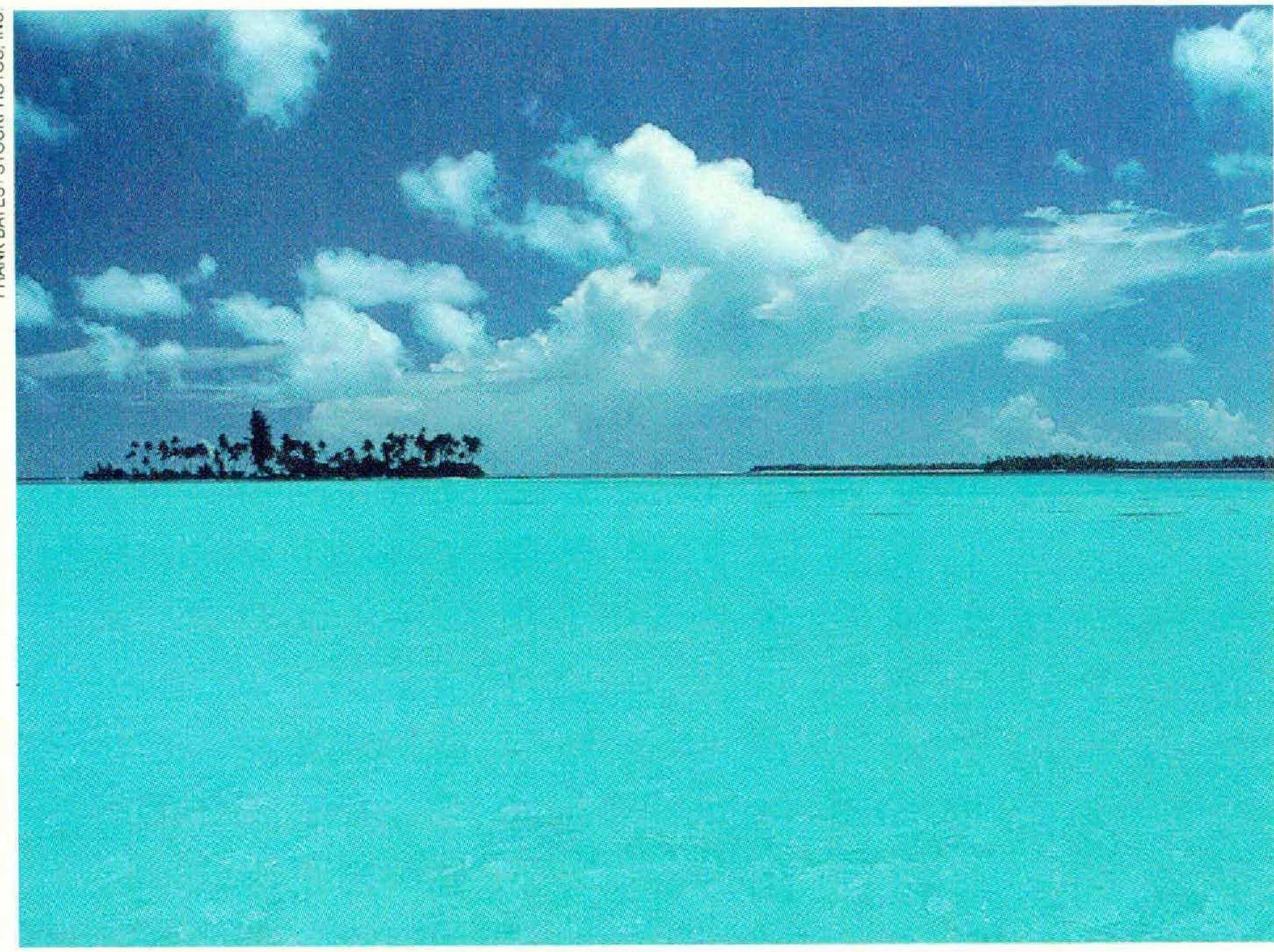 Unable to choose, I sailed on both the Majestic Explorer and the Wind Song earlier this year.
IF THERE EXISTS anywhere a passenger vessel friendlier and less pretentious than the Majestic Explorer, it is a rubber raft shooting whitewater. The ship in fact carries three motorized rubber boats, on which some excursions to shore are made. Others are accomplished by means of the ship's most unusual feature: a "bow-landing" ramp, which can be extended from the fore of the upper deck. In combination with the ship's shallow draft (seven feet), the ramp permits passengers to step off the ship directly onto some beaches.
As near as I could tell, the magical spirit aboard the Majestic Explorer was achieved by leaving us passengers with nothing to worry about and no time to worry about it, and providing us with amenities and comforts at a level that kept us in mind of adventure rather than high life.
The passengers' activities are exceptionally well thought out. For example, after a Tahitian-style picnic on a motu, when we were ready to climb up the bow-landing ramp and get back on board, we found a deckhand stationed at the base of the ramp with a hose to rinse the sand off our feet. The staff makes a point of announcing to all passengers where they can get money changed (the local currency is Communauté Française de Pacifique francs, or CFPs) on shore, and where the good snorkeling and promising shops and comfortable bars are.
On a typical day an informative talk about the island of the day begins at 7:00, at the fore of the upper deck, over coffee, while the ship is first cruising past the island in question. Breakfast is at 7:30. Between 8:15 and 6:00 P.M. the schedule varies, but it can be counted on to include two or three shore excursions: to motus for shelling and snorkeling, to villages for shopping, to hotels for sailing or windsurfing or having lunch and sitting around the bar or swimming (the ship has no pool of its own). Few of the excursions entail an extra charge, which is unusual on a cruise. Then, at 6:00 P.M., typically the ship up-anchors and goes for a cocktail-hour cruise, often with a troupe of Tahitian singers and dancers aboard to provide entertainment. Dinner is at 7:00, and by the time it's over, the ship tends to be at anchor again, so that those passengers who aren't worn out by the day's activities can go into town for a stroll or some nightlife.
The tourism industry worldwide seems to be on a gracious-living kick— for example, piling an ordinary hotel room high with gadgets and toiletries, installing a room divider, and calling the result "your elegantly appointed suite."Exploration Cruise Lines is having none of it. The Majestic Explorer's decorating scheme is middle American. The cabins are simple. The food, too, is middle American, served in a collegiate-style dining hall, which seats all the passengers at once (on up-market cruise ships single-seating dining happens to be a hot new amenity). The food is reminiscent of home cooking. On a given day there might be scrambled eggs and bacon for breakfast, spaghetti with meat sauce for lunch, ice cream with assorted toppings for a mid-afternoon snack, and a choice of marinated flank steak or seafood creole for dinner. Dinner on the final night of the cruise is surf 'n' turf, with champagne. There's no dress code, not even a nudge in the direction of one, except on that final night, when men who have been coming to dinner in shorts and T-shirts all week are somehow inspired to put on long pants and a shirt that buttons.
A person who has never much liked the idea of cruises—say, a person who doesn't happen to have a nice cruise wardrobe and agrees with Thoreau about enterprises that require new clothes—might be grateful to the Majestic Explorer for the style as well as the substance of its cruises.
WHEN I FIRST went up on deck to have a look around the Wind Song, I exulted to see, reaching high above me, four spotless white masts elaborately fitted out with booms and yards and lines and pulleys. The Wind Song, and its two identical-twin sister ships, the Wind Star (which cruises the Caribbean) and the Wind Spirit (the Riviera and the Caribbean), are, at 440 feet, among the longest sailing vessels ever built. In fact the Wind Song is "classified as a sailing vessel with an auxiliary motor," as Captain Jon Bjoerheim explained it. Easterlies prevail in French Polynesia, and it is often necessary to use the electric motor if the ship is to make port on time.
The Wind Song is loaded with technological marvels. The bridge, which passengers are invited to visit whenever they wish, is a veritable pinball-and-video-game arcade of brightly colored control screens and navigation aids. Everything from monitoring the temperature in the food-storage rooms to unfurling and positioning the sails and minding the engine is done by computer. A day or two out the chief engineer gives tours of the engine room, and it's spooky: all this clean, complicated machinery is humming away with hardly anyone there to oversee it.
The ship is aesthetically and ergonomically marvelous too. The cabins (which are all, except one extra-large one, substantially the same) are roomy and, at that, brilliantly designed to make the most of the space. They and the public areas are decorated with taste and flair. For example, an original print hung in my cabin; an abstract painting dominated the main lounge. Breakfast and lunch are served in an airy rotunda at the top of the ship. This room and the Restaurant, a wood-paneled dining room that is open only for dinner, accommodate all the passengers in a single seating—or, rather, passengers may come for meals whenever they wish over a period of two hours or so. A specific dress code applies only in the Restaurant: no shorts or T-shirts.
The ship carries two "tender" vessels and four motorized rubber boats, which efficiently bear passengers ashore. (Although the Wind Song's draft is only thirteen and a half feet, this is still too deep to permit the ship to dock at any of the islands except Tahiti and Raiatea.) There's a small pool, and also a "sports platform" at the rear of the ship, which is lowered whenever the Wind Song is at anchor in daytime. From here passengers can jump into the ocean for a swim, or go water-skiing, or take out one of the ship's Sunfish or windsurfers.
Day by day I had to think a little harder than I had to aboard the Majestic Explorer—go sign up for optional excursions, check the tender schedule, find the social director and quiz her about how to get somewhere on the island of the day, decide whether I'd rather go water-skiing now or continue lying by the pool. The staff was accommodating and personable, and arrangements, once made, went smoothly.
The food on the Wind Song was ambitious, with breakfast and lunch buffets supplemented by hot dishes prepared to order, a light tea available in the poolside lounge, and seven-course dinners presenting a choice of five entrees. Passengers' opinions of the caliber of the food differed. The well-traveled wife of an Australian cattle rancher assured me, "The food is every bit as good as it is on Royal Viking"—the cruise line with the world's best culinary reputation. "Maybe there's less variety, but that's the only difference." The well-traveled wife of a Los Angeles business consultant sniffed, "A plate of pastry and finger sandwiches—you call that high tea?" As one whose first visit to Tahiti was made aboard the old Matson Lines' Mariposa, where high tea was indeed served—and not just deposited but served—daily in the main lounge, I saw her point. Then again, I was so thoroughly bewitched by the Mariposa's rich food that I gained a steady three pounds a week over the course of that six-week cruise. On the Wind Song low-calorie foods were plentiful: cold poached salmon, iced essence of fennel and tomatoes, hearts of palm, lobster medallions, fillet of parrot fish, fresh tropical fruit. Somehow I still managed to gain three pounds.
THESE CRUISES ARE expensive, but taking everything into account, the fares are probably no worse than what you'd pay to stay in French Polynesia's notoriously expensive hotels. Staying at hotels, a couple interested in a middling degree of comfort and amenity will spend $350 or more a day just to sleep and eat, plus hundreds or thousands more to get to Tahiti (depending on where they started from), plus hundreds more for inter-island airfare if they want to get around. A couple will typically spend about $500 or $600 a day for one of these cruises. And they will receive from the cruise line a substantial discount on airfare to Tahiti. And they will be borne comfortably, heedlessly, at no extra charge, from one lush, dramatic island to the next.
There's also a do-it-yourself option: chartering a boat and charting your own course around French Polynesia. Since The Moorings, the world's largest yachtcharter company, took over an independent charter company on Raiatea, last year, this option has become easier and cushier. The word is that you are well advised to request one of The Moorings' own boats, as opposed to one remaining from the stock of the erstwhile independent company.
Aboard practically any vessel—assuming cooperative weather—could anyone fail to enjoy a cruise in paradise? That, at least, would be original.