Where to Drop the Other Shoe
Designers are reappraising closet space
BY PHILIP LANGDON
MANY OF THE THINGS that end up making us happy or unhappy with a house are surprisingly mundane. One of these elements is storage space, which just recently has begun to receive an outpouring of attention from the homeimprovement industry and more notice than usual from homebuilders. Most new houses, and condominiums especially, suffer from not having enough.
Why this should be so is hinted at by some long-running trends in homebuilding—particularly the dwindling away of storage space at the top and bottom of the home. In 1960, of America's 58,300,000 houses and apartments 54 percent had basements—large, useful places where a family could keep saws and hammers, a ladder or two, jumbo canned goods, and a freezer full of food, and probably still have room left over for a washer and dryer and a Ping-Pong table. But basements have ceased to be so common. By 1983 there were basements in 42 percent of America's 93,044,000 housing units and in only 32 percent of new detached houses. Meanwhile, since at least the 1950s the tendency has been to build houses with low, windowless attics and, increasingly, to embellish the living quarters with vaulted and other "volume" ceilings, subtracting still further from the little remaining storage space overhead.
Modernists repeatedly de-emphasized storage. The great German architect Mies van der Rohe brought to America the promise of an elegantly proportioned austerity. The house he designed for Edith Farnsworth, in Plano, Illinois, in the late 1940s, demanded that the owner display a few exquisite objects and dispose of nearly everything else as unsentimentallv as last w7eek's newspapers. The glass house that Philip Johnson, then in his Miesian period, built in New7 Canaan, Connecticut, in 1949 contained exactly one closet, sometimes called a "storage wall"; it stopped w'ell short of the ceiling.
Even less-precious modern houses, such as many of the ones described in Katherine Morrow Ford and Thomas H. Creighton's 1951 book, The American House Today, advanced the idea that because of the growing availability of food, entertainment, and services outside the home, "preparation and work and storage spaces became less important." Modern houses were supposed to make do mostly with bookshelves, roomdivider storage units, and built-in furnishings (often beautifully constructed but too small to hold bulky things). It remains one of the curiosities of recent history that simplified, sparse-storage houses worked their way toward the mainstream just when the United States was entering a period of unprecedented material abundance and commercial television was becoming the most powerful engine of consumption that the world has yet to encounter.
Belatedly, the clash between too much stuff and too few places to put it is being recognized and resolved. Builders are constructing oversized garages and increasing the storage capacity of two living areas—the kitchen and the master bedroom. It is now routine to find a pantry in the kitchen. "We put a pantry in nearly every house we build," says Gary Schaal, of Scarborough Corporation, a New Jersey builder that last year introduced a Working Woman's Dream Home, using ideas suggested by a panel of employed women.
Gary A. Kecskes, of the Lawrence Institute of Technology School of Architecture, in Southfield, Michigan, observes that in newly built houses two kinds of pantries are becoming more common. One of these, located between the kitchen and the dining room, is the butler's pantry, which is appearing in a growing number of upper-middle-class houses, even those whose owners don't have servants. Often this walk-through room contains a sink, counter space, and cabinets. While butler's pantries are going into new executive-level houses, designers are, ironically, busy removing the butler's pantries from old houses, so that kitchens too cramped for today's tastes can be expanded.
The other kind of pantry, much more commonplace, is essentially a storage closet equipped with plenty of shelves or racks, most of them shallow so that whatever is in storage can readily be seen and retrieved. This kind of pantry can be placed in any of a number of locations in or near the kitchen. Because it holds cans, bottles, and dry goods all the way from floor to ceiling, at less expense than is required for finished cabinets, the closet-style pantry is a remarkably economical way of augmenting storage.
IN THE BEDROOM, particularly the master bedroom, the builder's principal answer to storage needs is the walk-in closet. Both walk-in and wall closets now usually come equipped not with the old standard—a wooden pole with a wooden shelf above it—but with hanging and shelving systems made of coated wire, a spin-off from the wire shelves and racks that first appeared in kitchens. Wire shelving (or "ventilated shelving," as the manufacturers call it) lets air circulate more freely than does traditional shelving and provides less surface to harbor dust and insects, an especially important advantage in humid, mildewprone, insect-abundant places like Texas and Florida, where much of the nation's homebuilding in recent years has been concentrated.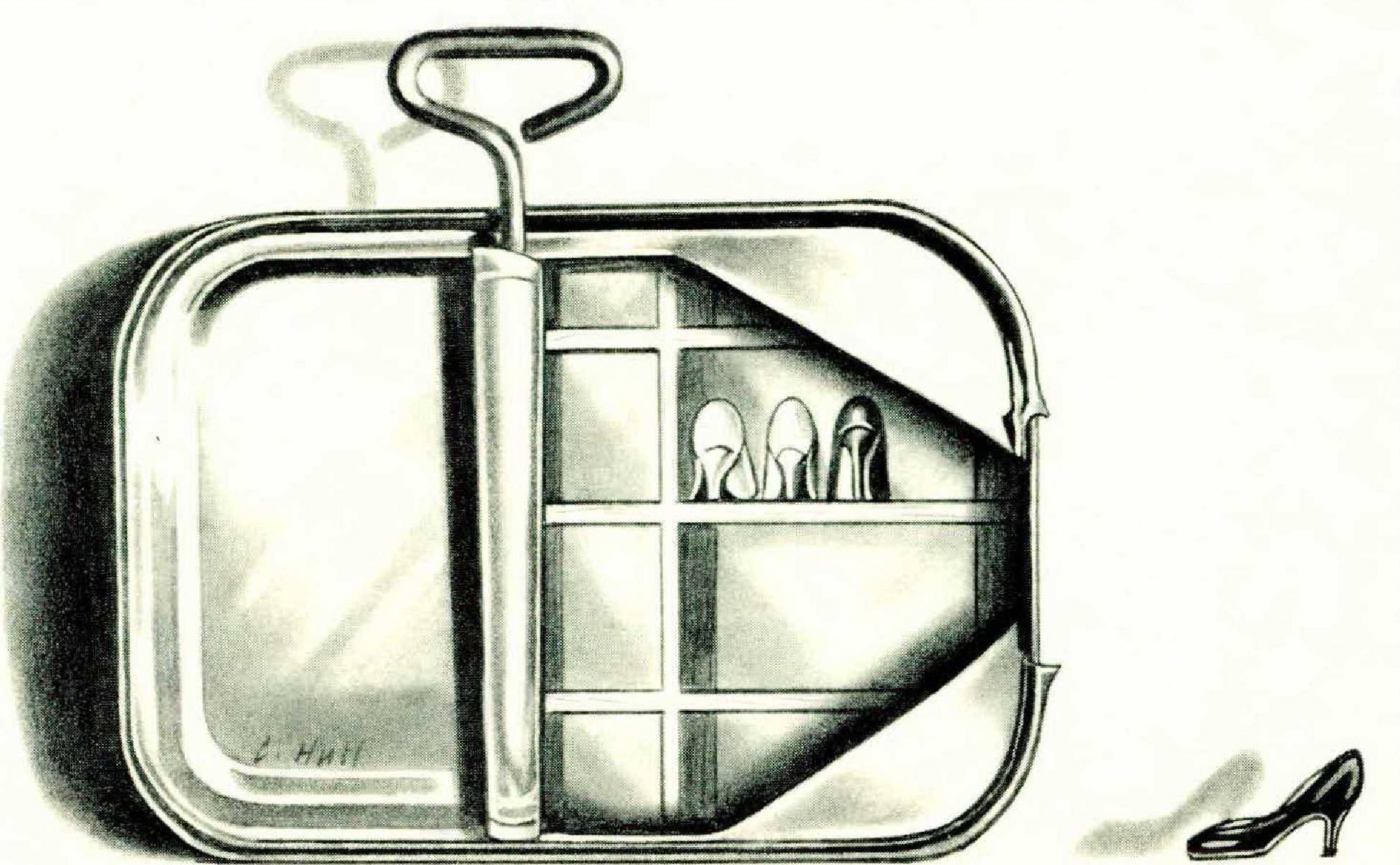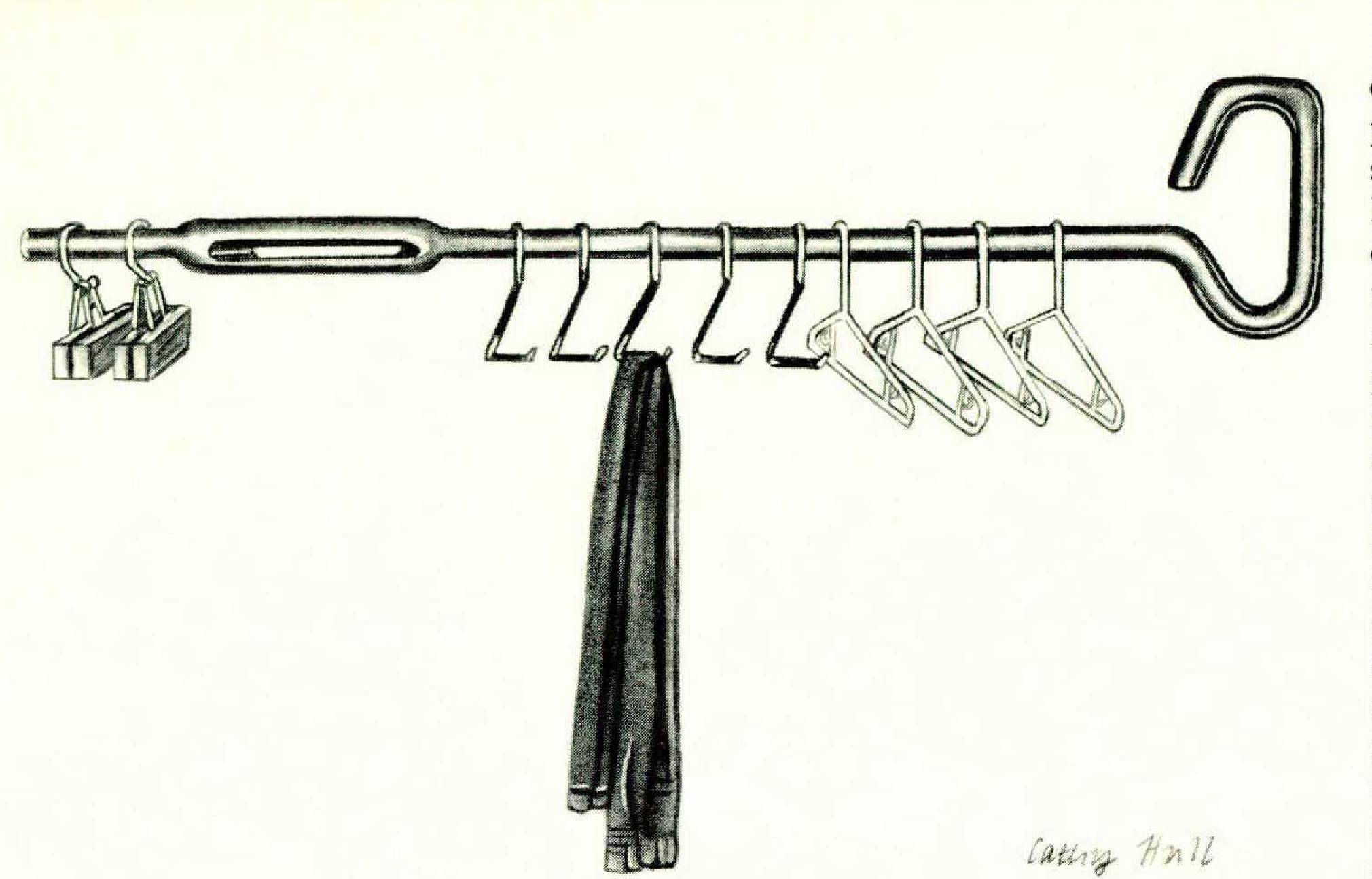 Builders like wire shelving because they can install it cheaply. Do-it-yourselfers like it because they can buy inexpensive ready-made systems whose installation is supposedly simpler than working with wood. To camouflage the wire's flimsy, utilitarian look, Closet Maid, the leading brand of wire shelving, now includes a line with wood trim along its front. Wire systems can be arranged to give a closet a series of compartmentalized storage areas, with angled shoe racks near the floor and shelves above for shirts, sweaters, and other garments, as well as sections for hanging clothing. There are also freestanding wire storage systems, for renters who want to be able to take the systems with them when they move, and shorter wire storage systems with toy bins, for use in children's closets.
What the manufacturers and builders avoid mentioning is that wire systems that attach to the walls have a reputation for coming loose after they've been heavily loaded with clothing for a while. "T hey work their way out of the wall. Mine has been put back in at least twice," says Charles Morris Mount, a New York interior designer. Unlike wooden shelves, which are usually nailed or screwed securely to wall studs, wire systems are usually held in place by a form of molly bolt or toggle bolt, which grips the relatively insubstantial gypsum wallboard. Gwen Simpkins, who buys, renovates, and resells old houses in the Boston area, says that well-organized storage is a prime selling feature of her houses, but that she avoids equipping closets with wire systems. She recommends that anyone installing a wire system use wood screws longer than the bolts that normally come with the product. If the brackets supporting the shelves cannot be screwed to the studs, she says, attach all the brackets to a long horizontal wooden strip that has been screwed to the studs.
Most wire shelving has a vinyl coating, which is not ideal. Some brands, including Schulte, Elfa, and Keije, offer metal systems with a baked-on epoxy coating. This material is generally more expensive, but those who use it say it is easier to clean, resists discoloring and chipping, and rolls more smoothly when used for sliding wire baskets and drawers.
WITH THE GROWING attention to storage, a new occupation has emerged—that of the storage or closet specialist. Clairson International, in Ocala, Florida, the manufacturer of Closet Maid and Keije products, is underwriting the establishment of a Center for Home Organization and Interior Space Efficiency, whose goal is to bring a more scientific approach to storage (and make it easier for storage specialists to convince skeptical builders, designers, and homeowners that the job of improving storage belongs in the hands of a specialist). Already closet consultants have established themselves in many cities. A handful of companies have national franchising ambitions, led by the nine-year-old California Closet Company, of Woodland Hills, California ("the McDonald's of closets," with eighty-five stores), and the three-yearold Closettec Franchise Corporation, of Dedham, Massachusetts (with thirtyone stores). California Closet and Closettec franchises operate showrooms equipped with storage systems they manufacture themselves, usually in a shop adjacent to the showroom. Each company offers to send a specialist to the customer's house to peer into the mess of tangled hangers, chimps of sweaters, and dusty shoes and find a way of instilling order, by means of a custom-designed hanging and shelving system.
The phenomenon of inviting an outsider into the bedroom closet begs contemplation. Closets were once private places, rarely seen by friends and relatives, let alone by professional storage persons. The language abounds with allusions to the secrecy, intimacy, and even shame associated with the closet. In the closet skeletons were hidden. It was uncouth to air a family's "dirty laundry" in public. But American popular culture moves, sometimes at a sprint, toward the notion that there is no subject or domain so personal as to be obdurately shielded from others' knowledge.
Thus the closet consultants march forth, armed with a simple and effective technique: they split the closet's interior into a large number of narrow or short compartments, which fit much more closely the height and width needed to hang specific kinds of garments and to store things on shelves. The industry's motto might be "Subdivide and conquer." Shirts, blouses, pants, and jackets get hanging areas usually only forty inches high. This eliminates the wasted area at the bottom of old-style shelf-anda-pole closets and it makes room for shelves on which sweaters, folded shirts, shoes, and handbags can be stored. It's typically claimed that in the reorganized closets customers can store twice as much as they could before.
The two leading closet-system companies use solid shelves that attach firmly to the studs. Customers choose from a variety of materials, including fiberboard, unfinished particleboard, and particleboard laminated with vinyl or melamine plastic. The cost is considerably higher than if you do it yourself with materials from a home-improvement center. California Closet says that a closet seven feet wide costs an average of $300 to $400 to reorganize, using particleboard shelves; 15 to 25 percent is deducted if you install the system yourself. Closettec, which doesn't serve the do-it-yourself market, estimates the cost of a seven-foot closet at about $400, using wood-grained hberboard. The main advantages of the closet companies' systems are that they're well-constructed, designed to fit your space and wardrobe, and adjustable, with shelves and hanging areas that can be raised or lowered as needed.
The differences between the two companies' systems lie mainly in the details. For example, California Closet places shelves for shoes above hanging garments ("Good if you like dirt falling on your clothes," in Charles Morris Mount's opinion), while Closettec usually installs shelves all the way to the door. Neither company's shelves are more than sixteen inches deep. Closet specialists contend that unless the shelves are on rollers, they should be shallow so that you can see and easily get at whatever you own.
Like the automobile industry, the closet industry offers plenty of options at extra cost. Drawers are $40 to $65 each, and for an additional $15 to $30 a drawer can be fitted with a vinyl or plush insert for holding jewelry. California Closet sometimes installs aromatic cedar fiakeboard wall paneling, made by Giles & Kendall, of Huntsville, Alabama. (At lumberyards a four-by-eight-foot panel of quarter-inch cedar flakeboard typically retails for about $20. It's unattractivelooking but smells wonderful. When the aroma eventually subsides, a light sanding will renew it.) Probably the most elaborate closet contraption yet brought to market is the Closet Carousel, introduced for residential use last year by White Home Products, of Atlanta. It's a revolving, push-button-operated storage device much like the mechanism that carries racks of garments in dry-cleaning shops. Offered in a choice of nine lengths, from seven to fifteen feet, the Closet Carousel usually costs $1,700 to $2,500 and is available from catalogue retailers and companies like California Closet. The theory' is that builders and homeowners will buy the Closet Carousel because it stuffs much more clothing into scarce and expensive closet space.
Whether the Closet Carousel will find many buyers is unclear, but its existence points up the fact that storage is entering a period of reappraisal similar in spirit to what the kitchen experienced in the early twentieth century, when designers avidly reshuffled sinks, refrigerators, stoves, and work surfaces in a quest to maximize efficiency.
POPULAR VIEWS ABOUT what are acceptable provisions for household storage are changing, for reasons arising from two currently influential concepts of what the home shoidd be. One concept is the home as a refuge—as an almost self-sufficient compound to which a family or an individual may repair for recreation, entertainment, and other activities. Manufacturers of kitchen gear, exercise equipment, entertainment apparatus, and home furnishings have been eagerly trumpeting the home-asrefuge concept, with support from home-decorating and women's magazines, because it requires the purchase of a huge array of possessions. These possessions make household storage space more important than ever.
The other concept is the home as a launching pad toward the workplace. This concept lacks the connotations of luxury that make many home-design trends so slickly marketable, but nonetheless it explains much of the current interest in storage. The reason the women in New Jersey asked for a kitchen pantry in the Working Woman's Dream Home was that they were too busy to go to the supermarket every week. A pantry let them stock up. The reason that elaborate shelving systems are going into so many master-bedroom closets is that there's no full-time homemaker with hours to devote to putting everything in order; the premise and promise of an extensively organized, compartmentalized closet is that people who are rushing off to work or school will be able to find things fast, by themselves, and almost automatically put things back in their proper place. The promise may be partly illusion. When Gwen Simpkins goes back to the houses she has redesigned with wonderfully organized closets, she finds just as much clutter as ever. But the idea has yet to lose its allure. Everyone would like to think that efficient systems can overcome the scarcity of space and time, even when we know that ample storage space is what we truly prefer, and that the time saved is somehow never enough. □