A Good Place to Live
today's designers of residential areas are increasingly influenced by the grid plans, narrow streets,intimate scale, and convenient shopping of nineteenth-century American towns
BY PHILIP LANGDON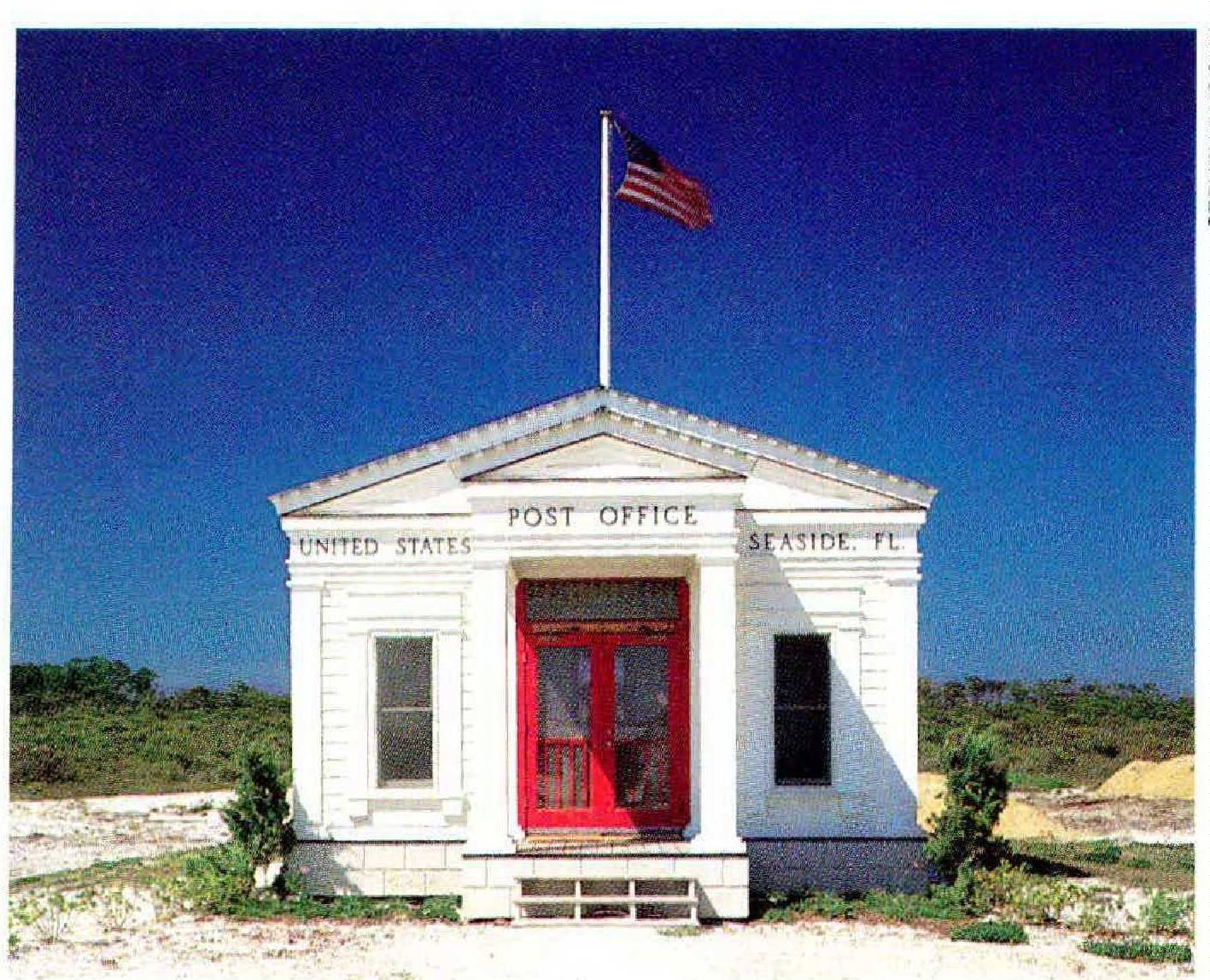 IN A SMALL BUT RAPIDLY GROWING NUMBER OF AMERICAN towns designers and developers are rejecting the dominant modern methods of creating new residential areas. They are coming to view the community-development practices of the past few decades as a terrible blunder and returning to the town-planning traditions of the early twentieth century and before. A new traditionalism is on the rise, and it is affecting not only suburbs but also big cities, where the ideal of harmoniously organized streets and public spaces is being pursued by government agencies and private planning firms. This is not to say that public-oriented traditionalism will quickly or easily triumph. Suburbs increasingly are laid out as strictly private enclaves, inaccessible to outsiders, and many urban housing complexes today are becoming amenity-filled private refuges, divorced from their surroundings. But the revival and reinterpretation of traditional planning ideas are winning close attention from those who shape American housing patterns. With renewed vigor architects and planners are asking, What constitutes a good place to live?
One of the most influential new developments is a little place called Seaside, which sits along a stretch of white sandy beachfront in the Florida Panhandle, about a hundred miles west of Tallahassee. Started seven years ago, Seaside has become the most celebrated new American town of the decade—the subject of slide lectures in architectural schools and reports in housing-industry magazines, and the object of visits from design professionals throughout the United States.
At first glance, what seems to make Seaside special is the old-fashioned, down-home style of its houses. You won't see picture windows, sliding glass doors, or vinyl or aluminum siding. Those and other emblems of modern homebuilding are largely prohibited in this eighty-acre community, where 100 houses have been built and about 300 houses and 200 apartments eventually will be. Seaside, an unincorporated part of Walton County, is, by regulation, a place of wood-shingled, clapboard, and boardand-batten houses with deep front porches and shiny tin roofs like those on old houses in rural America. Cupolas and towers rise from some roofs, giving the skyline a picturesque, almost whimsical air. The houses' windows follow the proportions of eighty to a hundred years ago—predominantly tall and narrow.
For at least two decades there has been a growing interest in "vernacular architecture"—commonplace buildings of the past, embodying folk wisdom about design and construction—and Seaside's houses tap into this even while delivering in their interiors the light, openness, and mechanical convenience expected in houses today. Many of Seaside's houses have living areas that are two stories high, and in most the kitchens are easily accessible, thanks to open interior planning. The windows may be old-fashioned in their tall, narrow proportions, but they're used in such abundance that at night, when the lights are turned on, the houses glow. Ceilings and interior walls are typically covered with tongue-in-groove pine, more handsome and durable than gypsum wallboard.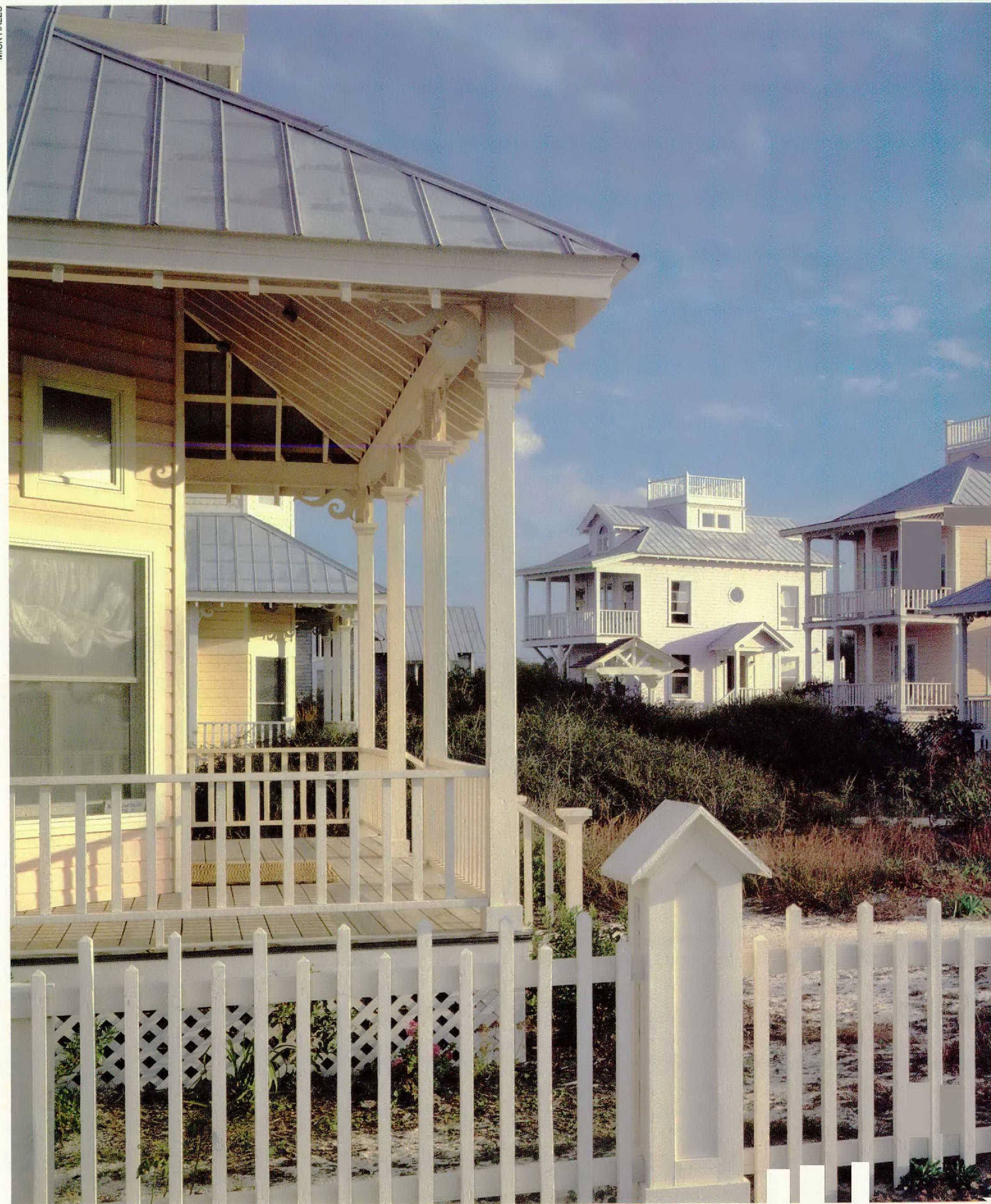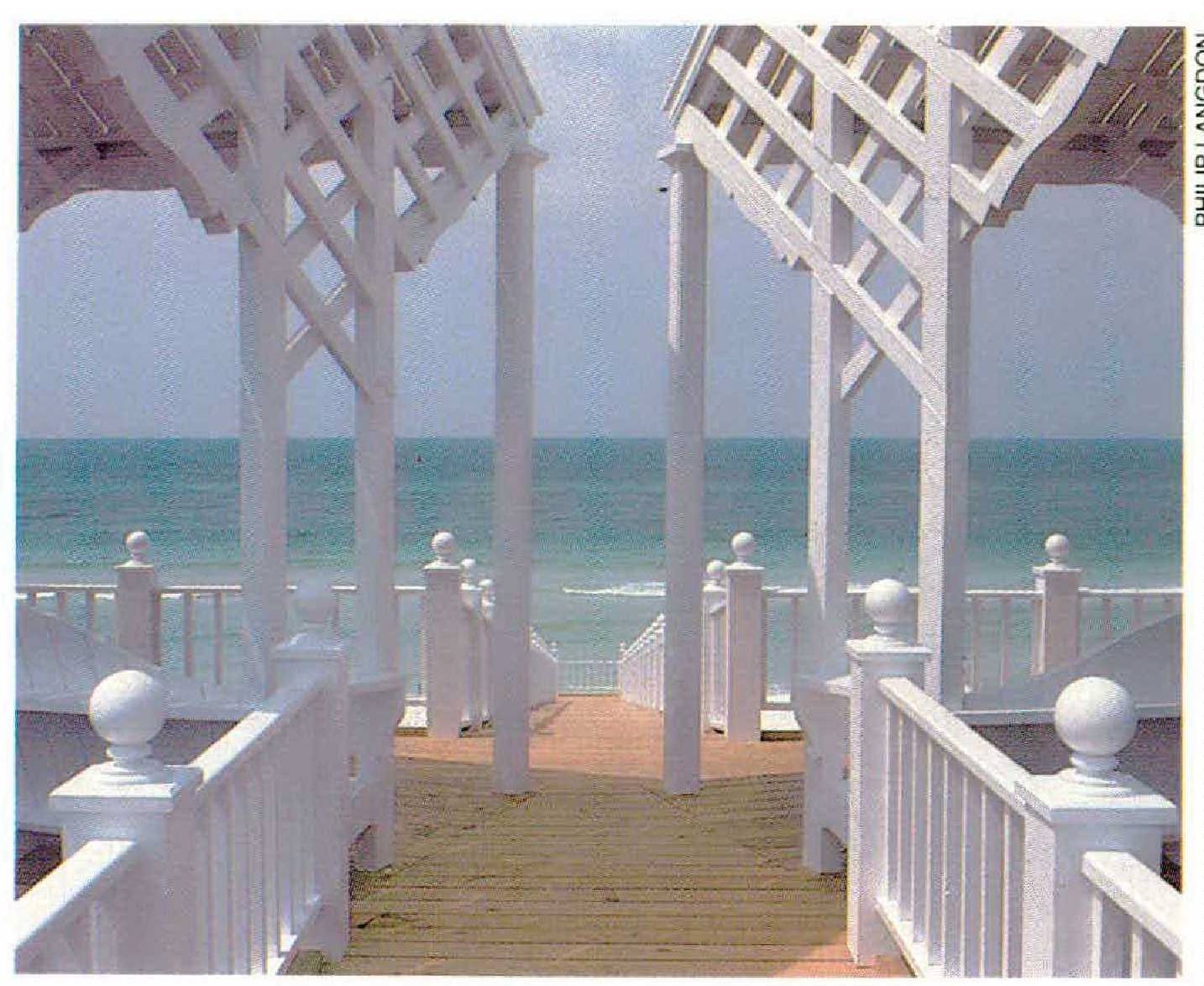 The goal at Seaside has to do with more than designing pleasant individual houses; Seaside addresses the larger issue of how to create a place where people can live differently from the way they do in the usual suburb or resort area. How can a new community foster a friendly, stimulating social atmosphere? How can it make its streets and public areas inviting enough that people will want to spend time in them? How can it achieve a pleasing visual order and treat the natural environment intelligently while also conveniently supplying its inhabitants' daily needs? In these matters town-planning traditions that have been ignored for half a century are serving as a generally trustworthy guide.
Those who have learned of Seaside in the refined milieu of architectural lecture halls are sometimes shocked to discover what this new resort town sits next to. From the development's eastern boundary to Panama City, some thirty miles away, the seashore is as crass and chaotic as any in America. Lining the highway on the Gulf of Mexico are economy-grade motels, concrete-block convenience stores, mansard-roofed refreshment stands, shops selling airbrushed T-shirts, and a profusion of cramped housing developments, each built according to a different pat formula—Tudor townhouses, weathered-cedar-shake apartments, stucco-and-tile condominiums, gray clapboard row houses, rustic log cabins, and many others. The state highway department, with unintended irony, has put up signs designating this a "scenic route."
I drove the scenic route one Thursday evening, arriving at Seaside at dusk. Even in the fading light, Seaside was mesmerizing. It looks like a fanciful turn-of-the-century town that has been cleaned, painted, and planted to perfection. Every house built in Seaside is different, but within the variety is a fundamental orderliness, established by the unifying wooden walls and metal roofs, the substantial porches, the proportions of the windows, and a number of other elements, among them the harmonious colors—a rainbow of pastels. As I picked up a key left for me on the porch of the rental office and walked to the pink cottage that would be my home for the next four days, I noticed a number of couples strolling the streets—engaged in the common pastime of looking at the neighbors' houses.
Early the next morning I unexpectedly encountered Seaside's developer, Robert S. Davis, attired in a Powdermilk Biscuits T-shirt, shorts, and sandals, as he pedaled his fat-tired bike to a meeting with a builder. Davis, fortyfour, a soft-spoken man with black hair beginning to turn gray, is atypical of developers in almost every respect. Brought up in Birmingham, Alabama, Davis belonged to the Socialist Workers' Party during his undergraduate years at Antioch College, in Ohio, and after graduation he recruited black and poverty-stricken students to that reformminded college. He later worked for a couple of Miami developers active in the Federal Housing Authority's Section 236 program, which he sums up as "subsidizing the very rich to provide housing for the poor."
Davis had visited the Gulf since boyhood days and had acquired a dislike for conventional Florida resort development, with its uniformly stamped-out housing units close to the water and recreation facilities but far from shopping and other services. About nine years ago he "did the Blue Highways number,"traveling the Southeast in a red Pontiac Bonneville convertible with his wife, Daryl, to examine the region's old small towns, which he liked much better. Davis wanted to figure out what it was that made the houses in those towns visually appealing and socially engaging. Andres Duany and Elizabeth Plater-Zyberk, a husband-and-wife architectural team educated at Princeton and Yale and now based in Miami, sometimes traveled along, and eventually developed a building code and a town plan enabling Davis to reproduce much of the old communities' physical character.
The eighty-acre Gulf site came under Davis's control in 1979, when he inherited it from his grandfather, who had founded a Birmingham department store. Free of the debt pressures that impel most developers to stick to ideas so routine that they won't startle a banker, Davis built a yellow clapboard house of his own design on a small lot about 500 feet from the water, and began overseeing the gradual construction of what he hoped would become an alternative model for development.
Seaside adopted a requirement that each house have a front porch, because Davis had concluded that front porches encourage neighborly chatting and cooperation. Unlike the strictly ornamental porches tacked on to some new suburban houses, a front porch at Seaside must be at least eight feet deep—spacious enough that people can use it—and must extend at least half the length of the house's front wall.
At the edge of the front yard there must be a picket fence, giving the street an intimate scale and shielding porch-sitters somewhat from passersbv. The picket fence must be individually designed, in keeping with the Seaside philosophy of harmonious diversity, and the distance from porch to fence usually must be sixteen feet; pedestrians and porch-sitters consequently can strike up a conversation without raising their voices.
In walking around Seaside, I came to the conclusion that the hopes of re-establishing a front-porch society had largely failed. Few people occupied the porches during the hot afternoons, and after sunset the shimmering light from TV sets and the hum of air-conditioners testified to the irresistible appeal of climate-controlled, electronically equipped interiors, even in a town where most of the porches are screened to provide protection from insects. Of the people I did see sitting on porches, half were occupying side rather than front porches, a little farther removed from the public domain. "Lately people have been requesting of me that I give them rear porches," Tom Christ, who has designed more houses at Seaside than any other architect, told me. Bushy native plant life—mostly scrub oak—has been extensively preserved at Seaside, Christ said, and it offers some privacy, especially at the backs of the houses. American family life has looked toward the back yard for several decades now, and Seaside lacks the power to shift its gaze.
But the limited activity on front porches hasn't greatly damaged Davis's ideal of a community that has an active public life. People walk the streets, exchanging greetings and looking at what's being built. The building code, with its clear, systematic guidelines for proportions, dimensions, and materials, has enabled schoolteachers, grocers, and housewives to design their own dwellings with not much more professional assistance than can be supplied by a drafting service for $1,200. At the same time, it has forced architects in their designs to pick up the general themes of neighboring houses.
The streets themselves are inviting. "We started with dirt streets, with oyster shell at the edges," Davis told me, "but the people who moved in decided they wanted brick streets and were willing to pay extra for them." Drivers, seeing the unusual pavement and hearing the rumble of bricks under their tires, instinctively slow down. Ghildren bike freely on the streets, people saunter along them on the way to the beach, and nobody seems concerned about being run over.
Davis, rejecting the traffic-engineering standards of most municipalities, kept the streets narrow. The pavement is usually eighteen feet wide—"just enough for two cars to pass comfortably." Also, he encouraged on-street parking, further slowing traffic. Many homeowners build garages, but they have to be separate structures near the back of the lot, exerting as little influence as possible on the atmosphere of the street. So well-liked are the streets that they have siphoned off nearly all the pedestrian traffic from one of Seaside's other innovations—a network of sandy footpaths lined by picket fences and cutting through the middle of most blocks.
Another appealing aspect of Seaside's streets is that they run straight, rather than in the loose curves that for years have been fashionable in upper-income suburban neighborhoods. This orderly alignment, with the fences and houses set back from the pavement at short, regular distances, turns the street into what Andres Duany likes to call a "public room"—a semi-enclosed outdoor area that feels properly delineated and seems to be a place in its own right, not just a void between buildings. The sense that the street forms an agreeable outdoor room is an integral part of the appeal of great cities like Paris and London and of many sought-after urban neighborhoods. In the Georgetown section of Washington, D.C., Duany told me, "people will pay four to five hundred thousand dollars for a house with small rooms, bad plumbing, and parking two blocks away; it has to do with the beautiful street in front of it."
"The problem with the straight street is when it stretches out forever into the prairie," Duany said. Thus Seaside's streets, after running straight for a few blocks, focus on a visual termination—a gazebo in the center of a traffic circle, a bathhouse and community pool at the end of a boulevard, a distinctively designed pavilion at the end of a street leading to the beach. Some of the streets bend. The preference for straight streets that frame a view does not imply that curves must always be avoided. One of Seaside's streets is a crescent—a disciplined, well-defined curve. The emphasis is on making the street sufficiently orderly that the buildings, fences, and trees along it can form the public room.
Public rooms like these are more lively when they lead to useful places; someone can get a meal or mail a package or buy something by walking or biking only a short way on Seaside's streets. Overlooking the beach is a "market area" containing a tiny Greek Revival-style post office designed by Davis, a bookstore, an excellent seafood restaurant and bar, a refreshment stand where fresh lemons are squeezed for every lemonade, and a little complex of booths around a brick plaza, selling mainly women's clothing and accessories. On the Saturday night that I spent at Seaside, a screen was put up in the plaza and people gathered to watch the movie Agatha in the open air.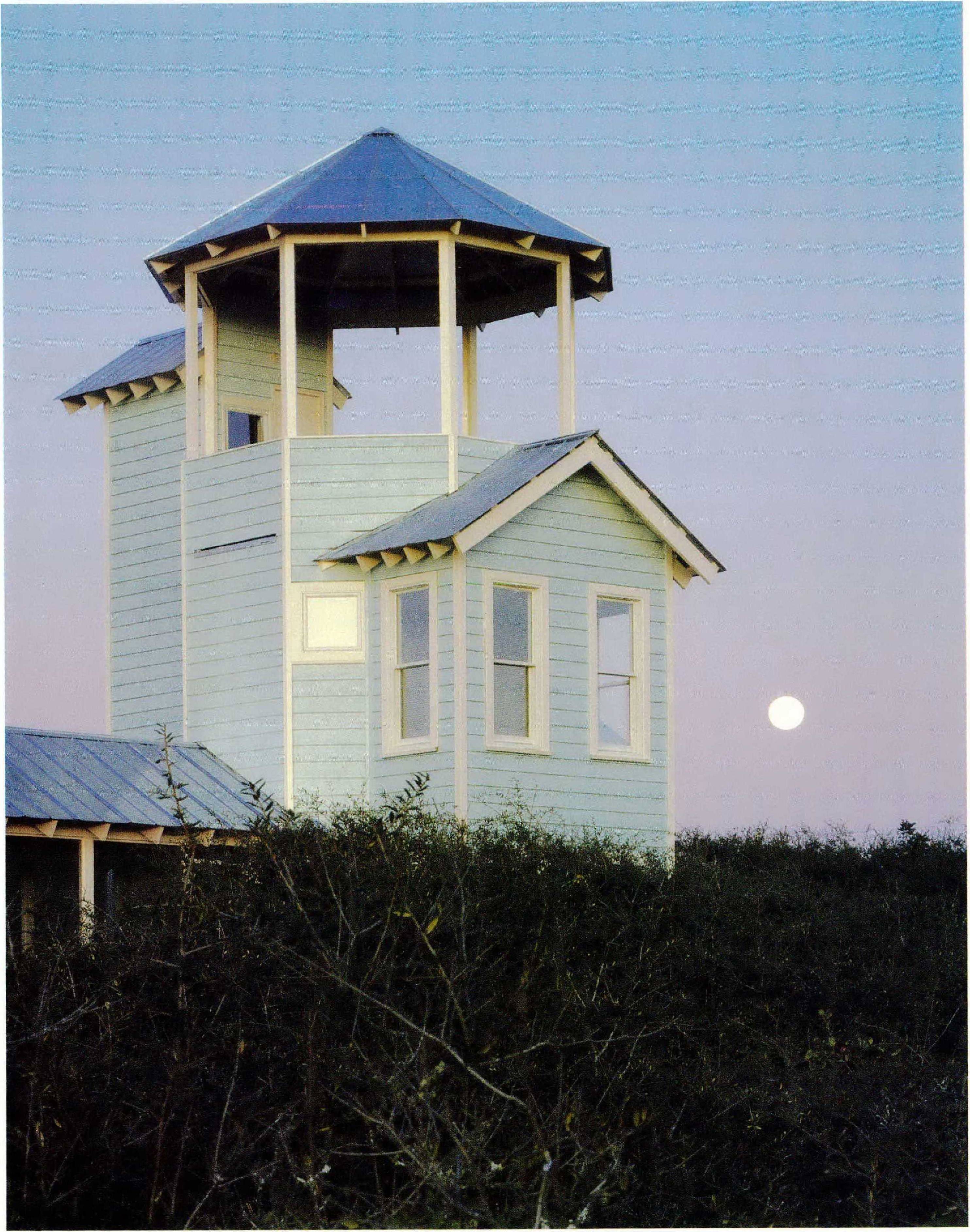 A larger commercial area, with a hotel, apartments, offices, a grocery store, and other shops, is soon to be built near the center of the development; this will turn Seaside into more of a full-fledged community. But even now Davis's town functions fairly independently, and somewhat differently from a typical development along the Gulf which is dependent on automobiles. Whenever I was about to meet someone for dinner during my stay at Seaside, I instinctively listened for the other person's car— and then had to remind myself that there wouldn't be any car driving up, because at Seaside people routinely walk to one another's houses and walk from there to restaurants and other attractions.
The opportunity to do without a daily commute seems to be an important lure for some of the people who move in. Although most homeowners are part-time residents who use Seaside as a vacation and weekend spot, I met a few people who had moved to Seaside because they anticipated being able to start small businesses there, within easy walking distance of home. The majority of these people were in their fifties and sixties, and perhaps beginning to husband their energies rather than expend them on daily transportation.
BUILD A BETTER TOWN AND THE WORLD WILL PAY plenty to live in it. "When we started, houses were being sold for seventy-five to a hundred thousand dollars," Davis told me. "But land prices have gone up. Fifty-by-a-hundred-foot lots that sold for twenty-five thousand in 1982-1983 would sell for seventy-five thousand today. And the place has become more chic and fashionable, so people are building bigger and more complicated houses. It's become more affluent. Today most houses sell at from a hundred and thirty to two hundred thousand dollars. We have some houses being built that would sell for four to five hundred thousand. The fact that it has strayed from the original idea doesn't bother me greatly. People are investing a lot of themselves in it. There's a pride of place."
Perhaps the greatest testament to Seaside's sales appeal is the fact that the value of property in the development has surged at the same time that condominiums on the coast nearby have had a hard time attracting buyers. Its success as a real-estate proposition means that Seaside is certain to have imitators. Davis has been lecturing at architectural schools for quite a while, but now he also gets frequent requests to speak to groups of developers and planners. Duany, too, is in demand at real-estate gatherings, where he spreads the message that a more compact, urbane, walkable community, with shopping and employment close to housing, not only encourages sociability and a less harried way of living but also makes financial sense. "The newest idea in planning is the nineteenth-century town," Duany told a conference of Florida apartment developers last year. "That's what is really selling."
And why not? For twenty years there has been a surge of affection for old precincts of American cities and towns. Historic preservation, once considered a hobby of the elite, has become an industry. The interest in old houses has led many developers to incorporate in new houses some of the features that made the old houses appealing. If learning from the past has been valuable at the scale of the individual house, why not try it at the scale of a small town? Many things need to be relearned if this is to happen widely, but the pioneering has taken place, and conditions appear auspicious for the number of revival towns to grow.
A promising neo-traditional development now under construction is the Harbor Genter business district in Grand Harbor, a project of Schaub Communities in Vero Beach, Florida. The waterfront business area has been designed by one of Duany's former employers, the New York architect Robert A. M. Stern. "It's meant to be a Mediterranean village," Stern says of a succession of three-story buildings that he has formed into a 1,200-foot-long crescent. The buildings will hug the sidewalks along the main street and form a rhythmic, consistent backdrop to the Intracoastal Waterway, across the street. When visiting ground-level stores and offices, pedestrians will have the choice of walking in the open or under a continuous arcade embellished with small courts. The roof of the arcade will provide terraces and visual privacy for 116 apartments directly above the businesses. In another section of Grand Harbor, Stern has designed sixty-seven townhouses arranged around a series of paved courts with plantings in the center. All of Stern's work at Grand Harbor will be carried out in stucco and tile, making it reminiscent of one of his heroes, Addison Mizner, who early in this century designed the beautiful shopping district of Palm Beach.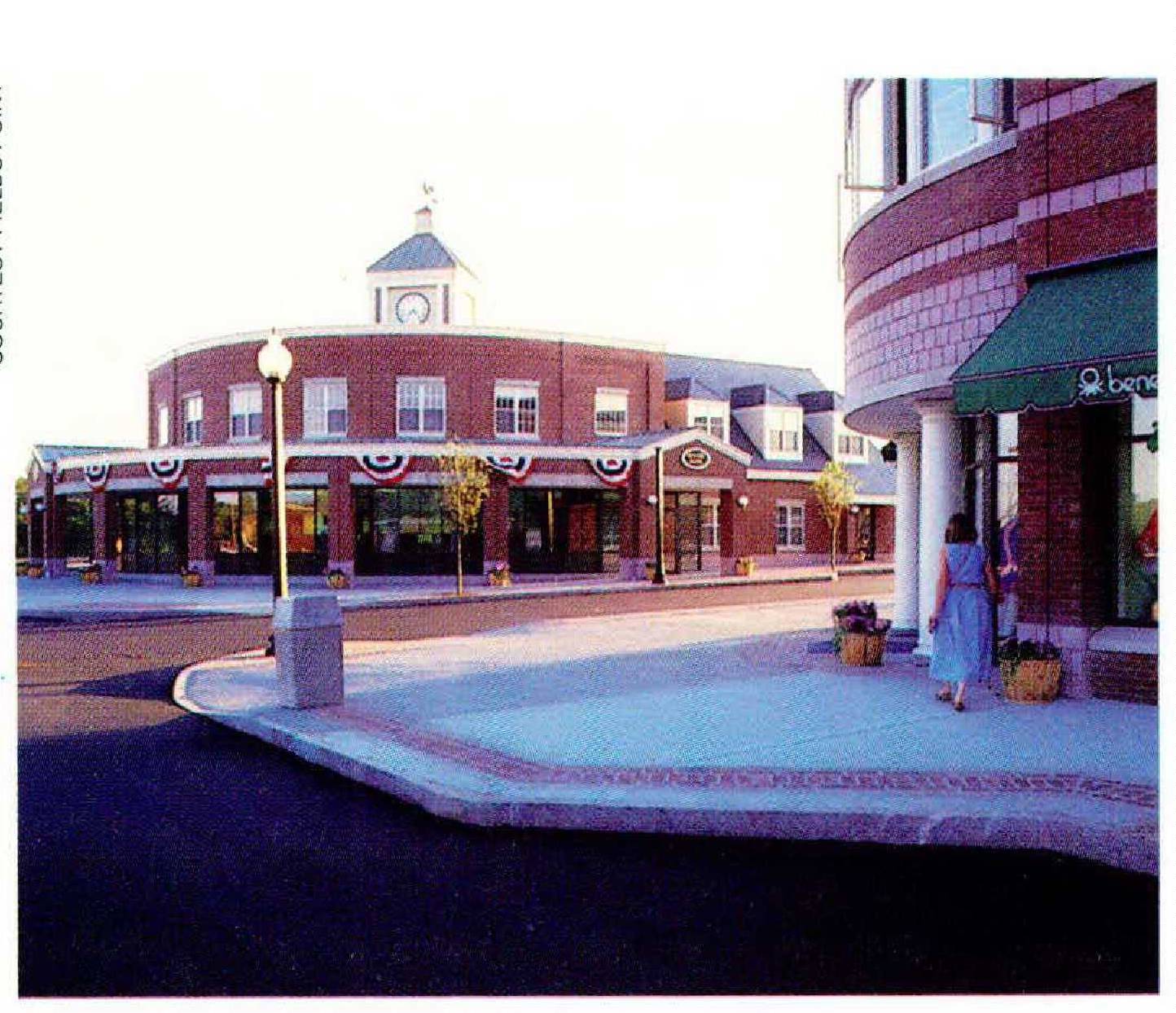 Another neo-traditional development, Mashpee Commons, whose design principles are derived from those of old New England towns, is being built on Cape Cod eleven miles west of Hyannis, Massachusetts. The Fields Point Partnership, which owns a twelve-acre shopping center and 163 surrounding acres in the town of Mashpee, devised a plan for converting the mansard-roofed shopping center into something much like a small-town business district, with a new town green to be built nearby. Since 1985 new two-story brick and clapboard buildings, with their storefronts opening onto brick-edged sidewalks, have gone up. Across narrow, newly built streets the stores face the shopping-center buildings, which were put up in the 1960s and now have new windows and doors and sidewalks along their perimeter to create an environment oriented to pedestrians. Fields Point wanted to create residential neighborhoods that would be closely tied to the downtown, so in 1986, after learning about Seaside, the company commissioned Duany and Plater-Zyberk to plan a development of homes on small lots within walking distance of the business center.
There are many traditions for the designers of neo-traditional towns to draw on, and the choice of which heritage to use is influenced heavily by geography, climate, and other characteristics of the location. For Riverfront, a 100acre development of houses, offices, and shops that Duany and Plater-Zyberk are planning south of Manchester, New Hampshire, "our model is the New England town at its most cranky and idiosyncratic," Duany says. A landscape architect has walked the site and is laying out straight streets that will connect important points, resulting in a network more distinctive than a grid. For Friday Mountain, a 550-acre town that Duany and Plater-Zyberk are laying out southwest of Austin, Texas, the dimensions are distinctively Texan, with streets and squares much broader than those in the East. Trees planted in rows, not in the irregular clumps that most landscapers favor, will break up the big open spaces and generate a sense of enclosure for the community, which is intended primarily for retirement-age people.
The 3,500-acre site of Duany and Plater-Zyberk's biggest project, Blount Springs, north of Birmingham, Alabama, is hilly. Consequently, dispersed houses—in a more suburban pattern than those of many other neo-traditional towns—will sit along curving streets that fit the irregular terrain. On the hilltops will be focal points—greens surrounded by a denser perimeter of houses and one or two shops. The most tightly built part of the site will be a downtown containing a railroad station. The designers hope to have passenger service restored on what is now a freight line, to encourage the onetime mineral-springs resort to function like a railroad suburb. This seems an iffy proposition, but in any event light industry is to be present in the community, which is expected to attract a wide range of income groups, from working class on up.
Without question, Duany and Plater-Zyberk have emerged as the masters and the most prolific practitioners of this new-old form of design. Still other projects their fourteen-member firm is currently working on are developments near Annapolis, Maryland, and Savannah, Georgia. The architects were stimulated by Robert Stern's historical studies of British and American suburbs and by the European urban theorist Leon Krier, who advocates a return to small cities on a human scale. Duany and PlaterZyberk immersed themselves in American town plans from the 1600s to the period of John Nolen, a nearly forgotten planner who between 1907 and 1937 drew up plans for more than seventy-five cities and towns. "We are really concentrating on American conditions and American prototypes,"Duany says. "American street space is a lot bigger than European street space, and it depends on trees, planted in steady rows, to obtain its spatial definition."
Duany and Plater-Zyberk have seen to it that the emerging generation of designers is exposed to their thinking. Plater-Zyberk can be coldly academic in lectures, but Duany, who grew up on Long Island and in Spain after his parents fled the Cuban revolution, frequently brings passion to his presentations. He has likened his firm's tactics to some of Fidel Castro's. Castro bought radio transmitters to "broadcast the myth of the revolution" while the dictator Batista still held power, "and the revolution happened," Duany told graduate students at Yale last year. "What we are proposing is to get hold of the radio transmitters of America, of the architectural radio transmitters, and do it that way"—bringing about a neo-traditional revolution in town design. One kind of transmitter is a high-profile architectural school; Duany, thirty-eight, and PlaterZyberk, thirty-seven, have trained students at Yale, Harvard, and the University of Miami. Other transmitters are the building and urban-design codes adopted by developments and local governments. Duany and Plater-Zyberk seek, and often get, the job of writing the codes; they are well aware that the person who draws up the codes usually wields more power than the architect who actually designs the buildings.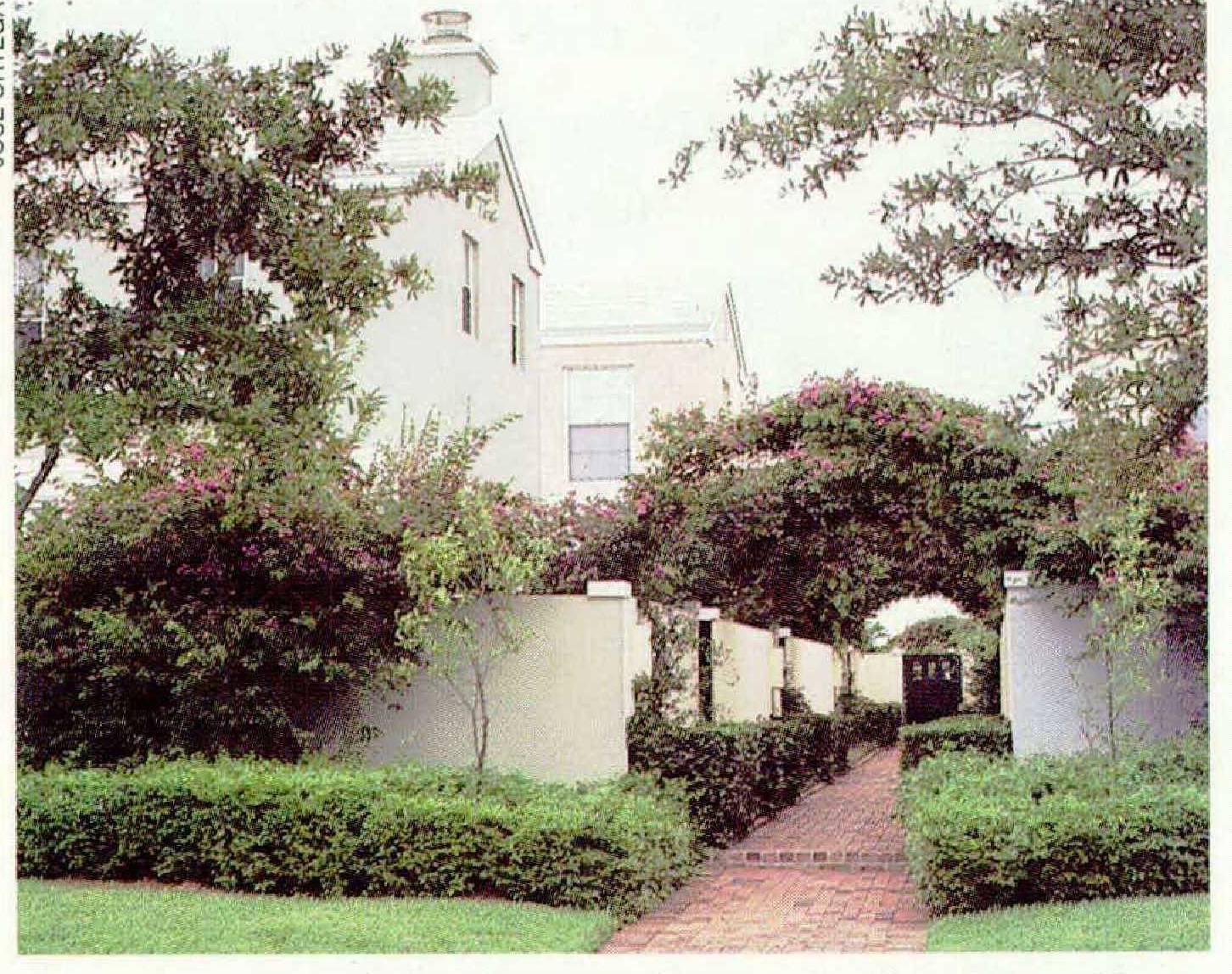 Design Principles
YOUNG DESIGNERS AND INDEPENDENT-MINDED DEvelopers are drawn to this neo-traditional revolution out of disenchantment with the mess that Americans have made of their communities. Even communities that were supposed to represent an escape from dull subdivisions and roadside commercial clutter have been spoiled, Cape Cod, for example, has seen its resident population double in two decades, and the growth has been badly managed. This was the underlying reason why Arnold B. Chace, forty, who became the president of Fields Point Partnership in 1979, decided that Mashpee Commons should be planned on traditional principles, breaking the modern pattern of dispersing population and services in a way that lacks a symbolic and functional center. The shopping center surrounded by asphalt parking lot that Fields Point had built in Mashpee in the 1960s needed to be transformed.
"We both hate shopping centers," says Douglas S. Storrs, a longtime friend of Chace's who is Fields Point's vice-president of planning and development. "We don't think shopping centers are enjoyable places to shop. We like places that meet the full needs of residents and visitors."
To generate the "sense of place" that neo-traditional towns strive for, civic and religious buildings are usually needed, and the developer often must donate land in order to get them. Beyond simply attracting such buildings, the developer must position them where they will make an impact. In Mashpee the civic and religious buildings cluster around a new town green with a bandstand at its center. A town library has been built on one side of the green. On another side will be a Catholic church, and on a third side a row of shops. The final building facing the green will be either a town hall, built by the town of Mashpee on land provided by Fields Point, or an inn. In the business district, Fields Point sought, and got, a post office—an important generator of activity. The post office is recessed behind a small plaza bordered by shops. An arcade that runs through one of the 1960s buildings focuses on the plaza, helping to tie the downtown together and give it dignity.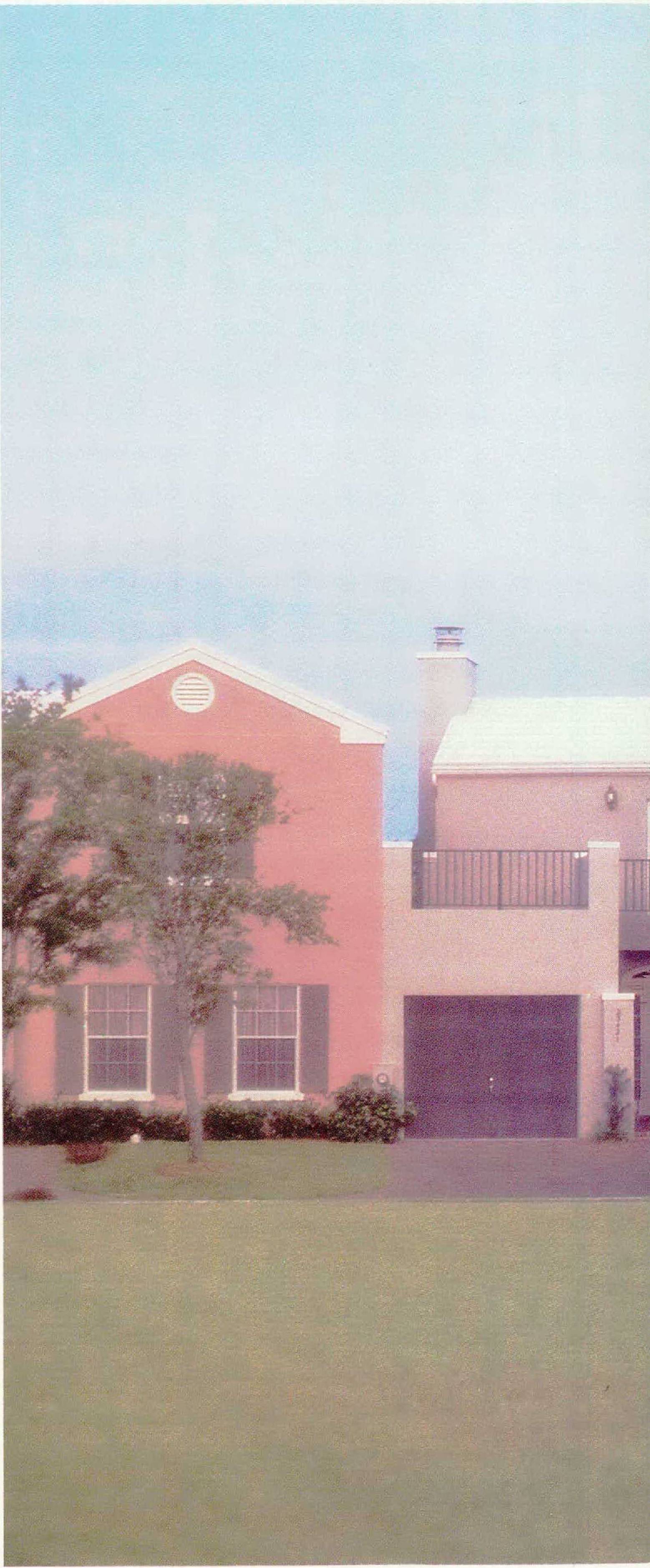 Getting chain-operated businesses to cooperate can be difficult. Most of America is designed according to economic and engineering formulas that have nothing to do with urbanity and social interaction. When plans were made for a six-screen movie complex in Mashpee Commons, the theater operator at first wanted to do things in a standard way, placing the theater's entrance where it would face a parking lot rather than the center of town. However, Orr & Taylor, of New Haven, Connecticut, the architectural firm that was hired by Fields Point to design the theater, was able to persuade the theater operator that the entrance to the complex should be on a public plaza and that instead of having typically long, blank exterior walls there should be shops lining part of the theater's perimeter. "Because of the amenity and street life, we believe this will attract people," Robert Orr says.
One of the hardest challenges for any development that is intended to offer a compact, stimulating, and walkable environment is how to provide sufficient parking, "To make retail viable, you must attract more than the people who can walk to it," Robert Stern points out. "The struggle is to get all those cars there and yet retain the quality that you want." Mashpee Commons employs a typical multi-faceted solution. Some parking is allowed on the newly built streets, which have sidewalks. The bulk of the parking is provided in lots that are broken into segments by rows of plantings and by sidewalks, reducing the conflict between pedestrian and automobile. The goal is to get people walking past storefronts, rather than through undifferentiated stretches of asphalt, as soon as possible.
Many of the neo-traditional towns that have been built or planned so far are in resort areas, but the same design principles can be applied anywhere, including places where people live full time. "The nineteenth-century towns," Duany says, "are completely viable prototypes."
"It's not enough just to look like a town," he adds. "It has to function like a town"—which means that it should be able to govern itself flexibly and democratically. To that end Duany and Plater-Zvberk have worked with Doris Goldstein, a Jacksonville attorney, to develop town charters that encourage popular decision-making after the developer's work is mostly completed. Instead of lawyerly homeowners'-association documents, which usually make it hard fora suburban or resort development to do anything other than maintain the status quo, the documents drawn up by Goldstein allow people to face one another in town meetings and vote on whether to alter the community. If the residents want to knock down a building to put in a community pool, they can do so without becoming entangled in documents that only an attorney can readily understand. "That's the last brick in the arch," Duany says. "I think it's very important."
Most current municipal codes make it impossible to develop neo-traditional communities that mix offices, shopping, and housing and provide compact, tightly defined open spaces. But this can be expected to change as people evaluate the advantages of revival towns. The prevailing "clean" zoning, which tries to separate different activities and contrasting kinds of buildings into widely scattered areas, is due for reconsideration now that the advantages of more-unified towns are being demonstrated. The neo-traditionalists may not have banished all problems, but they are making a strong case: through their designs we can again have a less fragmented community and public areas that are a pleasure to inhabit.
The Pretty, Reclusive Life of the Master-Planned Suburb
WHAT THE DESIGNERS OF NEO-TRADITIONAL SMALL towns would really like to reorganize is the American suburb. The suburbs are where about 40 percent of Americans live, and the neo-traditionalists see the prevailing suburban layouts as causing daily frustration. Andres Duany and Elizabeth Plater-Zyberk, among other designers, find fault particularly with masterplanned suburban communities, which since the 1960s, when they began to flourish, have often been depicted as a thoughtful alternative to the more prosaic American pattern of houses plunked down on treeless land and sharing few amenities.
Master-planned communities—usually called plannedunit developments—provide an organized, comprehensively designed environment with a character that people will pay extra to get. Since the late 1960s, according to Builder, the magazine of the National Association of Home Builders, approximately 100,000 planned-unit developments have been built in the United States. They range from one to 53,000 acres and have three traits in common: shared amenities, building and design restrictions, and a flexible zoning plan that provides common open space, often in compensation for clusters of higher-density housing in part of the development.
Today planned-unit developments are home to one tenth of America's population. Some of the newer ones are lavish indeed. "The evolution of planned communities has gotten to the point where people are looking for higher-quality amenities," says Henry Skokowski, the president of Urban Design Studio, a firm in West Palm Beach, Florida, which lays out developments in several counties on Florida's Atlantic coast. Probably the most extreme example of amenity-upgrading is the recent trend toward building "equestrian communities," developments with horseback-riding facilities. These have been built or planned in such places as Scottsdale, Arizona; St. George, Utah; Lake County, Illinois; and the outskirts of San Diego. The nation's premier equestrian community is the Palm Beach Polo and Country Club, which sprawls across 2,200 acres of flat Florida terrain, a dozen miles inland from the Palm Beach International Airport. Palm Beach Polo, as it's known, is a tract on which homes ranging from $200,000 townhouses to individually designed houses that sell for over $1 million are augmented by extensive recreational amenities, most notably ten polo fields, two practice fields, and a yellow-striped polo stadium. To avoid missing affluent homebuyers who are not entranced with polo, the development offers forty-five holes of golf, two croquet lawns, and other elements of the leisure landscape as well.
At Boca Pointe, a less expensive, 1,019-acre development in Boca Raton, Florida, 40 percent of the site consists of parks, greenbelts, lakes, and fairways, many of which have been stretched out so that they are on display through the glassy rear walls of the houses. "First choice is a water view, second is a golf-course view," says Rhoda Charles, the marketing director of the development, where prices start at slightly above $100,000 for a two-bedroom, two-bath garden apartment and mount in many steps to more than $900,000 for the most expensive custom houses. Clubhouses and recreation centers for racquet sports, swimming, aerobics, and other forms of exercise contribute importantly to the marketing of Boca Pointe and of many other planned-unit developments across the country.
The builders of master-planned developments, like the builders of neo-traditional towns, are fond of saying that they are creating "communities." The method by which they are doing this, however, often involves setting the master-planned community physically apart from its neighbors. Unlike Seaside, which has purposely connected its streets to those of an adjoining older development, suburban planned-unit developments take pride in being self-contained. Nearly every section of Boca Pointe sits behind gates supervised by guards. Throughout the United States gates are rapidly gaining acceptance, especially in upper-income and retirement developments, where they are usually supervised around the clock by guards or operated by security codes. In less expensive housing the developer more frequently builds an elaborate entrance, with or without a gatehouse, and lets the residents decide whether to pay to staff it.
So widespread is the trend toward impressive entrances and security checkpoints that Builder last year published recommendations on how to design them. "A project entry will have greater visual impact and feel more inviting to prospects if it's set back from the street,"the magazine's "Design Workshop" advised. Embodying this sales-winning principle, the entrances at Boca Pointe sweep back from the street, often in the form of long, curving stucco walls embellished with fountains, waterfalls, flowers, and palm trees. The lavish landscape features punctuate the transition from public world to private enclave, and promise a community within. Whether a genuine functioning community actually exists behind the checkpoints is another matter.
Certainly the landscape on view within the enclave is meant to project an image of community. Often the outdoor environment avoids the anonymity of standard municipal-grade street furnishings. It's not uncommon to find the stop signs and street signs made of sandblasted wood instead of metal. Streetlights are ornamental and close to the ground, on a human scale, like many of the beautiful streetlights used in American cities in the early years of the centurv. Mailboxes are sometimes treated as an important design element; in parts of Boca Pointe clusters of mailboxes sit under green canvas awnings in the center of landscaped cul-de-sacs. The sidewalks and driveways may be concrete that has been shaped to resemble stone and stained to complement the colors of the houses, whose walls and roofs have been given a consistent, coordinated appearance. Plantings are designed to weave the front yards into a seamless, meandering garden, maintained by the homeowners' association. All of this, Rhoda Charles says, "contributes to a very secure and charming enclave versus a more accessible, open kind of community."
But what is immediately apparent is the scarcity of informal socializing within many of the enclaves. On a mild evening I drove through one section after another of Boca Pointe, where some 2,000 houses and apartments have been sold, and saw hardly anyone out walking or in conversation with neighbors. The landscape's beauty felt embalmed. From Boca Pointe, I drove to Charleston Place, a nearby neo-traditional development that Duany and Plater-Zyberk, extrapolating from the development patterns of old sections of Charleston, South Carolina, had laid out with orderly rows of town houses closely facing narrow, straight streets. In this suburban development people were out walking in twos, threes, and fours, many of them chatting with their neighbors. Some were strolling along narrow linear walkways of brick, which run behind the walled back yards and have rose trellises above them.
The well-defined, pedestrian-oriented outdoor space helps Charleston Place generate informal community activity, not simply a community image. A major defect of the shared outdoor space in planned-unit developments is that it is rarely defined tightly enough to invite people. The buildings, even when beautiful, are not arranged to create places that feel semi-enclosed and therefore special.
The streets and walkways in suburban planned-unit developments suffer from another deficiency as well: they connect to few of the things that people need in their everyday lives. Recreational features may be abundant, but they are not necessarily within walking distance. For example, in Boca Pointe, where there are twenty-two separate residential areas, a brochure for one of them boasts, "El Dorado is the only community within Boca Pointe to have direct, permanent walking access to the Tennis and Aquatic Center and the Country Club."
This lack of connection except by automobile stems partly from a procedure by which the developments are commonly laid out. Often the land planner first fixes the location of major components, such as the curvy spine road, the recreational amenities, and separate residential areas. Then each residential area is assigned a builder, who lays out the streets and walkways in virtual isolation from the residential areas nearby. Early in the construction process a residential area, often ten to twenty acres, is called a building pod. When the builder's model homes are ready for the public, the terminology suddenly changes, like a frog turning into a prince: the pod becomes a "village" with a kiss from the marketing staff. The size of the village frequently reflects the developer's desire for a certain housing density and the builder's desire for a tract that can comfortably be brought to market in two years or so. But the result is often a village too small to have services within its boundaries and too isolated to provide easy pedestrian access to services outside.
A PLANNED-UNIT DEVELOPMENT WOULD NOT NECessarily have to emulate a neo-traditional town to avoid this problem. Master-planned communities could simply learn from the most admired "new towns" begun in the 1960s, such as Columbia, Maryland, and Miami Lakes, northwest of Miami, Florida. In Columbia the size of residential areas was determined primarily by the number of households needed to support an elementary school. The Rouse Company, as developer, insisted that within a block of the school there be a swimming pool, a community building, and a convenience store, and that people be able to walk or bike to these facilities without crossing any major streets. Three to five neighborhoods made up a village, which offered more facilities, including a supermarket, a bank branch, and other businesses—also accessible by the community's forty-seven miles of walking and biking paths, as well as by car.
Lester Collins, the landscape architect who laid out the 3,000-acre Miami Lakes development, says that communities like these are able to offer a more satisfying daily living pattern than most planned-unit developments provide, because they are not afraid to mix housing of different densities and places to work and shop. Miami Lakes has at its core a Main Street town center with stores at ground level and offices and apartments on the second and third floors. Twenty-two thousand people now live in Miami Lakes, and 8,000 work in offices and light industry there.
In contrast, many planned-unit developments limit opportunities for working or shopping or finding child care within the development, and thus force their residents onto the highways, exacerbating congestion. The penchant of developers of planned-unit developments for connecting them to outside roads at only a few points makes matters worse. James Minuto, of the Southern California Association of Governments, says that the notorious traffic jams in southern Orange County are partly attributable to the scarcity of streets running through the area's manylarge planned-unit developments. "You have a real problem when there are no cross streets and you don't have a grid. There's a lack of alternative paths."
The circulation systems that do exist in master-planned communities often meander so capriciously that they sow confusion. "Getting directions to somebody's 'villa' in a typical Hilton Head development is an exercise in futility,"says Robert Davis, of Seaside. By the same token, it can be almost impossible to find an address in a suburban planned-unit development if you have the misfortune to be invited there at night. I mentioned the problem of bafflingly arbitrary street organization to Roy Rogers, the vicepresident of planning for Arvida/JMV Partners' 10,000-acre Weston project, west of Fort Lauderdale, which exhibits the usual preference for an abundance of curves and an infrequency of through streets. He replied that Weston provides a string of "mental bread crumbs" to mark the way. "We give you visual landmarks—a windmill, windows of water, unique groupings of landscape material, a school and park, different architectural styles."After leaving his office I drove past an unstaffed gatehouse into one of Weston's neighborhoods and within three minutes was lost in the unpredictable meandering streets. How odd that in a country based on mobility, where the average person moves once every five years, the streets in so many places are guaranteed to make all but stay-at-homes lose their way. One of the reforms advocated by the planners of neotraditional towns is a comprehensible street system, with landmarks that truly do help people orient themselves.
There are signs, here and there, of growing suburban interest in re-creating the order and charm of well-designed traditional towns. Some of these signs are superficial, like the trend toward naming shopping centers "town centers" or dressing them tip in old-fashioned architectural ornament. Some are more serious, like the movement toward integrating stores with offices in complexes that are more public-oriented than the usual suburban shopping mall. Sasaki Associates, of Watertown, Massachusetts, one of the biggest firms involved in large-scale land planning, recently collaborated with Bower Lewis Thrower/Architects to create Princeton Forrestal Village, a suburban shopping and office complex modeled after early-twentieth-centurv small-town business districts. The development, in Plainsboro Township, New Jersey, is organized around a two-block Main Street, with a hotel facing a square. The project includes a day-care center. "The forms are very traditional,"says Richard F. Gatehouse, a planner at Sasaki. "It's considered very much of a new wave in retailing. It's meant to deal with the lack of amenities for people near their work during the business day."
Princeton Forrestal Village provides outdoor areas that are much more pedestrian-oriented than the vast parking lots surrounding suburban malls. Nonetheless, Duany refers to the project as an example of the "town style" applied to shopping and office complexes that remain dismally dependent on access by motor vehicles. A genuine town, Duany says, has housing integrated into the shopping and office area or close enough to it that residents can reach the commercial center without driving. One example of this, now being planned by Sasaki and RTKL Associates, is the town center in Reston, Virginia, one of the 1960s "new towns." After several years of construction, the town center will contain almost two million square feet of offices, two 500-room hotels, and 600 housing units.
"The model for the Reston town center is the traditional American street with cars and sidewalks," says Alan Ward, an urban designer for Sasaki. The initial buildings will focus on a plaza with a grand fountain. The second phase, to be built several years from now, will have a town green or an urban park with buildings at every edge. The original expectation for Reston was that the town center would be designed like a suburban shopping center. Ward says that the shift at Reston points tip two factors that arc beginning to alter the notion of how to plan suburban developments. One is suburban land prices, which in many places are so high that "you can no longer use the suburban model of the building standing alone." The other is the perception of "just how bad those buildings are,"especially,for the pedestrian. "Planners and designers have looked at earlier models," Ward says, "like Country Club Plaza, in Kansas City, that offer a humane walking environment and also let von 'shop the street' in your car."
It seems to me inevitable that a growing number of suburban developments will break away from the prevailing practices and begin to place housing closer to offices and shops and other services, in some cases with the more tightly defined outdoor spaces that give places like Seaside, Mashpee Commons, and Charleston Place their magic. In suburbs where child care and other services are close by, parents don't have to spend so many of their free moments driving. The growing number of people who work at home are nearer to the things they need. The isolating planned-unit development will continue to be built, but in a country where traffic seems to be getting worse and where the amount of time available to two-worker families is tightly limited, there will be more demand for something more efficient. America has been rich enough for some time to build the kind of planned-unit developments that suit its fears and vanities. It can also build towns that deal with the need for human contact and for conveniently placed services, and offer the joy of well-formed open spaces.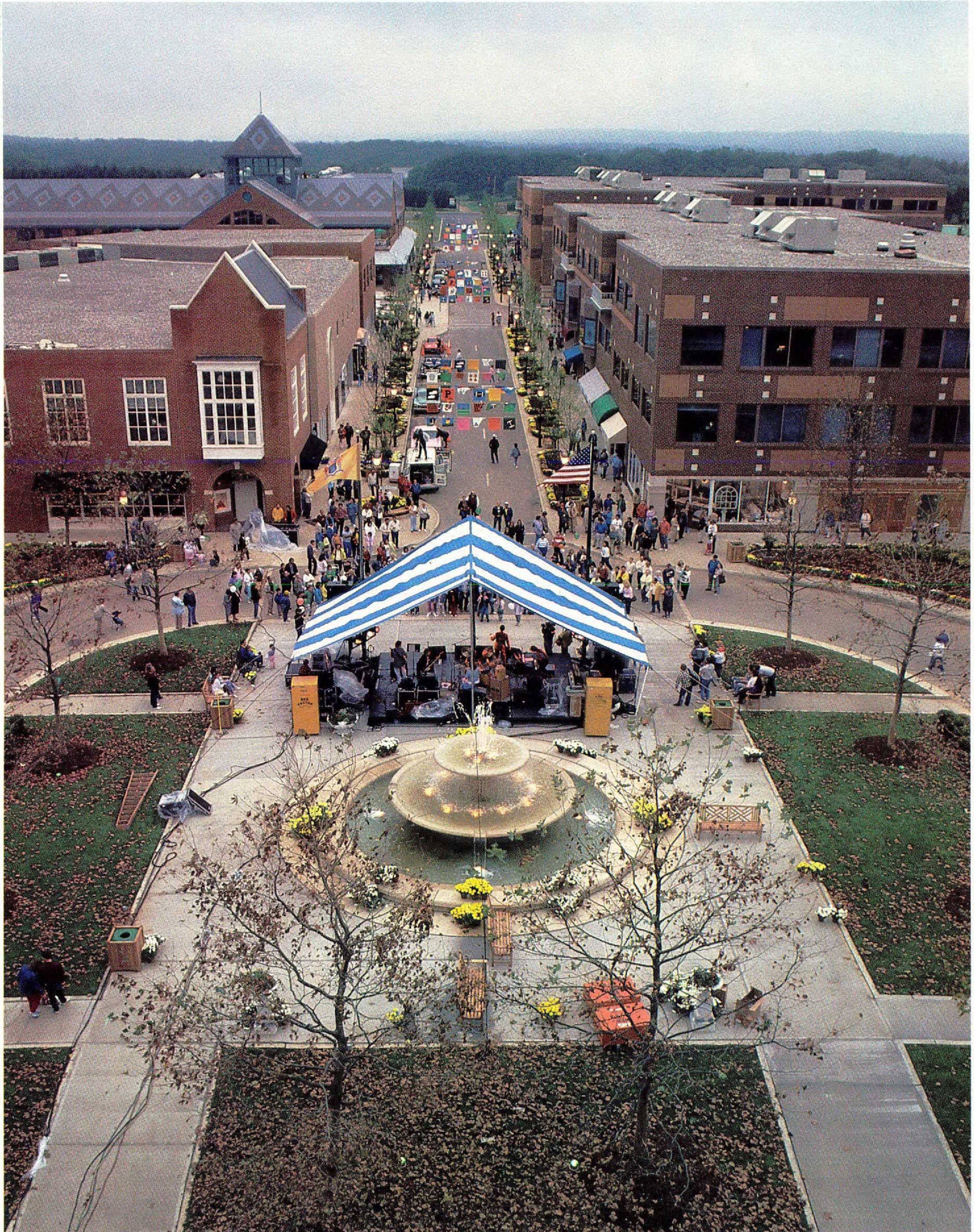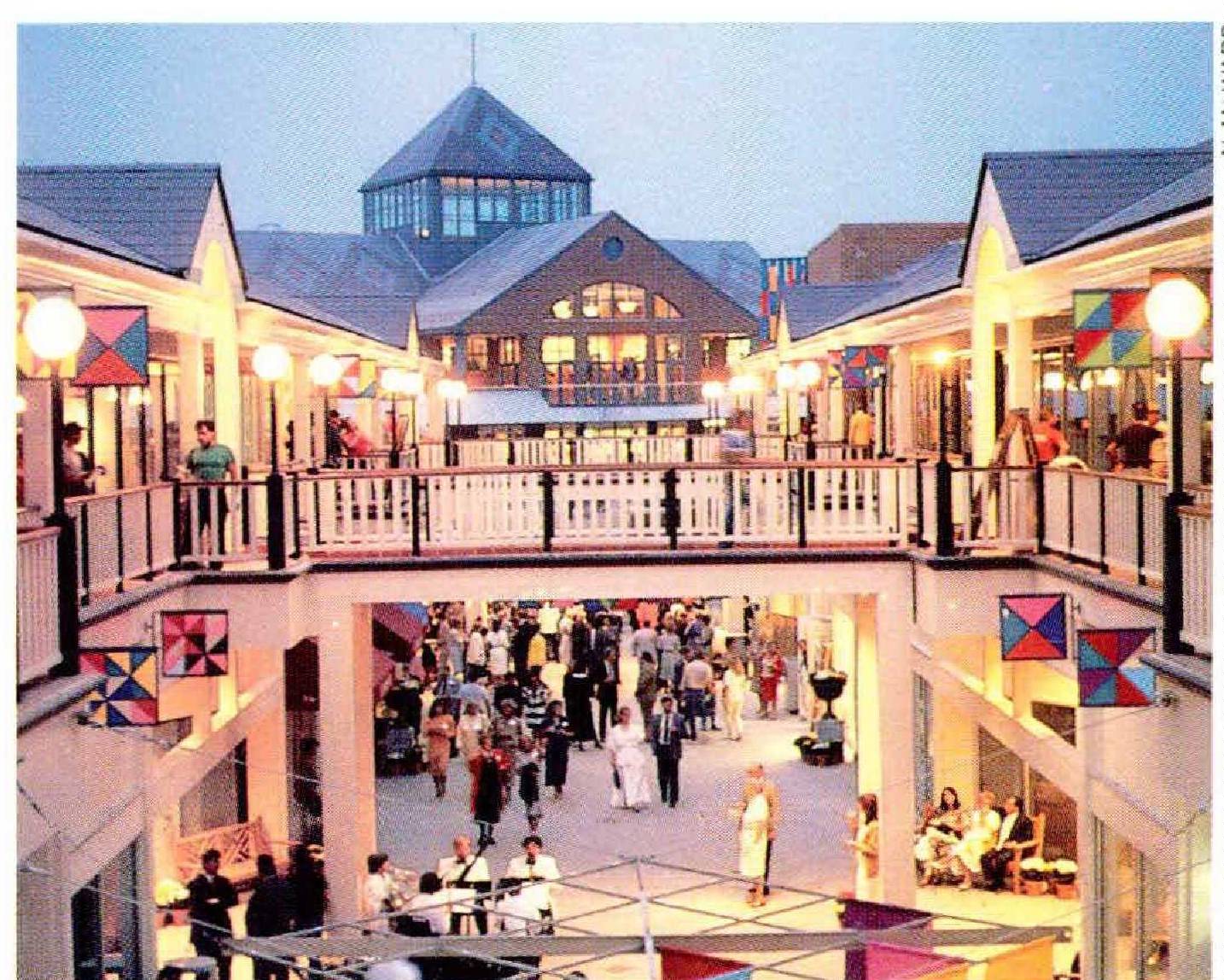 Public Pleasure Versus Private Refuge
SOME or THE MOST INTERESTTNG WORK IN COMMUNIty design is taking place not in the nation's suburbs but in its cities. There are two strongly differing viewpoints on how to design large urban housing developments today. One focuses on celebrating the public environment. The other tries to pull away from it, to a private, secure domain. Each of these attitudes is wielding considerable influence over the character of urban areas. On the one hand, some of the country's most respected designers are attempting to inject dignity, order, and human activity into cities by organizing new buildings around public streets and public parks, squares, and waterfront esplanades. On the other hand, much of the development that goes on around the country is predicated on the more reclusive attitude of wishing to retreat to private sanctuaries.
The emphasis on establishing an orderly, formal public environment is in part a strong reaction against the modern planning patterns of the 1950s and 1960s, which increasingly fragmented American cities with arbitrarily placed plazas and towers that pulled away from one another and from the street. It became obvious that more constancy and order were needed. A prime example of the change in thinking is the residential portion of Battery Park City, a ninetytwo-acre office and residential development along the Hudson River next to New York City's financial district.
The Battery Park City Authority adopted its original development plan in 1969, but only one group of residential structures was built in accordance with these guidelines— a 1,712-unit apartment complex called Gateway Plaza. Phis cluster of concrete apartment towers, with lower buildings on its perimeter, stands aloof from the traffic of South End Avenue, one of the larger new streets built on the landfill site. To reach the towers' lobbies, you have to pass through Gateway Park, an irregularly shaped park area that has curving walkways and evergreens grow ing on little mounds—a bit of pastoralism in the city. The greenery is not meant for everyone: a sign announces FOR RESIDENTS' USE ONLY. The Authority envisioned many clusters of residential towers like this, but retreating from the street produced poor results. What faces the sidewalk and street on South End Avenue is a dull row of ground-floor stores with two stories of drab-looking parking ramp above. Something different was needed.
In 1979 the Battery Park City Authority adopted a revised master plan, developed by the design partnership of Alexander Cooper and Stanton Eckstut, who have since established separate New York firms. The new plan puts landscaped areas largely in the public realm and invests them with formality. A side street named Rector Place has in its center a public park something like the lovely old Gramercy Park, without the locked gates. Semicircular where it meets South End Avenue, the park is dignified and orderly, with small shrubs above a granite base, threefoot-high hedges, beds of raspberry-and-ivory-colored tulips, and a flowering crab-apple tree in the center.
On the next street to the north a fascinating sculpture, Ned Smyth's Upper Room, which has columns around its perimeter and a table at one edge suggestive of the Last Supper, holds people's attention. The sculpture connects Albany Street to a magnificent esplanade that the Authority has constructed along the Hudson. Sitting on benches from the 1939 World's Fair, people look off toward the Statue of Liberty and a not entirely dull vista of Jersey City.
The new buildings at Battery Park City seem in accord with their setting—a consequence of the design code, which requires architects to form the apartment buildings' exteriors into a consistent "street wall" with stone on the bottom two stories, orange brick on the walls above, prominent cornice lines, and non-rectangular peaks. The elements that have made traditional New York apartmentbuilding exteriors gracious and neighborly—part of an ensemble that confers elegance on boulevards and parks— have been turned into a set of guidelines, within which the designers and developers are still free to exercise a moderate amount of imagination.
"Making public places is what New York is really about,"Eckstut says. "How many projects do you know that are as successful as Park Avenue or Riverside Drive?" The positioning of harmonious buildings against open space—ar Battery Park City, as on Park Avenue—creates the grandeur associated with cities at their best. The public spaces at Battery Park City are more than attractive decoration; they inv ite use. When I visited, people were sitting on the green benches along Rector Park's herringbone brick walks, turning Upper Room into a noon-hour lunchroom, and walking, jogging, and relaxing along the esplanade.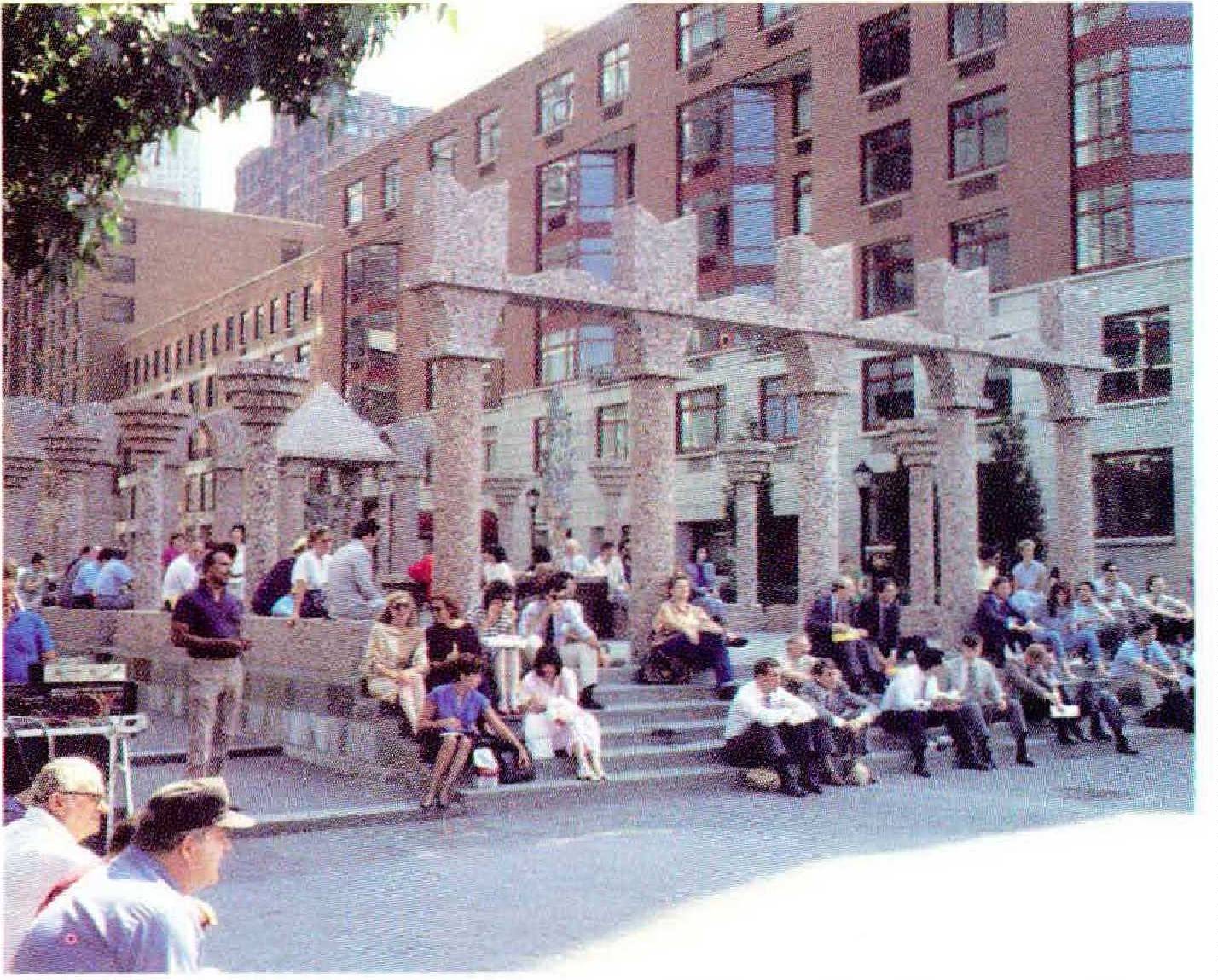 THROUGHOUT THE UNITED STATES, MUNICIPALITIES are revising their zoning codes to encourage uniform street walls and dignified, orderly public places. "Cities are rejecting piecemeal towers in parks," says Jonathan Barnett, of New York, an urban-design consultant to cities across the country. "We've gone back and said the original zoning codes [from prior to the 1950s] were not that far wrong." Public agencies and private developers are commissioning urban-design firms to organize neglected sites—such as old rail yards and waterfronts— and to give them a traditional urban character. Ehrenkrantz Group Eckstut Architects has revised plans for Newport, a development along the Hudson in Jersey City which by 1993 is expected to be one of the East Coast's major new communities, with 10,000 housing units, 1.4 million square feet of shops, and 4.3 million square feet of office space on about 300 acres near the Holland Tunnel. The new plan puts more emphasis on an appealing urban streetscape with well-defined streets, squares, and parks. Along the East River in the Borough of Queens, the New York design firms of The Gruzen Partnership and Beyer Blinder Belle are laying out a seventy-acre project, which includes housing, offices, shops, and recreation facilities, on a regular street grid. "The grid streets will make the waterfront more visible and accessible and bring people from inner Queens to the public riverfront promenade," I. P. Torrey, Beyer Blinder Belle's director of planning and development, says.
In the Cityfront Center project, in Chicago, Alexander Cooper + Partners, of New York, has organized sixty acres of mostly vacant industrial land, at the edge of downtown near Lake Michigan and the Chicago River, into conventionally sized blocks with public streets, instead of creating monolithic "superblocks" with interior or elevated walkways, as was once the fashion in big urban developments. The buildings, containing 22 million square feet of offices, shops, housing, and other space, focus primarily on streets and public open areas—including two parks, a plaza, a court, and an esplanade. These, the designers say, "break a large project into distinctive 'places.'"
"We try to link with or reinforce the existing place, to complement what's already there," Brian Shea, who tiesigned the project along with Cooper, says. "It's a return to the notion of connection. Battery Park City has been very influential. People are looking at making parts of cities that will become extensions of what is familiar." Eckstut contrasts this with the "private" orientation that still pervades much American zoning. Too often "all the buildings are trying to pull away," he says, "trying to protect themselves from their neighbors."
IN FACT, WHILE THE NEO-TRADITIONAL PUBLIC ORIENtation championed by urban designers like Cooper, Eckstut, and the partners in Beyer Blinder Belle is one major direction in current urban design, the movement in the opposite direction, toward emphasizing secluded internal landscapes, is also widespread. Many urban housing developments are being planned and promoted as a refuge from everything beyond their boundaries. The more discordant the surrounding area, the greater the tendency to establish a private world containing outdoor space and shared amenities from which nonresidents are excluded. In the Studio City section of Los Angeles, I visited one such complex—Studio Colony, a seven-acre apartment development bordered by aging apartment buildings, a heavily traveled commercial street, a freeway, and a Hoodcontrol basin. Studio Colony's 450 apartments, in a series of threeand four-story buildings with parking underneath, are reached by passing through a gate where a guard screens out unauthorized visitors.
The apartments, which range from 426-square-foot, $535-a-month studios to $1,200 two-bedroom units, feature varied ceiling heights and entrances placed diagonally for dramatic effect. The main attraction, though, is the assortment of gathering places, such as irregularly shaped courtyards that serve forty to sixty apartments each. The major common area, accessible to all the residents, has an outdoor swimming pool and terrace next to a meeting room, a gymnasium, racquetball courts, and other indoor facilities. Above this area rises an abstractly patterned clock tower—the designers' attempt to give Studio Colony a strong focal point.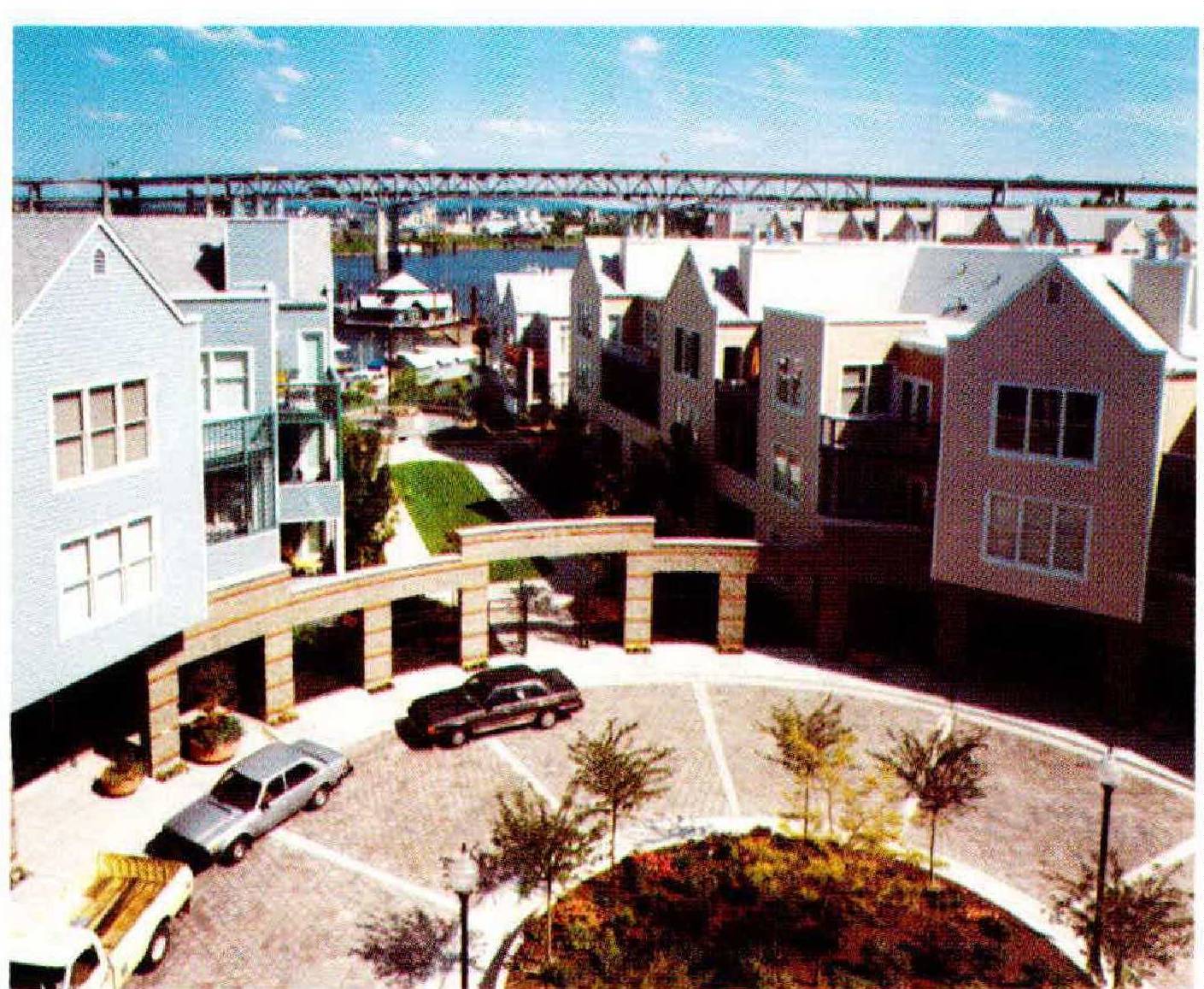 What Studio Colony does not do is shape the outdoor areas into coherent, genuinely inviting spaces; it is hard to imagine that anyone would want to walk from one end of Studio Colony to the other, even once. Each of Studio Colony's buildings sits back from the private street at a different angle, making it impossible for the open space to feel well defined. Berkus Group Architects, working for Forest City Dillon & Bluffside Development Company, designed a single building and then stamped it out several times without regard to how unharmoniously the group of buildings stood on the awkward, dog's-leg-shaped site. This happens all the time. Architects design a building when they ought to be designing the open space that will give the development its overall character.
When designers do pay attention to the shapes of the open space, unfortunately they often employ the predominant California style—now a national style—of twisting and turning large complexes and their grounds, as if to promise the viewer a delightful surprise around every bend, whereas what the viewer finds is just more of the same at a different angle. The assumption seems to be that irregular configurations of buildings and open space make large developments seem less monolithic and oppressive. Sometimes this is true. But often the lack of a convincing order makes the outdoor environment simply not worth exploring.
If urban housing developments are going to be designed as refuges, a 112-unit town house complex called Bridgepoint, in southwest Miami, represents a better model of how to organize the shared internal landscape. At the entrance to this grayish-pink stucco complex, designed by Rafael Portuondo, Rolando Llanes, and Lariano Forero for a local developer, Interdevco, stands a classical-inspired gatehouse. From there you can see down a straight street lined with trees to the center of the development, where two gazebos sit beside a small watercourse, and then on to the swimming pool and bathhouse at the far end of the complex. The townhouses, which sold for $98,000 to $120,000, are a series of straightforward forty-foot-wide buildings, which get their variety not from any nervous twisting and turning but from a series of projections on their facades—balconies, walled courtyards, and various rooms extending in a rhythmic sequence. Walking through the complex, you get a sense of being in a pleasant public room—at some points wider than others, and opening up to views of narrow waterways in the center, but always calmly composed. The fifteen-acre complex exudes the rare quality of stateliness. In American cities obviously anxious about crime, such dignity and tranquillity should be worth striving for. Pink walls, in which an arch at one corner frames a view into the complex, extend around much of Bridgepoint's perimeter.
THE CRITICAL QUESTION FOR AMERICAN CITIES IS whether they can somehow both present an engaging personality that attracts the public and enlivens street life, and provide quieter, restricted outdoor areas that afford relief from noise and commotion. Cornerstone Development Company, of Seattle, has come to find that the challenge can be met—but only if the division between public territory and restricted open spaces is understood and enforced.
In 1982, in Seattle, Cornerstone built Hillclimb Court, a roughly U-shaped complex, designed by Olson/Walker Architects, containing offices and shops and thirty-five condominiums along Western Avenue, and a terraced courtyard in the center of the U, which offers views northward to the comings and goings at the city's busy Pike Place Market. More recently Cornerstone developed the initial phase of a ten-acre housing, shopping, entertainment, and marina complex called RiverPlace, along the Willamette River at the edge of downtown Portland, Oregon. At Hillclimb Court the weak security of the courtyard —which is protected only by thick, bushy plantings—hindered sales. At RiverPlace some prospective townhouse buyers were troubled when on tours they noticed that some private patios open directly onto a courtyard street, which the public can walk through during the day.
"We learned some things," says Virginia Anderson, a vice-president of Cornerstone, "if you're doing an urban project that has landscaped private areas, if you're not able to secure them they're a deficit. People's initial jov at seeing a private landscape is quickly lost if the landscape is not secure." Cornerstone has since installed security fencing, in an unobtrusive design, along the border of Hillclimb Court's courtyard. At RiverPlace, where 158 clapboard-sided condominiums have been built, and are selling for $85,000 to $190,000, the company has ensured security by putting fences and plantings between patios and the public courtyard. The other courtyards offer access solely to residents, and the condos that face the strictly private courtyards sell better.
Nonetheless, RiverPlace provides an inviting publicsetting. A restaurant, a grocery store, a bookseller, and other shops occupy its ground floor, facing a public riverfront esplanade, while three stories of condominiums rise from the shops' concrete roof. As Alan Grainger, a Seattle architect in charge of RiverPlace, puts it, "You don't feel left out because you couldn't get into the courtyard. There are other attractions."
Urban developments surrender much of their potential, the Cornerstone team believes, if they attempt only to be secure private environments and do not create a walkable public environment. In line with the urban-design critique that Jane Jacobs set forth in her still influential 1961 book, The Death and Life of Great American Cities, Virginia Anderson says that everyone feels safer if a mixture of activities is going on close by and there are plenty of "eyes on the street." She says, "You need more activity than just residential to create interest and to ereate a sense of security."
If traditional, public-oriented ways of designing American communities are to be revived, what is required is a skillful balancing act. The things that provoked the decline of traditional methods of community design—among them cars and a desire to escape the disturbances and sometimes cramped living of compact, multi-purpose neighborhoods—are with us as much as ever. The designers and developers who work in a traditional vein must take these into account while at the same time delivering the satisfactions that were abundant in cities and towns several decades ago.
The neo-traditionalists stand to make an impact, because the frustrations of modern, scattered, cluttered development are all too evident today and because their holistic approach attempts to meet many different needs— for convenience, efficiency, beauty, and connection to a broader swath of humanity. The neo-traditionalists sense an emptiness in American life and seek to fill the void through community design. Theirs is a potent idea, and one not likely to pass out of fashion soon. After all, it is the stuff of which great civilizations have for centuries been made. □