Allons Danser: Cajun and Creole Bands Are Conserving Native Music
LOUISIANA HAS BEEN much publicized of late for its tragicomic politics, while the Cajun food craze has ignited interest in all things Louisianan. One result is that Cajun bands, once heard only at local dance halls in Louisiana, are now touring the country and playing to packed houses. At the Grammy Awards ceremony last year all of the "Best Ethnic or Traditional Folk Recording" nominations were Louisiana artists. This would not have seemed possible five years ago. The increased national awareness of Louisiana's unique, indigenous ethnic music comes at a time when locals are rediscovering their own rich heritage. In Louisiana's Cajun parishes both black and white teenagers regularly join their elders in dancing to decades-old music sung in French. These are deliberate choices, since mainstream American culture is easily accessible. To understand better how such old-fashioned music is thriving and evolving today—and to appreciate a recent assortment of Louisiana albums better—it is helpful to look at the music's home turf.
That turf is French-Catholic southern Louisiana. The rest of the state is AngloProtestant and culturally similar to the neighboring states of Texas, Mississippi, and Arkansas. There is a good deal of mistrust between Louisiana's Anglo and French populations. Shreveport, in the north, regards New Orleans, with its twenty-four-hour liquor licenses, as the last word in decadence, while New Orleans views north Louisiana as an endless sea of humorless Bible Belt hicks. Neither population knows quite what to make of the Cajuns.
The word Cajun comes from Acadian, which refers to Acadie—a French settlement in what is now Nova Scotia, which was dispersed by the British in 1755. Many of the exiled Acadians settled in remote southwestern Louisiana. Isolated from the urban French in New Orleans and the outside world in general, the Acadians evolved into a distinct, tight-knit ethnic group. Although one common misconception depicts the Cajuns as swamp dwellers (and semi-savage ones at that), most of Cajun country is actually a mundane expanse of flat farmland known as the prairies; the adjacent bayous support fishing and fur-trapping, but few people live on the bayous and there is little musical activity.
The "foreigners" who moved into the prairies after the Civil War—Anglos and German-Americans, mostly—soon assimilated into the Cajun culture, and many even Gallicized their surnames. There was some cultural reciprocity, though. German-Americans—and German-Jewish catalogue merchants—introduced the accordion, which was then the rage in both Europe and America. Its resonating, high volume was ideal for noisy dance halls, and soon the Cajun fiddle, formerly pre-eminent, was relegated to playing accompaniments. Some traditional fiddle tunes could be adapted easily to the accordion, while other, more complex songs faded into obscurity, along with many a capella Acadian ballads. The accordion had a similar effect on the music of the Creoles, the region's Afro-CaribbeanFrench population.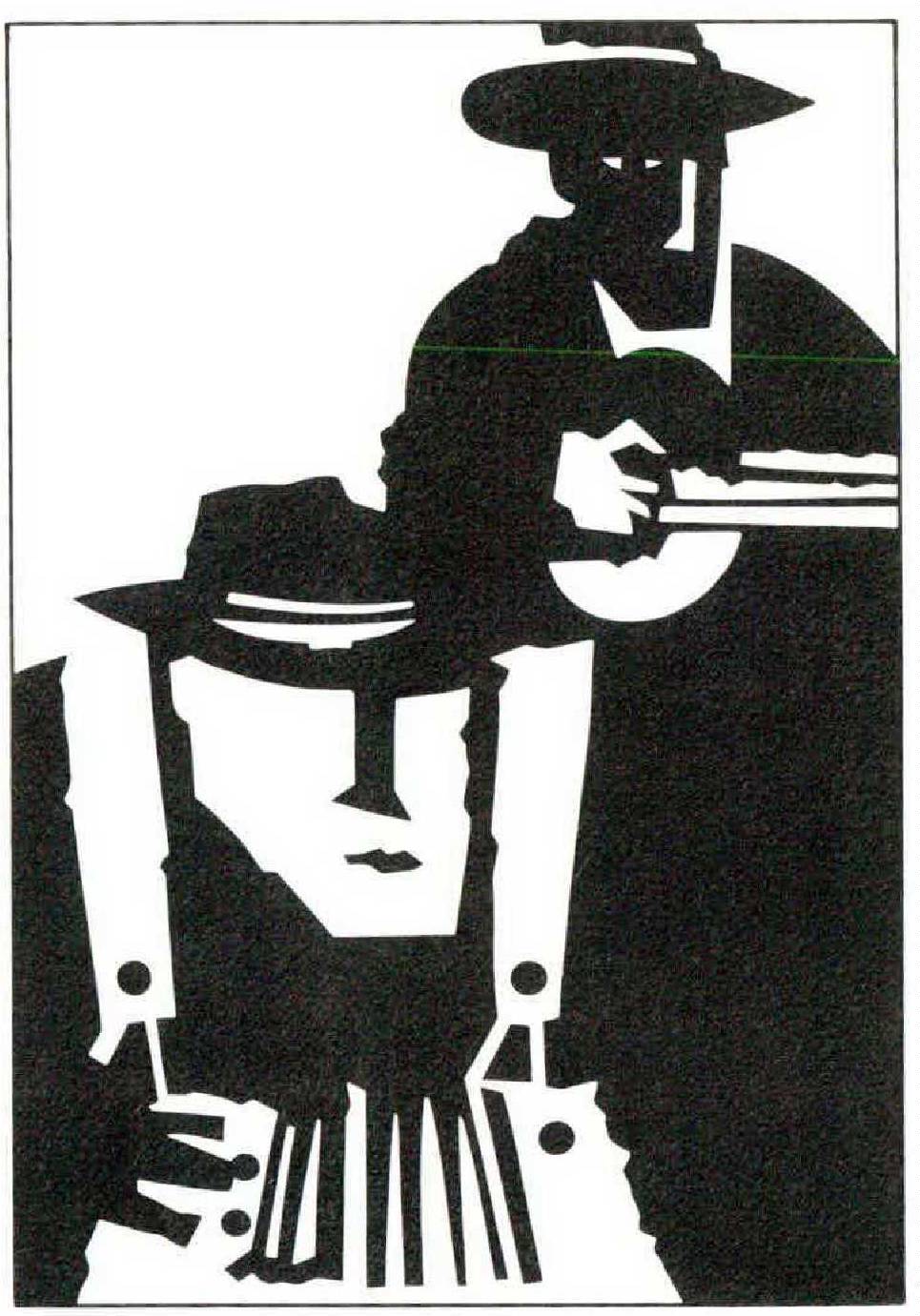 Until the First World War the Cajun parishes remained a world apart. Then oil development and Huey Long's roadbuilding programs brought modern America rushing in. The Cajuns' language and music were discouraged and at times even suppressed. By the midseventies, however, a cultural backlash had formed. The Council for the Development of French in Louisiana, formed in 1968, helped validate and expand French usage while connecting Louisiana with the rest of the French-speaking world. The region's 400,000 French or bilingual speakers were encouraged to take pride in themselves. The fiddler Michael Doucet and other young Cajuns embarked on extensive folkloric field research, interviewing and recording the area's brilliant but unknown old players. As interest grew in these traditionalists, new venues opened up for them, and Doucet and others incorporated their ideas into contemporary groups such as Beausoleil and the Cajun heavy-metal extremists known as Mamou. Today newcomers who are interested in exploring this world discover an active network of live performances, French events, and media programming. Cajun and Creole music have been revitalized, and they seem likely to flourish for some time.
CAJUN MUSIC bears a distinct resemblance to classic, pre-"Nash-Vegas" country music: both have sparse rhythm sections, make ample use of fiddle and pedal steel guitar, and favor waltz and two-step tempos and fatalistic, mournful lyrics. But Cajun music is not simply Anglo country music sung in French. Its Acadian folkloric sources, strongly rhythmic steel guitar, and prominent accordion set it apart. In Cajun music the accordion, so often a gutless instrument, takes on a gritty, bluesy sound and a raw, robust tone. As part of an accompaniment, it can create a droning effect, and deliberate dissonance can result, though some players prefer a smooth sound. Cajun vocals tend to be wailing and emotional, and at times decidedly nasal. In this century the talented songwriters Iry Lejeune, Lawrence Walker, and Joe Falcon, among others, have left an extensive legacy of both songs with lyrics and instrumental showpieces.
A fine album—included on the 1986 Library of Congress Selected List of American folk music—illustrates the popular postwar dance-hall sound. The Best of Nathan Abshire (Swallow 6061; available by writing to PO Drawer 10, Ville Platte, La. 70586) is an anthology of the late and highly influential singer and accordionist, two of whose songs, "Pine Grove Blues" (also known as "Ma Negresse") and "La Valse du Bayou Teche," have become Cajun standards, The bizarre imagery of "La Valse de Holly Beach" points up a distinct strain of grass-roots surrealism in Cajun lyrics:
ILLUSTRATIONS BY
"The mosquitos ate all of my sweetheart
They left only her big toes
For me to use as corks
To stop up my half-empty wine bottles. ..."
© Flat Town Music, BMI, translation by Barry Jean Ancelet
Abshire's accompanists, including the steel guitarist J. W. Pellisier and the renowned instrumentalists the Balfa Brothers, play with a relaxed yet funky swing that is eminently danceable.
Lest Abshire, with his off-key vocals, give the impression that all Cajun singing is soulful but flat, listen to the genre's crooning jukebox king, Belton Richard, Richard's pure, plaintive baritone puts him on a par with contemporary music's greatest pop voices. His Modern Sounds in Cajun Music (Swallow 6010) is highly recommended, especially for the perennial favorite "Un Autre Soir D'Ennui."
With Spirits, by the Savoy-Doucet Band (Arhoolie 5037; 10341 San Pablo Ave., El Cerrito, Calif. 94530), moves back several decades to the sources of today's styles. Many of the songs on the album might have disappeared completely if they had not been revived by these dedicated musicians. Marc Savoy is an accomplished accordionist, a master accordion-builder, and an outspoken critic of assimilation. (His polemical statements include "Some Cajuns are turning their back on a hot bowl of gumbo for a cold, tasteless, American hot dog.") His wife, Ann, is a solid singer and guitarist, a diligent researcher, and the author and editor of the genre's prime source book, Cajun Music: A Reflection of a People (Bluebird Press, PO Box 941, Eunice, La. 70535). The two are joined by Michael Doucet, who has emerged as Cajun music's leading young innovator, and the bassist Tina Pilione. Their acoustic quartet has a diverse, fresh, and lively sound, with spirited solos and intuitive interplay. Doucet also demonstrates his urgent rhythmic vocal style on "Johnny Can't Dance." Beyond the album's intrinsic merits, it provides an accessible introduction to the songs of such early Cajun artists as Amadé Ardoin, Dennis McGee, and Cleoma Falcon, whose original recordings are also available on Arhoolie.
Doucet has also recorded several fine albums as the leader of Beausoleil (the best of which is Parlez-nous à boire, Arhoolie 5034), and he frequently performs as a guest soloist. On Wayne Toups's ZyDeCajun (Kajun Records 5032; 413 North Parkerson, Crowley, La. 70526) Doucet plays in a far more fiery manner than on With Spirits, jumping wide intervals, occasionally whirling into space, and successfully taking daring rhythmic chances. Such intensity is the perfect complement for Toups, an aggressive, passionate young accordionist who combines a strong traditional sensibility with considerable rock influence. This is evident in Toups's full-tilt treatment of two-step classics like "J'étais au Bal" and "Big Mamou," and in his original two-step "Zydeco Baby." These songs have fine guitar and steelguitar solos by Isaac Miller, Jr., Tommy Shreve, and Sonny Landreth. Nathan Abshire's "Belizaire Waltz" and Toups's own "My Friend" find him in a more conventional Cajun vein, with poignant, affecting vocals. With its eclectic and inspired performance, ZyDeCajun is one of the best contemporary Cajun albums. It establishes Toups as an important modernist.
ZYDECO REFERS to the black Creole counterpart of Cajun music. The term is an elision of the first two words of the folk expression les haricots sont pas salés ("the snap beans are not salty"). This Creole metaphor for hard times— when poverty rules out buying salt pork for seasoning—also became the title of a popular traditional dance song. Some argue that "zarico" is a more proper, phonetic pronunciation, but "zydeco" has prevailed, with a number of different spellings. Others argue that the word is of African, not French, origin. In any case, zydeco and Cajun music (which denotes white bands) overlap considerably in instrumentation and repertoire, but zydeco also incorporates mainstream black music, especially blues. Recently some popular zydeco artists, such as Buckwheat Dural and Terrance Simien, have begun to draw heavily on contemporary urban soul sources, to the consternation of purists.
The more rural zydeco stylists maintain a raw, Afro-Caribbean sound, both in their endless one-chord vamping (great for dancing, but sometimes dull just for listening) and in their loose, offbeat drum patterns. Boozoo Chavis is one such performer. His Louisiana Zydeco Man (Maison de Soul 1017, a Swallow Records subsidiary) is subdued compared with his exuberant live sets at clubs like Slim's Y-Ki-Ki, in Opelousas, and Richard's, in Lawtell, but it's fun nonetheless. There are plenty of Chavis's striking accordion voicings, as well as some standard blues numbers and the characteristic, extended rhythmsection solos that always excite his live audiences.
Much of zydeco's distinctive sound, especially evident in such moments, comes from a percussion instrument known as the frottoir-—a corrugated metal vest that the wearer plays with spoons, bottle openers, or other metal scrapers. Since this doesn't require much concentration, frottoir players are free to dance, clown, and visually inspire the crowd. Chavis himself is quite a sight on stage. A boisterous, wild-eyed figure with a penchant for Stetson hats, he wears an apron to protect his accordion from perspiration, suggesting at once images of cowboys and short-order cooks. Chavis's album typifies the ethnic aspect of the zydeco dance-hall sound. So do two fine field-recording anthologies, LaLa (Maison de Soul 1004) and Zodico (Rounder 6009; 1 Camp St., Cambridge, Mass. 02140), produced by the folklorist Nick Spitzer.
The most exciting and consistent zydeco album to date is Clifton Chenier's Bogalusa Boogie (Arhoolie 1076). Chenier pioneered today's zydeco sound, blending Creole sources with fifties rhythm and blues. This record—midway between the stylistic extremes of Dural and Chavis—captures Chenier's agile accordion, the brilliant saxophone playing of John Hart, and the adrenalized Red Hot Louisiana Band, all in peak form. In recent years Chenier has won both a Grammy and a National Heritage Fellowship, from the National Endowment for the Arts. Such credentials are yet another measure of Louisiana music's new national status, and of the growing cultural confidence on the prairies.