BY CORBY KUMMER
SUPERMARKETS DON'T look the way they used to. For most of the past forty years the "conventional" supermarket, offering prepackaged produce and meat, big-name staples, and a limited number of non-food items, such as paper goods and cleansers, has been the industry standard. Today supermarkets can often be confused with high-priced gourmet shops or low-priced department stores. New supermarkets usually have not only greatly expanded delicatessens, bakeries, and produce, meat, and fish departments, but also aisles of hardware and drugstore items and even microwave ovens and television sets. Sometimes they seem like banks or post offices or even the electric company, since their owners have begun installing automatic-teller machines, postal counters, and service desks where customers can pay utility bills.
Supermarket owners have always renovated their premises regularly—the industry average is once every seven years. Now the renovations are more drastic and expensive, and frequently involve new buildings. A format called the superstore is the current favorite, and the one most likely to replace a conventional supermarket in your neighborhood. Superstores are often twice as large as conventional stores (conventional stores typically cover 15,000 to 25,000 square feet, superstores 30,000 to 50,000). Timothy Hammonds, who researches trends at the Food Marketing Institute, in Washington, D.C., a trade organization for supermarkets, predicts that in five years superstores will account for 40 percent of all supermarket sales.
But owners are also experimenting with even larger formats, including the superwarehouse and the hypermarket, and some are even trying a format smaller than a conventional store but larger than a convenience store. These new formats, which the owners match to neighborhoods with ever greater precision, have made for more variety and higher quality in what supermarkets offer.
SERVICE DEPARTMENTS are what chiefly distinguish superstores from ordinary supermarkets: produce departments with mist machines to keep salad greens dewy, baskets of exotic fruits, and salad bars with rows of prepared vegetables and fruits; delicatessens with roasts and cured meats cut to order; meat departments with more variety and more butchers than conventional stores have; fresh-fish departments rather than freezer cases full of packaged fillets; bakeries that waft the scent of muffins and croissants throughout the stores; and even florists.
Some of these shiny markets can be disappointing: the prepared-food sections on close inspection look no better than a run-of-the-mill delicatessen, the fish is not always fresh, the bakeries use only indifferent brands of frozen dough, the floral departments offer little more than carnations and ferns. Others, however, are nearly exhilarating. The service departments at King's, in Short Hills, New Jersey, are as appealing as specialty stores in Europe (which are what ambitious American food sellers emulate). King's is a chain of fifteen stores, all in New Jersey, whose chairman, Allen Bildner, is chairman-elect of the Food Marketing Institute.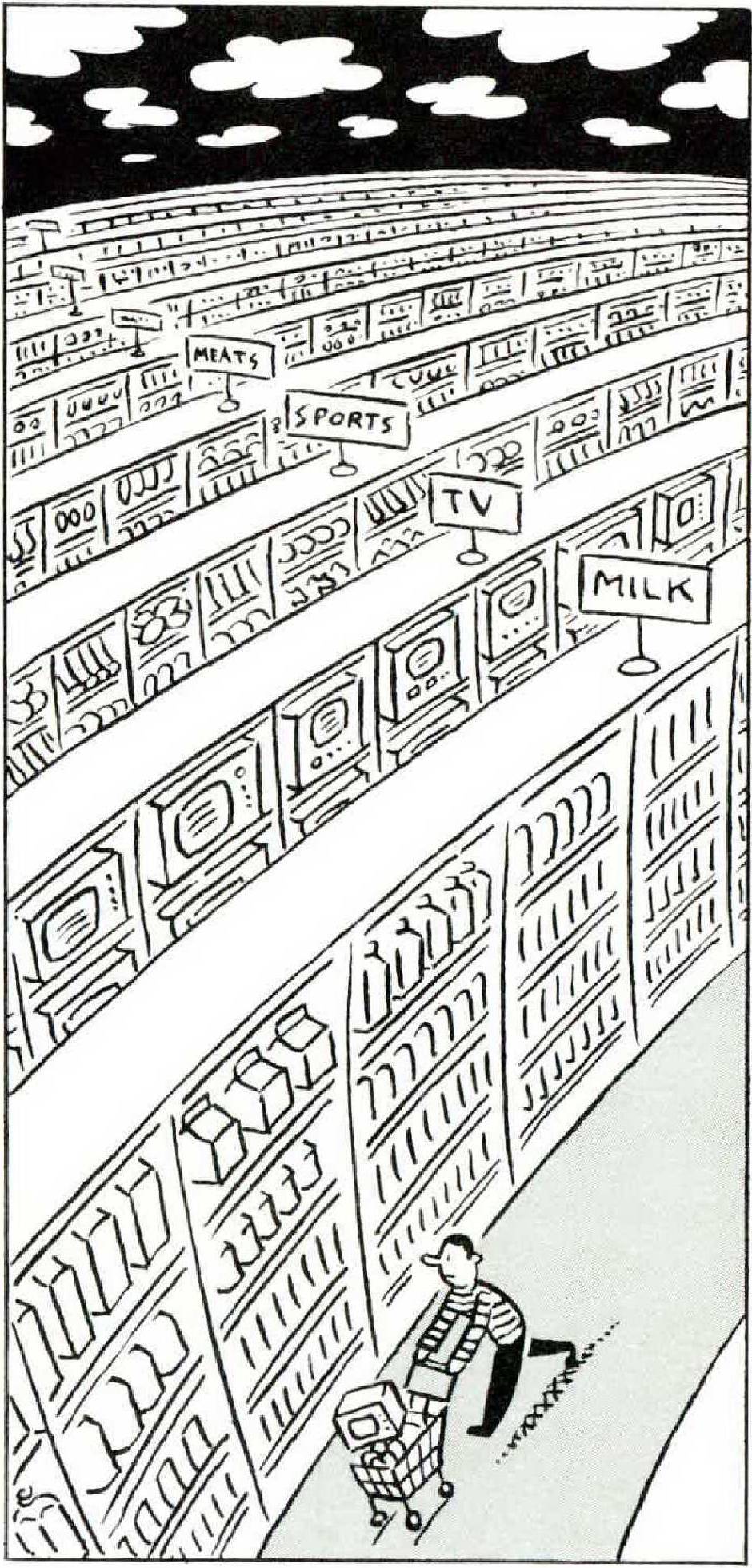 The prepared-food department at the Short Hills King's, the flagship store, features an open kitchen where customers can see salads, pasta, pates, and main courses being prepared. There is a freestanding snack bar where customers can buy coffee and sandwiches. Store personnel and representatives of food manufacturers stand at tables demonstrating products and handing out samples. The store has a cooking-equipment department and the Cookingstudio, one of the leading cooking schools in the United States. Counters, reach-in refrigerator cases, and shelves laid out diagonally and at unexpected angles near the perimeter open up the sides of the store and lead customers back to the grocery aisles. The building has the usual warehouse shape, but the layout, done in collaboration with Joseph Baum Associates, a restaurant-consulting firm, was the least boxy of any that I saw on a recent tour of supermarkets in the Northeast.
DESIGN HAS BECOME an important way for supermarkets of all kinds to distinguish themselves. New Jersey is a leader in innovative supermarket design, because several of the country's largest chains, including A&P, have their headquarters there. (California is the other leading state for new design.) One of the most famous redesigns has been that of Grand Union, by the graphic-design firm Milton Glaser, Inc. Grand Union has in seven years used Glaser's design in about a hundred of its 371 stores.
The redesign begins with all labels and signs. The aisle directories, for example, run across the ceiling in the middle of the store rather than at each end of the aisle, so that they are visible from everywhere. There are recipe cards and fivers with nutritional information all over the store, a feature that many chains have adopted. (Giant, in and around Washington, D.C., has led the field in providing nutritional information.) In Glaser's design the dairy case replaces one of the inner aisles rather than running along the perimeter, freeing one side of the store for more produce or for temporary promotions. Little complexes of lucite bins containing bulk candy and health foods break the monotony of other aisles.
The showpiece of the Grand Union chain is the superstore in Paramus, in which many of the service departments have been placed in a central "market square" that has its own kitchen. There are white-and-red-tiled walls, hanging salamis and sausages, and shelves stacked with wheels of cheese. European glass cases in the bakery display some of the best French pastry available outside France.
Perhaps the most controversial redesign is the A&P Futurestore, in Allendale, New Jersey, and eighteen other locations. The stores are entirely black and white, with supergraphics of apples, cows, wedges of cheese, and the like. The design is meant to look extremely clean and to highlight the color of the merchandise, but to some it makes the stores look like clinics. What does highlight the color of the merchandise is the incandescent, rather than fluorescent, lighting. The manager of the Allendale Futurestore told me that once his customers get over feeling that they are in a hospital, they keep coming back. He claimed that since the store opened, two years ago, business has increased 75 percent. A&P says that it is committed to the Futurestore as its prototype superstore.
THE FORMAT THAT could usurp the superstore is the superwarehouse, an outgrowth of the bare-bones warehouse stores that became popular during the recession of the early 1970s. Plain warehouse stores, with their cutcase displays, their selection of groceries limited to what can be bought from wholesalers "on deal," and their lack of such services as check-cashing and bagging, have fallen greatly in popularity as the economy has improved and customers have come to consider variety, service, and convenience more important than price. The superwarehouse has service departments and a greater variety of groceries than the ordinary warehouse store does, but at ordinary warehouse-store prices. The typical superwarehouse is 60,000 scpiare feet—at least 10,000 scpiare feet larger than the typical superstore. Safeway has already built ten superwarehouses in California and eight in Florida; Kroger, the country's largest chain, is said to have plans to open three superwarehouses soon; and Supermarkets General, the country's seventh-largest chain, has added service departments to its Heartland warehouse stores. The most successful operator of superwarehouses at the moment is Super Valu, the country's largest wholesaler to supermarkets, which operates and franchises retail outlets under the name Cub.
The biggest kind of store of all is the hypermarket, at 150,000 to 200,000 square feet, about half the size of the Astrodome, and selling general merchandise as well as groceries. The hypermarket is considered a French invention; the French company Carrefour has been building profitable hypermarkets in France and South America since the 1960s. (Stores nearly as large were established in the United States during the Depression. They failed.) Carrefour says that it will soon open hypermarkets on the Fast Coast. Hypershops, another French company (in which Super Valu has invested), has already opened one 200,000-square-foot hypermarket in Cincinnati, under the name Bigg's, and plans to open another in Denver.
These stores combine a superwarehouse with a discount store that sells athletic clothes and equipment, appliances, furniture, and the like—lines in which superstores offer just limited selections. The stores seem successful, but consultants caution that they can work only in densely populated areas. Since they cost at least $12 million apiece, few companies, even conglomerates like Hypershops, can afford to open many of them. In any case the stores have not been open long enough to establish track records.
SUPERMARKET OWNERS are not thinking only about expansion. Some are looking back to a time before conventional stores became the norm, when customers were loyal to small neighborhood grocery stores that put a high priority on service. Convenience stores like those in the 7-Eleven chain closely resemble the old mom-and-pop corner stores in size and location but not in stock; unlike mom-and-pop stores, they rarely carry produce or meats.
Small supermarkets that do are being started, however. For example, Fresh 'N Counter, in St. Louis, offers a high ratio of produce to groceries in a 12,000square-foot store. Three stores near San Francisco, run by Safeway under the name Bon Appetit, carry high-quality perishables and expensive grocery lines; their size ranges from 15,000 to 20,000 square feet.
The smaller supermarkets getting the most attention are a new chain begun in Boston, J. Bildner & Sons. The owner, James Bildner, is the son of Allen Bildner, the chairman of King's. J. Bildner & Sons markets have small versions of all the service departments that superstores have—meat, fish, produce, prepared foods, cheese, and bakery—and only a few groceries. Bildner has opened the stores, none of which takes up more than 9,000 square feet (a typical convenience store is 2,600 square feet), in rich downtown and suburban neighborhoods. The stores are built of marble, wood, brass, and tile, and some have chandeliers.
In effect, Bildner is a new category of food store. It is unlike most take-away stores in that it carries raw meat, fish, and produce, and in that the prepared foods are sometimes made off the premises, in a central kitchen. It is unlike supermarkets in that it carries few groceries. It is unlike specialty shops such as butchers, fishmongers, and greengrocers in that its selection of meat, fish, and produce is small, although it models its services on those offered by such shops. Its prices are as high as, or higher than, those of the fanciest specialty shops, despite the narrow selection.
The company claims that sales in four of the Boston stores are more than double initial projections. It recently opened five stores in Atlanta and will soon open four more there; last December it opened a large store in New York, and it plans to open three in Chicago. This goes against the conventional wisdom that what works in one area rarely works in another—no chain has stores in every state, and most chains are confined to one region. James Bildner claims that he has hit upon a "national formula" that he will not alter in his new locations.
The industry is watching J. Bildner & Sons closely. Consumers visit supermarkets more than any other kind of store, and owners will add services or change formats to bring them in even more often and to keep them there longer. Depending on who is doing well down the street, next year your local grocer might be importing glass display cases from Europe or installing warehouse shelving—or both.