CODE PAIRS
In thirteen squares of this diagram, intersecting Across and Down answers have different letters. In these cases both letters should be entered in the same square. The resulting thirteen pairs of letters provide the key for deciphering the unclued entry at 19 Across, Clue answers include four proper nouns, and 11 Across is not common.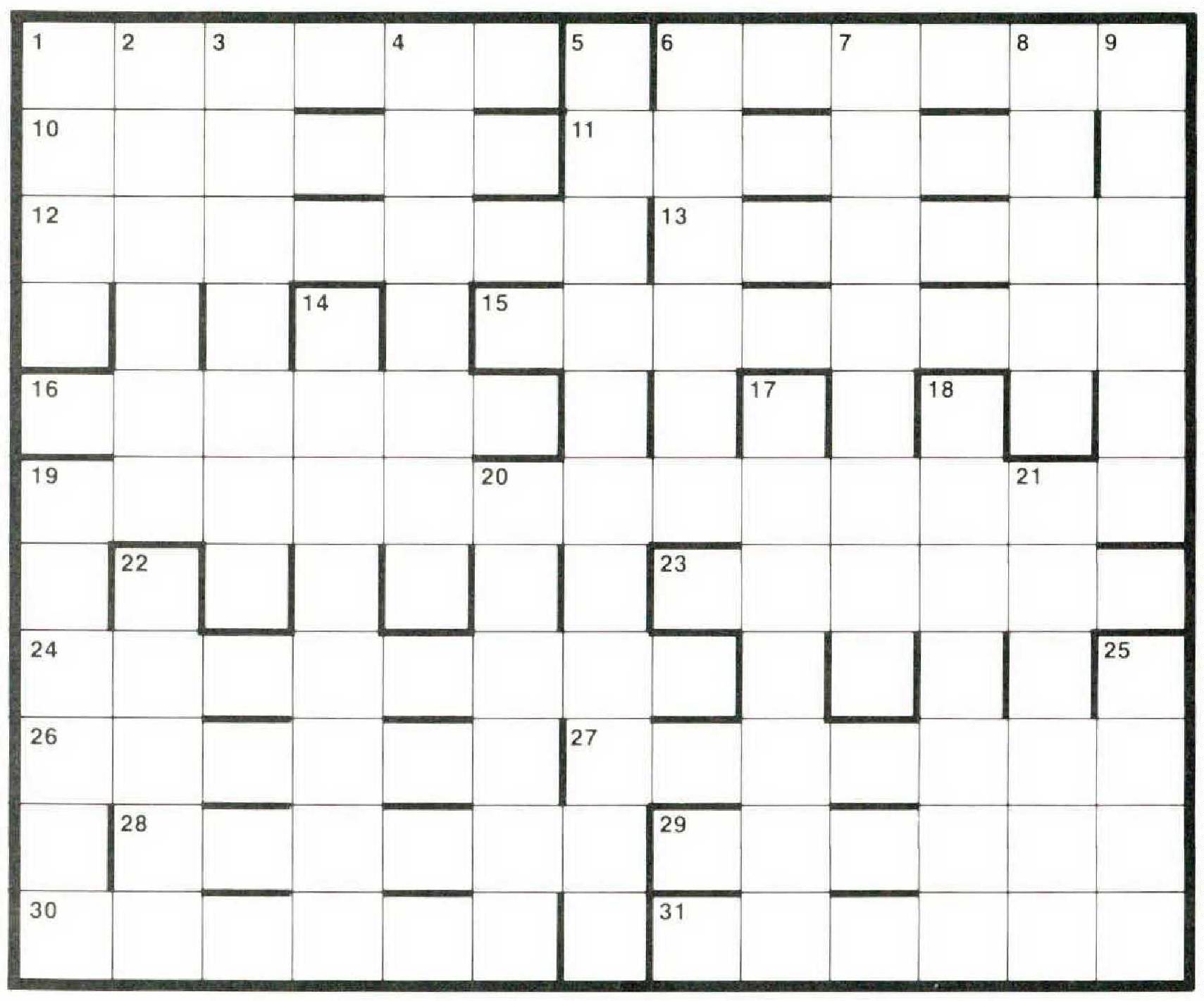 The answers to last month's Puzzler appear on page 88.
ACROSS
1. Commotion outside plant is cut off (6)
6. Even members of old U.S. cliques use Roman name (6)
10. Tyrant has heard public outcry (6)
11. Toward evening, one miner working at the surface (6)
12. Rosebush covering a red wall (7)
13. Bee exiting rubbish in repair shop (6)
15. In France, those behind crazy dance rhythms (8)
16. Bends over verandas (6)
23. Good and sore after gym class (6)
24. Confess about partner rushing out (8)
26. Praises set lox apart (6)
27. Look around building wing for swift runner (7)
28. Solicit fine, in a different vein (6)
29. Wheel aboard ark—it turned vehicle (6)
30. Speaks outright lies, at the end (6)
31. Botanist fellows steered the wrong way (6)
DOWN
1. University gets out of premiere obligation (4)
2. Rock volumes coming from speakers (6)
3. Extortionist retiring to bar (7)
4. Why I get upset is important (7)
5. Commuter's mouth shut in quiet rage (11)
6. Journal brought up major impasse (6)
7. California contestant takes sixth place in pageant festivities (8)
8. Single week in novel Dune (5)
9. In choppy seas, we go up and down (6)
14. Plant treasure under spot marker in mist (8)
17. I go way up in hearing, having awful vision (7)
18. Wretched band going around Long Island (7)
19. City of gold under summer moon (6)
20. Searches for chances after failure (6)
21. Put aside pair of shoes elves left unfinished (6)
22. Laugh at snapped costume (5)
25. Attend strike (4)
Note: The instructions above are for this month's puzzle only. It is assumed that you know how to decipher clues. For a complete introduction to clue-solving, send an addressed, stamped envelope to The Atlantic Puzzler, 8 Arlington Street, Boston, Mass. 02116.
"TALK SHOW"
Across. 1. BABE-L 4. MAR(ROW)S 8. EMOT-I-ON (rev.) 9. (t)AUGHT 11. CRUSOE (homophone of crew so) 12. PIS-A (sip rev.) 14. SON-ANTS 15. TYRO-L 18. A-R(A)-RAT 21. DEA(LE)R 23. DRAWBARS (anag.) 25. MEAN (double del.) 26. POL(IT)E 27. BAC-CHIC (cab rev.) 28. RA(N)GE Down. 1. BE-L 2. A(M)IRS 3. BOL(U)S (slob rev.) 4. MOLES-T 5. AN-A-CON-DA 6. R-A-DON 7. OGLING (anag.) 10. TEA(SE[t])R 11. C(A-TACOM[a])BS 12. PAR-A-BOL-A (rev.) 13. GORG-ON (rev.) 16. RAN-SACK 17. NE(t)W (Y)ORK 19. REHEAT (anag.) 20. TROP-I-C (rev.) 22. LADING (anag.) 24. S(L)EEK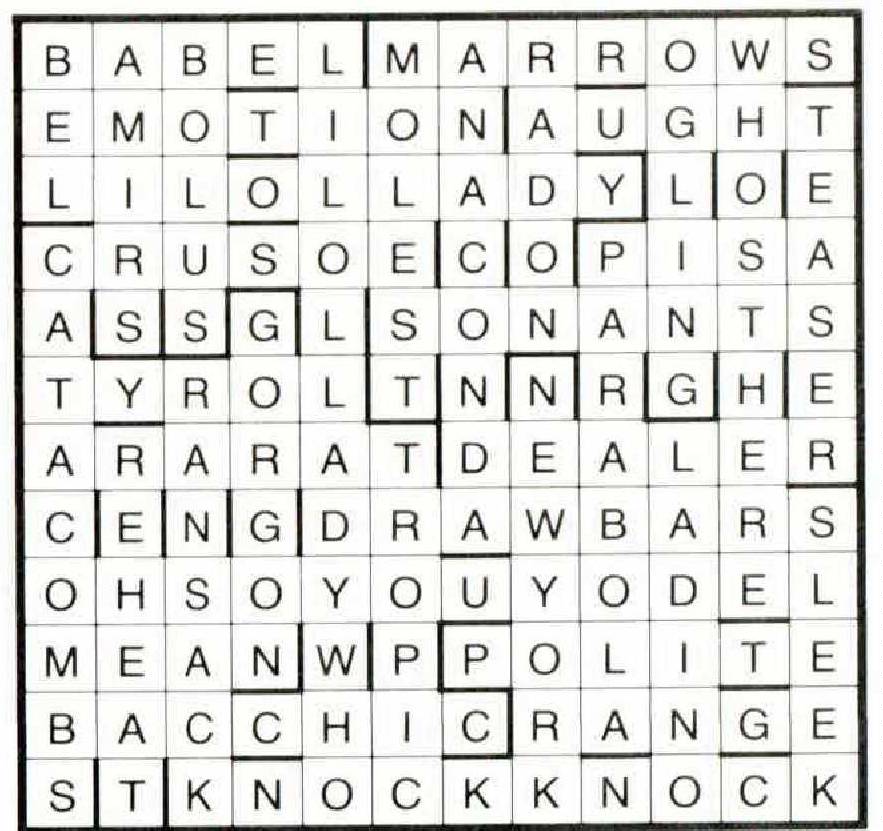 ACROSTIC NO. 20
"The average [hotel] cooking . . . explains . . . the English bleakness and taciturnity. Nobody can beam and warble while chewing pressed beet smeared with diabolical mustard. Nobody can exult aloud while ungluing from his teeth a quivering tapioca pudding."
—Nancy McPhee, (The) Book of Insults (quoting Karel Capek)