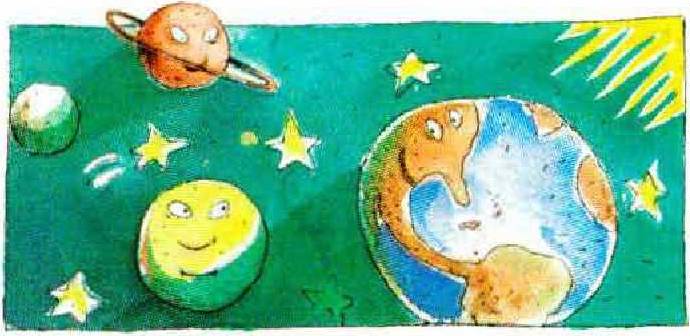 THE SKIES
April 5, 2:00 A.M. local time, Daylight Saving Time begins. 13, Full Moon, also known this month as the Sprouting Grass Moon; a penumbral eclipse of the moon by Earth begins at 8:20 P.M. EDT. A penumbral eclipse occurs when the moon enters the partial cone of Earth's shadow but misses the main cone of the shadow. 22, Earth encounters some celestial debris that's been around for at least 2,500 years — the Lyrid meteors. In the hours after midnight shooting stars will appear to emanate from the constellation Lyra in the northeastern sky. 27, New Moon.
ENVIRONMENT
"When April blows his horn,/ It's good for hay and corn./ If it thunders on All Fools' Day/ It brings good crops of corn and hay"—Richard Inwards, Weather Lore (1898). Showers, meaning localized rain, as opposed to winter's wide-area storms, usually do become more common in April. The nation's cotton crop will be planted by the end of the month, and wise gardeners in the north will plant their peas. Leatherbacks, the largest of the sea turtles, are nesting in the Caribbean—at, among other places, Sandy Point, St. Croix, where they are protected by the U.S. Government. Leatherbacks normally inhabit open ocean. Only females make the annual trip to coralfree sandy beaches in temperate latitudes. They emerge from the surf, according to one naturalist, looking "like small VWs crawling up on the beach."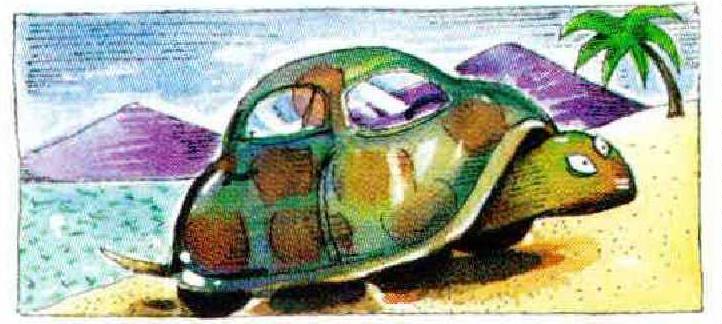 NEW STAMPS
April 11, a 10¢ stamp in the transportation series, featuring a canal boat, to be issued in Buffalo, New York, western terminus of the Erie Canal. 20, a booklet of ten 22¢ stamps carrying eight messages, such as "Happy Birthday," "Get Well," and "Love You, Mother!," to be issued in Atlanta, Georgia. 28, a 22¢ stamp commemorating the centennial of the United Way to be issued in Washington, D.C.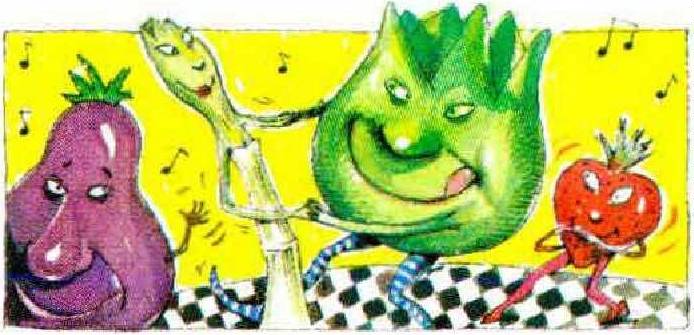 FOOD
The first fresh domestic peaches, watermelons, and corn of the season will head toward market this month, if it's a typical April. The nation will see a boom in strawberries, eggplant, bell peppers, and tomatoes. Squash and snap beans should have already boomed; they can be expected to remain plentiful throughout this month and much of the next. There will be a flurry of activity in asparagus and artichokes—neither of which will be so plentiful again before next April. Overall, the rally among domestic fresh fruits and vegetables will rout imports, which can be expected to decline steadily until late summer. Then they will bottom out and begin climbing again, to a March peak.
DEMOGRAPHICS
Most of the nation's high school seniors who have applied to colleges and universities will receive letters of acceptance or rejection this month. Some 58 percent of this year's high school graduates—or 1.6 million people—will enroll as college freshmen next September (up from 49 percent in 1980). A majority will be women. According to a recent federal study, half of them may graduate in debt. The average cost of a year in a private college is now $10,199. The costliest institution of higher education is Bennington, where tuition and room and board cost $16,950. A student borrowing enough money, at the standard studentloan interest rate (7 percent), to attend Bennington would be liable after graduation for payments of $787.22 a month for ten years.
ARTS & LETTERS
April 5-11, National Library Week. The American Library Association will distribute, through local libraries, a questionnaire about books to be completed by members of the reading public. Vartan Gregorian, the president of the New York Public Library, was willing to answer a few of the questions in advance: The scariest book he ever read? 1984, by George Orwell. The funniest? The Adventures of Hajji Baba of Ispahan, by James Morier. Favorite author? Gabriel García Marquez. The ALA will release its results next month. 16, a dozen newspaper reporters, three authors of nonfiction books, a novelist, a playwright, a poet, two photographers, a cartoonist, and a composer will be awarded Pulitzer Prizes.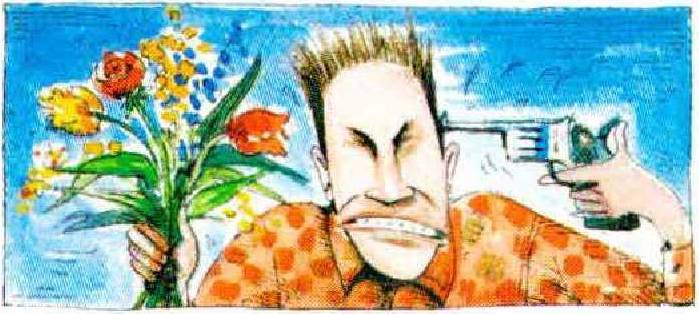 HEALTH & SAFETY
More suicides tend to occur in early spring than at any other time of year—a fact for which there is no generally accepted explanation. Nor is it known why the suicide rate among 15to 24-year-olds is rising, while the rate among older age groups is dropping. The overall rate has held fairly steady, at about 12 per 100,000, since the 1950s; the rate among the young is still lower than the rate among adults. Although most of the adults who commit suicide are clinically depressed, only about a third of studentage suicides are.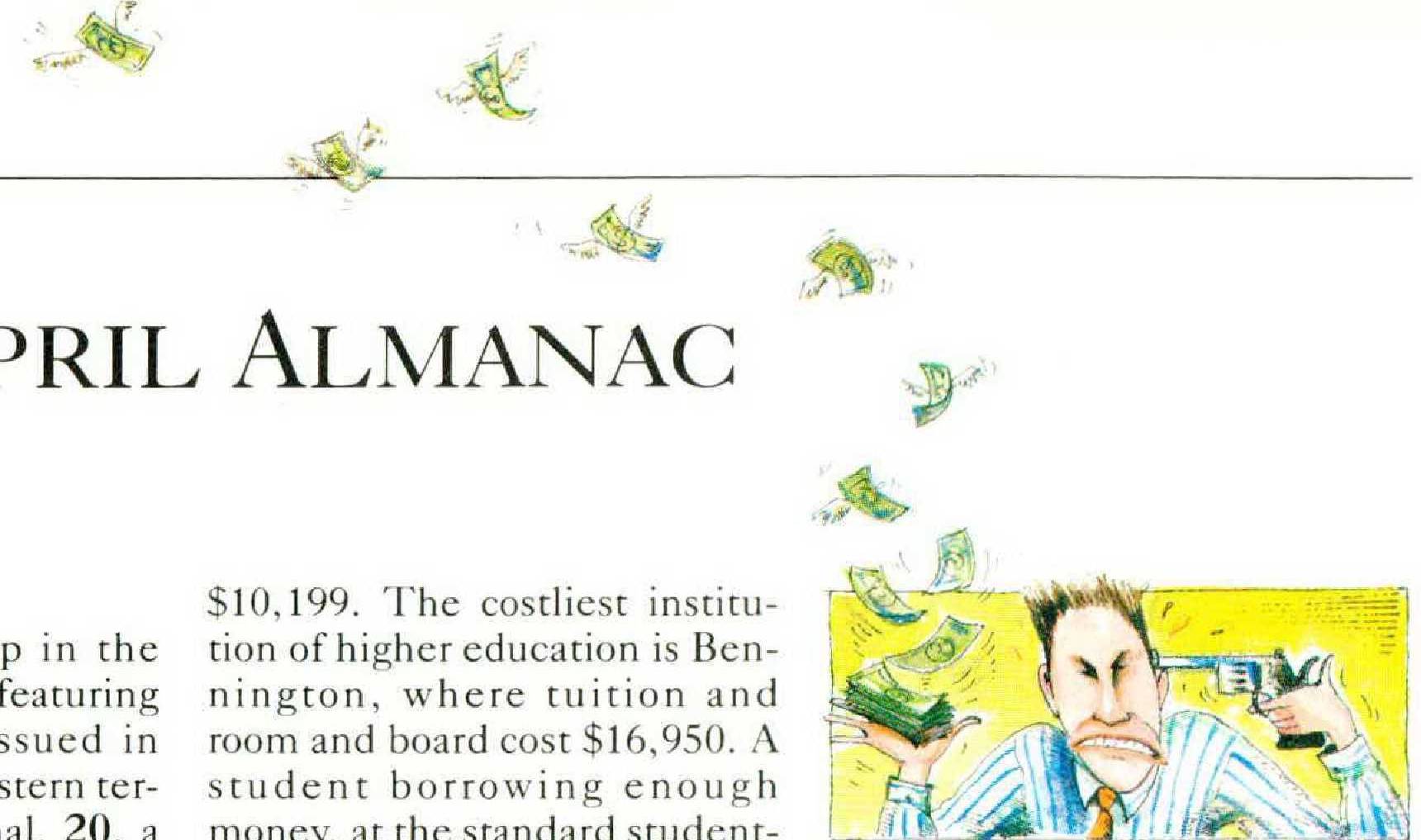 GOVERNMENT
April 11-20, Congressional recess. 15, by this date individual income tax returns must be filed. Some 20 to 25 percent of the approximately 105 million tax returns are likely to arrive during the last week of the filing season, at least 10 percent will not arrive on time, and 4 percent of the forms returned will be requests for automatic four-month extensions. The IRS has calculated that in 1981, the most recent year for which data are available, Americans turned over to the government $81.5 billion dollars less than they were supposed to — enough to send everyone in Illinois to Bennington. 20, the White House will hold the 109th annual Easter-Egg Roll on the South Lawn.
50 YEARS AGO