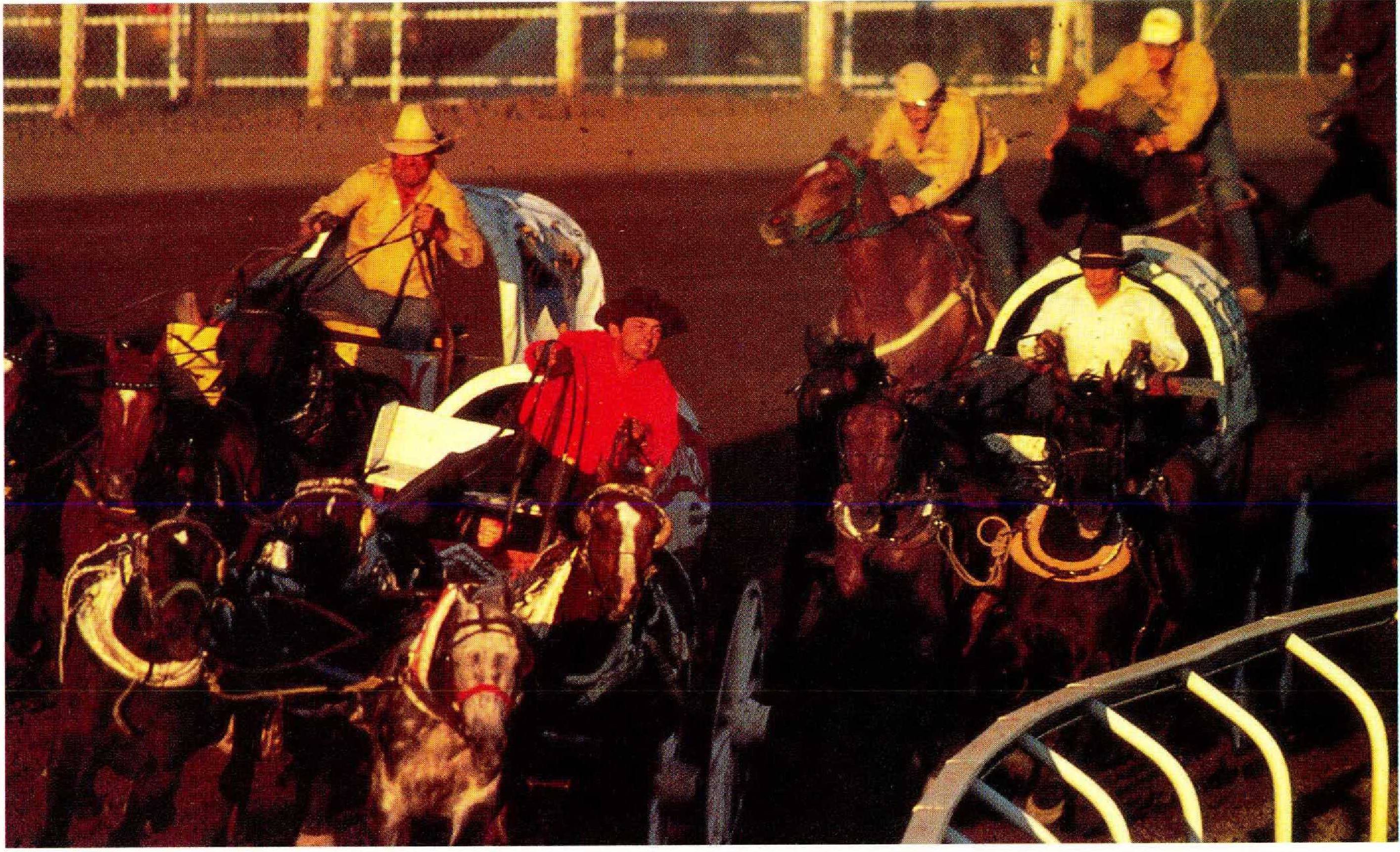 ATLANTIC PROVINCES
JUNE 23-SEPTEMBER 5, CHARLOTTETOWN FESTIVAL, PEI. A music-theater series. Year after year people come back to see Ann of Green Gables, based on the novel by Lucy Maud Montgomery. For the full program or tickets: (902) 5661267 or, from May 1 on, (800) 565-0278.
JUNE 27-AUGUST 8, INTERNATIONAL GATHERING OF THE CLANS, throughout NS. The events begin with the Nova Scotia Tattoo, in which military and civilian performers sing, dance, and march together, for six days in Halifax. Then there will be 43 clan get-togethers and dozens of other events, such as Highland games meets, a fishermen's regatta, and Scottish concerts and dances. The ceremonies to close the Gathering will be held at St. Ann's, on Cape Breton, on the last day of that town's week-long Nova Scotia Gaelic Mod.
JULY 2-13, BAROQUE MUSIC FESTIVAL, Lameque, NB. Performers from near and far, in a church whose acoustics are splendidly suitable.
JULY 7-12, SHEDIAC LOBSTER FESTIVAL, NB. An enthusiastic and popular community celebration.
JULY 19-25, SAINT JOHN LOYALIST DAYS, NB. In celebration of the founding of Saint John, concerts and other entertainment, parades, and a re-enactment of the landing of the Loyalists.
AUGUST 5, ST.JOHN'S REGATTA, NF. This rowing competition on Quidi Vidi Lake is North America's oldest annual sporting event.
AUGUST 5-8, TYNE VALLEY OYSTER FESTIVAL, PEL Including the Canadian Oyster Shucking Championships.
For information: Tourism New Brunswick, PO Box 12345, Fredericton, NB, Canada F3B 5C3. (800)561-0123.
Newfoundland Tourism Branch, PO Box 2016, St. John's, NF, Canada AlC 5R8. (800) 563-6353.
Nova Scotia Dept, of Tourism, PO Box 130, Halifax, NS, Canada B3J2M7. (902) 424-5000.
Prince Edward Island Visitor Services Division, PO Box 940, Charlottetown, PEI, Canada Cl A 7M5. (902) 892-2457.

QUEBEC
MAY 22-NOVEMBER 8, LEONARDO DA VINCI EXHIBIT, Montreal. Manuscripts and drawings, and full-scale realizations of some of da Vinci's inventions, at the Museum of Fine Arts.
MAY 26-JUNE 7, THEATER FESTIVAL OF THE AMERICAS, Montreal. Nearly 20 plays from nearly as many countries in the Western Hemisphere. Tickets will go on sale in May. For the program or tickets: (514) 842-0704.
MAY 30-JUNE 20, BENSON & HEDGES FIREWORKS COMPETITION, Montreal. Pyrotechnic firms from around the world will compete in both "classical" and "pyromusical" events.
JUNE 4-SEPTEMBER 20, THE ART OF NEW TECHNOLOGY EXHIBIT,
Montreal. A huge exhibition of computer imagery, at the Marine Terminal Louis Jolliet in the city's old port.
JUNE 26-JULY 5. MONTREAL JAZZ FESTIVAL. Some 1,000 musicians, from 15 countries and playing all styles of jazz, will perform on three outdoor stages and in various indoor venues. The program will be available in May. For the program or tickets: (514)289-9472.
JULY 9-19, JUST FOR LAUGHS FESTIVAL, Montreal. Comics from the U.K., the U.S., Australia, Switzerland, Belgium, France, and Italy, as well as Canada. The program will be available in late June. For the program or tickets: (514) 845-3155.
JULY 9-19, QUEBEC SUMMER FESTIVAL, Quebec City. North America's largest francophone cultural event, in the streets and parks of Old Quebec.
AUGUST 8-16, PLAYER'S INTERNATIONAL TENNIS TOURNAMENT, Montreal. The Canadian men's championship. To reserve tickets: (514)273-1515.
SEPTEMBER 27, MONTREAL MARATHON.
For information: Quebec Government House, 17 W. 50th St., New York, AT 10020-0201. (800) 443-7000.
ONTARIO
APRIL 24-MAY 15, GUELPH SPRING FESTIVAL. With Mozart's Fintagiardiniera, the 1987 National Vocal Competitions, and performances by various groups and soloists. For the program or tickets: (800) 265-7279.
APRIL 29-OCTOBER 18, SHAW FESTIVAL, Niagara-on-the-Lake. Plays by George Bernard Shaw and his contemporaries. On this year's program are Major Barbara, Fanny's First Play, Augustus Does His Bit, Noel Coward's Hay Fever, J. M. Barrie's Peter Pan, and Cole Porter's musical Anything Goes. For the program or tickets: (416) 468-2172.
JUNE 1-NOVEMBER 1, STRATFORD FESTIVAL. The festival will open with the musical Cabaret and continue with Bertolt Brecht's Mother Courage, Richard Sheridan's School for Scandal, and Shakespeare's Othello and Much Ado About Nothing. For the program or tickets: (519) 273-1600.
AUGUST 15-23, PLAYER'S CHALLENGE TENNIS TOURNAMENT, Toronto. The
Canadian women's championship. To reserve tickets: (416) 665-9777.
AUGUST 19-SEPTEMBER 7, CANADIAN NATIONAL EXHIBITION, Toronto. Canada's oldest and largest annual fair.
OCTOBER 9-17, OKTOBERFEST, Kitchener and Waterloo. North America's largest Bavarian festival.
For information: Ontario Travel, Queen's Park, Toronto, Ont.. Canada M7A 2F5. (800) 268-3735.
MANITOBA & SASKATCHEWAN
MAY 6-10, SWAN LAKE PERFORMANCES, Winnipeg, Man. A new production of Tchaikovsky's ballet, by the Royal Winnipeg Ballet. Evelyn Hart will dance the principal role for some performances. For tickets: (204) 956-0183.
MAY 13-16, KINSMEN BAND FESTIVAL, Moose Jaw, Sask. More than 100 pipe-anddrum, marching, stage, and brass-and-recd bands, plus 50 choral groups.
JULY 3-AUGUST 23, SHAKESPEARE ON THE SASKATCHEWAN, Saskatoon. Performances of Othello and Twelfth Night in a festival tent on the riverbank. For tickets: (306)652-7155.
JULY 30-AUGUST 2, NATIONAL UKRAINIAN FESTIVAL, Dauphin, Man. Everyone's favorite is the grandstand shows, featuring Canada's National Riding and Dancing Cossacks and Company, and traditional musicians.
JULY 31-AUGUST 3, PIONEER DAYS, Steinbach, Man. The Mennonite village just north of Steinbach (and less than an hour's drive from Winnipeg) is a living museum, complete with a working windmill. During this annual festival the local people demonstrate traditional skills, such as butter-making and threshing with old-time steam engines, and serve all their traditional foods.
AUGUST 9-16, INTERNATIONAL SOFTBALL CHAMPIONSHIP, Saskatoon, Sask. The men's world fast-pitch championship.
For information: Travel Manitoba, Dept.
7249, Winnipeg, Man., Canada R3C 3H8. (800) 665-0040.
Saskatchewan Tourism, 2103 11th Ave., Regina, Sask., Canada S4P 3V7. (800) 667-7191.

ALBERTA & BRITISH COLUMBIA
JULY 3-12, CALGARY EXHIBITION AND STAMPEDE, Alta. Canada's numberone rodeo, according to the Professional Rodeo Cowboys Association, which judges by prize money (as cowboys do).
AUGUST 15-23, THE FRINGE THEATRE EVENT, Edmonton, Alta. A potluck of more than 100 plays, plus music, drama, and dance. The program will be available locally about a week ahead of time, and tickets will be available on the spot.
AUGUST 22-SEPTEMBER 7, PACIFIC NATIONAL EXHIBITION, Vancouver,
BC. Each year well over a million people turn out for this fair.
SEPTEMBER 9-13, CALGARY SPRUCE MEADOWS MASTERS TOURNAMENT, Alta. This is North America's largest horseindustry trade fair; the public is cordially welcomed to events such as the showjumping competitions.
LATE OCTOBER, GOLD STREAM SALMON RUN, Victoria, BC. The natural spectacle of salmon coming upstream to spawn and die can be witnessed at Gold Stream Provincial Park.
For information: Travel Alberta, 10025 Jasper Ave., Edmonton, Alta., Canada 15J323. (800) 661-8888.
Tourism British Columbia, Parliament Buildings, Victoria, BC, Canada V8W 2Z2. (604) 387-1642.

NWT & THE YUKON
JUNE 19, MIDNIGHT GOLF TOURNAMENT, Yellowknife, NWT. Teeing off at midnight.
JUNE 20-21, FOLK ON THE ROCKS,
Yellowknife, NWT. Open-air entertainment by Inuit and Dene performers, and folk musicians from more southerly climes,
JULY 1, YUKON GOLD PANNING CHAMPIONSHIP, Dawson City. Residents compete in the eponymous competition; visitors compete for the Cheechako Award.
For information: Travel Arctic, Government of the Northwest Territories, Yellowknife, NWT, Canada X1A 21,9. (403)873-7200.
Tourism Yukon, PO Box 2703, Whitehorse, Yukon, Canada YlA 2C.6. (403) 667-5340.